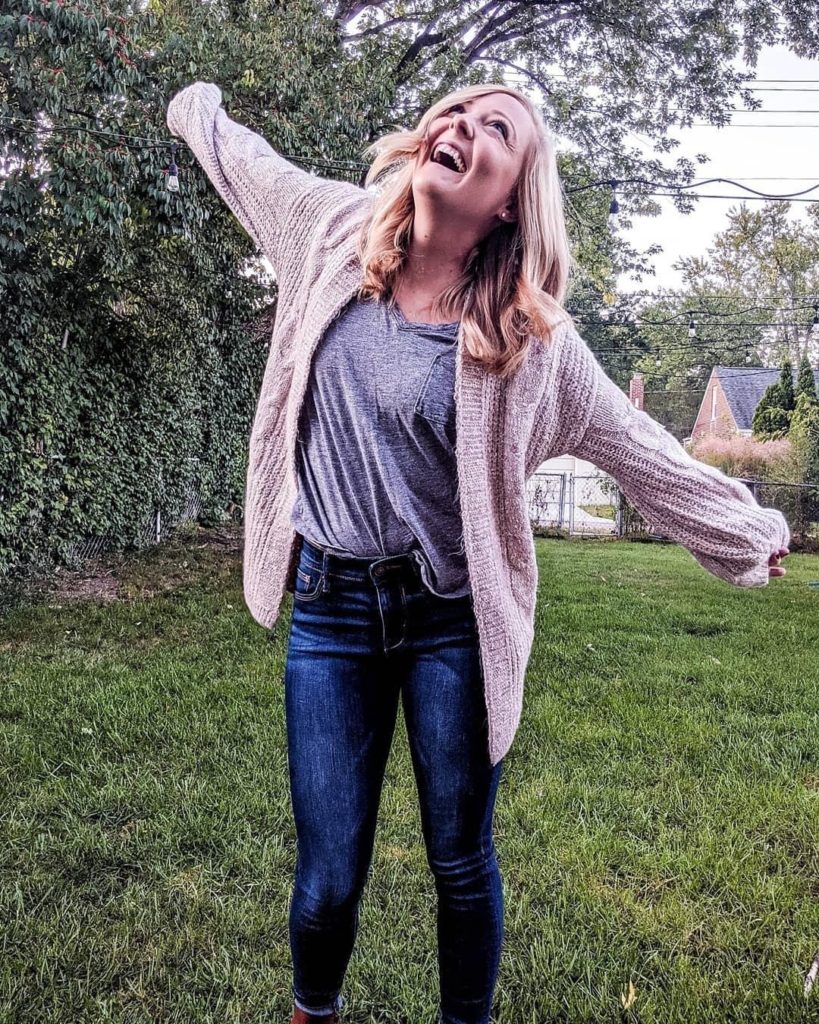 "Surround yourself with positive people."

-Ashley Wyss
Nineteen days ago one of my very favorite people died. My emotions are all over the place. I bounce between total denial, complete heartbreak, utter disbelief & intense anger. Mostly with no warning, so that's fun to explain. We shared an unlikely friendship. She was born when I was 17, I was a tired mom of two, she was a young, spirited girl ready to change the world. But a friendship evolved. A friendship that meant a great deal to me. I miss her.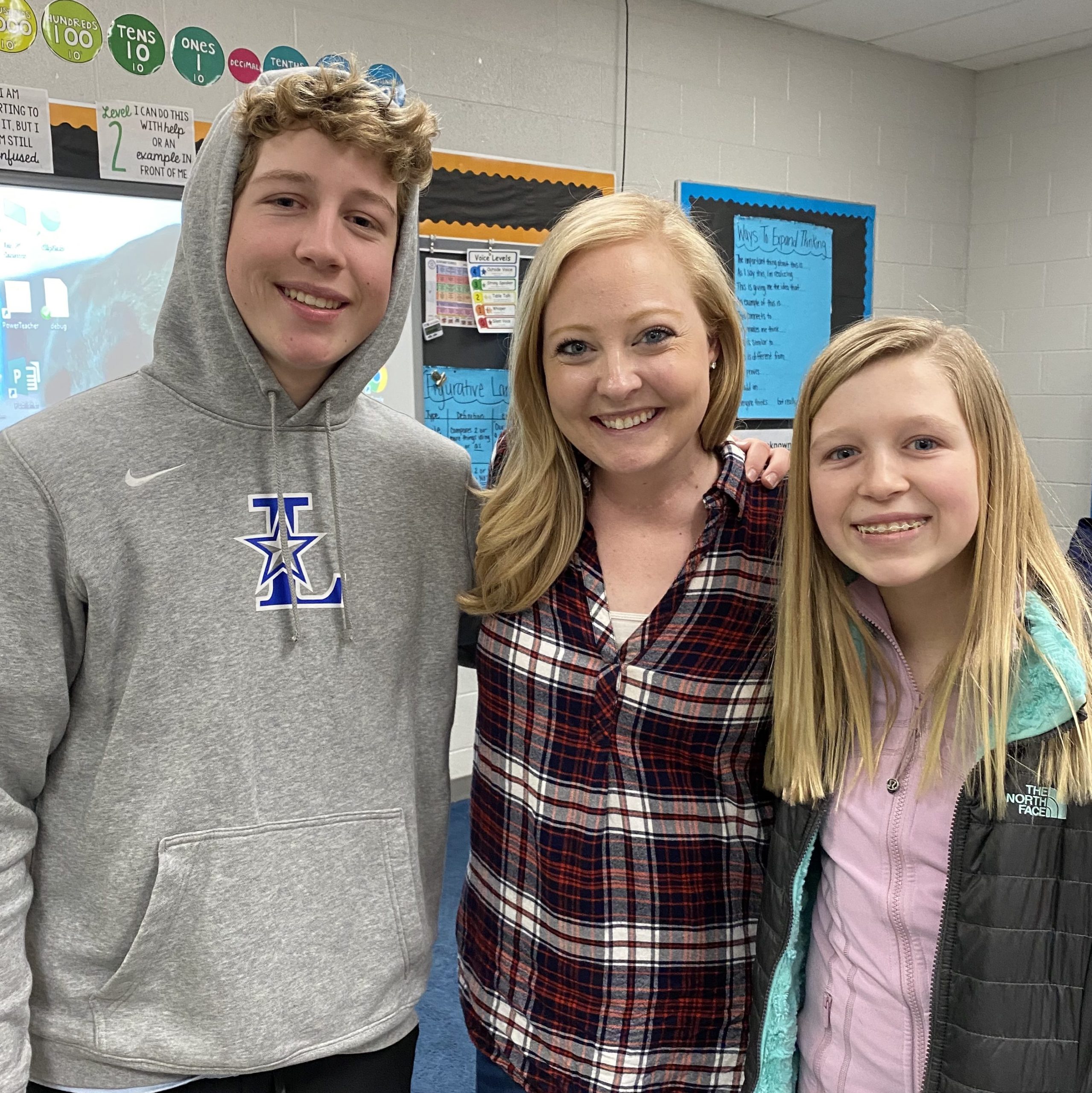 We met in 2013, she was a new teacher hired at Indian Springs and I was one of the trusty PTO presidents. It was still summer. I had just dumped lovingly dropped my kids off at swim lessons & ran into school to cut or copy something. I was told 'the new teacher' was working in her room, which translated to 'you should go meet her and give her your PTO schpiel'. I paused for a sec and took in the look I was rocking…pool cover-up, dirty hair in a hat & no make-up. I considered waiting to meet her, but her room was RIGHT ACROSS THE HALL from the workroom. I am so thankful that I stepped into that room. Miss Deck greeted me with the warmest smile. We ended up chatting for so long that I had to abandon my project and race to the pool. I was blown away. She looked like she was 18, but had the poise and warmth of someone far past her years. Her room was vibrant! I could not find one thing I didn't like. She was teaching 5th grade that year and being a former 5th grade teacher, I was always (secretly) comparing these new teachers to myself in all my glory! I made a mental note to tell Principal Heuser "BRAVO" on this hire and to start scheming on how to get Noah into her class in two years.
I had minimal contact with Ashley that year, but with her room being across the hall from the workroom I spent hours seeing her interact with the students. What I noticed is that the kids ADORED her. All the kids. The fifth graders for sure, but even the younger kids who only knew her from seeing her in the hall. They gave her high-fives, hugs, greeted her by name and I am pretty sure most of them took the long way in from the bus just to walk past her every morning. It was something. Indian Springs needed this. We needed her. Noah was a 3rd grader and Natalie was in 1st grade. They were both enamored with Miss Deck and had announced several times that they wanted her for 5th grade. I was prepared to be the longest running PTO president if that would give me any pull!
Luck was on our side because Miss Deck was moved to 4th grade for the following school year. Summer had just started but a little bird told me that Noah was 'on Ashley's list' for 4th grade. OMG! Noah is my secret keeper so I told him the good news right away. As far as I know he never told a soul. I remember him pumping his fist and being so excited. I knew it would be a good year, but boy was I wrong. It was his best year. That class of 25 fourth graders lived their best lives that year. Ashley changed them forever.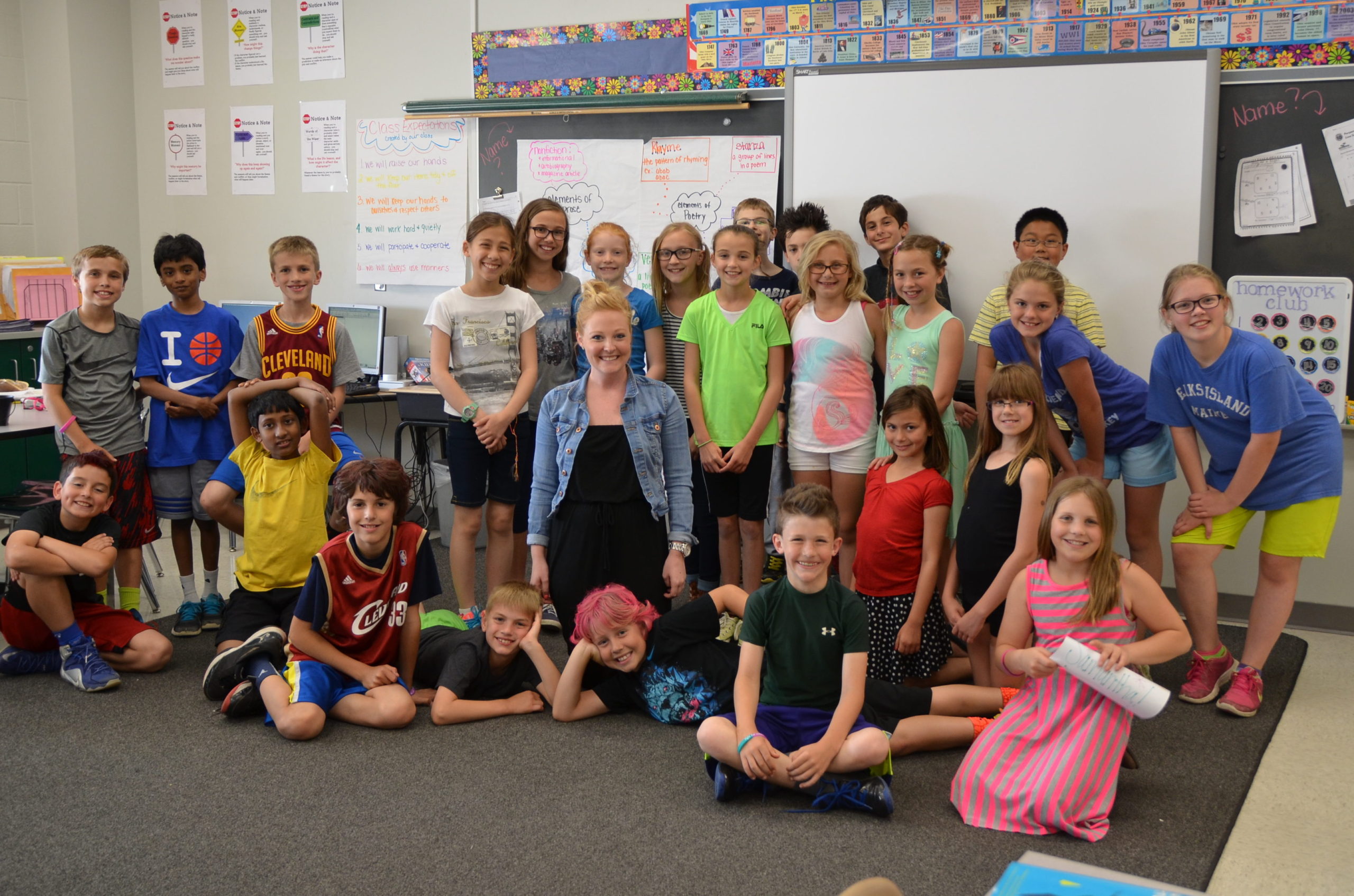 Here is a link to the book I put together for her end of the year gift. The letters are heartfelt and prove just how much she changed their lives. Thanks to Ashley's mom for reminding me of the book!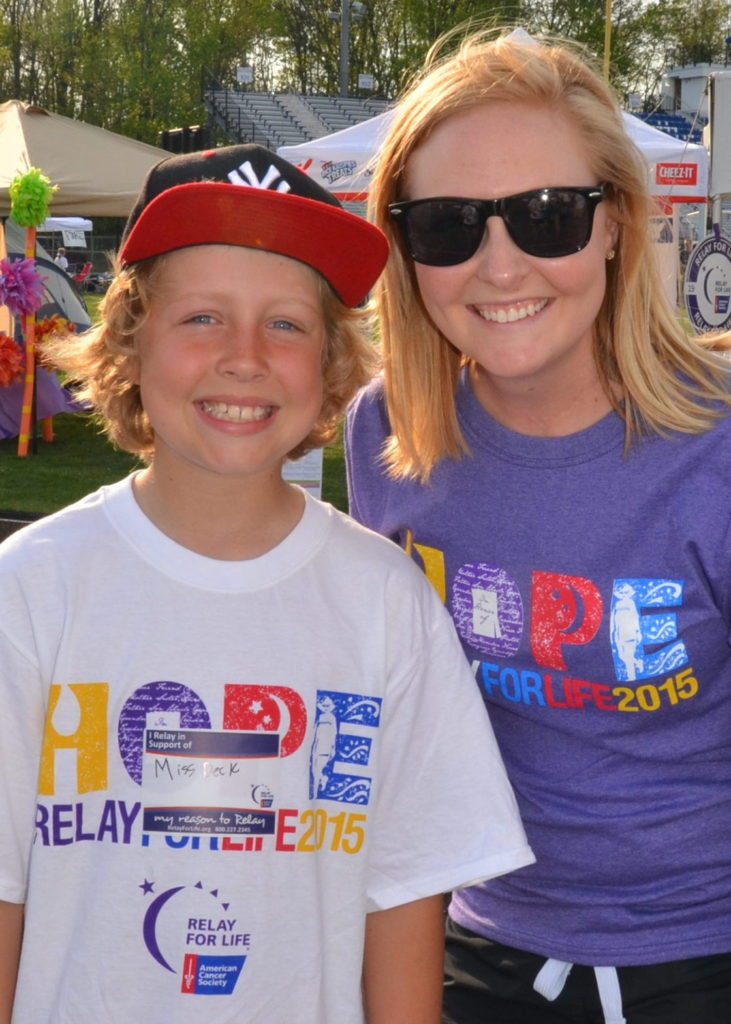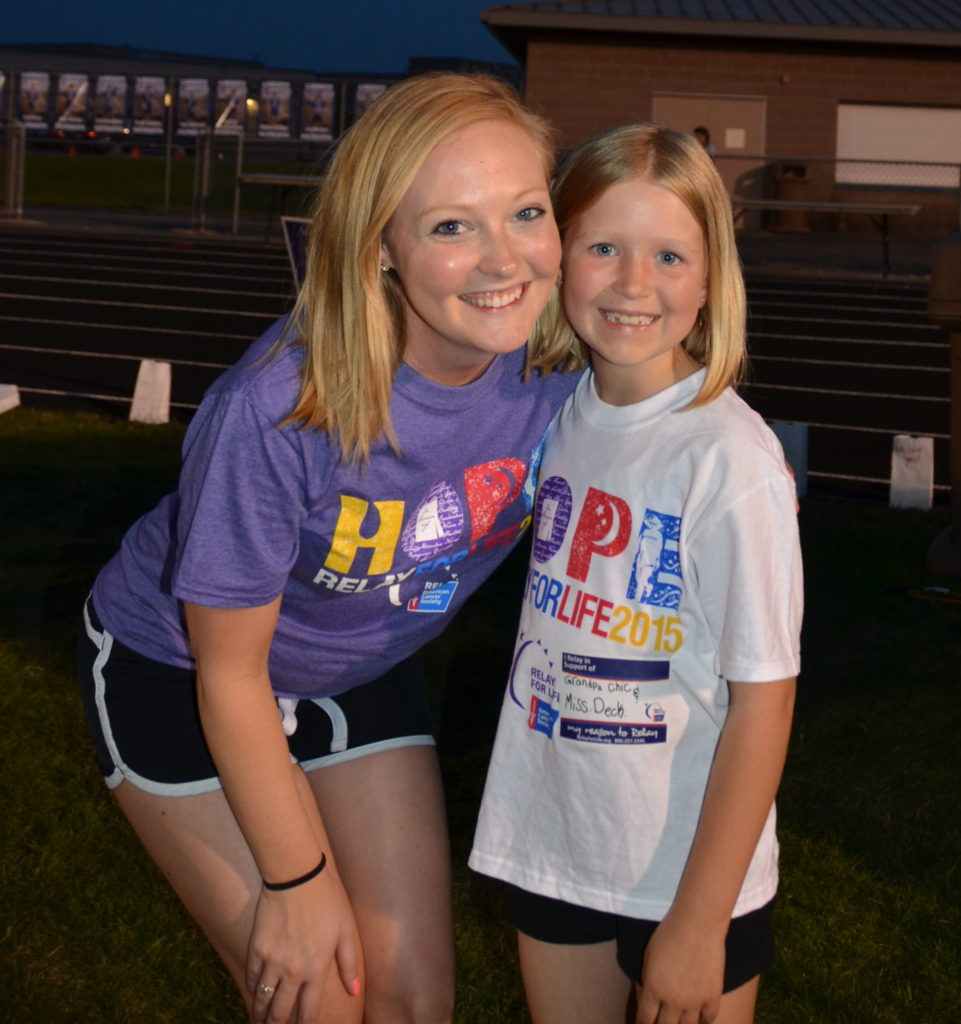 This 4th grade class quickly became a family and the kids were fiercely protective of Ashley. Ashley was fighting stage 3 Medullary Thyroid cancer and shortly before school started it had returned to her neck and had spread to her lungs. For three months Ashley traveled to Texas and DC for treatments. Her students were her biggest supporters! They rallied behind her, behaved for their subs & attacked her with hugs when she returned. By now I was all in. She had changed Noah's life and I wanted to change her's. It was my husband's idea to send her on a trip. We are a traveling family, so it was perfect. Just a slight snag… she was currently Noah's teacher and the school put a $25 limit on gifts. You can read all about how I lied to Ashley about 'winning' a grant from an our friend's incredible charity Families For A Cure here. The charity is very real and the Patient Experience Grant is also very real as well, all thanks to Ashley. Together with our friends my husband and I invented the grant as a way for us to gift her a dream trip to NYC. We pulled it off with a lot of help, sent Ashley & Ryan to NYC in December and created a grant that has since enabled so many cancer warriors to enjoy a little normal as they battle for their lives. Because Ashley made such an impact on us, we have been able to impact so many others. I never told her the truth about her grant. What I did was enjoy planning her trip to NYC, meeting her mom and Ryan in the process and hearing all about it when she got home.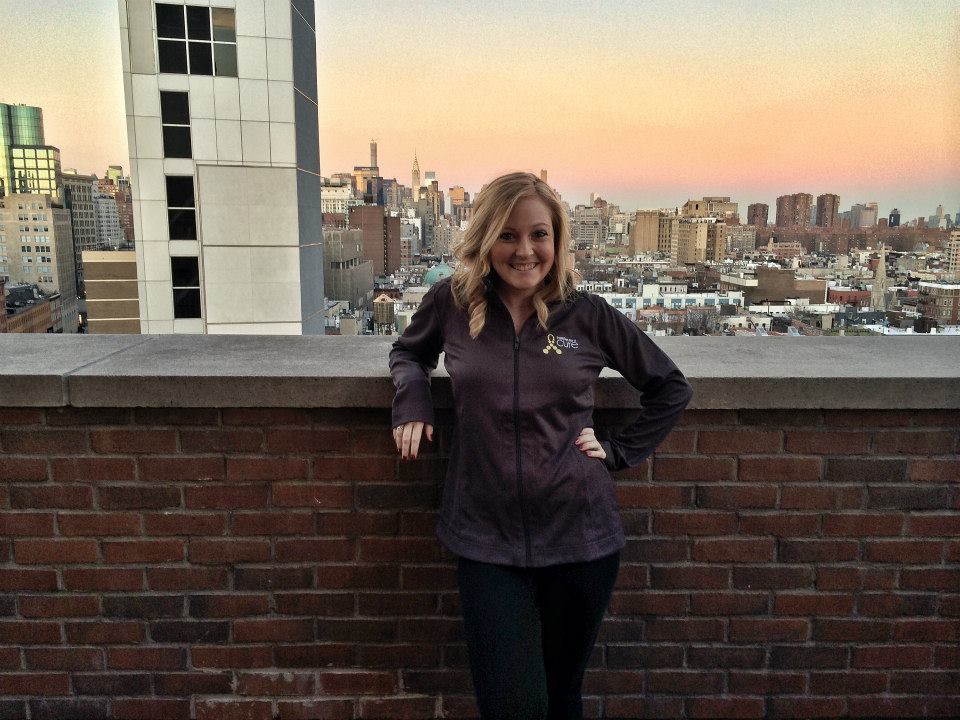 "Our trip to New York was absolutely perfect! I had always had a dream of visiting New York City during the Christmas season and seeing The Rockettes perform live. However, our trip ended up being so much more than that. We were treated like royalty all weekend, from staying in a gorgeous hotel overlooking SoHo, eating and drinking the finest foods, and staying busy all day long with sightseeing. From seeing The Rockettes, Wicked on Broadway, to ice skating under the big Christmas tree, I couldn't have dreamed up a better weekend away. Ryan and I often remark that this trip was something we would have never been able to do ourselves, and it was such a nice feeling to truly be able to enjoy each other's company and push cancer to the back of our minds."
Here are a few more pictures from Noah's 4th grade year in Deckerville: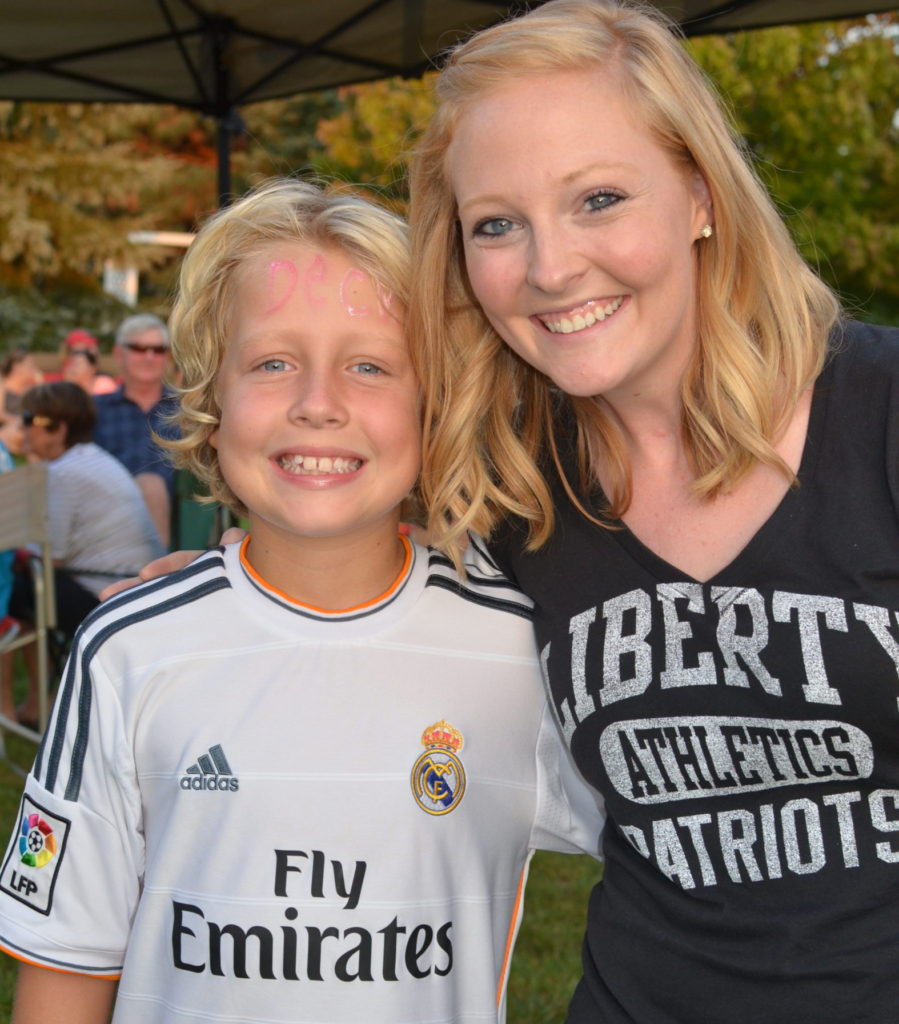 Through the years Ashley and I shared many chats. She'd text me to tell me to visit during her Specials time. If you are a teacher you know how valuable your Specials time is, but she often gave it up for me. Our chats covered just about everything. She listened to my struggles as a mom and often offered her insight regarding Noah & Natalie. We shared an intense love for Erin Condran products and colored pens. She gave me recipes, I told her where I bought my comfy pants. We talked wedding plans, girls trips, highlights, favorite mascara, Starbucks concoctions. We gossiped. We laughed. We sometimes cried. I attended her bridal shower and delivered smoothies when she was couch-bound. And we talked about her cancer. Her fears and her anger, her treatment plans, ringing the bell at The James, harvesting embryos, how much it sucked and how hard some of her days were. I would have done anything in the world to take that burden from her. She knew her 'not so great' updates were hard for me, so in true Ashley fashion, she would let me know before she updated her Ashley's Army. Always taking care of others. Often I was at a loss for words to publicly share on her posts, but when I would see her, she would look at me and say, "I know." and then come in for a hug. I'm going to miss her hugs.
Natalie was blessed to spend gobs of one-on-one time with Ashley. Ashley tutored her once a week during the summer after 2nd grade and during her 3rd and 4th grade school years. Every time I picked her up the two of them were giggling about something, surrounded by candy wrappers & usually drawing pictures on the Smart Board. Ashley reached Natalie academically like no one ever had, but more importantly became a trusted role model for life. One of Natalie's favorite memories is when Miss Deck made a plan to meet her at the Taylor Swift concert. They set a time and a place and Ashley showed up. The concert was in September, 2015. Nat was in 2nd grade, we had only known Ashley for a year. Natalie was not her student. Ashley adored was obsessed with TS and was attending the concert with a friend. But there she was making time for my daughter (& me). When Ashley died I was in the middle of writing to Taylor Swift's publicist about meeting her, one day I will finish and send that letter because I am certain that Taylor would want to know all about her biggest fan.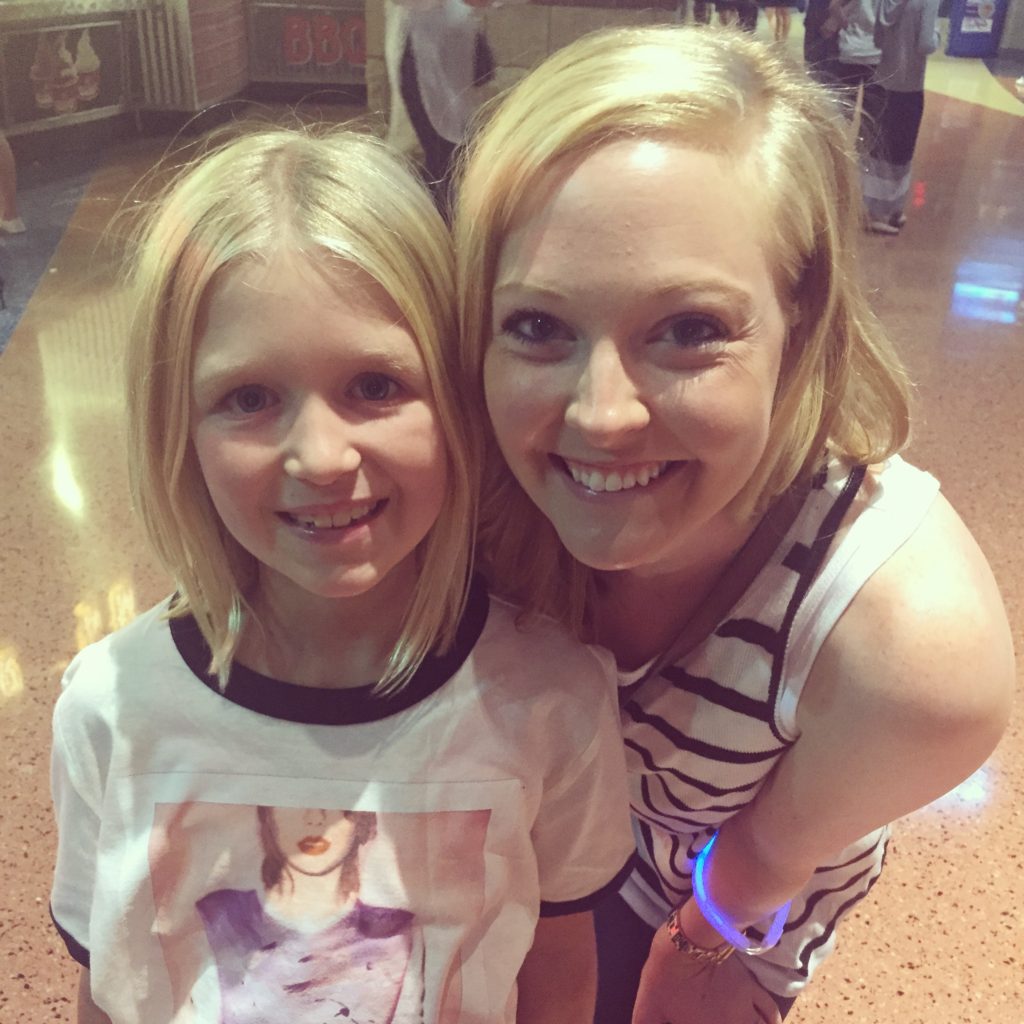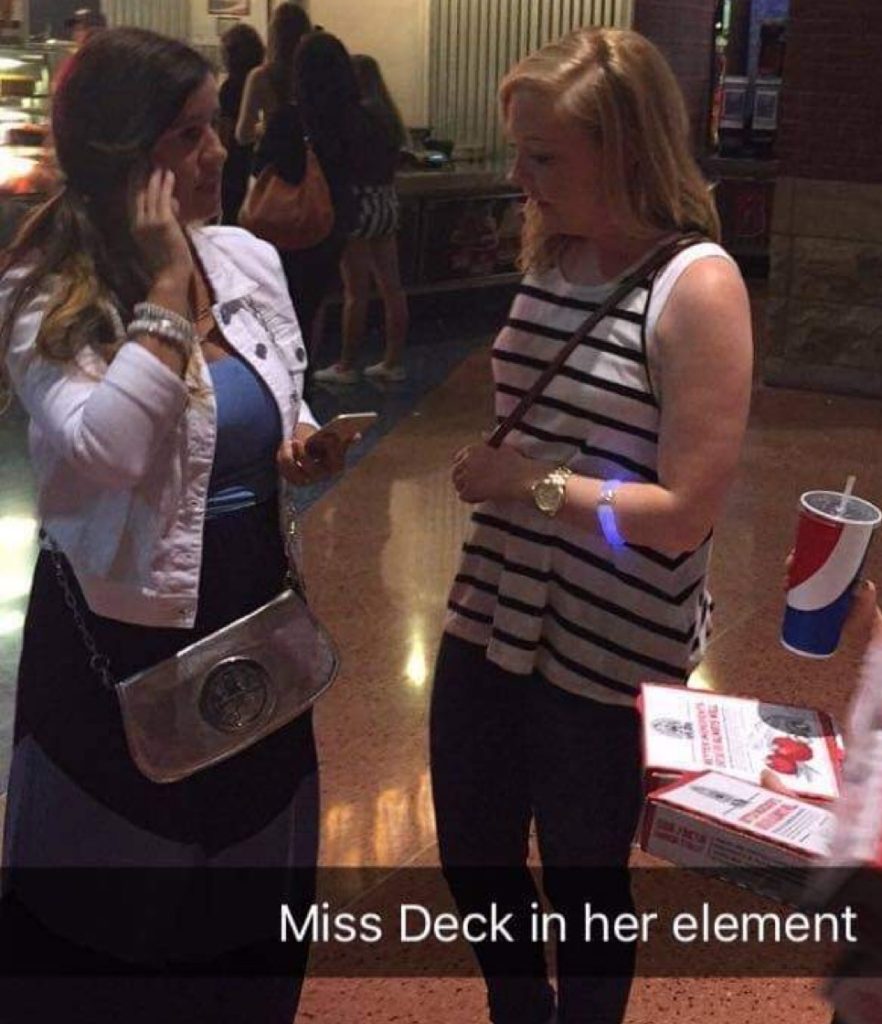 More pictures of my kids & Ashley…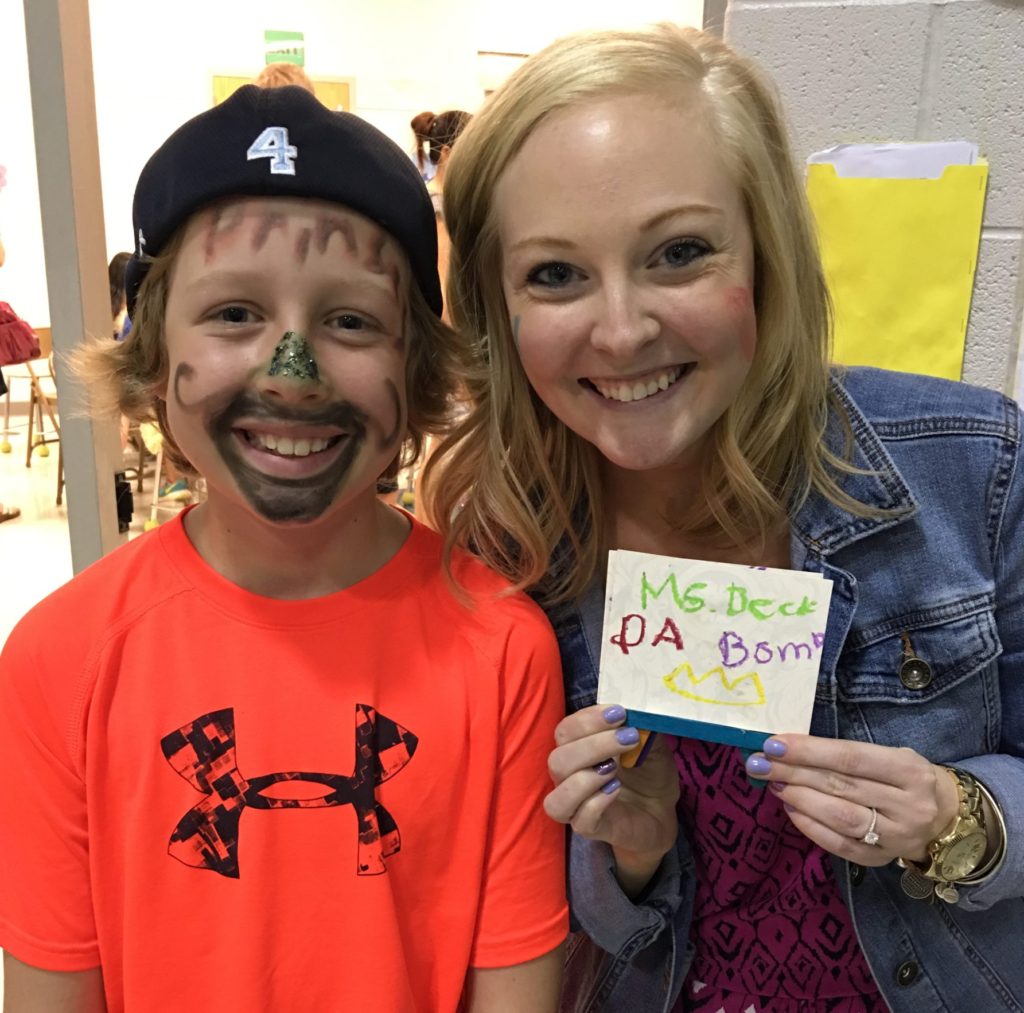 Ashley went from Miss to Wyss in the summer of 2016, but Noah never stopped calling her Miss Deck! And in the fall of 2018 Mrs. Wyss was once again a 5th grade teacher…and Natalie would FINALLY be in her class. It was the year she had been waiting for since the first grade. During the summer Natalie & gathered all of Ashley's favorite 'school things' and packed them in a Favorite Things bag. Check it out…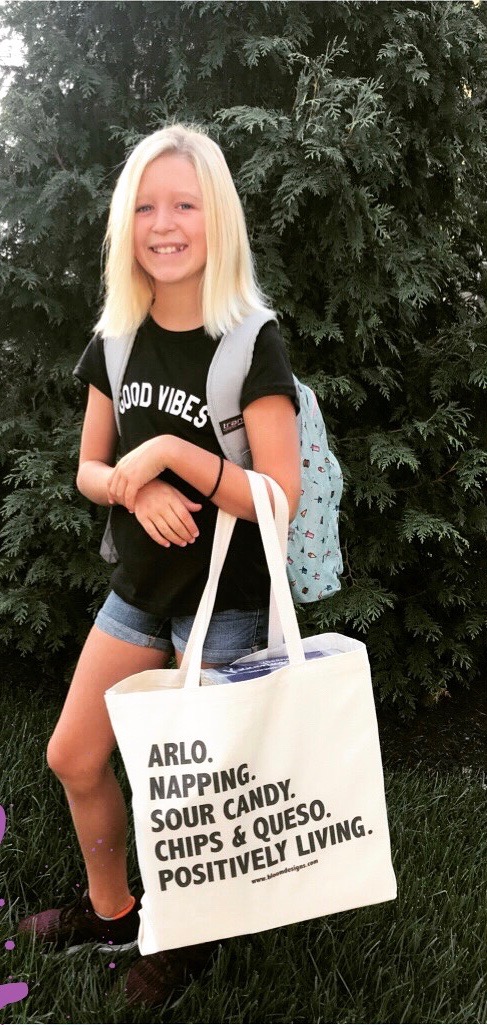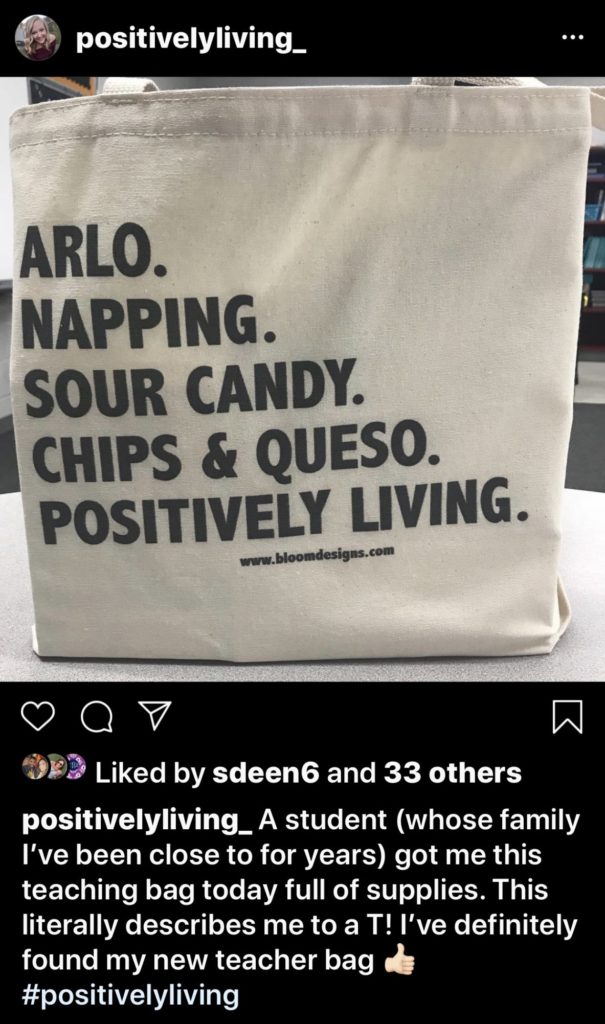 Positively Living was something Ashley was already doing, but in the summer of 2018 she launched her side hustle as a fitness/life influencer & coach. If you need a little motivation, look no further than POSITIVELY LIVING. My hope is that her page stays up and active forever. Her advise, raw honesty & support has changed the lives of people near and far. I jumped at the chance to join one of her accountability groups. Getting daily messages and encouragements from Ashley was worth the working out!
Natalie's 5th grade year was bitter sweet for me. I was thrilled she was spending every day of her final year at Indian Springs with Ashley, but I was an emotional wreck about ME leaving the school! I was seriously in the building several days a week and found comfort within those walls. By now Ashley and I knew each other very well. She didn't flinch when I cussed and I looked forward to our weekly chats. All year she checked in on me. Sigh.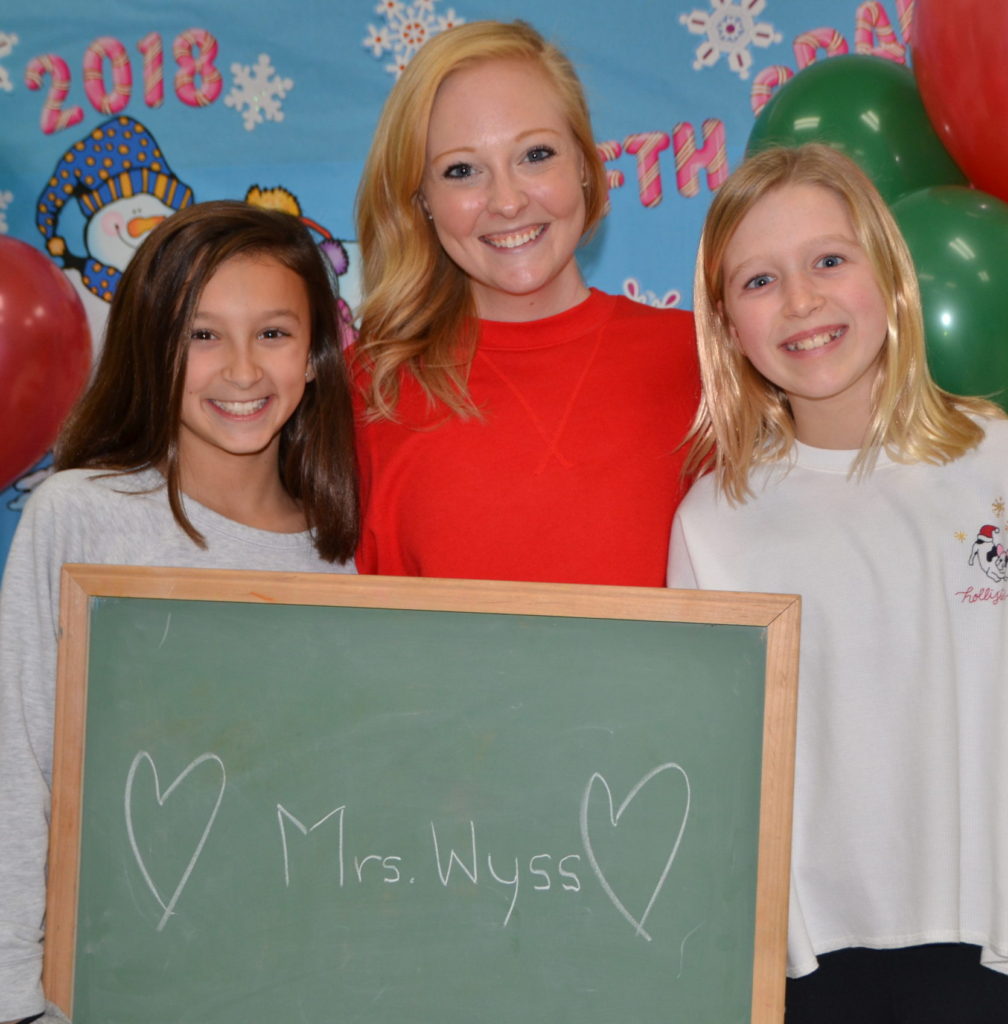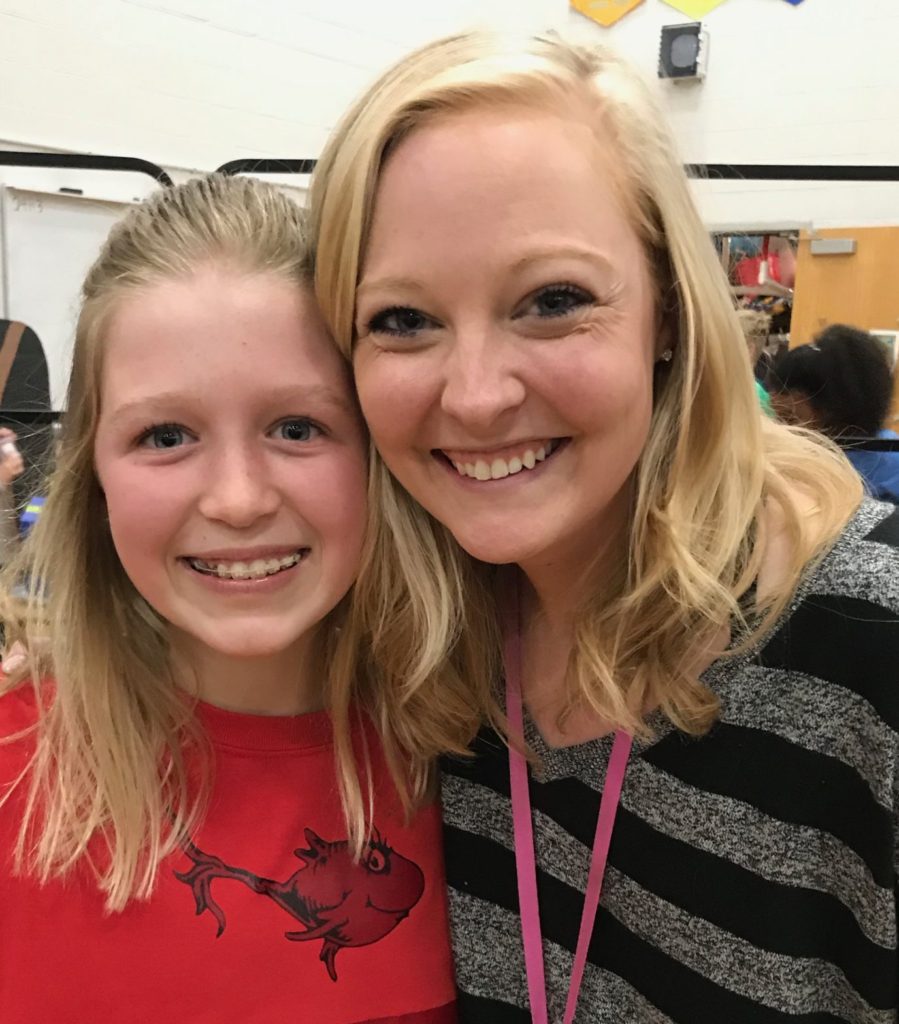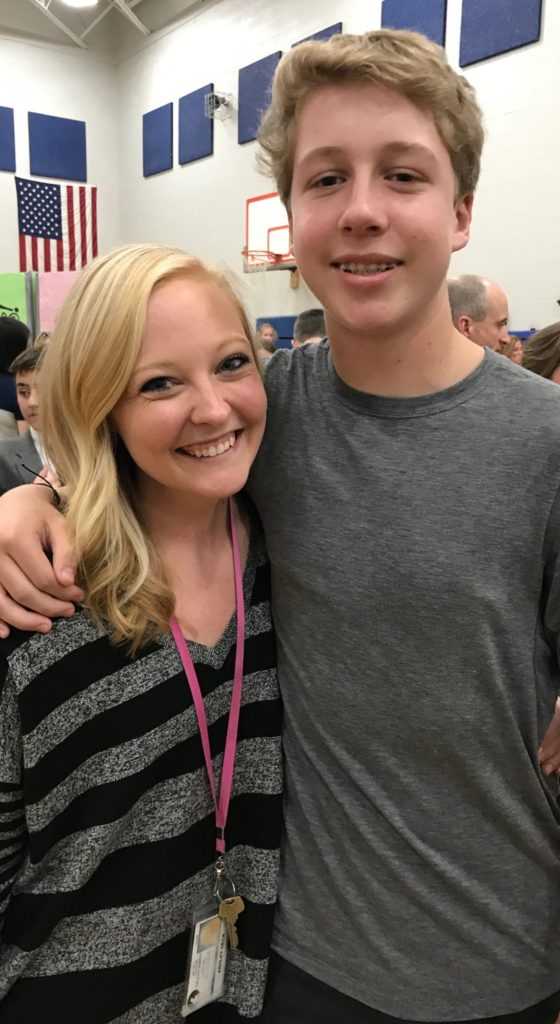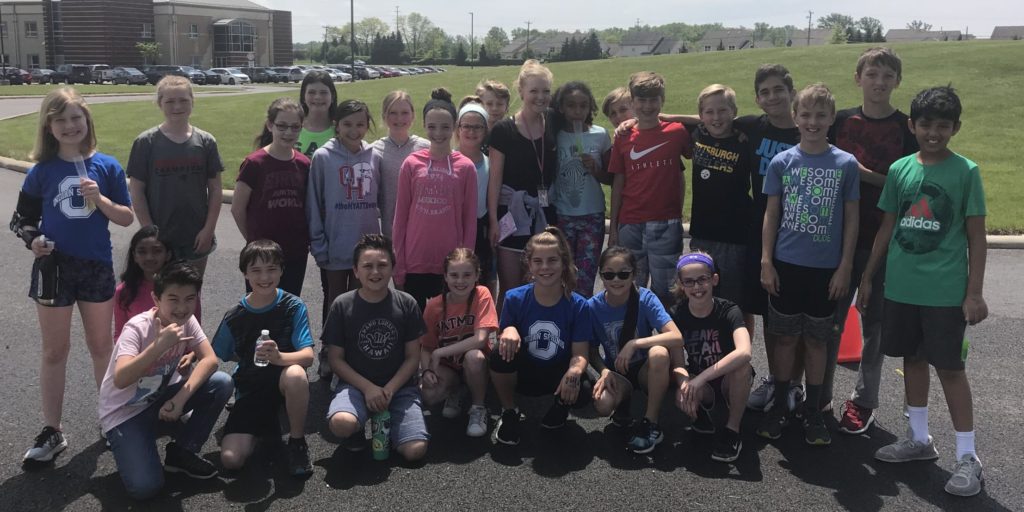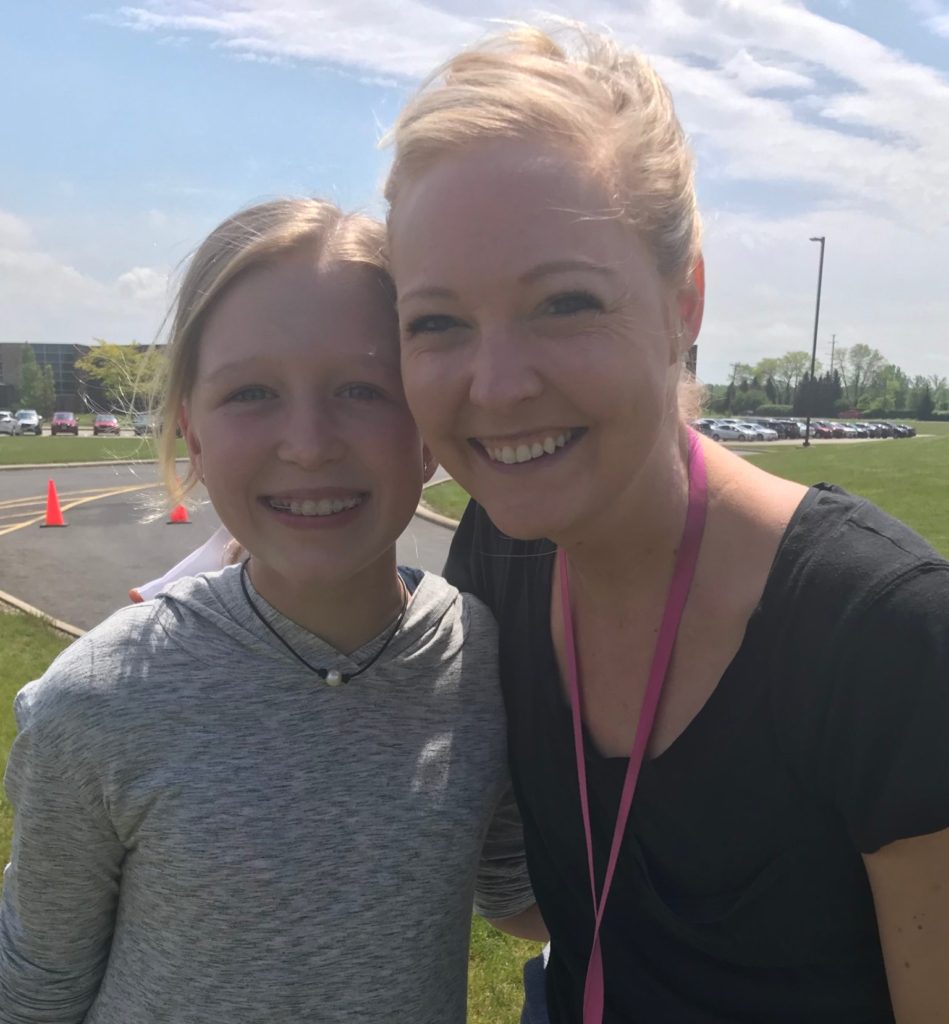 No matter how hard I tried to slooooow time, May appeared. It was all coming to an end. Ashley knew I was not ok. I got extra hugs and "just come visit all the time" to avoiding the topic altogether! It had been an exceptional year. Ashley was in such a positive place. She was fit, fulfilled and extremely happy. It was a blessing.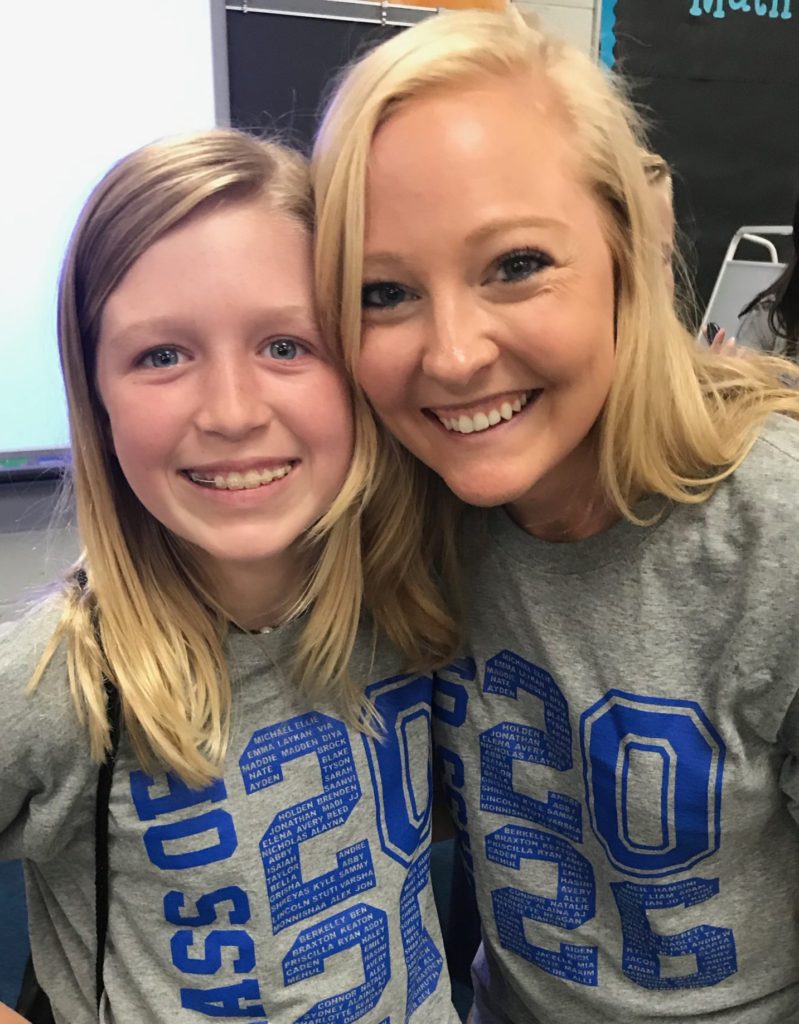 Every year, the 5th graders get 'clapped out'. The kids LOVE it. Parents and students line the hall, the 5th grade classes parade through with music and cheers. This next picture is Ashley seeing me in the hall. Crying. Earlier that morning I had watched Noah 'graduate' from Middle School and now this. It was too much. I was downright sad. My tears were sad tears and she knew it. After I snapped this pic, she actually stopped and hugged me. Which, of course made more tears. Her kindness never stopped. Sidebar: To save my recent Elementary School grad from embarrassment I quickly wiped the tears away and buried my sadness for another day.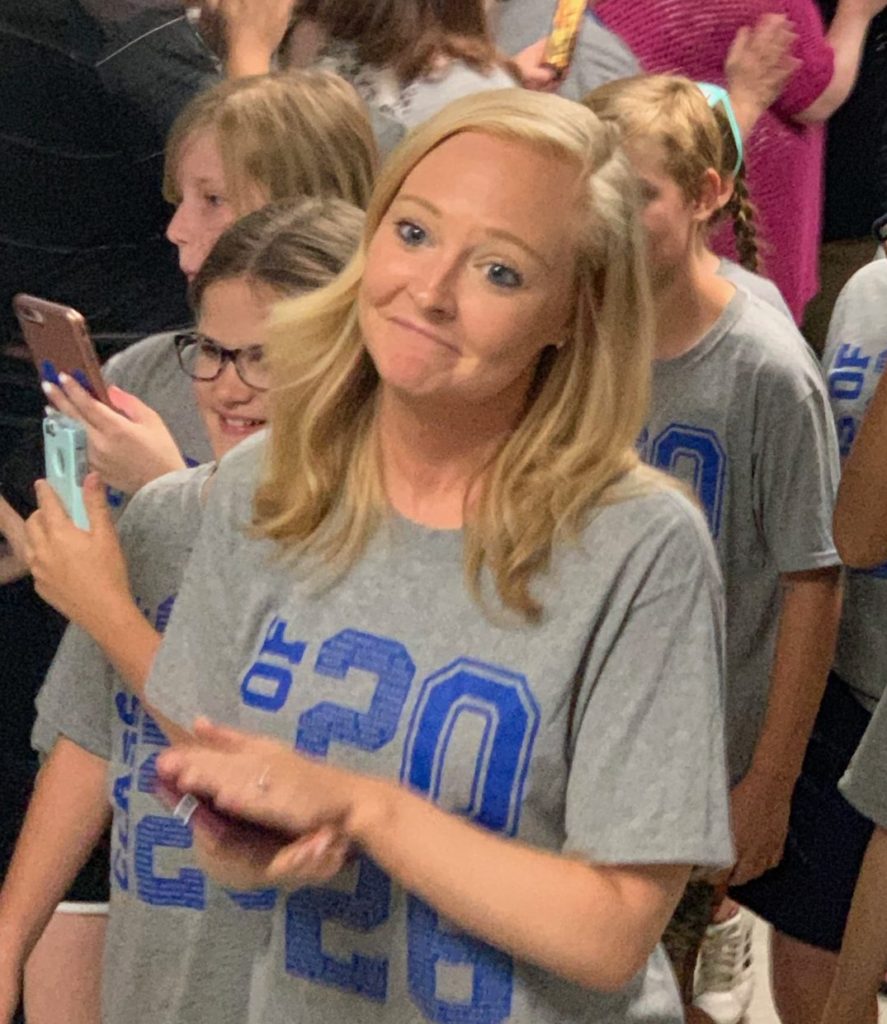 A few weeks after school was out, Ashley underwent a major spine surgery. I stopped by her house for a quick visit, she was of course mad about the surgery but she was ready to attack it and move through the recovery. I remember driving away from her house shaking my head in disbelief. This girl was a unicorn with superpowers, I wanted to be more like her. The surgery derailed all of her summer plans and momentarily put her in a dark place. But her strong body & even stronger mindset led to a speedier recovery than planned, an earlier return to the classroom and somehow and more positive Ashley! At the end of the school year, Natalie had gifted Ashley a Vera Bradley blanket. Natalie has a slight blanket addiction and thinks all of her favorite people should have a Vera. We both noticed the blanket showing up in Ashley's pictures that summer as she was recovering from her back surgery. Kinda felt like we were wrapping her in daily hugs.
The Natalie's LOVED Mrs. Wyss…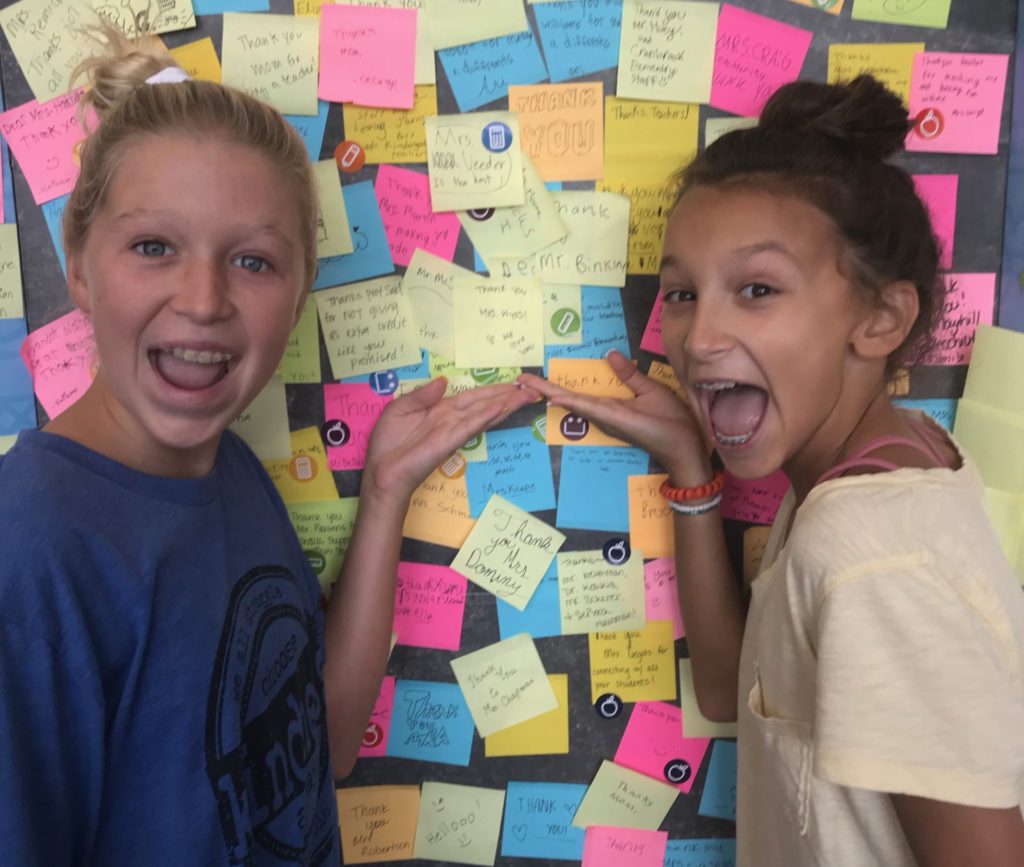 As soon as Ashley was back in the classroom, Natalie needed a visit! We stopped by Indian Springs several times to say hello, get a hug and check in. We always left feeling happier!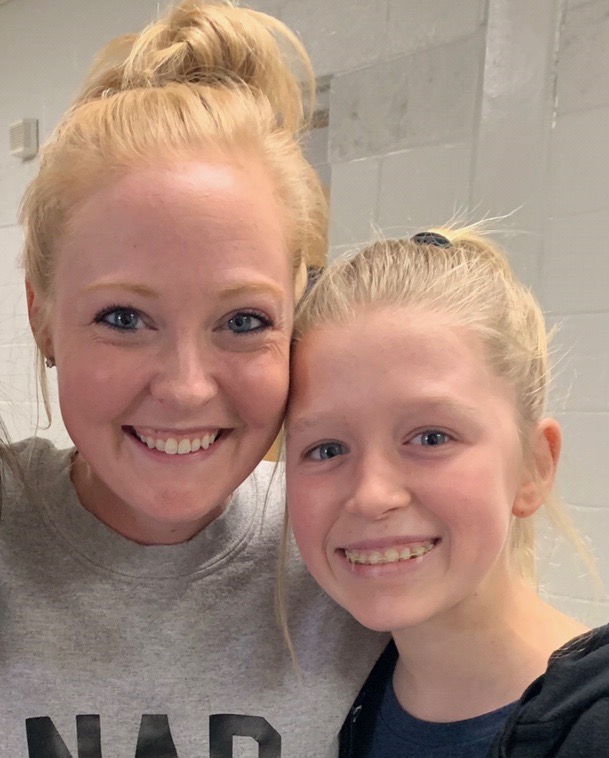 Ashley needed a second liver embolism surgery at the end of August, 2020. Before the surgery she and Ryan escaped to Jamaica for a week and lived their best lives in a floating bungalow! Natalie was over the moon excited for her to go on this trip but was worried Ashley would have a hard time waking up early for her flight! 😉 Nat mailed her a Starbucks card to use for coffee at the airport. Ashley sent this text…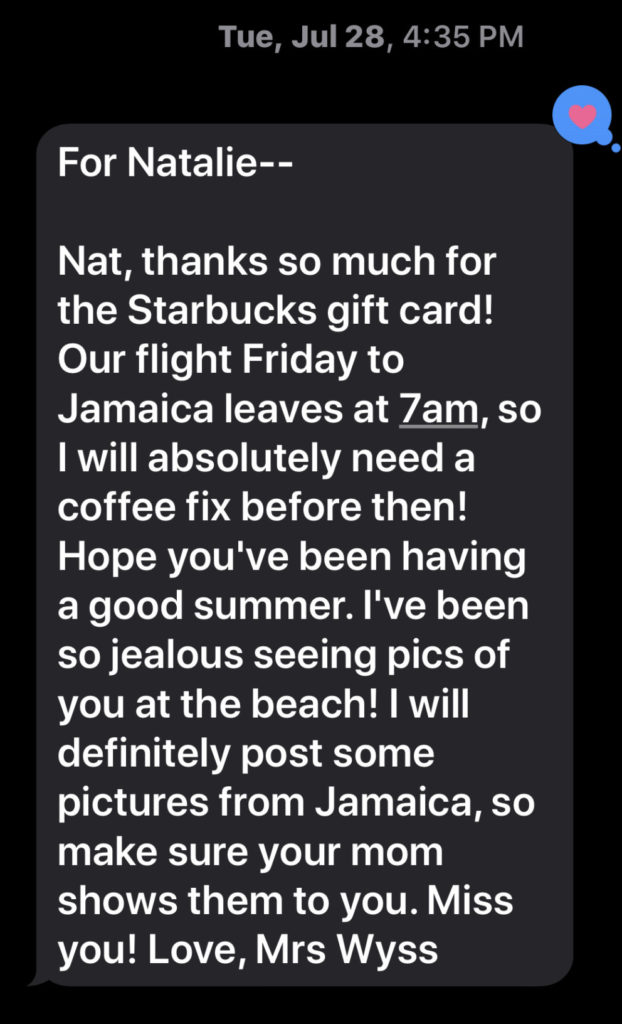 Everyone who knew Ashley was thrilled that this trip to Jamaica became a reality and at the perfect time. The last time I saw Ashley was on August 19th. I met her in the parking lot of Indian Springs for a brief visit. Had I known I would never see her again, I would have said 'screw Covid' and hugged her one last time. Instead we just chatted and I told her I would check in with her after her surgery.
Ashley had the second liver surgery on August 31, 2020. She never really recovered. She was in some pain, had no appetite and was super sleepy. We texted back and forth that week. I sent her silly pictures of Natalie and we chatted about the cold brew pitcher we had both been waiting for. A few days after our text on September 11th, she got the news that it was time to enter hospice care. The news literally brought me to my knees. Without knowing it, I was BEGGING God to undo this. I was not done with her yet. I needed more time. My kids needed more time. She deserved MUCH MORE time. It took me almost a day before I could reach out to her. I needed to find the right words, which had so often escaped me when it came to her cancer journey. I settled for telling her I loved her and that she had lived the life of a true servant. One of Ashley's final wishes was to leave a legacy. It's just like Ashley to consider that a wish when the rest of us already knew it to be true. She told me to text Ryan about setting up a time to visit. Sadly that final visit would never happen.
Both of my kids wanted to see her or talk to her or something. They didn't know what to do. They decided to write her letters. We sent digital copies to her right away and mailed these: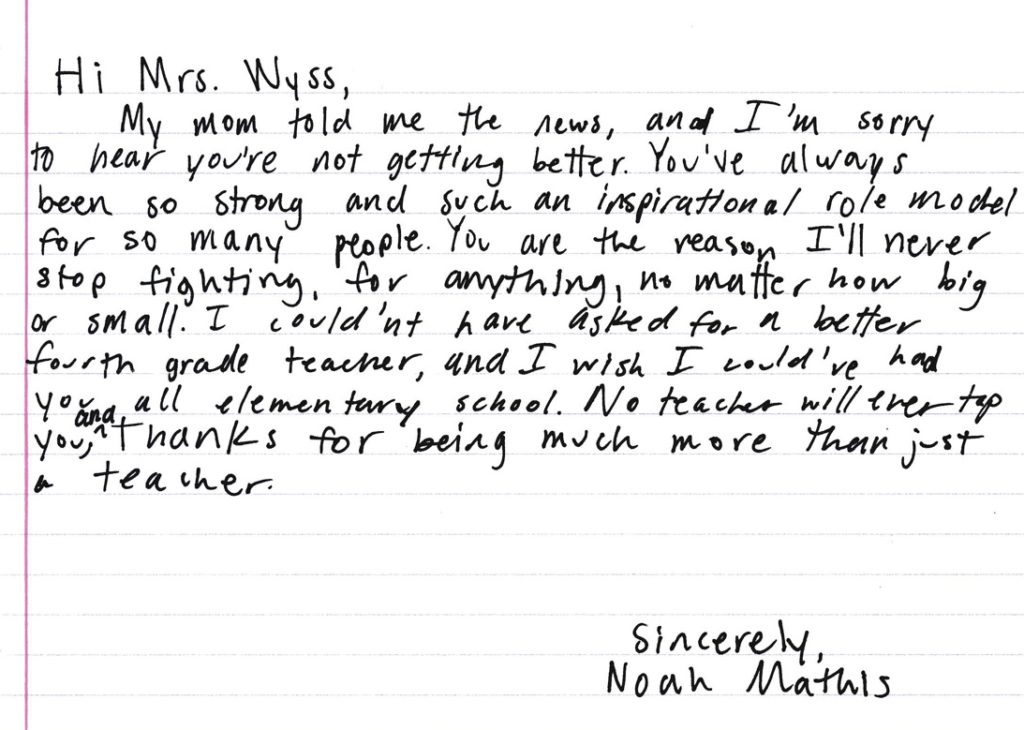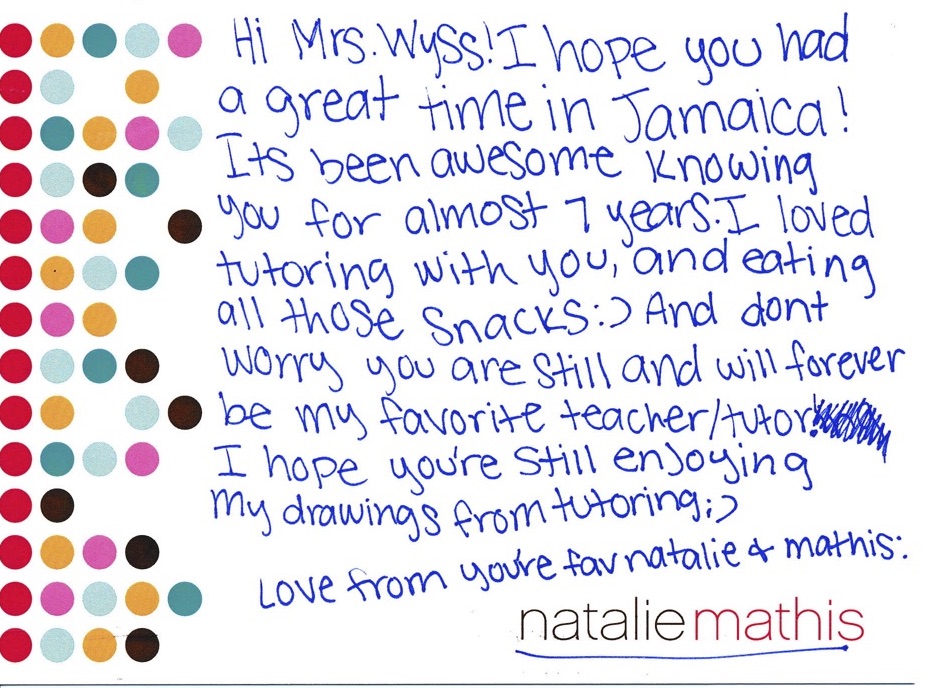 Ryan and Ashley's mom, Bev kept me updated on her final days. I know she was physically surrounded by those who loved her the most, but I can't help but hope that she felt the love my little family was also sending her. I prayed specifically for her mind to be put at ease and for her heart to burst with joy for the incredible life she had led.
A dear friend of Ashley's (& mine!) called me with the news a couple hours after she passed. When I saw the call come through my heart broke into tiny pieces. I was speechless. I called my mom, but no words came out. Jeremy knew it was bad as soon as he saw me walk through the door. Natalie was attending Youth Group at a friend's church and Noah was in the basement. I broke down at the dinner table in the middle of our prayer. Noah was giggling because he thought his singing had brought me to tears. Jeremy told him Ashley had died. I excused myself, sat outside for a bit and snuggled my dogs. Noah looked as if he had been punched in the gut. All he said was, "that sucks". Boy was he right. My plan was to tell Nat when she got home, but the news spread rapidly and she got a text while she was away. She didn't really know how to process it. She asked a lot of questions and then finally said, "I feel so badly for Ryan, what will he do?". Sigh again.
We attended Ashley's calling hours. Her urn was PINK! The flowers were gorgeous. The hardest part was walking in the room. Once we were inside, it was calming. She was everywhere, smiling at us. Her parents and brother and Ryan were genuinely happy to see everyone. They thanked us for loving her. Ryan talked about her and showed us a picture of where her ashes would be laid to rest. We left feeling sad, but our hearts were a little happier. Ashley always had a way of making things better.
The following pictures are my favorite post of Ashley's. She was proud of her scars and her journey. She was not a victim. She was a warrior. The kindest warrior ever, but still very much a warrior. She knew our scars, both visible and hidden should remind us of our journey & our strength. See why I am going to miss her?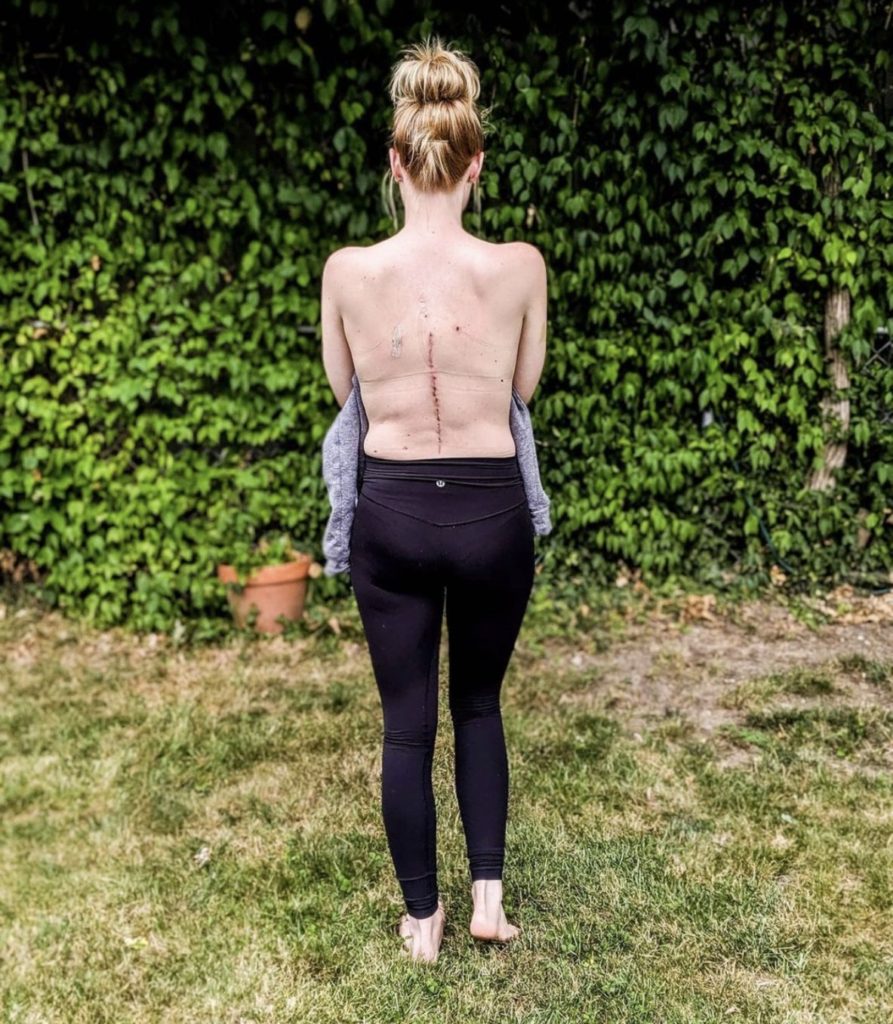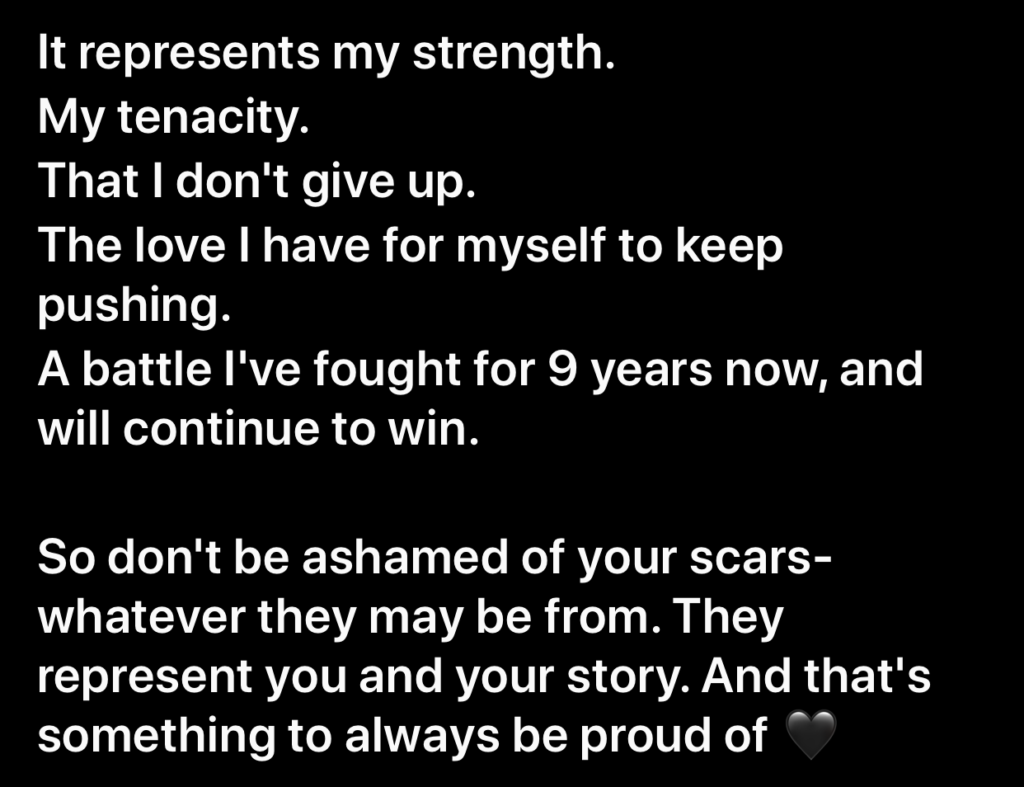 So it has been almost three weeks and her death still seems surreal. I drive by Indian Springs several times a week and I imagine her in her classroom, surrounded by adoring students telling Arlo stories and sipping a Starbucks. I hate that I can't pop in for a visit. I hate that I will never get another text. I hate that I will never see her roll her eyes. I hate that I will never get another hug. I hate that my kids have lost one of their rocks. But on top of all of the hate, I have countless memories that flood me with smiles and give me hope. Ashley was too big for this little world. I am thankful for the time my family had with her. We will not ever let her spirit die.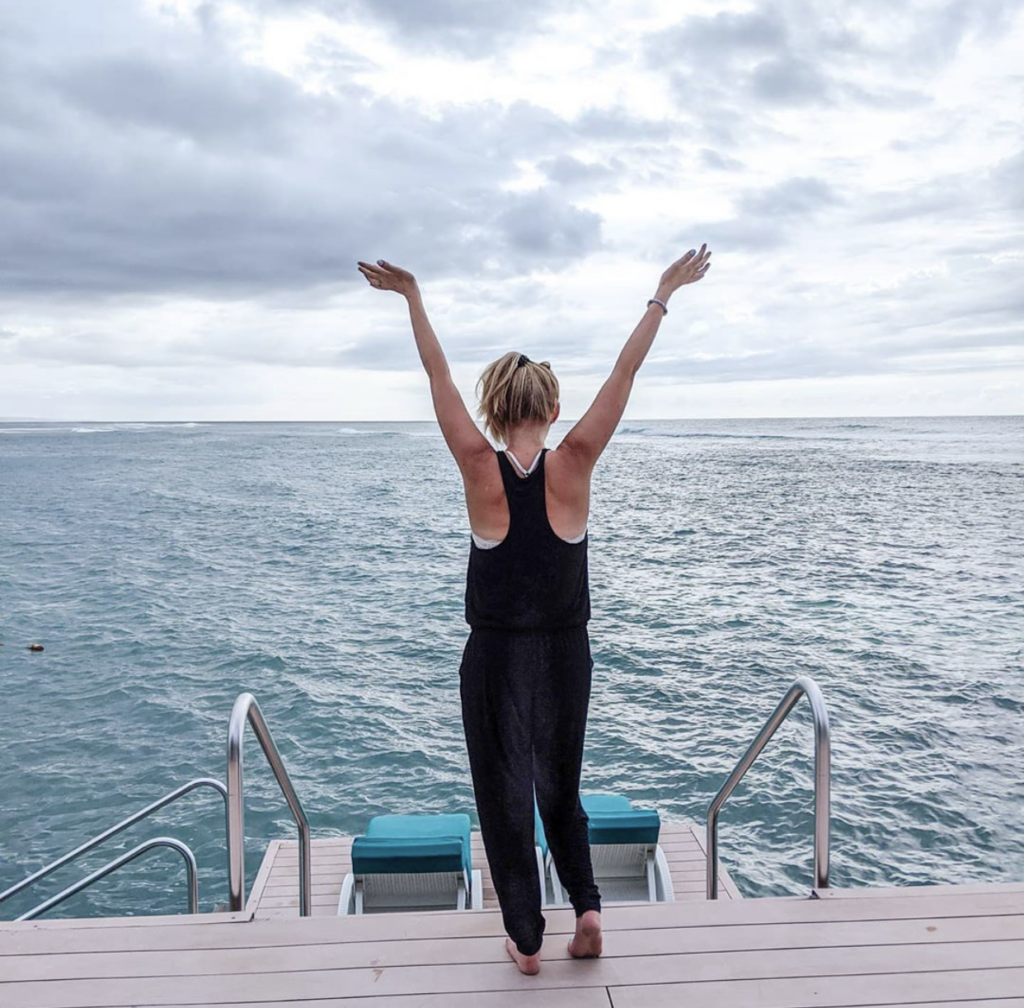 Live Creatively, (& Positively!)

Tags: