Slumming it in southern California…..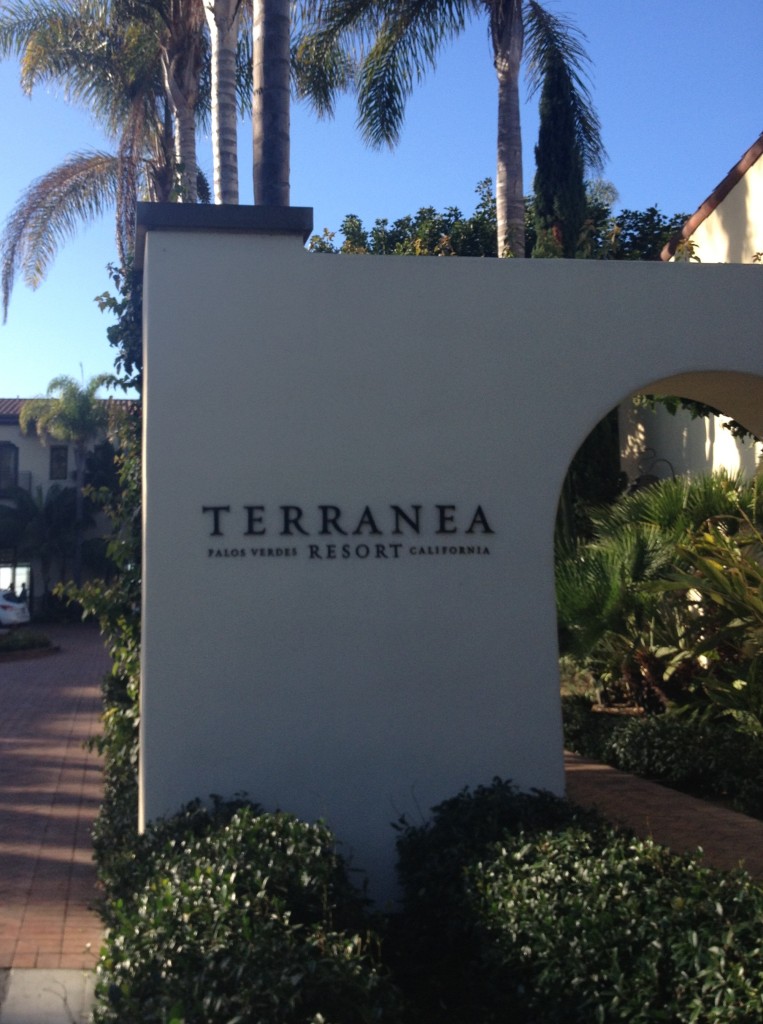 Lucky for me I married a guy who's job requires him to attend conferences throughout the year! I started tagging along a few years ago….once the babies were old enough to be left with the Grands and I was able to push the mama guilt to the back of my brain for a few days at a time. This particular conference led us to sunny southern California to the Terranea Resort. Pronounced (terra-NAY-a) it is just a short cab ride from LAX and consists of 102 acres of private paradise in Palos Verdes. The crashing waves of the Pacific are soothing, the views are beyond beautiful and Catalina Island can be seen on a clear day. It's a family friendly resort but we forgot to bring the kids…oops!
Fun fact: the resort sits on land that was once Marineland. California's first theme park….yep, it was around before Disneyland. It was home to several killer whales, a research department and a first-of-its-kind swim through aquarium. It closed in 1987. When you are bored, watch Pearl Harbor, The Aviator, Pirates of the Caribbean or Charlie's Angels and see if you can spot the scenes that were filmed at Marineland! You're welcome for giving you a game plan for your next free Friday night! Here is a picture from the Marineland archives: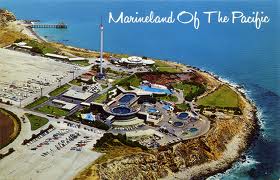 Construction of the resort began in 1998. Terranea Resort is celebrating it's 5 year anniversary this year. Just a baby!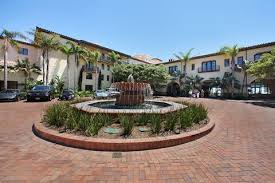 Upon our arrival, we were greeted with glass of bubbly.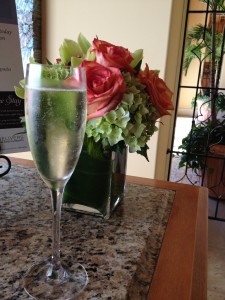 Jeremy is not a champagne guy, so he politely refused his glass. I lovingly kicked him in the shins after the nice bubbly-offering man walked away, who turns down FREE champagne? Mama could have handled two glasses!  The top notch service and attention to detail never let down.
We stayed in Casita 24, Room 103. Casita means small house for those of you who slept trough high school spanish class. The room was really nice. Really. Nice. Look:
I loved the private patio. Well done Terranea!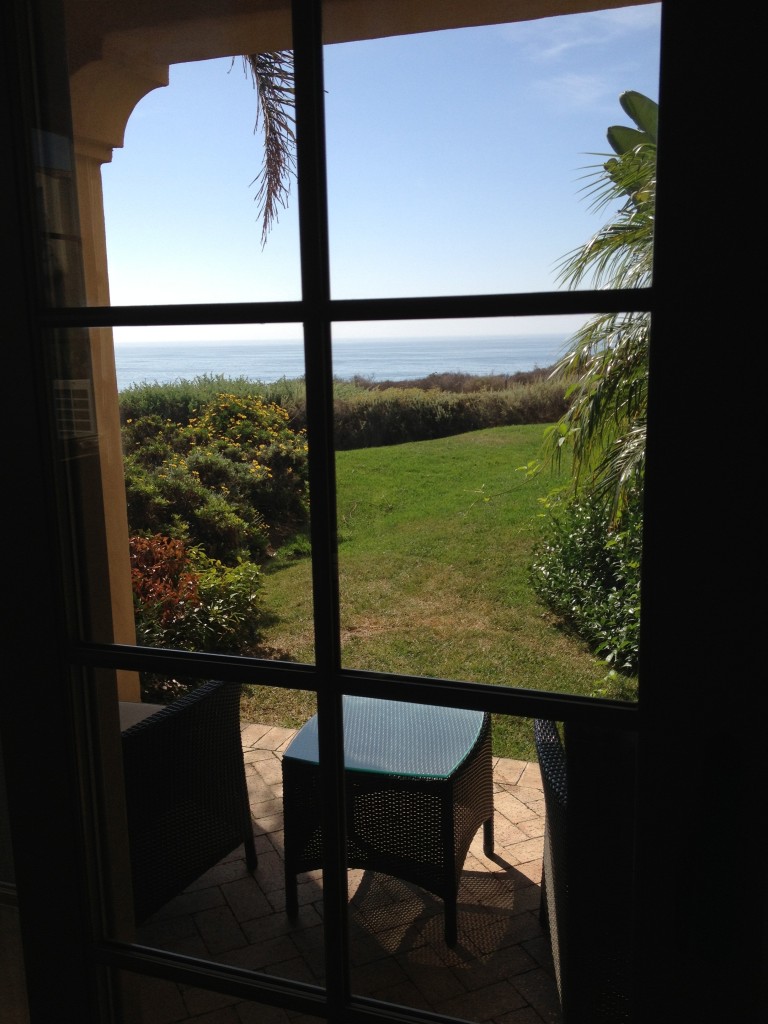 We took a little stroll to check out our surroundings. There are walking paths that follow the coastline. Here is a view from of our casita from the path: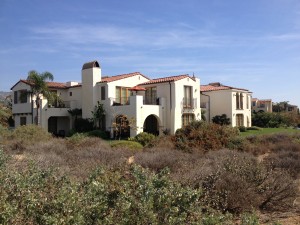 An incredible view of The Point Vicente Lighthouse was mere steps from our room.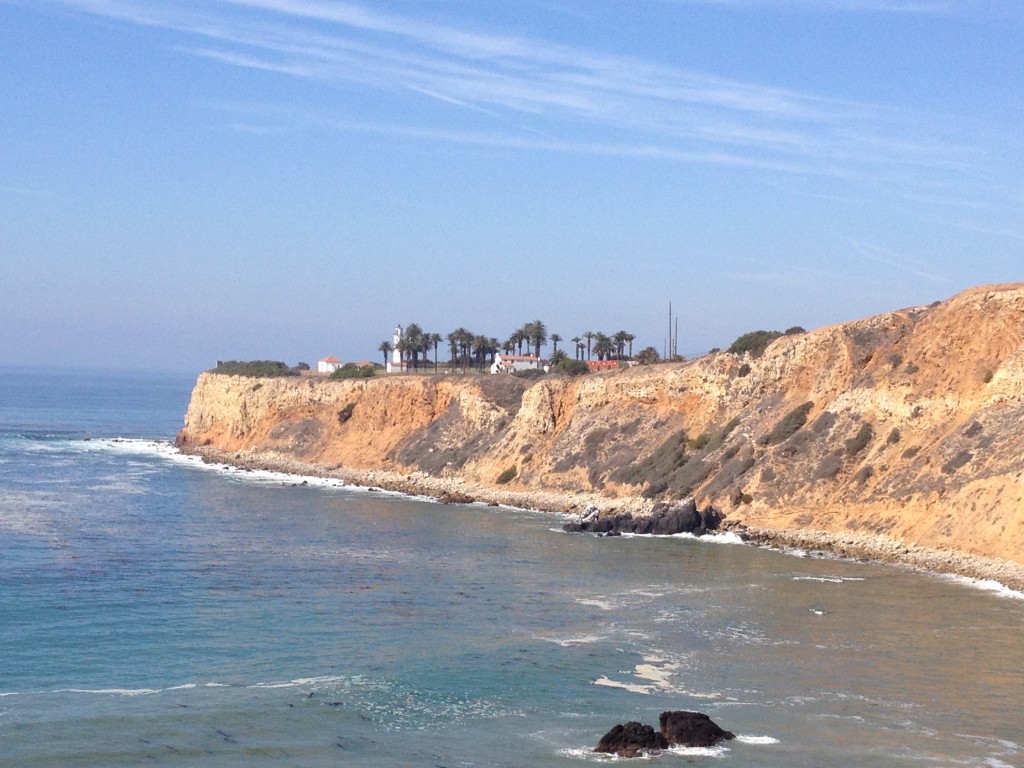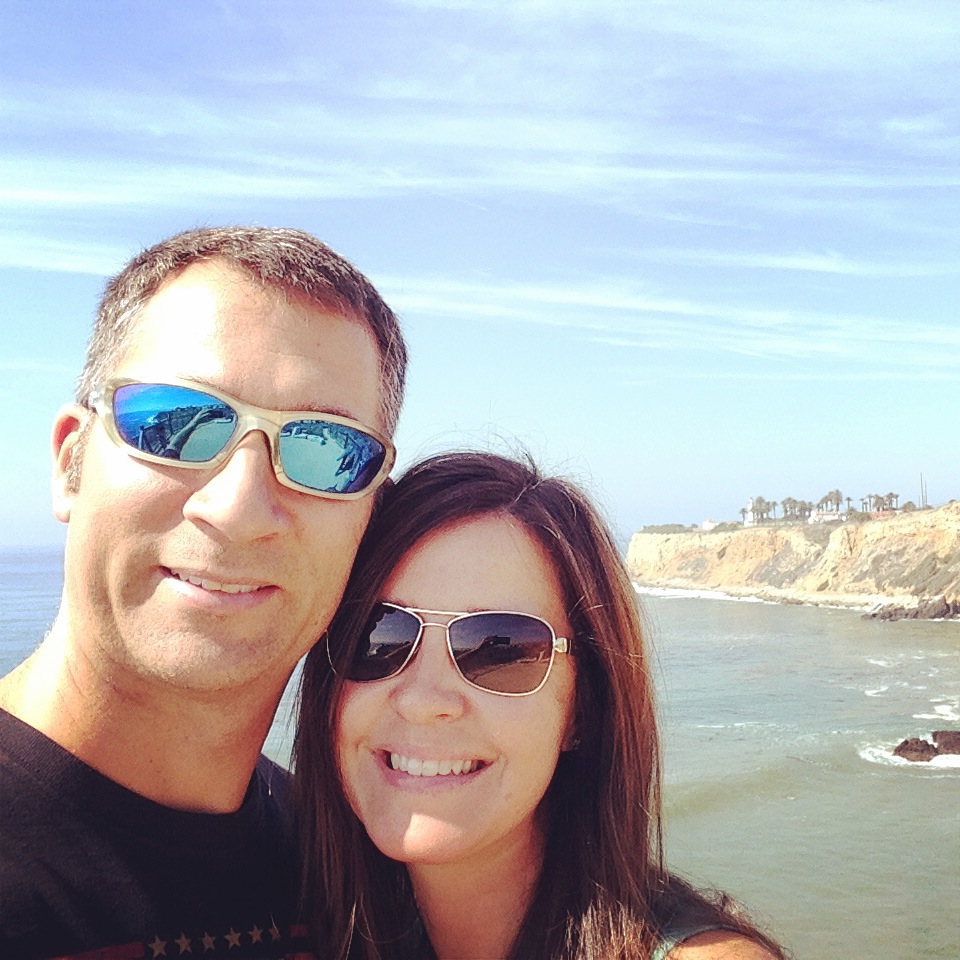 The weather was gorgeous and I was starting to sweat through my cotton tank top, so we headed to the pool. The adult pool! Great idea, Terranea! It was pretty sweet.
Since we came in a day before the conference started, Jeremy was able to lounge by the pool with me. We ordered drinks and food. One of us applied sunscreen and we both settled in for a few hours of pure bliss. In true Mathis Style, we met some new friends and acted a bit silly. I highly recommend the 'Beach Party' cocktail….yummy!  Order the mini burgers…by far the best choice on the menu.
We dragged ourselves away from the pool, changed clothes and made it to dinner at Nelson's just in time to see the sunset.
Seeing the sunset over the ocean while sipping wine made me temporarily question our choice of states in which to reside! It was perfection….I will share it with you, although my iPhone picture does not do it justice.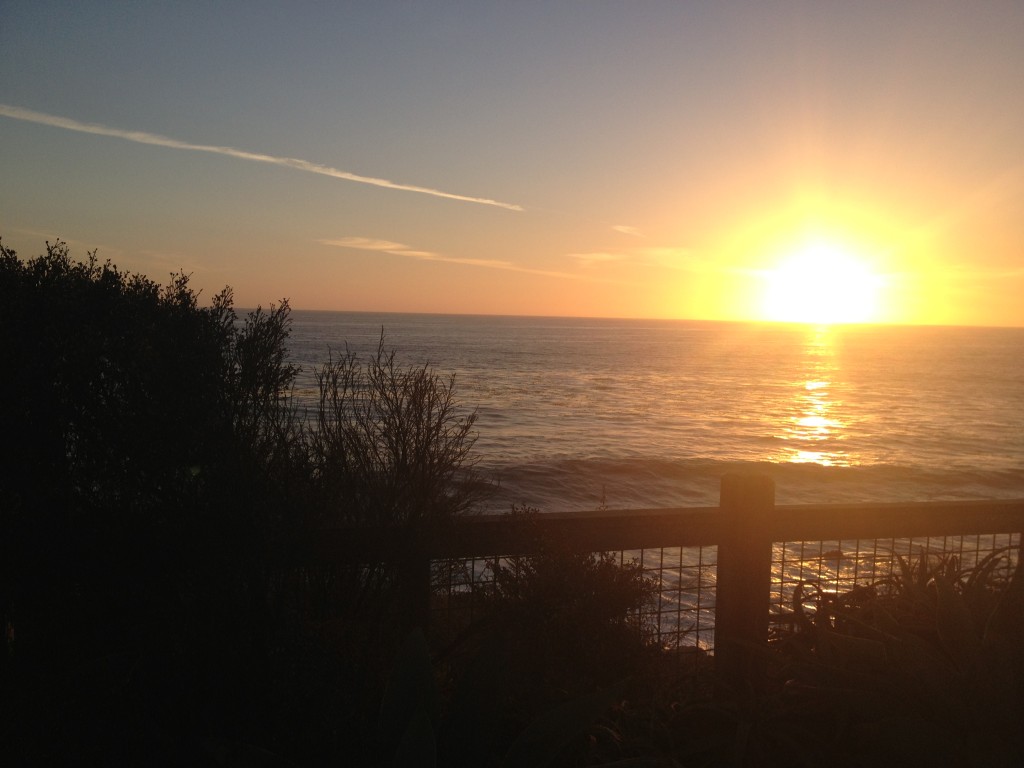 The sun set at 6:30, so we made our dinner reservation for 6:00. Do your homework and arrive a bit early, you do not want to miss it. And Nelson's is hands down the best place on property to watch the sunset while dining! Another fun fact: Nelson's is named after Mike Nelson, the character played by Lloyd Bridges in Sea Hunt. There are loads of pictures from the show on the walls. Pretty cool.
We had grand sight seeing plans for the next afternoon. We love to check out new places when we travel and I had scoped out several. The Abalone Cove. The Wayfarer's Chapel. The Point Vicente Lighthouse. We had bloody mary's and a bite to eat at Catalina Kitchen. It hit the spot. Jeremy's chicken and waffles outshined my scrambled eggs for sure. Our breakfast was happily interrupted several times by old friends. These Osteopathic conferences are a bit like a family reunion. Our pal from residency, Eric L. joined us and we picked up where we left off from our last meeting a few years ago in Miami. He keeps promising me that he will bring his wife Heather next time….Heather, if you are reading this, PLEASE COME!
Once Jeremy's lectures had ended, the resort shuttled us to the Abalone Cove Shoreline Park and it was closed. Looked like a little construction was going on. Buzz kill number one. Next stop was the Wayfarer's Chapel. It was open! YAY! This chapel is beyond beautiful. It was built in 1951 as a place for wayfarers (I looked it up, it means "a person who travels on foot") to come and worship. Llyod Wright (Frank's son) designed it. It sits atop a hill overlooking the sea. It is made of glass and surrounded by redwood trees. Enjoy….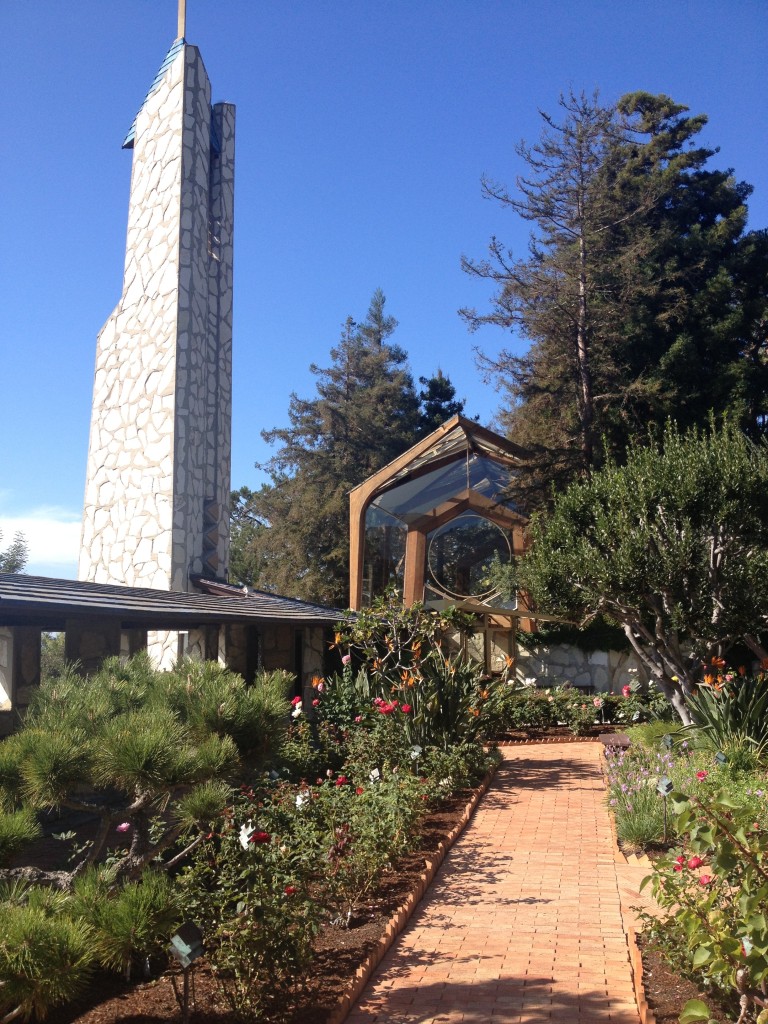 When it was built, the trees were so tiny. I found this picture from 1951: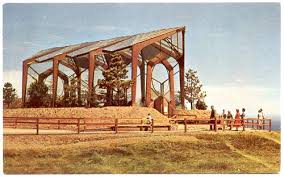 It is a popular place for weddings. And it offers a worship service every Sunday at 10am. Kind of wish we could have attended while we were in town. It's worth a stop if you are in the area. Be careful, you will drive right by it and apparently not many locals know about it. Our driver had never been. We told him he needed to go and to spread the word! We spotted a very interesting flower, which of course Jeremy knew the name of (I immediately forgot it) and took a minute to enjoy the view from a bench outside the chapel…
Our third tourist destination, The Point Vicente Lighthouse was just a few minutes down the road. It is the lighthouse that we had been admiring from our casita. We pulled in and were greeted by very large fences that were locked. Buzz kill number two. So, the lighthouse is only open to the public on the third Saturday of the month! Not cool. At this point Jeremy was questioning my cruise director status! Later that evening one of Jeremy's partners was receiving an award so we attended the ceremony. I can vouch for him first-hand as he repaired my mangled softball injured finger when I was a junior in high school. Small. World. Congrats Dr. Kerr.
Being the amazing, astounding, awesome, above-average (I like A words) wife that I am, I declined an invitation to accompany (I told you I like A words) Jeremy, Eric and two other resident pals, Mark & Andy to the LA Kings hockey game. I knew I would be missed, but I decided to let the boys have free reign to talk shop, drink too much beer and shout profanities at the refs without 'offending' me. Ah, who am I kidding….I had the evening to myself. Wine. Remote. Quiet. It was hard, but someone had to do it. Wink, wink!
Here was my view: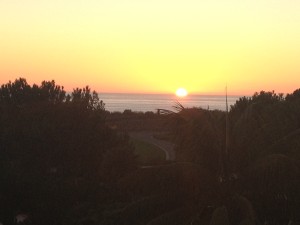 Here was my dinner: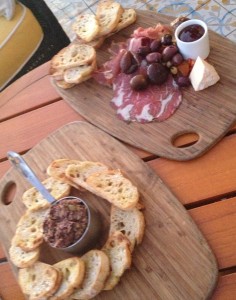 And for dessert….a salted caramel truffle!
Friday came and went quickly. Jeremy attended several lectures. We soaked up some more sun. Questioned our state of residency. And planned dinner. We opted for Catalina Kitchen, but decided to swing in Bashi for a cocktail. We bumped into Eric and entertained the bartenders with our midwest charm.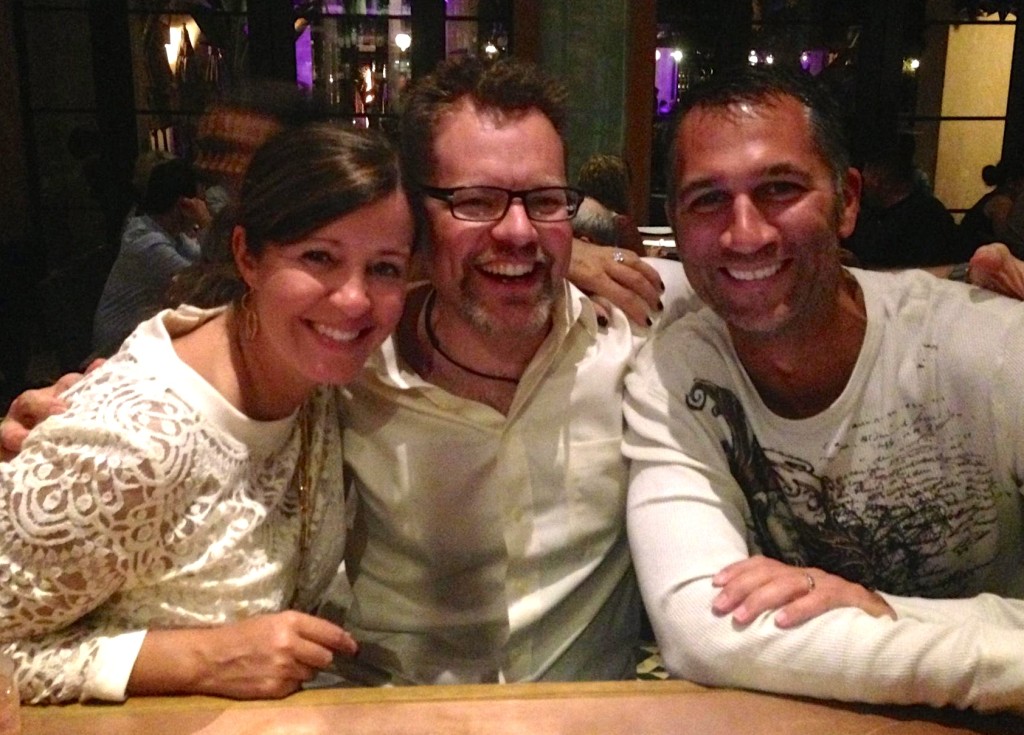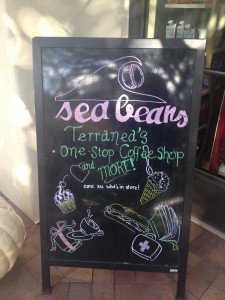 Sea Beans  has the best selection of tasty treats! In addition to truffles, gelato (get the chocolate) and macaroons, Sea Beans offers a Pancake Station on the weekends.
I didn't think I was a pancake person, but I may have to reconsider! Hopefully this was the only time I will spend $12 on a stack of pancakes that I could not finish. $10 gets you a stack of three cakes. Each topping is $1. That is not a typo. You want a heaping mound of chocolate chunks? $1. You want a spoonful of rainbow sprinkles? $1. Choose wisely.
I sware I snapped a pic of my plate of bliss, but I must have been too eager to EAT the pancakes, sorry about that. I chose chunks of chocolate (duh) and strawberries. Along with a large spoonful of whipped butter and syrup, lots of syrup!
Once my belly was content, we strolled to the spa. Who doesn't gorge on pancakes before a romantic couples massage with their husband?! Eek!
The Spa…..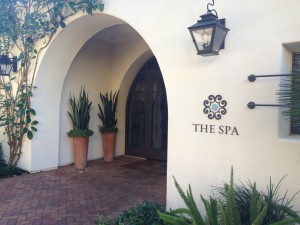 We checked in, went to our separate locker rooms and found our robes.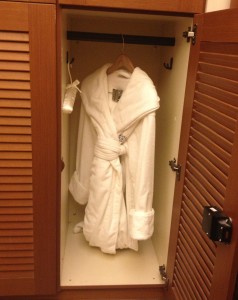 Before stashing my phone I took a selfie, but oh how I wish I would have kept my phone to get a picture of Jeremy in his robe. TOO CUTE!
I opted for the Hot Stone and the hubby went for the Terranea Therapeutic. I got sizzling stones, he got elbows…suffice it to say we have different tastes in massages!
For the rest of the day I relaxed on the super comfy padded lounge chairs offered only at the Spa Pool. With a treatment the pool is 'free' for the day. Without a treatment, you can enjoy this pool for $40. Yikes!
The resort offers several daily excursions/programs that we did not take advantage of this time. We did get to see the 'Bird Guy' with one of his hawks he was using to scare away some crows. I am not a huge bird fan, but I will admit that hawk was cool. Check out a few of the extras you can enjoy while staying at the resort: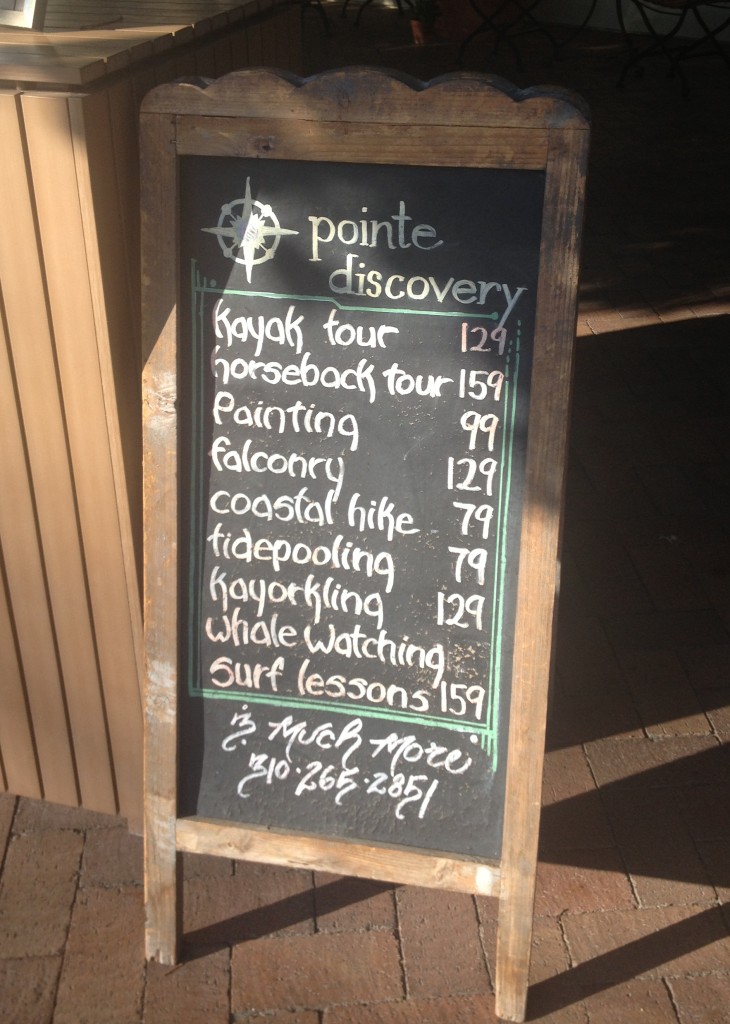 Our stay came to an end at 3:30 Sunday morning as we loaded our bags into a cab and headed to LAX. I can now say that I have been to an airport before it even opens. 5:45am flights are rough, but it got us home in time to see Noah tear it up on the soccer field.
Thanks Terranea for a wonderful few days…….we will cross paths again!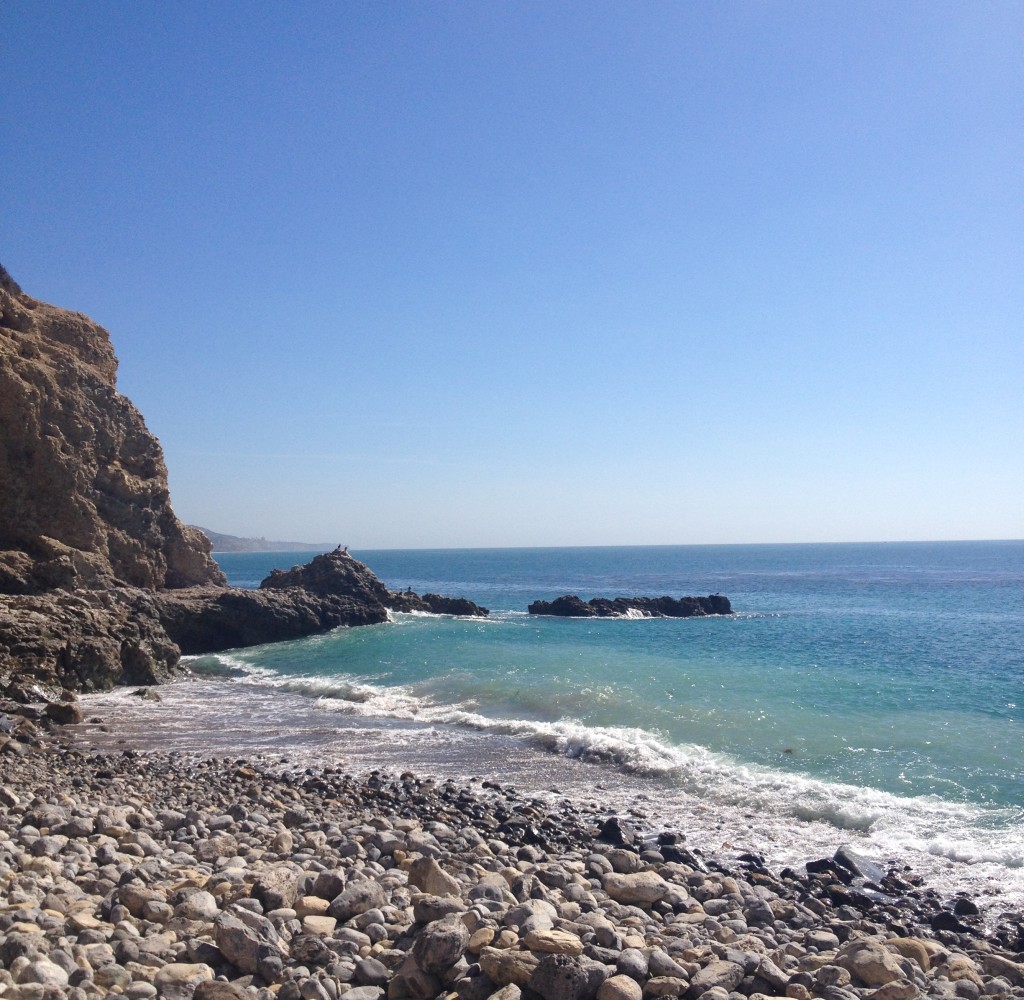 Live Creatively,

Tags: