My video game junkie turned nine on August 6th!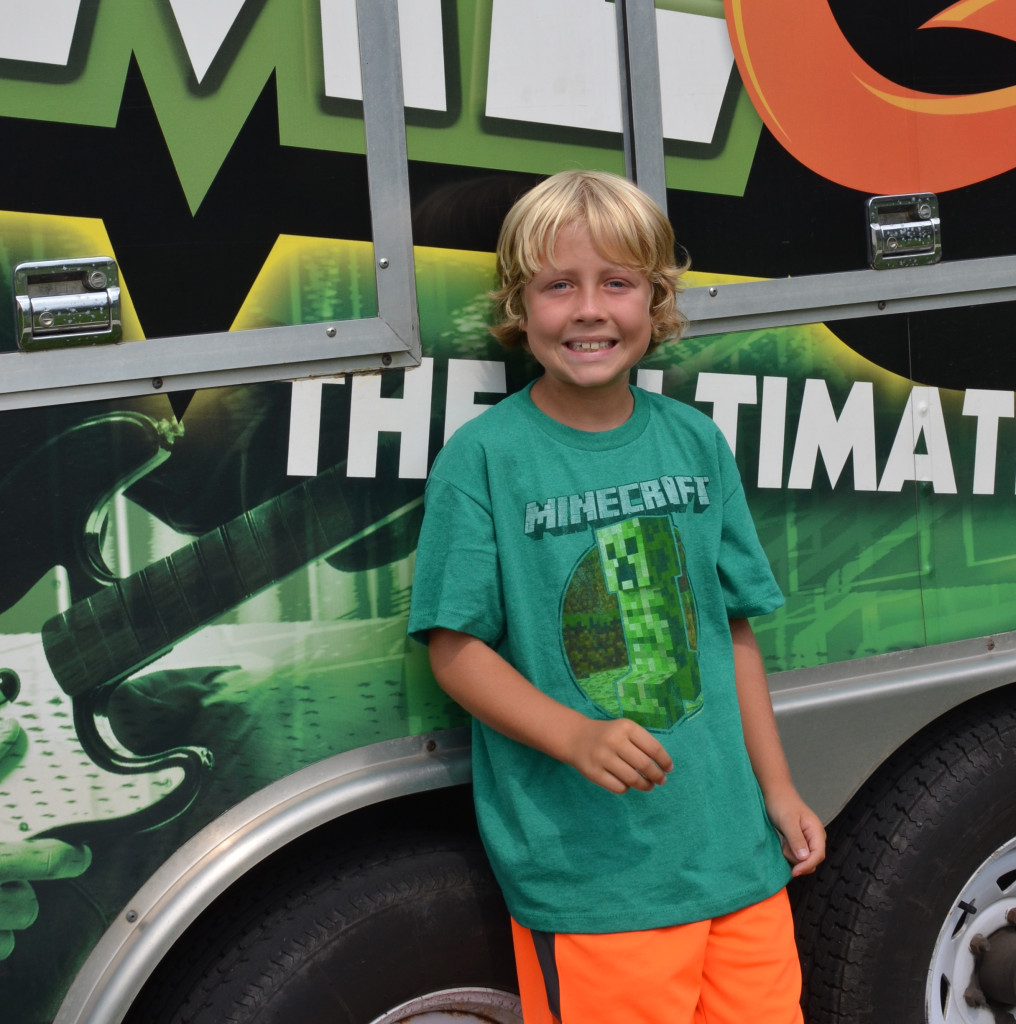 Noah is a gamer + He's obsessed with Minecraft + His friends are gamers too = GAME TRUCK PARTY!
Noah had attended a couple Game Truck parties in the past year, so he was 100% certain of the theme for his 9th birthday. His mama was a little nervous at first (how could I maximize my creative energy into a party that centered around a giant arcade?), but once I embraced the theme there was no turning back!
I found the cutest invitation on Etsy…check it out HERE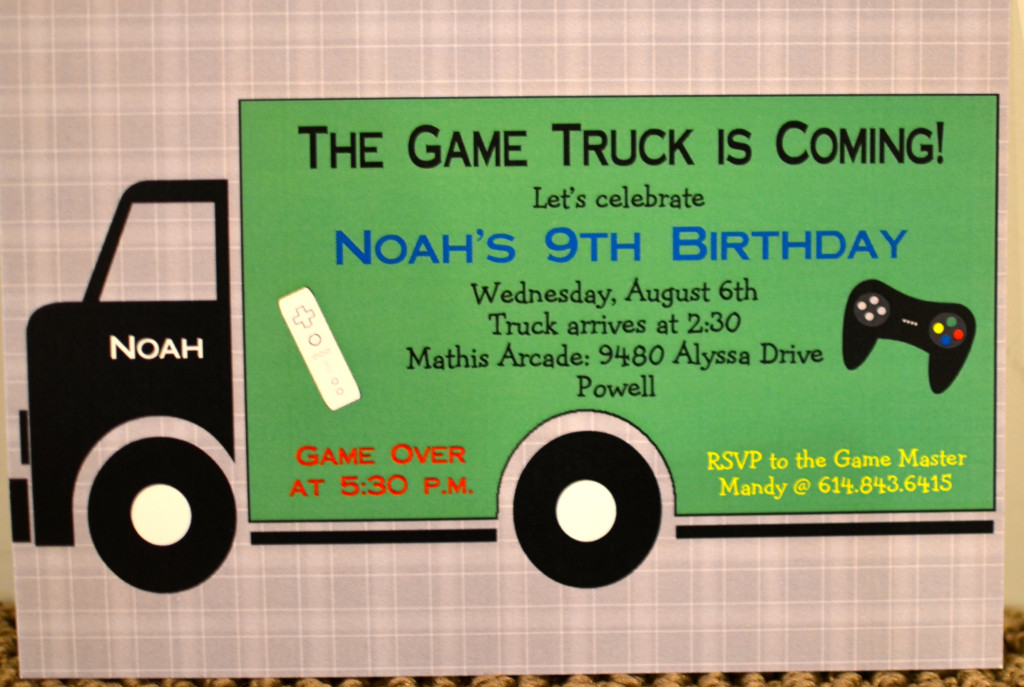 The shop owner was amazing to work with and even created a matching Thank You card and Cupcake Toppers. Look, I am not teasing when I say these were perfect.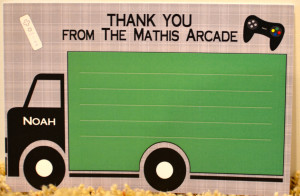 I wanted to use more than just GREEN. Green truck, green Minecraft game…this party planner needed more than green. Hence the blue and red added to the invites and toppers! So, I had my theme and colors, which meant I was ready to plan!
The favors! I know you don't need them and guests don't expect them, but I love them! Realistically the giant arcade sitting at the end of my driveway would have been 'favor' enough, but I could not squelch the need to present each Gamer a goodie bag as they left.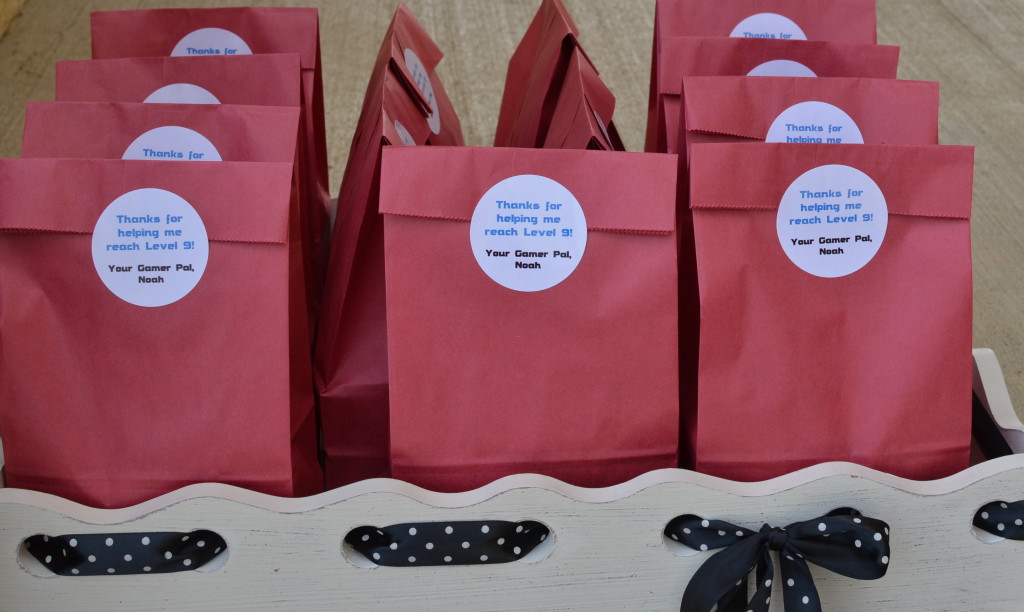 These were pretty simple, thanks to Etsy! They included:
Elixcir Bubbles (Clash of Clans), buy HERE
Diamond Boxes (Minecraft), customized, buy HERE. Fill with blue candy!
Mining Sanitizer (Minecraft), buy HERE
Bird Toy (Angry Birds), clearance section of Hobby Lobby
Arcade Candy (Space Invaders), Old Navy
Gummies (Angry Birds), Party City
Cookie (Pac-Man), buy HERE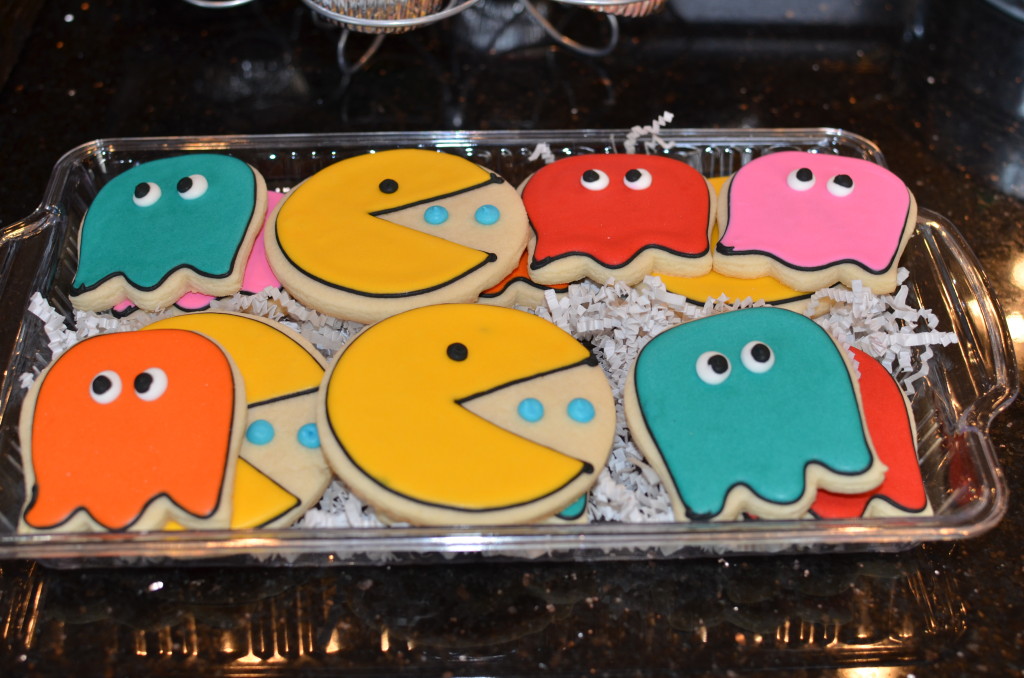 We started the day singing HBD to our always-smiling boy. He loves candles (well, fire) so we put candles in pretty much every meal during Birthday Week. See:
Next up was party prep. The Game Truck was scheduled for 2:30, which meant mama was in over-drive.
I spent several hours learning as much as I could stomach about Minecraft and all of the items you can mine because Noah wanted a Minecraft Buffet. With the enormous help from Etsy I found these creative food tents which made me very happy. You can buy them HERE.
This buffet was so much fun! Many of the items were purchased from the grocery store. I made the 'lava', red jello shots (non-alcoholic, of course) a few days before. The 'dirt grass' was a double batch of Rice Krispie treats with green icing. The TNT was Twizzlers cut and half and wrapped with TNT paper (included with my food tents). I ordered the golden gum balls (golden apples) and colored rock candy from HERE. Please do not make the same mistake I did and order clear rock candy for diamonds….Minecraft diamonds are BLUE. Let's just say I heard about it from Noah and one, or two, or three of his gamer friends! Who knew?!
We did not see much of the boys for the two hours the truck was parked in my street. Every once in a while a gamer would emerge from the darkness, eyes shielded and wobble up to the buffet for an energy boost. I must admit the truck was pretty cool. I had a small vision of an adult only retro gaming party (with real jello-shots!).
After two hours the game truck pulled away and there may have been a few tears shed…but I will not name any names! Ok, it was Jeremy…because now we had to entertain 16 zoned-out boys! EEK! Good thing I had a plan. I knew the boys would need to burn off some energy after staring at pixelated screens for two hours. I also know that these boys love Minute-to-Win-It games. I decided they needed to earn their dessert. In Minecraft there are 9 ingredients you need to make cake. Perfect, huh? Nine ingredients, Noah is nine, we were serving cake! Sometimes the party gods deliver a gift on a platter!
Find the Ingredients for Cake Scavenger Hunt/MTWI Challenge:
1-transferring 9 tic-tacs from one cup to another with tweezers
2-stacking cans and paper plates
3-wrapping the birthday boy as a mummy
4-cereal box puzzles
5-tipping over bottles with a baseball in pantyhose
6-moving cookie from forehead to mouth without hands
7-bouncing ping pong balls into plastic cups
8-unrolling toilet paper rolls 2 at a time
9-blow a Solo cup across the table to their partner and back again
A clue was given for a certain location. At the location the ingredient was found with instructions for their MTWI game. While they were finding the clues, we were setting up the  next MTWI game. I had all of the game supplies in different baskets so it was a quick set-up each time!
I made this 'Ingredient Board' where the boys taped the cake ingredients when they found them.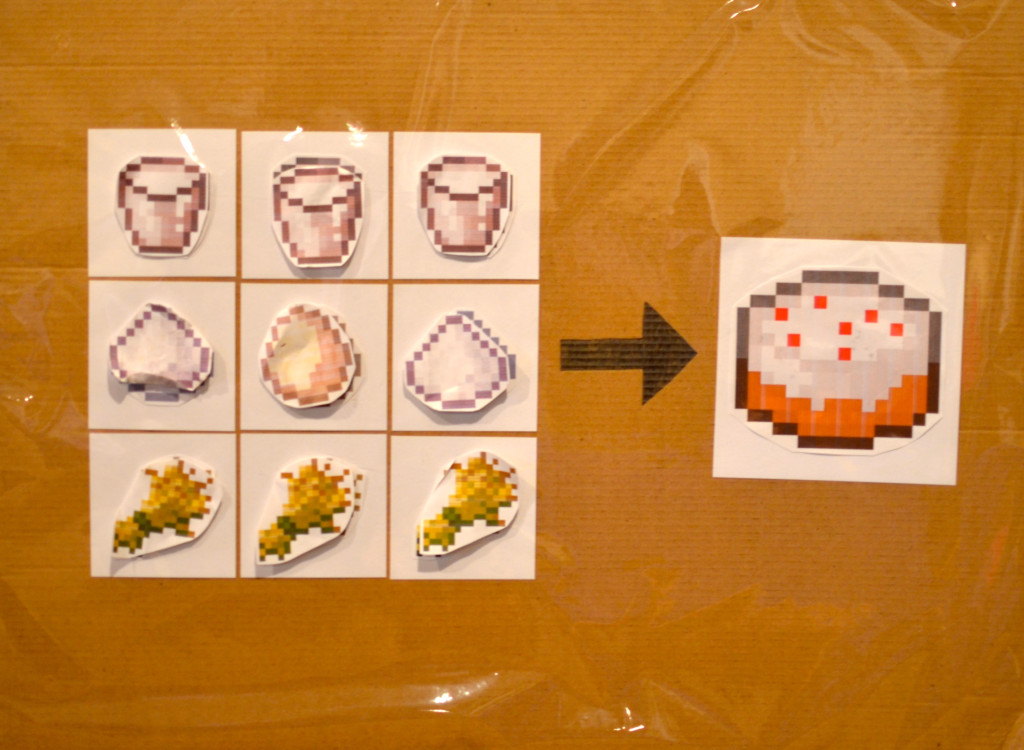 When the board was complete, the cake (cupcakes) were served!
Here's the whole Gamer Gang:
And it is crazy how popular these little guys were. I found them at Brother's (boy side of Justice) and almost didn't buy them, because I thought they would be considered 'babyish'! Boy, was I wrong! I even had a few boys ask if they could take them home! Look how cute….
And as you have probably figured out…I am a stickler for themed shirts for our parties. I love how my whole family plays along!
Live Creatively!

Tags: