I should start this post with a photo of the Christmas storage bins that are kept in my garage, but I do not like to call attention to them. I try my hardest to convince my husband that there are only a few. Ha! Thank goodness he is a stacking genius and can make them all fit. Instead, I will begin with my newest purchase, a canvas for my mantle.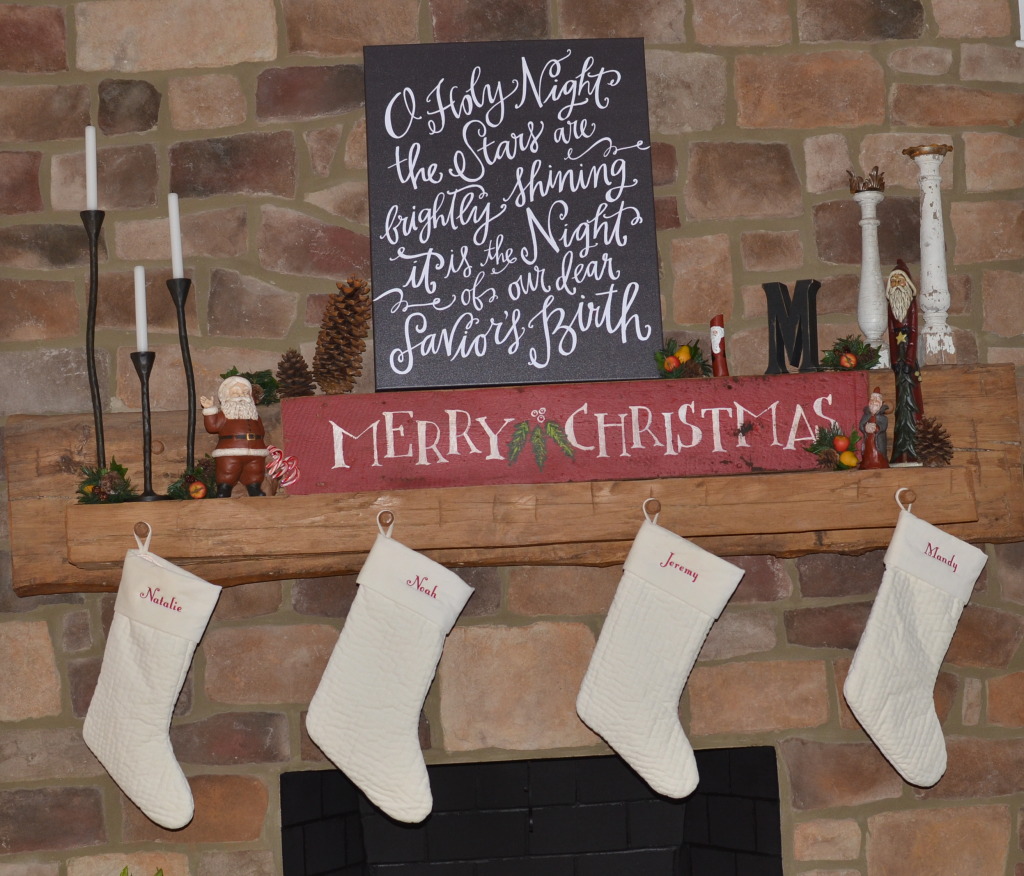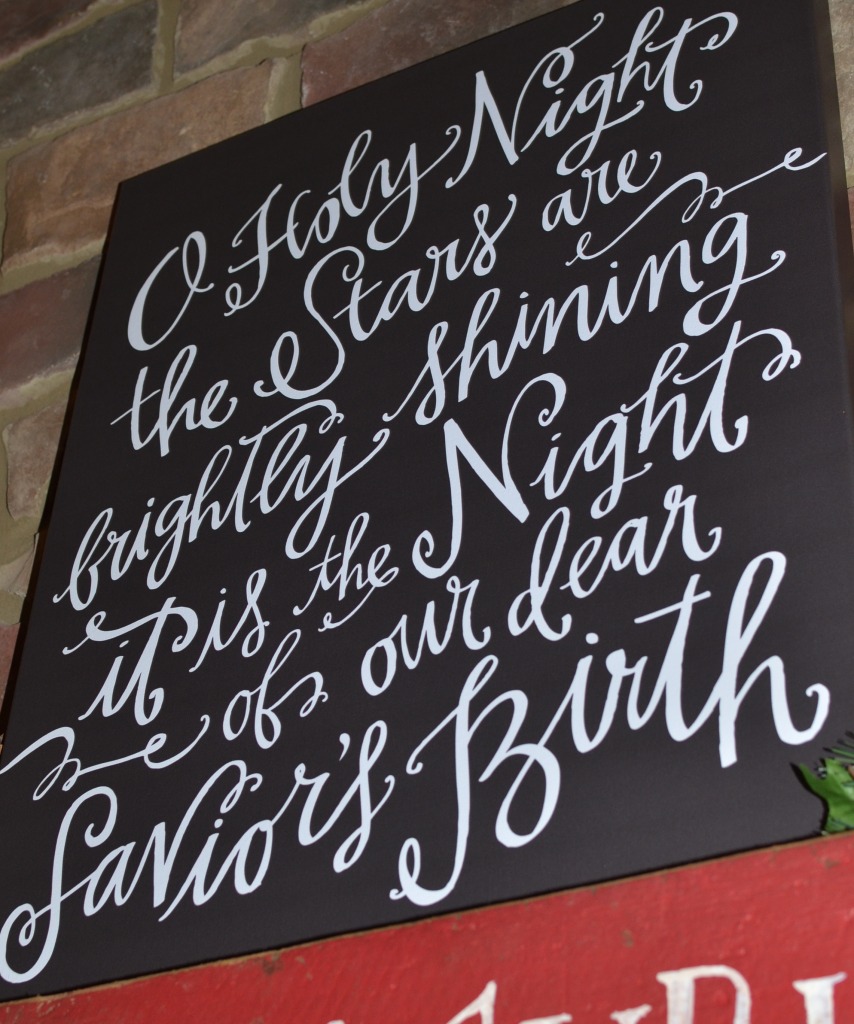 I fell in love with this over the summer and ordered it while sitting at the pool. Buying Christmas decorations in July should get me on the Nice List, right? You know you want one. Buy it from Lindsay Letters. You will not experience buyer's remorse, I promise. It is even better in person! And the stockings are from Pottery Barn. They are on sale right now!
The Merry Christmas wooden sign was a flea market find and I am dying as I notice the order of the stockings…..Natalie was angry with me and switched the stockings! Love her!
My Grandma Dortmund was a very talented painter. She would work year round on her precious Santas and present them as gifts to her friends and family. I feel very blessed to have several of her Santas!
Each year Noah gets a new Nutcracker and Natalie gets a new Snow Globe. I try to find ones that represent something special from the year. It is usually the theme of their birthday party. Some are expensive, some are dirt cheap, all of them are super cute! I use them to decorate my Harvest Table in the living room. Sidebar on my Harvest Table. It belonged to my grandparents and took up an entire wall in their great room. It was always decked out for Christmas and I knew I always wanted it. It was given to me a few years ago and my husband and I designed our living room walls to accommodate it! Look carefully at the picture below, it's my Grandpa Dortmund and Santa….behind him you will see the Harvest Table! Try not to be distracted by the enormous drum shades on those brass lamps!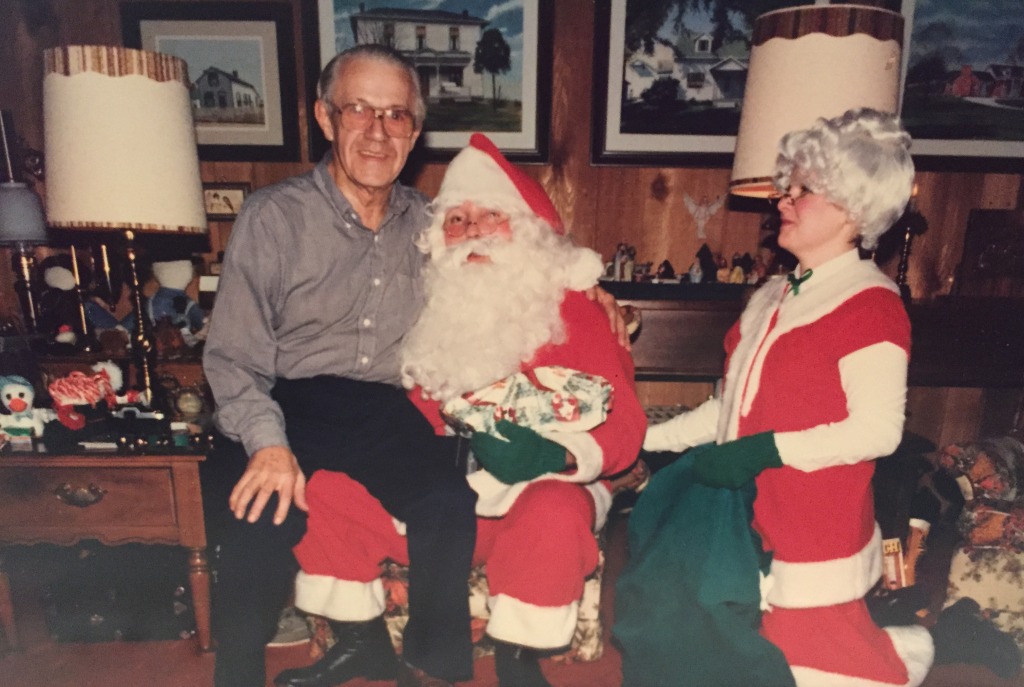 OK, so that sweet picture was taken in 1986 and would be his last Christmas. I could write a book on all of the things in this picture that make me smile…. Flash forward to today, 2014. Here is the Harvest Table in my house: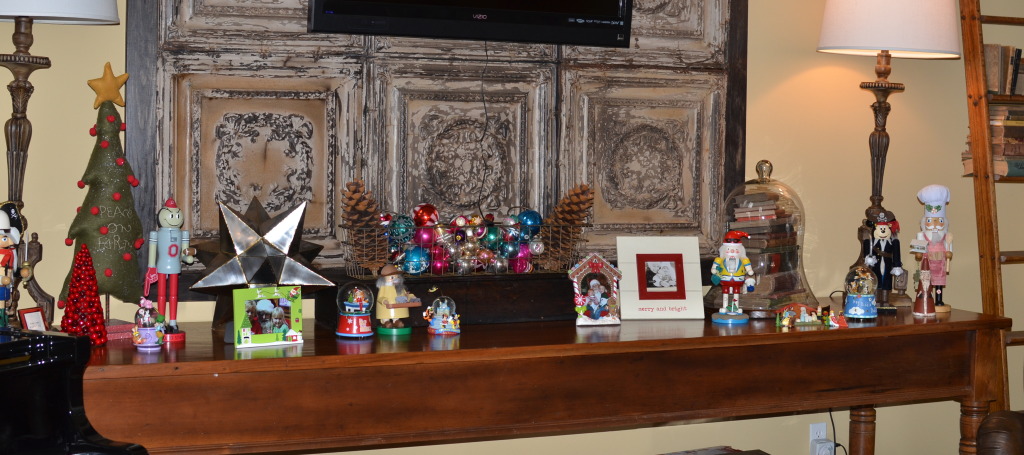 Fits perfectly, right? You can see some of the snow globes and nutcrackers. Here are a few closeups.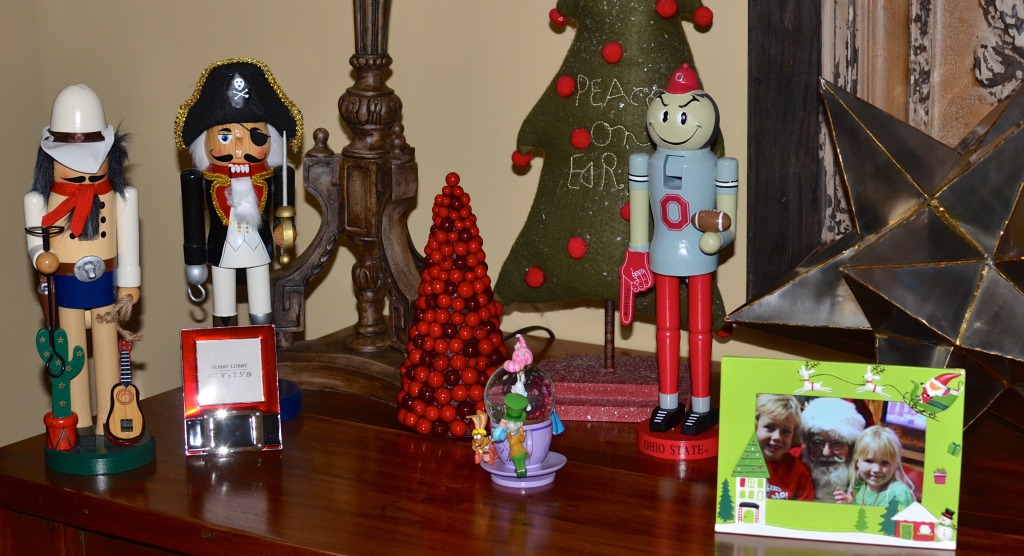 I also frame the yearly picture with Santa. I love looking back over the years.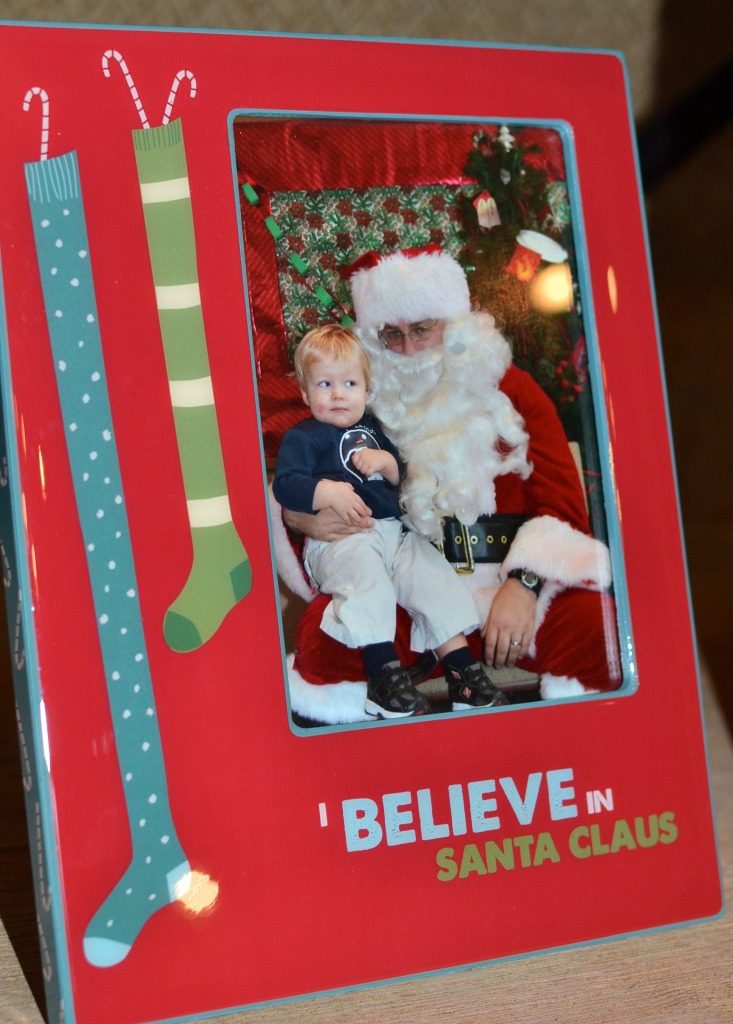 This is my favorite. Santa is my friend, Andy. He passed away in 2013. He played Santa for our Mom's Club. Best part about the whole thing, he was Jewish! Major dad points! My kids have noticed that the Santa in this picture is actually Mr. Andy and we all get a kick out of how Noah is checking him out! I miss that man!
I like to decorate with pinecones (hand picked from Idaho!), vintage ornaments (I hunt for them at all the flea markets), jingle bells (always try to find them on sale), old alphabet blocks (flea markets), festive pillows, my family's old stockings and anything my mom will give me from her stash of decorations.
My mom saves everything. No. Joke. She gave me this little piece of the past a few years ago. Anyone else remember making these in school? I love that I replicated the braided rug we had on our floor! Classic.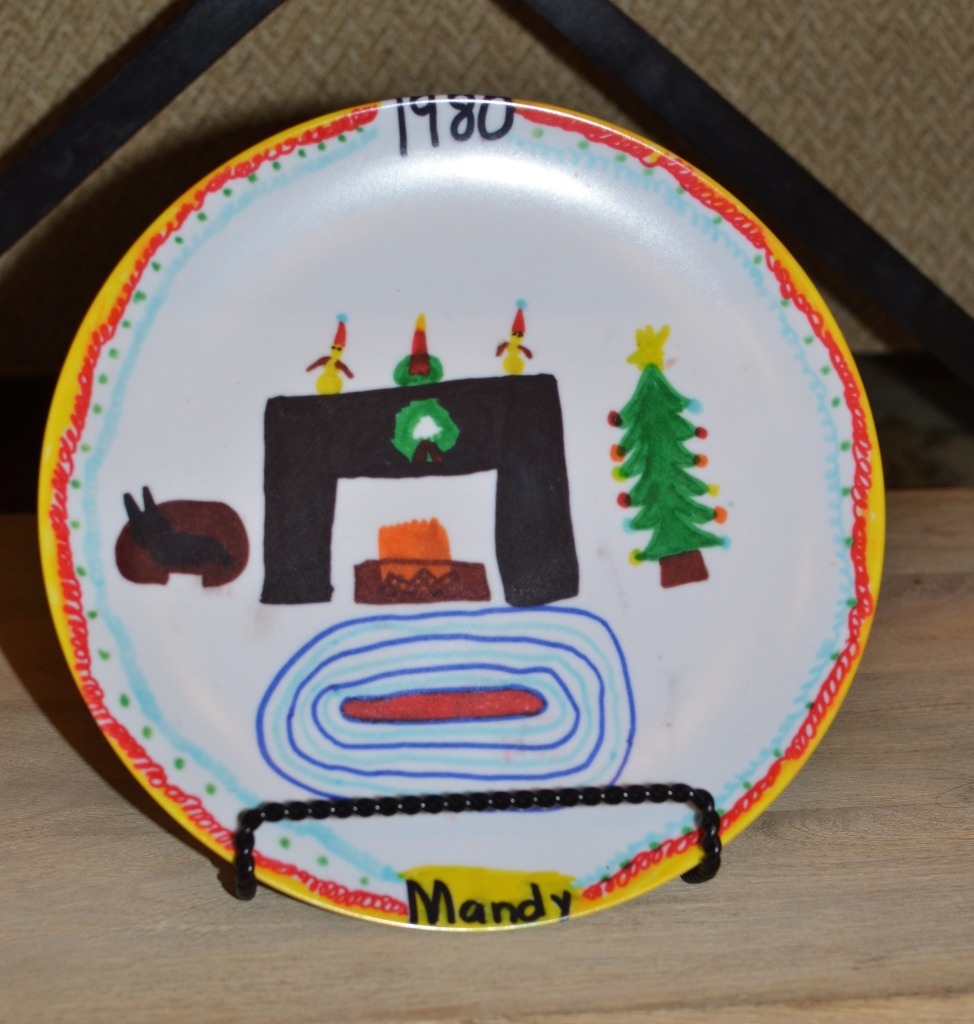 Last year I was finally given a few family heirlooms. I guess I was deemed responsible enough once I turned 40…..
They belonged to my Gram Copeland. They were placed in the same spot every year and I loved them both with all my heart. I thought the Christmas Lady was beautiful and that Santa was waving at me! I am glad to have them be a part of my decor now!
When you enter my house via the front door, you will land right under the mistletoe! Pucker up! The rule is if anyone wants a kiss, they stand under the mistletoe and announce, "I'm under the mistletoe!". If you can hear this announcement, you must stop what you are doing and join them for a Christmas smooch! Good rule, huh?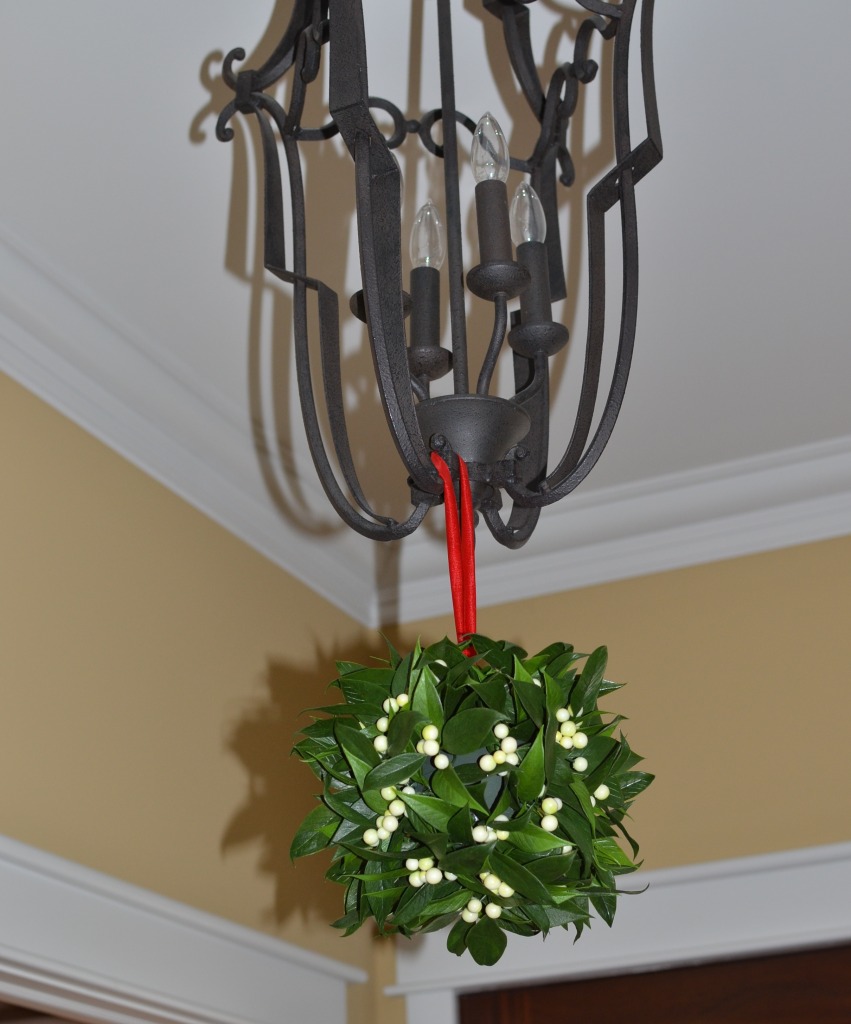 I found this gorgeous mistletoe ball at Cedarbrook Nursery in Shawnee Hills. Hurry!
My Dining Room is not used very often. Although the table makes a great place to pile all the things I don't know what to do with! But at Christmas I dress her up a bit too.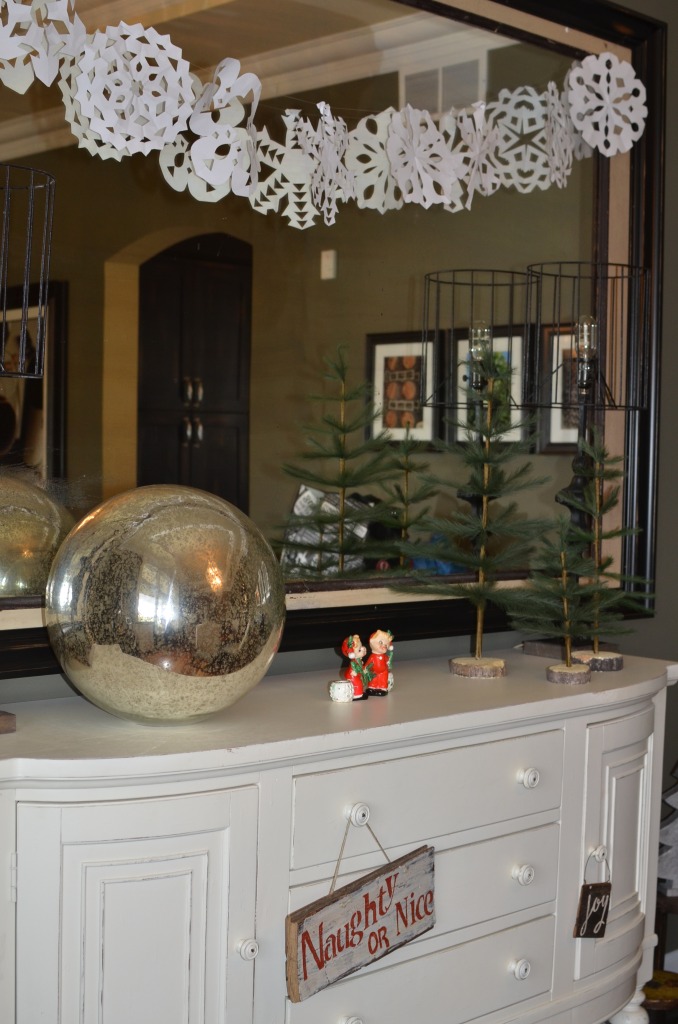 I made those amazing paper snowflakes all by myself! The wooden signs are another flea market find. I wish I could remember where I bought the trees because the are so pretty. And here is a closer look at those precious candlestick holders…..another heirloom from my Ma! And no, I never put candles in them. No idea why.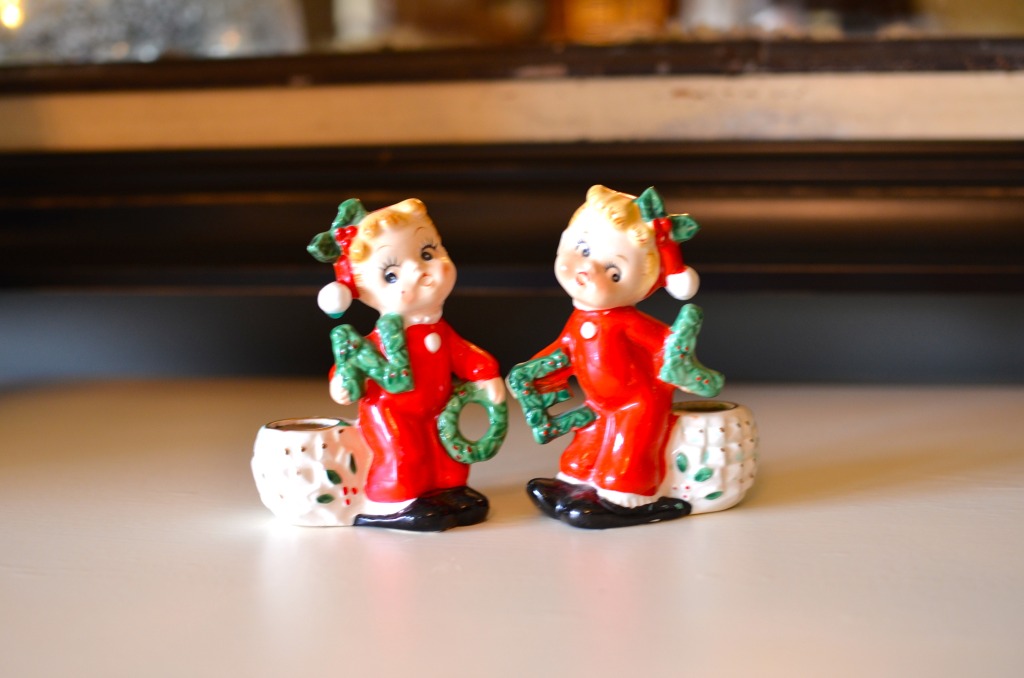 A few more trees and the room is complete!
The cut out trees are from TJ Maxx and the cone tree is from Hobby Lobby.
Baby Jesus cannot be left out. My Grandma Dortmund painted this nativity for me many years ago. I told you she was crafty!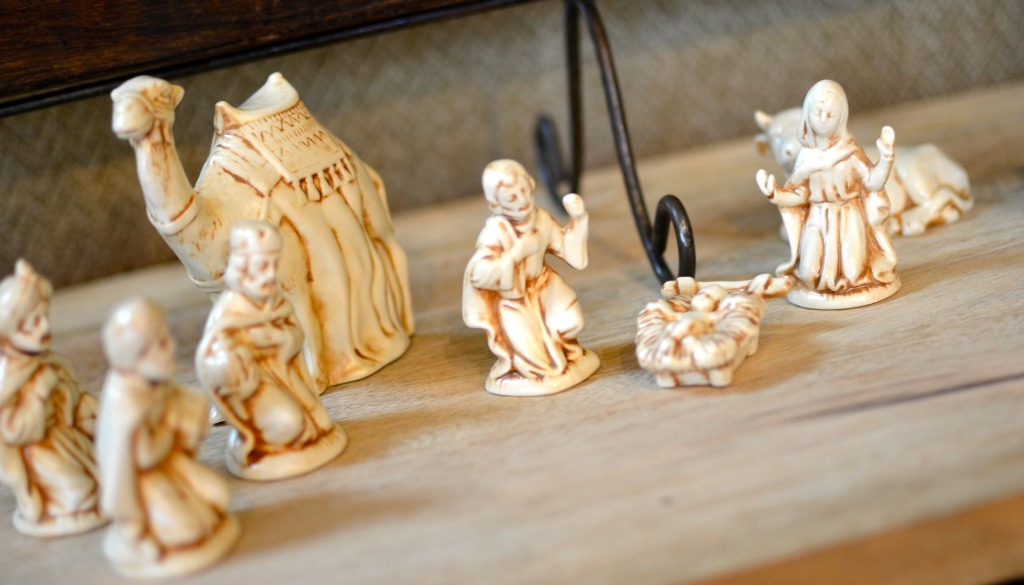 And after BEGGING my mom for years, she finally gave me this joyful memory. My brothers and I played with this for hours upon hours and now my kids fight over where the angel should sit and why the roof won't stay put! Ahh, Christmas!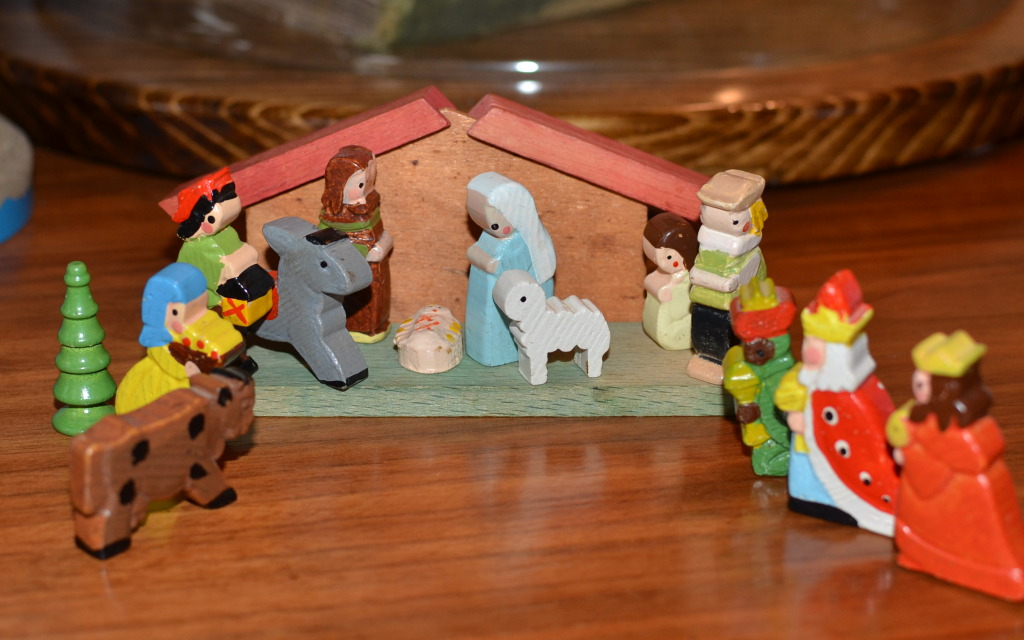 My kitchen window makes me smile. If I have to do the dishes, I may as well do them while looking at Mr. & Mrs. Claus kissin' and a couple 'blasts from Christmas past'!
Yep, that's me and my brother, Lee decorating the tree in my bedroom (love the curtains!) and my hubby and his brother sitting on Santa's lap! Good times!
I found this little nugget at a flea market and stole my friend's idea to use it as my utensil bucket for the season. Genius! I love having smart friends! The candy canes came from the same flea market……ready to join me next summer?!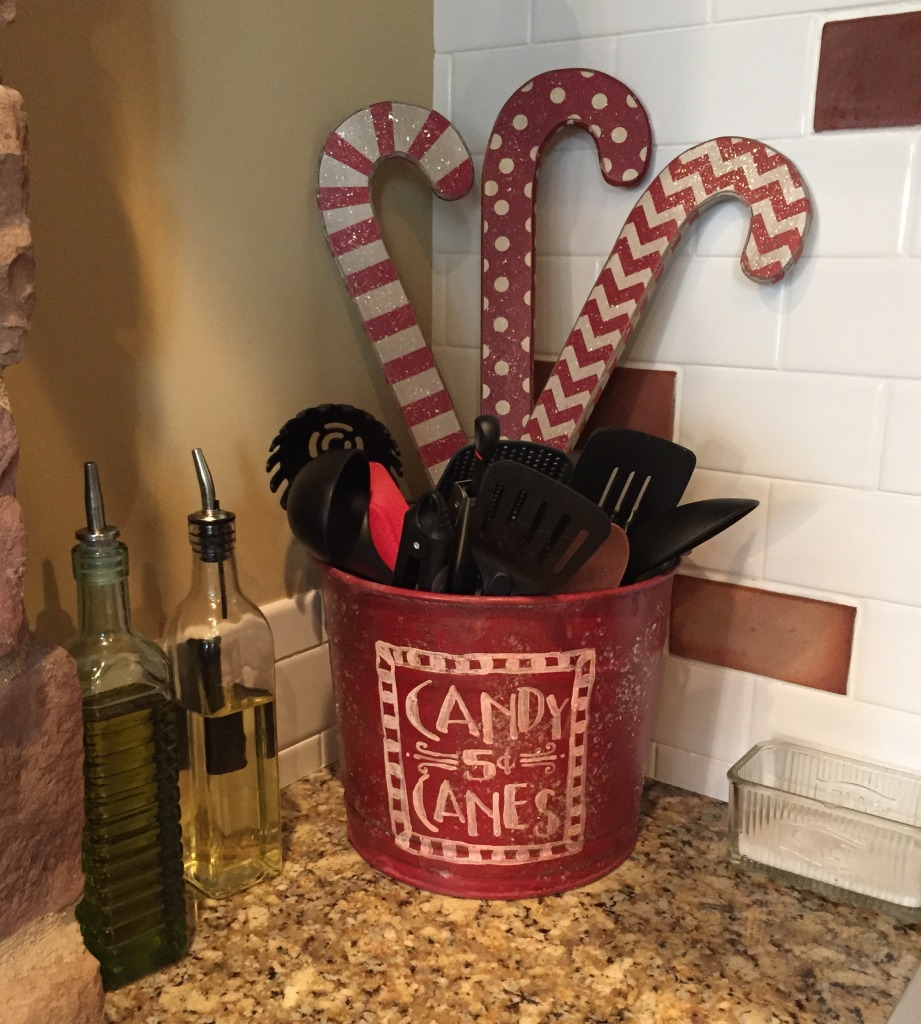 My mom loves to knit. Yay for me! I found this idea for an 'advent calendar' in a magazine a few years ago. They are mittens and hats with the date. You hide a little treat inside for each day. The kids love it! There is not a lot of room, so the treats are small, which keeps it simple. The best part is that she (my mom) sends the treats each year and all I have to do is stuff it! Double yay me! I have commissioned her to make a second one so Noah and Natalie can each have one when they leave me. I am hoping that is like 20-30 years from now at least! Contact me if you are interested in ordering one for your family. She can use any color scheme!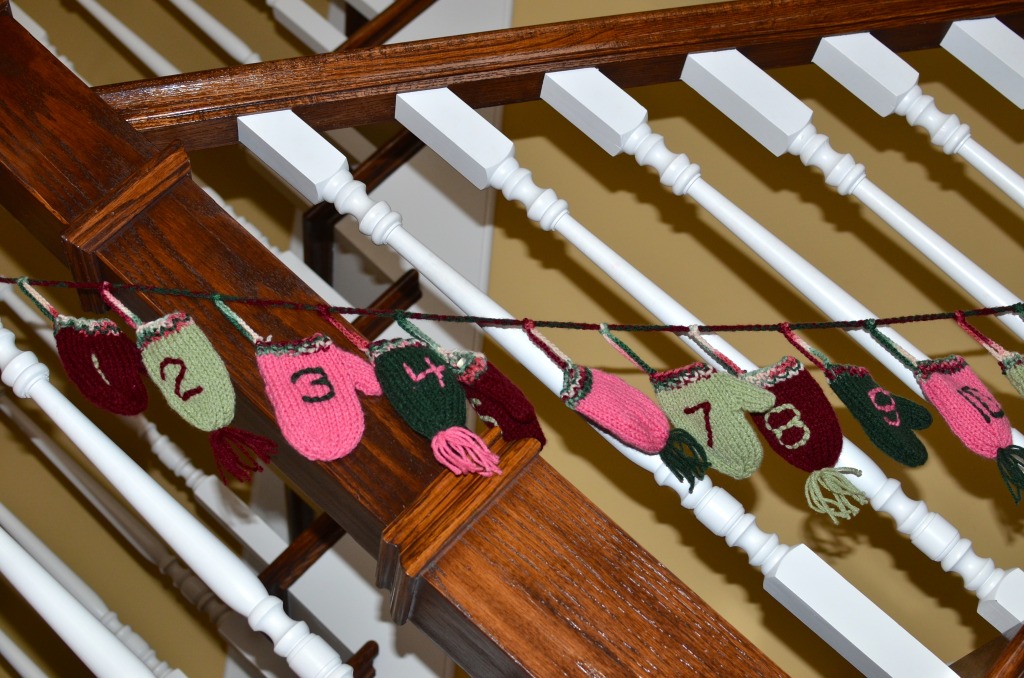 I cannot believe I am going to share this next photo with you…..circa mid 80's. Christmas morning with my brothers.
Looks like it was the year of the ORIGINAL Transformers for Matthew and the fingerless gloves for me! Please take a moment to notice my yellow fuzzy socks. If you read my Thankful post you will recall that these are still a staple in my winter wardrobe! And how cute is my brother, Lee snuggling that teddy bear! The reason for this gorgeous glimpse into my Christmas past is for the advent calendar hanging behind the tree. It was hand-sewn by my Grandma Dortmund. Each ornament was adorned with sequins and you placed a new one on each day. I know several kids from the 80's had these. Well, my brothers and I fought over who was going to get it once we all moved out. My mom, being the peace keeper that she is, simply made new ones. Noah and Natalie each have their own and keep them in their room. It is the first thing they do when they wake up. Too sweet. But, I kind of wish they had to share like I did. We would secretly rearrange the ornaments in the pockets so when it was 'our' day we would get the best ones! Good times!
Ok, I am off to decorate our lower level….I will blog about that room next!
Live Creatively,

Tags: