Yes, I know that today is the day AFTER Christmas, but as promised, here is a look at how I decorate the outside of our house and our favorite room, the Media Room!
The Exterior:
We pay to have the lights hung on the house and it is a check I gladly write. If you remember, I do not do ladders and always suffer a slight panic attack when Jeremy goes above the third rung. So, to save many moments of distress I insist on hiring it out. I feel The Light Before Christmas does a nice job. If a strand malfunctions they hustle out to fix it. They return the first week of January to take them down. Word of advice, get in touch with them in late October and get on their install list. If you book early you get a discount and can enjoy your lights longer!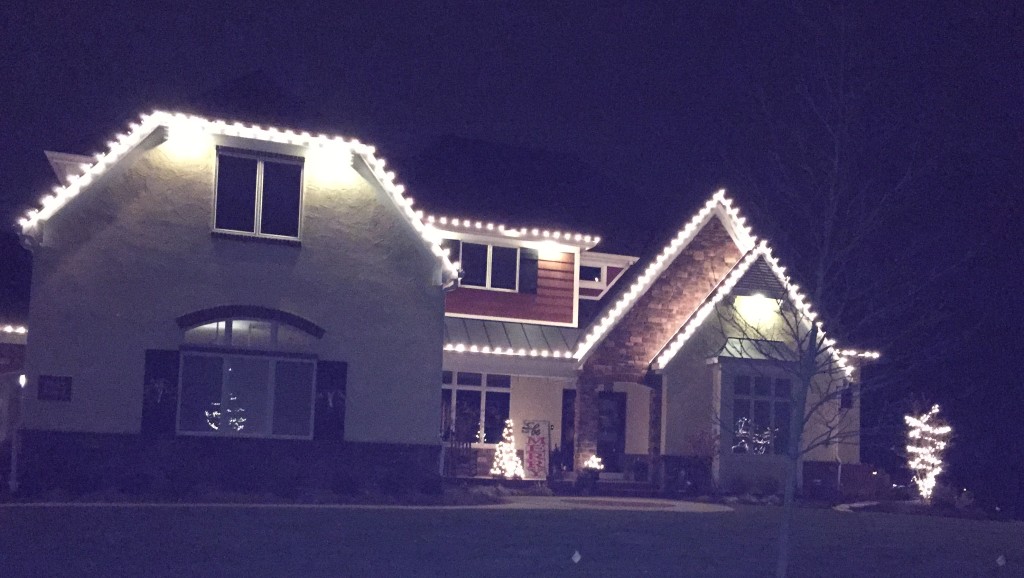 Here is my front porch: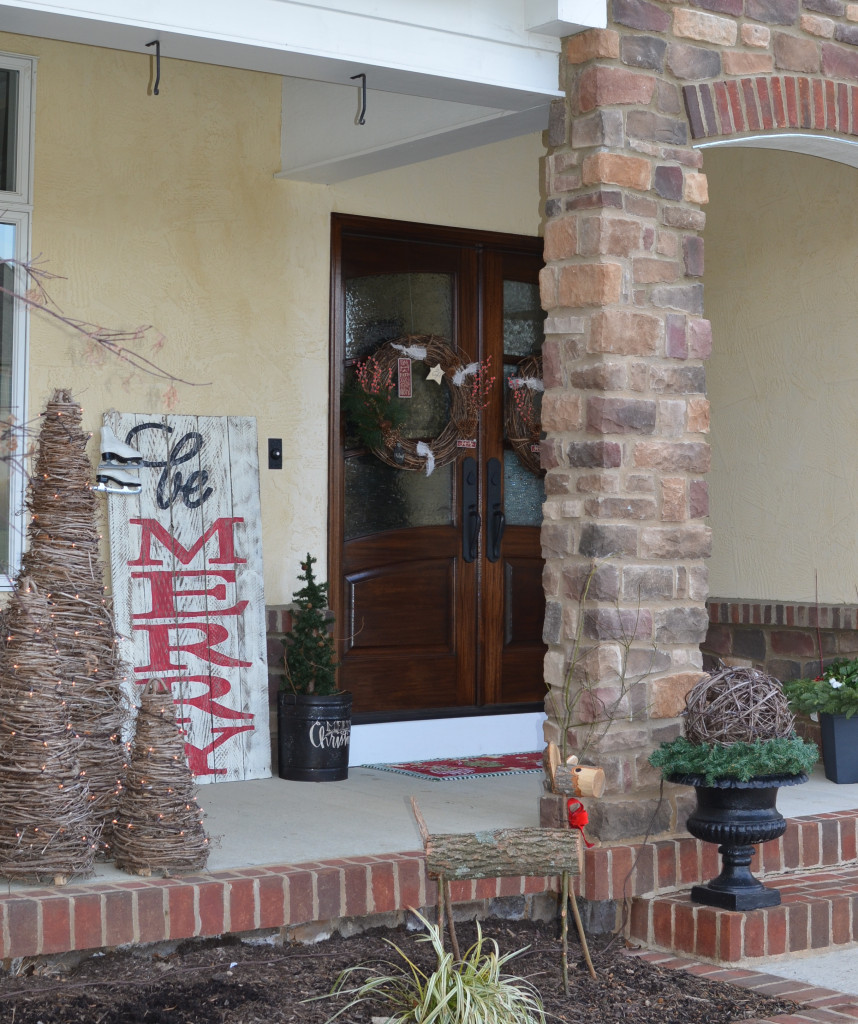 And a few closeups:
I know you are all dying over the 'be MERRY' sign. Isn't it great?! You too can have one (for next year). The artist behind the creation is Ashley Adams….. contact her through her Facebook page:  Rustic & Chic Boutique. She made a sign for my entry way too….it will get it's own blog post in a few weeks!
The tiny ice skates are mine from childhood. I told you my mom saved EVERYTHING! Glad she held on to these. They are kept in the same skate bag I used for many years. I also found my blade sharpener and my favorite outfit: bright red with silver ric-rac. Priceless. You see, my brother and I were going to be the next famous sibling figure skaters. We had high hopes, but not enough passion! Good memories!
The black bucket is from a flea market! Seriously, get some fleas put on your calendar! Pronto.
The wooden reindeer is from Baker's Village in Shawnee Hills. The grapevine trees are from Cedarbrook Nursery, again in Shawnee Hills. And those beautiful wreaths on the front doors were made by your's truly! Ok, so I purchased the actual wreath at Cedarbrook, but I bedazzled it! I admit it needs some help….anyone want to spice it up for me for next year? Here's a clear look: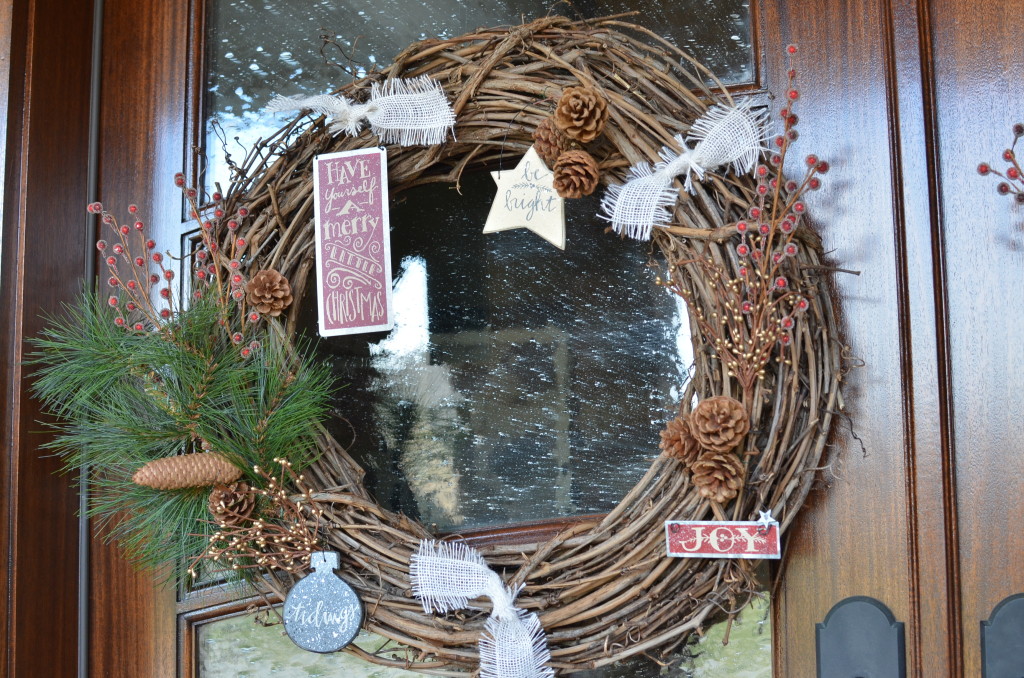 I also want to replace these 'swags' for next year: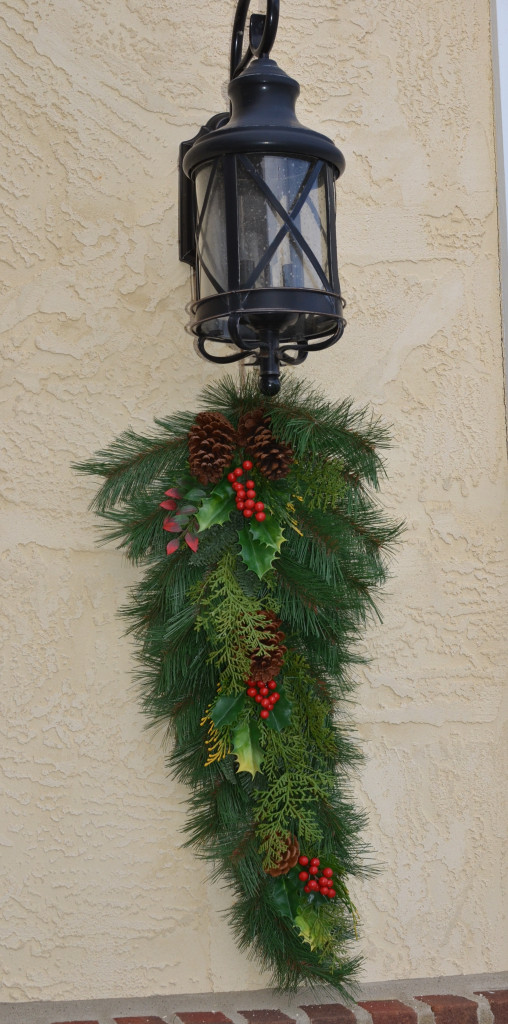 I want them BIGGER! And maybe have some ornaments attached? Who's crafty with evergreen?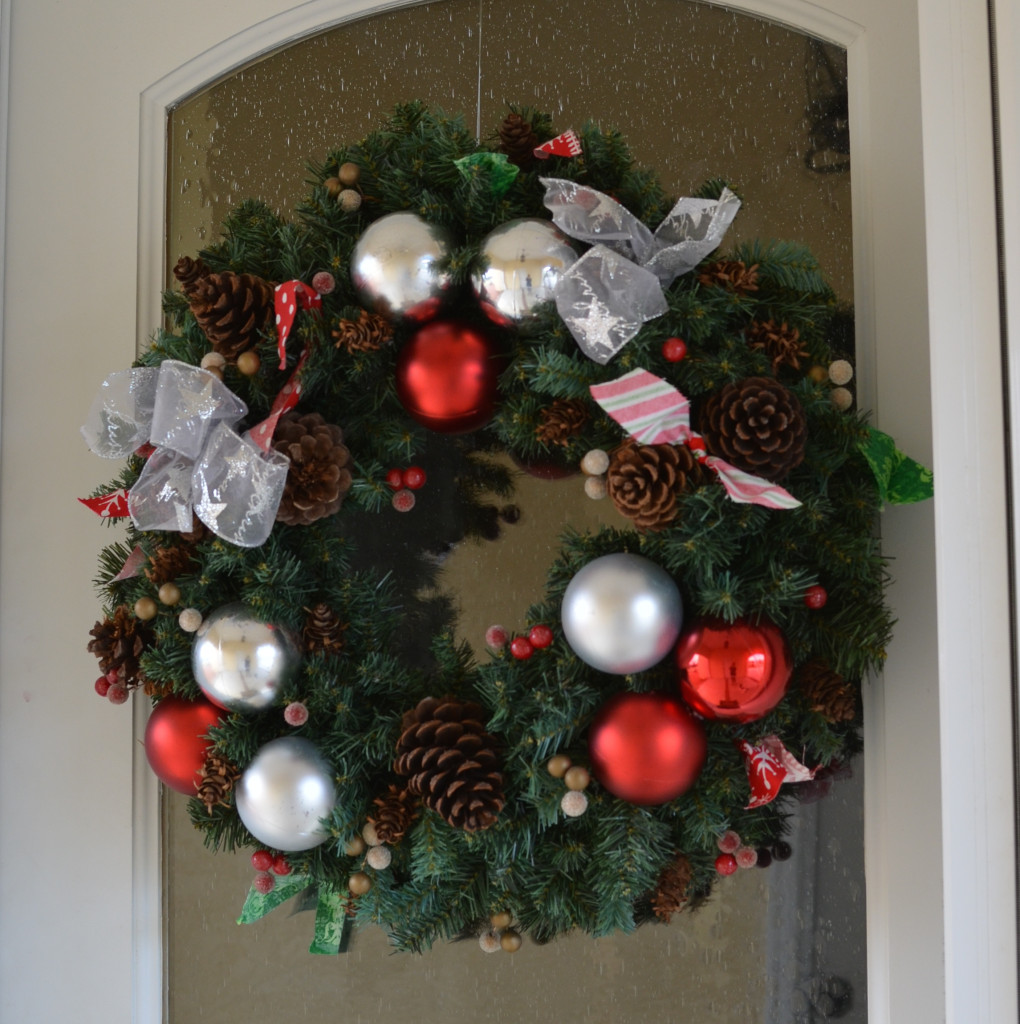 This wreath was not made by me…..it's way out of my league. A lovely florist created it for me a few years ago. She has since moved out of state or I would be begging for her help.
The Media Room:
We spend quite a bit of time in our Media Room. It has the comfiest couch, biggest TV and a fridge that is stocked with my favorite refreshments. I bought this tree at Hobby Lobby and I love it. I hope the lights last forever because I never want to be without it. I decorate it with garland made from pages of old books (The Collection), star ornaments (flea market), mercury glass ornaments (TJ Maxx) and this year I added pretty frames (Restoration Hardware). If you look closely you will see that the frames are pictureless. Yep, this elf did not get that task completed this year. Maybe I will before I take the tree down! The pretty star on top was another flea market find! And the metal bucket the tree sits in is from Home Goods.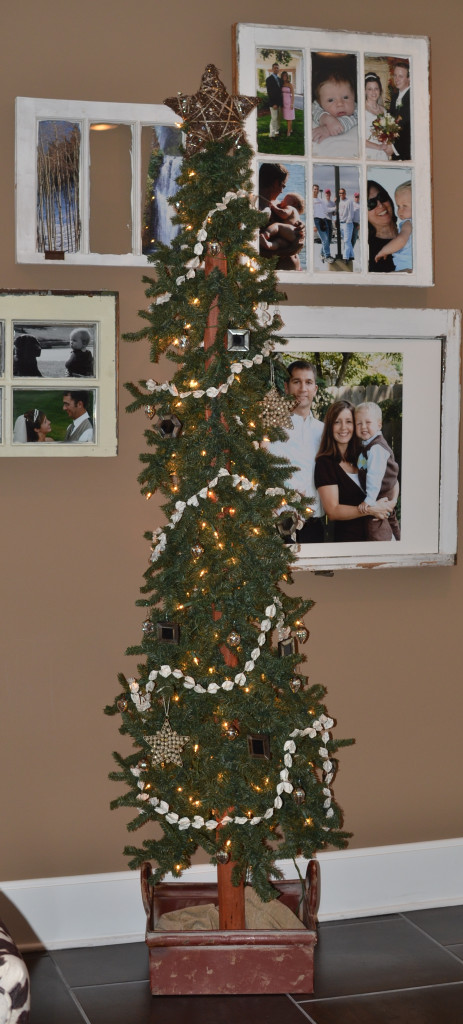 Here are a few more decorations from the Media Room….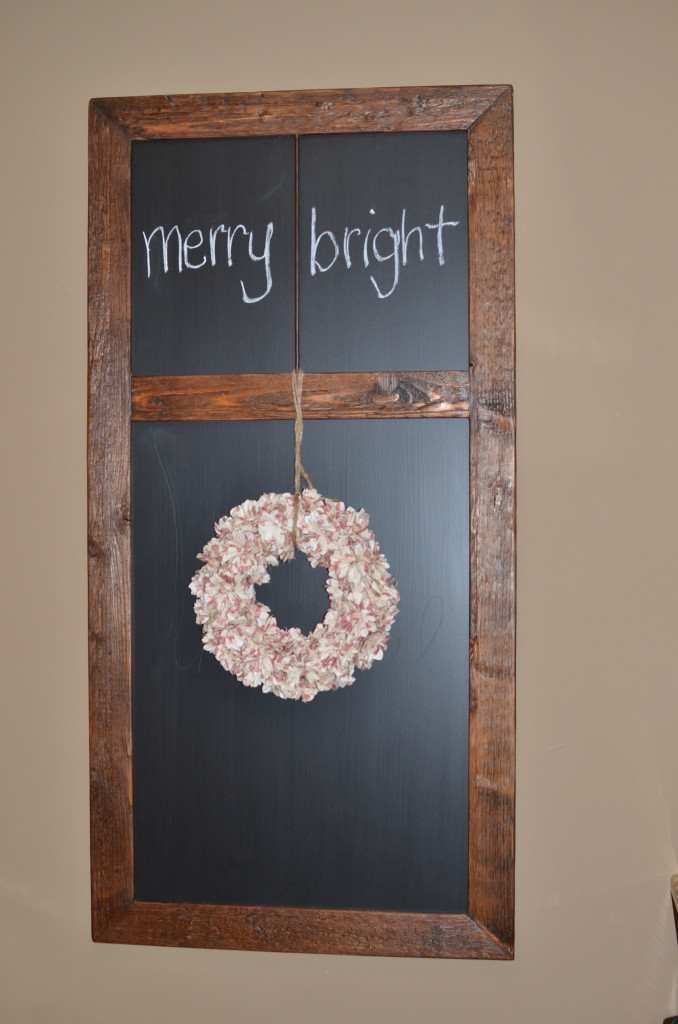 The wreath is made from paper. I purchased it at The Collection in Powell. The chalkboard is a new addition to the room and I love it! You can have one of your own….Michelle at Wright Interiors will hook you up!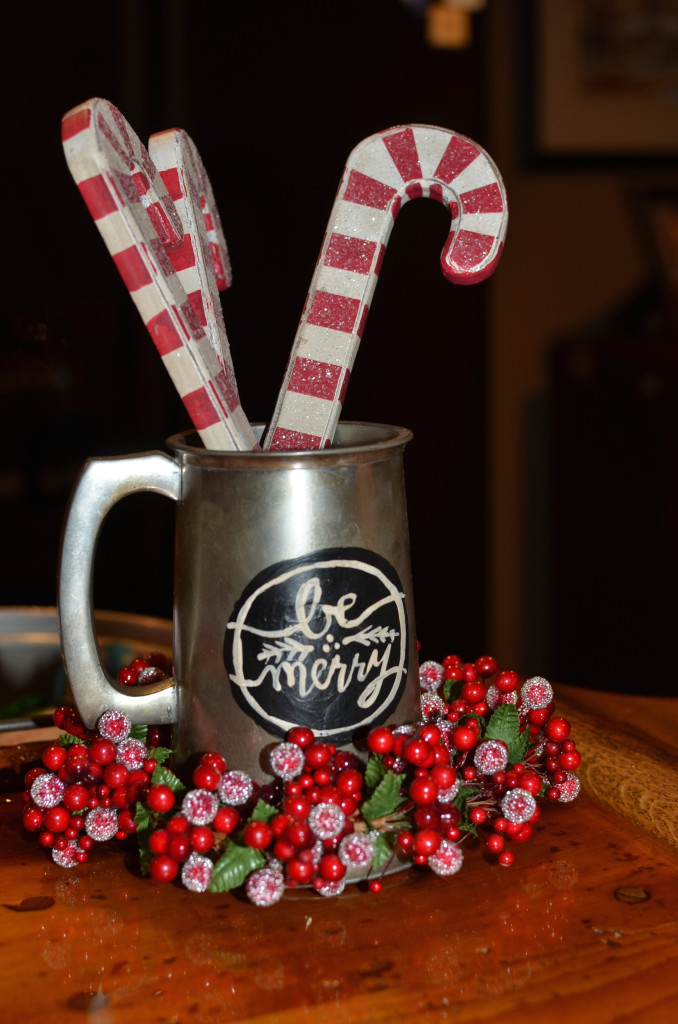 Stein and candy canes are from a Flea Market (don't hate!)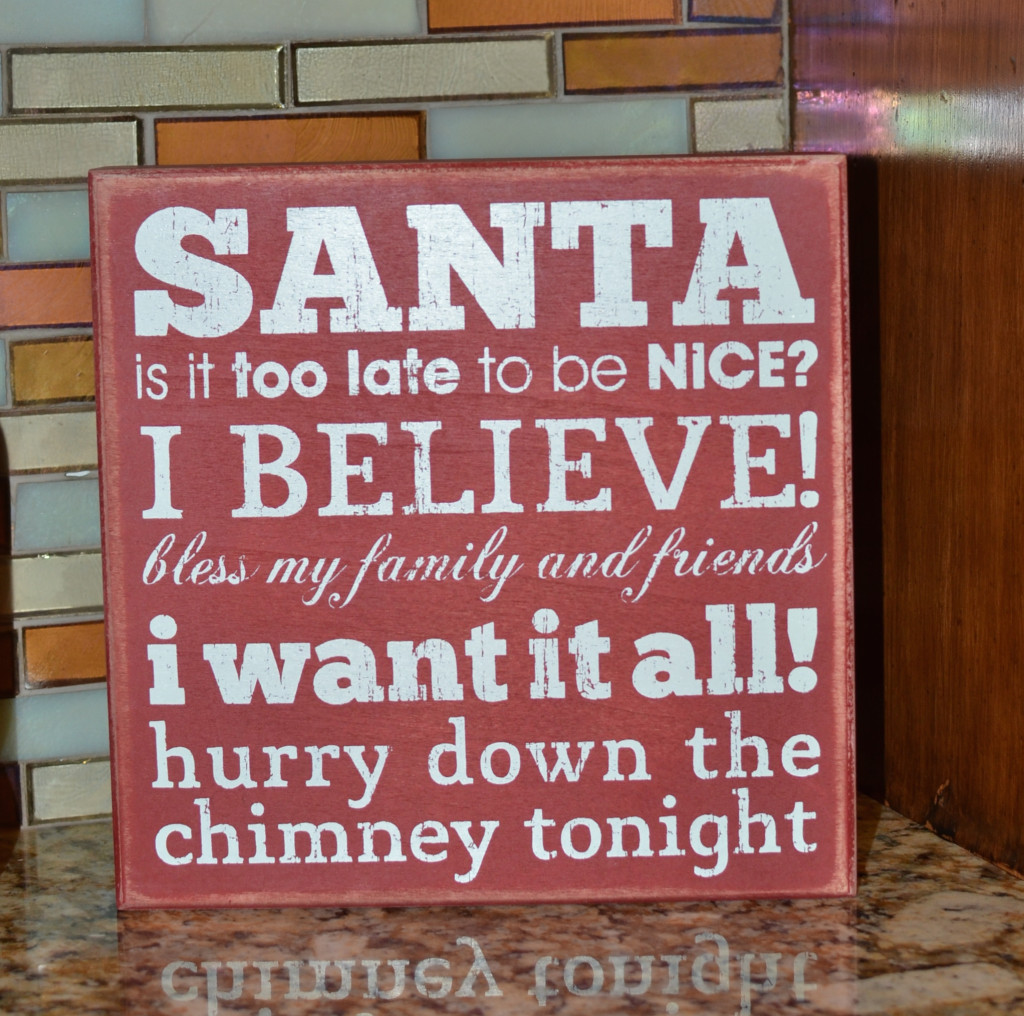 One of my favorite subway art signs of all times. I found this little gem at The Morgan House in Shawnee Hills.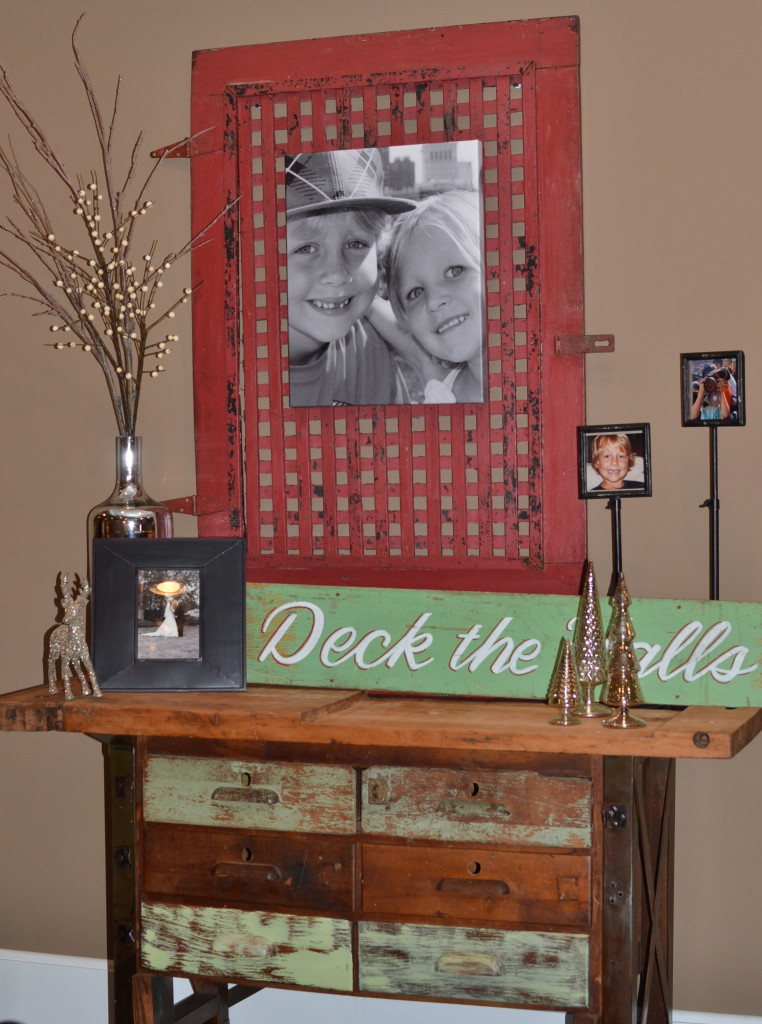 Like my vintage kitchen island that now serves as a super chic table? I bought it a few years ago at one of my favorite Flea Markets. It was missing the two bottom drawers so my handy-dandy Daddy made me some! Noah painted them and I must say he did a bang up job! The "Deck the Halls" sign came from a shop in Idaho. The large silver vase and decorative twigs are from Crate and Barrel. I am drawing a complete blank on the silver trees, but I am guessing The Morgan House. And that cute little glittery deer came from a flea market too.
So there you have it…..the rest of my Christmas decor. A day late, but who's keeping track?!
Live Creatively,

Tags: