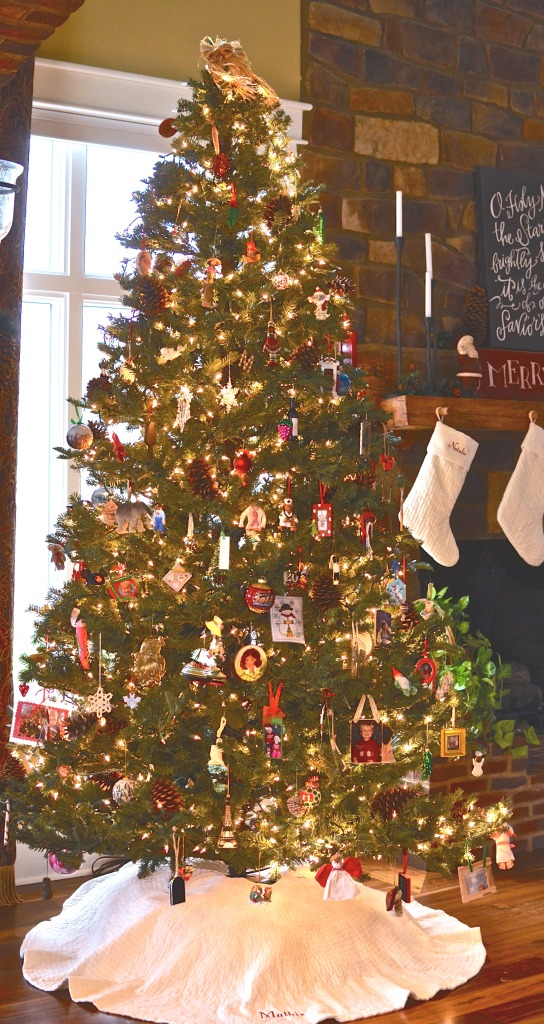 I really am German, so I can call it a tannenbaum!  Isn't she pretty? She stands 9 feet tall and has served us well over the past three years. She spends most of her life in a nice green bag in the corner of the garage and we miss her during that time. She is the first Christmas festiveness to come out of hiding and the last to be put away. Jeremy has the job of wheeling her in (she came with her own rolling cart!), setting her up and fluffing her branches. He also climbs the ladder to put the bow in her hair. I don't do ladders!
Our tree is a time capsule. It tells a story. Our story. Not a single ornament is random. Each one has meaning to us. Each year I am tempted to make her pretty. Cascading ribbons, glass ornaments……. I am secretly jealous of my friends who have trees like that. But then I start opening the bins of decorations and before I know it our pretty girl is adorned with mismatched ornaments, no ribbon and the same raffia bow Jeremy and I bought when we couldn't afford a 'nice' tree topper! The tree skirt is from Pottery Barn. And the pinecones were gathered by my folks in Idaho!
My Grandma Dortmund gave me an ornament every year. Most of them were handmade. They all hold a special place in my heart. The last ornament she gave me was in 1998. Here is one of my faves: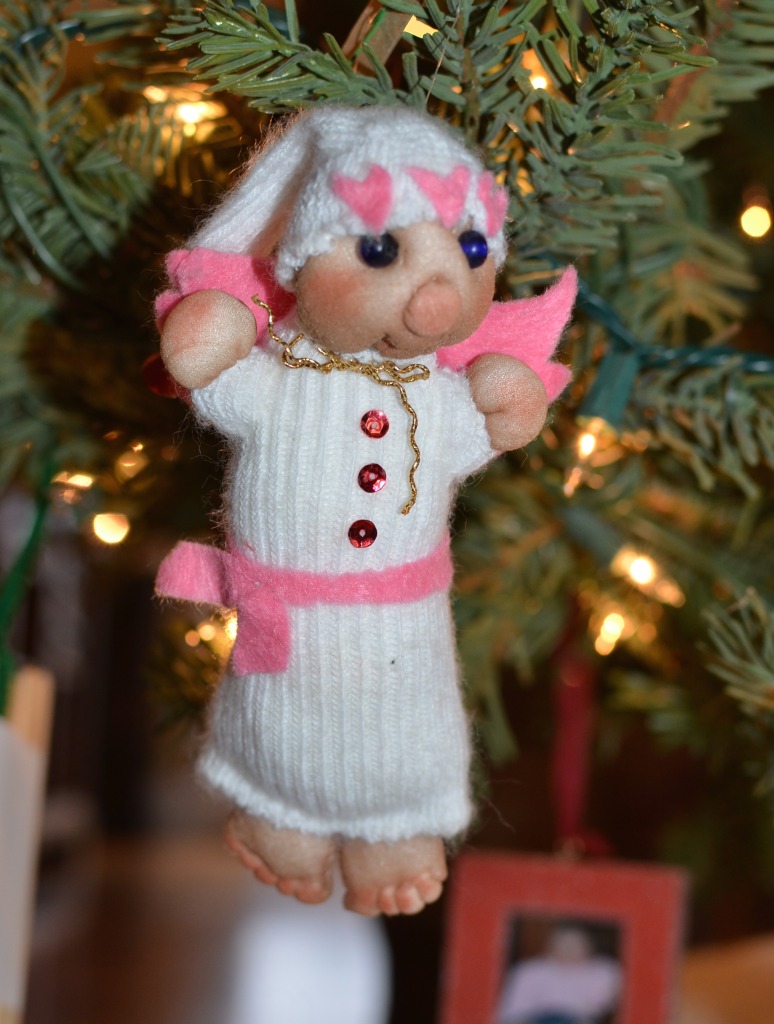 She's adorable, right? My Grandma was crafty. So crafty that her white Ford Taurus sported a bumper sticker that read, "Crafty Lady". One of a kind!
My folks, well, let's be honest, my mom has also given me an ornament every year. It's always fun to see what she will choose. Sometimes she makes them, others are store-bought. They all are given with lots of thought. My ornament from last year was my daddy's dog tag tied with ribbon. I had a photo, but his SSN was visible, so I took it down! My mom put the tag on a key ring and laced red, white and blue ribbon onto the ring as well. A perfect way to remember his service and decorate my tree!
I buy an ornament from every place I visit. It is a challenge sometimes, but fun. Check these out:
Last year I found the keys to my old house. My family lived there from 1977-2004. I was heartbroken when my folks moved and tried to keep as many 'memories' as possible. I made ornaments from the keys and gave one to each brother and my folks.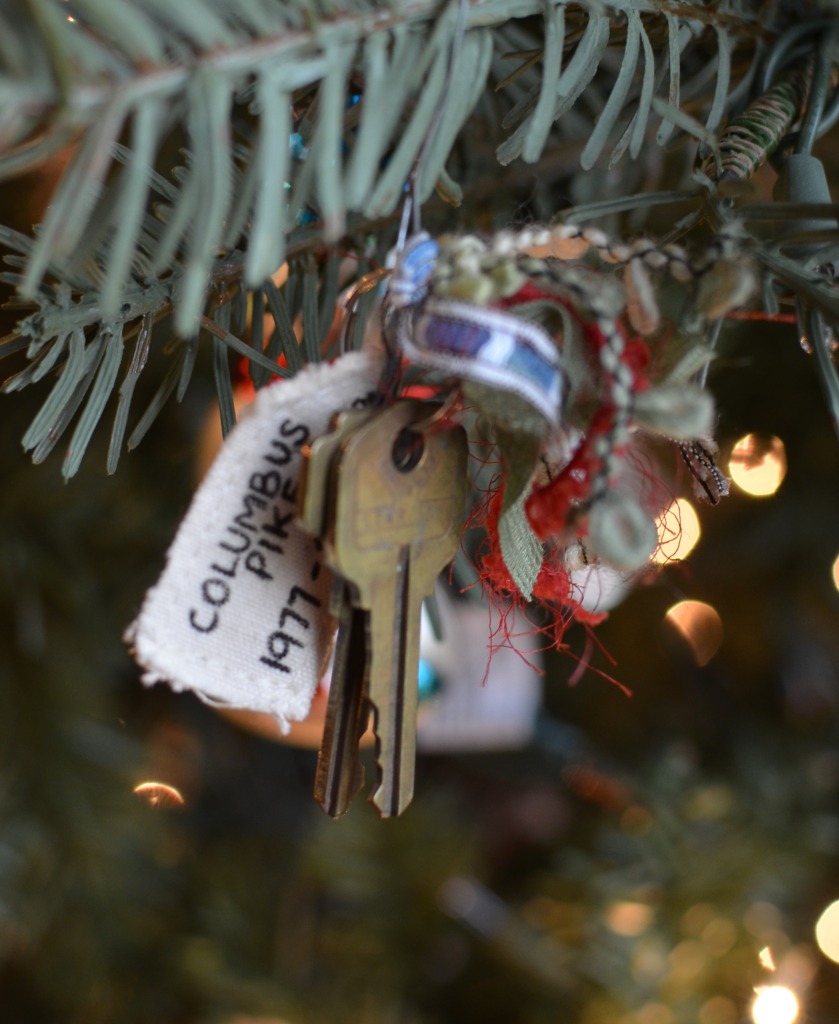 I found these little beauties at a flea market this summer. Don't they look cute?
Anything can be an ornament. Even a graduation tassel!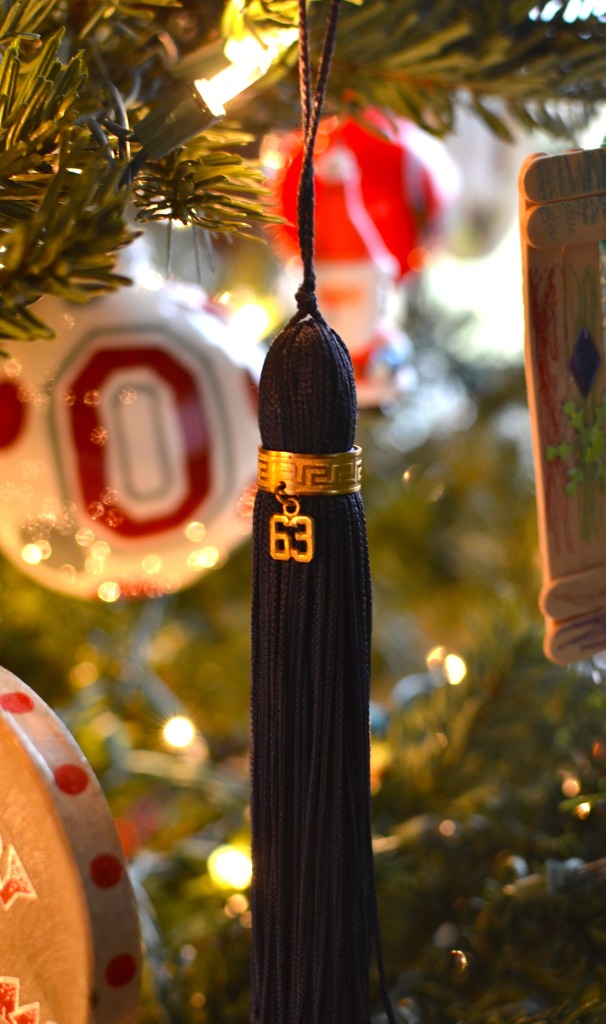 Every year since Noah was born I have created an ornament for the grandparents and uncles. Some years they are handmade. This year Shutterfly helped me out. They have a sweet metal photo ornament. Make one of your own here. Mine are in the mail! Here is our ornament from 2007 when Natalie made her debut: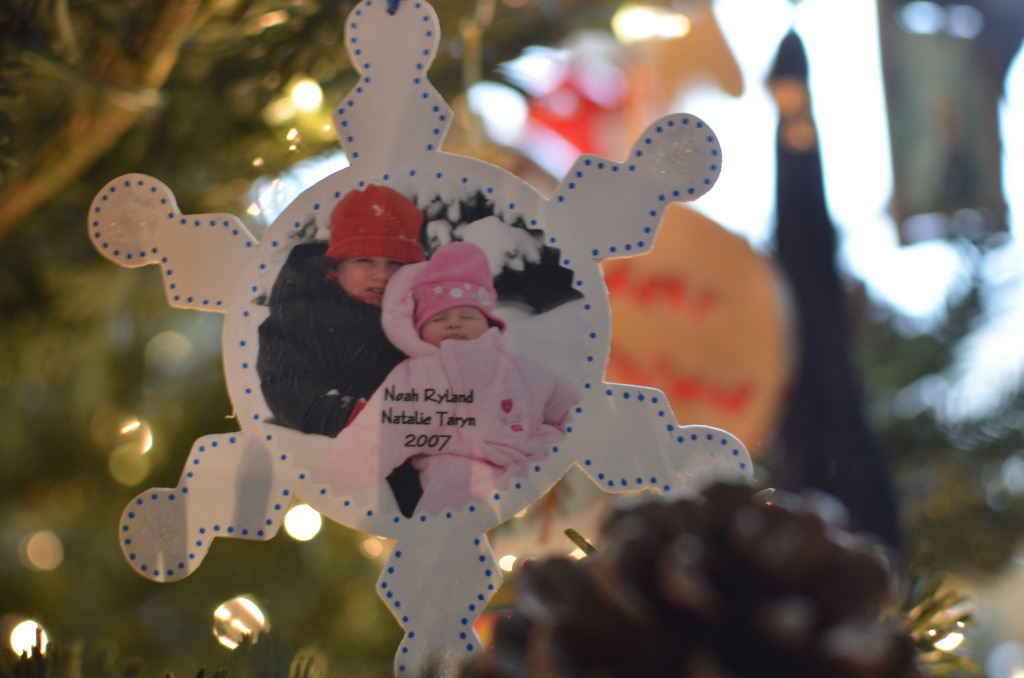 My favorite ornaments are the Memory Balls representing people I love who no longer walk this earth. My Aunt Janet gave me my first one in 1996 after my cousin Brady was killed. My Aunt took all of the ribbons from the flowers at his funeral, cut them into scraps and placed them in a glass ball ornament. She added some gold confetti, ribbon and a dove. Every Christmas as I unwrap it I smile through tears. Brady was 24. He was a great cousin and an even better friend. Here is his ornament….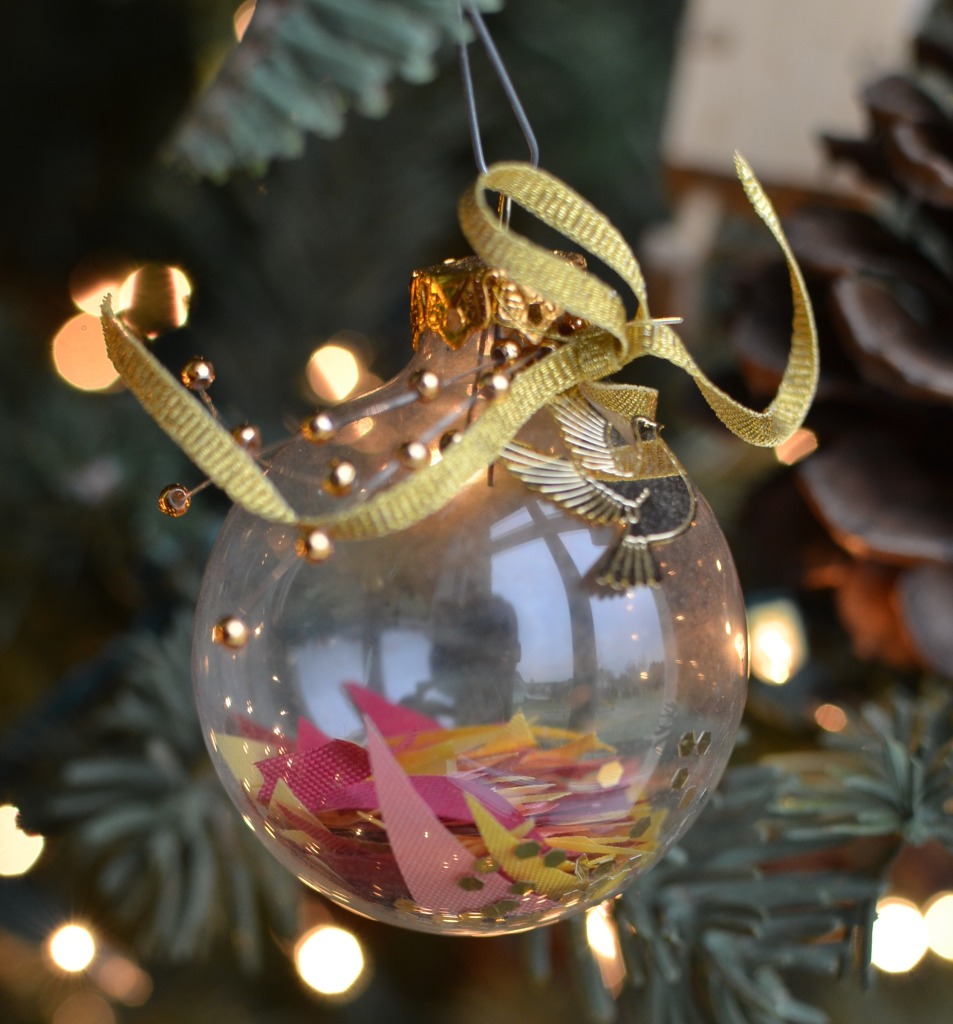 Here are a few more Memory Balls….
My Grandpap's is not filled with ribbons from his funeral. Maybe my mom forgot to save them! Instead she filled the ball with sawdust, a fishing lure, nails, a basketball jersey sticker and his business card. I love it. It's his own little life story!
My creative Ma surprised me with a special Memory Ball back in 2004. It represents my wedding day. She used pieces of ribbon from our gifts and cut up the invitations to our save-the-date, showers and ceremony. It's beautiful!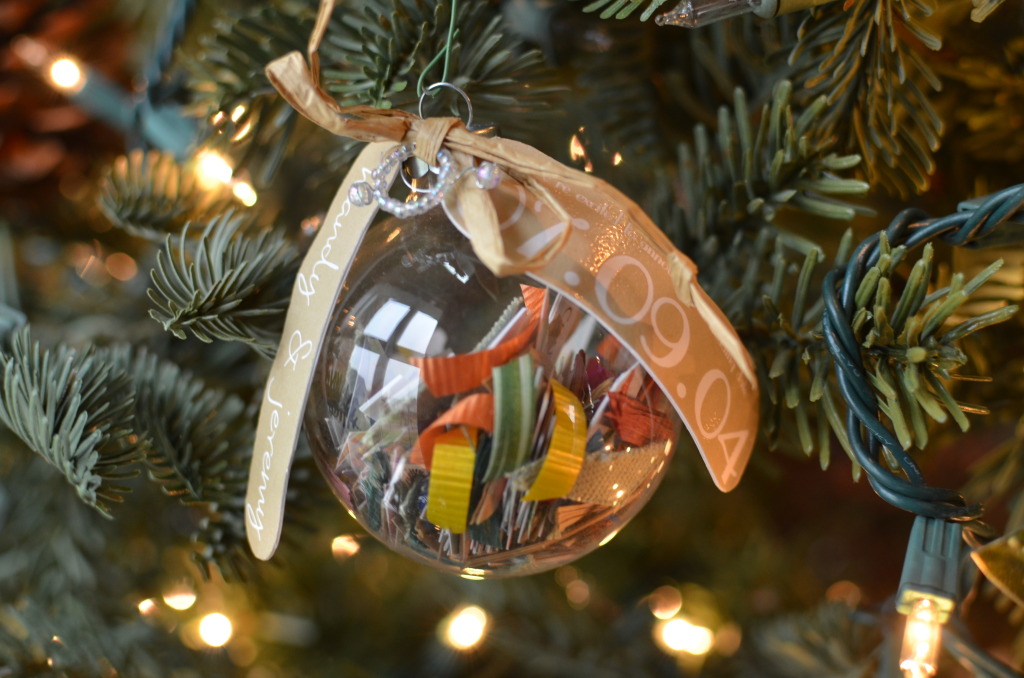 Following in the footsteps of my Grandma and Mom, I give my kids an ornament each year. I try to make it something meaningful from the year. This Christmas they are getting swimming ornaments to represent their first year on Swim Team. Fun!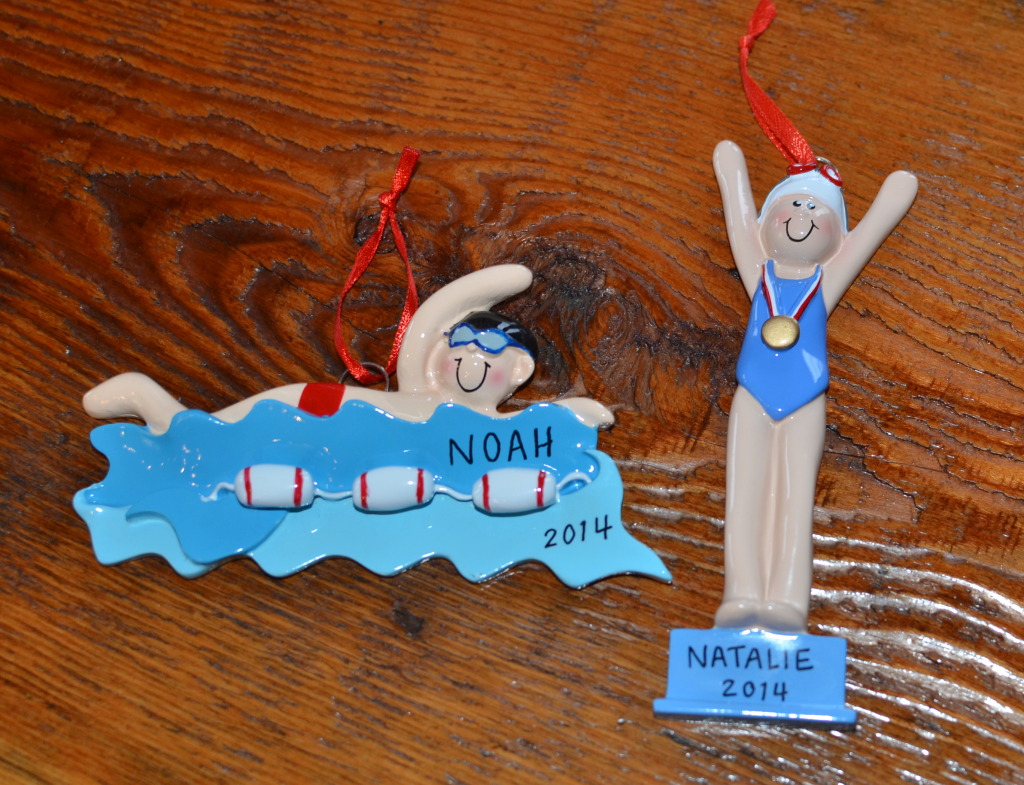 If you are local, I bought these at Baker's Village. They have gobs of different ones and will personalize while you wait!
And, staying true to my German heritage, my tannenbaum would not be complete without a pickle. I hide the pickle ornament in our tree on Christmas Eve. First one to find it gets a special gift. Growing up, I was the master at finding the pickle on our tree. Pretty sure my brothers are still bitter! Not so sure that this really originated in Germany. Most likely we Americans started it. Either way, it is fun! Here is our pickle: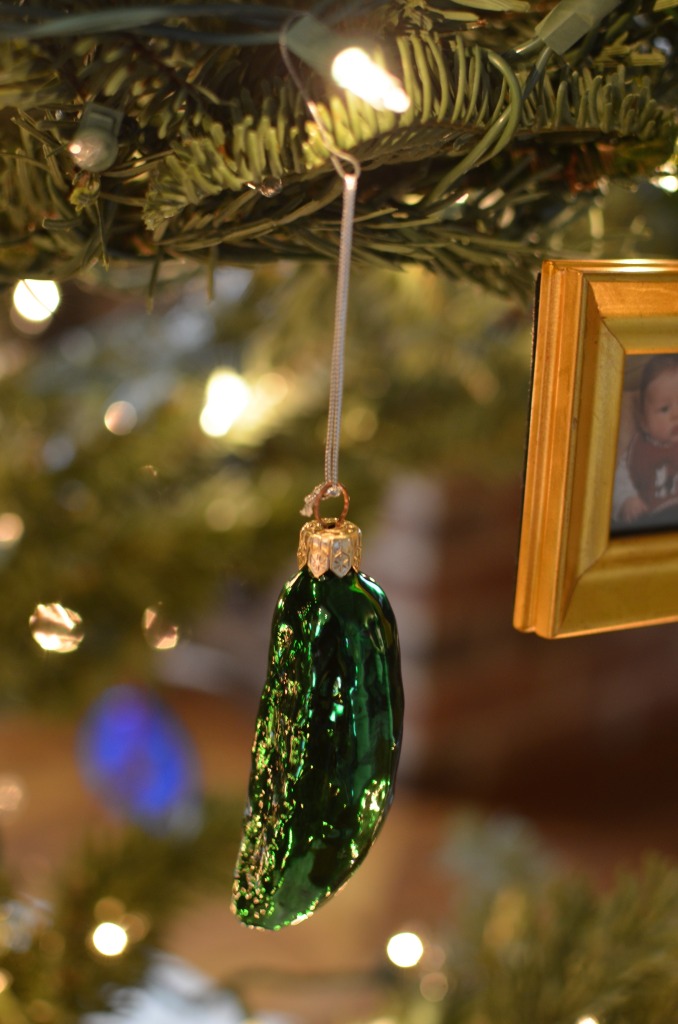 So there's a little peak at my tree. It's busy, colorful, eclectic. It's a one of a kind and I love it. What makes your tree special? I'd love to see pictures!
Live Creatively,

Tags: