Another December and Christmas has come and gone. I am always amazed at how quickly this season goes, I wish I could slow it down. Yes, the elves get annoying at times and my patience is tested every time I sit in traffic or have to set foot in the mall. But I actually love the chaos because it reminds me that life is short and chaos is good. So I drive around with my Rudolph nose and antlers attached to my car (you know I'm not kidding); the radio set to the Christmas station 24/7. We watch Elf and Frosty a few dozen times, I bake way too many cookies and wrap enough gifts to circle the globe at least twice. I do it all to keep the magic alive. It really is a season of magic. Surprising someone with a special gift, hearing your kid sing the "12 Days of Christmas" while mixing up the words and the homemade Irish Cream my neighbors supply us with each year…Christmas rocks!
Here is a peek at how Team Mathis spent the month of December….
Christmas Cards: As you know, I love cards. Adore them really. I start thinking about and designing our card in November. Early November if I must be honest. I usually finish it up around Thanksgiving and my goal is to have them in the mail by December 1st. I don't want to worry about them once December hits. All month I try to be the first one to the mailbox to retrieve any cards that might have been delivered! I leave them in a copper bucket on the coffee table all year long. For real. All. Year. Long. And they get looked through a lot during the year. So please keep us on your list! I used Minted this year and was over the moon happy!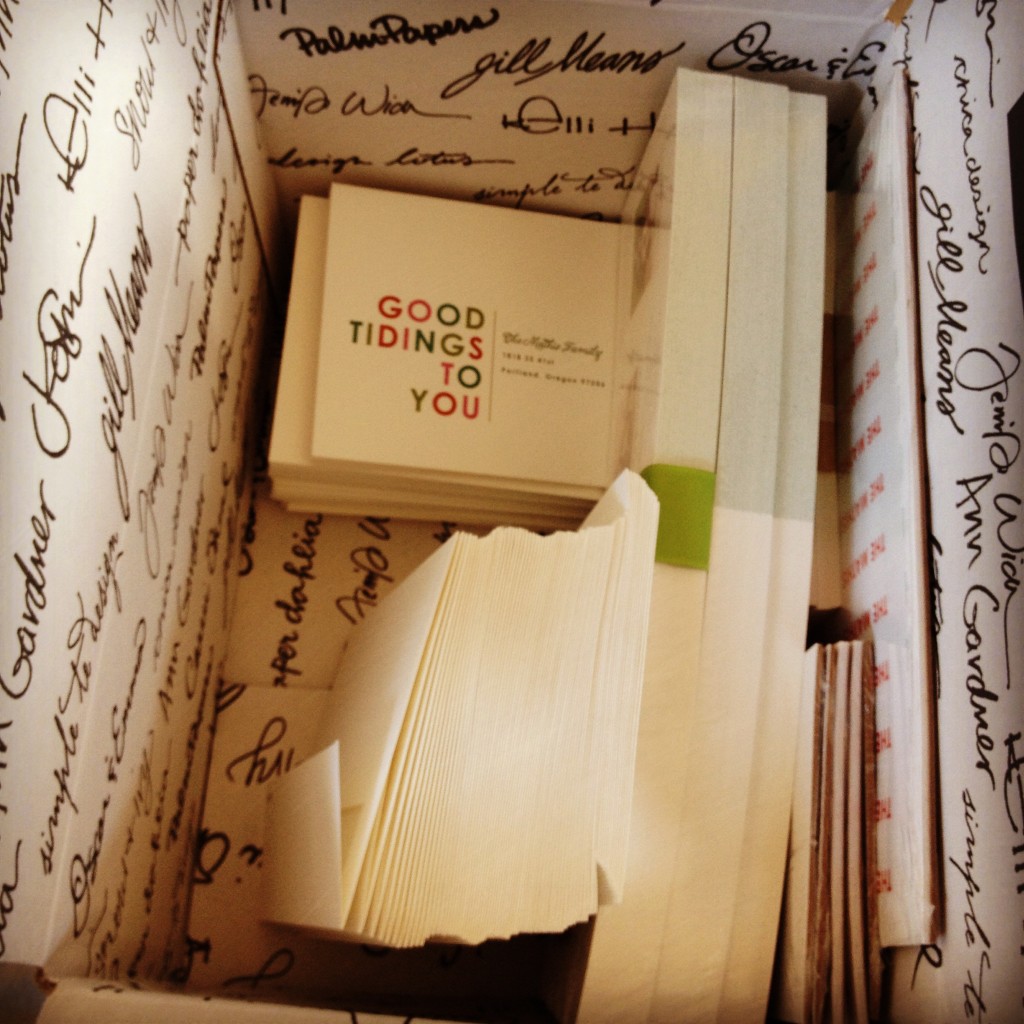 Zoo Lights: We live a hop, skip and a jump from the best zoo in the world. The Columbus Zoo! The lights they string up for the holidays are mind-blowing. I swear we keep our membership up to date just to gain access to the Members Only Night for the lights! Santa always shows up and he even brings his beautiful bride….we like to decorate cookies with her.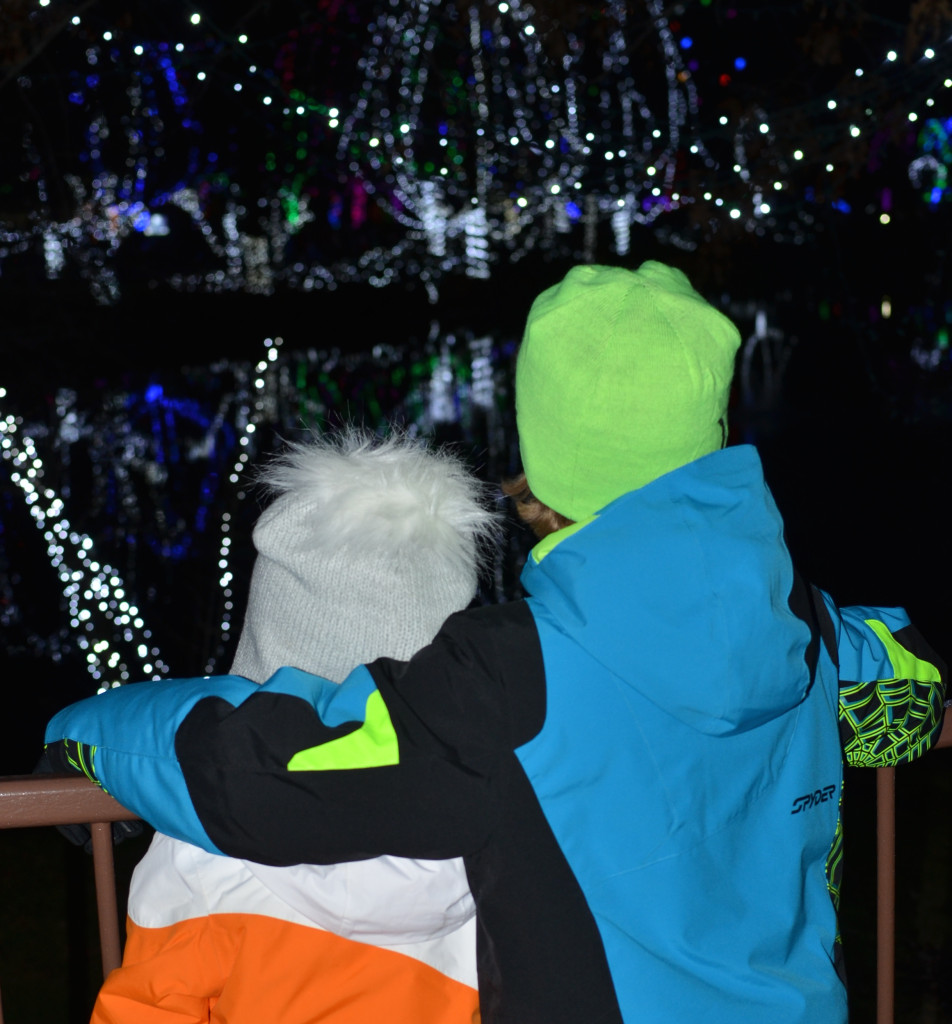 Ugly Sweaters: Jeremy and I have hosted a few Ugly Sweater parties of our own, but this year we celebrated a friend's 40th in our ugly attire. And they had a Photo Booth, SCORE!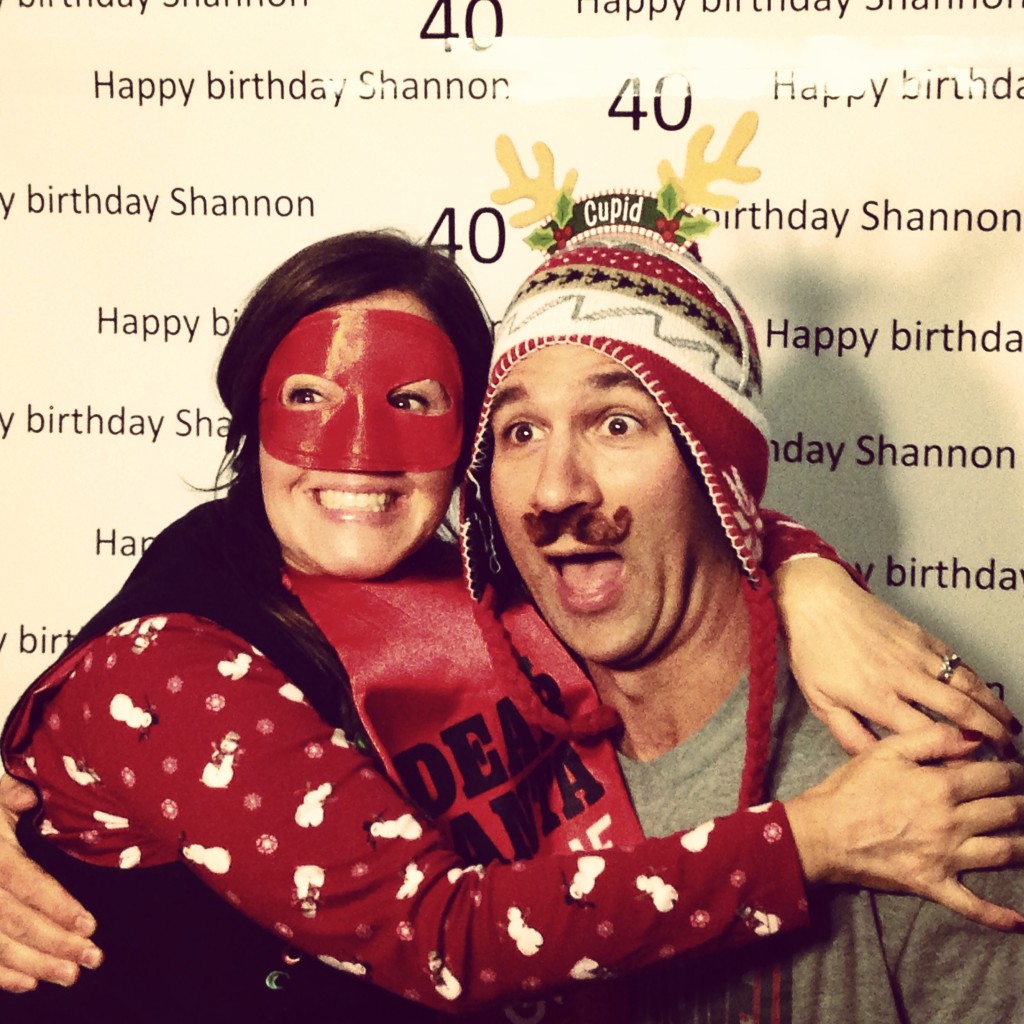 Holiday Recital: Noah's voice lessons paid off as he took the stage for his music school's recital. He belted out "I'm Gettin' Nuttin' for Christmas" while wearing his Grinch shirt. Poor boy had to go first so he wouldn't be late for his soccer game, but it didn't phase him. Bravo Noah!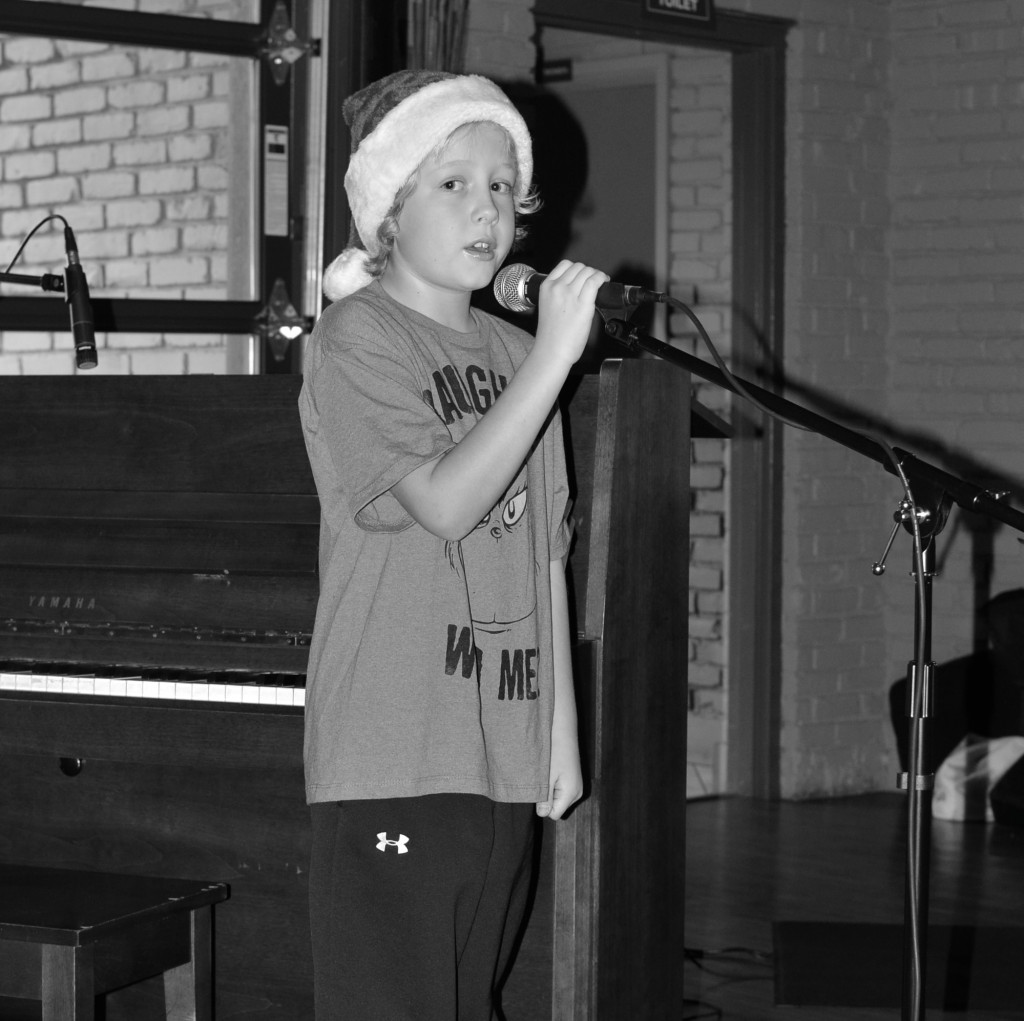 Wreath Creation 101: My friend Nicole talked me into making our own wreaths this year. While at a flea market (she's a flea lover too) we found these adorable tin ornaments. "Let's use them to make our own wreaths.", said Nicole. And so we did. Glueguns, garland, wire cutters and a big mess later our wreaths were done. I am not anticipating anyone beating down my door begging me to make them one, but I will enjoy the fruits of my labor for now!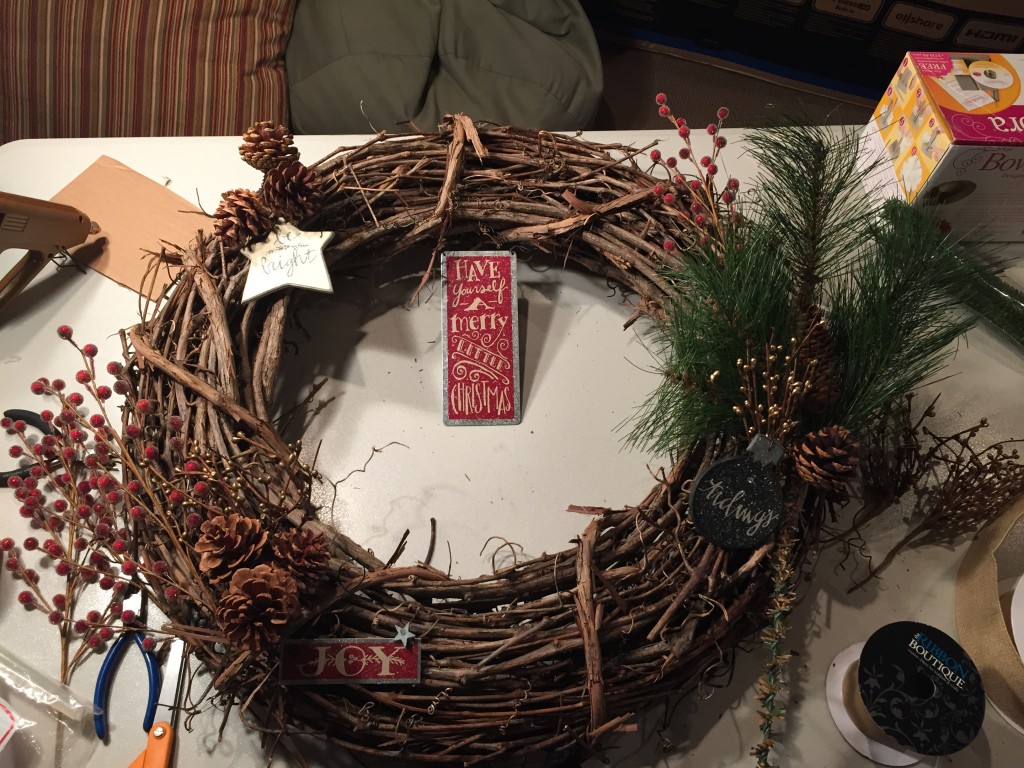 Gingerbread House: Ok, this is one of my favorite things to do in December. I buy our kit (who really makes their own….who?!) the year before when they are super cheap after Christmas. I store it in one of my Christmas bins and have it ready to go when the spirit move us! I don't buy extra candy or icing, we use only what comes in the kit. Keep. It. Simple. Every year our house gets prettier and prettier. And I swear the kids eat as much icing as they slap on the house! Sugar belly!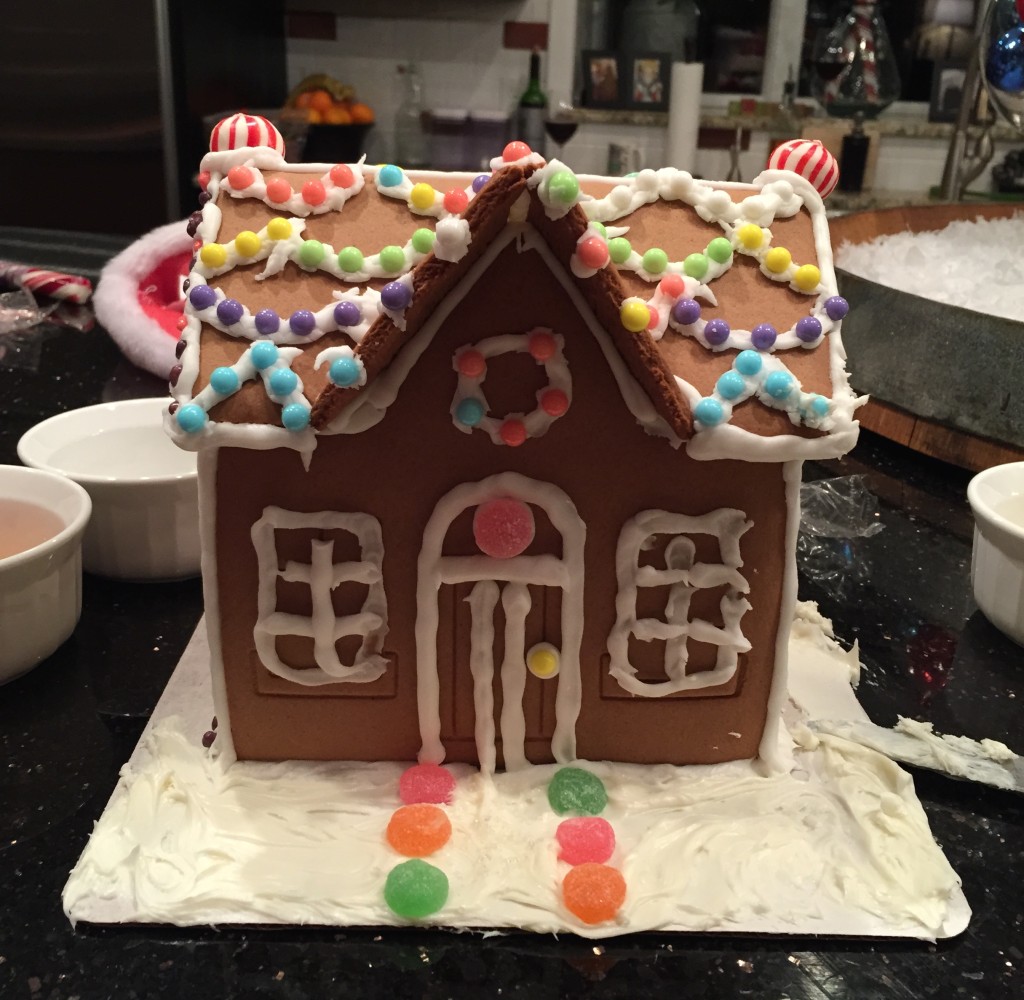 Salvation Army Bell: This is our 2nd year for ringing the bell. We ring at our local Kroger and make it our mission to chat with everyone who comes through the door. It helps that we hand out treats when people donate! Ch-ching! It's a good reminder for the kids that GIVING is better than RECEIVING.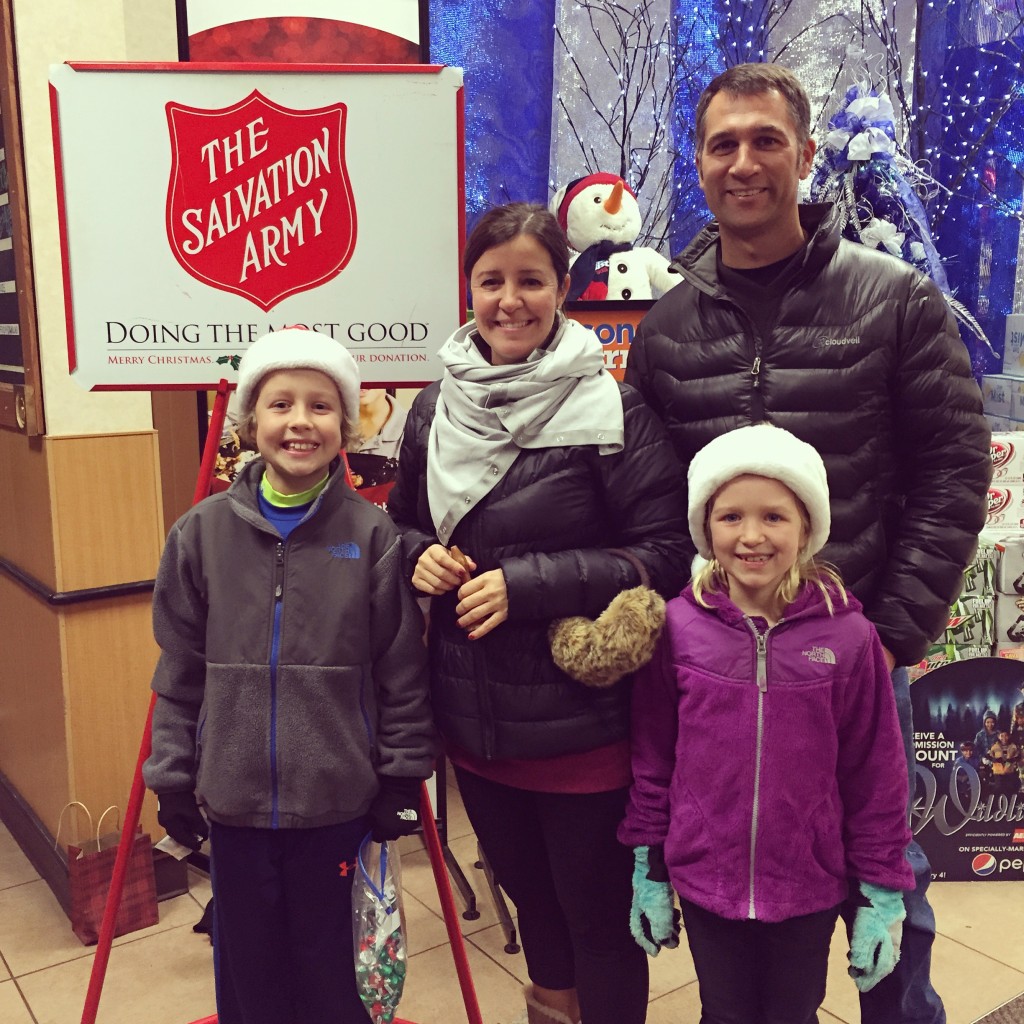 Cookies: We bake the same cookies every year. The recipe is one I have been using since high school and I swear by it! Butter cut-outs. Not sugar. Butter. And Pillsbury's Creamy Supreme Frosting.  Noah would spot an impostor frosting immediately. Natalie wears more flour than she uses and I am always left with the clean up. But we have fun. And the cookies provide me with breakfast for a good week at least!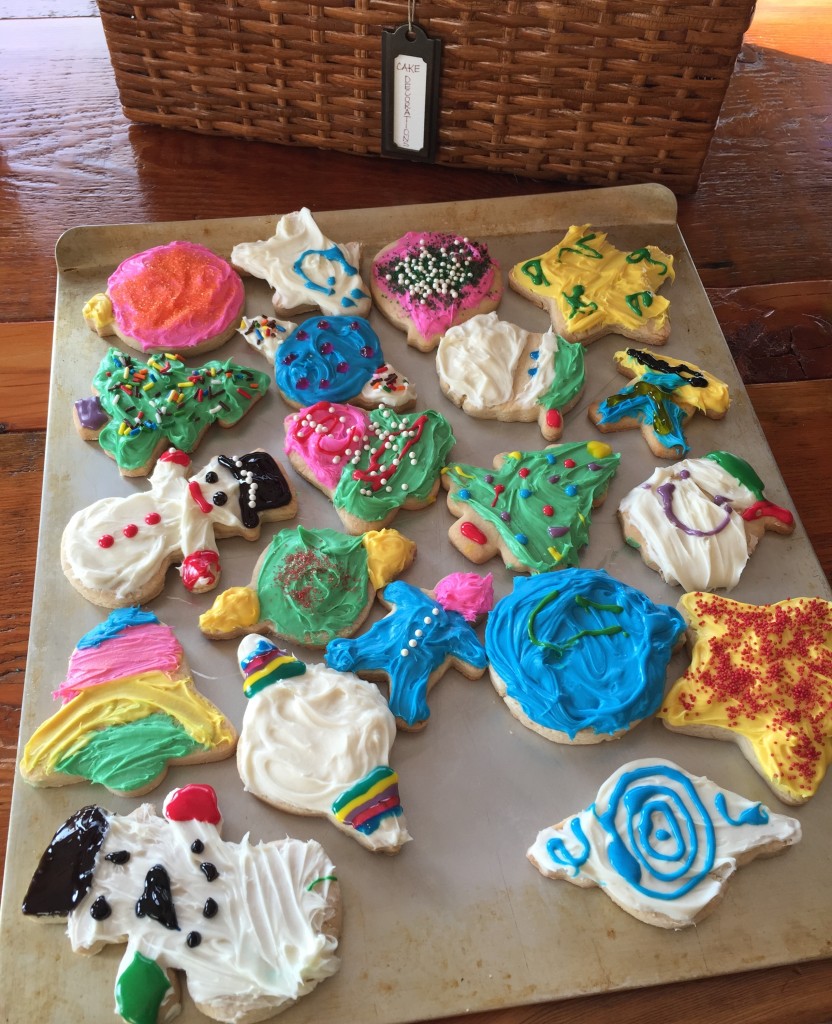 Mischievous Elves: I will be honest, I had to look up how to spell 'mischievous'! Apparently I have been pronouncing it wrong my entire life! Oops! We adopted our Elf on the Shelf when Noah was three. Natalie was one, so she was clueless that year. Hermey (named after the dentist Elf in Rudolph) was boring at first. He simply moved from place to place. Noah would find him when he woke up and if he didn't move, well we could explain it away pretty easily. Not so much anymore! Our family now cares for 8 elves. Yes, 8. I am still not sure how that happened exactly. Jeremy will be rolling his eyes about now! I have an entire blog post in the works for these little guys….stay tuned!
Teacher gifts: Noah and Natalie's classroom teachers are wonderful. I wanted to do something special, so I looked to one of my faves: Erin Condren. Using their favorite colors I ordered the 'classic on-the-go notebooks' personalized with their names. They were a hit! I added a pack of the 'colorful markers' because to-do lists are much more fun when written in purple! Here is a picture of mine: LOVE IT!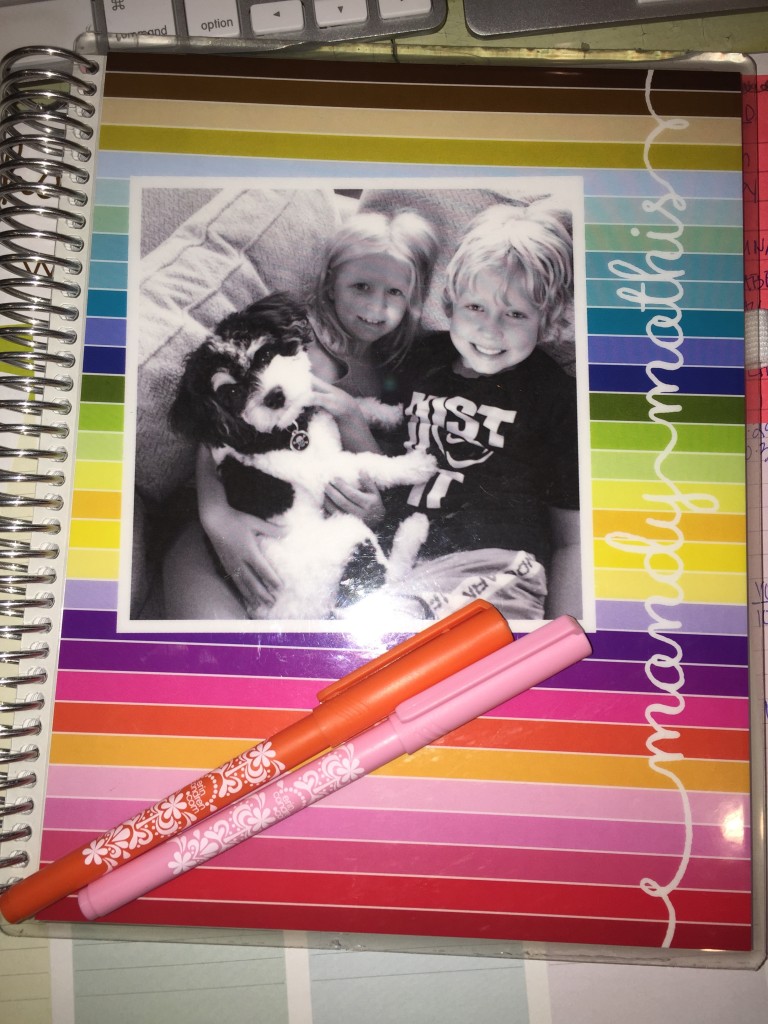 Visiting St. Nick: I am thankful that my kids still believe! We all look forward to visits with the big guy. I love hearing what they ask him.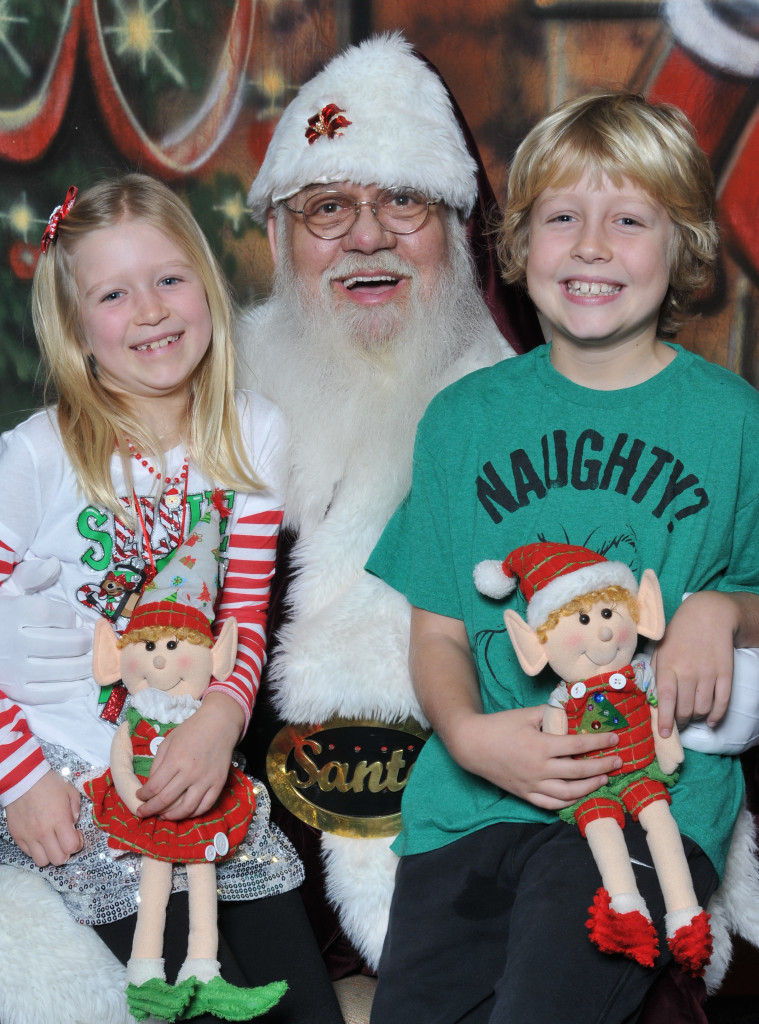 School Parties: If your children's school is like mine, then you are given exactly 30 minutes to pull off a party to remember. Complete with games and snacks and maybe a craft! Yikes! And if you have more than one kid you are splitting your time between two classes. This year I was in charge of games for Noah's class. I made up a Christmas trivia challenge which the kids did really well with. And we played a memory game. 15 holiday items on a tray…..give them a minute to stare and memorize. Cover it up and give them a minute to write down as many as they can remember. Highest score was 12! I was impressed! 4th graders crack me up! For Natalie's class I provided the plates for snack and snuck in to see the last 10 minutes of her party. I will switch roles for the end of the year party…..gotta keep it even, right?!
Charity Work: I am lucky enough to know some amazing people who started a charity, Families For A Cure several years ago. Their mission is to raise LOTS of money to help find a cure for cancer. I hate cancer, but that is a post for another day. This year our family nominated Noah's teacher for a brand new Experience Grant. Miss Deck is a cancer warrior and very deserving of the grant. Through the grant she was sent to NYC for a weekend. I am going to blog all about her trip and FFAC very shortly, so please keep reading. It was an honor to be one of the planners of her trip and to be there to present it to her.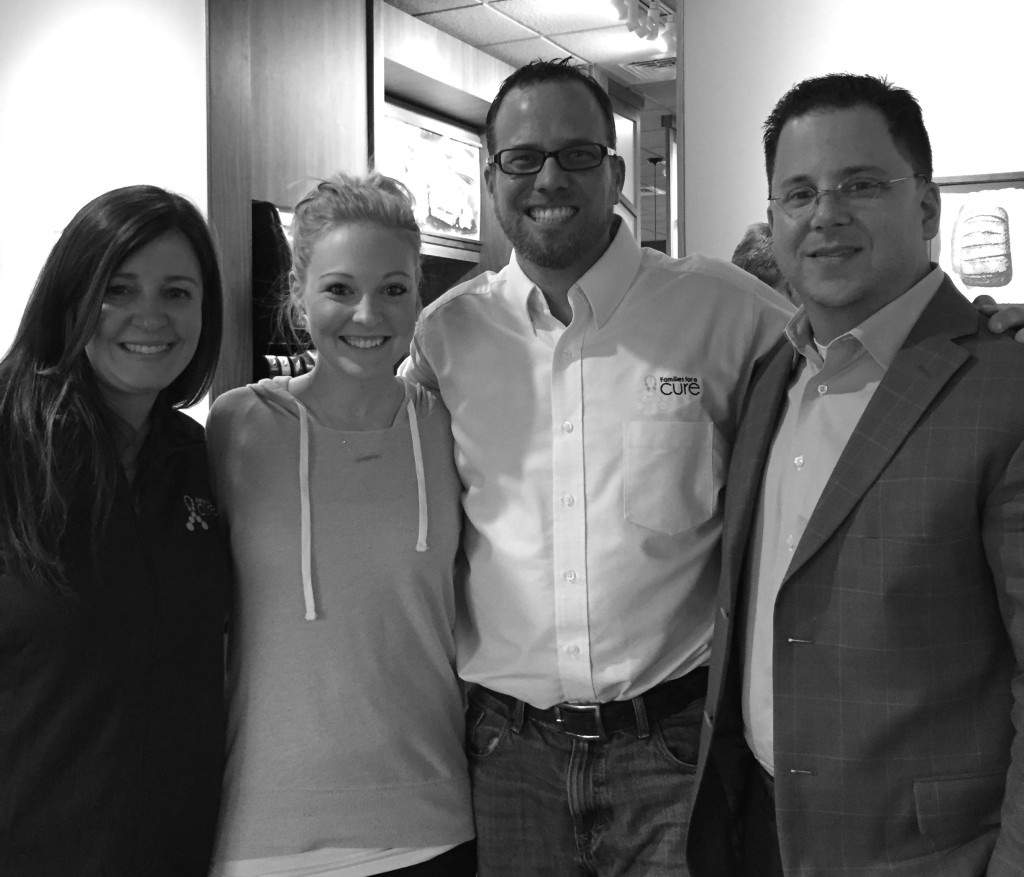 Annual Kid's Christmas Party: These gorgeous ladies have been in my life since way before kids! We use to gather every Christmas for an adult party….fancy dinner, drinks, pretty dresses. Then the children invaded! Now every year we get our families together for a little holiday cheer. This year we bowled! Kids loved it and no one's house was trashed! Good times!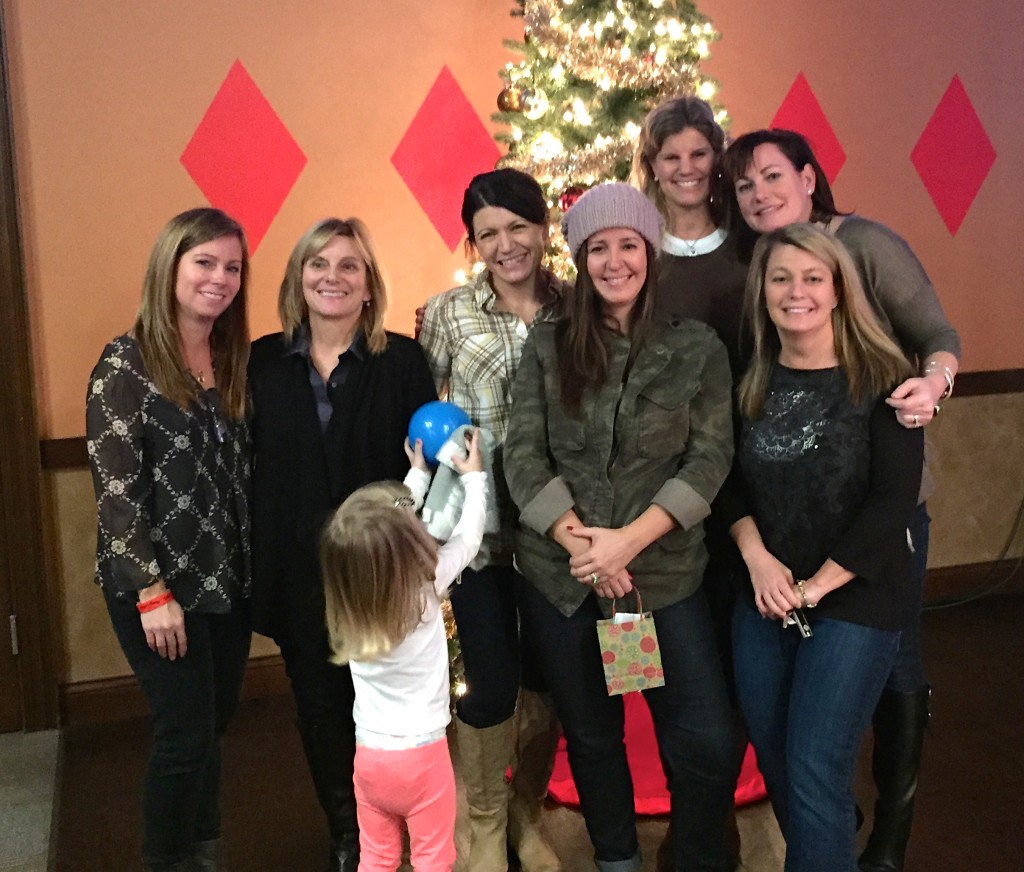 Christmas Eve: This year we mixed it up a bit. Normally we get all gussied up in coordinating outfits and attend church. We sing carols and light candles. It's a time to focus on Jesus and the true reason for this season. Instead, this year we stayed home and were blessed to have a wonderful meal and visit with Jeremy's brother and his family. His family includes my 3 year old niece whom my children completely adore and her brand new baby sister. It was our first time meeting Miss V. She is perfection. And being with family we don't see very often was a good reason for skipping church!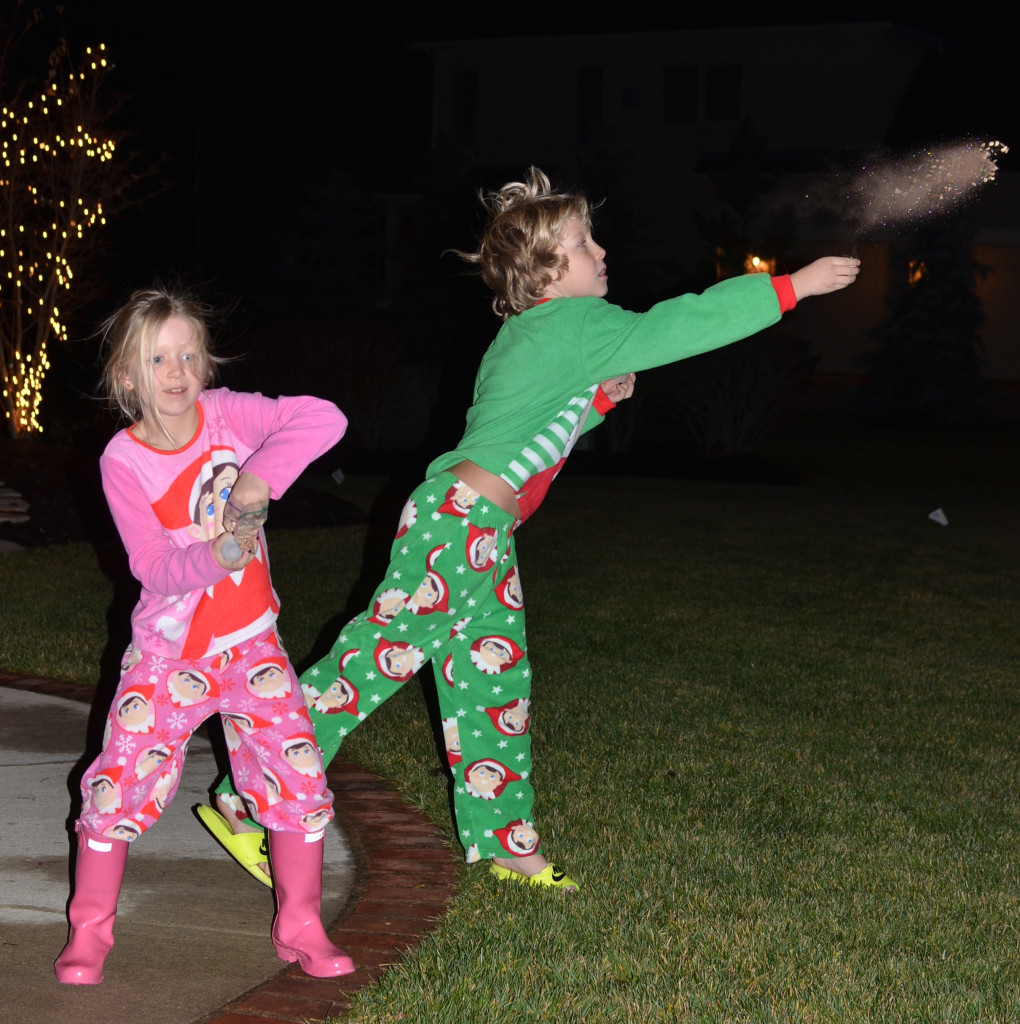 Christmas Morning: I know all kids love Christmas morning, but there is a little boy who lives with me who is off-the-hook crazy when it finally arrives. He has been known to wake us up at 4am. This year we had the kids bunk together and promise not to come downstairs until at least 6am. You guessed it….at 6am sharp Noah ran into our room squealing, "Santa came, Santa came!". It was hard to contain his enthusiasm, but we somehow convinced him to snuggle us for an hour before we let him wake his sister. He shared later that he had awoken every hour since 1:30am and had snuck downstairs at some point to scope out the gifts! One of these years he is bound to catch Santa in the act! Natalie, still half asleep posed for a few pictures before settling in on the couch to slowly open her stocking. I happily report that this was the first year that she managed to open all of her presents in the same day. The girl moves at her own pace! Noah on the other hand, has everything open, out of the boxes and broken in before breakfast is served!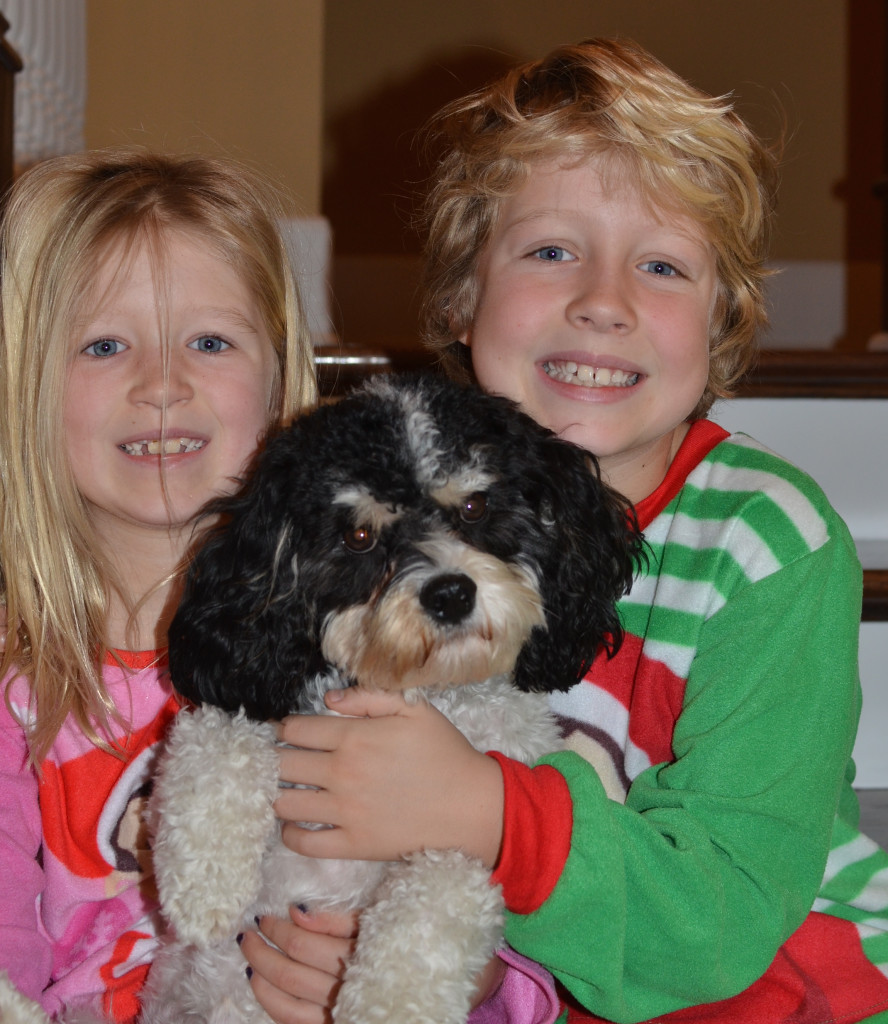 December 27th: 12/27 is a holiday in our house. It's my birthday! If you read my Birthday Blog you already know how I spent my day! 42 is a grand age and I am thankful to my friends and family for  making another December 27th so memorable! This year we took a belated trip to paint some pottery. My family knows me well!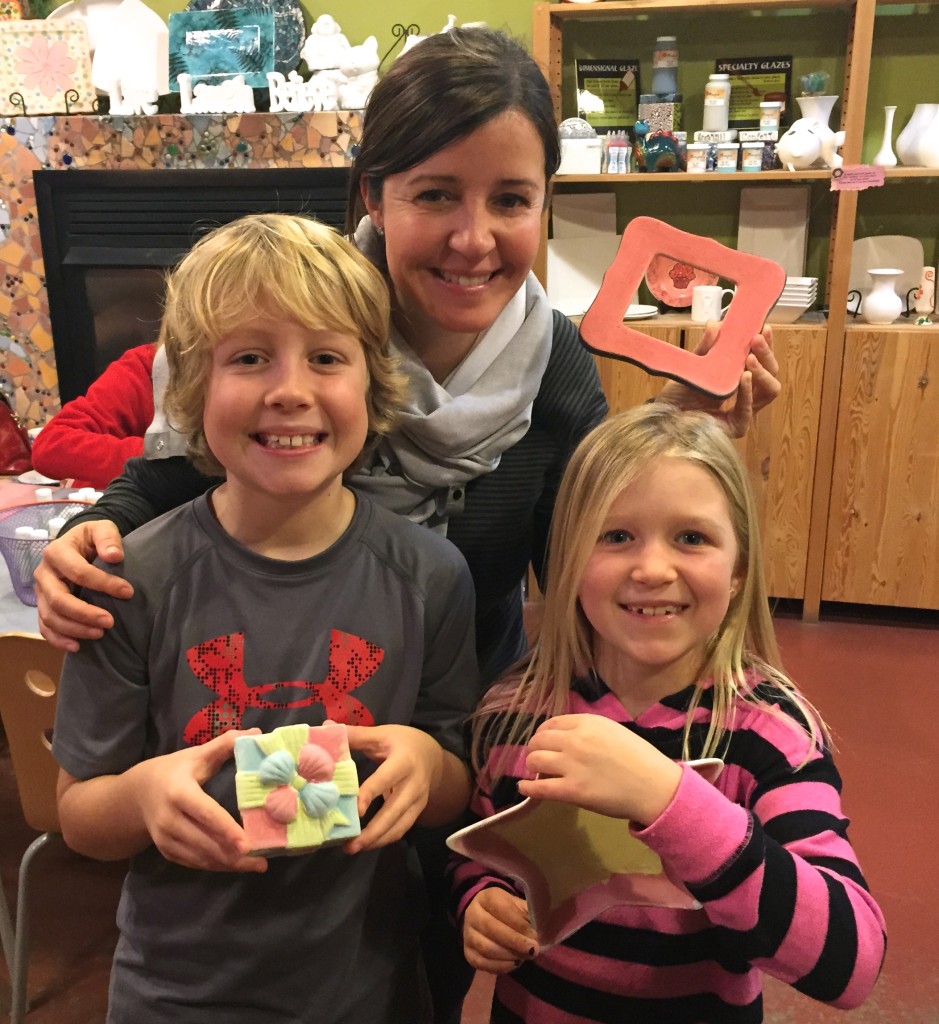 Family Photo Shoot: Miss Lori Williams once again preserved my family on film! We had a full Mathis Family shoot. It was cold, the kids were great and as always, Studio Williams delivered with one-of-a-kind pics! She always makes us look so good!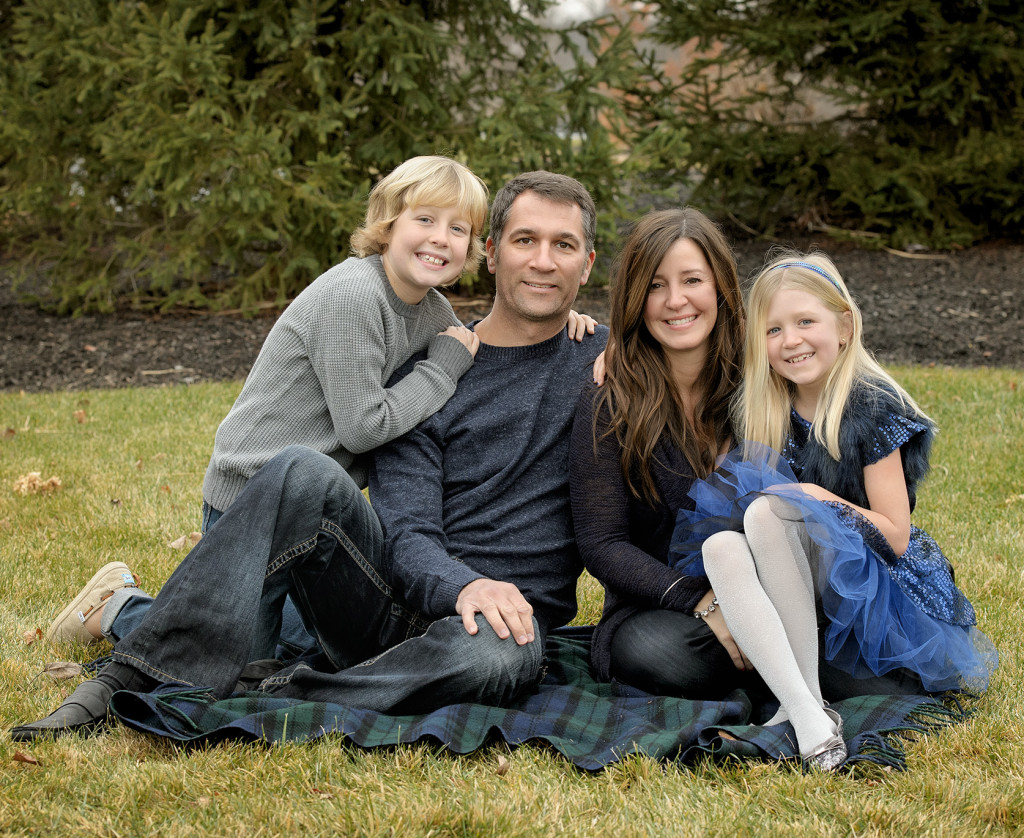 Harlem Globetrotters: This was FUN! We went with a few other families, sat where we could spread out and enjoyed the antics of Big Easy, Sweet J and Too Tall! Amazing how they pulled off a win in overtime 😉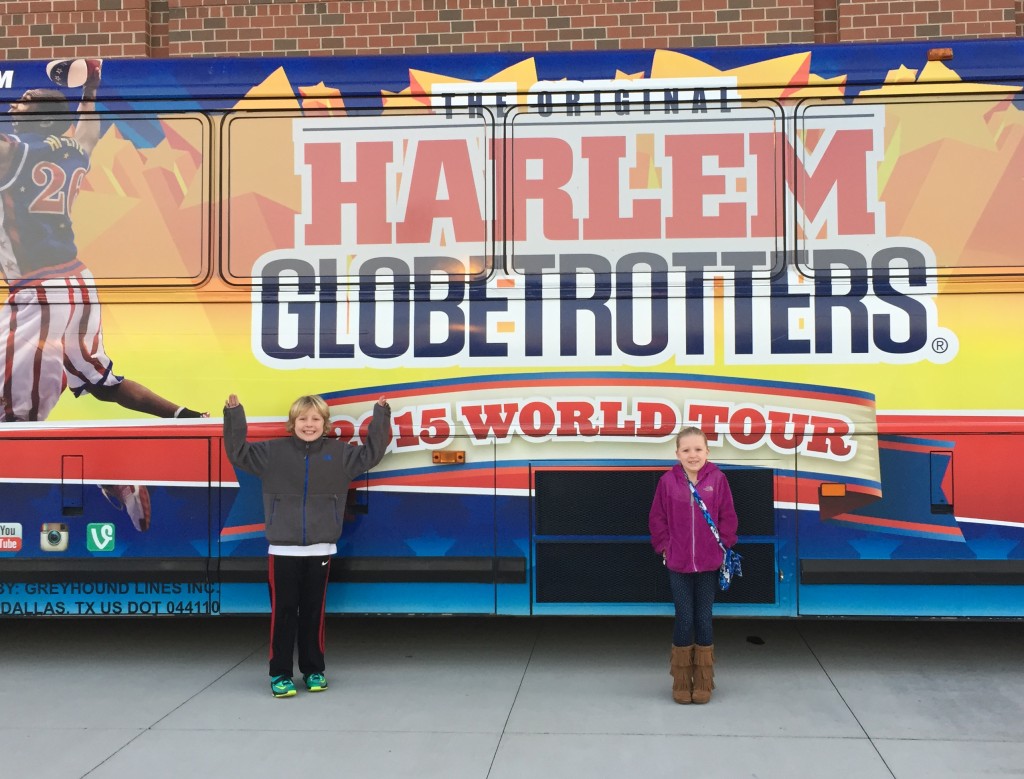 New Year's Eve: Normally we spend NYE with several families. The kids run around like hooligans. The parents attempt to squeeze in a few conversations between breaking up fights and cleaning up spills. It's glorious and we look forward to it every year. This year we all seemed to be going in different directions and so the get-together did not happen. The kids were bummed (and so were Jeremy and I!). We hit the slopes for a day of skiing instead. It was awesome! We skied, shared candy bars during lunch and sipped hot chocolate afterwards while waiting for Natalie to regain feeling in her fingers! Skiing in Ohio is C.O.L.D. After warm showers, we settled in on the couch and watched the crazy fools in Time's Square. Natalie passed out on Jeremy's lap at 10:30 and Noah begged me to put him to bed at 11:00. So for the first time EVER, Jeremy and rang in the new year just the two of us. This girl is not complaining!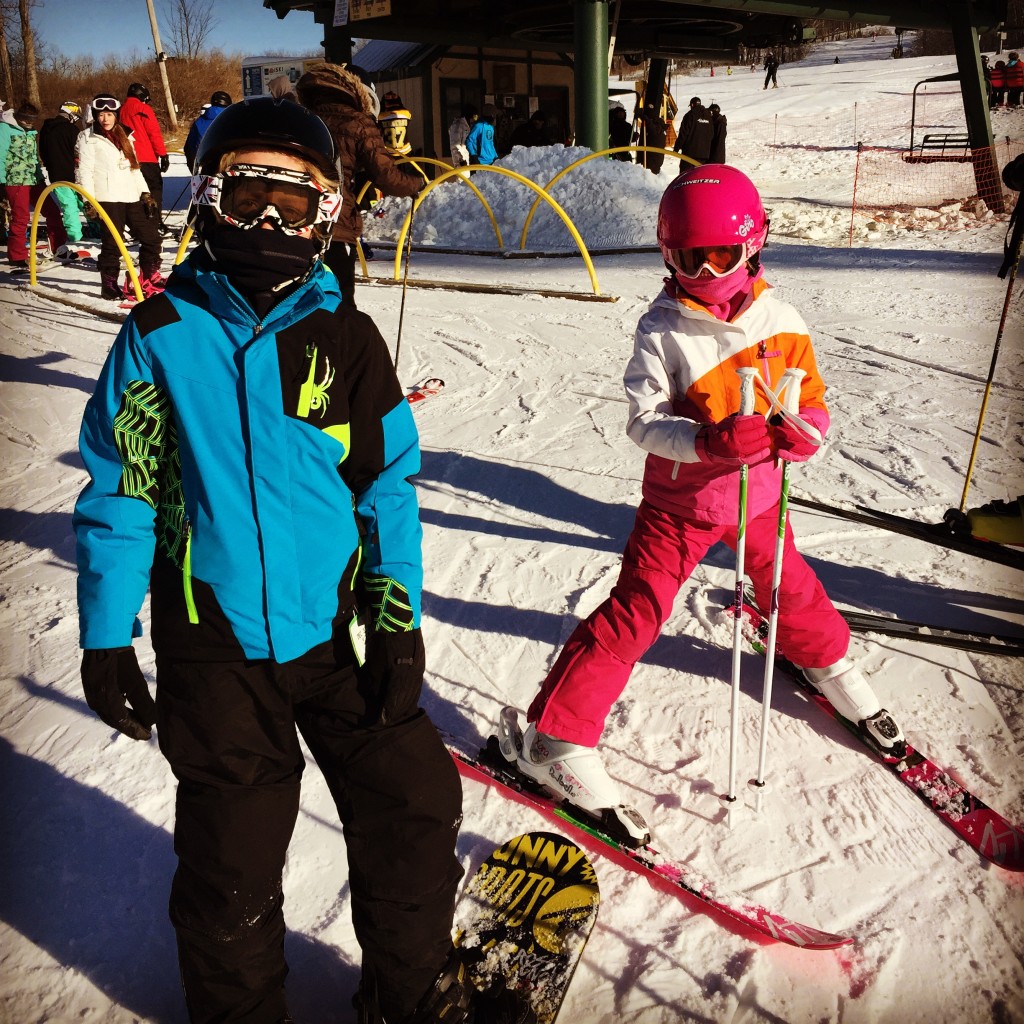 Whew, can't believe we accomplished all of that in just 31 days! Hope your December was just as grand!
Live Creatively,

Tags: