I am still in denial that 2014 is over, but I guess it is time for me to embrace 2015. I like new beginnings. Starting fresh is good. Change can be powerful. It can also be scary. 2014 was a great year for me. I have a lot to be thankful for. Maybe that is why the dawning of a new year is a bit unsettling. There are 365 days of unknown upon me….. I will pray that God guides me through them with dignity, grace and strength. I wish the same for all of you.
Sit down for this announcement, as I am sure it will catch you by surprise: I do not have any 'traditions' or decorations for New Year's! I know, it is tough to believe, but it's true. We don't eat sauerkraut and pork or black eyed peas. I'm OK with taking the garbage out and I'm not spooked if I happen to shed a tear or two….who knew there were so many new year superstitions! I cannot tell you the last time I made an actual resolution. New Year's day is the signal that I can start to disassemble Christmas and that the kids will be heading back to school.
With all of that being said, as a year ends and new one begins, Jeremy and ask our kids to reflect on the past year and dream about the new year. For the past several years we have asked them to fill out a little questionnaire I created called, "What a Year It's Been". We sit together and talk about their answers. After the new year's is completed we read the one from last year. There usually aren't many surprises as we keep them posted in the mudroom throughout the year. Here is a look at the newest one; 2015: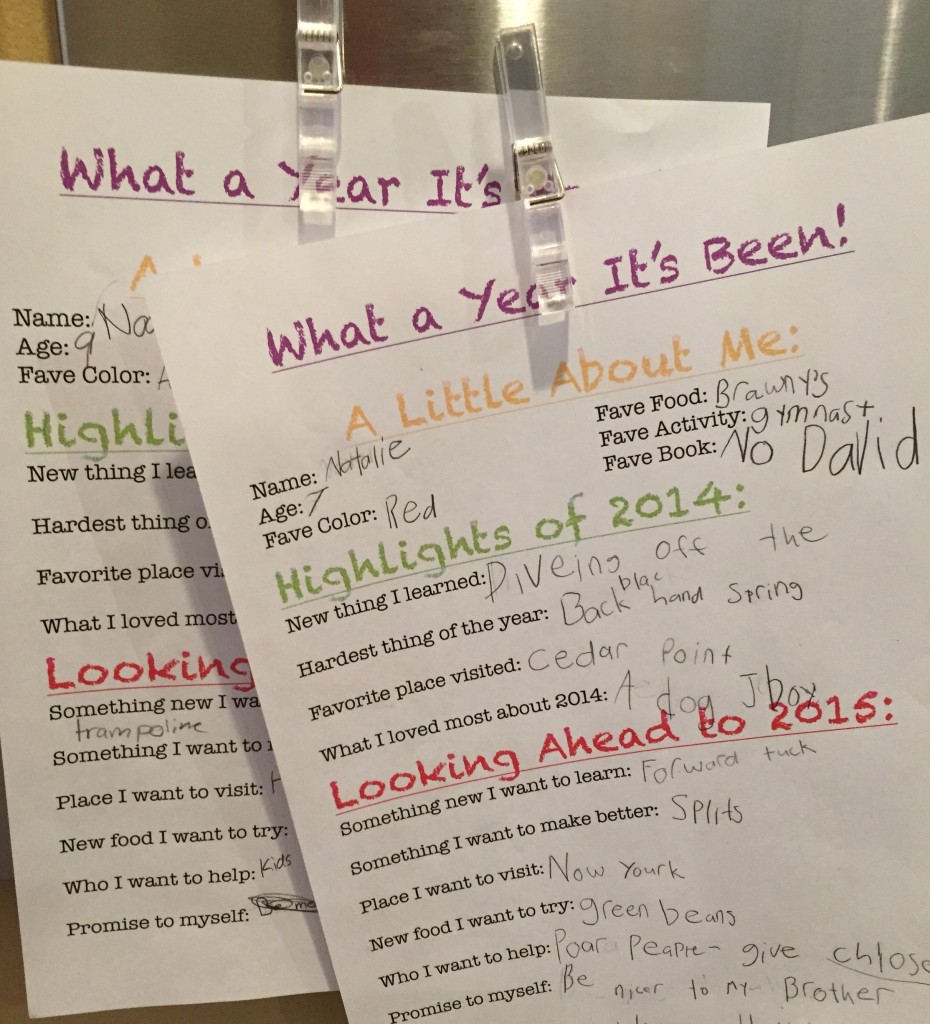 The kids look forward to this and take it pretty seriously. I save the old ones and add them to their yearly files (a blog for a different day!). My favorite was the last thing I added this year, "Promise to Myself". We encouraged them to think about what they really want to change about their own behavior, their outlook on life or themselves in general. They each answered about being kinder to their sibling! We shall see! You can download it here: Kids New Year ?.pages
As they were busy writing down their answers, I was answering the same questions in my head. It's amazing how much reflection and hope can be conjured up by a few questions. Funny thing is that a couple of days later I read my friend's blog, Fourth Grade Literacy Lovers.  You can follow her on Bloglovin.  You don't have to be a parent of a 4th grader or love literature to love her blog. Her last post was all about living with purpose. She has inspired me to choose a word for 2015. A word that will describe the year I want to have. My friend chose 'purpose' and there is no doubt that she will lead a life of purpose all year. So I have been really thinking about what kind of year I want to have. Happy. Connected. Loving. Healthy. Thankful. Patient. Magnificent. Honorable. Reflective. I want so much from 2015. I've decided on WORTHY. "Nothing is worth more than this day"….this is the quote that my Aunt Nancy adopted when she was battling for her life. She passed away a few years ago from Pulmonary Fibrosis. Ugly disease. She gave me a bracelet inscribed with that saying and it has resonated with me ever since. I was a young mom, my dad was sick with cancer and I was dealing with a lot. Wearing that bracelet and seeing those words reminded me that once today is gone I cannot get it back. I want my 2015 to be Worthy. Every day, worthy. I want my husband and kids to feel worthy. I want there to be worth in the decisions I make, the friends I spend my time with and the way I make people feel. Worthy. I was gently reminded earlier this year that tomorrow is not a guarantee. Today needs to be worthy. Today, tomorrow and all of the tomorrows yet to come…….what's your word going to be?
If your family is like mine, then you are constantly trying to find ways to communicate with your children! I hate, "fine", "good", "yes", "no". I want REAL answers to my questions, don't you?? I am hoping this cool book will help:
I found it in Chicago a few years ago, but just gave it to my kids this year. Every day has a question for them to answer. It will take three years to complete. Here's a look at the inside: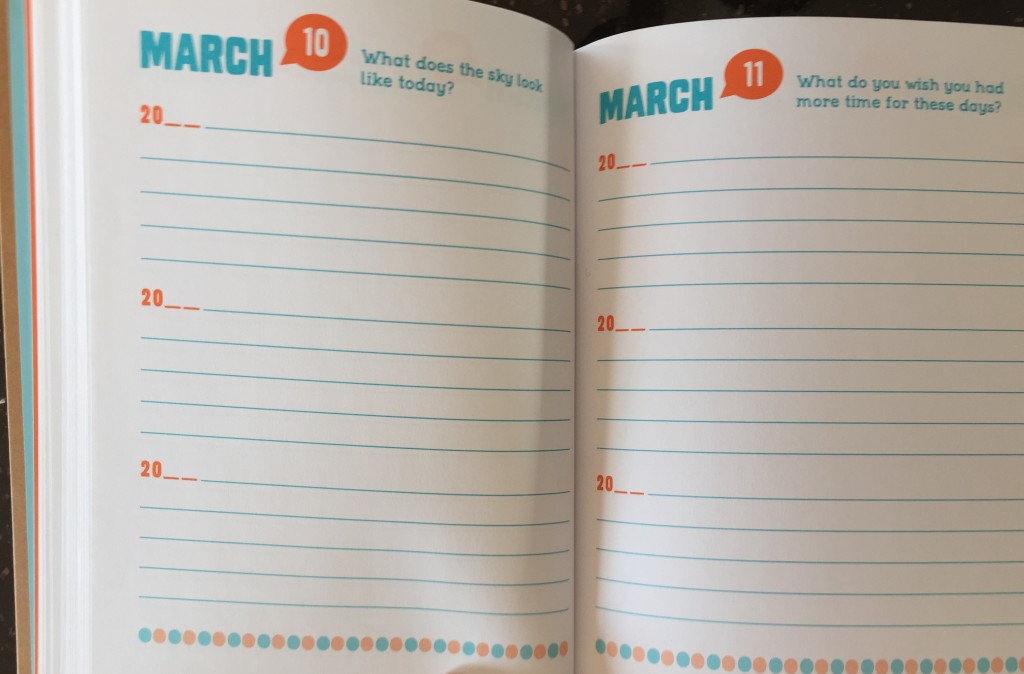 So you begin with filling in the year, answer the question and so on. It has been really fun so far. You can buy them here. I think it will be neat to look back through once they are punk teenagers! I leave them in the kitchen so we can fill them out during meals! Fun!
Since I am making my kids write each day, I thought I should do it as well. I am going to start a Gratitude Journal. My blogger friend from Fourth Grade Literacy Lovers gave me this idea too! My sweet friend, Mick gave me a new journal for my birthday. It will become my GJ. Let's face it, we all have a lot to be grateful for and when you put things in writing they become more real. I use to keep a daily diary as a teenager and didn't have any trouble writing down EVERYTHING that happened every day of my life. It was my own version of therapy! Here is my plan….
1) I will journal a couple times a week.
2) I will use detail. Not just make a list. DETAIL.
3) I will focus on people and not things.
Wish me luck! And for those of you who despise pen and paper, there is a Gratitude App. Download it for free here…..no excuses!
HAPPY NEW YEAR! #worthy
Live Creatively,