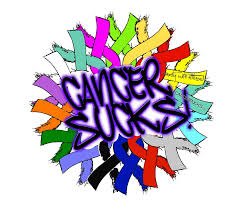 Cancer sucks and I hate it.
Growing up I didn't know anyone who had cancer. I doubt I even really understood what is was until I was much older. My mom had a cousin who died from leukemia, but I didn't know that was cancer. I realize how lucky I was to go 30+ years without having cancer truly invade my life. Now I feel like it surrounds me. I want it to go away. Forever.
My friends Sean and Shannon lost their dad to cancer in the spring of 2007. I knew Joe well and his death saddened me. I was sad for his kids because I knew how much they adored their dad. I was sad for his grand babies, because their memories would be few. I remember attending his memorial service with my little babies and feeling overwhelmed. I couldn't imagine losing a parent. I was only 34 years old. Scary. Two short years later I was faced with the possibility of losing my dad to cancer. Cancer.
My dad was diagnosed with stage 3 colon cancer in 2009. I will remember that day always. He was living in Idaho, but had been staying with me in Ohio for a few weeks to run all of the electric in our under-construction home. He wasn't feeling too great. He had hemorrhoids and they were beginning to wear on him. He had been with us for several weeks. On his last night I was with him as he was packing. He told me he was pretty sure he had cancer. I probably laughed. Cancer? My dad? No way. Why would he? It was just a bad case of hemorrhoids.
As time does, my memories of that February six years ago have faded a bit. Luckily, the writer in me started a Caring Bridge page. It was a great release for me and a wonderful way to keep loved ones up to date on my dad's journey. Below is my first 'entry' from May, 2009:
If you haven't met my Dad, you are missing out!  He is beyond amazing…
His story begins a few months ago.  He was having bowel issues, but believed it was just hemorrhoids.  Being a male and not wanting to make a fuss, he ignored the problem until it became unbearable.  He was staying with me in Ohio in February and I could tell he was miserable.  He promised he would get a colonoscopy as soon as he returned home to Idaho.  The day before he left he confided in me that he thought he might have cancer…..
He had the colonoscopy and it was not good.  The doctor knew right away that there was a problem.  He ran further tests and sent my folks home to wait.  Two days later he was told he had colon cancer.  For two days I prayed like never before.  I was specific….no cancer.  I spoke to him moments after he received the news.  He told me that this was just another bump in the road of life and that everything would be OK.  Always being the Daddy, not wanting to cause any heartache.  My head was swimming.  I wanted to hold him, to touch him and to some how take it all away.  I began to pray that God heal his body completely.  Within a few days my folks had packed up their truck and begun the three day journey to Ohio.  My husband, Jeremy, had set up appointments at The James and there was no time to waste.  After several appointments, many exams and numerous questions, we were ready to fight the cancer fight.  My Dad's cancer is stage three, the tumor the size of my fist.  The plan of attack is 5 weeks of chemo and radiation, a few weeks off and then surgery.  The hope is that the chemo and radiation will shrink the tumor making the surgery less invasive.  The ultimate goal…..to be cancer free and feeling good for his 40th wedding anniversary on July 19th!  Today is May 29th.  He has completed three of the five weeks of treatment.  He is friends with all the nurses, makes his doctors laugh out loud and continues to amaze us all with his positive attitude.  He is feeling great.  His body it tolerating the chemo and radiation very well.  He is actually feeling better than before the diagnosis, which makes us all think that the tumor really is shrinking.  YAY!  He proudly shows his 'radiation markings' to my kids and loves to talk about the people he has met along this walk.  Today he told me that he thanked God for giving him this type of cancer and not something worse.  He has seen children with no hair, men with tumors in their mouths along with many others worse off than him.  He claims that he is 'still ahead of the game'…..this coming from a man who has already suffered through quadruple bypass surgery really does make you stop and take stock of your own complaints.  
The outpouring of support has meant so much to my family.  The prayers, meals, cards, the constant 'checking in', we are surrounded in this battle and we are determined to come out on top.  There are no words to express our thanks.
I will keep you updated on my Dad's journey through this website.  Please continue to keep him in your prayers.  God Bless.
Reading that entry instantly takes me back to that horribly scary time in my life. My babies were, well, babies. Noah was 3 and Natalie was 1.5. She was just getting to know her grandpa and Noah was already his biggest fan. My dad's cancer journey has a happy ending. He is cancer free. Five years now! Praise God. Each year it gets easier to breath and to relax, but as his scans approach I find myself holding my breath and waiting for the world to crumble down around me once again. Cancer sucks. You can read all of my journals here.
Too many of my friends have lost loved ones to cancer. Some are fighting the fight as I type this post. Cancer has robbed those I care for of their moms, dads, sisters, brothers, children and friends. It always seems to be lurking in the shadows. I hate that it is such a common disease now. That people aren't shocked when they hear of a new diagnosis.
Noah's teacher is fighting the cancer monster for the second time in her short life. She is brave and determined to win the fight. She is inspiring and has made such a difference in Noah's life. We pray for her daily and were recently overjoyed when she shared news of being accepted into a new study to help fight her very rare cancer. I have no doubt that this incredible young lady will kick cancer's ass.
Last fall I had a cancer scare of my own. Everything came back benign, thank God. The waiting was unbearable. The news of no cancer was delightful. For a week my head was spinning. Just a week. It was a tiny taste of what cancer warriors face every day for years. It isn't fair. Life is meant to be lived. Not spent unable to breathe out of fear.
Because I hate cancer, I help fight it. I run the Race for the Cure. I donate to the American Cancer Society. I participate in The Relay for Life and in the Crawl For Cancer. I donate to The James Cancer Hospital. And most dear to my heart, I donate my money and time to Families For A Cure….a local non profit established by my friend Shannon's husband and other cancer haters, dedicated to making the lives of cancer patients and their supporters better. Their goal is to raise $1 million dollars to help fund cancer research and patient care programs. And I am happy to report that they are well on their way to reaching that goal. Check out Families For A Cure. It will make you feel good!
I wish my world was cancer free. It isn't. So I choose to do what I can to make that wish come true. The sooner, the better.
Live Creatively,

Tags: