A few days ago someone in my family called me chubby. It was not my husband. He would never do such a thing….he does not want to take the chance of getting punched in the throat while he sleeps! 😉
It was someone I love dearly and it was said in complete honesty with no intention of hurting my feelings.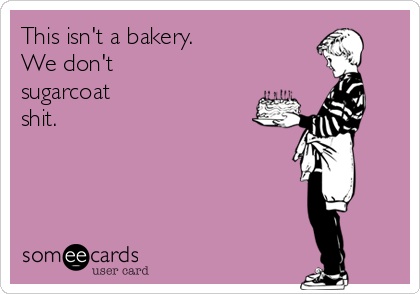 Therefore I continue to love this truth-teller. Because let's be honest, I am chubby. Please don't be a hater, and think I am some crazy woman who thinks I am fat. I am not saying that. I don't suffer from poor self esteem, but I am only 5'3″ and when you add extra pounds to that sized frame…..it's hard to hide it! I've been chubby for a couple of years now. I don't really like it, but it hasn't bothered me enough to stop avoiding the T-25 DVD's we own (Shaun T is evil) or quit eating Thin Mints. I buy workout clothes to wear, well, to wear for everything but working out. Someone who shall remain nameless loves to ask, "did you fake work-out today?", Grrrrr! I live with a man who is super in shape, makes time to work out EVERY. DAY., eats well and looks hot in a pair of jeans. This same person quietly encourages me, never shames me and would do back flips if I entered our work out room to, well, actually work out!
Growing up I was skinny. I didn't care. I don't remember ever thinking about weight, mine or anyone else's for that matter. I had friends of all shapes and sizes. And why wouldn't I? We ate Reese Cups by the bag load and chugged Coke for fun. My daily lunch in Middle School and High School consisted of a bagel with butter. REAL butter. A bag of cheese puffs and a Little Debbie peanut butter bar. I am sure I drank milk, whole milk because bottled water wasn't invented yet! Michelle Obama would be shaking her head for sure!
For your viewing pleasure…….a peek at my curve-less, skinny high school body. And please take a moment to appreciate the 'natural' Sun-In highlights.
My mom served us a balanced meal for dinner. Sliced bread was our staple side dish. I was 'encouraged' to clean my plate and was often left at the table alone staring at a pile of green veggies. Breakfast was a different story! Our cereal cupboard, yes, we had an entire cupboard dedicated to cereal, consisted of Honeycombs, Fruit Loops, Frosted Flakes, Lucky Charms and Mini Wheats. Most mornings I had two bowls because choosing just one was too difficult. If my dad was home there was a large pile of bacon readily available, most likely fried in Crisco! We didn't have a pantry, who did? Instead, our snacks lived in the lazy susan under the counter. We always had Fritos. The pretzel rods were stored on the counter in a cool old Mason jar and the Lays potato chips were kept in a Charles Chips tin. You simply grabbed a basket off the wall, yes, off the wall…….there were various sizes available, each hanging on their own nail, lined it with a paper napkin, filled it with your snacks and carried on. And when you needed something a little sweet you just opened the cookie jar (on the counter) and helped yourself! My mom still uses the same cookie jar and my kids think it is the coolest thing ever! It is never empty. Never! We always had Pepsi, lots of Pepsi. And when Kroger came out with Big K, well the Dortmund family expanded their flavor options! In college I survived on Raman Noodles, Taco Bell, Bud Light and Hot Pockets. Obviously I had a rocking metabolism, because my weight never changed.
I really had no idea how much I weighed until I got pregnant with Noah at age 31 and had the constant weigh-ins at the OB-GYN. I gained 20 pounds with Noah and actually weighed less after he was born, I thank breastfeeding for that little gift! Two years later I gained 24 pounds while preggo with Natalie. Once again, thanks to breastfeeding and chasing a 2 year old, I lost that weight quickly. Yay me! Enjoy these belly shots. So fun! Thank goodness I switched colors, because my belly looks identical in the two pictures. I guess that's why EVERYONE told me I was definitely going to have another boy…..NOT! And don't let Noah's sweetness fool you, he was not a fan of my belly. It made it too difficult for him to snuggle me!
Flash forward seven and a half years….I wouldn't be caught dead in a bikini, I strategically place a child in front of me for family pictures and worship the creator of Spanx! Have I loved my body lately? No. Have I obsessed over it? No. Have I done anything to change it? No. I am loved, surrounded by dear friends and healthy. Who cares if my jeans are a bit snug! Unfortunately, they are more than a 'bit' snug these days. I have back pain, which according to my doctor/husband would go away if my core was stronger….damn core and even though I rarely sit down and play as much tennis as I can I am out of shape. There, I said it. I. Am. Out. Of. Shape. And it took the honesty of a loved one for it to finally sink in. I'm ready. I don't need the con-caved stomach of my teens or the bony little arms. I am not aspiring to fit into an XS. I want to stand beside my kids in family pictures, to ditch the ass-covering blardigans and MAYBE wear a tankini to the pool!
I am choosing healthy, not skinny. My goals are reachable. I can do this. Ready. Set. Go! #worthy
Stay tuned for how this all works out!
Live Creatively,