On May 17th my Daddy turned 70. SEVENTY! He was 27 years old when I was born.  The moment he met me he named me 'Princess' as every new daddy to a daughter should! He's been my Prince every day since. My dad is the oldest of 4, born to Paul & Bertie Dortmund. They were exceptional folks and I am sad for those who never knew them. My dad perfected the role of big brother to his younger sisters. I will never tire of the stories they tell. His younger brother was born when he was 18. You would assume that they had nothing in common but that could not be farther from the truth. This post is long and picture heavy….you have been warned!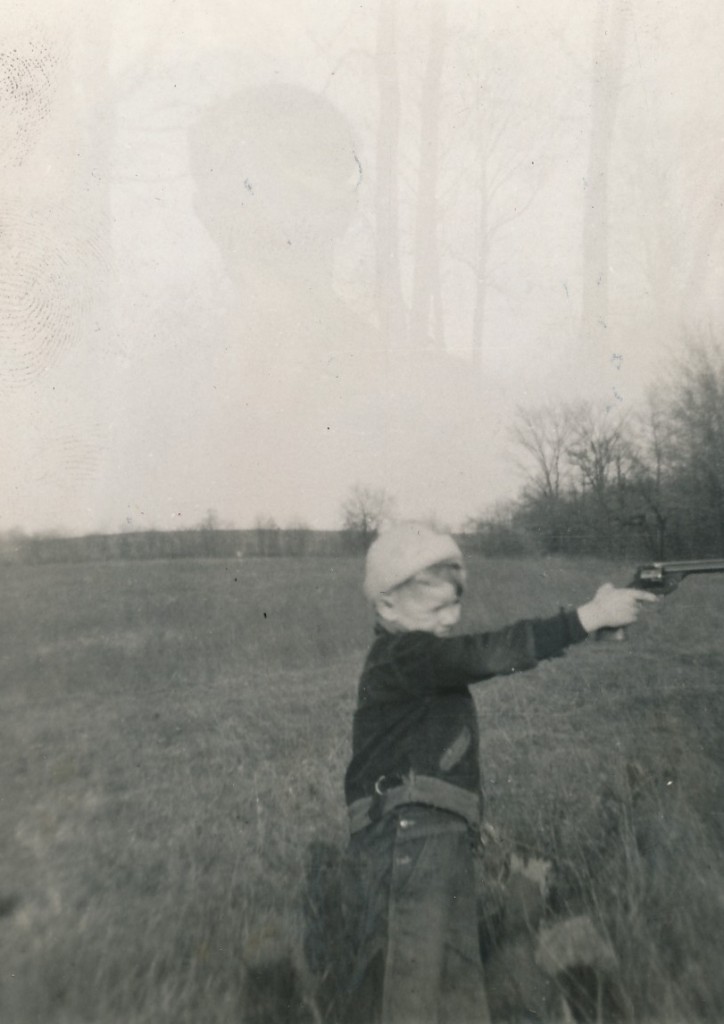 My son now owns this gun. I have looked at this picture a hundred times and have it in a pile to frame for Noah's room. Today was the first time I noticed the shadow of a man in the background….do you see it? Today is May 17th, my Dad's birthday. It is also my Grandpa Dortmund's birthday. How cool is it that father and son shared a birthday?! I don't know for certain, but the silhouette certainly looks like my Grandpa. I think he's saying 'Hi' to me. He does that often, usually when I need it most. Happy Heavenly Bday Grandpa D!
My Dad doesn't have a college degree to brag about, hasn't written a best seller (although he's working on it), doesn't own a tux or drive a fancy car. He rarely wears his wedding band, can't speak a second language, hates to dress up and has no desire to travel abroad. What he does have is the total adoration of myself and my kids, countless years of happy memories with people who love him, a rock-solid marriage and a heart of gold. My dad can do lots of things. He's a Prince, remember? He can beat cancer, survive heart disease & quadruple bypass, play the piano, hit the bullseye, diagnose and fix computer problems over the phone, build me my dream house, make my kids giggle, stretch a dollar and he can speak dog. If your dog has ever met my Dad, you know what I am talking about.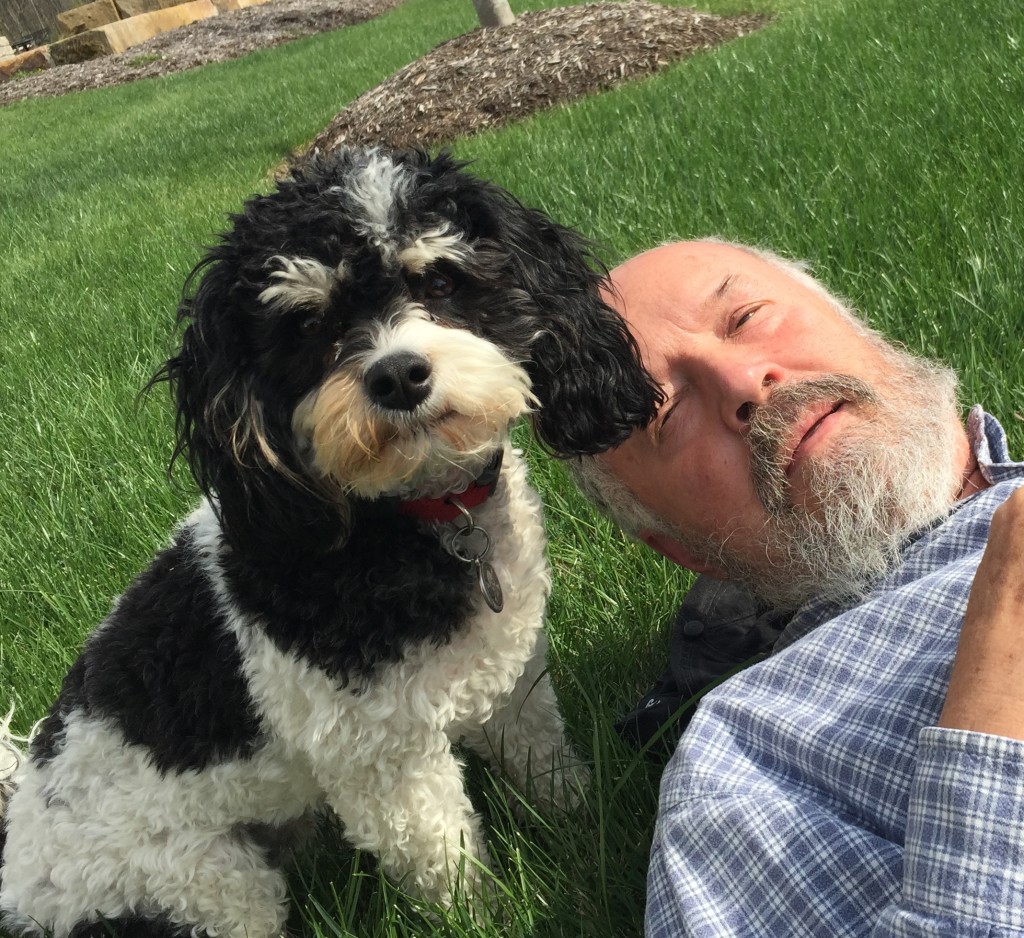 My Dad is a silly man. He is quick with his one-liners and always keeps us guessing.
Christmas gifts are usually home-made and fulfill a need. One year I received an electric screwdriver….a screwdriver with an electrical cord glued into the end. Another year he wrapped up my little league trophies which I had secretly thrown away months earlier and many moons after I retired from playing the clarinet it ended up under the tree as well. I fear that my husband has spent too much time with my Dad because this past Christmas Jeremy gave our kids a 'fart in a jar' as a surprise gift. Perhaps I married my father!
This next picture is one of my faves. My Dad is sitting on a golf course watching my brothers in a college match. I took the camera from his neck and captured his sweetness: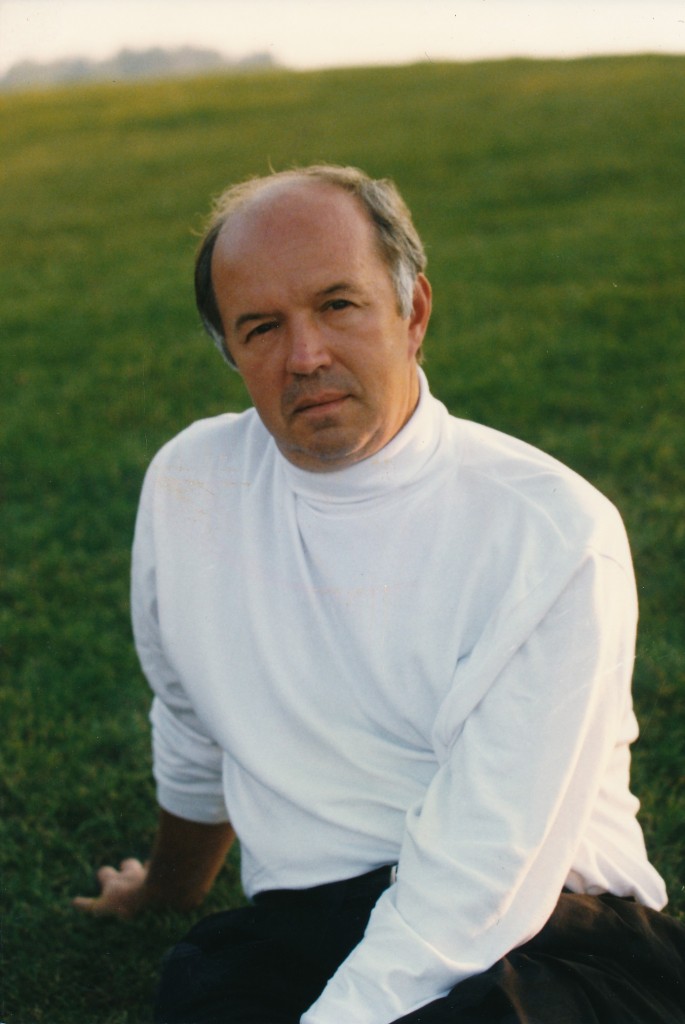 My Dad never played golf. Didn't see a reason to. He will tell you that he isn't into sports, but it is he who taught me how to play softball and spent countless hours catching my pitches. It was he who attended every softball and volleyball game, track meet and cheerleading event. When my brothers took up the sport of golf, he learned the game. He caddied for both of them and relished in their wins. This picture shows a proud Daddy.
Growing up with my Dad was fun. Here are a few favorite memories:
-keeping him company while he changed the oil in a car
-riding with him on our huge IH tractor
-watching him carefully pack stumps full of dynamite and blow them sky high
-flea markets at the old Drive In
-talks, lots of long talks about life….he always answers my questions
-making a pet cemetery in the back field
-pizza buffet at Pizza Villa
-The Box Seat (video rental store we owned for a bit)
-him being the first "Room Dad" at Olentangy Elementary
-swimming at Alum Creek 'beach'
-building snow creatures and saucer-sled runs
…years later he is still making saucer-runs, now they are for Noah and Natalie: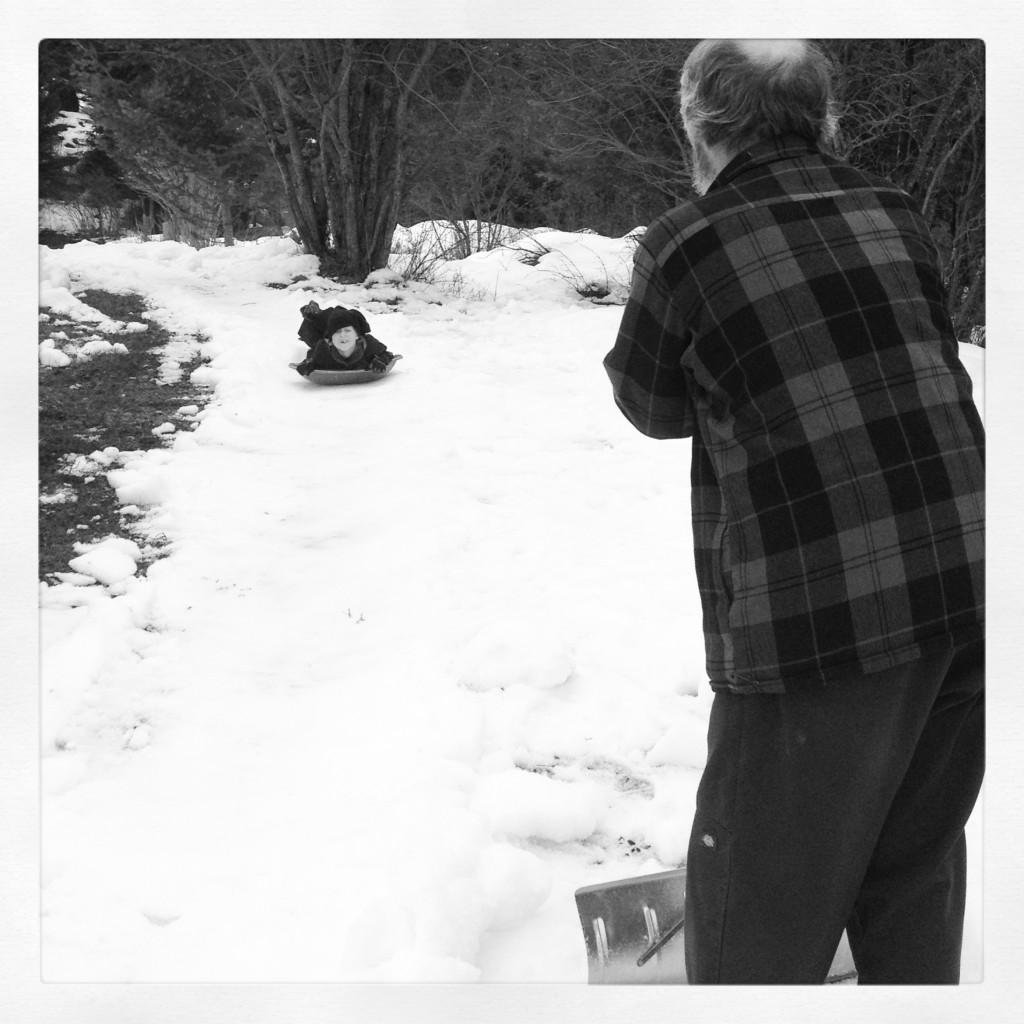 -crying on his shoulder from a broken heart
-shopping at Express for a 6th grade dance outfit
-watching him love my Mom unconditionally
-driving lessons
-lunch dates at school, even in high school
-fixing me 'specials' for breakfast
-holding hands and singing 'skip to my lou'
-snuggles, lots of snuggles
-making s'mores in the living room
-teaching me to shoot a gun before I could read
-summer showers in the rain
-rides in the wheelbarrow
-walks in the garden
-Saturdays at Acker's Hardware
-pet goats, chickens, ducks, rabbits and geese
-lots of hours in the shop
-rolled $100 bills hidden in the Christmas tree
-splitting logs in the ravine, I will forever associate the smell of chainsaws with my Dad
Seriously, the list could go on and on. I had a fabulous childhood with this man and he has made my adult life pretty amazing too. We always take pictures together. He was my first boyfriend.
I am constantly taking the camera from my Dad and snapping his pic. He puts up a small fight, but I always win.
This next photo is one of my favorites; my Daddy in his workshop.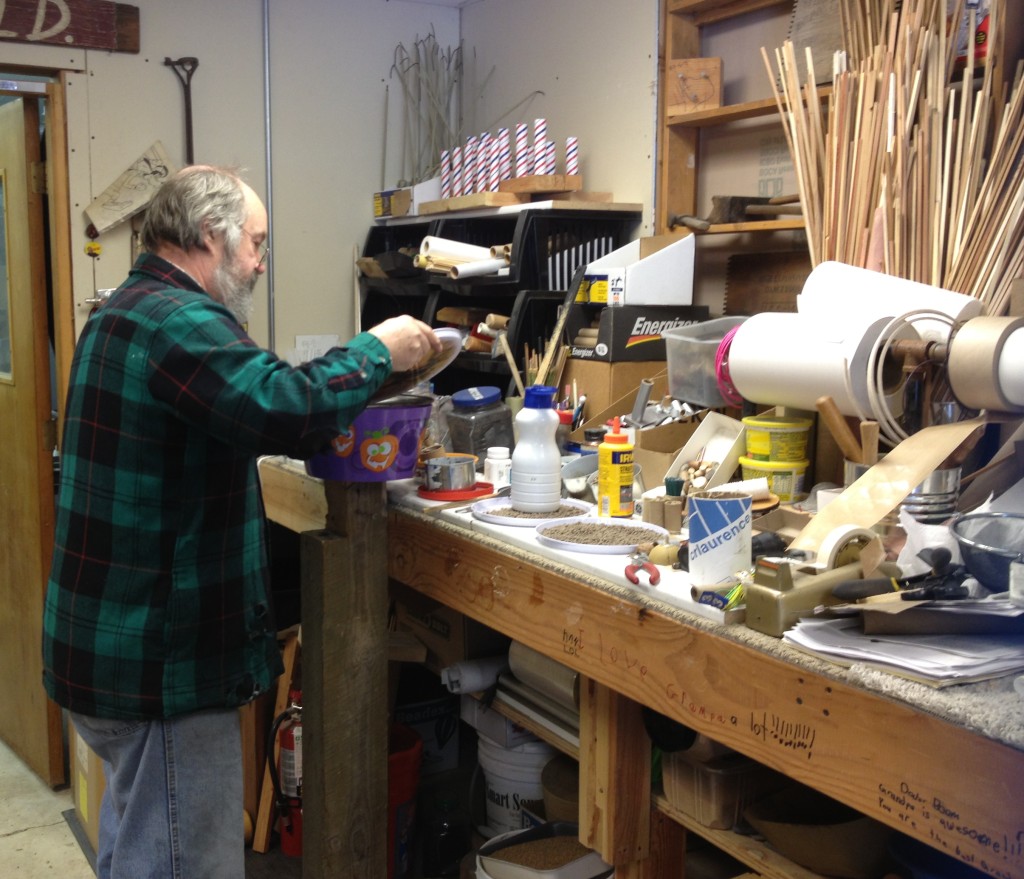 Making fireworks and bottle rockets for the kids. His workshop is his little slice of heaven. The kids leave him notes, in permanent marker and he wouldn't have it any other way!
And being the hip Grandpa that he is….he even sends selfies to the kids:
My hubby asked my Dad for his blessing before he proposed to me. That was a special day for my Dad. Of course he teased Jeremy a bit first, but I had mad respect for Jeremy when I found out. My Dad was the one who had the final say in what gown I wore. My mom and I had narrowed it down to two. First one he saw he liked. Second one, he cried. Done!
My Dad was involved in my wedding from day one. He schlepped things around for my Mom, listened to all of the glamorous details and pitched right in when it was time to decorate the church. Here we are taking a break from decorating: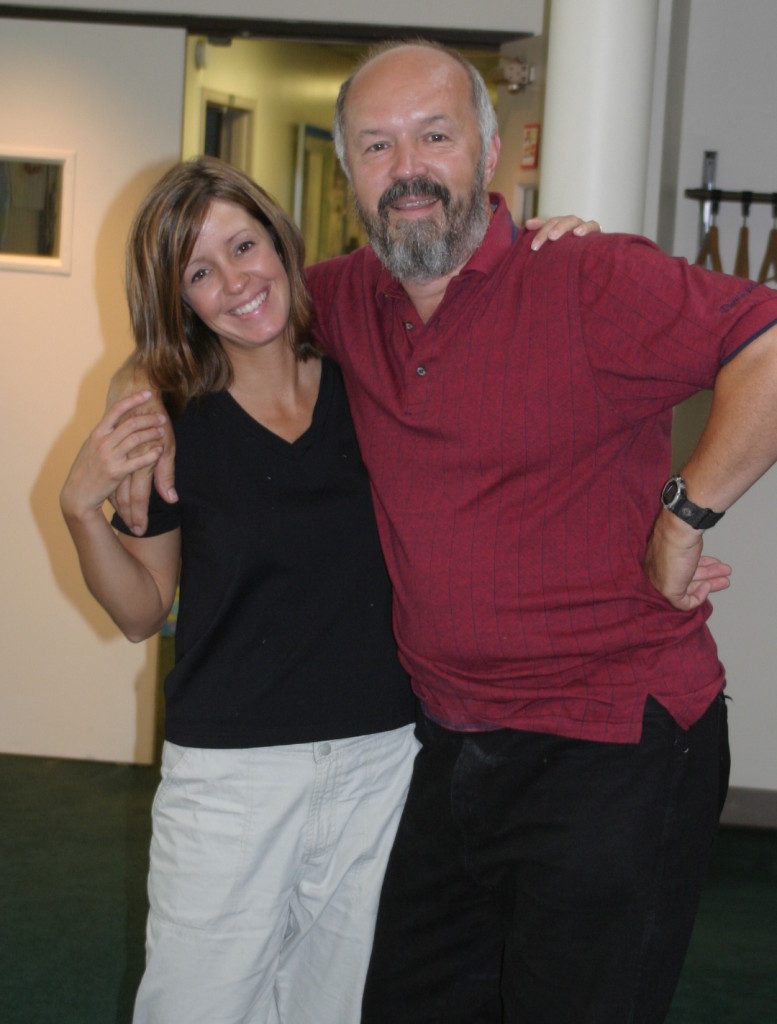 He also gladly graciously attended dance lessons and helped me through our waltz.
My Daddy was with me for the birth of Noah and Natalie. He took pictures in the delivery room. Some will gag at the thought of it, but for me and Jeremy it was no big deal. My Dad brings a sense of calmness to things. We knew he would give us our space at the same time be a supportive presence. The pictures he took are amazing. And to know that both of my kids met him moments after arriving in this crazy world makes me smile.
He claims he missed a few crucial pics when Nat was born. Once he realized she was a girl, the tears started flowing. He told me later that Jeremy was beyond lucky, because he had just met his 'forever friend'. Here's Natalie napping on Grandpa's belly, something she still does to this day!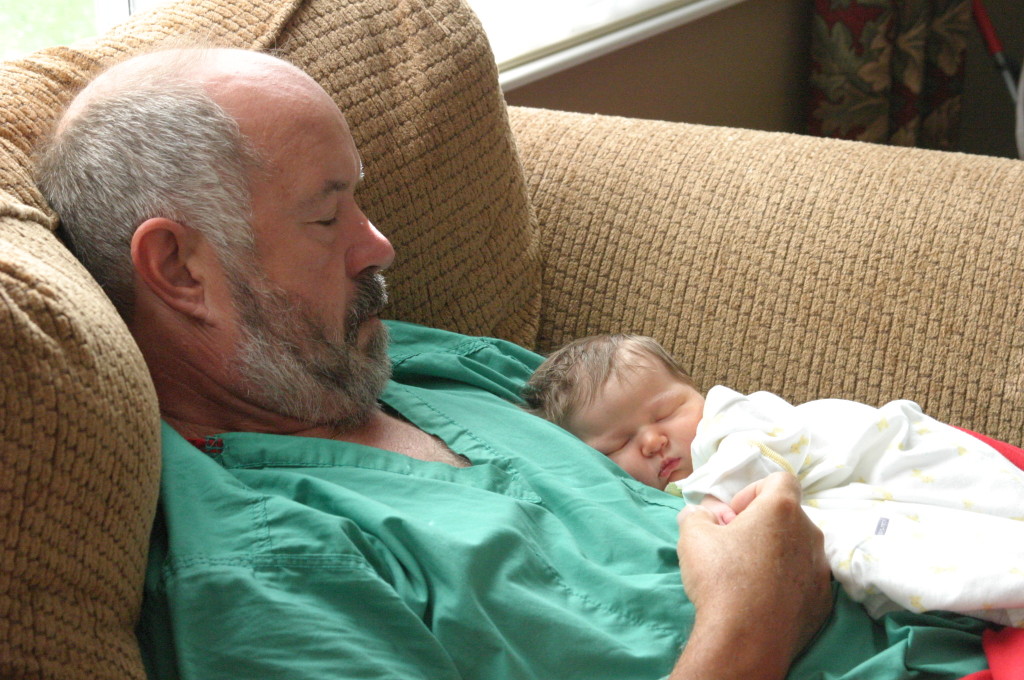 I'm not lying….this was taken last summer: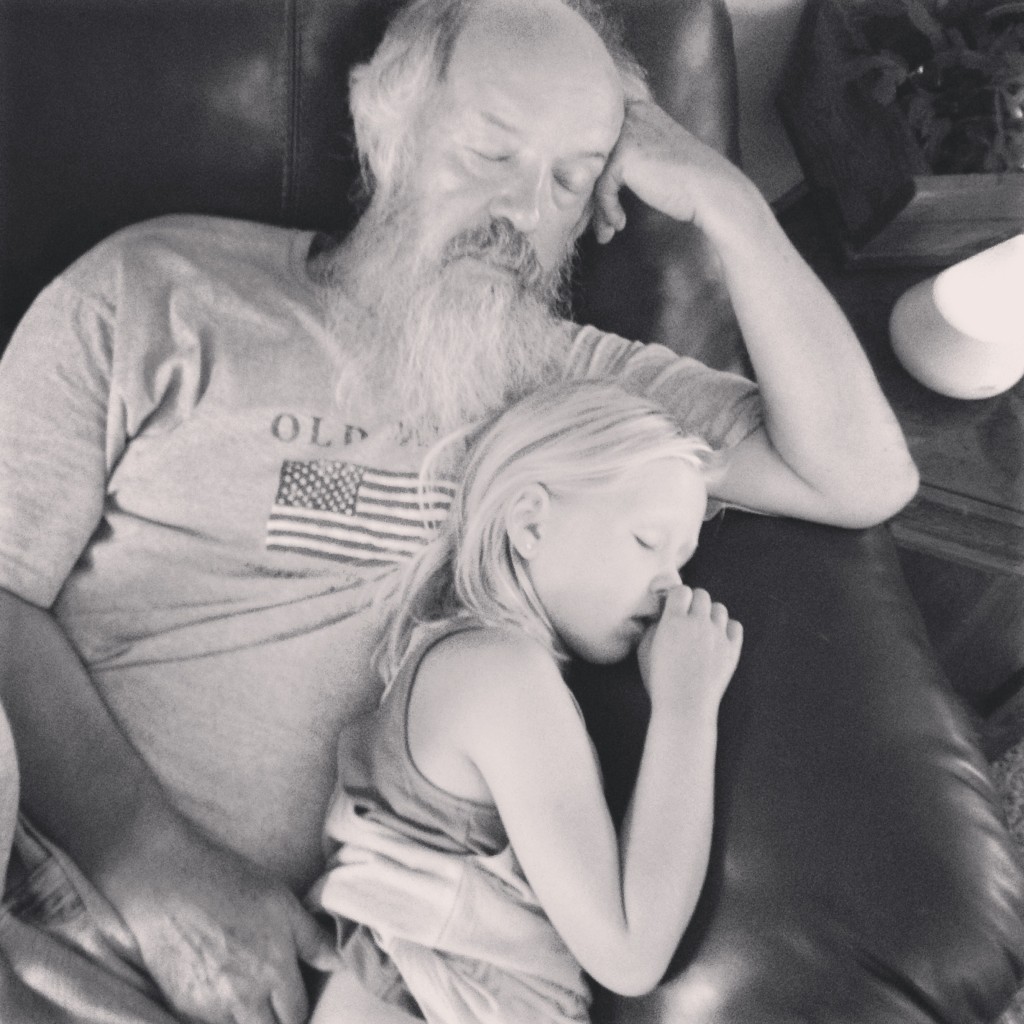 It's no wonder she adores her Grandpa. He is her make-up model and nap buddy who lets her shoot guns, feed his dogs apples, drive his 4-wheeler and sip his Pepsi. I know how she feels. I adored my Grandpa Dortmund too! He would let her do ANYTHING to him!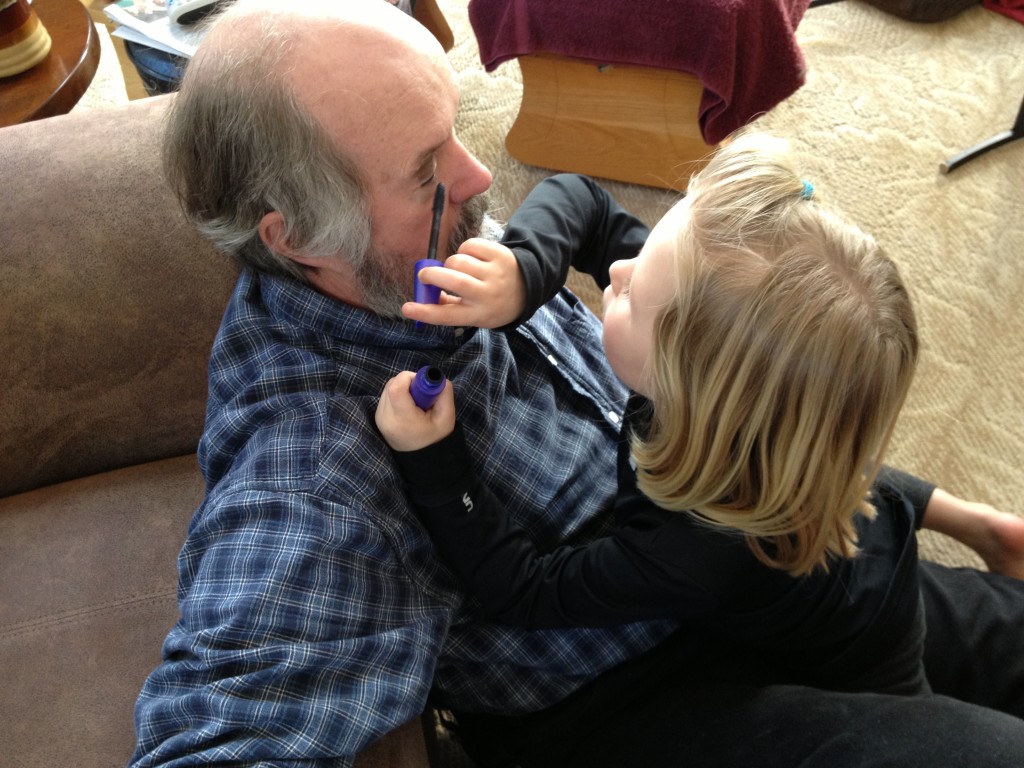 And these two….they are inseparable.
Noah is a Mini-Chic. They text and call each other every few days. I swear they have their own language. They can disappear for hours and never be bored. Noah truly misses Grandpa when they are separated for a long time. These two are kindred spirits.
Being the planner that I am, I started thinking of ways to celebrate his 70th about a year ago. With over 1500 miles between us, I knew it would be tricky. It would be impossible for me to be in Idaho for his big day. He hates parties. But so many people love him. So, I secretly created and invitation to a "Card Party" for him. Here's the invite that I mailed to friends all over the US….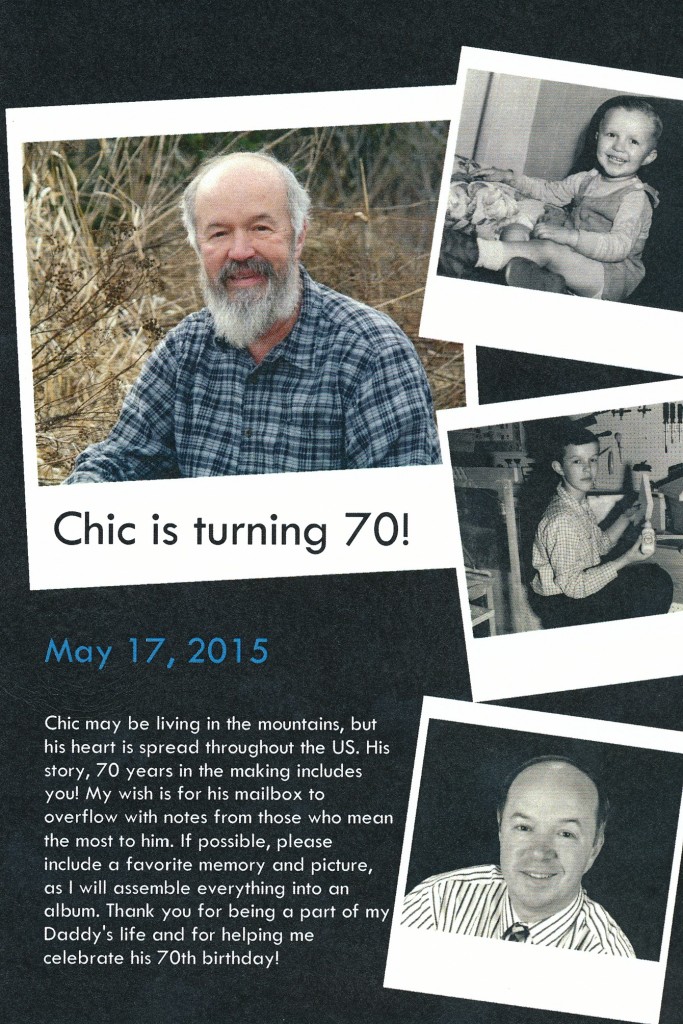 It worked! The cards, pictures and memories started arriving in early May and flooded his mailbox. He was honored! I wanted more though. I wanted some alone time with my Daddy. I decided I wanted to recreate our first Father/Daughter trip…… it was November, 1987 and my dad surprised me with a weekend in NYC. I remember practically everything about that trip. I loved it. It was perfect (except for the food poisoning from the very expensive steak I ate at the rooftop restaurant). That trip 28 years ago began my love affair with The Big Apple. I pitched the idea to my Dad and he was in. Check back for my blog about our recent trip to NYC….. we took the city by storm and loved every minute of it!
HAPPY 70th Daddy, I love you!
Live Creatively,