Trust me, I know how lucky I am that 1) my Daddy is still alive & healthy and 2) that we have an unbreakable bond. So in the spirit of Father's Day, here is a recap of our recent trip to NYC. It was perfect, just like him…….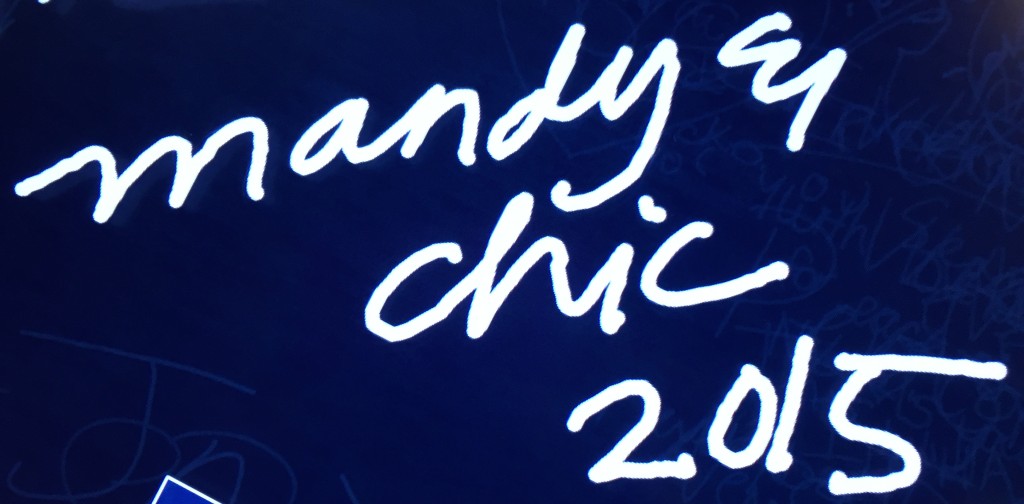 As I mentioned in an earlier post, My Daddy Is Seventy, I planned a father/daughter trip to celebrate his birthday. We were both pretty giddy about the whole thing. This trip marked my 4th time visiting the Big Apple with my Pops. The first trip was in November of 1987. I was 13 years old, had just started high school and was still very sad over the death of my Grandpa Dortmund that summer. My Dad used money left to him from my Grandpa for the trip. It was just what I needed and we formed some incredible memories. Take a look at a few of the pics from that trip almost 28 years ago……
Funny thing….now my kids point out cool doorways to me, because they know I am going to snap a picture of it! NYC was a lot dirtier in the late 80's!
I love so many things about this picture. First, my hair. I would like to apologize to my Dad, because I am sure he waited at least an hour for me to get it 'just right' on this day. Also, look at the posters bills posted all over the walls. I loved these! Now instead of the cool bills all the walls just say, "Post No Bills"…..I had to explain 'who' Bill was to my kids in April.
Remember when the trains were painted? Not anymore. I loved the graffiti and recall taking many pictures of it on this trip. NYC has cleaned up the trains. And please notice the yellow safety line…..could it be any thinner?! It is at least 4x as wide now!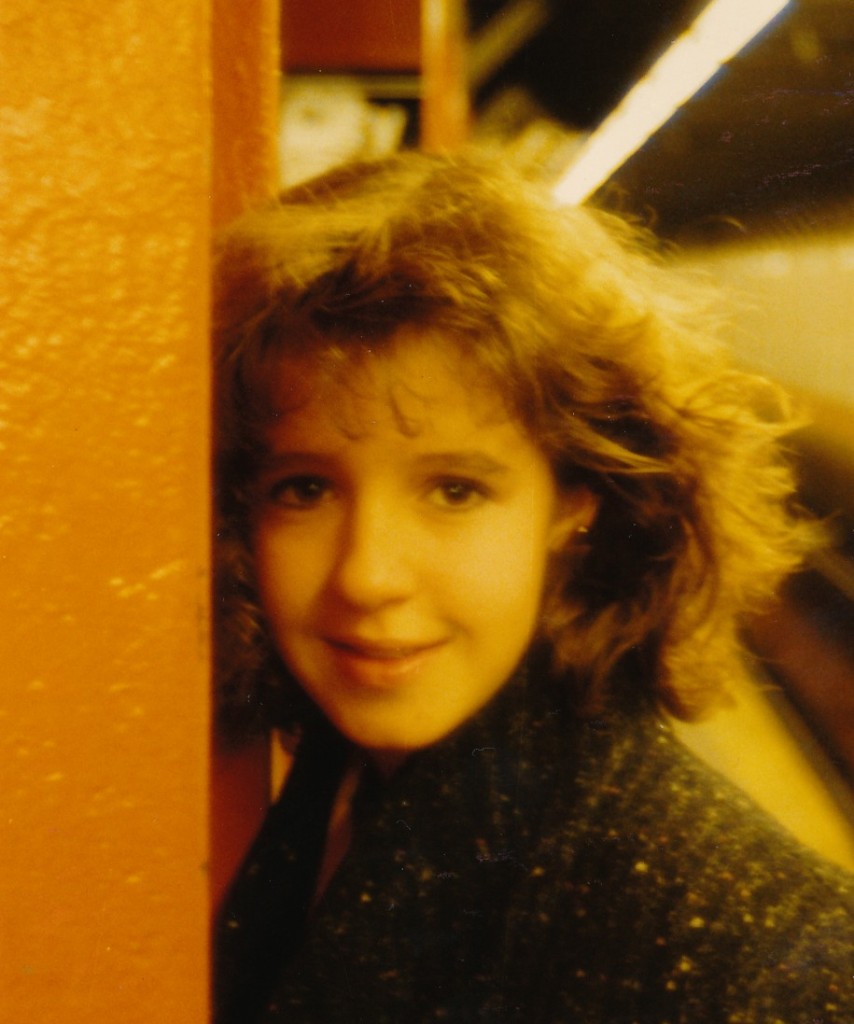 I remember posing for this picture like it was yesterday. My Dad was being creative with the speeding train behind me. He was cool before cool was cool!
I have one HUGE regret from this trip. Not a single picture of the two of us together. My Dad did all of the memory-capturing. I was his model, the city his muse. I have loads of very fun, artsy pictures from this trip. I remember holding his hand on the street, buying subway tokens (yes, real tokens), eating warm pretzels from the street vendors and walking through the cardboard house 'neighborhoods' in Central Park. But what I don't have is a photo of the two of us. We changed that on our most recent trip!
We waited about 5 years before we stormed the city again. This time I took the camera and snapped a few pictures of my Dad enjoying the city.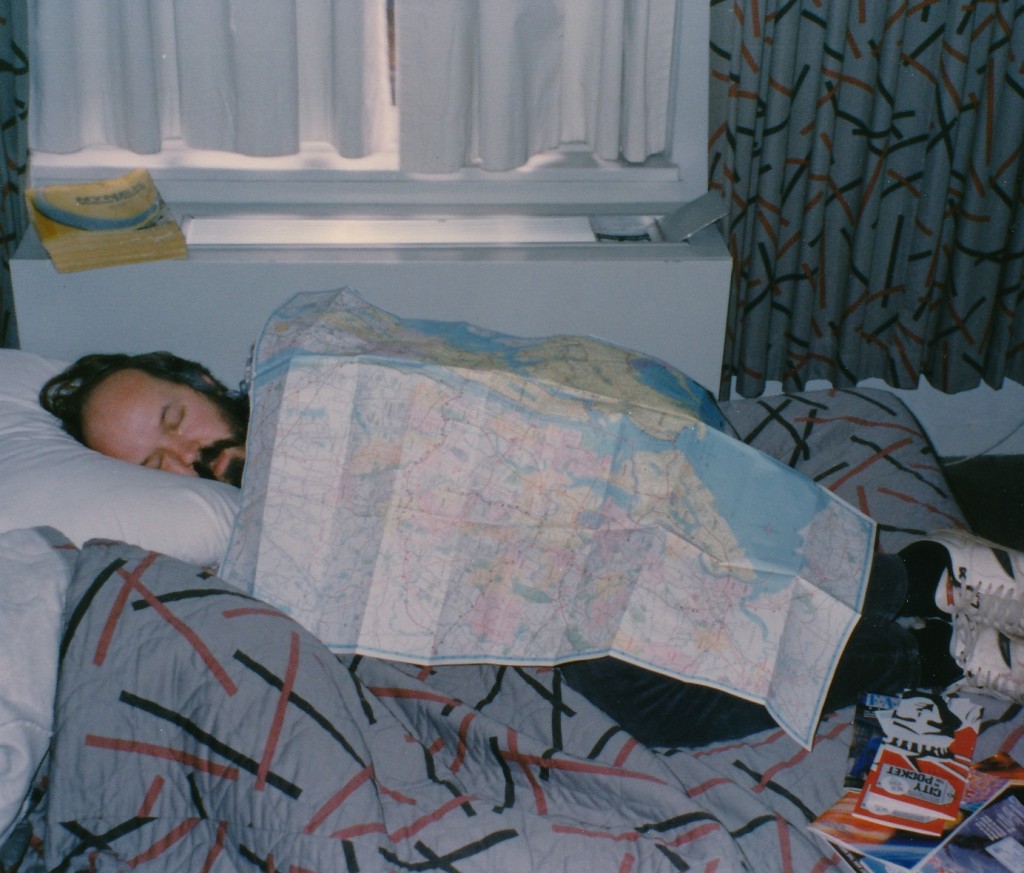 I laugh looking at this picture now. The MAP! The HUGE map. Too funny. And look at the pile of extra maps and guide books on the bed. And I know for sure we used that big yellow book on the radiator a time or two! Time capsule! This was January, 1992. I was in college. We stayed at The Milford Plaza, just like our first trip. I thought it was the grandest hotel ever. It had a doorman and someone in the elevator to push your floor button. Swanky! We looked it up when we were just there….it is now a new hotel, all shiny and steel. Not cool.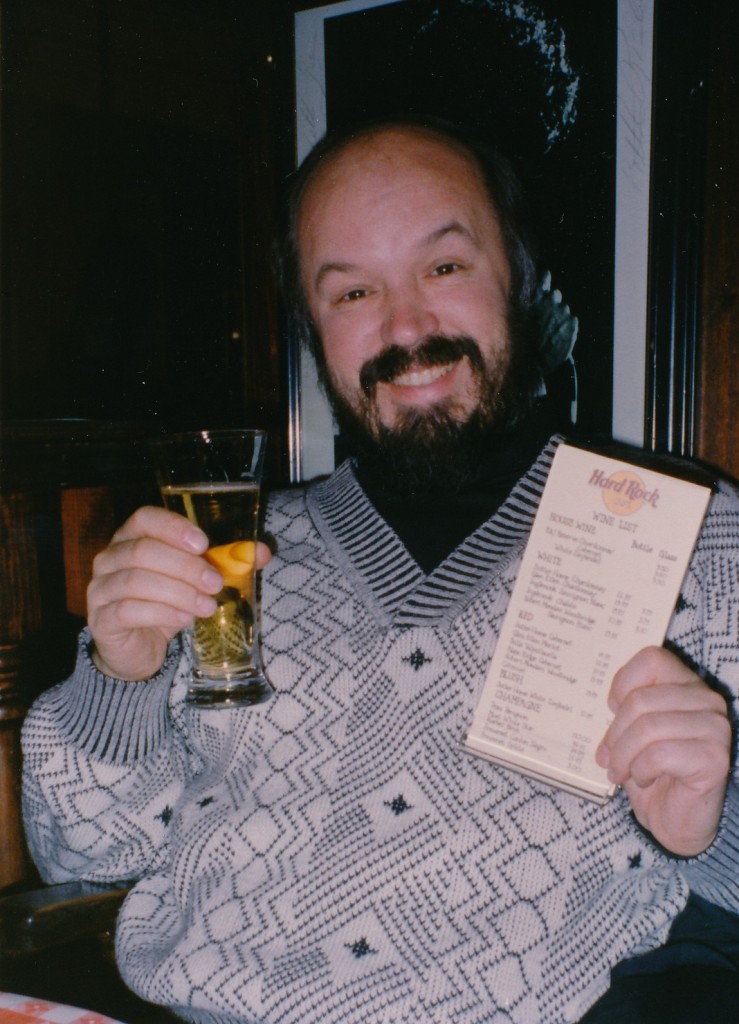 My Dad had taken me to the Hard Rock Cafe on our first trip. We returned because it was still one of the only locations at the time and beyond hip. I took this pic because it was the first time I had ever seen my Dad drink a beer. Momentous.
Enjoying Battery Park. We saw the Statue (again) and rested on this bench as we had 5 years earlier. I love Battery Park because it reminds me of time spent with my Daddy. Sadly we skipped it last month because it is under construction and full of orange fencing…..improvements. I would pay top dollar for one of the benches I am sure they pitched in a dumpster. Humpff!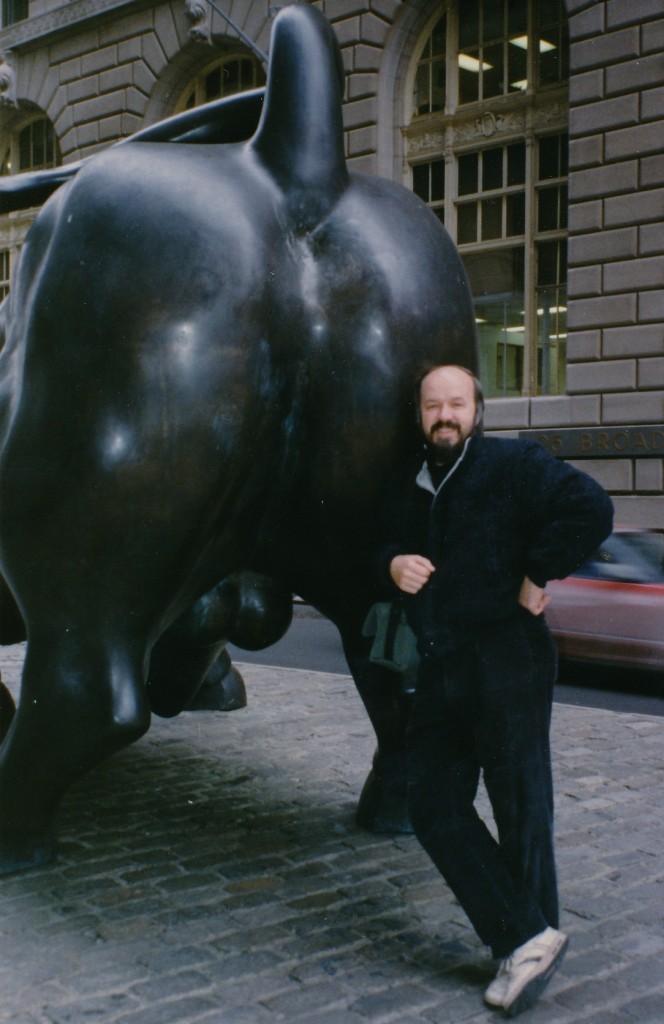 Hehe! This is an OLD picture…..the bull's balls (yes, I said balls) are still black. These days there is a line, a LINE, to get your picture with the bull's backside and his balls are now shiny brass. Seriously, how many dirty hands have violated this bull?! And check out Chic's camera bag….he lugged that thing all through the city. Had to have somewhere to keep his zoom lens and rolls of film!
Flash forward almost 2 years to our third trip to the city…..here I am being lady-like and getting my picture with the bull's head! My mom and brothers joined us on this trip. It was an adventure for sure. It was right before Christmas and we had a blast. Not a single picture of all 5 of us though….who would trust a stranger in NYC to hold your camera? Not Chic Dortmund.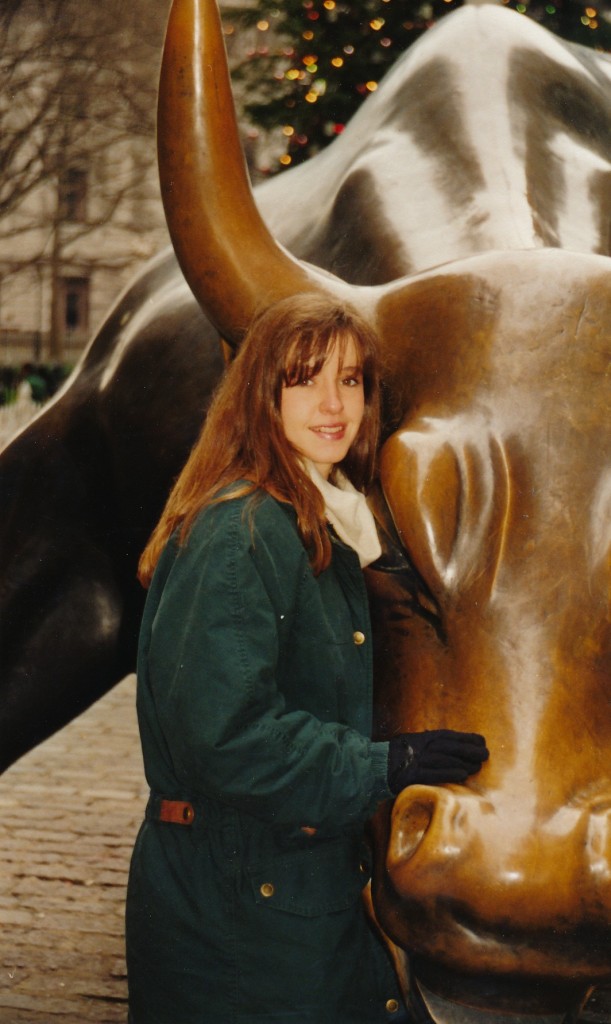 We must have used the same salon….our hair color matches!
MAY 2015….Here we go!
I came prepared this time. Selfie. Stick. We tested it in the airport. It took us a few tries, but here is our first official selfie: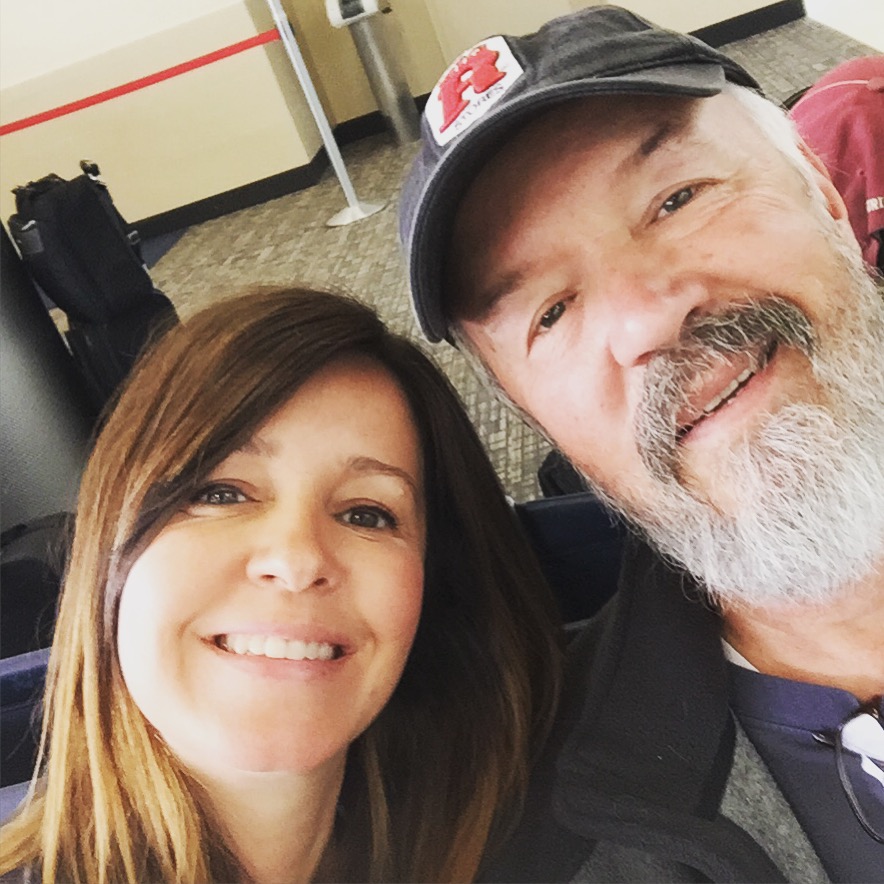 We arrived early to Affinia 50 NYC. Our room was not ready. While I was busy being grumpy, my Dad was chatting with the check-in lady. After about 5 minutes, guess what? Our room was ready. Hmmmm. My Dad can charm anyone. We dropped our bags, grabbed our map and began our adventure. We walked to Grand Central Terminal, up through Times Square, all through Central Park and pigged out on pasta at Carmine's in the Upper West Side. Our shoes were smoking! My clever Dad thought we should highlight our route on the map. Again he charmed the front desk lady and we were given a highlighter, "No need to return it, we have plenty."!
A few pics from our first day:
Being silly in Central Park.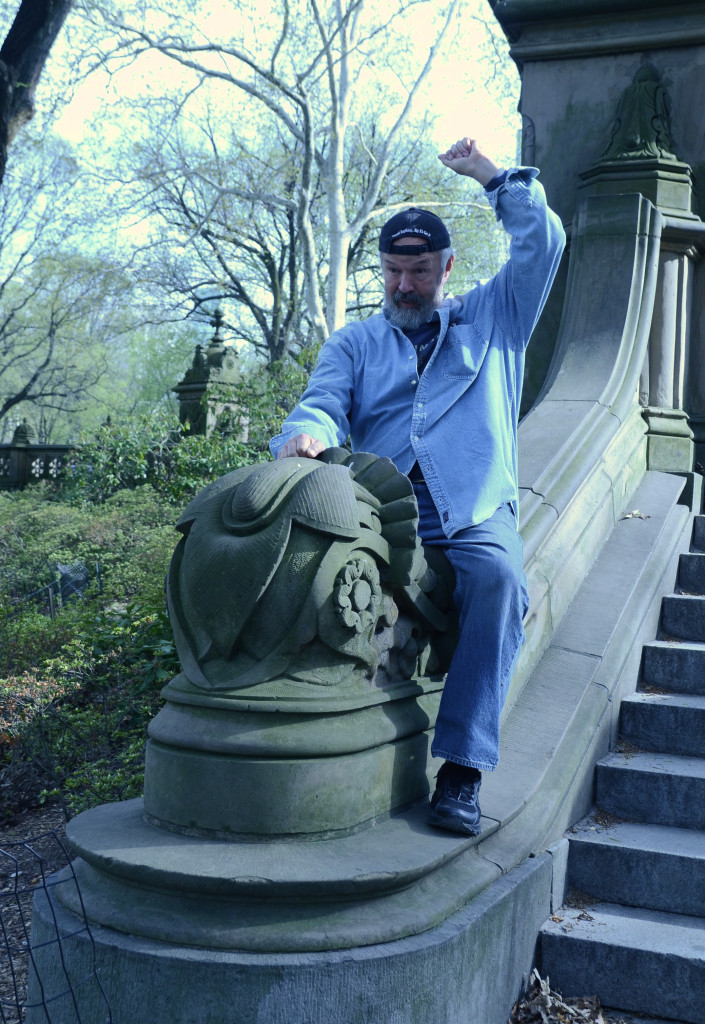 The park sillies continued. Land's End was doing a photo shoot on these same steps. Check your Fall catalogues for a glimpse of my Dad in the background!
Day number two we started at the 9/11 Memorial. I remember visiting the Twin Towers every time I came to the city. I had my first Ben & Jerry's ice cream cone under the towers in the entire city that existed there. My Dad recalls seeing the second tower being built. It was a somber segment of our trip, but so important. We had lunch on Wall Street and then strolled over to the Seaport Historic District. I have great memories of visiting the Fulton Fish Market with my Dad. I loved all the fish and fisherman who were scurrying around the docks. I am sad it is closed down. From there we headed up town to Chinatown & Little Italy. I wandered over a few blocks so we could end up in SoHo and I could do a little shopping! Back to the hotel to drop off my bags, a quick refresh then off again to the Lower East Side. We toured the Tenement Museum and loved it. Check it out when you visit the city. We did the evening photographers tour so we could take pictures (naturally!). Cold beverages were consumed at Bonnie Vee and then we walked Bowery Street north until our legs were cramping!
Photos from day two: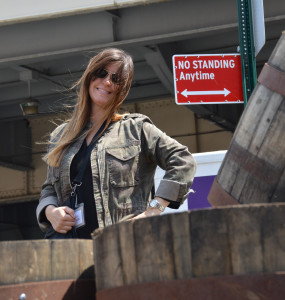 No standing anytime? OK, we will sit!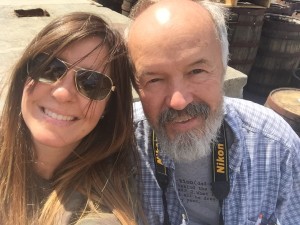 This next picture has a story: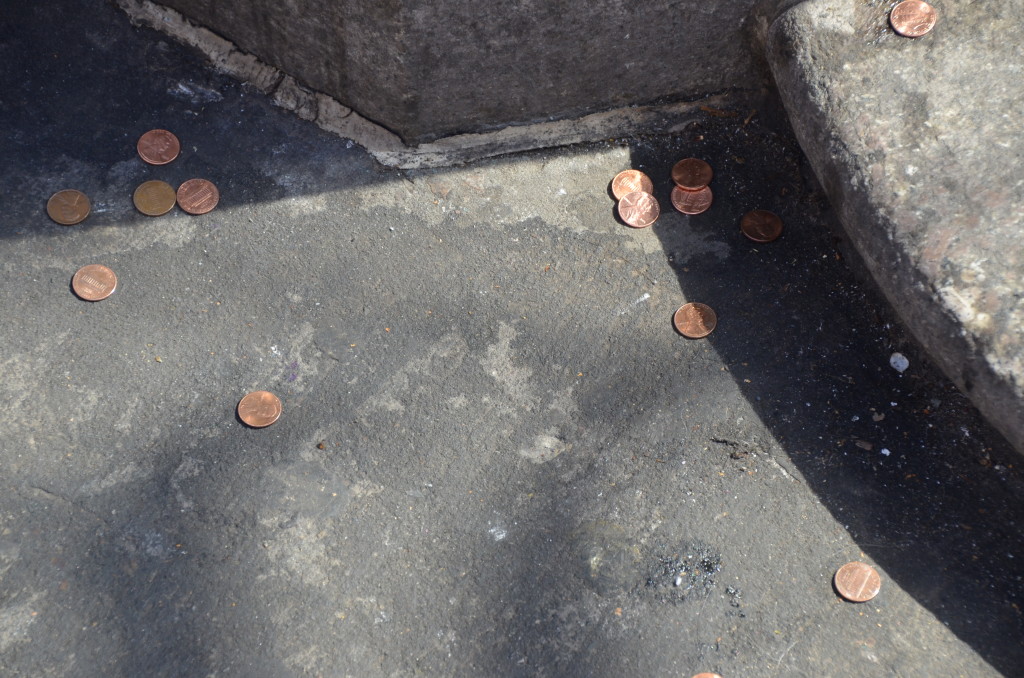 My family is always on the hunt for LUCKY pennies. We have a big jar full of them. My Dad spotted all of these lucky ones on the street. I grabbed them and was so excited to show the kids. We ended up circling back around this same corner about an hour later and who did we see? The 'owner' of these coins. Oops! My Dad called my kids and told them I robbed a homeless man!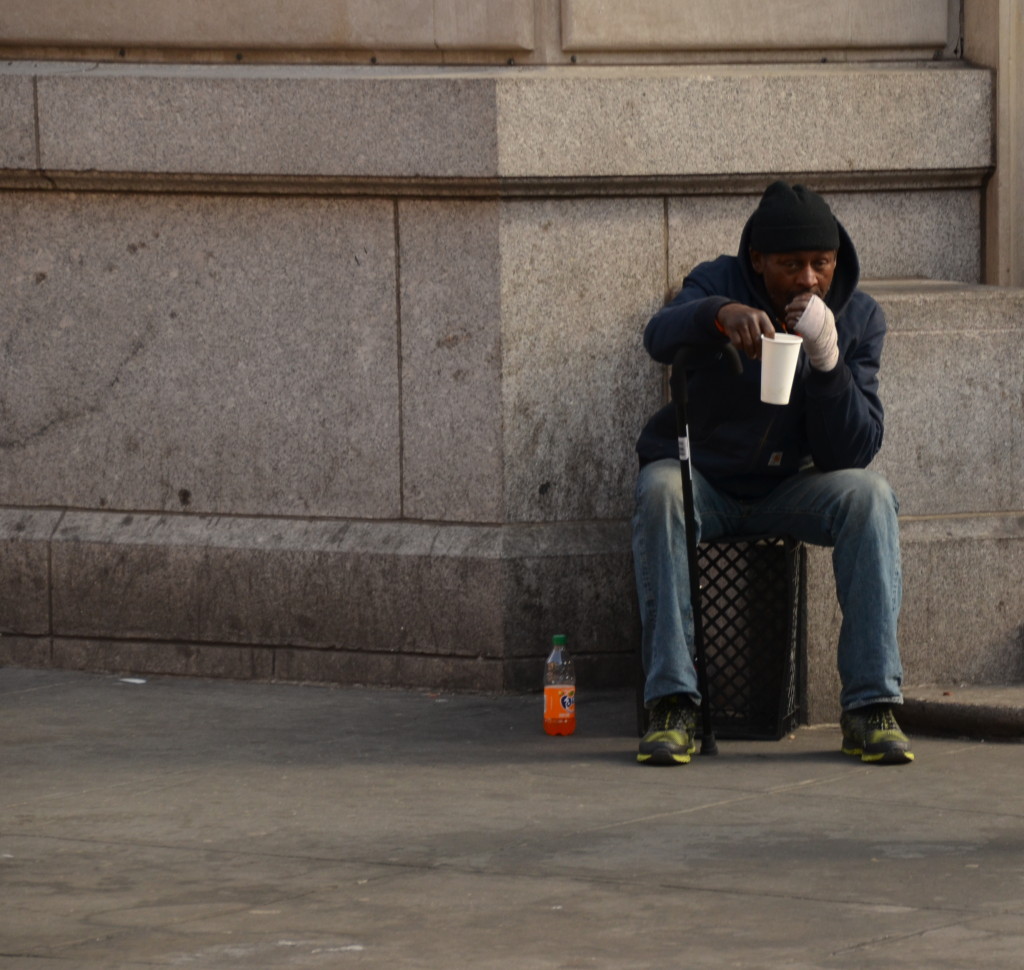 Our third day started with a subway ride to the Meatpacking District for brunch. A quick stop in the Sugar Factory for some over-priced candy and then a stroll along The High Line to work off our breakfast. Funny how we ended up in Hell's Kitchen in the middle of a FLEA MARKET. I love to 'flea' with my Pops. He started me young. We spent a good hour browsing all of the goodies and swapping stories with the locals. Past the Port Authority Bus Terminal, through the Theater District and Times Square (I think my Dad was looking for the ladies who love America….). We paused for a bit to people watch in Rockefeller Center before cruising 5th Avenue while avoiding eye contact with all the pedi-cab and carriage ride businessmen! They are exhausting. We bought some giant pretzels and popped a squat on a bench in Central Park. We watched newlyweds get photographed, listened to families chat in various languages, cleaned up spilled Pepsi (I was not the spiller!), gave the stink eye to some asshole teenagers who were taking pics of a homeless man enjoying a snooze and giggled at our own inside jokes. And of course documented the moment with a selfie or two. We found our way to FAO and waited our turn for the Big Piano. Such fun! I am still in shock that the store is closing! Nooooo! Damn rent increases! Dinner was at an Irish bar near our hotel and it was amazing. Dad danced the jig for our waitress and left her with a smile. We again waddled back to the hotel with full bellies and sore feet. Our last few hours were spent snuggled together watching TV and talking to my Mom. We highlighted our last day in the city and fell fast asleep.
A glance at our final day:
For some A+ entertainment, click on these:  IMG_7653  IMG_7654 , you're welcome!
That map will soon be framed and find a home on my wall. What the highlighted routes don't show is the miles of hand-holding, countless smiles and many memories that have attached to my heart forever.
Happy Birthday Daddy.
Live Creatively,