Yep, another school year is in the books. I am still waiting for my medal for surviving umpteen spelling tests, 98 packed lunches, a dozen or so morning 'disagreements', at least 7 missed buses, forgotten homework…someone please send me my medal!
School ends on such a high note. It takes a talented parent to ease the kids off their high and lower their expectations for the next couple months. Not every day will be spent partying, singing, winning trophies and bellying up to buffets of sugary foods.
Here is a glimpse of how Team Mathis spent the final week of education:
Baby Girl had a speaking part. She practiced for weeks and said she would forever be famous after her gig! Love. Her.
We continue to work on Big Bro's self esteem and ability to express himself musically!
Crazy Hair Soccer Game: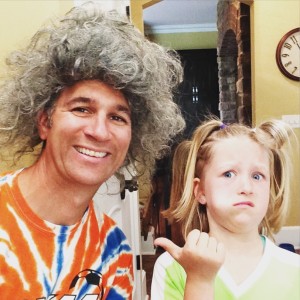 You can feel the love she has for her coach, right?
Winning The Tournament: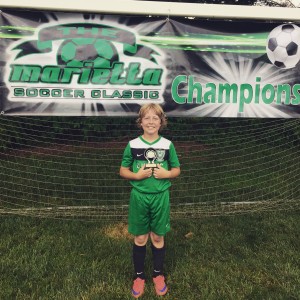 Swept the tourney….5 wins, 2 shut-outs and 3 goals for my favorite player!
Bridging to Brownies: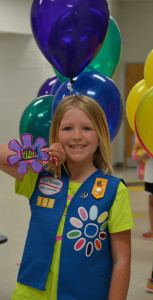 Saying a silent prayer she is done with this…. ironing those patches is not on my list of things I do well. Grrr.
The second to last day is Field Day. It a bliss-filled day for my elementary kiddos. Bounce houses, water guns, face painting, tug-of-war…you name it and the school will provide it. The kids can barely get off the bus they are so exhausted.
The last day must be celebrated with a classroom party….because Field Day the day before wasn't enough of a party. I will say that these parties are kept short and sweet. This year we did a Cereal Bar for Noah's class and a Sundae Bar for Nat's. Big hit!
And since I live among over-achievers (myself included!) we lovingly attack our kids as they step off the bus. They are met with sprays of water to the face, silly string to the hair and lots of screams.
Of course the kids grab the water blasters and silly string and turn on the adults and each other….happens every year.
Did I mention we were over-achievers? This year, my neighbor M had the brilliant idea to surprise the kids with a DUNK TANK! Every child should have a dunk tank on their last day of school, right? Of course! The kids were stoked! It was surprisingly cheap too….only $14 per family. Sold.
He was heckling his friends, so he kind of deserved this: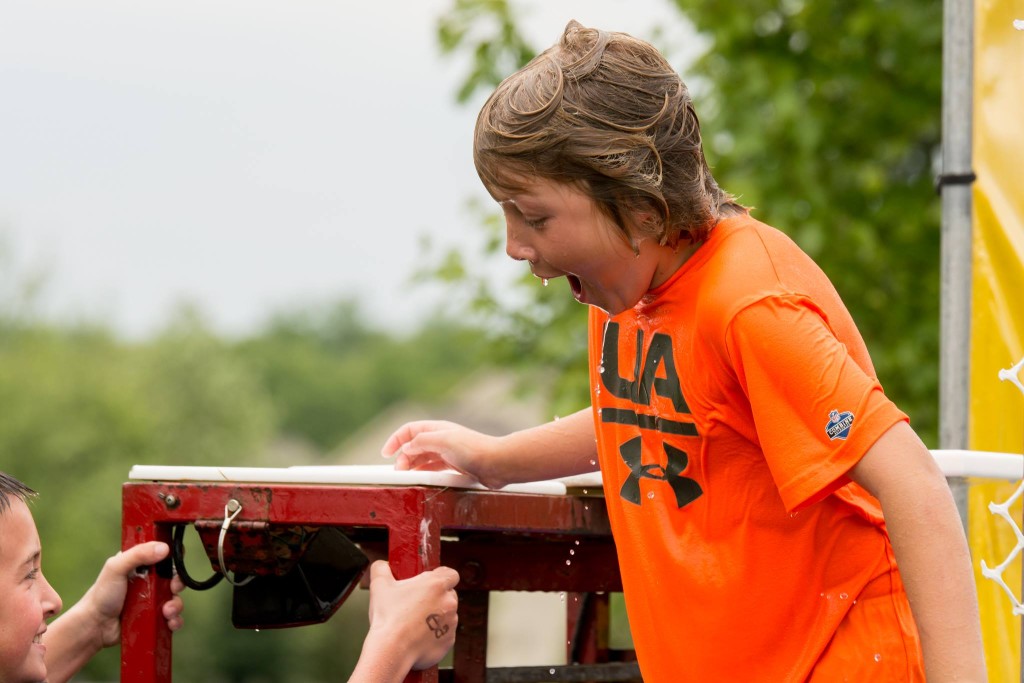 Ohio weather was not kind to us on this last day of school. It was C.O.L.D. Several of the boys disappeared for a bit. I found them out front. They had taken the hose and filled a baby pool with warm water…..hello instant hot tub!
Here's hoping your summer break is joyous for you and your kids!
Live Creatively,

Tags: