Yesterday I took the first step in becoming a real life Yogini. I've been an imposter for years. I wear the yoga pants, the yoga pull-overs and the yoga scarves. I even own a pretty nice yoga mat. So why did I actually take a class you ask? Because Sunshine can touch her toes and pull her leg up behind her head. I cannot. She thinks it's funny that I can't. I was able to at one point in my life, but not anymore. I'd like to silence her giggles, so off to Beginner Yoga I went.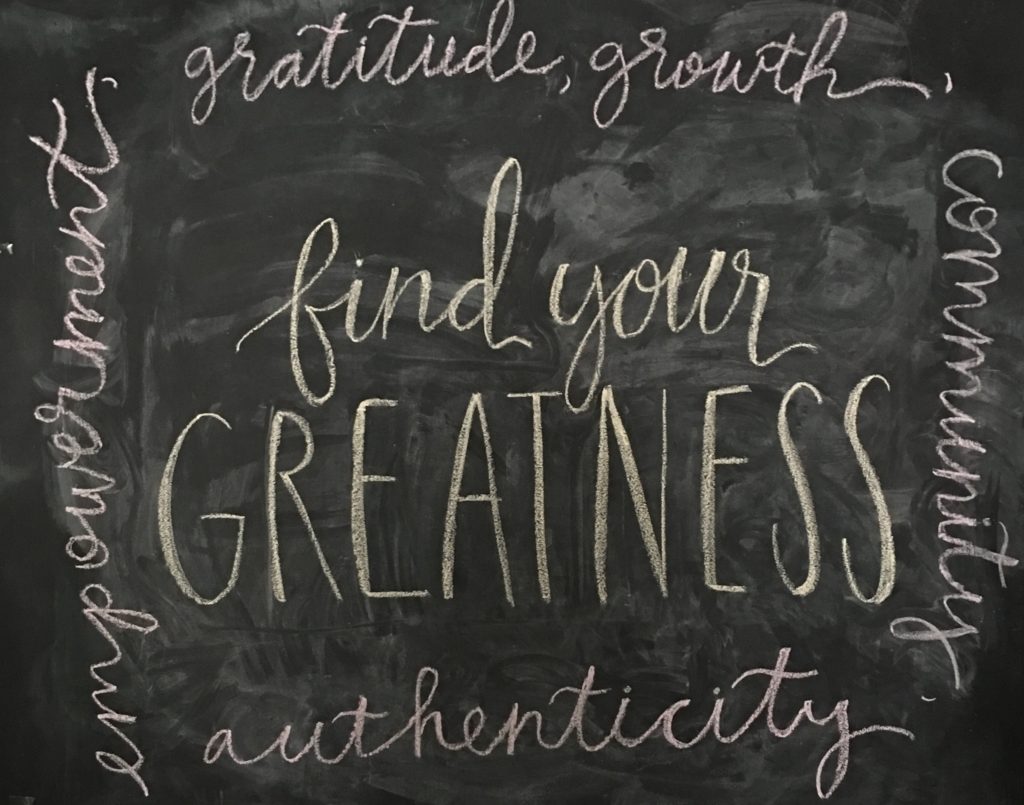 I only decided to do this last week, so the Yoga Studio in my town was booked. I took it as a sign from Buddha that I should maybe learn at a studio where no-one knew me! So, I traveled a few towns away. I allowed PLENTY of time so I could arrive early and grab a spot in the back of class. No-one needed to see my booty in my worn out yoga pants. My plans were spoiled because I couldn't find the studio. Seriously the sign on the door was so tiny. I drove by it twice before noticing it. I guess big, sparkly signs are not very yogaish.
I had about 5 minutes until class was due to begin. I rushed to the door and flung it open. Guess what? There's no lobby. No reception area. Not even room for a door mat. The door opened INTO the actual studio. Bam! And the room was full. Heads spun to see who was blasting through the door. Ugh. I half-smiled and assessed the room. There were at least 20 people sitting on their mats. Barefooted and ready to honor the universe. I noticed a small cubby and coat rack to my left. Off came my boots, my scarf and my coat. I stuffed my over-sized, non-yogaish purse in a cubby, grabbed my mat and had no choice but to head to the front of the room. By front, I mean mere inches from the instructor's mat. Hi Yogis, I'm Mandy. For the love.
My teacher (I'll call her Gandhi) looked to be about 24 years old. She had a ring on her toe, one on her thumb and a very large one going through the center part of her nose. She's way cooler at her young age than I will ever be. Guess what else she had……
Hairy Armpits. Not hairy as in hadn't shaved in a few days or even a few weeks. Full on bushy hair. And lots of it. I'll admit I had to stifle the church giggles and was so thankful I hadn't dragged a friend with me to class. I just don't get it. I actually think men should shave their pits as well. Not pretty. But very yogaish I sure. Did I mention how close my mat was to hers and her hairy pits? Awesome.
Gandhi was very cool. She said 'shit' and 'hippy dippy', had a bunch of tattoos and rolled her eyes. If I was 20 years younger and had an ounce of her coolness we would be best friends. With Gandhi's guidance in 4 short weeks I am going to develop a deep and lasting sense of awareness for my body, find my satya (truth) and become ahimsa (non-judgmental). Girl has her work cut out for her!
First thing Gandhi had us do was write our intent on a small piece of paper and put it in a tray of salt that was adorned with a candle. I'm not kidding….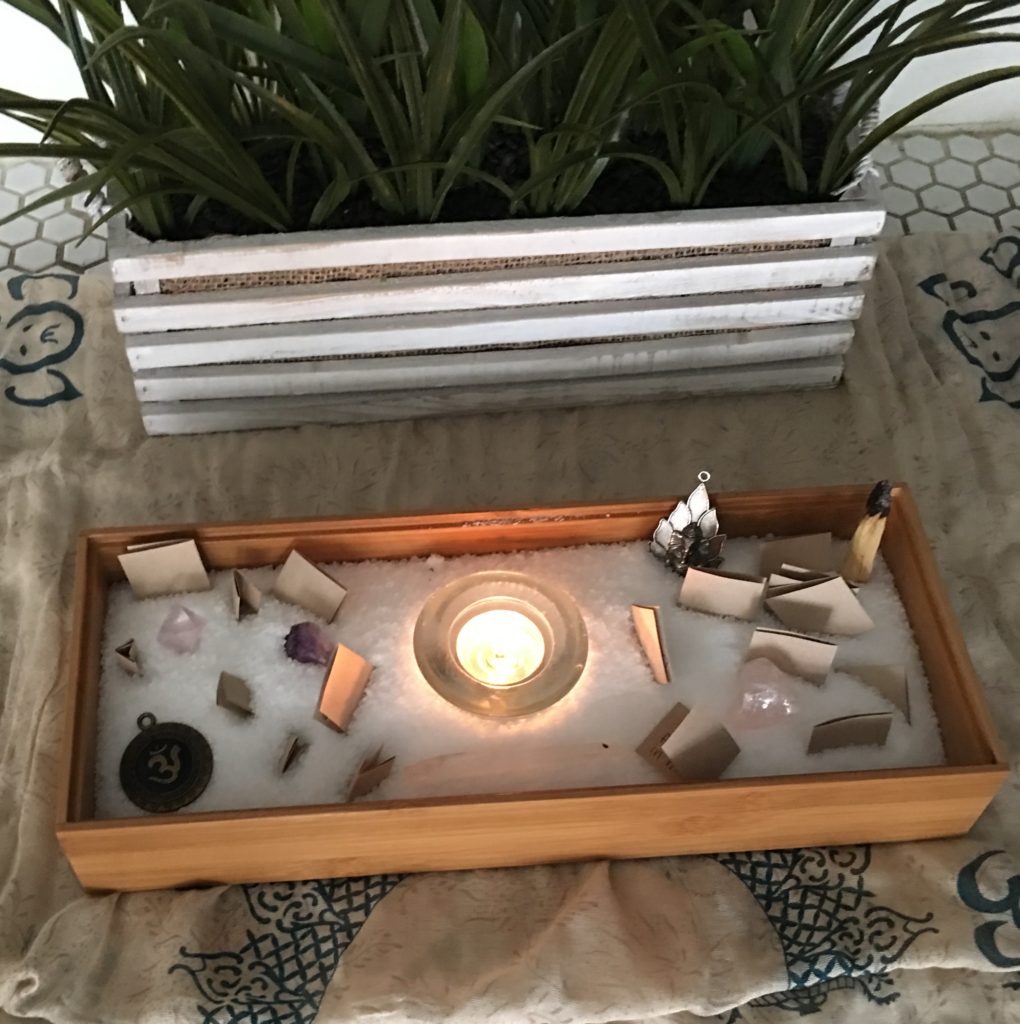 Thank Buddha she explained what the hell she meant by our 'intent'. Basically, why we are taking the class. The paper wasn't big enough for me to tell my story about Sunshine's crazy flexible legs and my jealousy of them, plus I am pretty sure jealousy and ahimsa do not go hand in hand. I tried to cheat off my neighbor, but he was quick to fold his paper in half and head to the salt tray. I wrote "To get out of my comfort zone". Not exactly my intent for joining the class, but it was true. I stuck my card in the salt tray and headed back to my mat. In case you are wondering, the salt is going to absorb our intents and remind us of something which I cannot remember for the life of me. Gandhi will have the tray out at each class. I am too practical to buy into the whole 'salt absorbing our intents', but it was pretty to look at and looking at it will remind me that being out of my comfort zone is good. I'm certain Gandhi is going to read our cards….I should have made mine more profound. Dammit.
Gandhi taught us how to breathe so we sound like we're a bunch of sighing teenagers. The yoga name is Ujjayi. Man, did it feel good to breathe like that! She chose me to be her model for Mountain Pose. I was pretty awesome at it. So thankful she didn't choose me to model the Plank. Ouch. Gandhi assured me that it was totally normal to shake uncontrollably while holding Plank. Throughout the hour I was a child, a cobra, a dog, a happy baby, a boat, a cat and a cow. Whew! During Child's pose she told us to push our belly into our thighs. Instant success on that part for me…they were already touching each other. Boat pose was a total bitch. It reminded me of  when I had to reach up and grab behind my knees while in labor. Gawd. Gandhi encouraged us to "challenge" ourselves and remove our hands from behind our knees and just hover there on our tailbones with our core all nice and tight. No amount of ujjayi breathing could make Boat pose easier! Happy Baby pose made me feel really fat and in Downward Dog I was forced to stare down my own shirt. I am sure by the end of week 4 all of this will work itself out, right?
I was however a rockstar at the Sun Salutation and even made it through a vinyasa more than once. I have to admit that my favorite pose was Savasana. It's the corpse pose. Flat on my back, all stretched out, eyes closed and breathing. If Gandhi would have quietly left the room I think we all would have fallen asleep!
I really liked the class. I felt relaxed and stretched. And maybe a bit taller. I brought home my cheat sheet so I can practice before next week. Gandhi has promised to teach us Warrior 1, Chair and Crescent. Sadly I'm pretty sure Crescent does not involve those yummy rolls.
Namaste…..we are united, we are the same, we are one.
Live Creatively,

Tags: