I am documenting how I spent my day so I can remember it always. Last night as I slept I must have signed on with a temp agency and that temp agency secured me a job as an uber/taxi/shuttle/bus driver. According to Doc, my vehicle is a bus. He's cute like that.
Today was Monday. Mondays tend to suck in general, right? I never seem to have my shit together. Late last night I wrote down my morning and afternoon schedule. Laugh if you will, but I'm kind of visual so it helps to 'see' where I need to be and when. Here's my morning post it note:
I was up by 6:30ish, standing in the kitchen dazed and confused by 6:45 and somehow had packed two lunches by 6:58. I woke up Boy Wonder first. He was semi pleasant. Boy Wonder rides to baseball conditioning with a friend and his Dad. The Dad is also a Coach. Boy Wonder really likes this Coach, so a quick reminder that he needs to be on time for Coach is all he needs to hear to jump out of bed. Oh how I wish Coach was also going to be a 7th grader teacher this fall! Next stop was to wake Sunshine. Sunshine had taken up temporary residency in my bed due to a bad dream so I grabbed her leotard and snuggly jammies and headed back to my room. I also took my secret weapon….Jagger! It's funny how when I wake Sunshine up with kisses, she swats me away and growls. When Jagger licks her face from one side to the other she grins and grabs him for a hug. Un. Fair.
I stay with Sunshine until she is upright and getting dressed. I've learned my lesson. I'm ready to kindly holler upstairs to Boy Wonder to HUSTLE, but he is already sitting at the kitchen island. Ahh. My heart swells for an instant. And then I realize he is SITTING and WAITING for me to PREPARE his breakfast. My heart unswells. But, it is Boy Wonder's lucky day because I am in a good mood.
Sunshine joins her brother and they both eat waffles prepared with love. #momoftheyear
Teeth and hair are brushed. Backpacks are loaded. Sunshine is sent off to snuggle Jagger and Boy Wonder is sent to load his gear into the bus. It's 7:50. I am on time. Boy Wonder is delivered to Coach and I head back home to grab Sunshine and Jagger. It's 8:10 and I am driving to the gym with a happy gymnast. We pull into the gym. The parking lot is empty. Yep, empty. I park and check my calendar. Hmmmm. Gymnastics practice on Mondays begins at 9:30, not 8:30. Well shit. We were an hour early. 60 minutes. I fessed up to Sunshine. She sort of laughed but I am pretty sure her eyes were rolling.
Jagger had to be to the groomer by 9am. So, off we went. Let me explain. The gym is 20 minutes west from my house. The groomer is 20 minutes north from my house. So now I am 40 minutes from the groomer but I am determined to make it there and back to the gym and still be on time. Back roads are my friend and I know my navigation will not lead me astray.
My secret back roads were being heavily traveled by a series of Mack trucks. These Mack trucks were unaware of my schedule and my desire to be on time. And today, TODAY the road to the groomer was closed. Not a problem in the city, but in the country this road closure required me to drive about 5.3 miles out of my way. Sunshine was convinced we had crossed state lines.
We made it to the groomer but were 10 minutes late. I pretty much tossed Jagger to her and jumped back in the car. I had 20 minutes to get back to the gym. I changed my route a bit in hopes to shave off a few minutes. Guess what? I ended up behind a huge tractor. Yep, a tractor. Did I mention we were in the country? Sunshine thought it was cool. Luckily it turned into the tractor store and I was back on my way.
Jesus must have taken the wheel because we arrived at the gym at 9:29. No joke. I felt like Hermione in Harry Potter when she used her time turner! Now my schedule was all mucked up. I was near my allergist, so I decided to get my shot now instead of at 11:30.
To sum up my allergist experience, here is my Facebook post after leaving the office: #smh
Lady at allergist office this morning….. walks into a waiting room with approximately 8 patients waiting for shots. Asks (from her seat across the room) the receptionist to turn up the tv so her son could hear Moana better. Receptionist does. Lady asks for it to be even louder. Receptionist turns it louder. Mind you, my seat is directly under the tv. Ugh. For the entire 25 minutes I am in the waiting room this lady talks non stop. She's talking to her son (about 2 years old) so loudly! Clearly fighting to be heard over the crazy loud tv that she asked to be turned up! Her son watches not one minute of the movie….
#omg #myheadhurts
#stoptalking
My allergist is about 10 minutes north from where I need to pick up Boy Wonder at 12:30. It is now 10:20. If I go home, I will be home for about 50 minutes. Doesn't make much sense, so I run a few errands. Those errands include 2 stores and end up costing me a couple hundred dollars. I'm certain Doc is wishing I had just driven home. Sorry. I'm about 15 minutes from the boys, but guess what??? The road is CLOSED! Once again I am following detour signs and cursing the never ending road construction that takes place on every road I need to travel.
I get the boys and take them to the pool. Because I am a cool mom and it's only 30 minutes away. The sky is getting darker, but I drive on. Pool is under a thunder delay, but will reopen in 10 minutes. I wait for a few minutes, check the radar, ask the boys one last time if they really want to stay and then take off.
I am home for approximately 75 minutes before Boy Wonder calls me. It's raining. Back in the car. Pick up the boys. Take Boy Wonder's friend home and then turn around to pick up Jagger from the groomer. Remember the road closure from earlier? I didn't. Until it was too late. Detour signs were sprouting up and I was pretty certain I remembered a short cut from when I was in high school. Boy Wonder and I traveled the same section of road FOUR times before my high school memory served me right and I found Pittsburgh Rd! #forthelove
Jagger is groomed and smells good. Back in the car. Determined not to get lost again, I take a different route home. Guess what?? Another effing road is closed! I cannot make this up. I follow the big orange signs and eventually get home.
I have 5 minutes to change clothes for my tennis match and race to be on time for my manicure. Yes, I said tennis match and manicure in the same sentence. I am a girl. I like pretty nails and I like tennis. I also cuss, drink beer and shoot guns. So there.
Mani was complete after 35 minutes.
I had 10 minutes to stop home before my match. On my way home the sky opened and it rained like God was really serious. This led to my match being cancelled and me cracking open a cold beer.
The bus stayed in the garage for the rest of the evening. She was happy.
I drank beer, did some batting practice with Sunshine and made crepes for dessert. The bus and I logged approximately 107 miles for a total of 2 hours and 42 minutes in the car. According to Mapquest, the IRS owes me $57.51!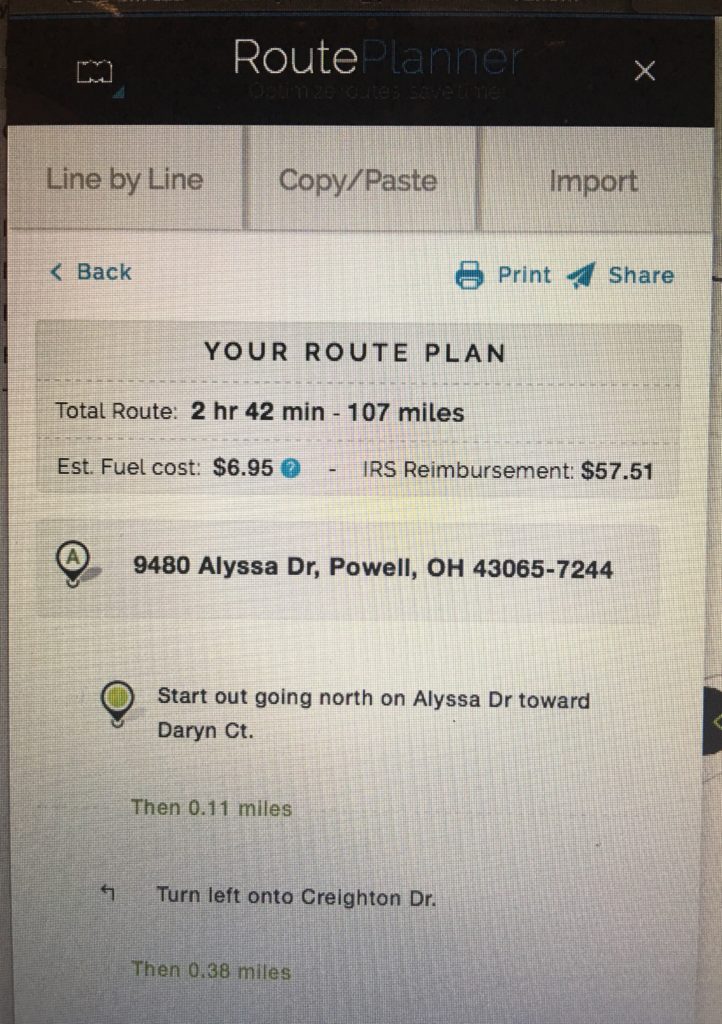 Mama said there'd be days like this. #peaceout
Live Creatively,