Sending You a Merry New York Christmas
Posted January 5, 2017
To know me is to know that I like love New York City. My babies do too. You can read all about their first trip to the Big Apple here.
Doc and I were fed up with the present portion of Christmas. He was tired of paying for them. I was tired of searching for, ordering, hiding and wrapping them. On a whim we asked the kids if they would rather take a trip or have presents under the tree on Christmas morning. They both quickly answered 'trip' and so the planning began.
NYC was an easy decision. The kids have been asking to go back, Doc had never been at Christmastime and for me it was a no-brainer! I booked it for the first weekend in December. Friday to Sunday.
This weekend ensured 4 important things:
THE tree would be up.  Santa would be at Macy's. The Thanksgiving crowds would be gone. And hopefully it wouldn't be face-freezing cold.
I will never grow tired of seeing Lady Liberty from the sky.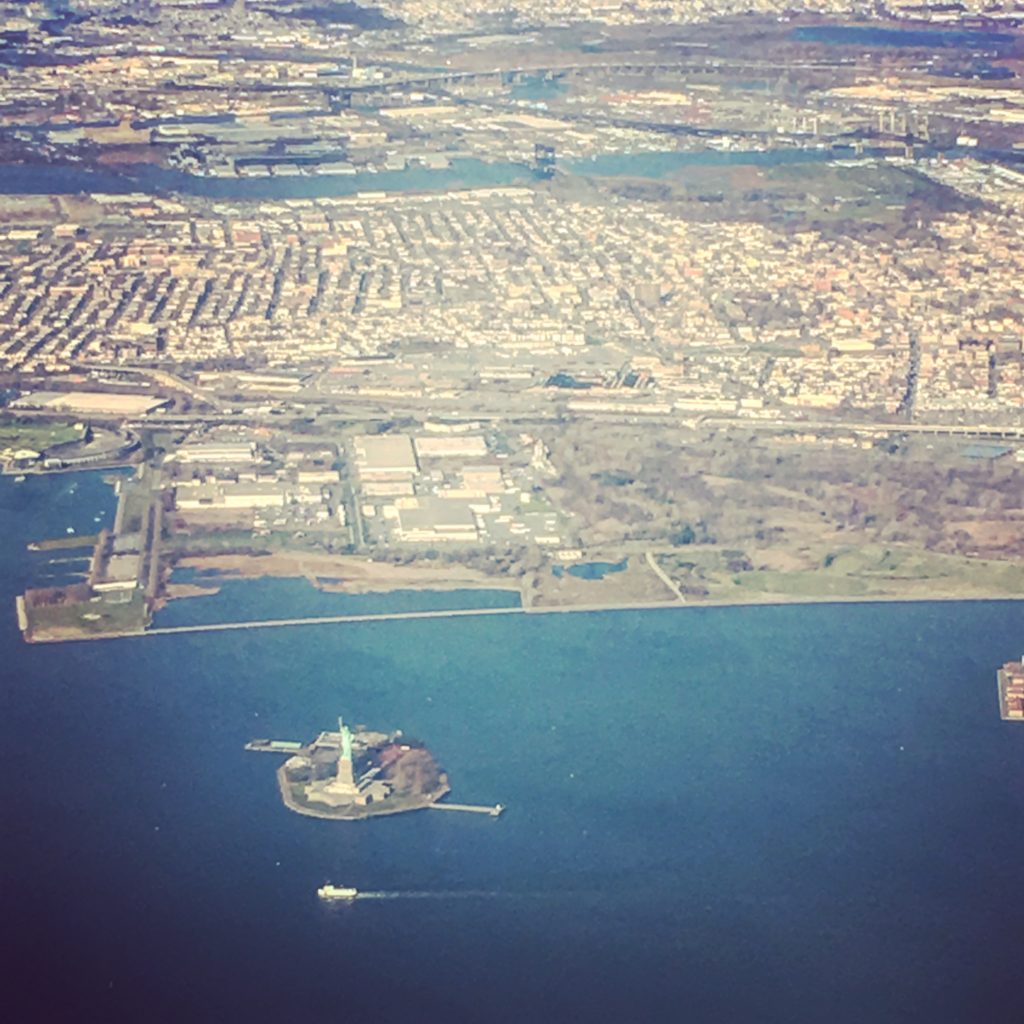 Hint: If you are flying into LaGuardia, sit on the left side of the plane (left as in when you are seated and looking towards the cockpit) to get incredible views of the city.
I chose the Dumont NYC for our hotel. The location was perfect and I am a big fan of the Affinia Hotels in Manhattan. Located at 150 E. 34th Street, it was just a few blocks from Macy's Herald Square. The most famous Macy's in all the land.
Funny story….see those coats my blessings are wearing? They were purchased a few hours after we landed in NYC in DECEMBER at the famous Macy's I mentioned. Why? Because both, not one, but both of them forgot their coats. Yep. Left the house to go to the airport in DECEMBER without a coat. Needless to say it was the running joke of the weekend. Here's a look at them freezing on our walk to Macy's….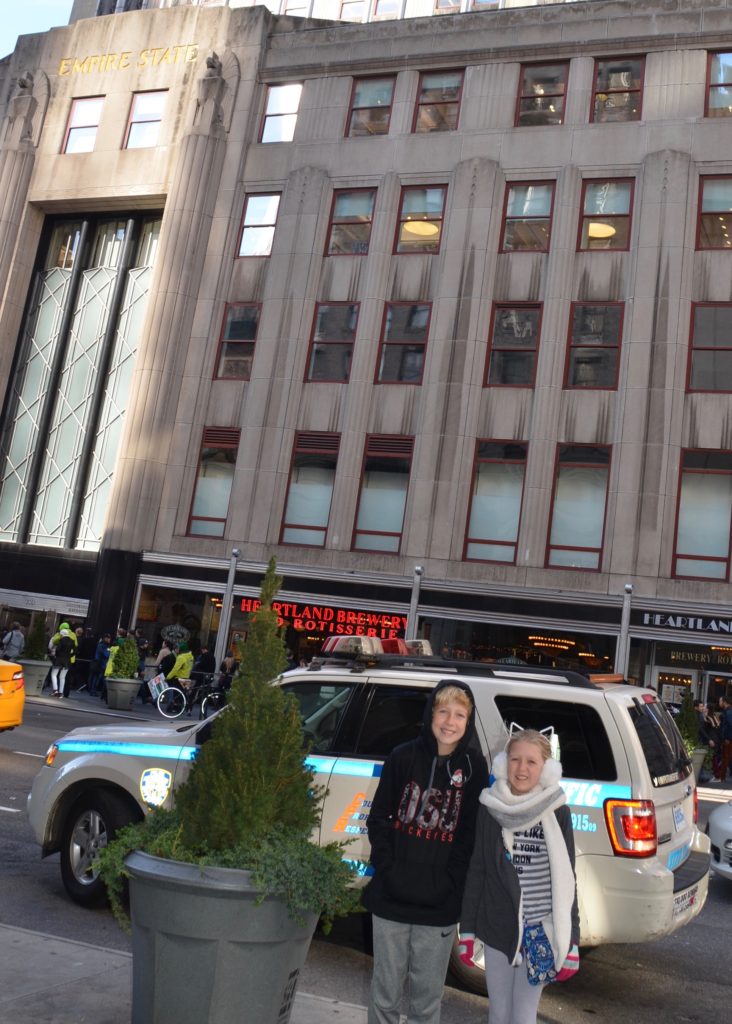 We may have taken the long way.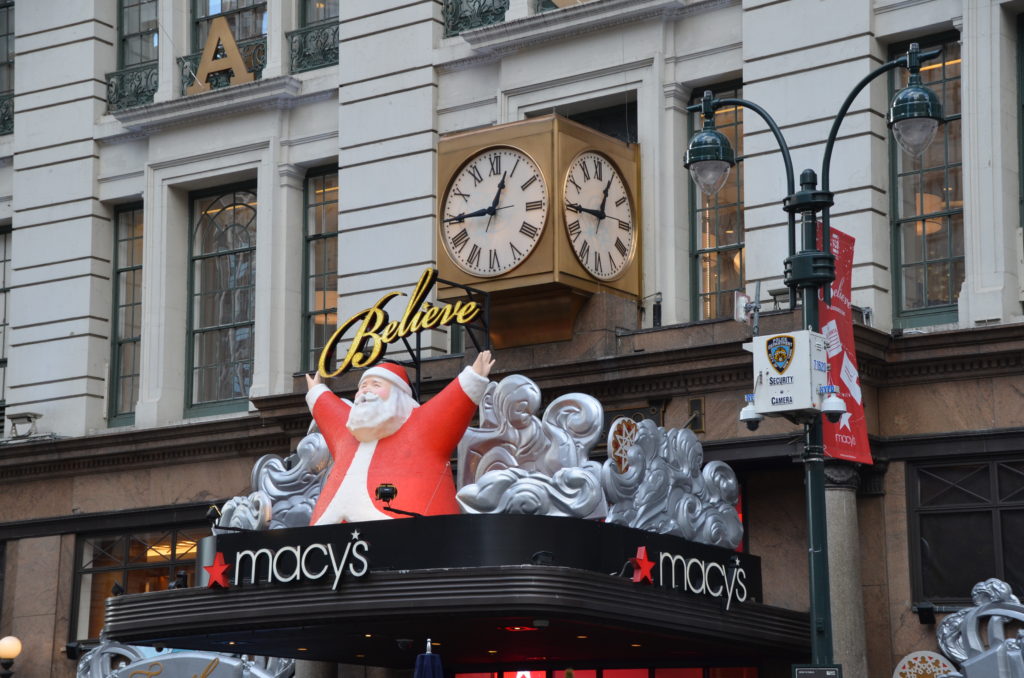 Once they were properly clothed for the weather, our first stop was SANTA. Here's a little tip: Book your time with Mr. C before you arrive.  Starting in November, visit this website. You will get a confirmation like this: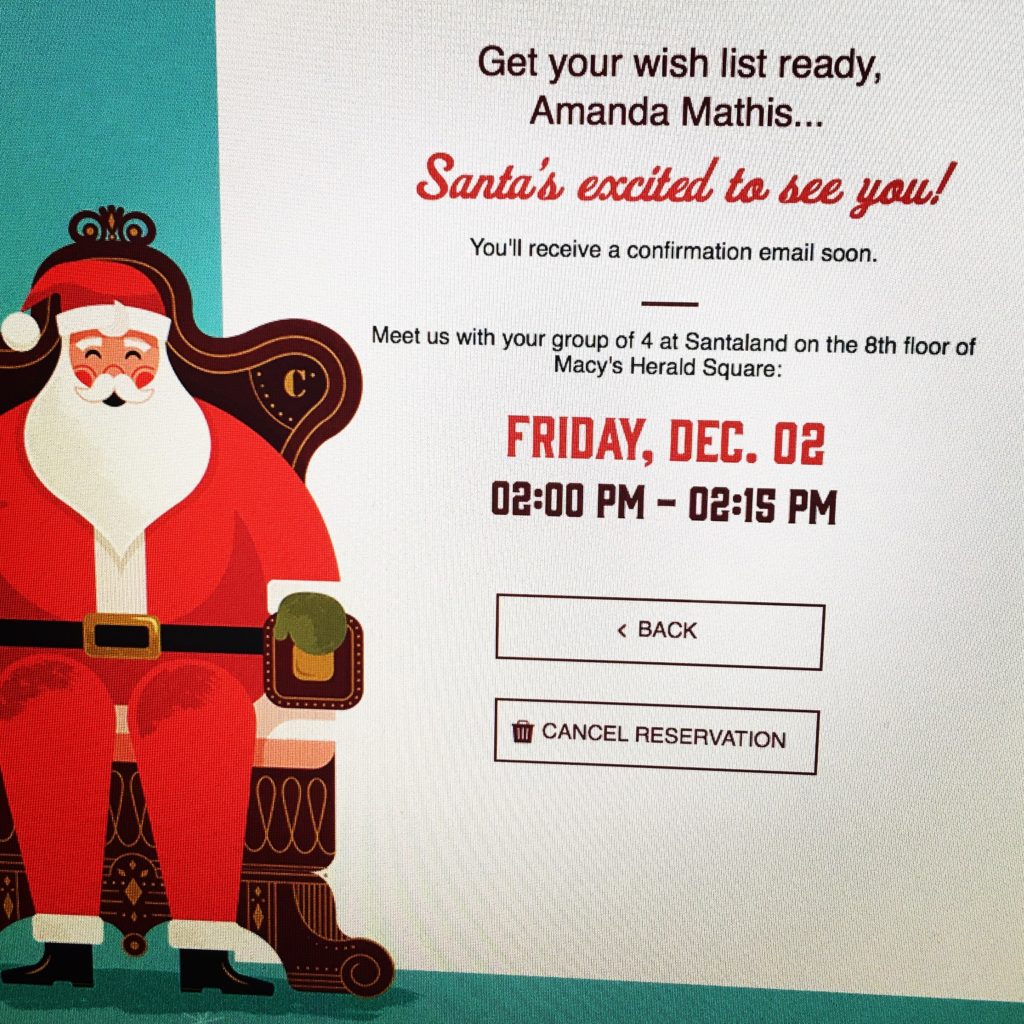 And when you arrive you get to skip the mile long line, go straight to the Express Check-In, find an elf and enter Santaland.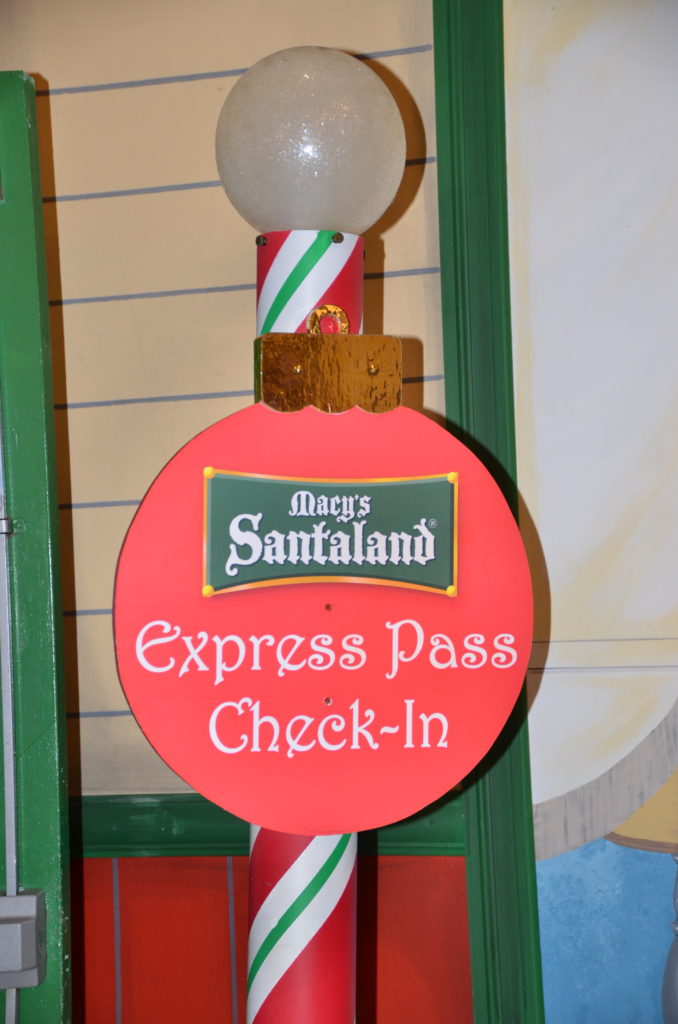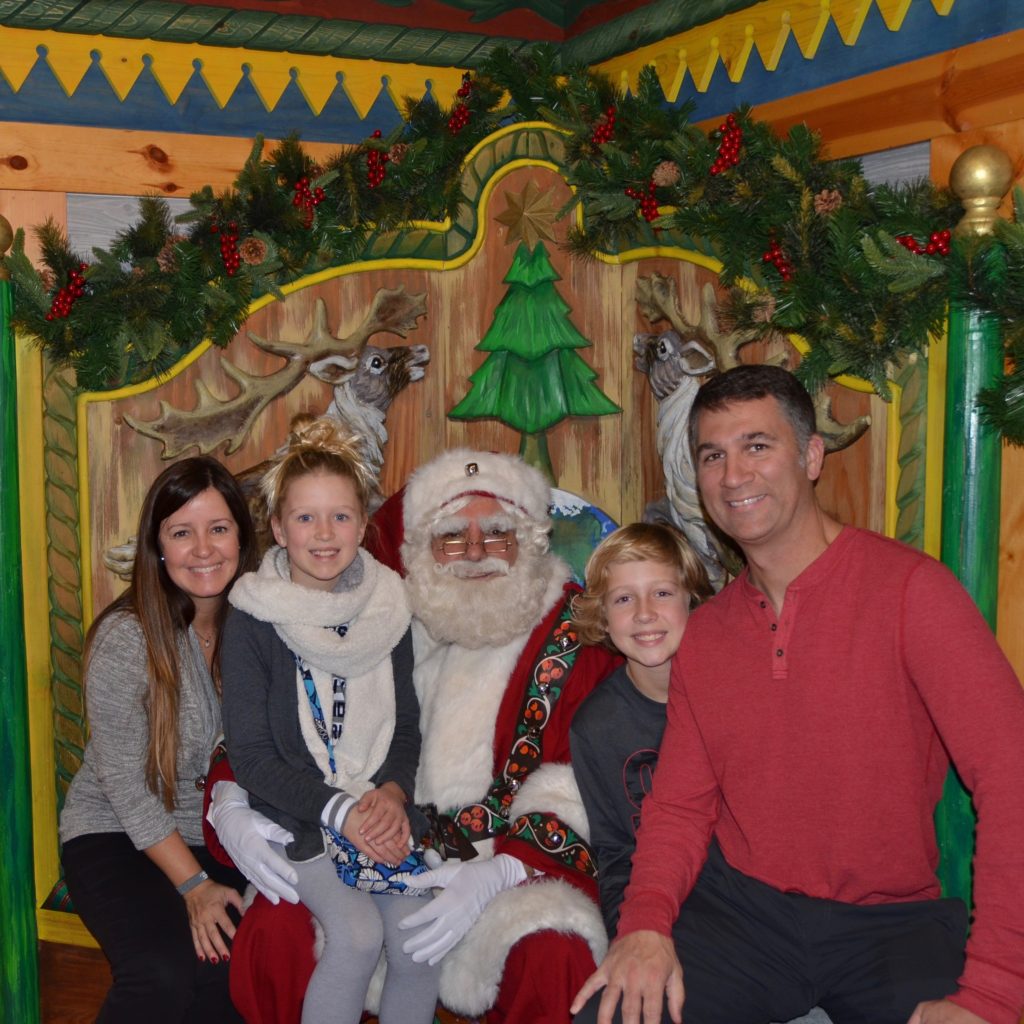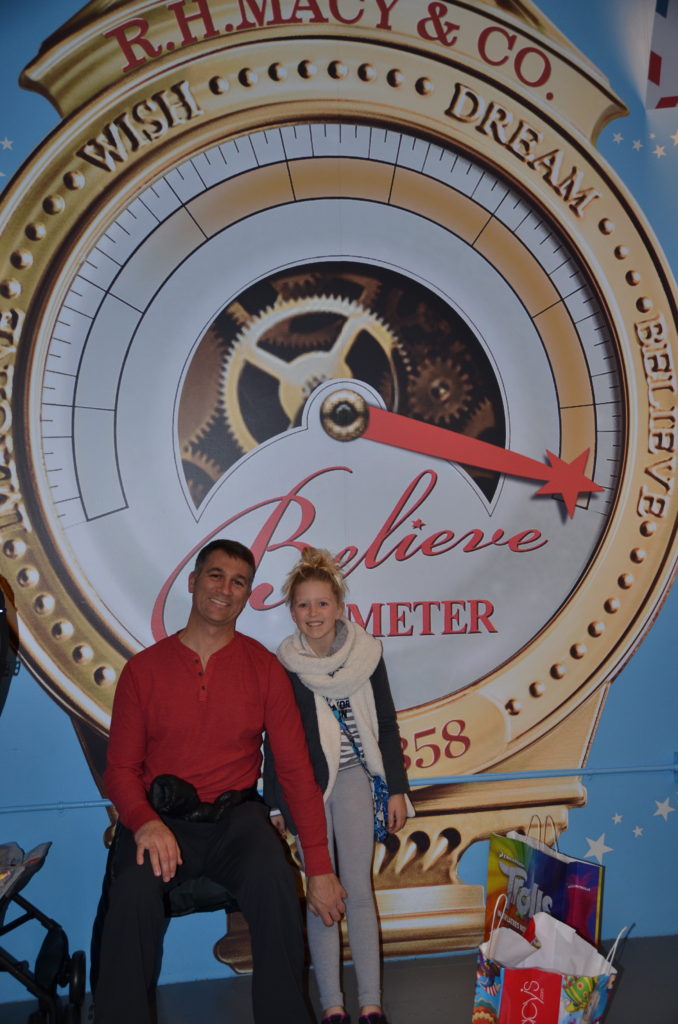 We BELIEVE!
If you like a good deli. Head across the street from Macy's to Herald Square Market. You can order the sandwich of your dreams.
We spent the rest of Day One milling around the city and checking out the holiday window displays. Gorgeous. Check out this one at Sak's: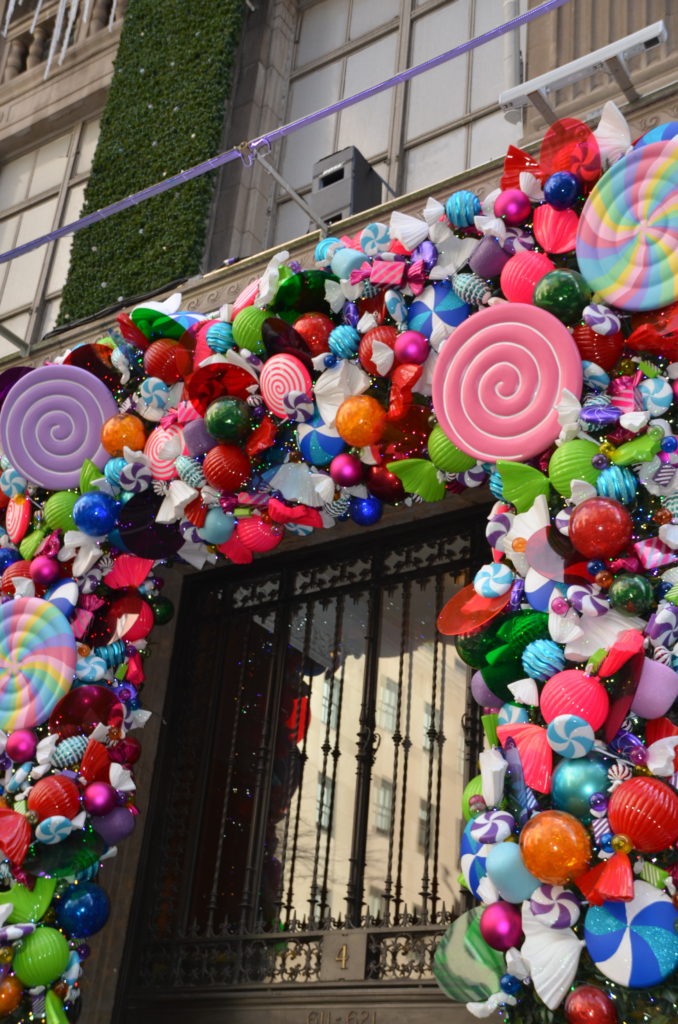 We ate a yummy dinner at Parker & Quinn. It's on West 39th at 6th.   Make sure you ask for one of the cool booths and order the Fried Chicken Sliders!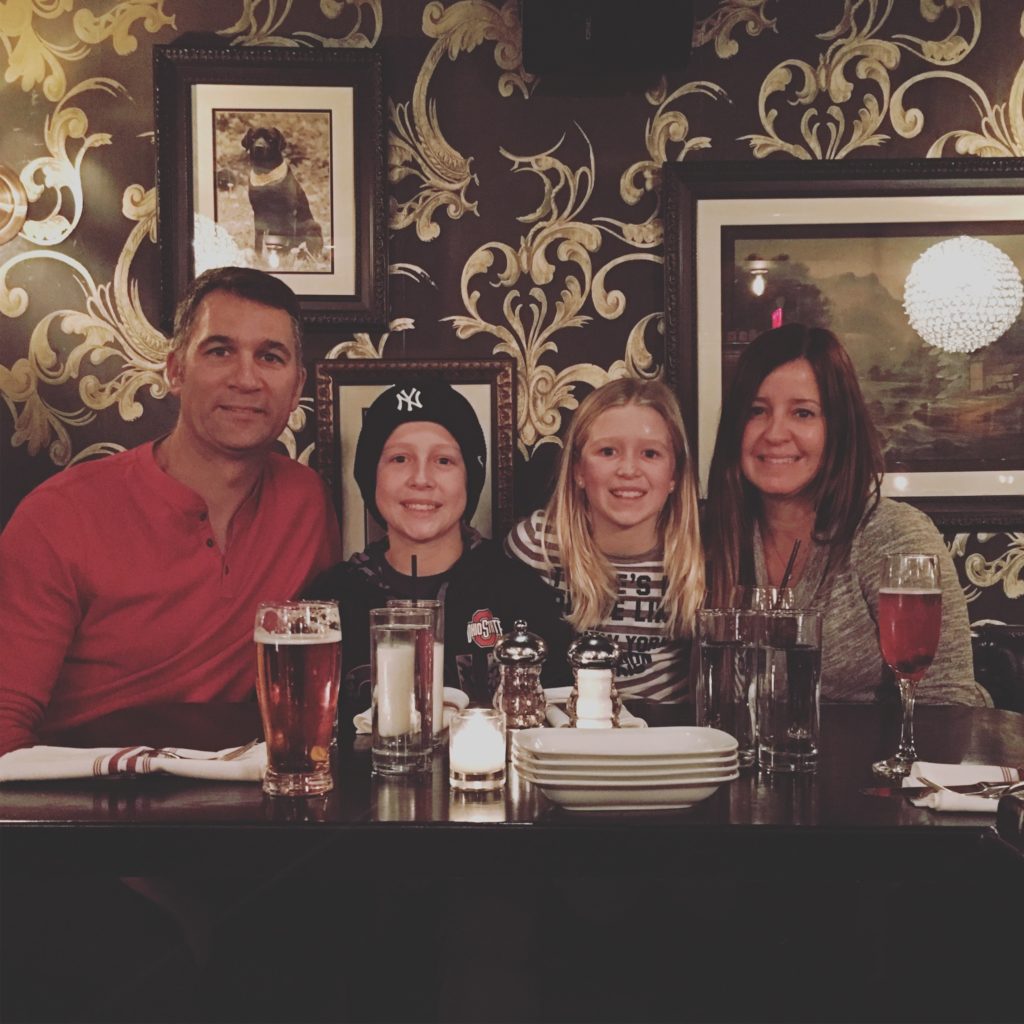 No day in NYC is complete with out a cupcake from Magnolia Bakery.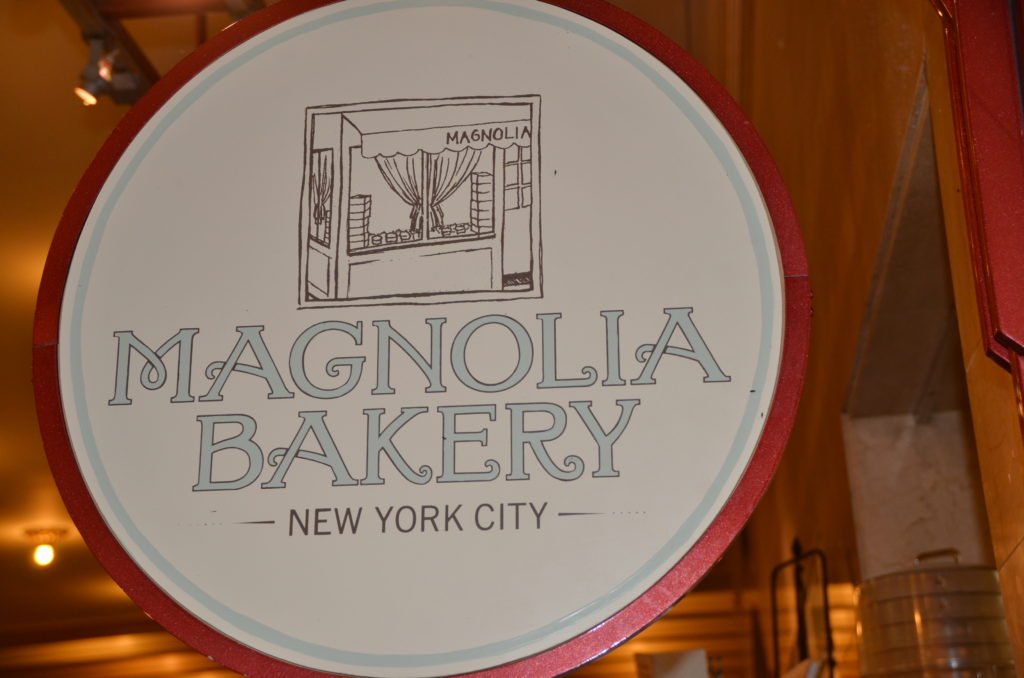 We visited the Grand Central Terminal location so we could eat our dessert in one of our favorite spots!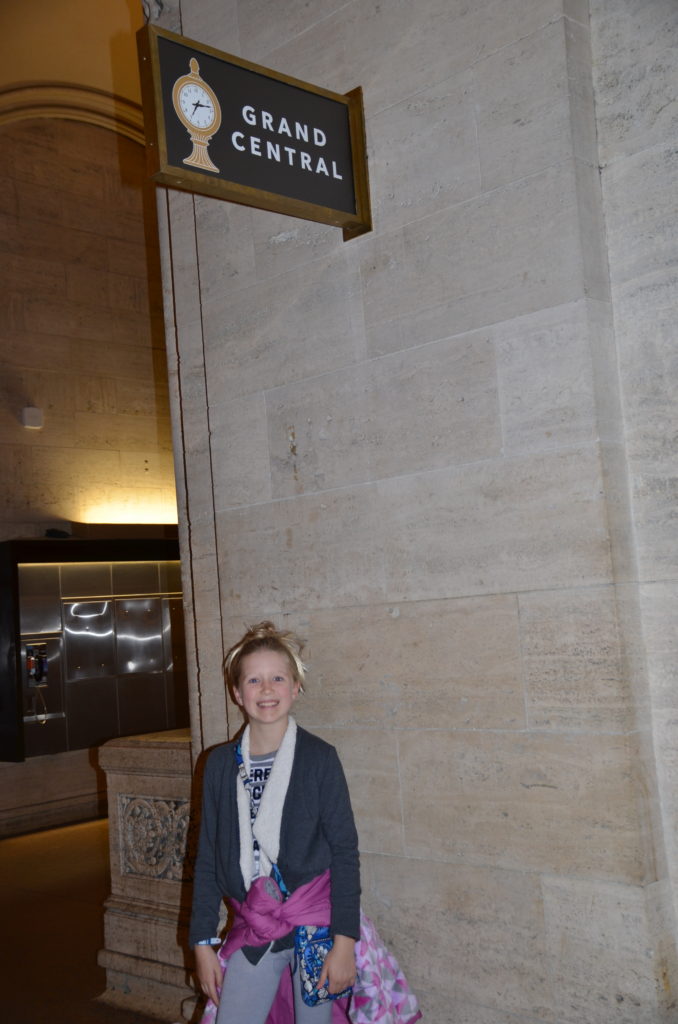 The kids loved the "little baby trees" for sale on the corner by our hotel.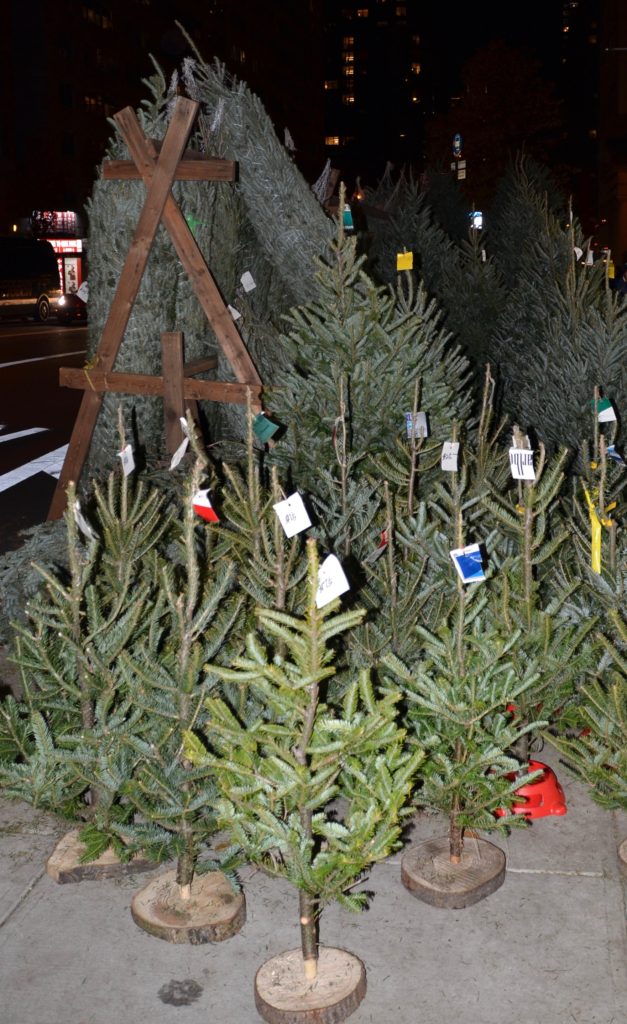 I loved how they stopped to admire the flowers every time we walked by….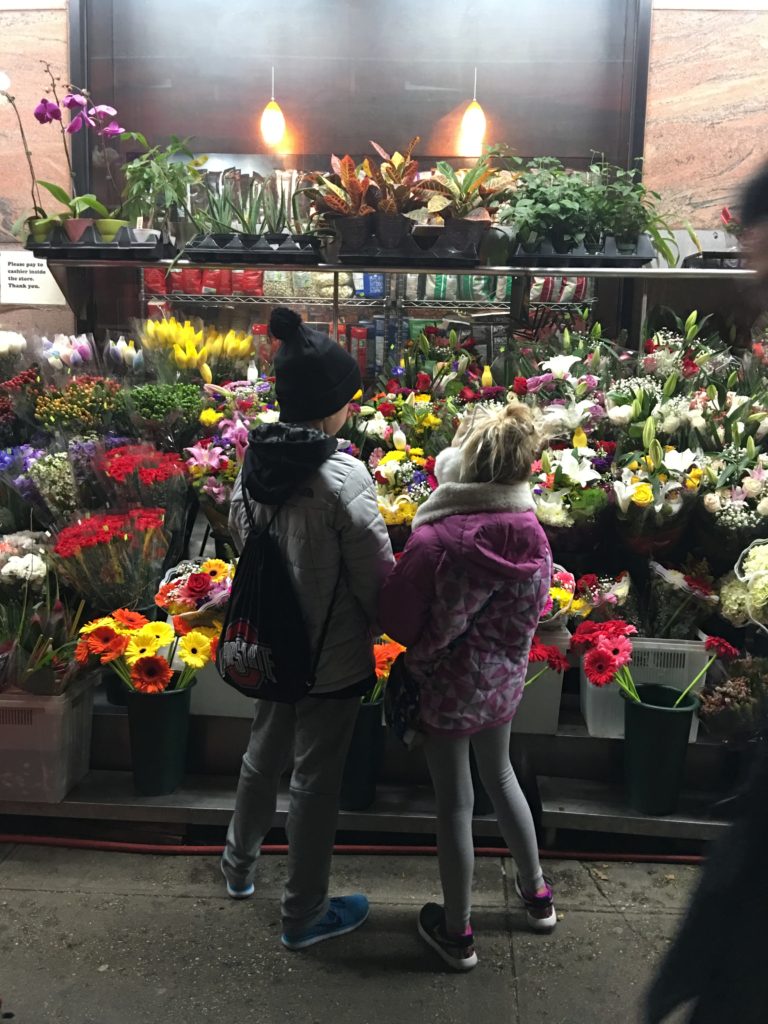 Day Two had an early morning wake up call! We had tickets to the 9am show of the  Rockettes Christmas Spectacular at Radio City Music Hall! We headed to Rockefeller Plaza early and ate breakfast at the Panera by the Today Show. Noah saw himself on TV and got barked at by a security guard!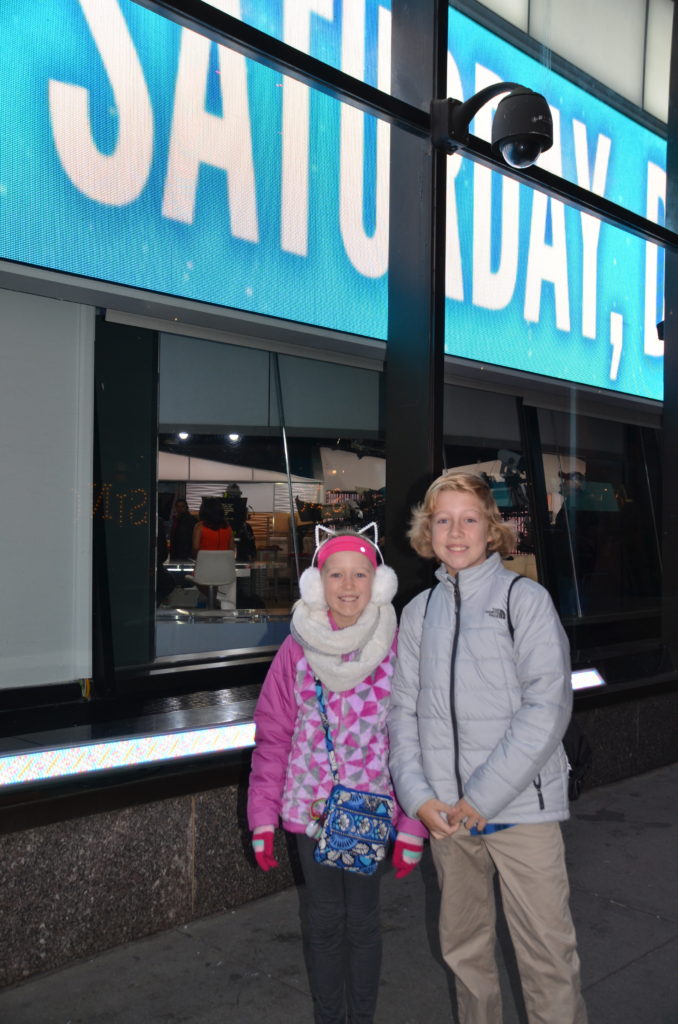 The real bonus of being up so early??
Getting THE tree all to yourself: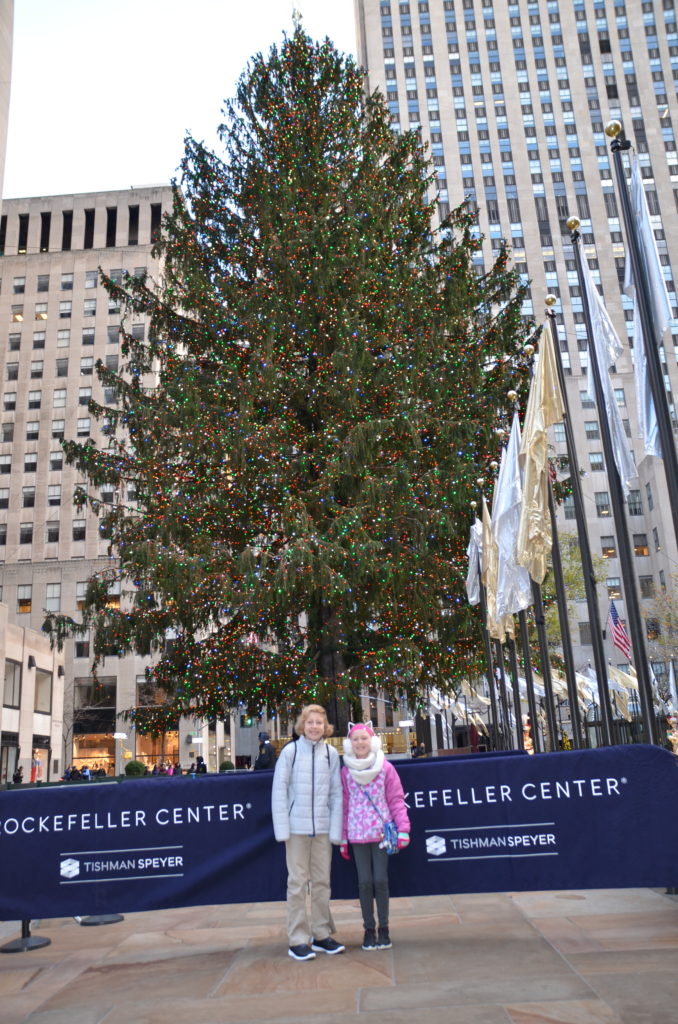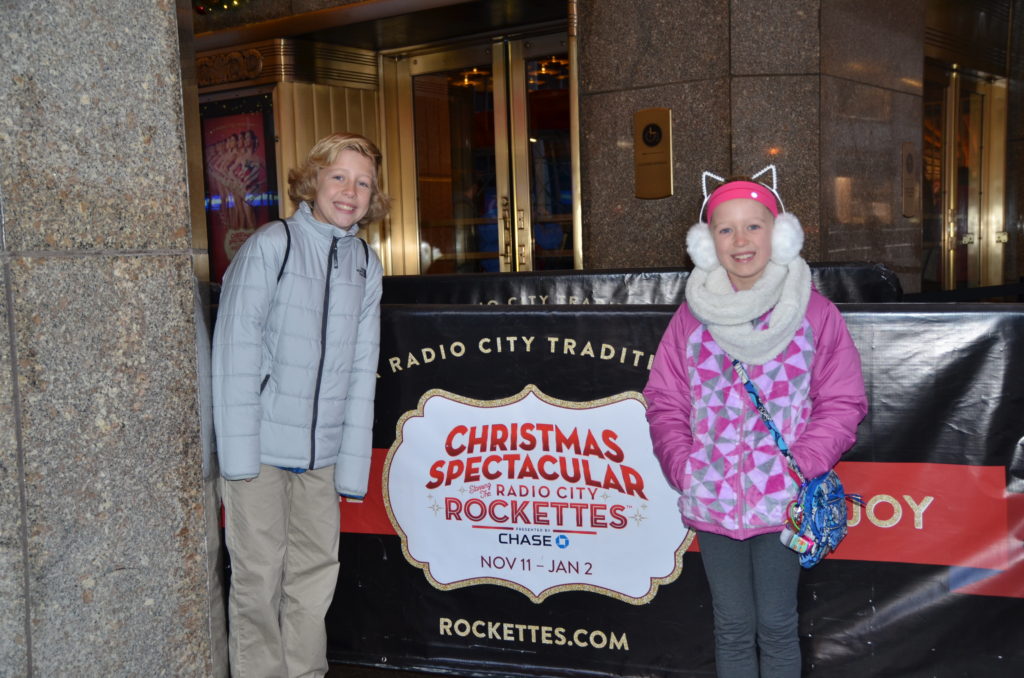 The Rockettes were crazy good. We sat in Orchestra 3 about 30 rows back. I wanted to SEE the dancers and boy did we. Before the show we wandered around Radio City. It's very cool. Classy, clean and so pretty! And the ladies lounge is one of the biggest I've ever seen!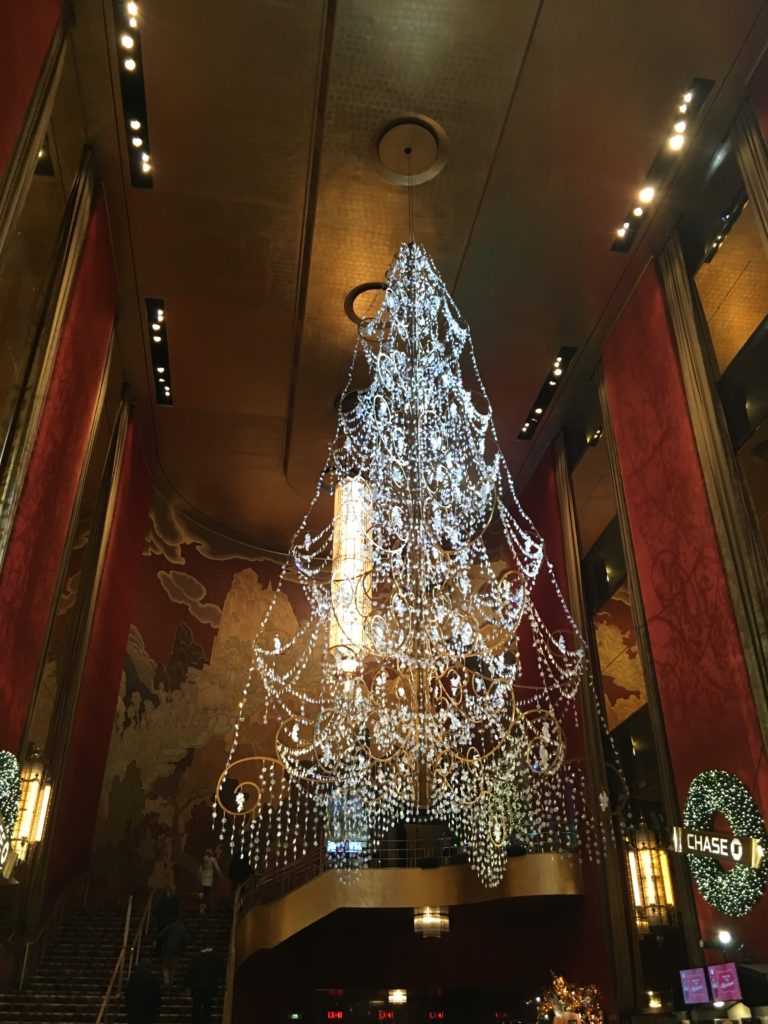 Did I mention that we met an actual Rockette too??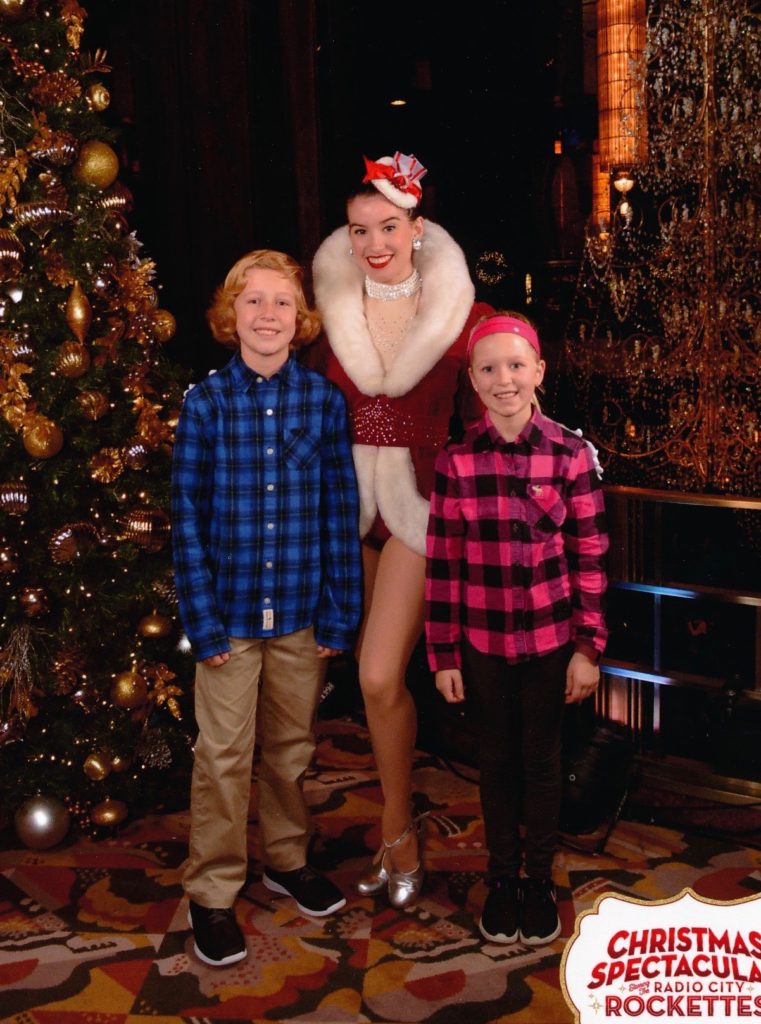 The show started with Santa. He told us to put on our very chic 3D glasses and 'enjoy the ride'. We boarded his sleigh and he flew through Manhattan decorating it for Christmas. It was wild. Don't we look cool?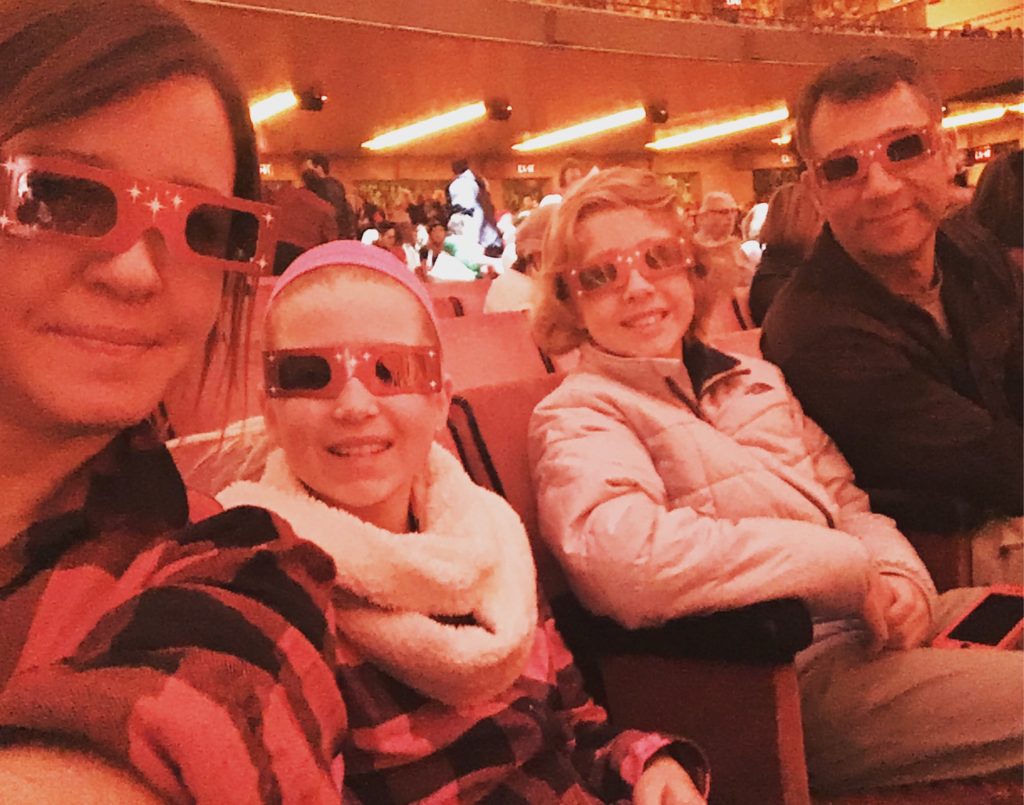 The show was flawless. My favorites were the reindeer dance and the nativity scene with live animals. We will definitely see this show again. Bravo!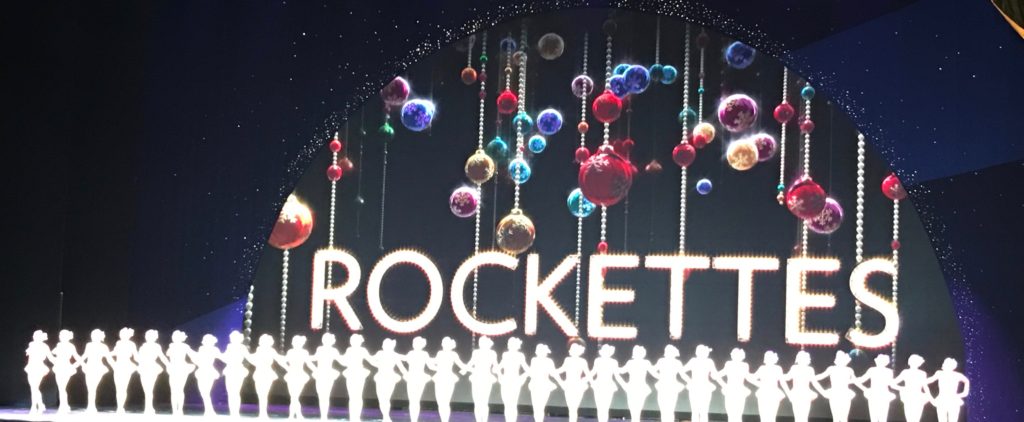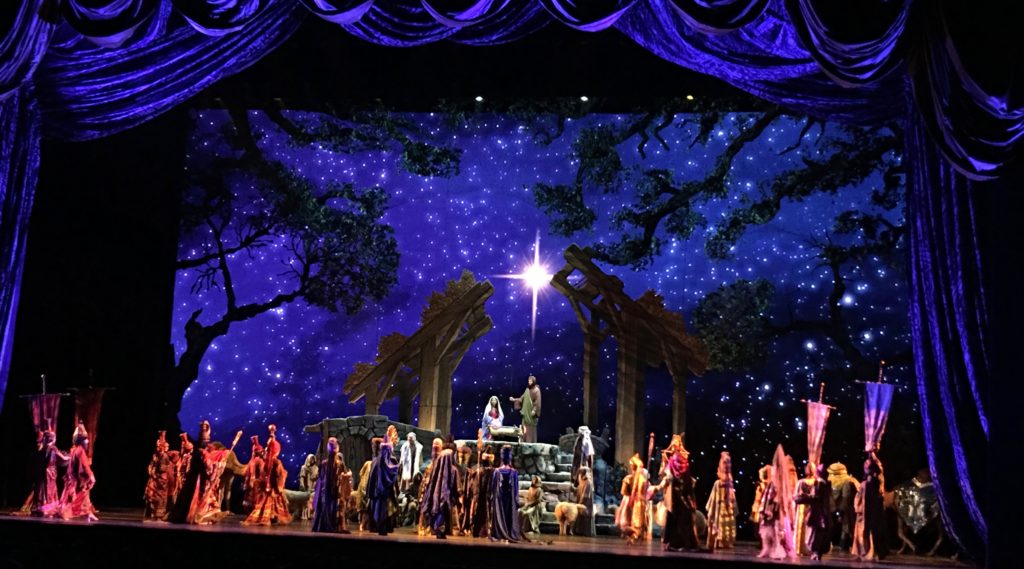 We left Radio City on a high and topped it off with another cupcake from Magnolia Bakery. Then we walked. Boy Wonder was insistent on checking out Niketown. Which meant a trip to Trump Tower. Which meant walking a few blocks out of our way because everything is BLOCKED OFF. I led my troops around the back and in we went. Security was tight. But the Secret Service were too kind.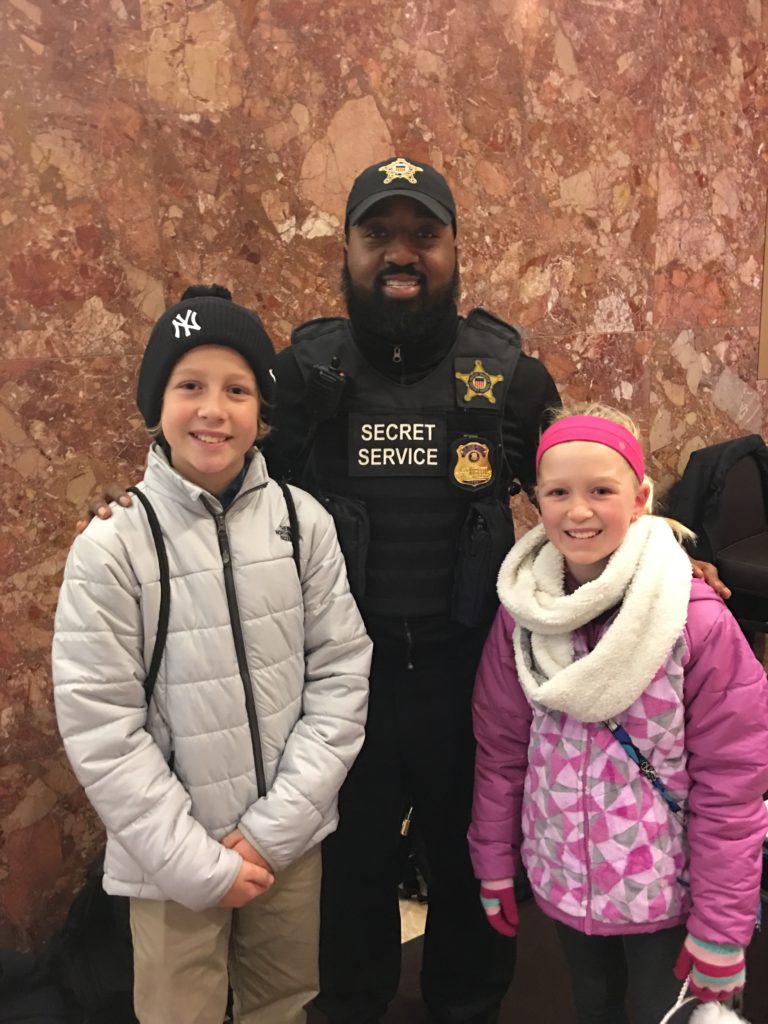 My people are not afraid of heights…therefore we went up and up and up. As far as we could until we were stopped by Secret Service. Taking a peek up even higher, it was cool to be visiting the home of the next POTUS.
We toured all 5, yes 5 levels of Niketown. Boy Wonder tried on several sweet sneaks, but ultimately decided to spend his money on these: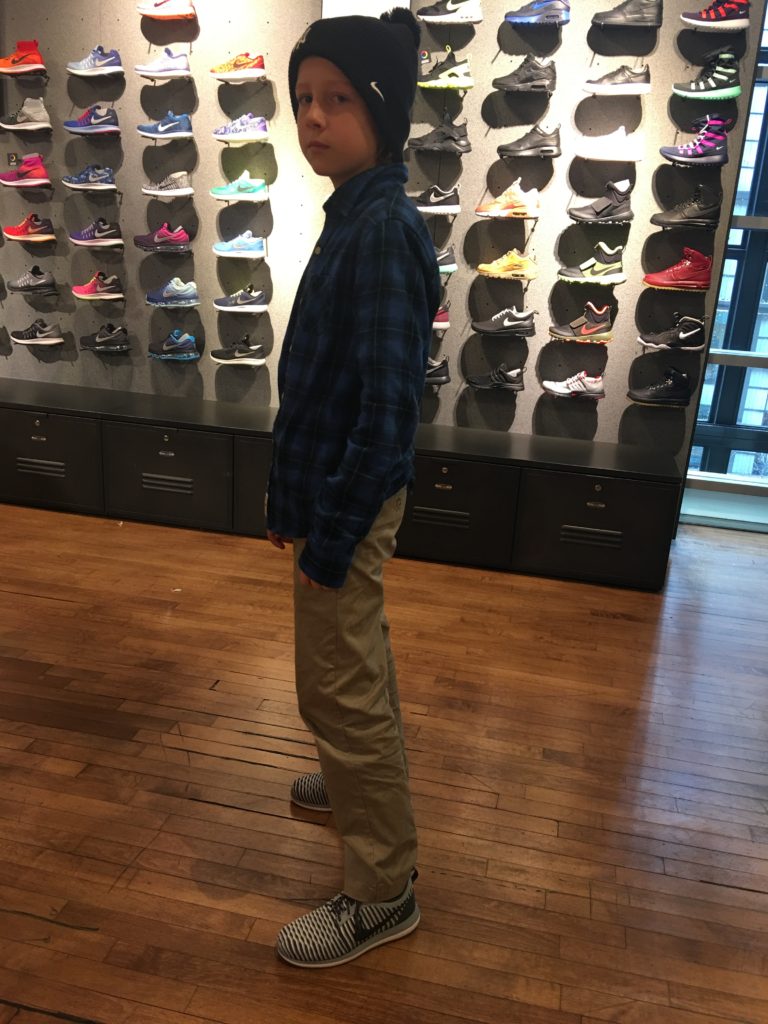 Next stop: Central Park. By far our favorite spot in the city. Pretzels, treats, giant rocks, street performers, famous landmarks. Central Park has it all. We play. We stroll. We enjoy. And this trip….a ride in a horse-drawn carriage. A bucket-list item for Sunshine and myself.
Friendly Travel Tip: do NOT wait in the extraordinarily long queue for a carriage ride. Instead, enter the Park at Columbus Circle and hail a carriage driver down before he turns the corner back up Central Park West. You can thank me later.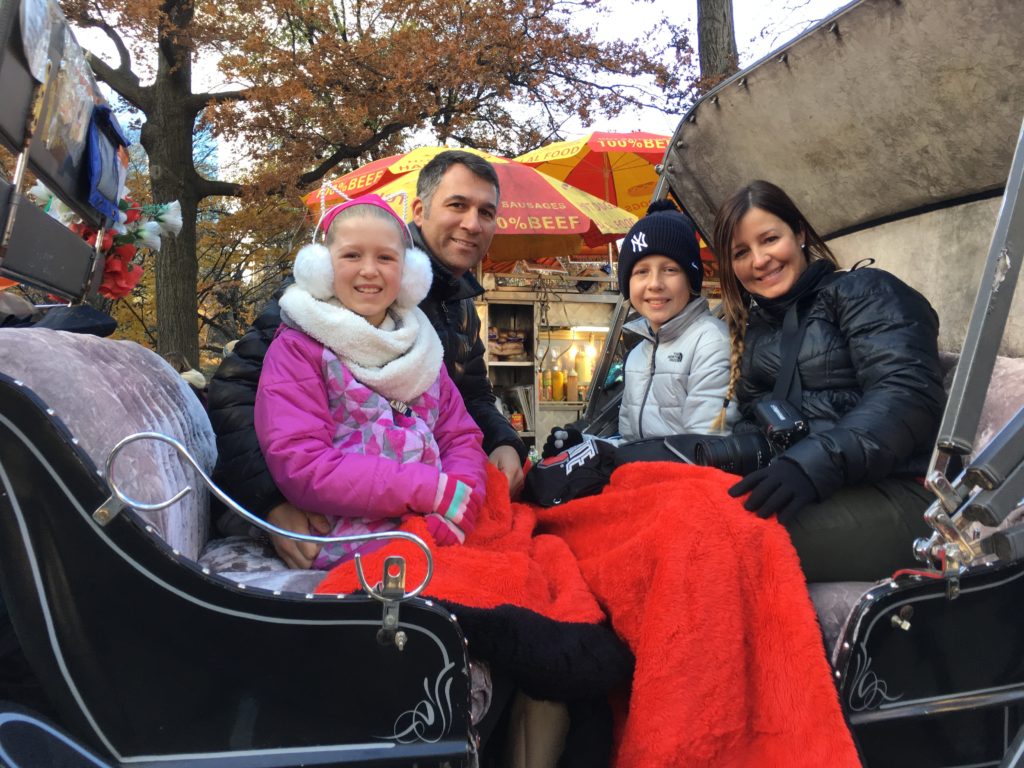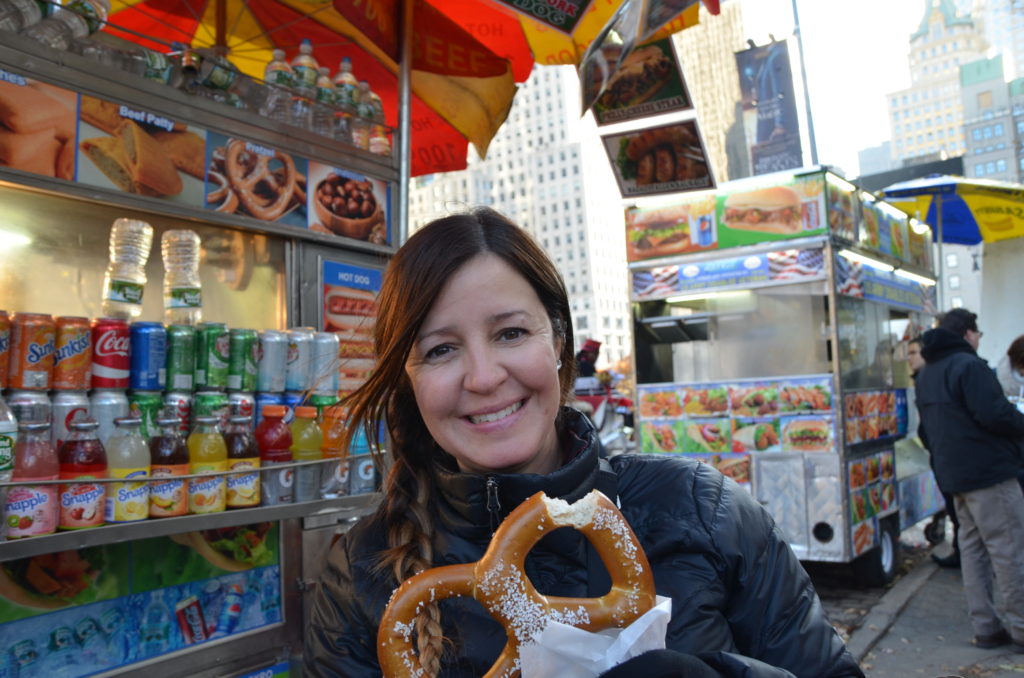 Praise the Central Park gods, we even found Alice in Wonderland this time. It's not as easy as you think. The Park is kinda like a corn maze. You can walk in circles without even noticing. And you'll swear you are headed in the right direction only to end up back in the same spot. But I was hell bent on finding Alice. And I did.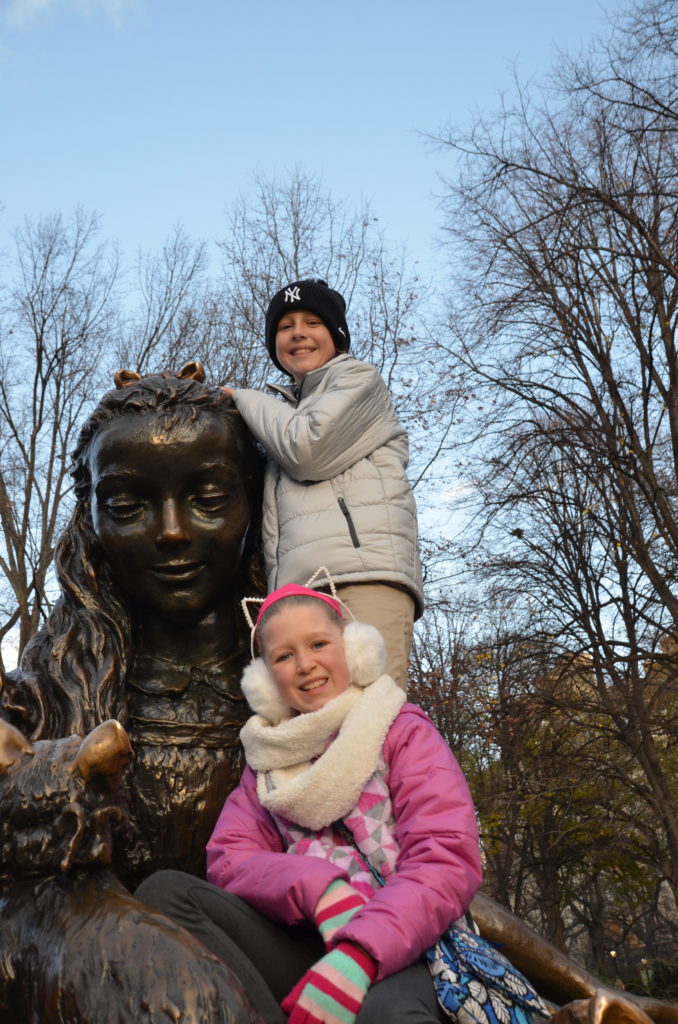 So pretty, even from the back: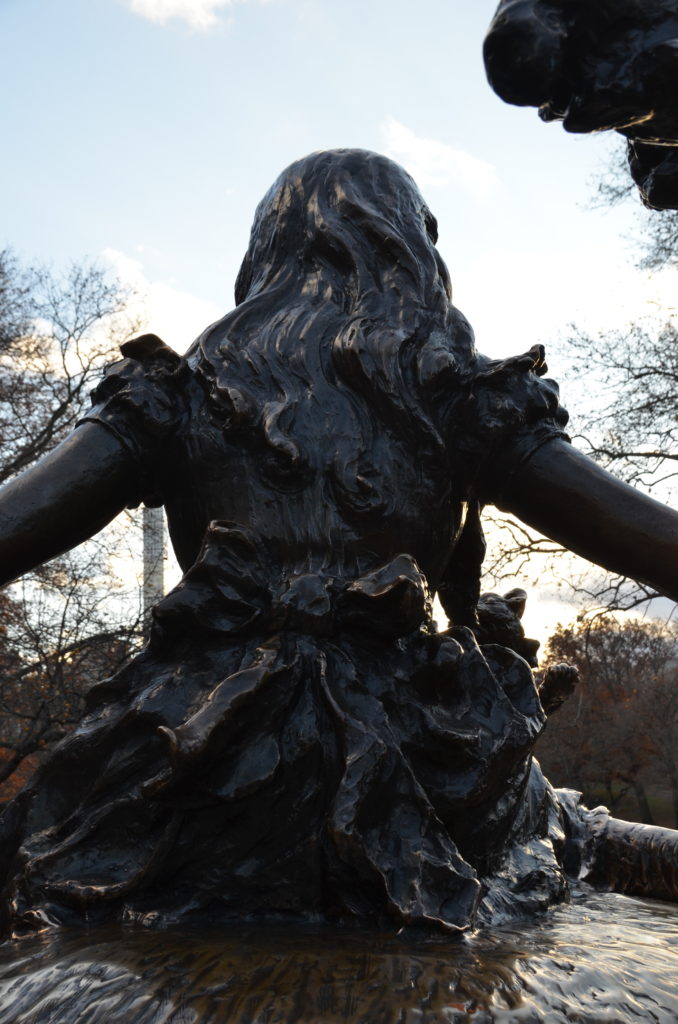 Reaching Alice took us from 59th Street to 75th Street. 16 blocks. We headed a bit deeper into the Upper East Side and ate dinner at  JG Melon a local place with yummy cheeseburgers and cold beer! After dinner we walked down 3rd Avenue to 68th to Vineyard Vines so the kids could get VV NYC shirts. After shopping we needed a bit of sugar. No place better to fill that need than Dylan's Candy Bar! Luckily it was only a few more blocks past Vineyard Vines. With Lemonheads and Sour Patch Kids in our bellies we trekked back to our hotel for a little down time.
Around 8pm we bundled up and took a cab to Rockefeller Center. We skated at The Rink at Rockefeller for two hours. Long or short hours depends on which family member you ask! We had reservations for the VIP Skate which is pretty swanky.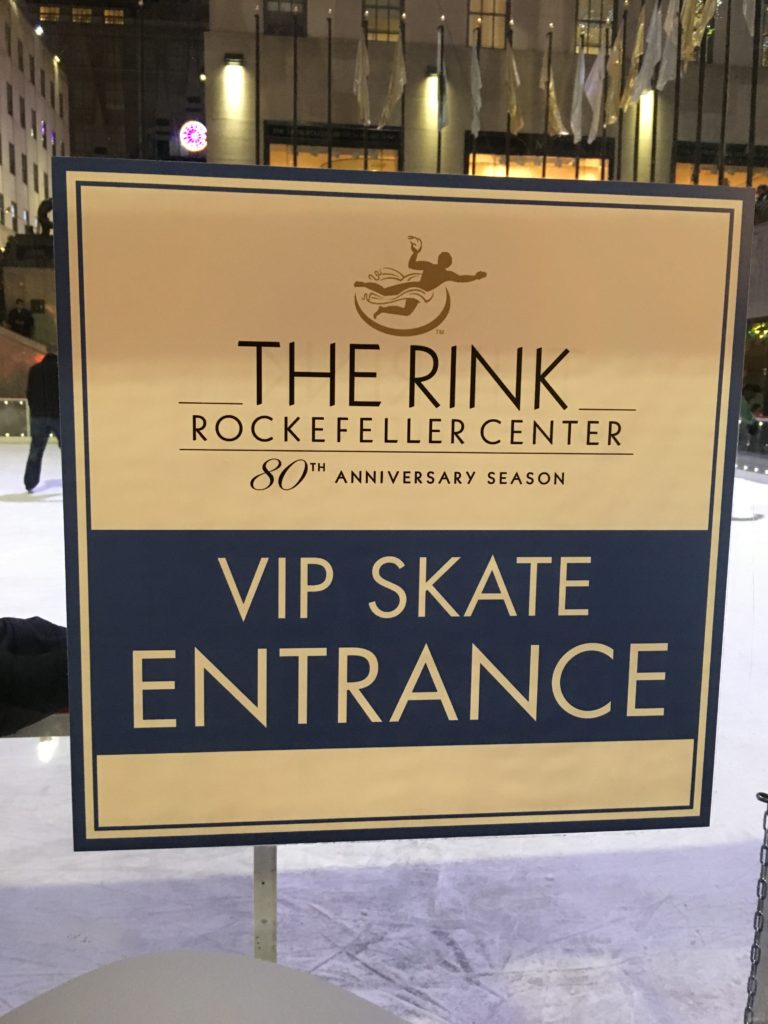 You skip the line. The line is very, very, very long and it is outside. Brrrr. As VIP Skaters we had a heated hut on the rink with comfy benches, a place to store our shoes and bags and all the hot cocoa and cookies we could devour. Life as a VIPer was good.
While skating an adorable couple got engaged. Guy was down on one knee. Girl had no idea. Some stranger taped it. OMG, I just said 'taped', I meant videoed! It was sweet. Sunshine was appalled. She informed me that was embarrassing. Lord help her future fiance-to-be! The children could have kept on skating, but Ma and Pa were whipped. We handed in our skates, grabbed one last cookie and bid Rockefeller Center a good night.
Day Three, our last day. Always a sad day. No-one wants to leave. Boy Wonder and Sunshine planned this day. They wanted to ride the Subway.
We took the Subway to Gramercy Park and were greeted with walls filled with Post-It Notes. Subway Therapy. We added our own note to the wall.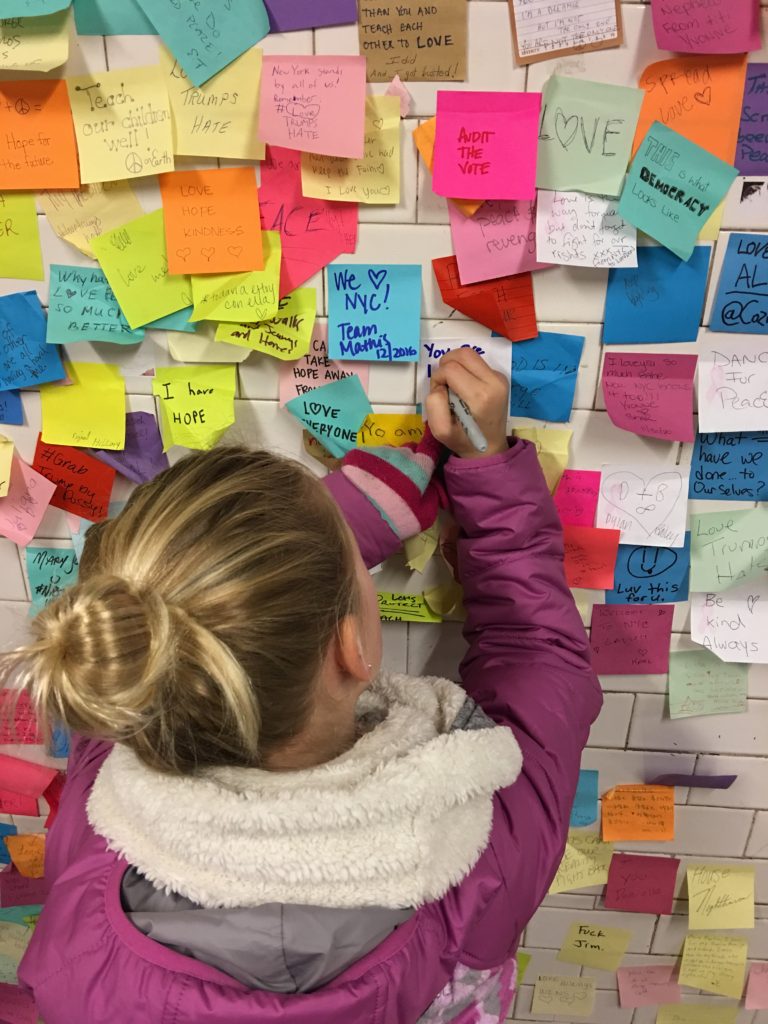 It was beautiful in spite of some very ugly comments.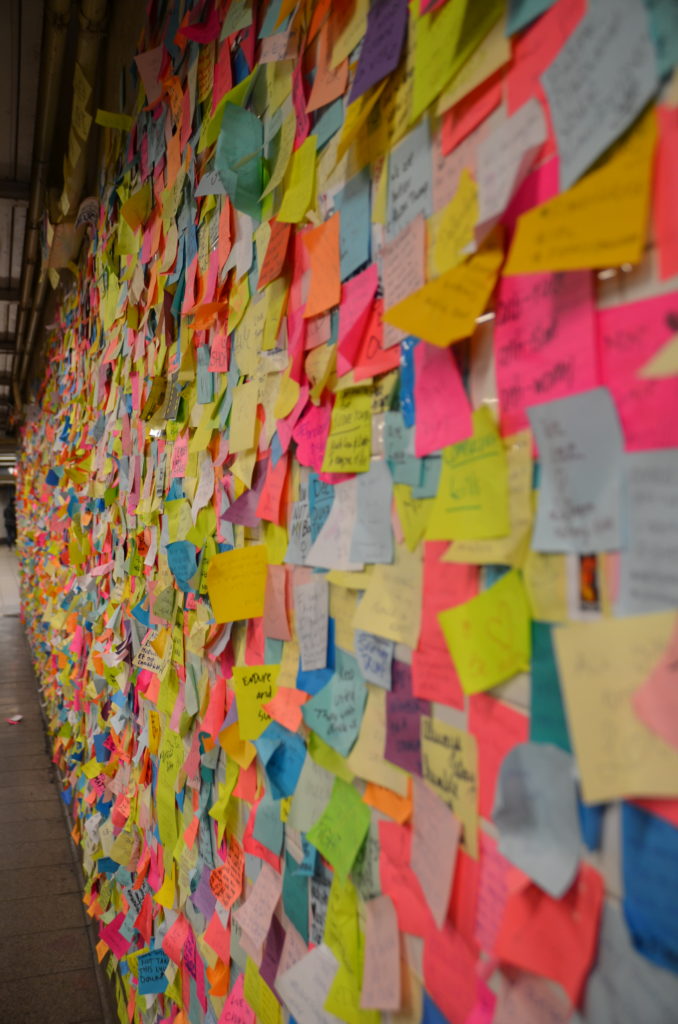 We brunched (I'm certain that is a real word!) at Friend of A Farmer. It was DELICIOUS x 10. So good. So filling. We waddled out of there and none of us complained about walking in the cold!
Of course they chose to visit Times Square. When in Times Square I must do a few things. 1) Purchase a Swatch watch. 2) Find the Naked Cowboy. And 3) Take a few minutes to observe the gobs of people enjoying NYC. Really, I must.
Sunshine, Boy Wonder and I picked out new watches while Doc waited patiently. He doesn't get the whole "Swatch Thing". I feel sorry for him. I chose a sparkly silver one. Boy Wonder picked out a red one. And Sunshine won the prize for coolest watch….one with a seal and fish! Priceless.
Next on my list:
And finally, resting my feet with Boy Wonder and enjoying the commotion around us.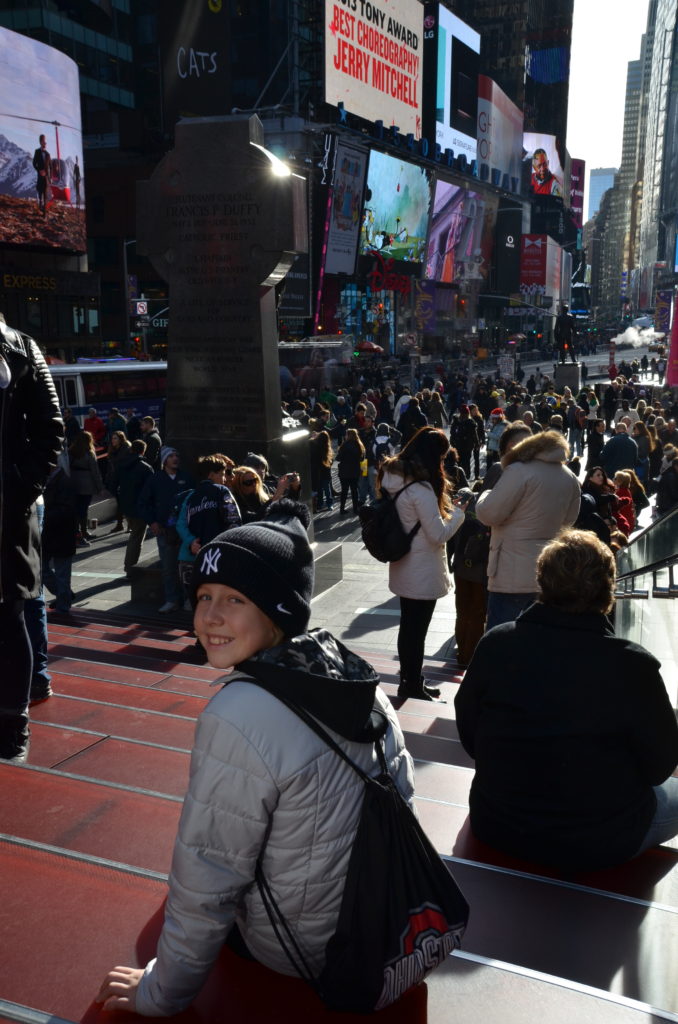 From there we stopped in the biggest and busiest Starbucks, purchased over-priced hot chocolates and headed back to Central Park.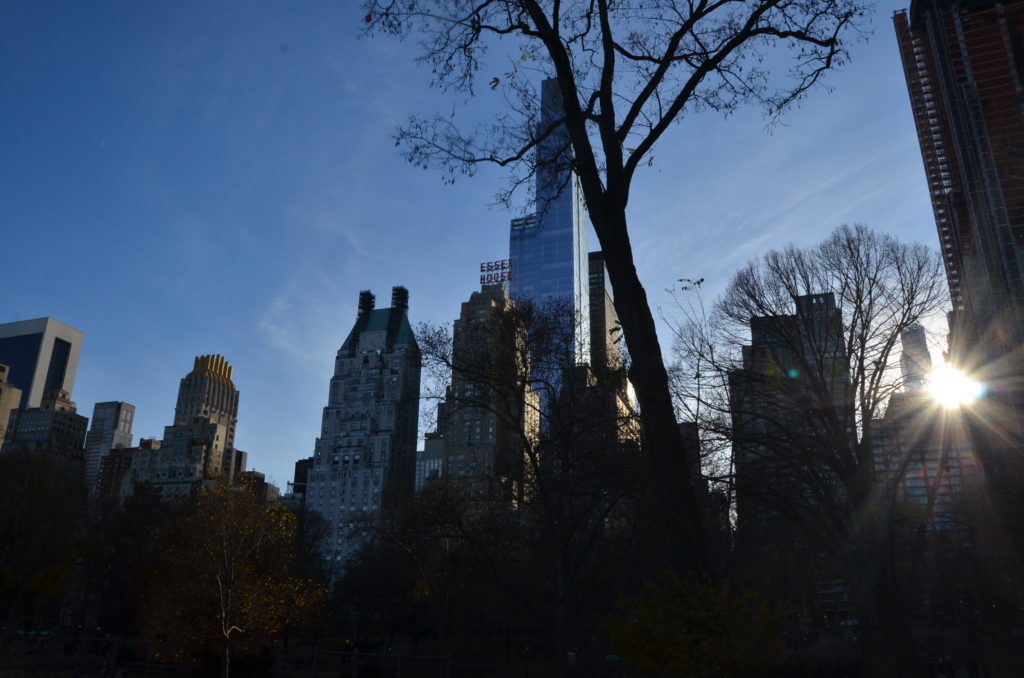 The kids climbed their favorite rocks and tossed a football while Doc and I whispered sweet nothings. We actually probably talked about how cold our bums were from sitting on the freezing rocks, but a girl can dream, right?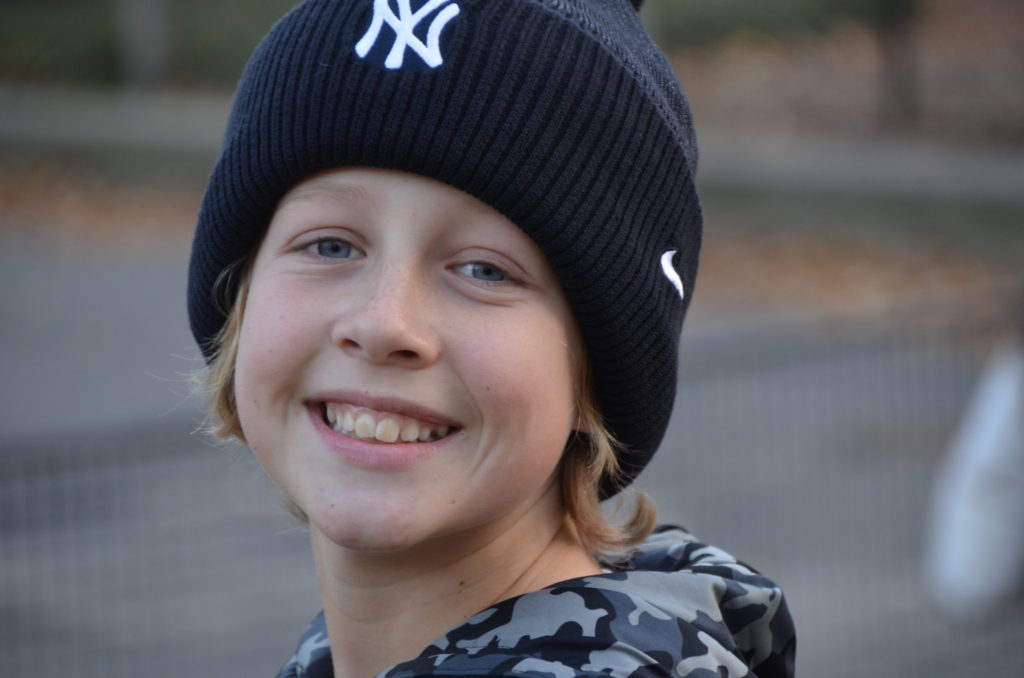 Yeah, I'm sending you a Merry New York Christmas,
And a prayer for peace on earth within our time.
Live Creatively,

My Daddy & Me in NYC
Posted June 22, 2015
Trust me, I know how lucky I am that 1) my Daddy is still alive & healthy and 2) that we have an unbreakable bond. So in the spirit of Father's Day, here is a recap of our recent trip to NYC. It was perfect, just like him…….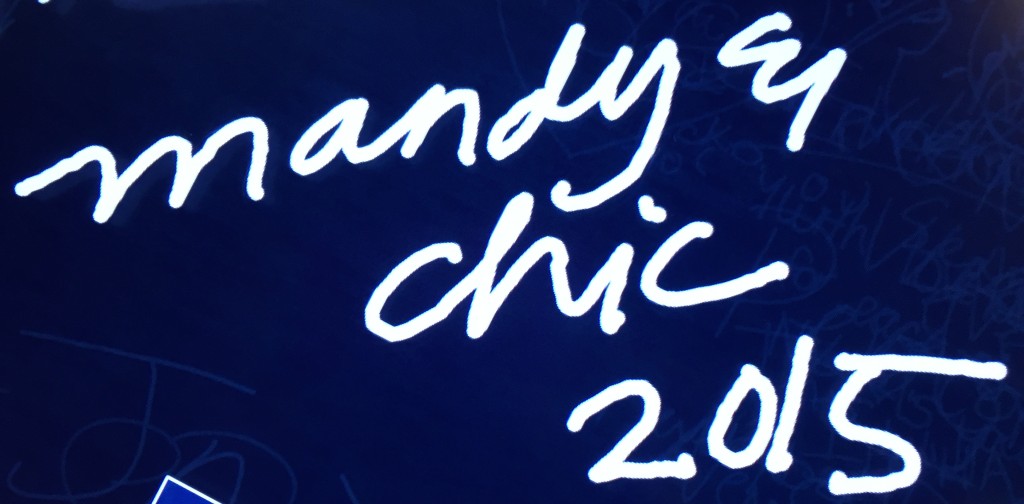 As I mentioned in an earlier post, My Daddy Is Seventy, I planned a father/daughter trip to celebrate his birthday. We were both pretty giddy about the whole thing. This trip marked my 4th time visiting the Big Apple with my Pops. The first trip was in November of 1987. I was 13 years old, had just started high school and was still very sad over the death of my Grandpa Dortmund that summer. My Dad used money left to him from my Grandpa for the trip. It was just what I needed and we formed some incredible memories. Take a look at a few of the pics from that trip almost 28 years ago……
Funny thing….now my kids point out cool doorways to me, because they know I am going to snap a picture of it! NYC was a lot dirtier in the late 80's!
I love so many things about this picture. First, my hair. I would like to apologize to my Dad, because I am sure he waited at least an hour for me to get it 'just right' on this day. Also, look at the posters bills posted all over the walls. I loved these! Now instead of the cool bills all the walls just say, "Post No Bills"…..I had to explain 'who' Bill was to my kids in April.
Remember when the trains were painted? Not anymore. I loved the graffiti and recall taking many pictures of it on this trip. NYC has cleaned up the trains. And please notice the yellow safety line…..could it be any thinner?! It is at least 4x as wide now!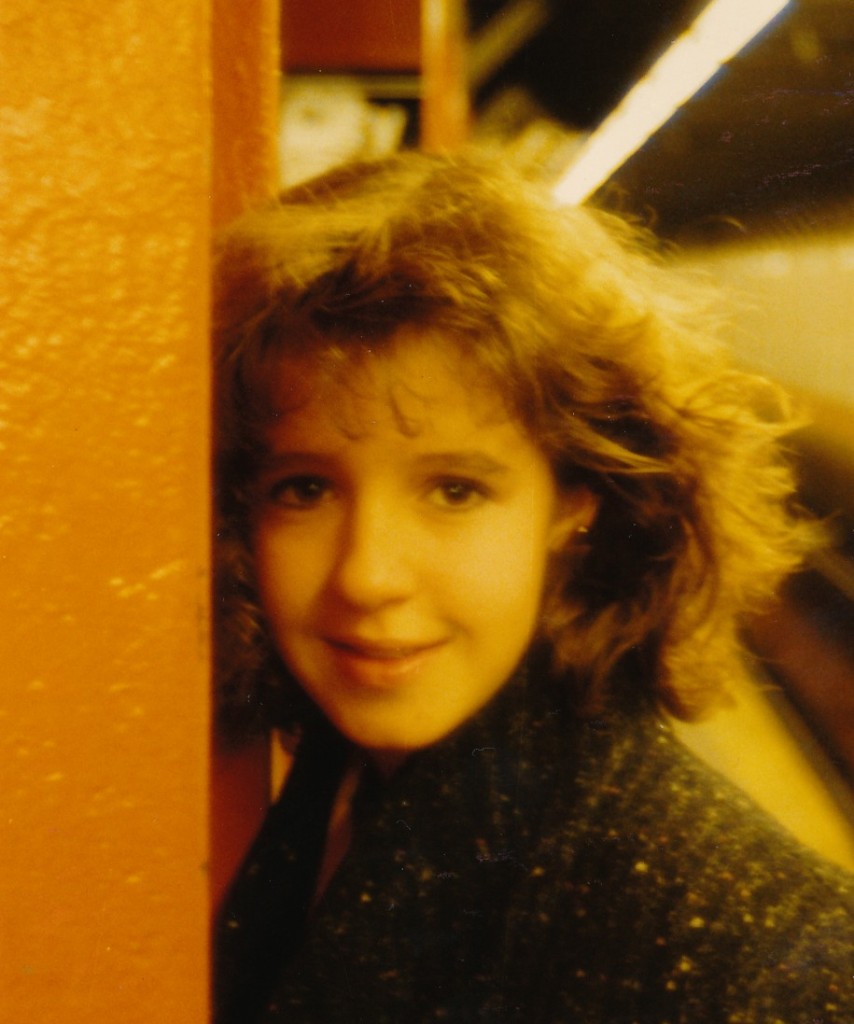 I remember posing for this picture like it was yesterday. My Dad was being creative with the speeding train behind me. He was cool before cool was cool!
I have one HUGE regret from this trip. Not a single picture of the two of us together. My Dad did all of the memory-capturing. I was his model, the city his muse. I have loads of very fun, artsy pictures from this trip. I remember holding his hand on the street, buying subway tokens (yes, real tokens), eating warm pretzels from the street vendors and walking through the cardboard house 'neighborhoods' in Central Park. But what I don't have is a photo of the two of us. We changed that on our most recent trip!
We waited about 5 years before we stormed the city again. This time I took the camera and snapped a few pictures of my Dad enjoying the city.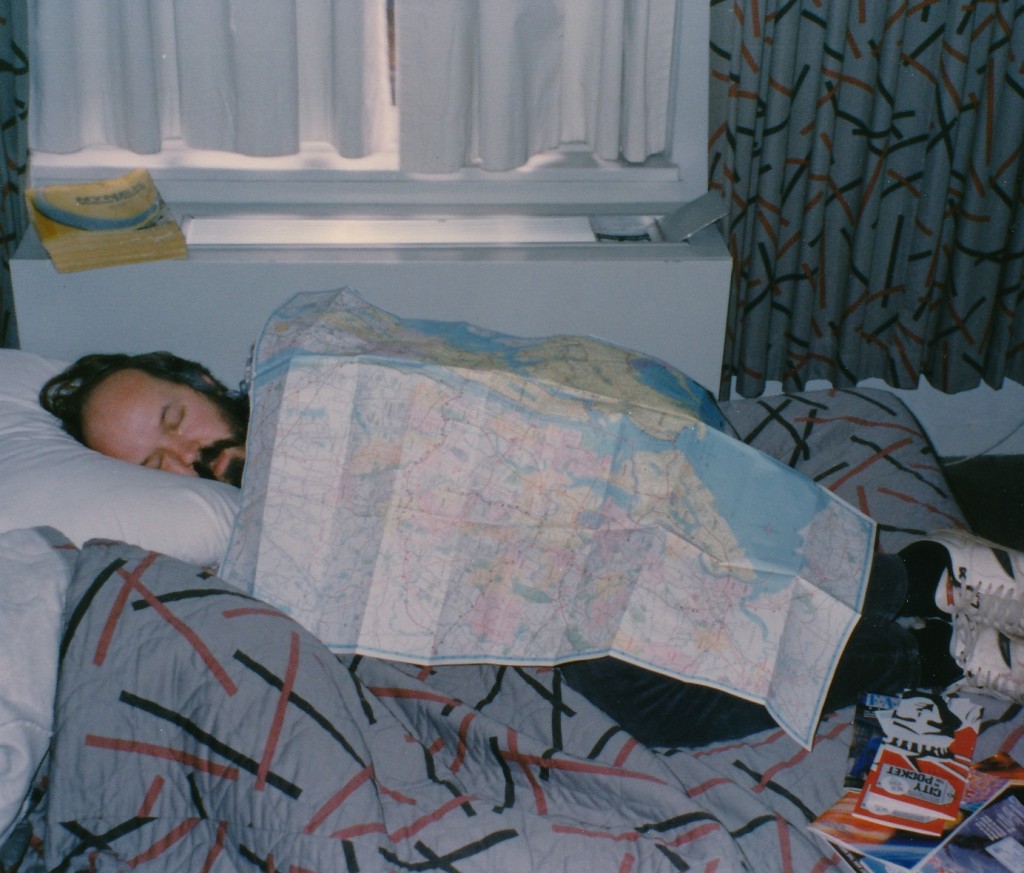 I laugh looking at this picture now. The MAP! The HUGE map. Too funny. And look at the pile of extra maps and guide books on the bed. And I know for sure we used that big yellow book on the radiator a time or two! Time capsule! This was January, 1992. I was in college. We stayed at The Milford Plaza, just like our first trip. I thought it was the grandest hotel ever. It had a doorman and someone in the elevator to push your floor button. Swanky! We looked it up when we were just there….it is now a new hotel, all shiny and steel. Not cool.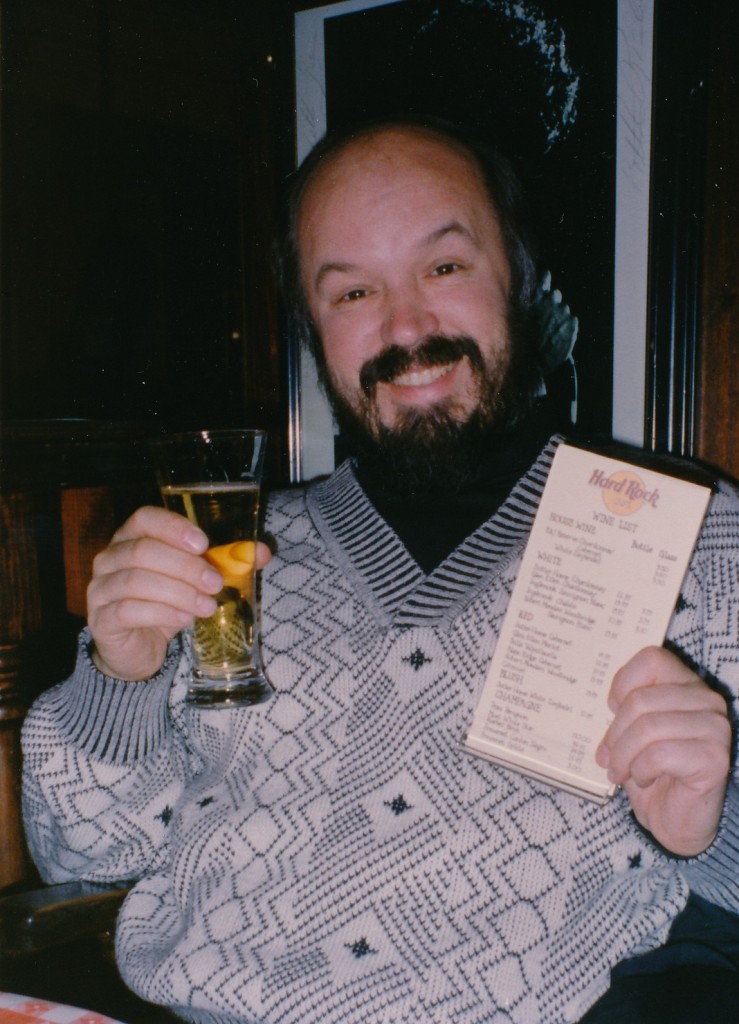 My Dad had taken me to the Hard Rock Cafe on our first trip. We returned because it was still one of the only locations at the time and beyond hip. I took this pic because it was the first time I had ever seen my Dad drink a beer. Momentous.
Enjoying Battery Park. We saw the Statue (again) and rested on this bench as we had 5 years earlier. I love Battery Park because it reminds me of time spent with my Daddy. Sadly we skipped it last month because it is under construction and full of orange fencing…..improvements. I would pay top dollar for one of the benches I am sure they pitched in a dumpster. Humpff!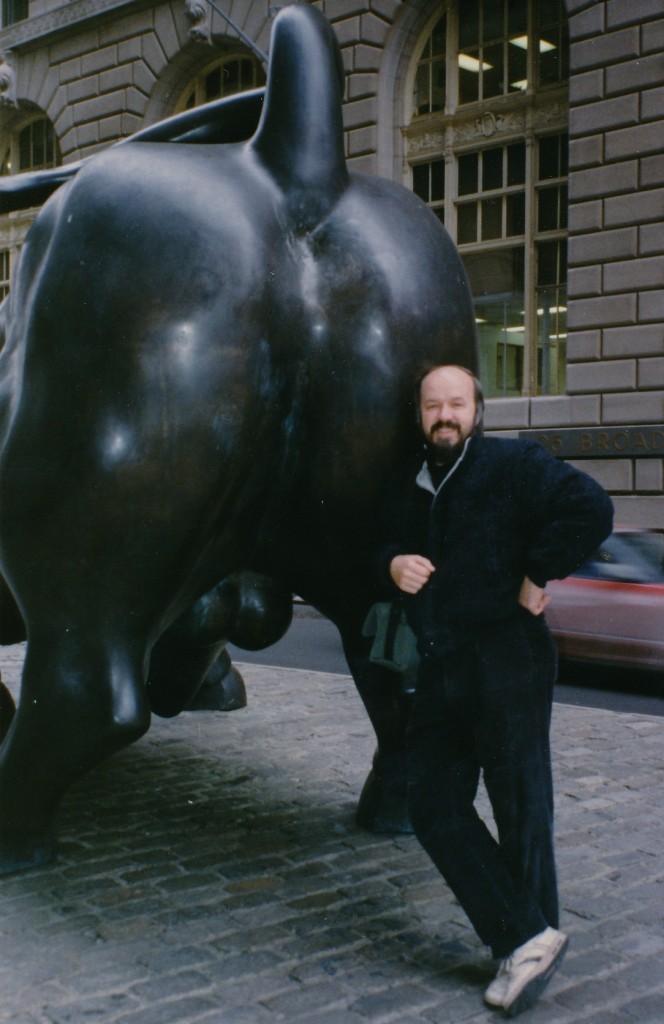 Hehe! This is an OLD picture…..the bull's balls (yes, I said balls) are still black. These days there is a line, a LINE, to get your picture with the bull's backside and his balls are now shiny brass. Seriously, how many dirty hands have violated this bull?! And check out Chic's camera bag….he lugged that thing all through the city. Had to have somewhere to keep his zoom lens and rolls of film!
Flash forward almost 2 years to our third trip to the city…..here I am being lady-like and getting my picture with the bull's head! My mom and brothers joined us on this trip. It was an adventure for sure. It was right before Christmas and we had a blast. Not a single picture of all 5 of us though….who would trust a stranger in NYC to hold your camera? Not Chic Dortmund.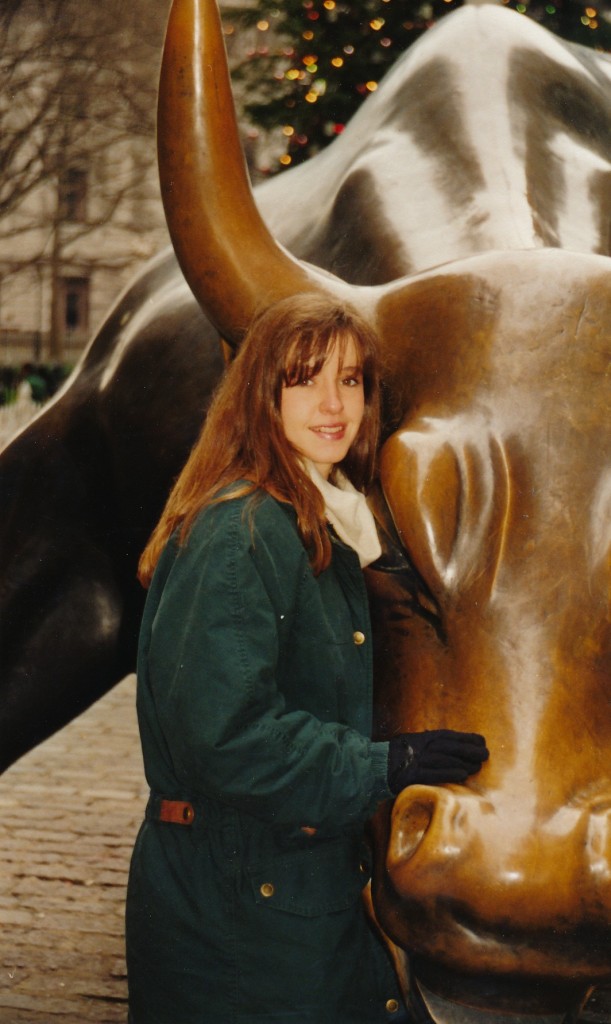 We must have used the same salon….our hair color matches!
MAY 2015….Here we go!
I came prepared this time. Selfie. Stick. We tested it in the airport. It took us a few tries, but here is our first official selfie: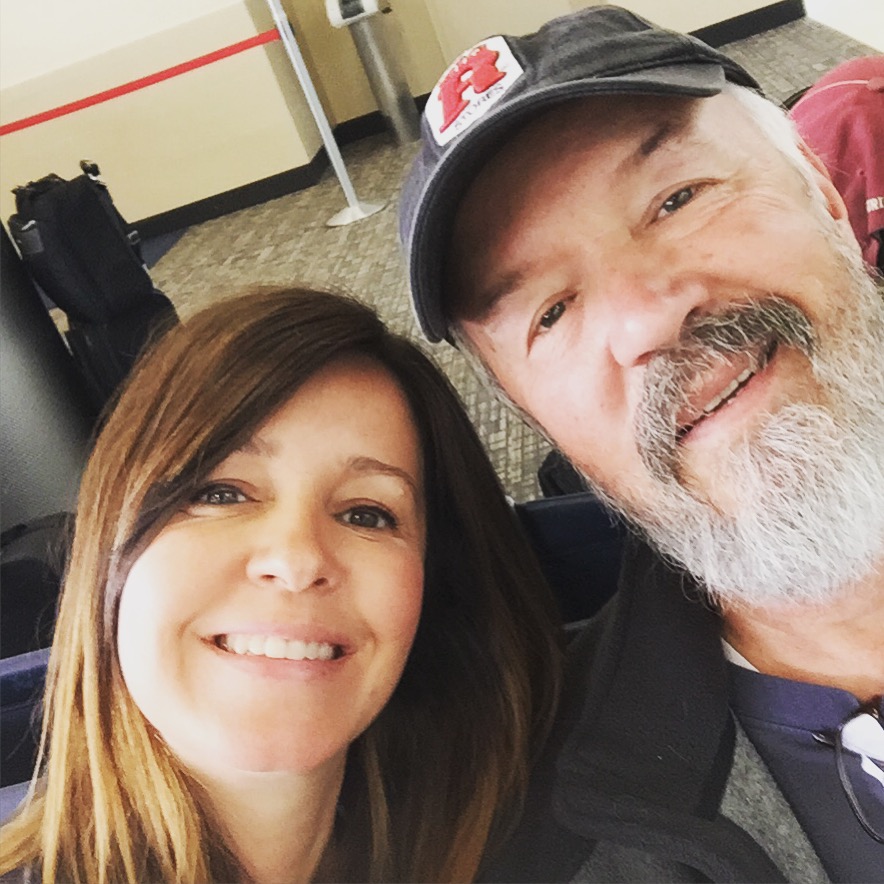 We arrived early to Affinia 50 NYC. Our room was not ready. While I was busy being grumpy, my Dad was chatting with the check-in lady. After about 5 minutes, guess what? Our room was ready. Hmmmm. My Dad can charm anyone. We dropped our bags, grabbed our map and began our adventure. We walked to Grand Central Terminal, up through Times Square, all through Central Park and pigged out on pasta at Carmine's in the Upper West Side. Our shoes were smoking! My clever Dad thought we should highlight our route on the map. Again he charmed the front desk lady and we were given a highlighter, "No need to return it, we have plenty."!
A few pics from our first day:
Being silly in Central Park.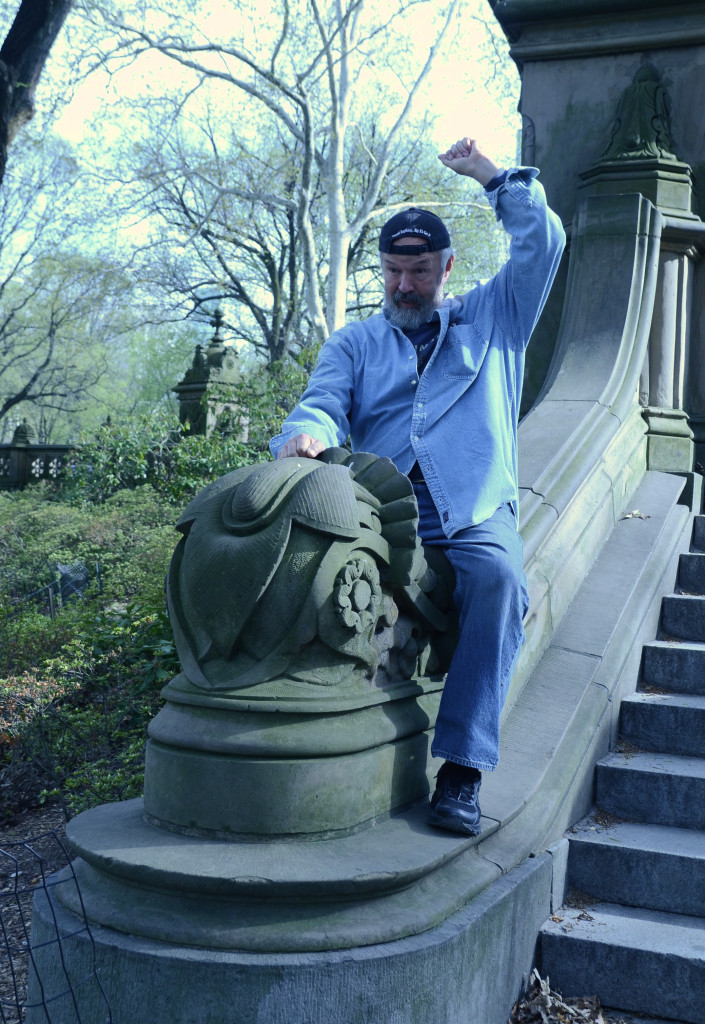 The park sillies continued. Land's End was doing a photo shoot on these same steps. Check your Fall catalogues for a glimpse of my Dad in the background!
Day number two we started at the 9/11 Memorial. I remember visiting the Twin Towers every time I came to the city. I had my first Ben & Jerry's ice cream cone under the towers in the entire city that existed there. My Dad recalls seeing the second tower being built. It was a somber segment of our trip, but so important. We had lunch on Wall Street and then strolled over to the Seaport Historic District. I have great memories of visiting the Fulton Fish Market with my Dad. I loved all the fish and fisherman who were scurrying around the docks. I am sad it is closed down. From there we headed up town to Chinatown & Little Italy. I wandered over a few blocks so we could end up in SoHo and I could do a little shopping! Back to the hotel to drop off my bags, a quick refresh then off again to the Lower East Side. We toured the Tenement Museum and loved it. Check it out when you visit the city. We did the evening photographers tour so we could take pictures (naturally!). Cold beverages were consumed at Bonnie Vee and then we walked Bowery Street north until our legs were cramping!
Photos from day two: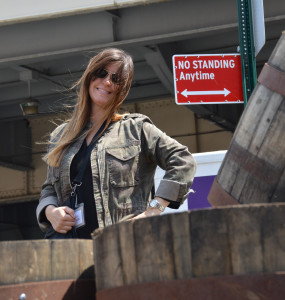 No standing anytime? OK, we will sit!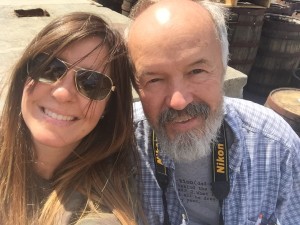 This next picture has a story: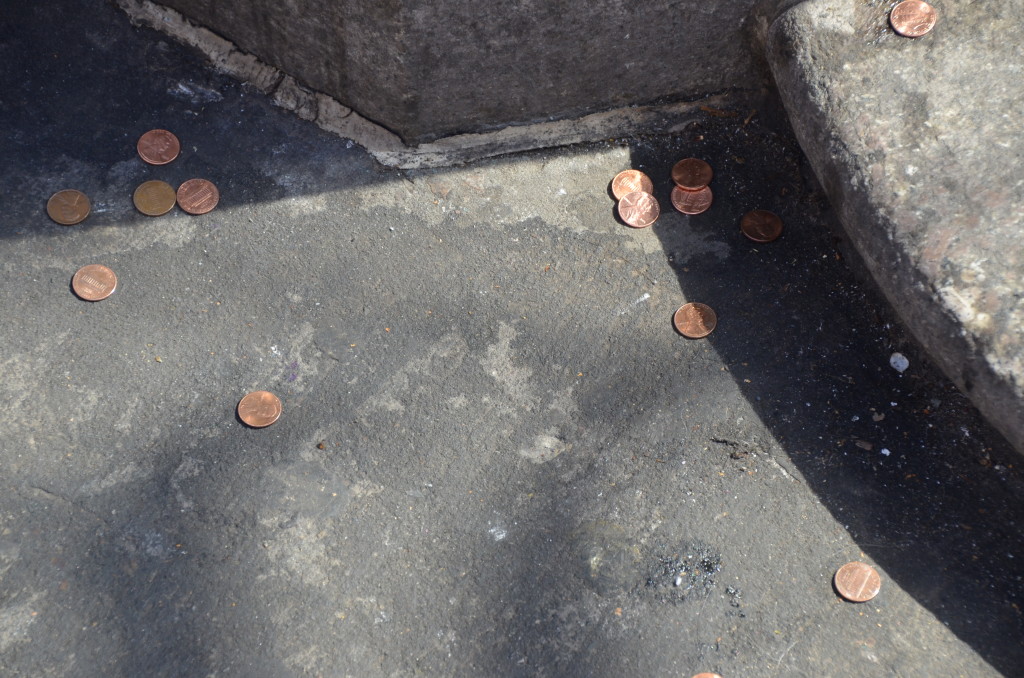 My family is always on the hunt for LUCKY pennies. We have a big jar full of them. My Dad spotted all of these lucky ones on the street. I grabbed them and was so excited to show the kids. We ended up circling back around this same corner about an hour later and who did we see? The 'owner' of these coins. Oops! My Dad called my kids and told them I robbed a homeless man!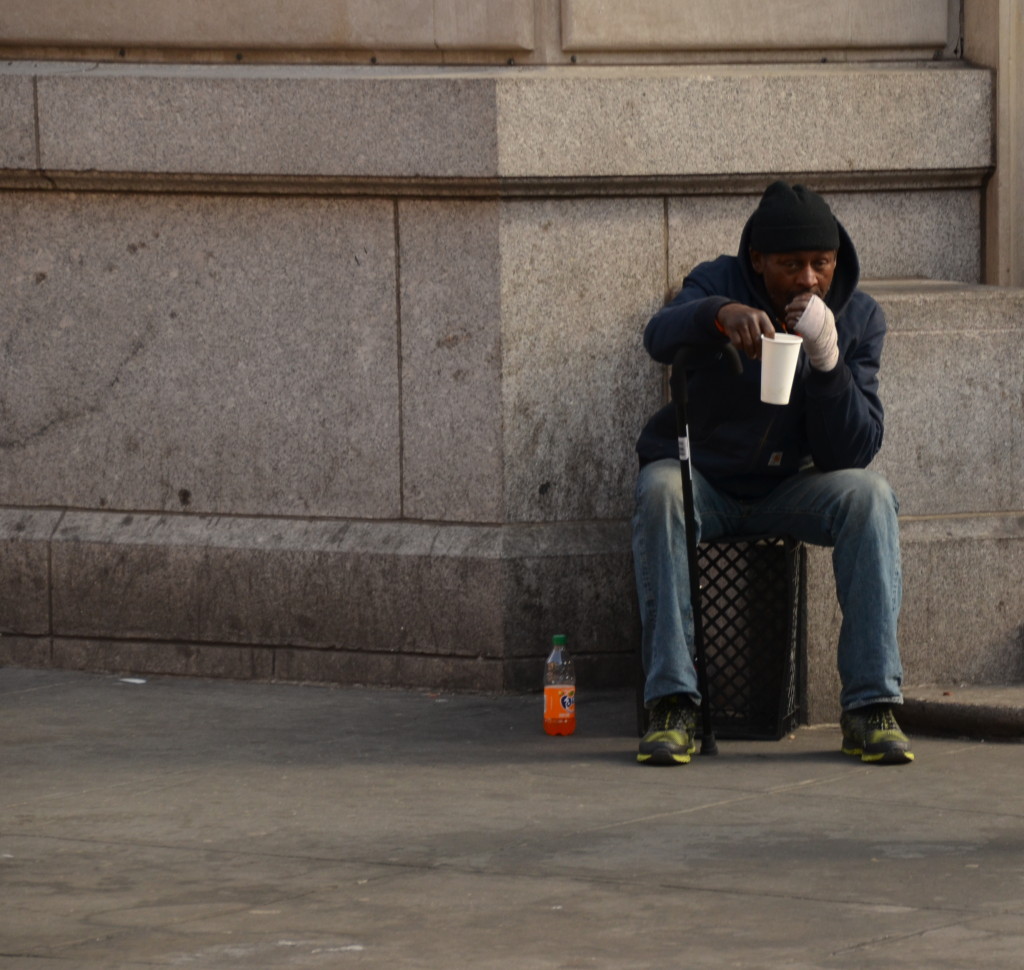 Our third day started with a subway ride to the Meatpacking District for brunch. A quick stop in the Sugar Factory for some over-priced candy and then a stroll along The High Line to work off our breakfast. Funny how we ended up in Hell's Kitchen in the middle of a FLEA MARKET. I love to 'flea' with my Pops. He started me young. We spent a good hour browsing all of the goodies and swapping stories with the locals. Past the Port Authority Bus Terminal, through the Theater District and Times Square (I think my Dad was looking for the ladies who love America….). We paused for a bit to people watch in Rockefeller Center before cruising 5th Avenue while avoiding eye contact with all the pedi-cab and carriage ride businessmen! They are exhausting. We bought some giant pretzels and popped a squat on a bench in Central Park. We watched newlyweds get photographed, listened to families chat in various languages, cleaned up spilled Pepsi (I was not the spiller!), gave the stink eye to some asshole teenagers who were taking pics of a homeless man enjoying a snooze and giggled at our own inside jokes. And of course documented the moment with a selfie or two. We found our way to FAO and waited our turn for the Big Piano. Such fun! I am still in shock that the store is closing! Nooooo! Damn rent increases! Dinner was at an Irish bar near our hotel and it was amazing. Dad danced the jig for our waitress and left her with a smile. We again waddled back to the hotel with full bellies and sore feet. Our last few hours were spent snuggled together watching TV and talking to my Mom. We highlighted our last day in the city and fell fast asleep.
A glance at our final day:
For some A+ entertainment, click on these:  IMG_7653  IMG_7654 , you're welcome!
That map will soon be framed and find a home on my wall. What the highlighted routes don't show is the miles of hand-holding, countless smiles and many memories that have attached to my heart forever.
Happy Birthday Daddy.
Live Creatively,

What My Kids Learned in NYC!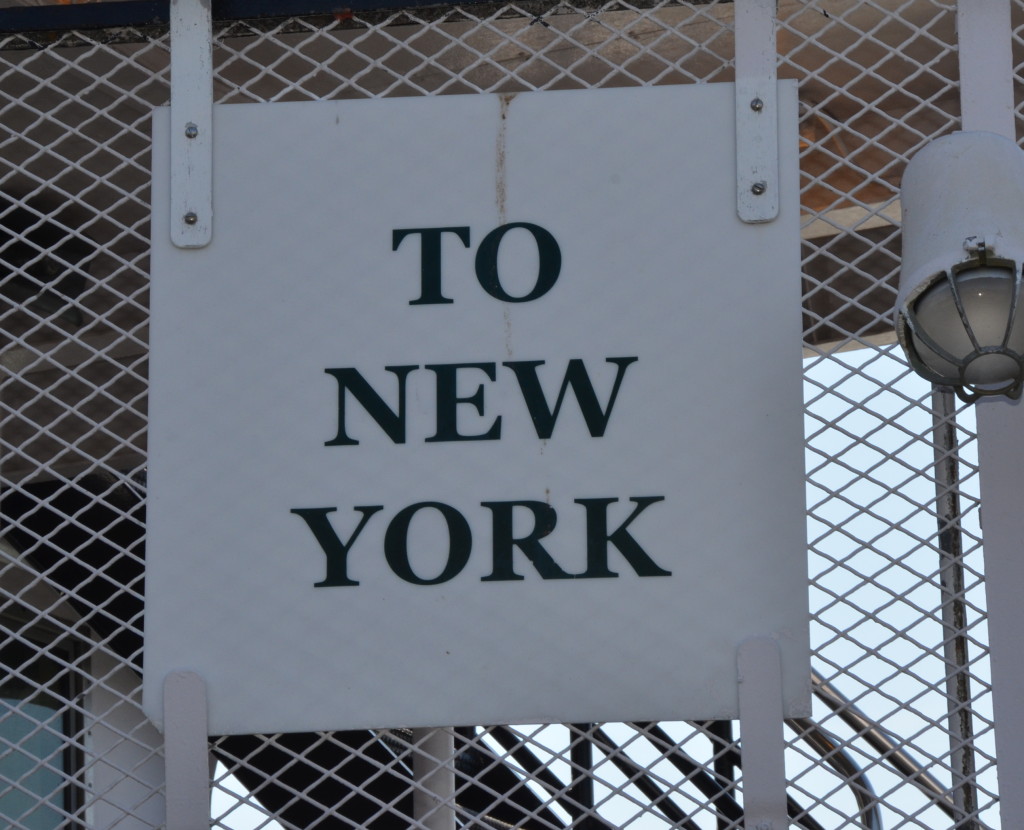 My extremely intelligent kids chose NYC as our Spring Break destination this year. Perhaps they were tired of me traveling there without them….
They planned our week by researching what they wanted to do and see. I took their requests and organized our days. We left the hotel before breakfast and returned after dinner each day and we still didn't complete our list! A perfect excuse to return! Noah and Nat loved the city and embraced it from the moment they spotted Miss Liberty from the airplane. I am beyond thrilled that they love my favorite city! Here's a snapshot of what they learned on their first trip to THE BIG APPLE!
Spotting the Statue of Liberty from the plane is priceless.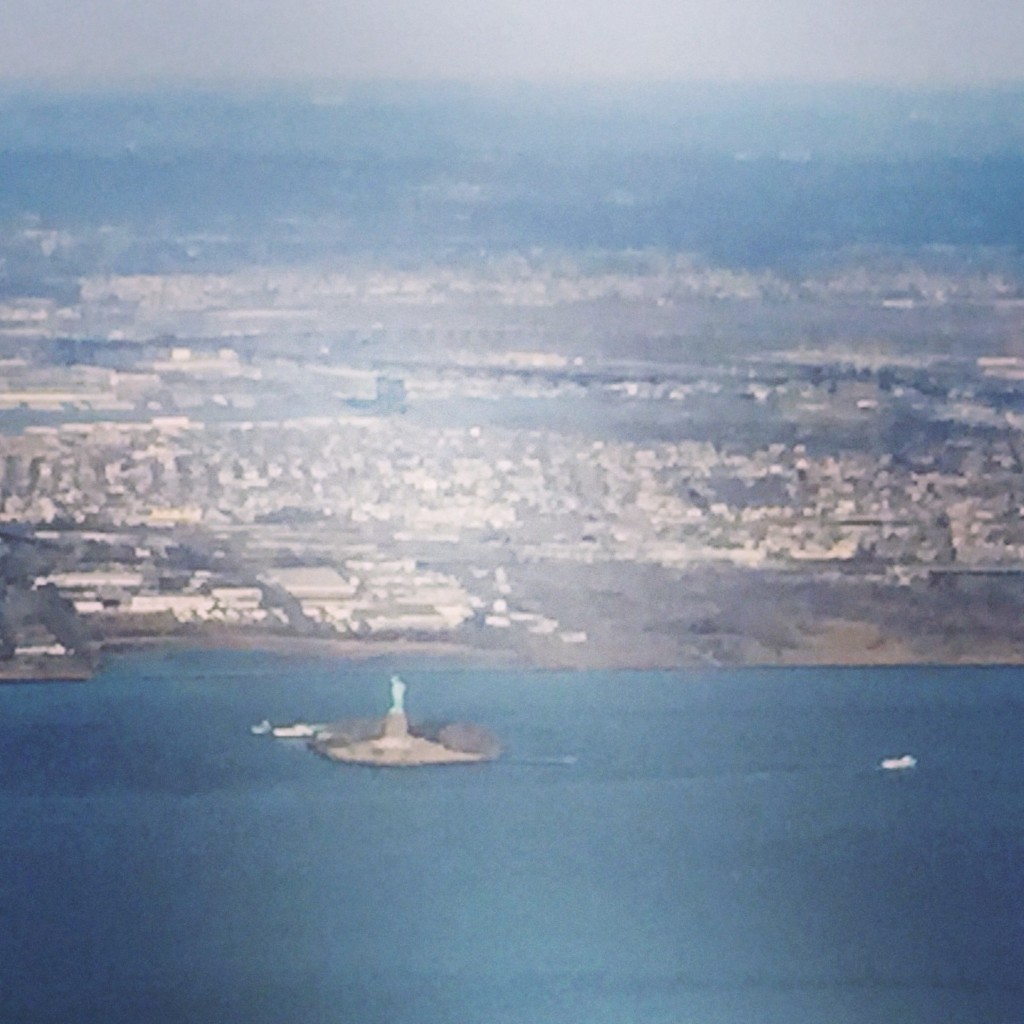 LaGuardia is quite welcoming.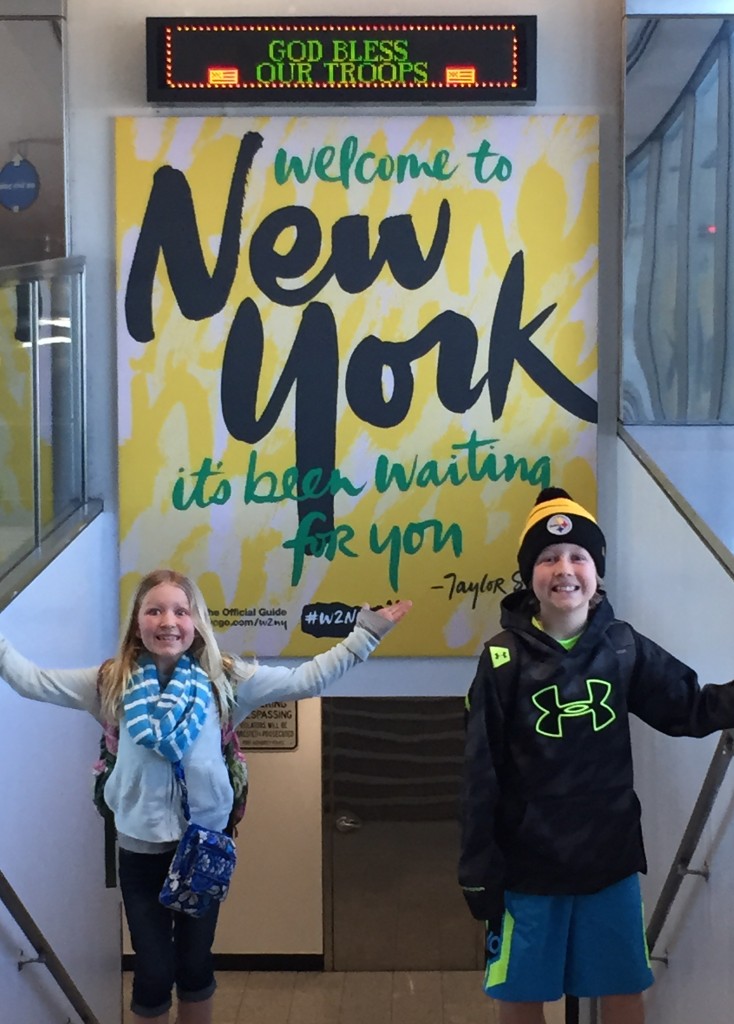 That a douche bag is not a new type of backpack.
Selfies with Mama are non-negotiable.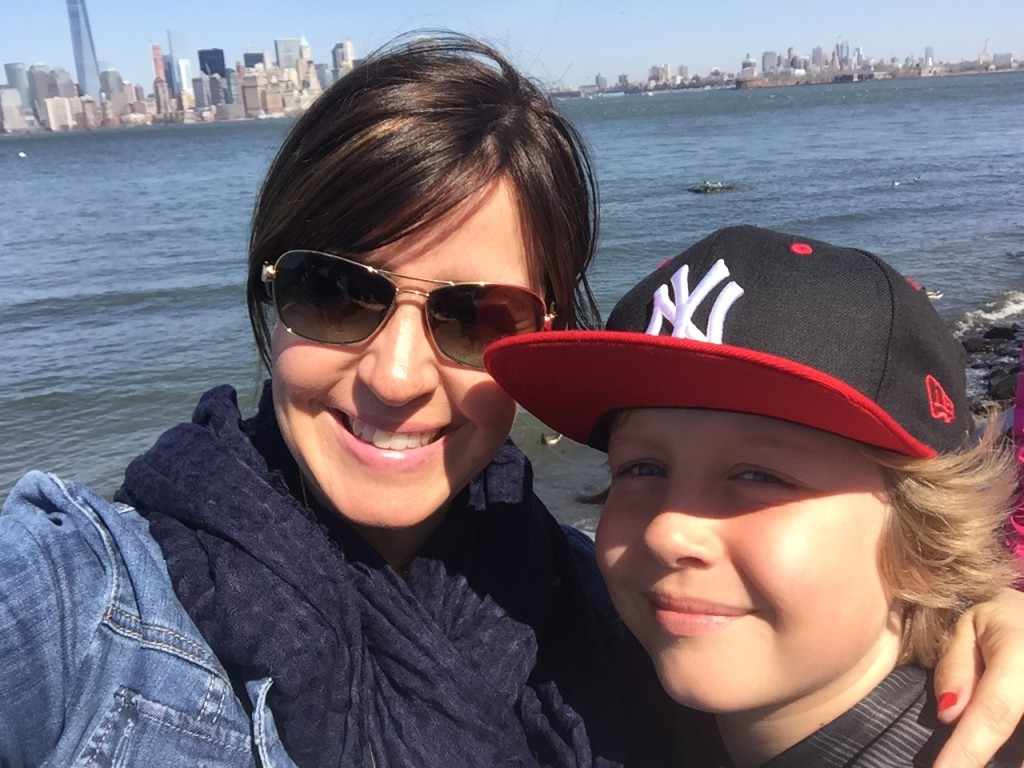 Avoid making eye contact with very angry Italian men dropping the f-bomb while screaming at  cabbies in the middle of the street.
Subways are awesome and Columbus should get some.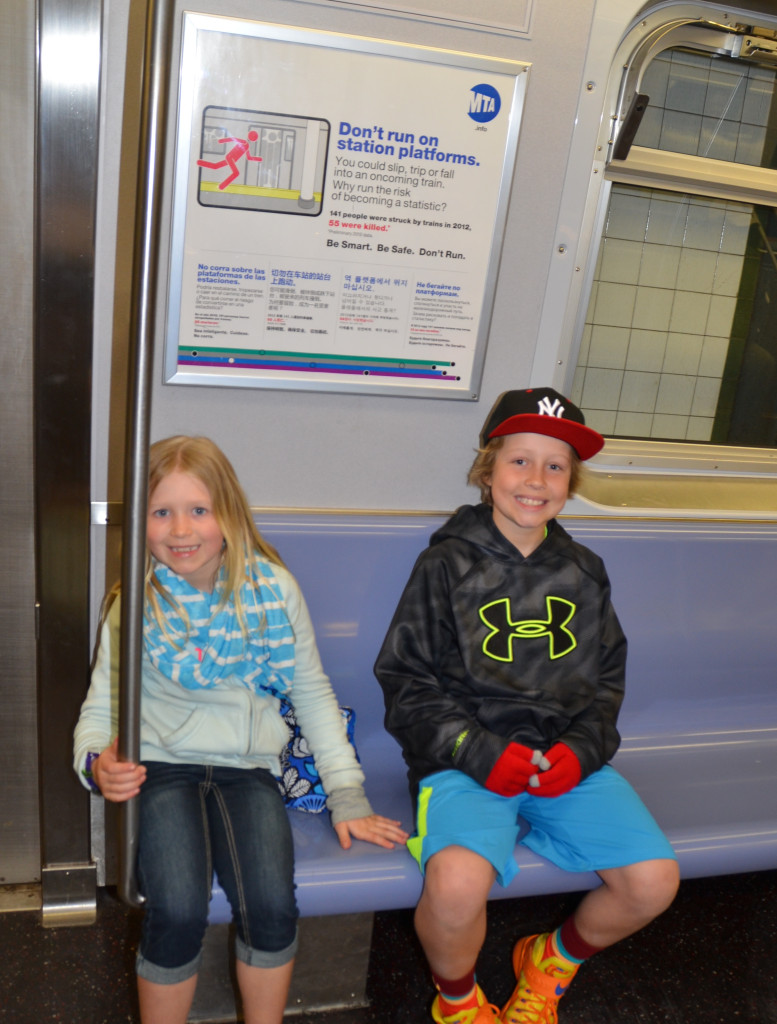 Lady Liberty has a huge nose!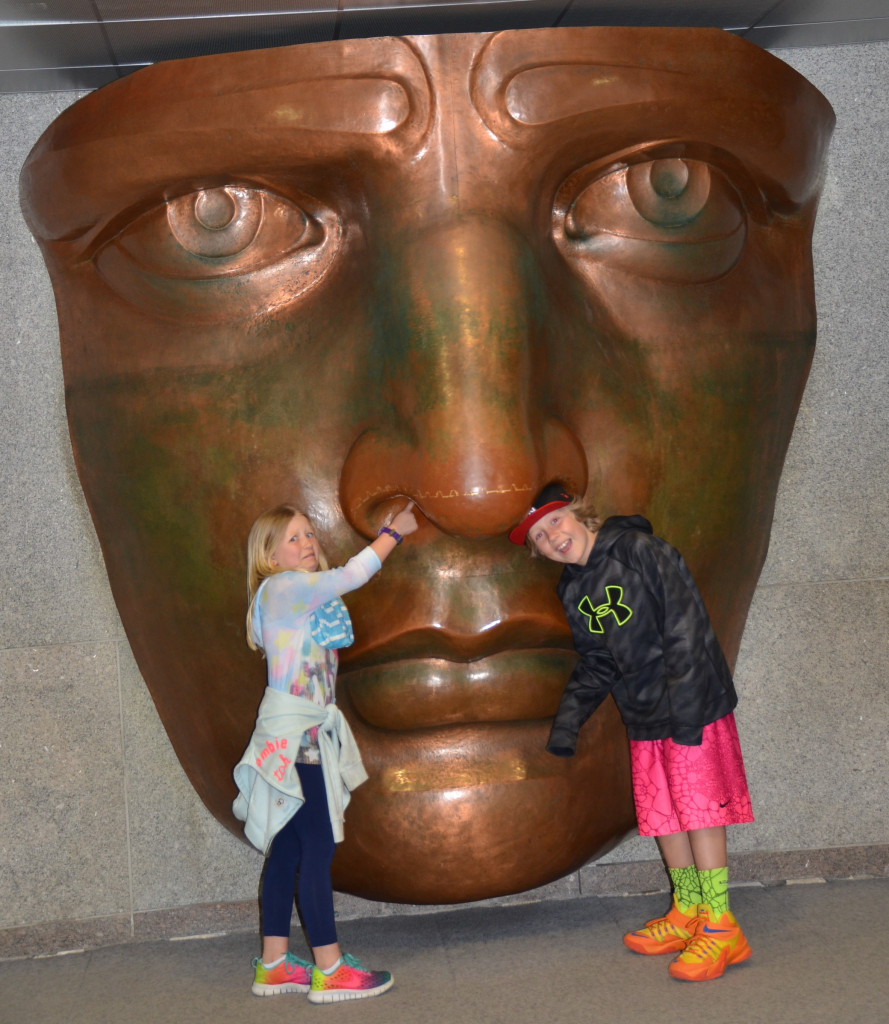 The lobby at the Waldorf Astoria is a prime cartwheel location.
Mama's fear of heights is real and she should never go to the Top of the Rock again.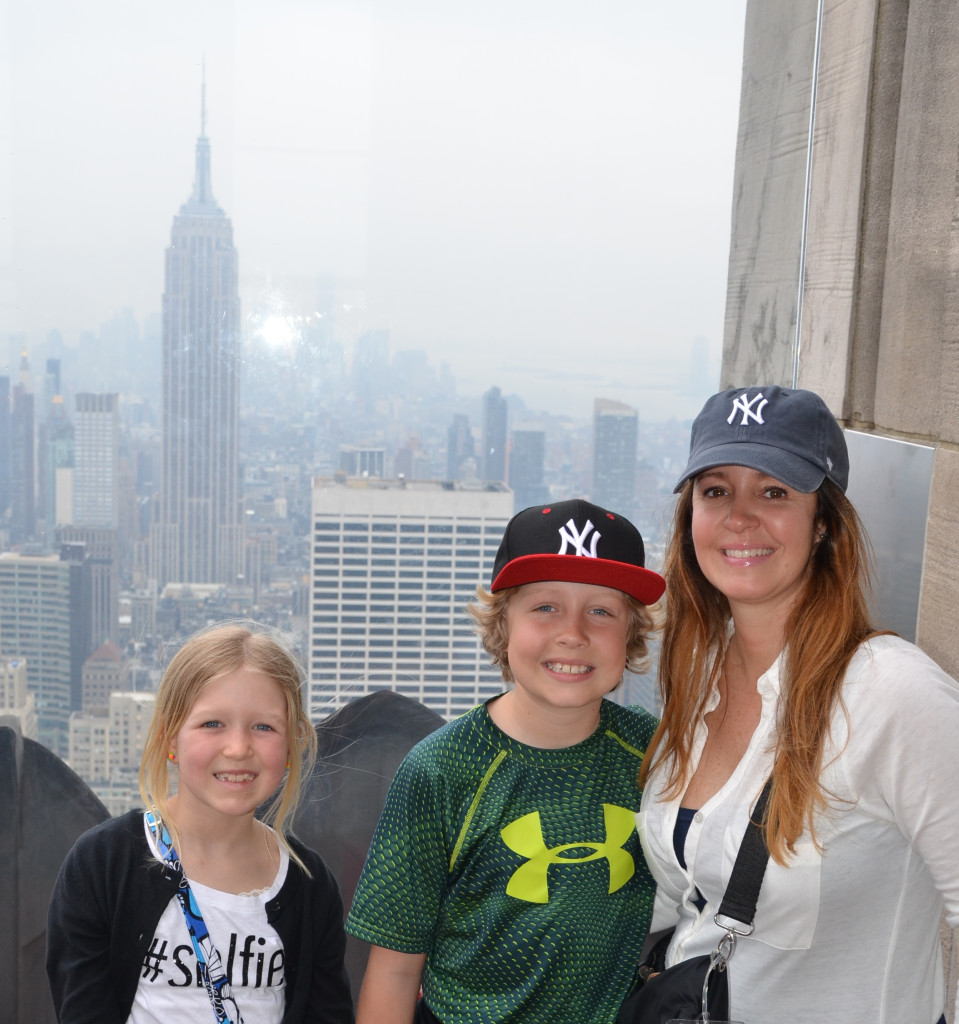 Always ask 'how much' before taking a rickshaw ride back to your hotel.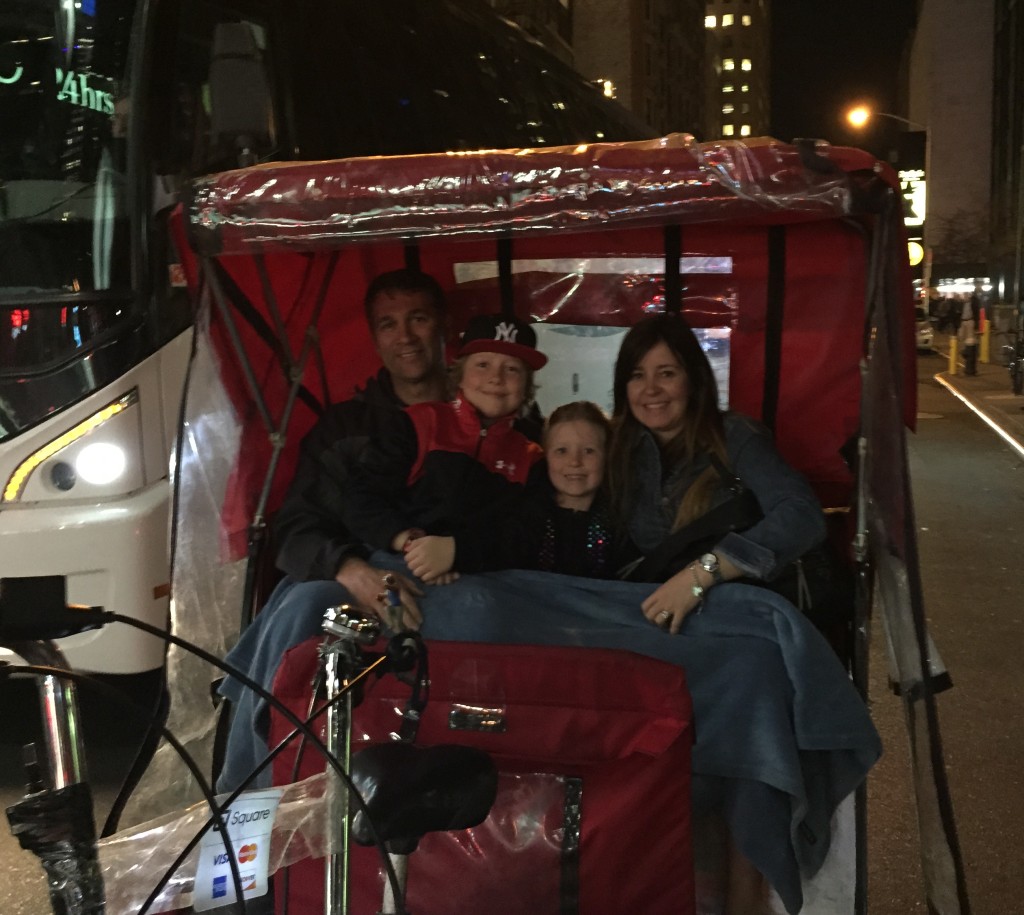 The fish on the streets of Chinatown are real and they stink.
Too many New Yorkers died on September 11th.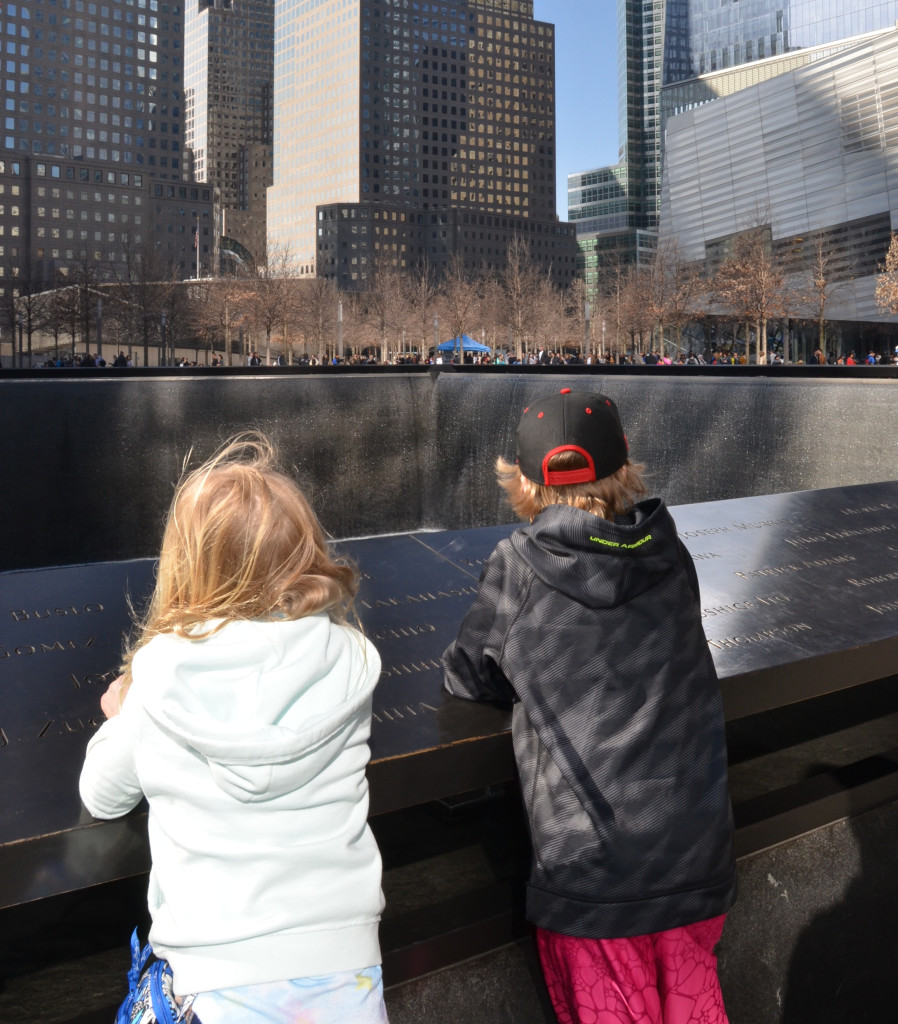 Pedestrians don't have the right away.
The Wicked Witch wasn't really wicked.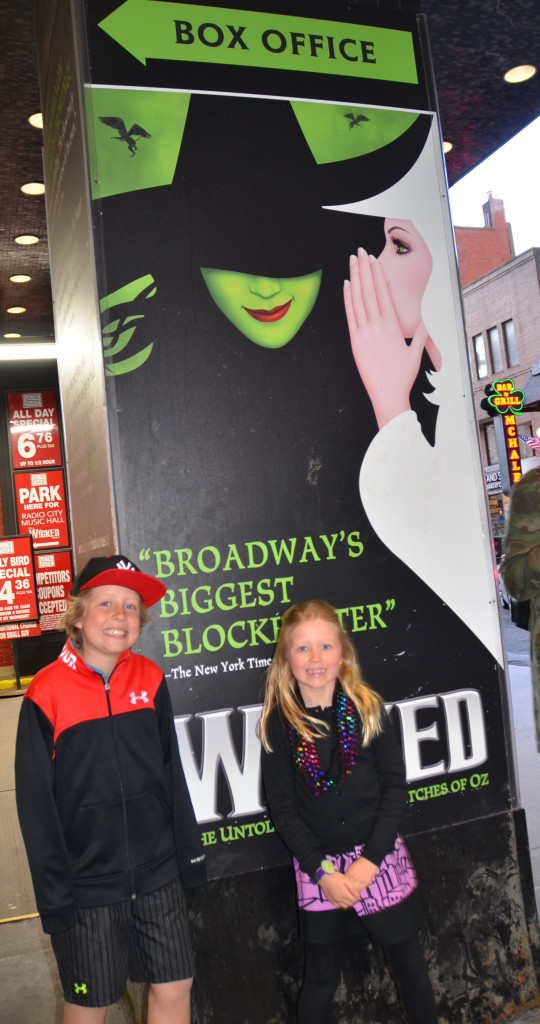 Times Square is cray!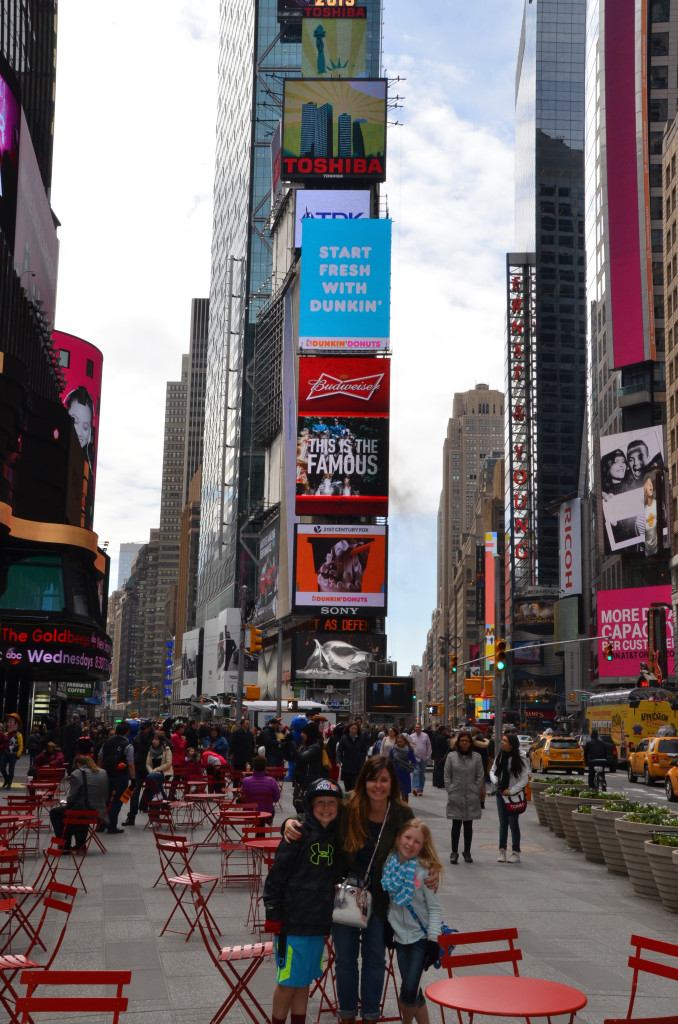 Manhattan is breathtaking.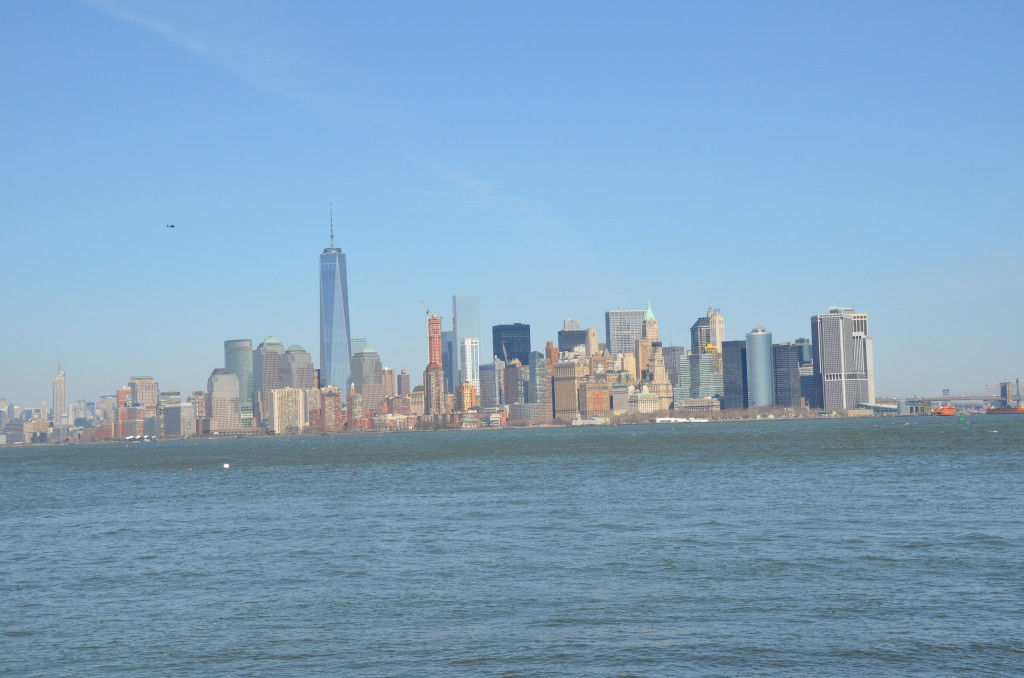 FAO Schwarz is a slice of heaven.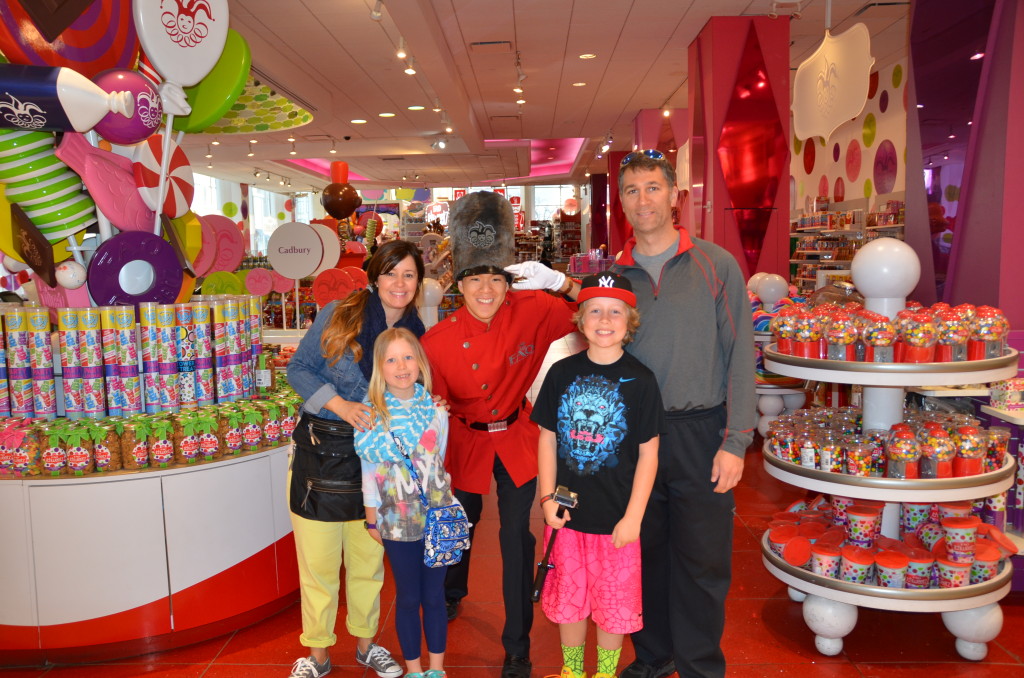 Say 'no thank you' to the aggressive Elmo in Times Square when asked for a photo.
Brooklyn has the best pizza in the world.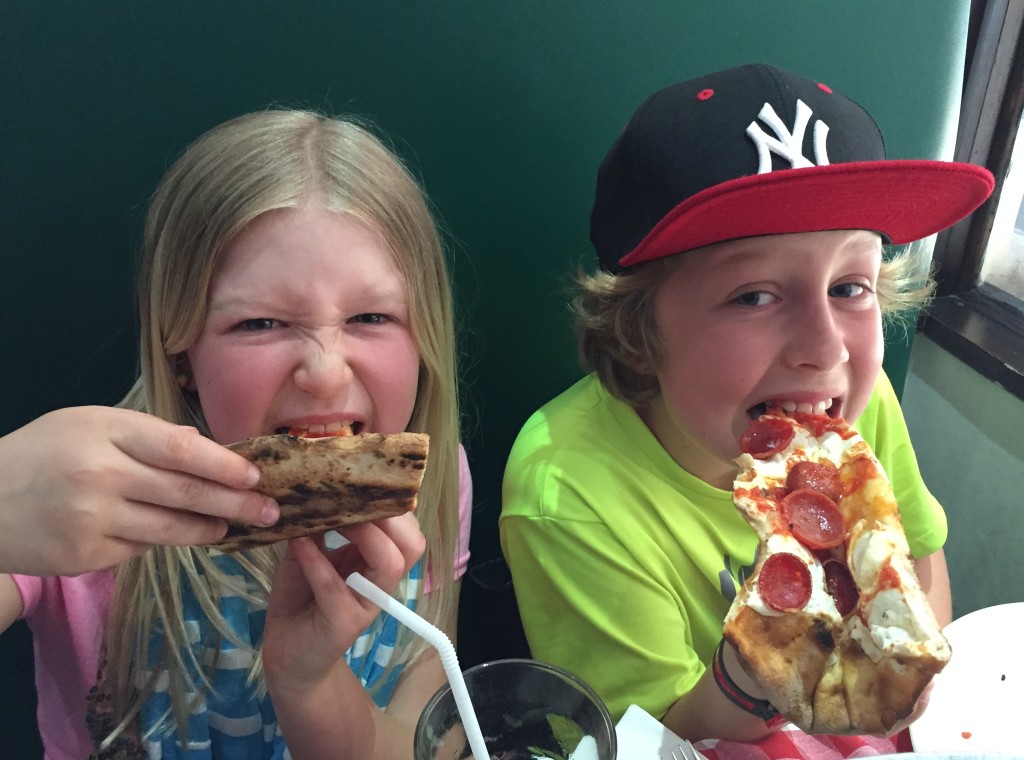 The bull on Wall Street has large balls (you said balls!).
Mama will make you jump at the "Friends Fountain" in Central Park.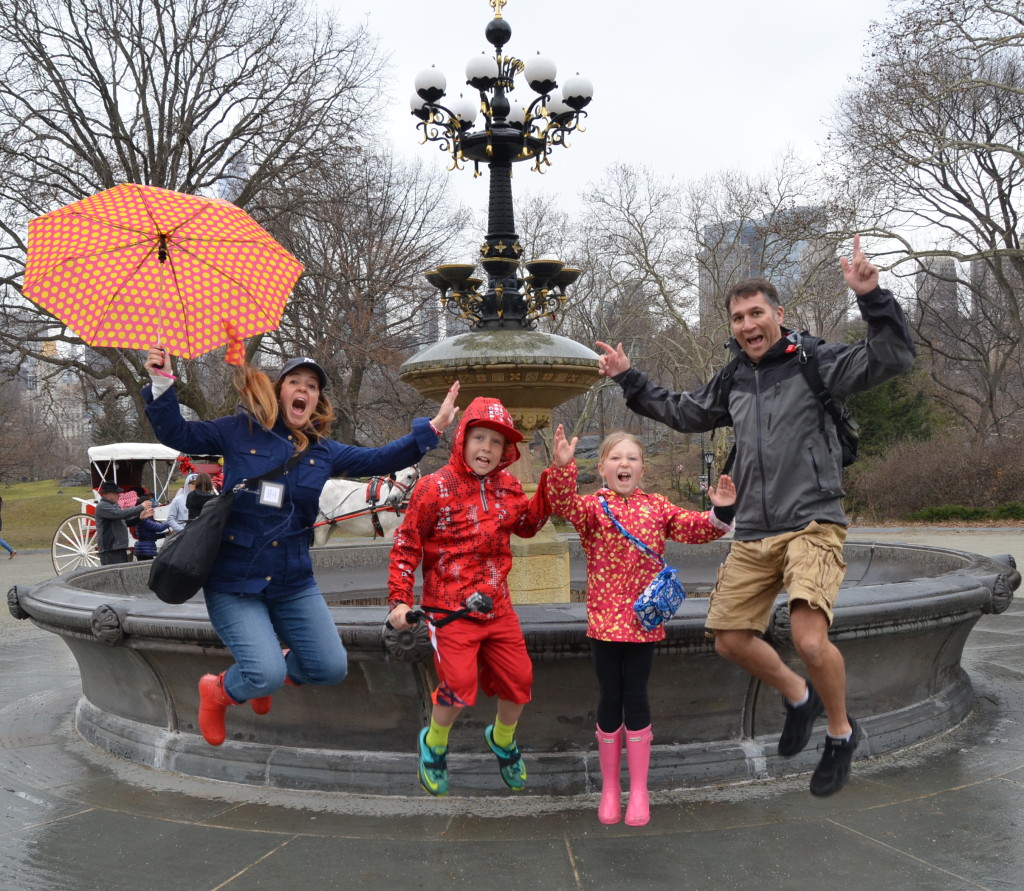 Pretzels from a street vendor are scrumptious.
Watching ice skaters wipe out is always good entertainment.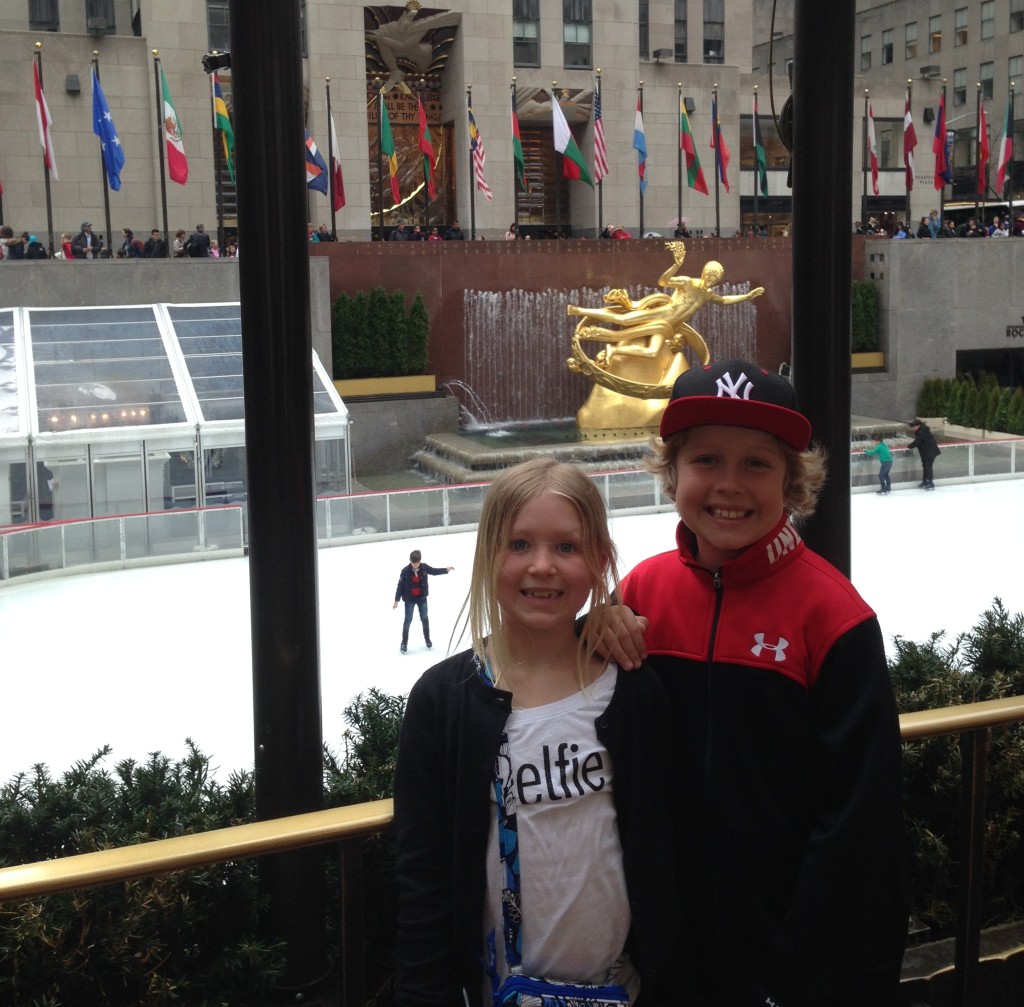 Milk with breakfast costs $4, you better drink it.
The Museum of Natural History has two doors for a reason….just act like you know where you are going, keep your head down and don't stop. Crazy long line avoided.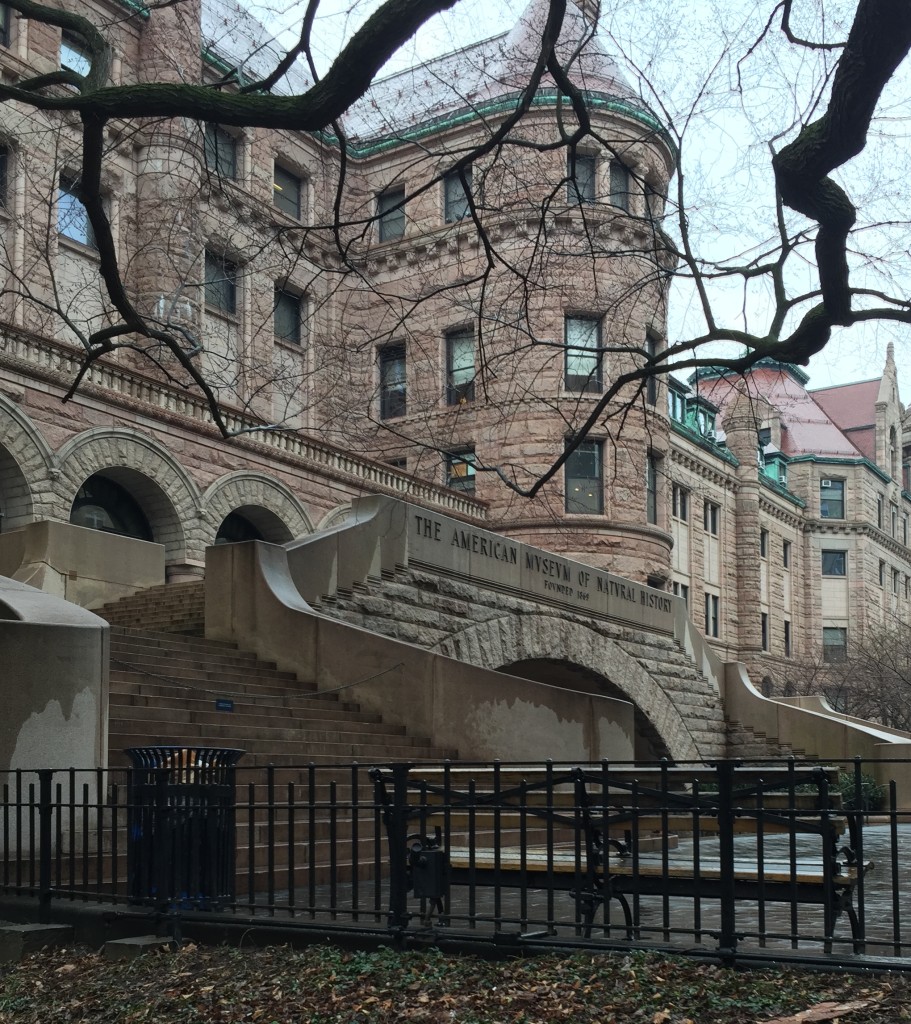 The Ghostbusters firehouse is real!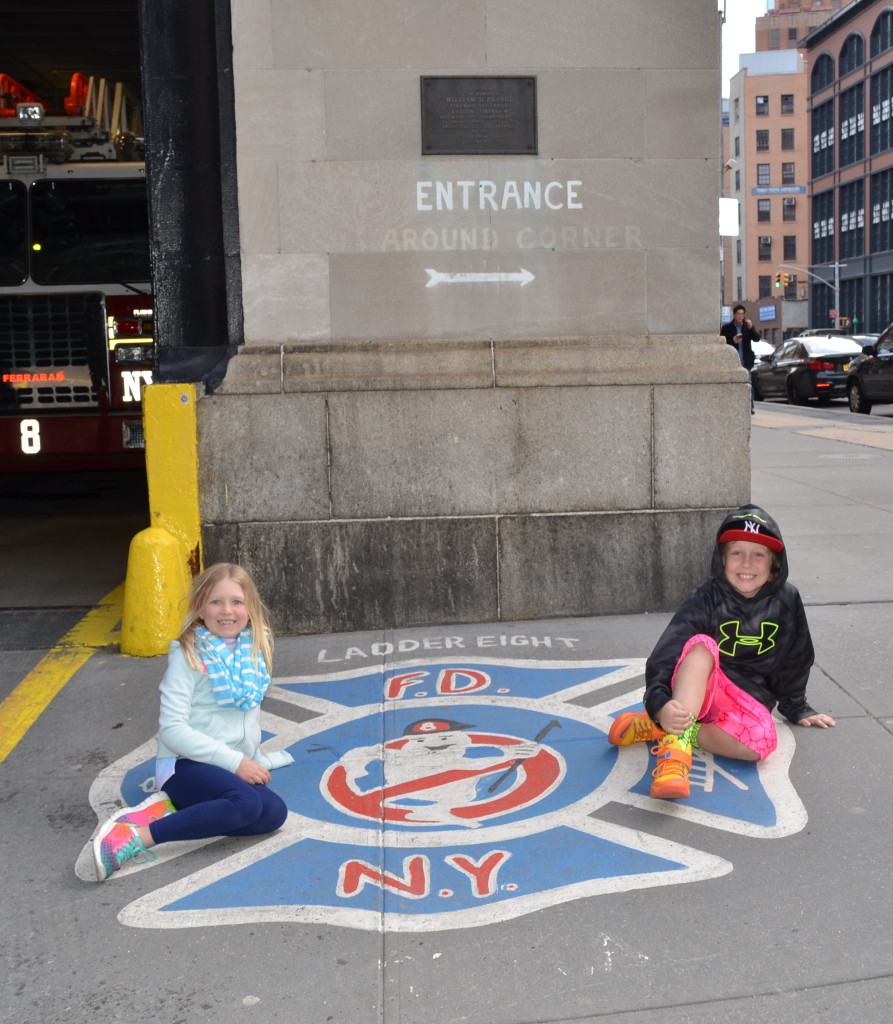 Teenagers like to kiss with their tongues.
The rocks in Central Park are better than any playground in Ohio.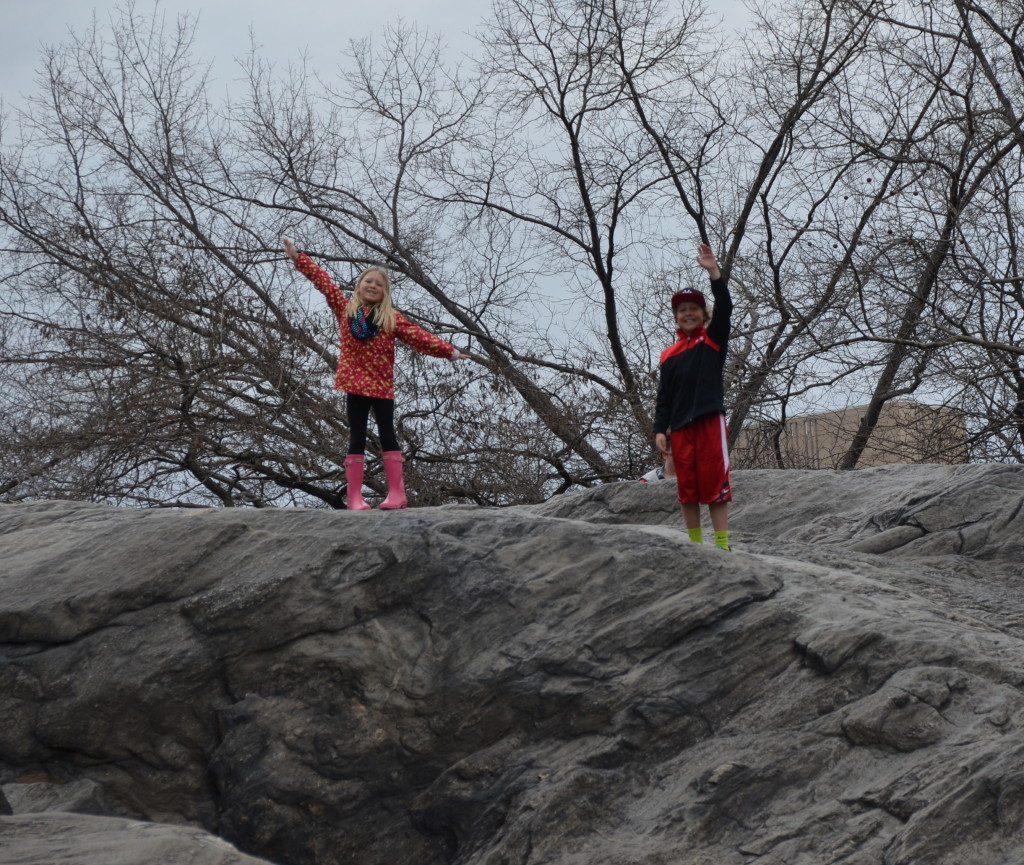 Homeless people make Natalie sad.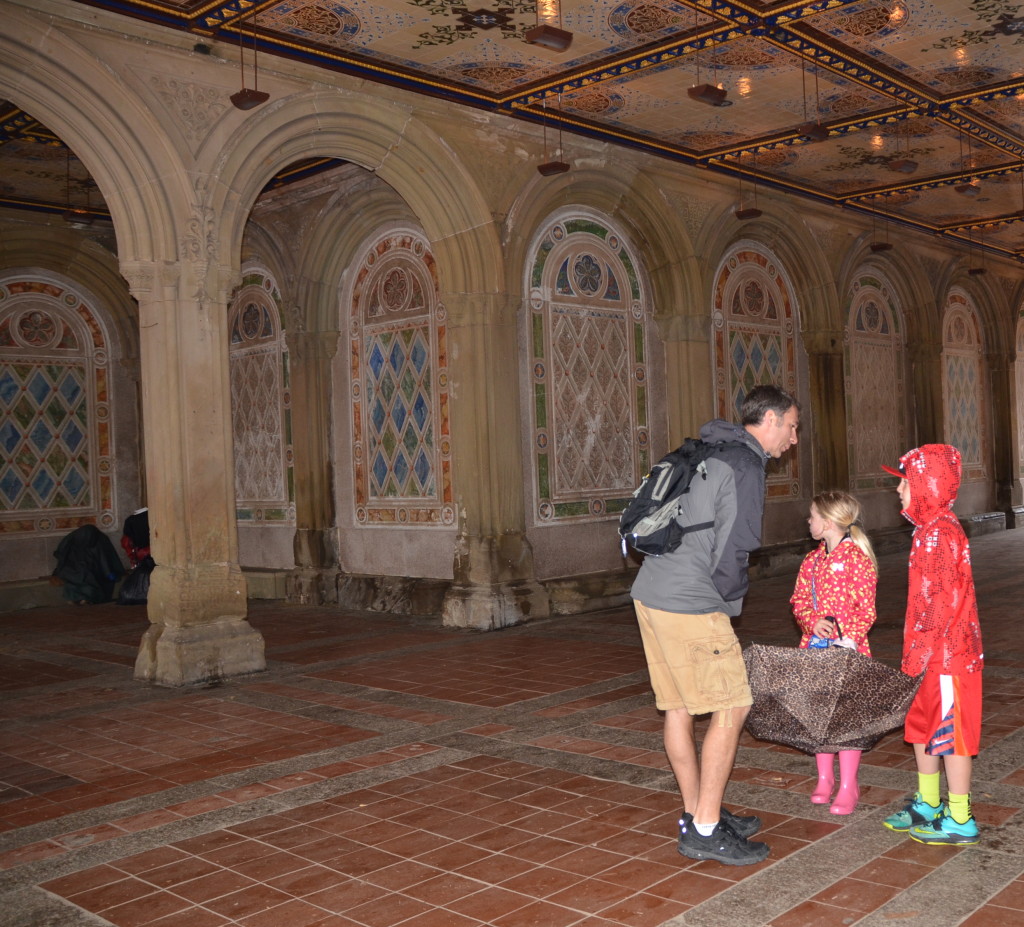 Men can wear dresses, high heels and carry a purse.
Ron from Harry Potter likes to eat at The Sugar Factory too.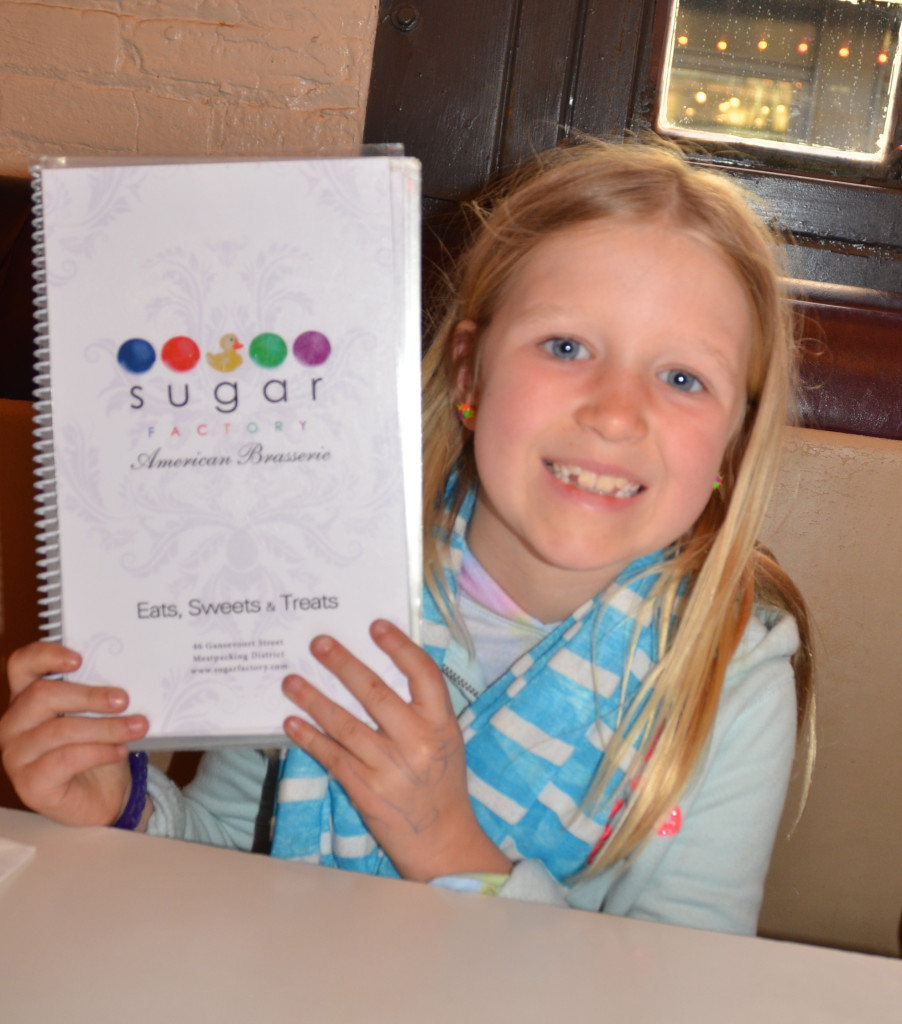 If you lean over the yellow line to look at the subway tracks you will get your butt swatted.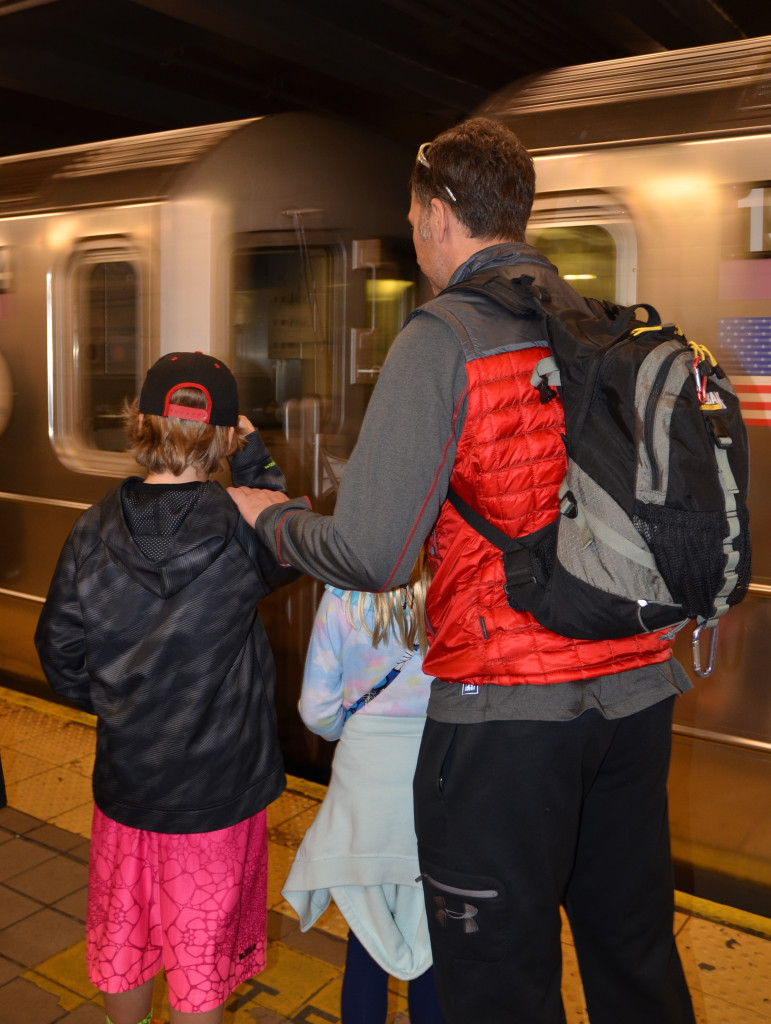 Grand Central Station is totes amazing.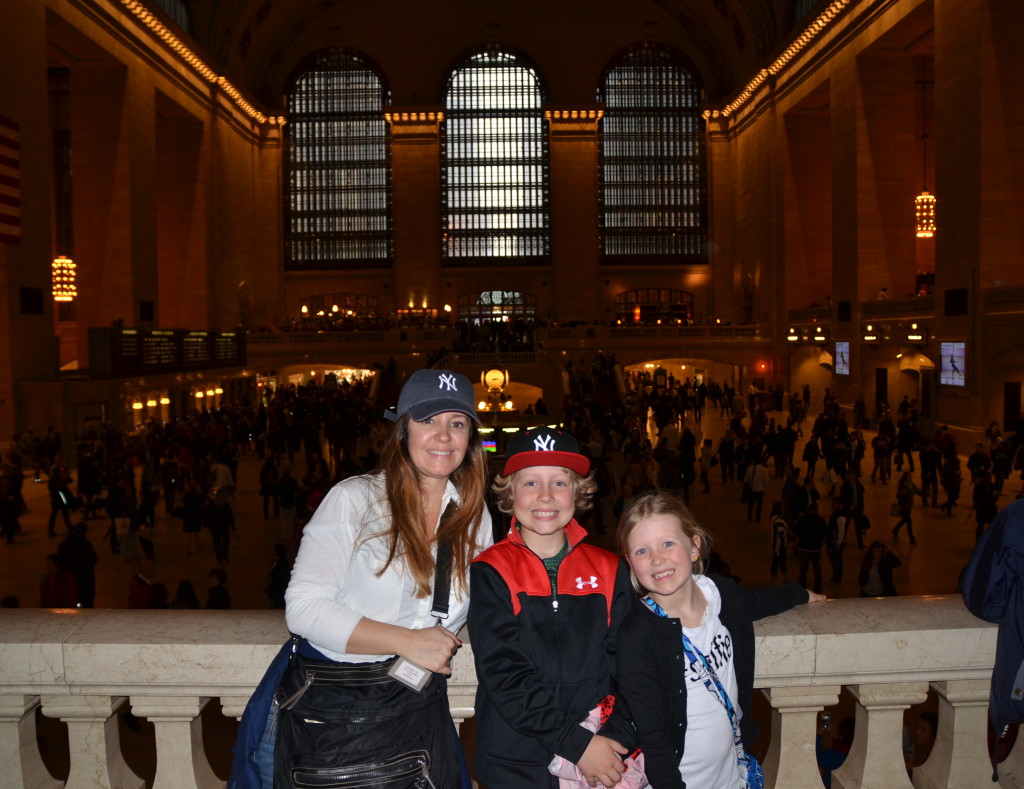 Never exit your cab into traffic, always use the curbside door.
Graffiti is cool.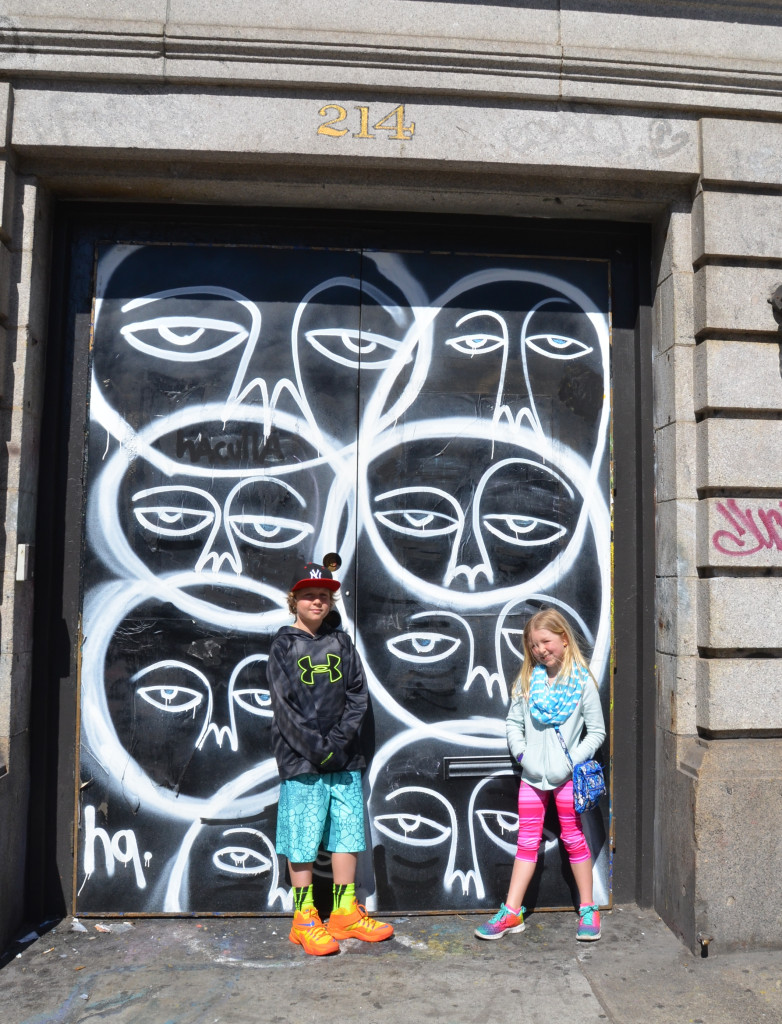 When Daddy says "Go" at a crosswalk, MOVE IT!
The piano from the movie Big is not overrated.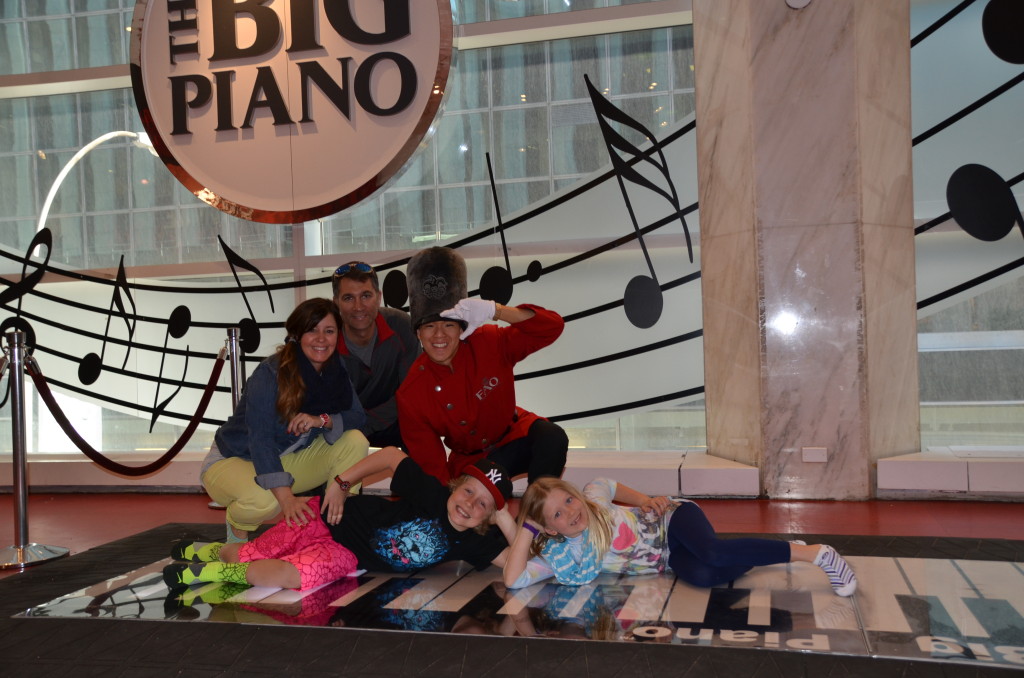 Broadway performers are mesmerizing.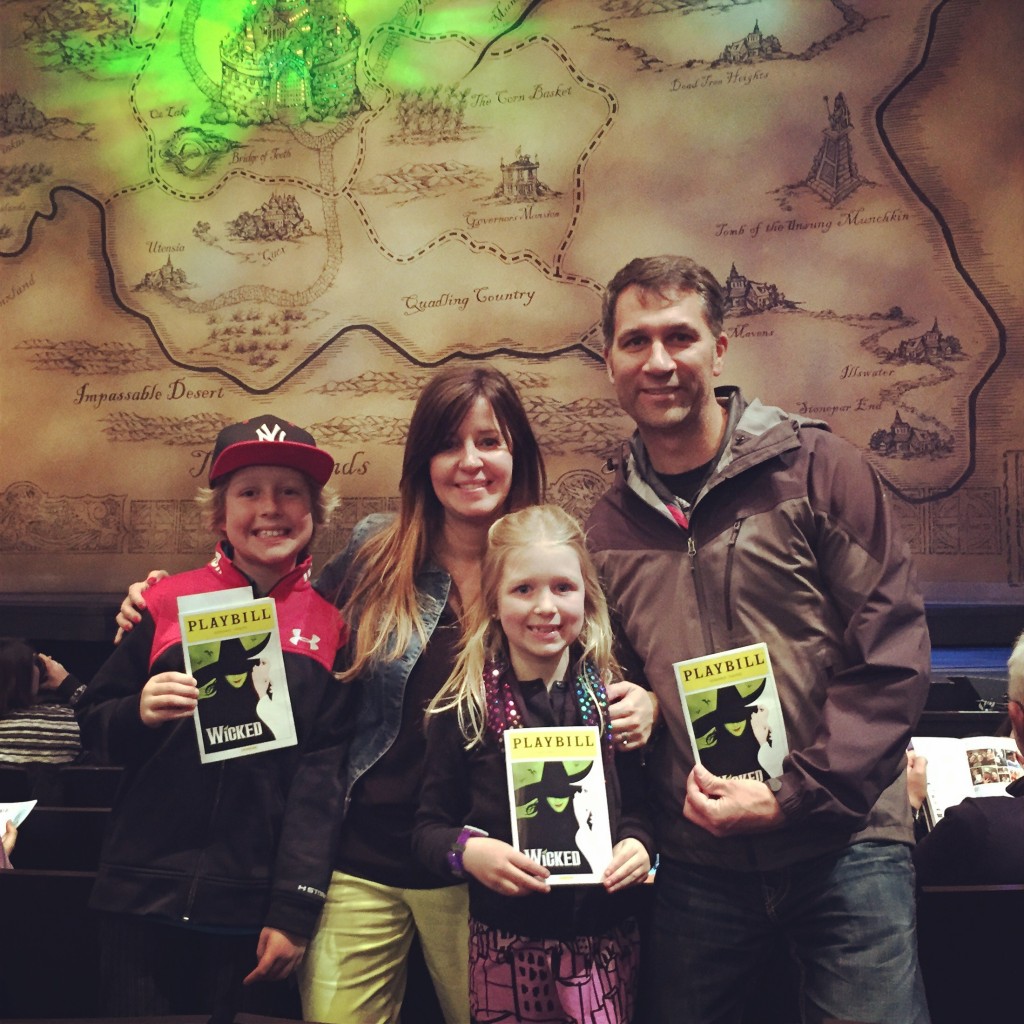 Houston is pronounced Howston.
Having breakfast at the counter in a diner is very entertaining.
No entry, means no entry.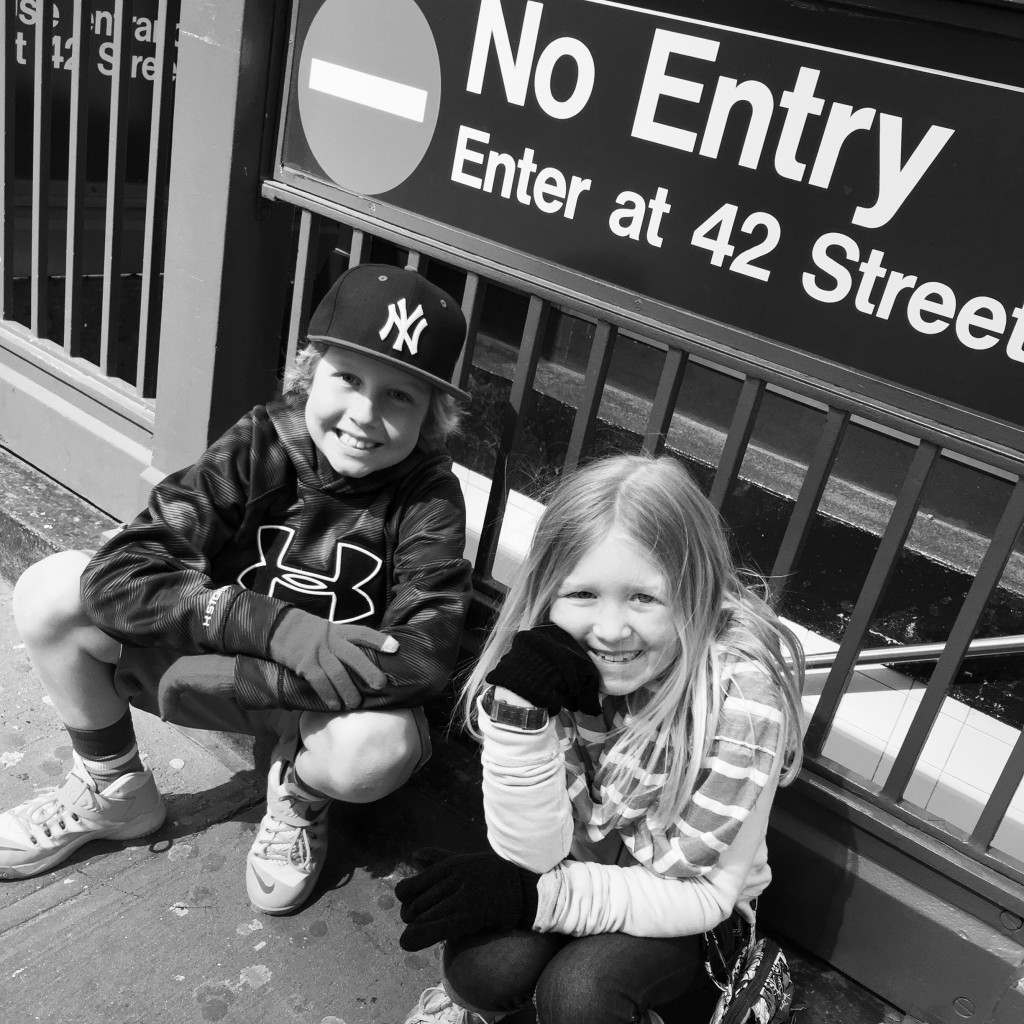 Serendipity 3 has the best frozen hot chocolate and is a great place to play I Spy.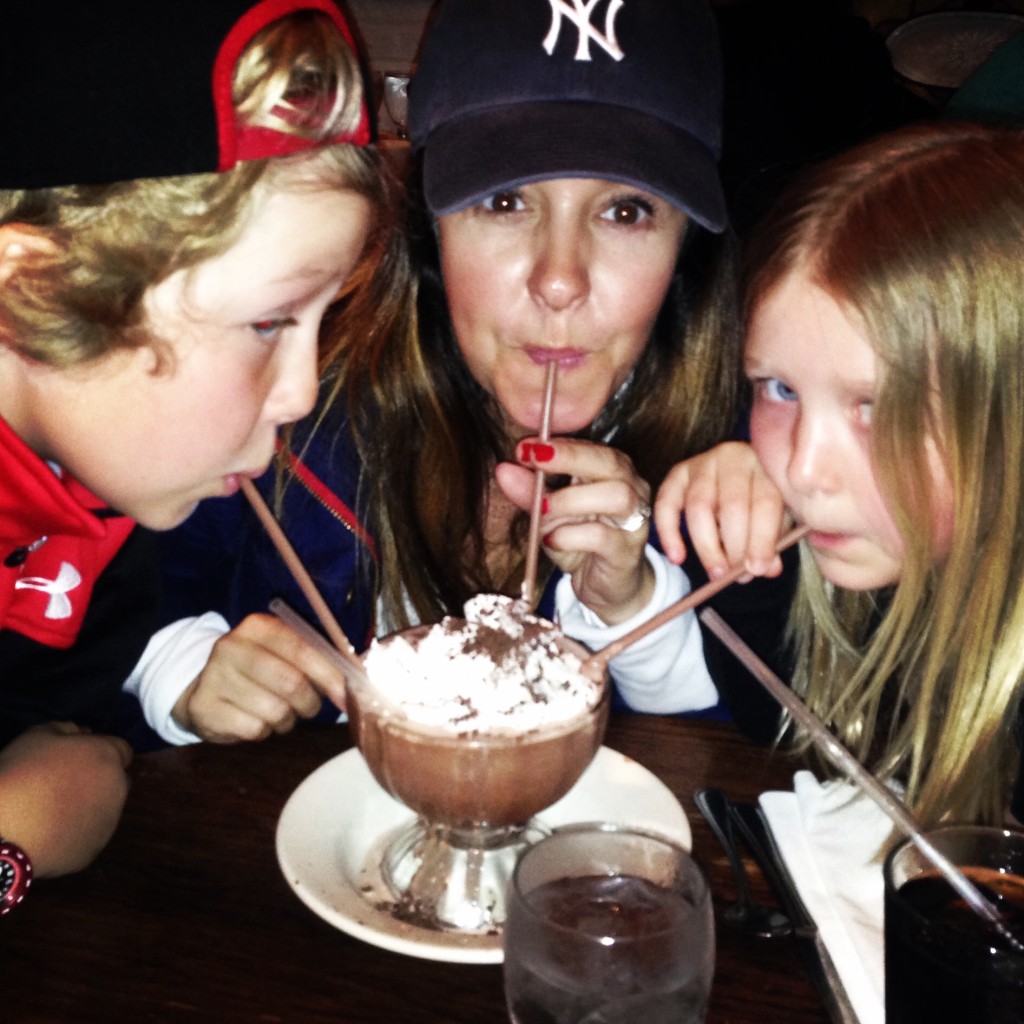 Larry, Rexy, Dexter and Sacagawea do not currently live at the Museum of Natural History, but Dum-Dum does!.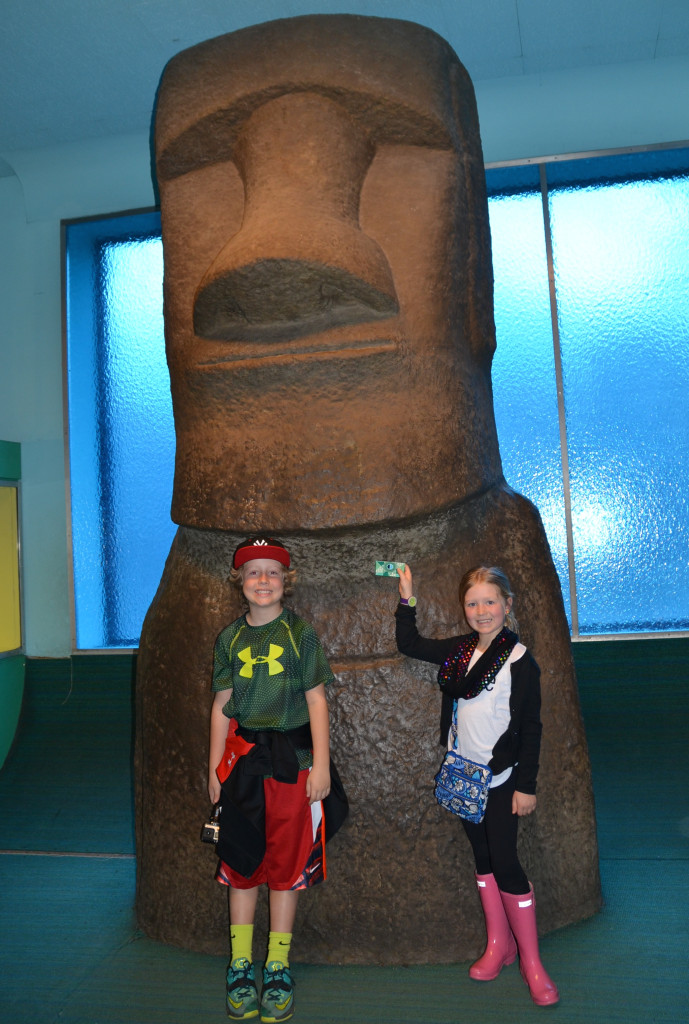 The shakes at The Shake Shack really are worth the wait.
Swatch watches make telling time way more fun.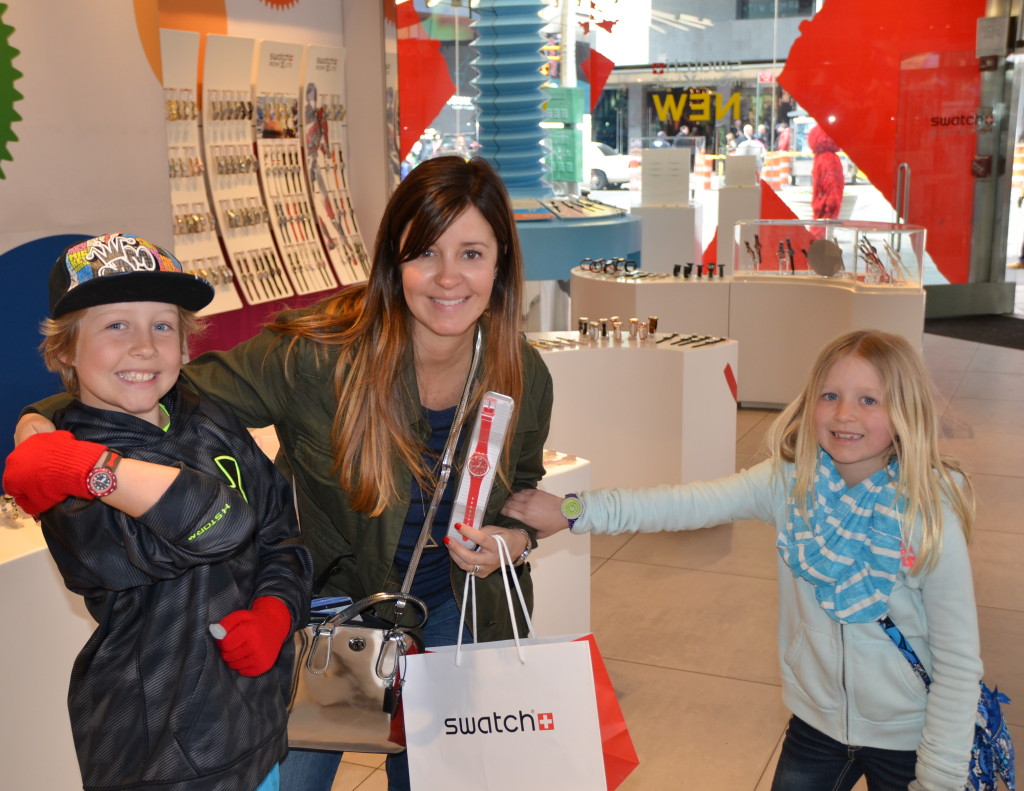 The macaroni and cheese at Juniors is not that great but the ginormous hotdog is.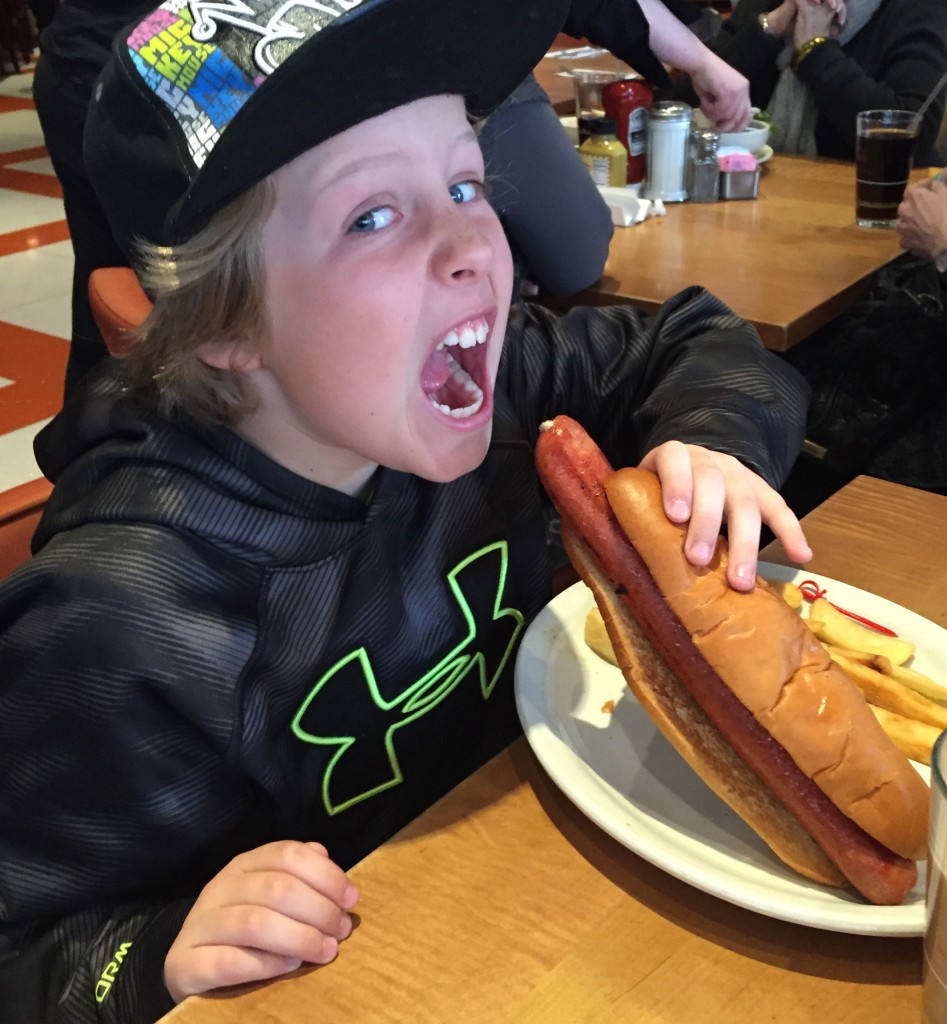 Magnolia Bakery makes the YUMMIEST cupcakes.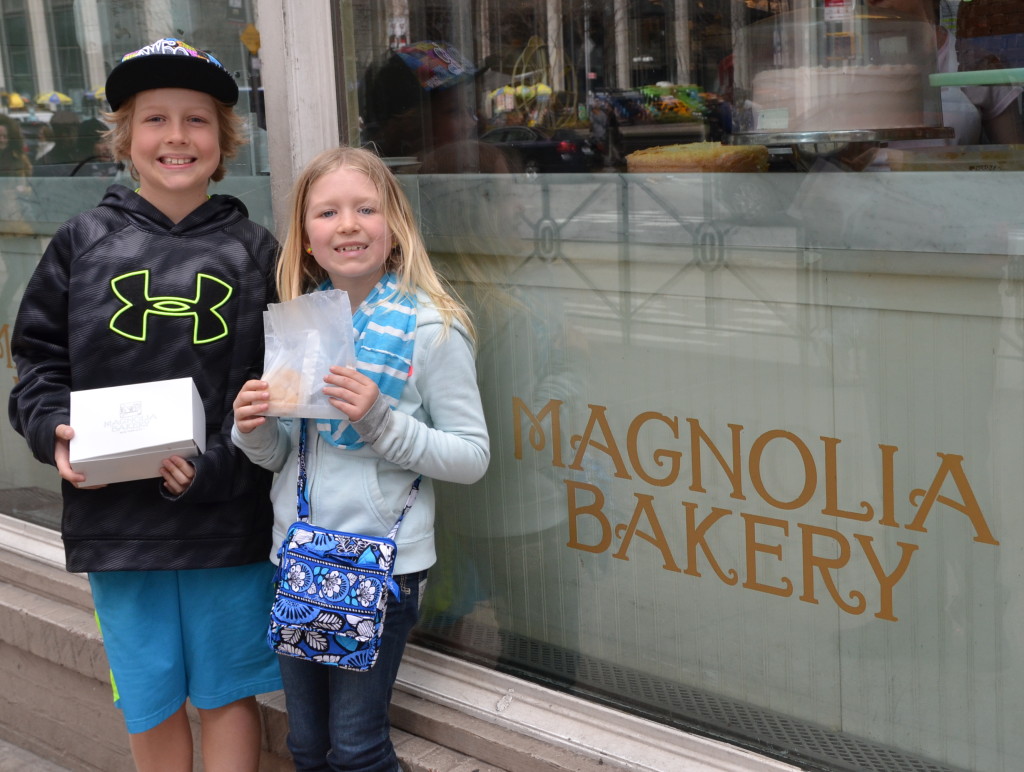 Everyone in NYC has a selfie stick (except us).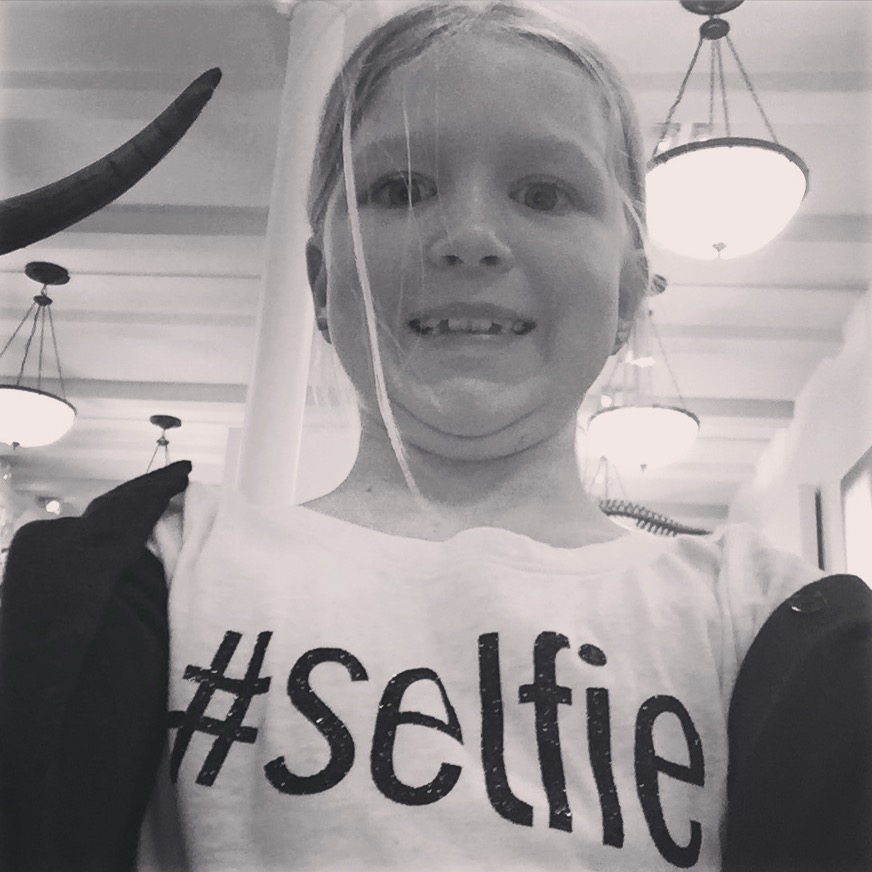 Hand sanitizer is your friend.
The "Ga" in Glinda is silent.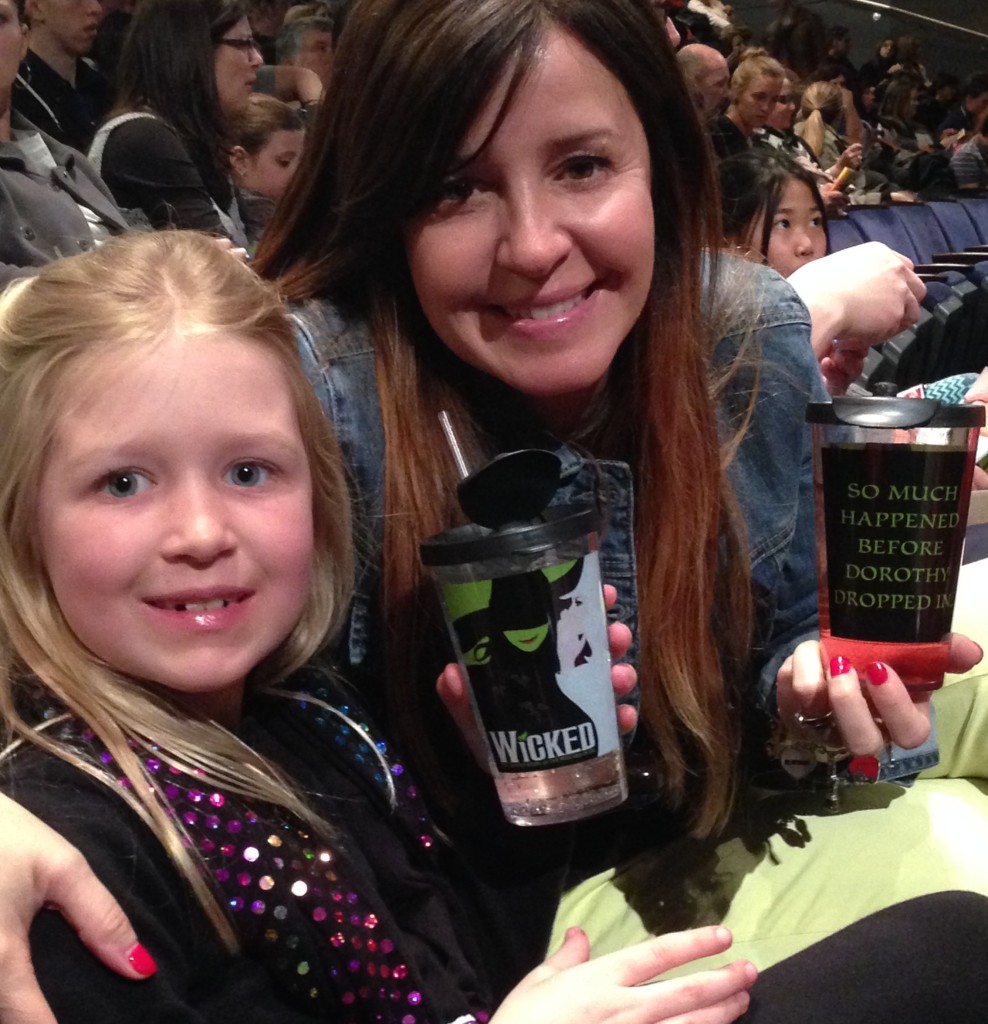 Getting on the #loveison cam in Times Square is worth the crowd.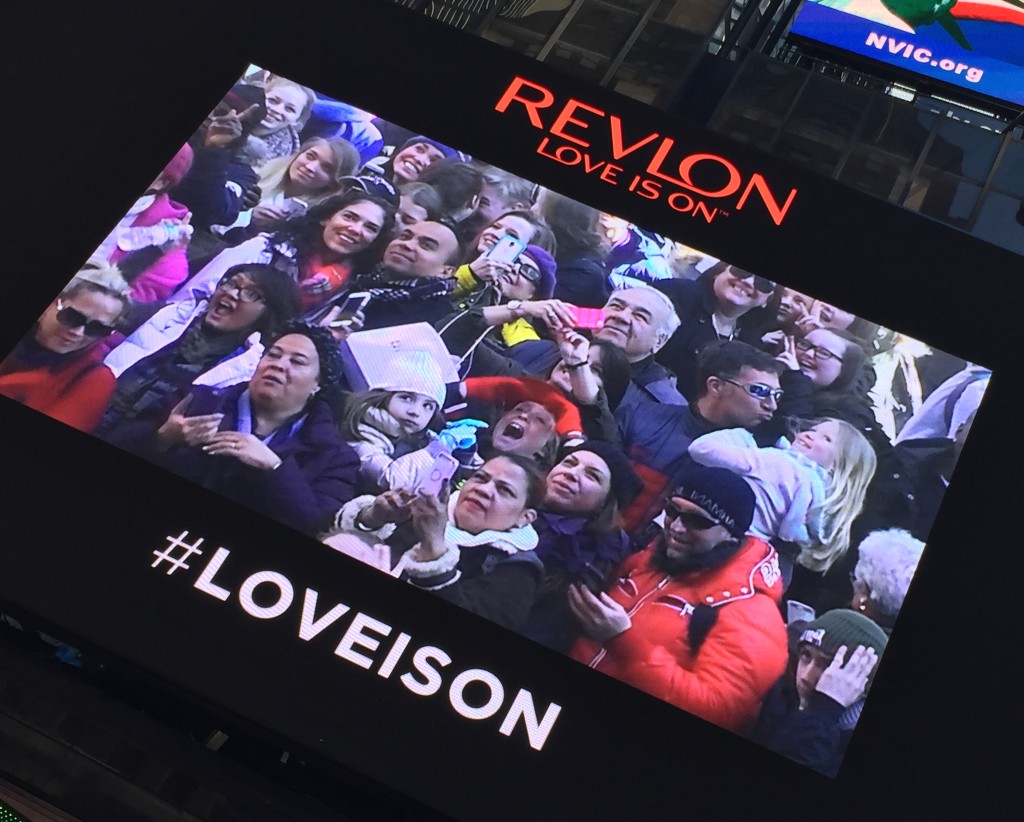 Taxis honk. A. Lot.
If you watch the dancers in the Subway have some cash for their tip jar.
We look good dangling from a steel beam.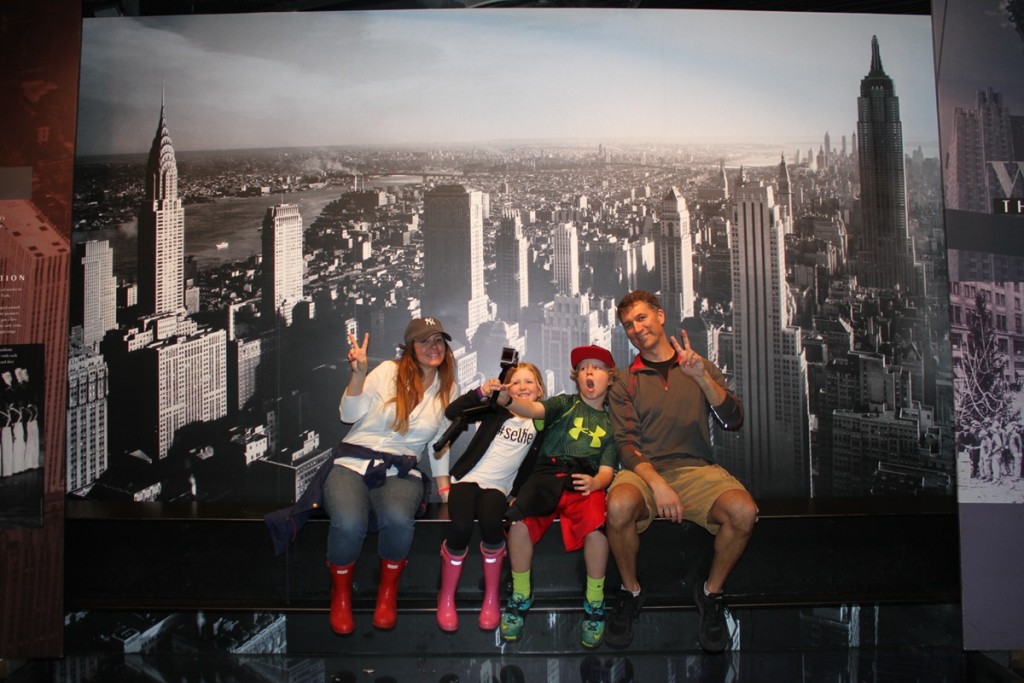 Not all trains make every stop on Saturdays.
The black spots all over the sidewalk are gum.
The Brooklyn Ice Cream Factory only takes cash.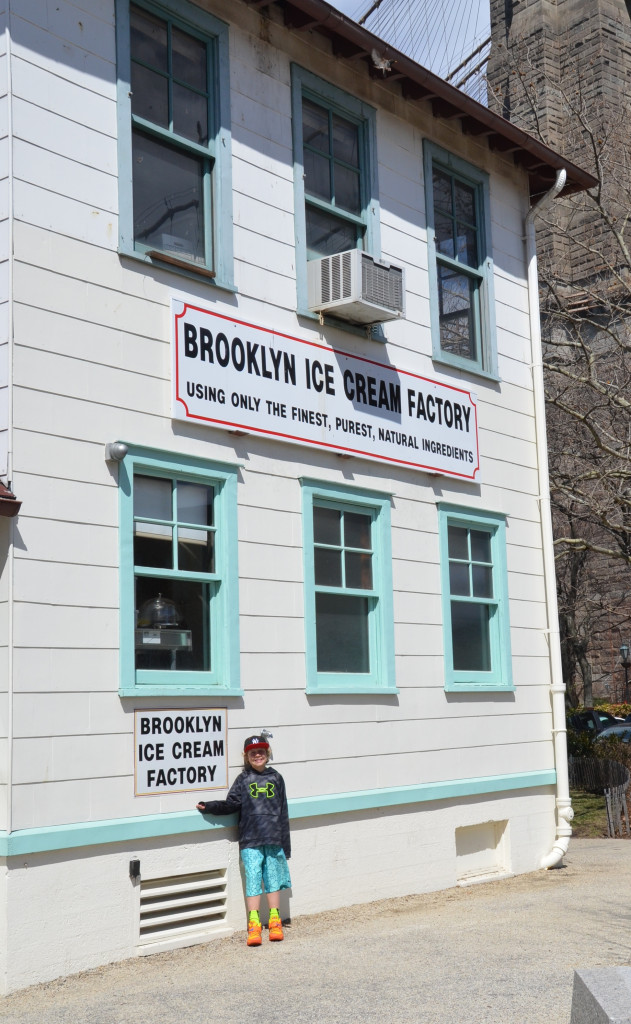 Pack comfortable shoes.
Spray paint art is totally worth $20.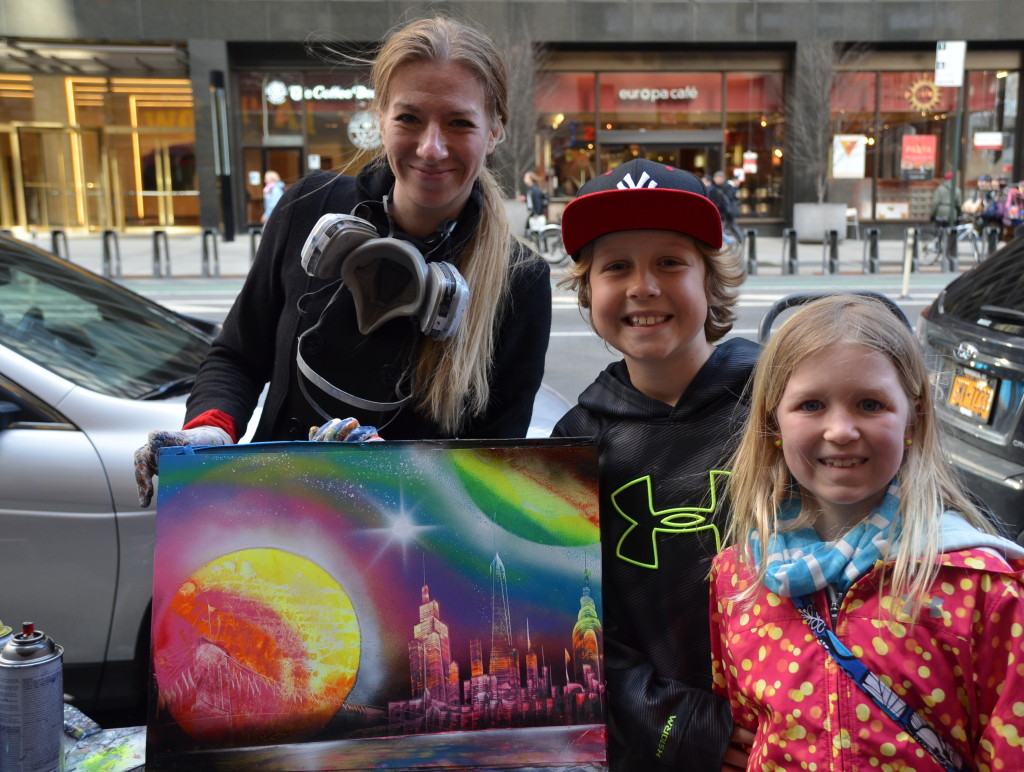 NYC at night is beautiful.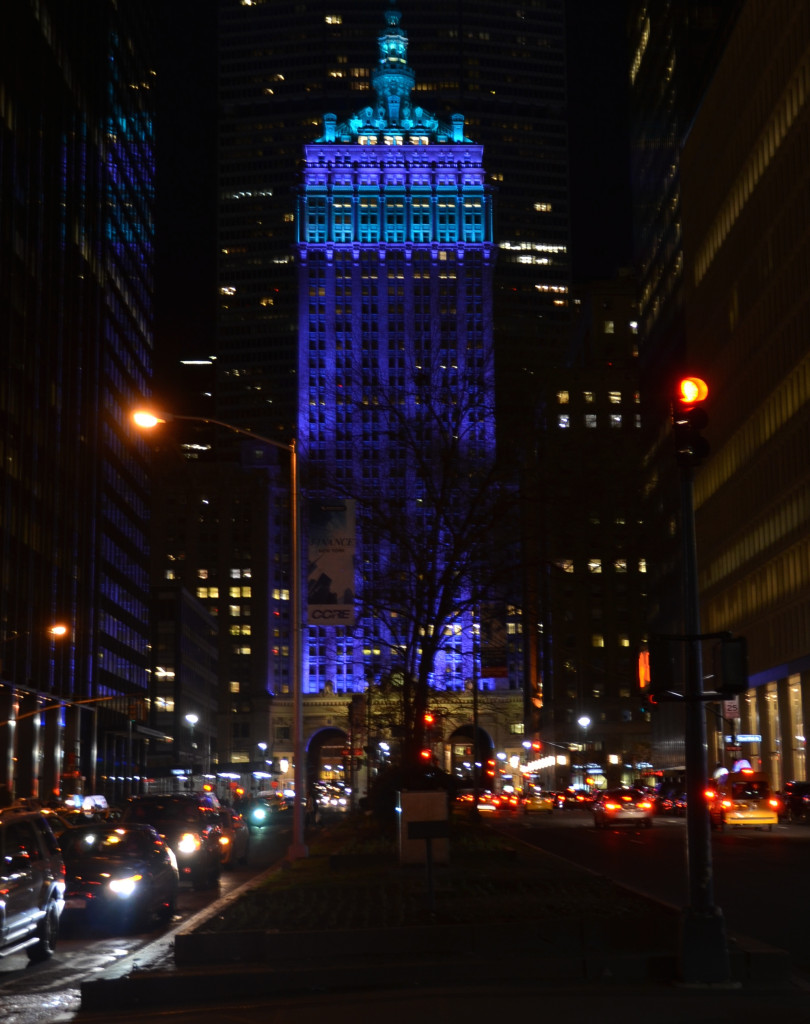 Walking blocks north and south is way faster than west to east.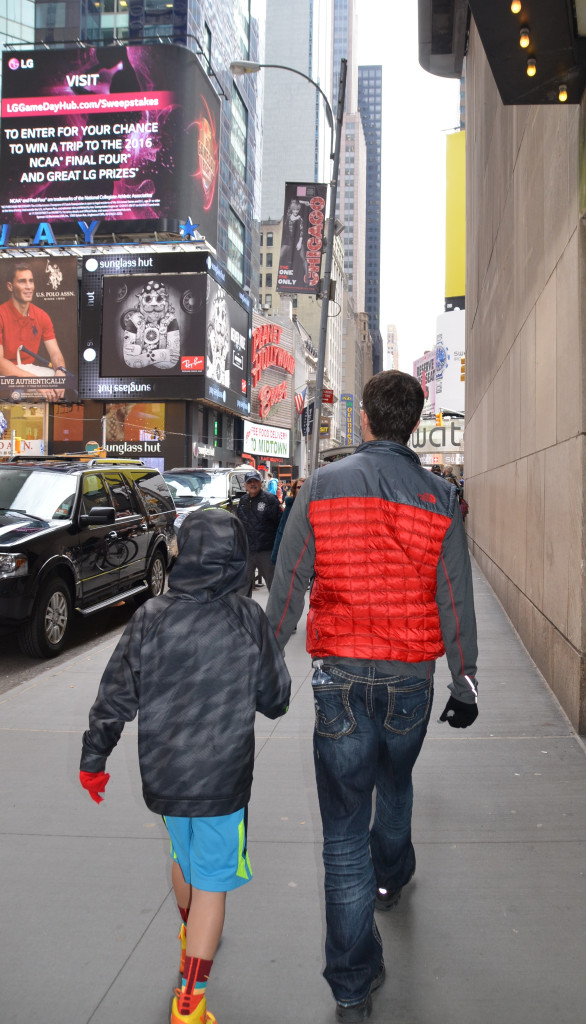 If a taxi light is on, it is available, so start waving and whistling.
The Naked Cowboy isn't totally naked, thank goodness.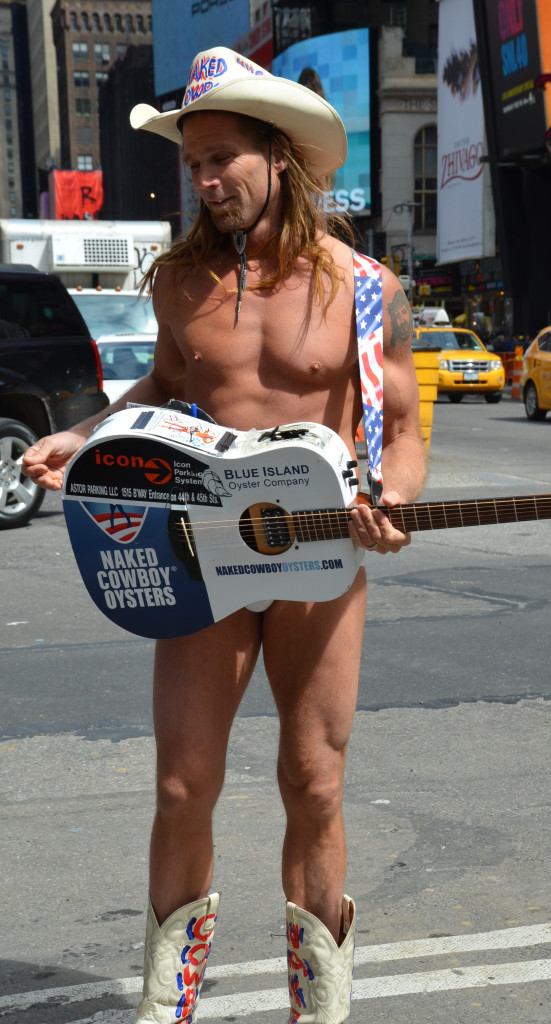 It's actually Radio City Music Hall,  not Radio City Musical.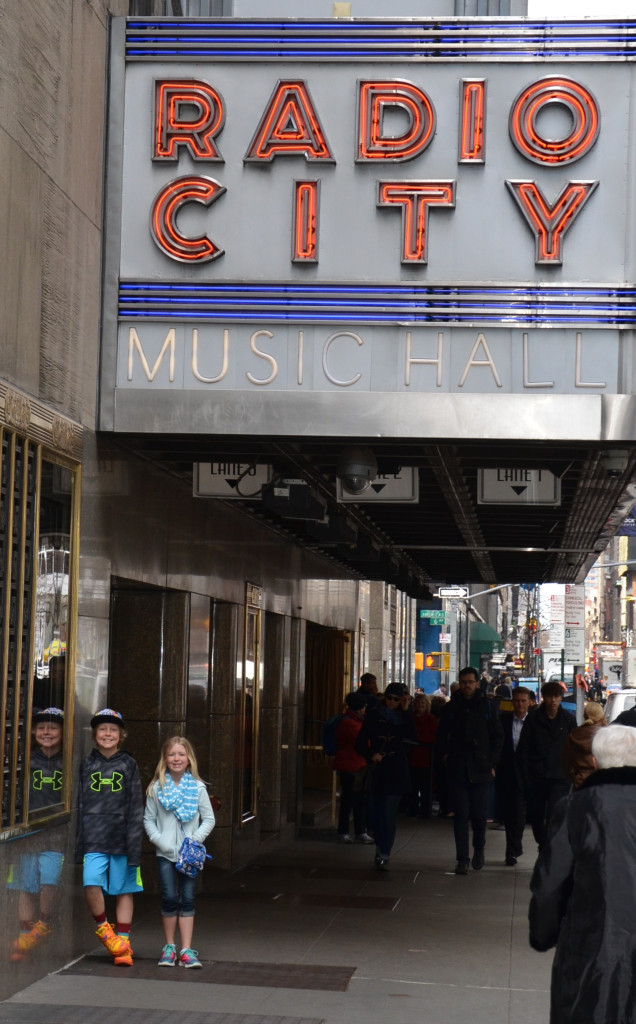 A cute box of candy can most definitely cost $24.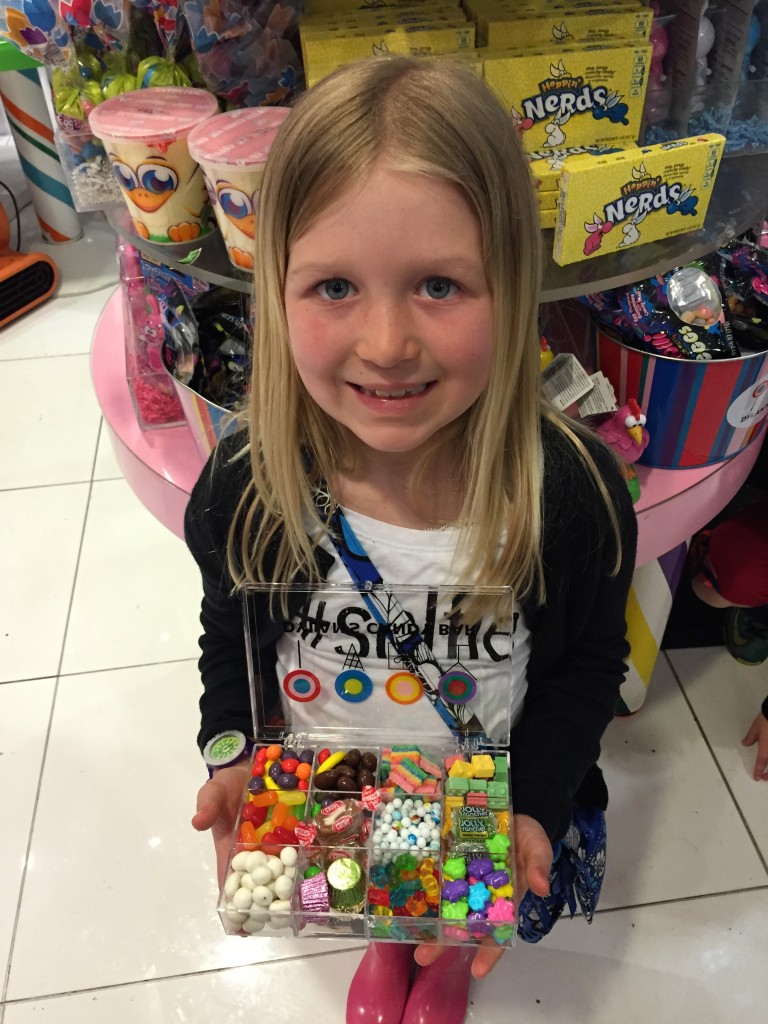 Little Italy is not so little.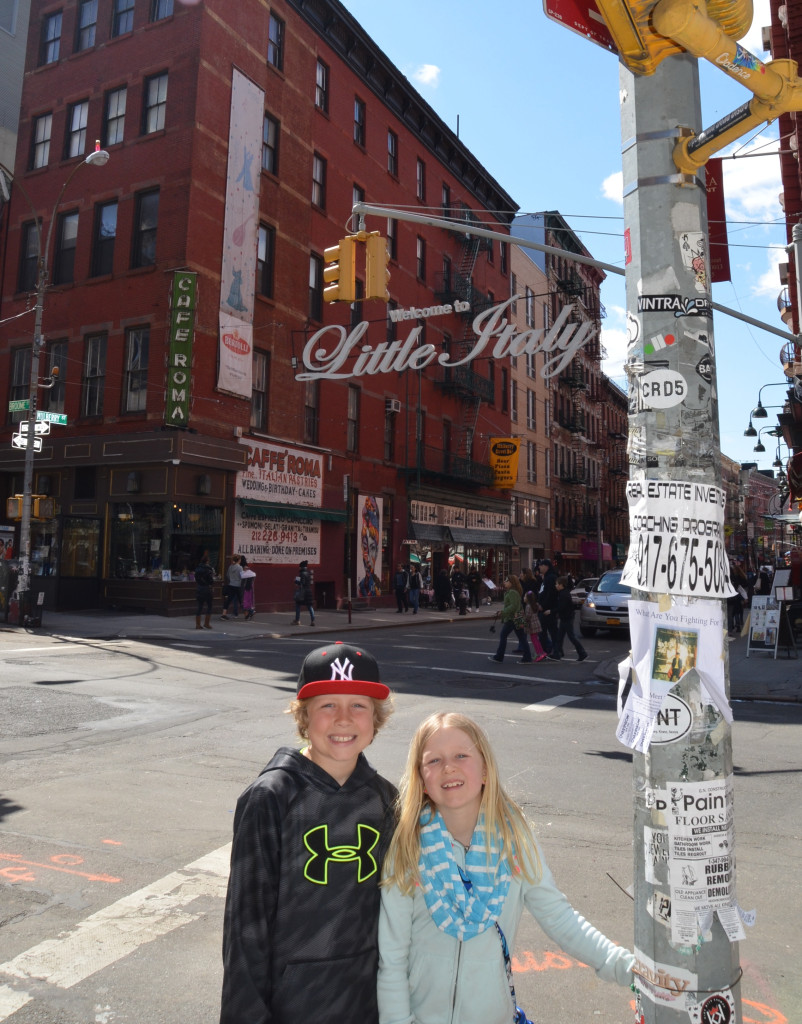 The Empire State building is our new fave.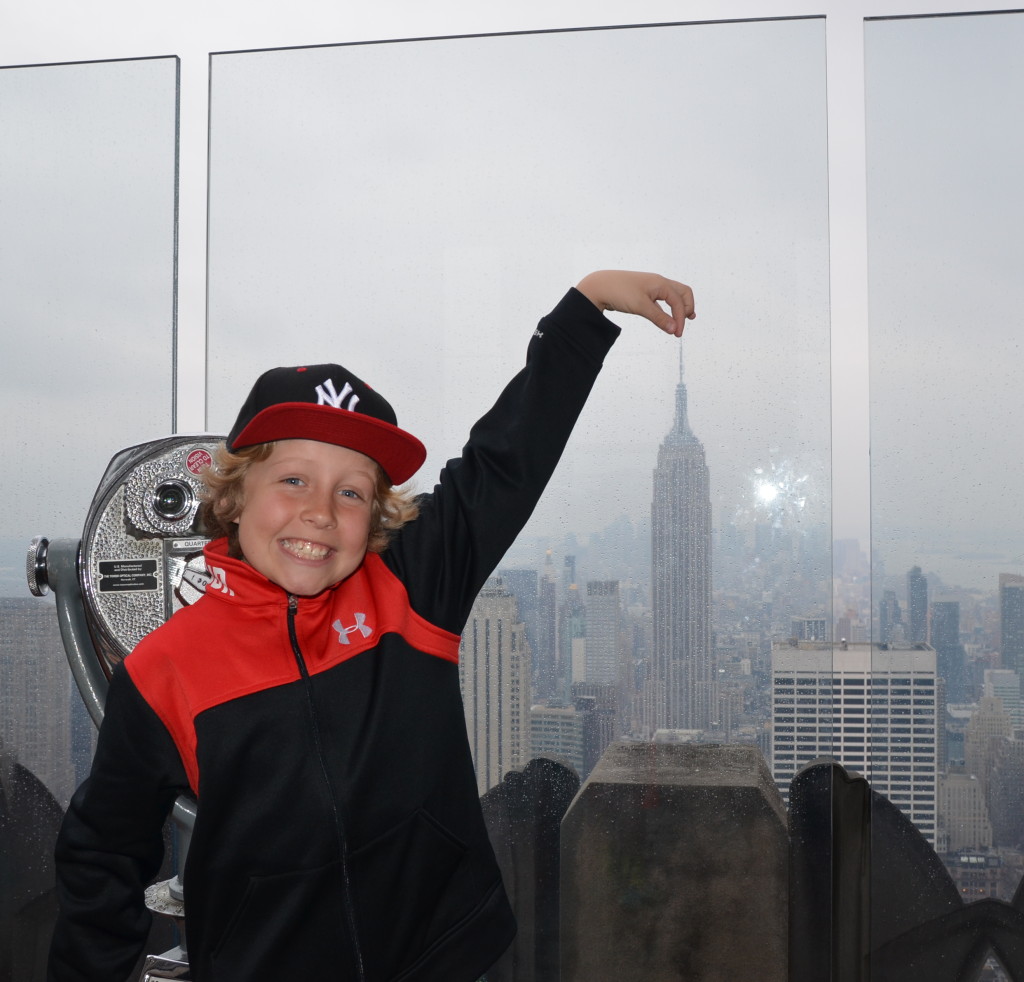 We are counting the moments until we can return……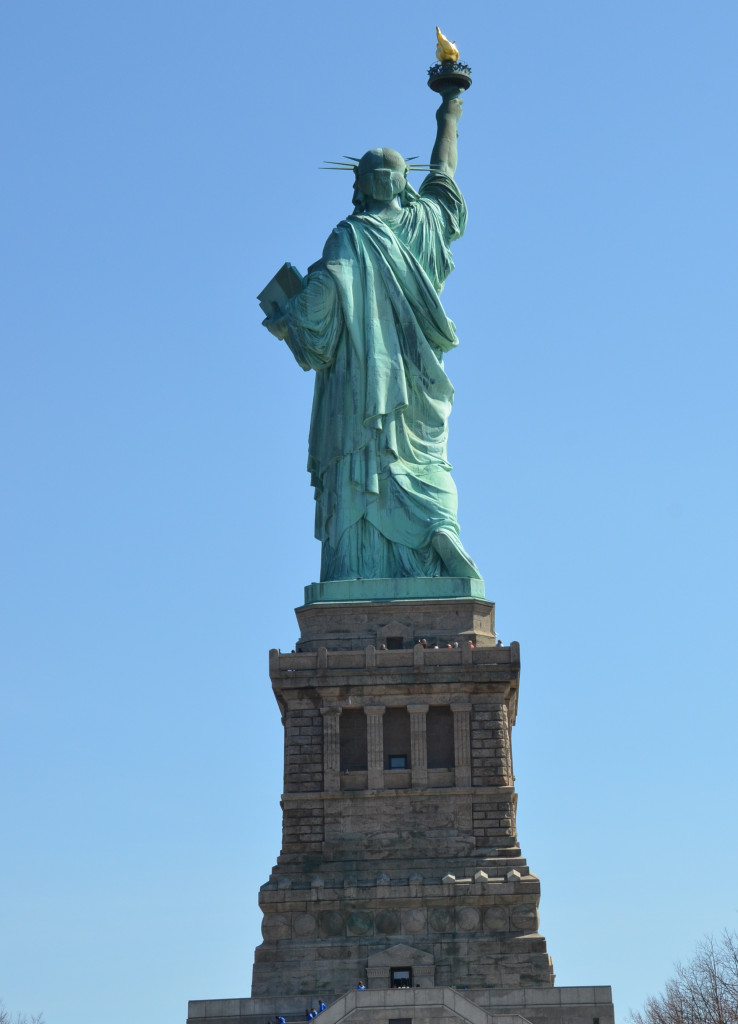 Live Creatively,

Tags: NYC
Patriot Day 2014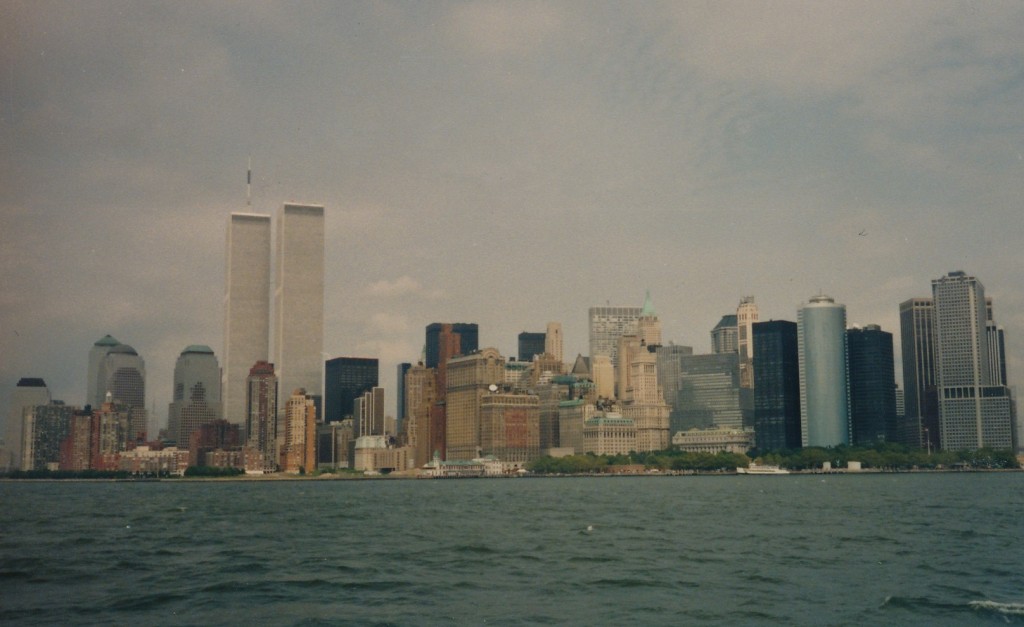 September 11, 2001…
That day will forever be etched into my memory.
It was my second year in Pennsylvania. I was on my way to North Hills Elementary School to prepare for my day of teaching 5th grade. For some reason I called my parents from the car. My commute was all of 10 minutes and I don't think I had ever called them for an early morning chat before, but I did on this day. I had no reason to call, but we talked for a few minutes, said 'I love you' and ended the call.
I remember it being a beautiful day. The sun was shining. My class was happy. Our morning was productive. The kids went out for recess and that is when my day changed from beautiful to ugly.  A fellow teacher came running into my room with her hand covering her mouth saying, "Oh my God, New York City is under attack." ….she hustled to my TV and switched on the news. Utter disbelief. This could not be real. We watched for only a few minutes before our principal told us to bring the kids inside.
Moments later I was staring into the eyes of 24 fifth graders, trying to hold back the tears as I told them something terrible had happened in NYC. They had questions and I had no answers. Fortunately we were scheduled for a half day so I encouraged them all to watch the news with their parents and promised them we would talk about it in the morning.
Once the building was kid-free, we teachers gathered in front of the television and watched in horror as our country was being attacked.  We were due in meetings, but our principal told us all to go home. You see, we were only an hour away from Washington DC, and not far from where Flight 93 went down. Tensions were high, fear was out of control. I got in my car and drove home. I was scared. I wanted to talk to Jeremy. He was doing surgery that day at Sinai Hospital in Baltimore. He was not answering his phone. I called again and again.  No answer. I called my parents and sat in front of the television, frozen.  Jeremy finally called. I took a deep breath and told him to please hurry home. I did not want to be alone another minute.
My life changed that morning as did each and every true American. My heart was broken for the  lives lost, families torn apart and sense of security that was crushed. The toughest part for me was trying to explain it to my fifth grade friends for the days, weeks and months after. I'm not sure if I helped them get through it or not, but I know I will never forget that class and the discussions we had that year.
New York City is a place I love. I have been numerous times and plan to devote a blog (or two) to the Big Apple. It is full of wonderful people who stood up to the terrorists and persevered. I cannot begin to imagine their grief, but I shared in their pain and offered up many prayers on their behalf.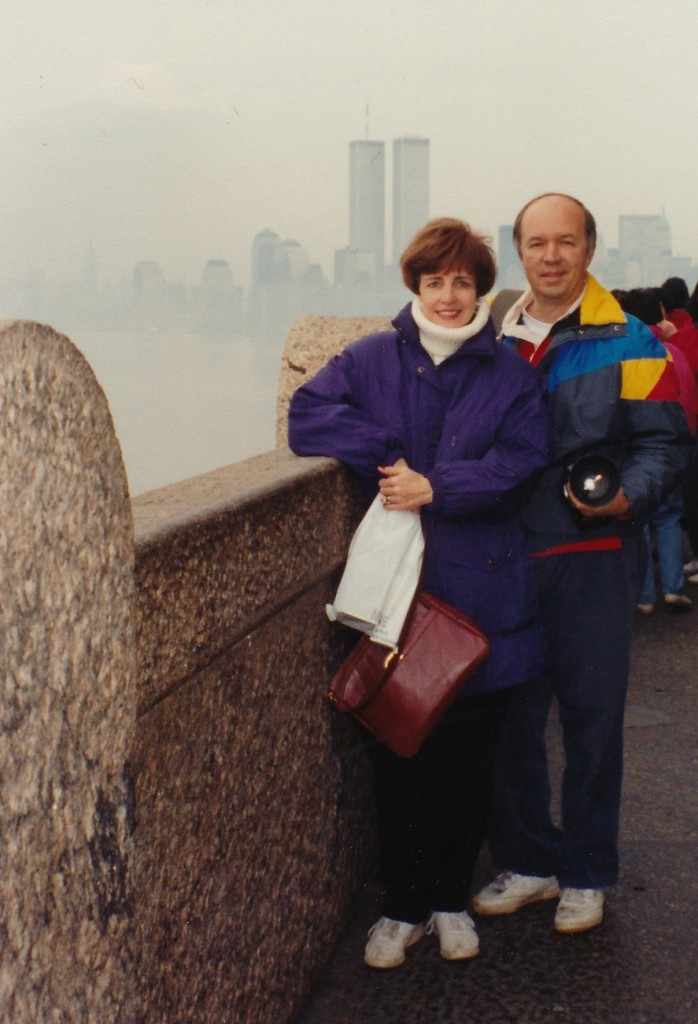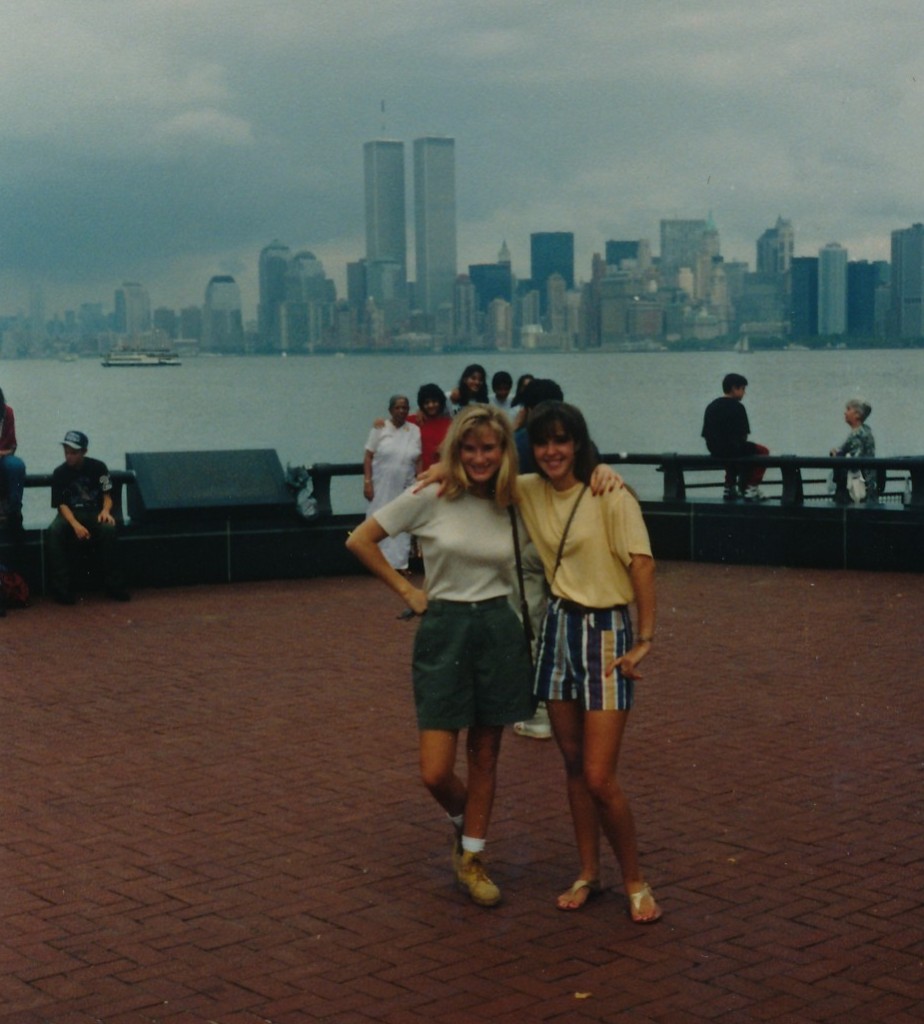 Go ahead and chuckle at my fashion choices for that day of sightseeing in 1995. It was summer, stripes were in…oh how I wish I still had those gold sandals! Apparently I have been rocking the cross body purse approach for some time! And please, take a moment to truly appreciate my friends 'construction' boots!
Jeremy and I spent a few days in the city just last month (celebrating our 10 year anniversary!). This trip included a visit to the 9/11 Memorial and Museum. I cried. I shook my head. I said a few bad words. We left in silence. The memorial is perfect. The museum is a beautiful building of respect for those who lost their lives. Put it on your bucket list. Take your kids when they are old enough to appreciate it. Visit NYC for it is still an amazing place filled with strong, beautiful, brave people.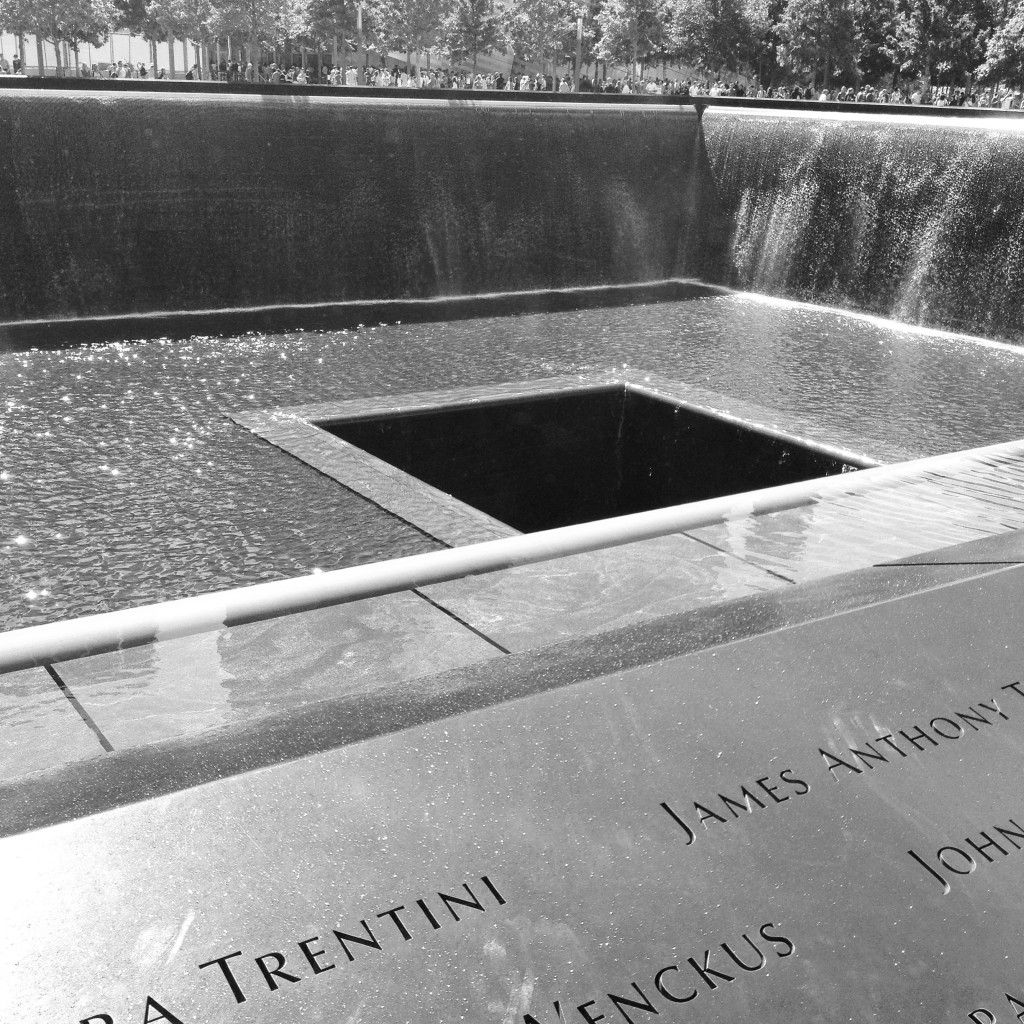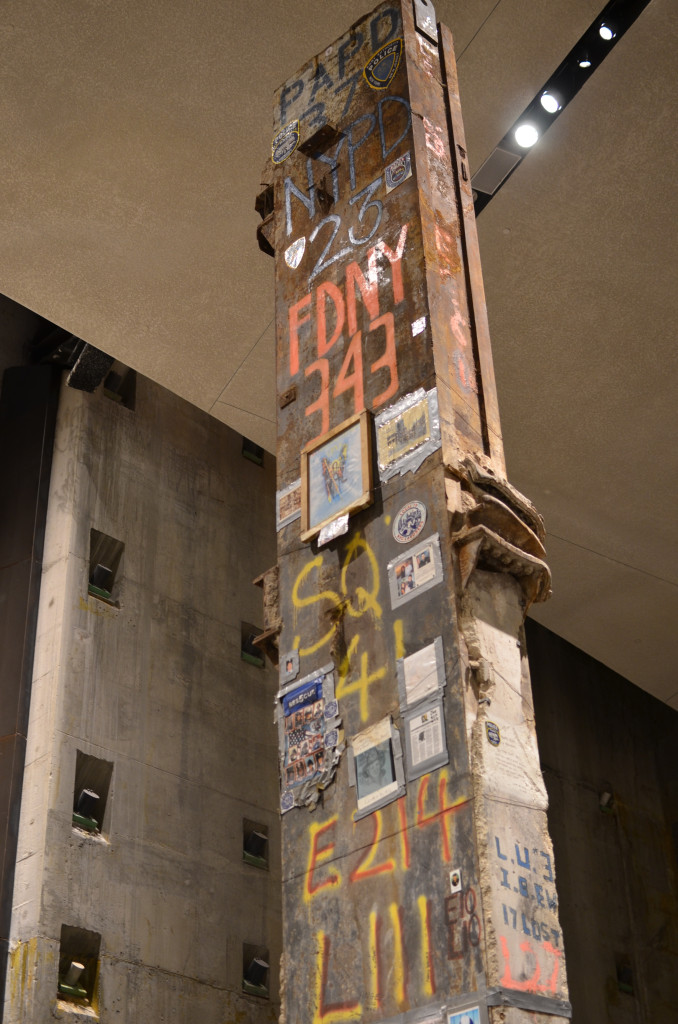 We all have our own story to share about September 11, 2001.  I encourage you to share it today. With a friend. With your child. With a stranger. Keep it alive. Keep it important. Learn a name of a victim and pray for their family. I chose Kenneth Basnicki. HIs name was the first name I noticed as I came upon the Memorial for Tower One.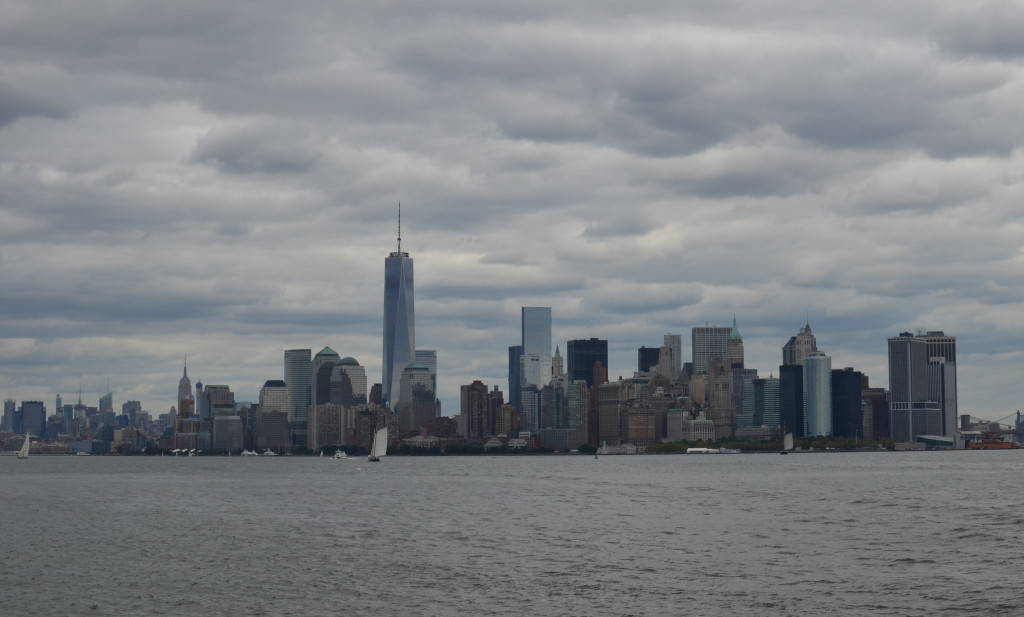 God Bless America!
P.S…..several hours before taking this post live I had lunch with some of my fave girlfriends. Naturally the conversation turned to today. We shared our "where were we" moments. Each memory was vivid and real as they should be. So glad I get to call those ladies my friends.
Live Creatively…