What's a wall of windows, you ask? Well, take a look: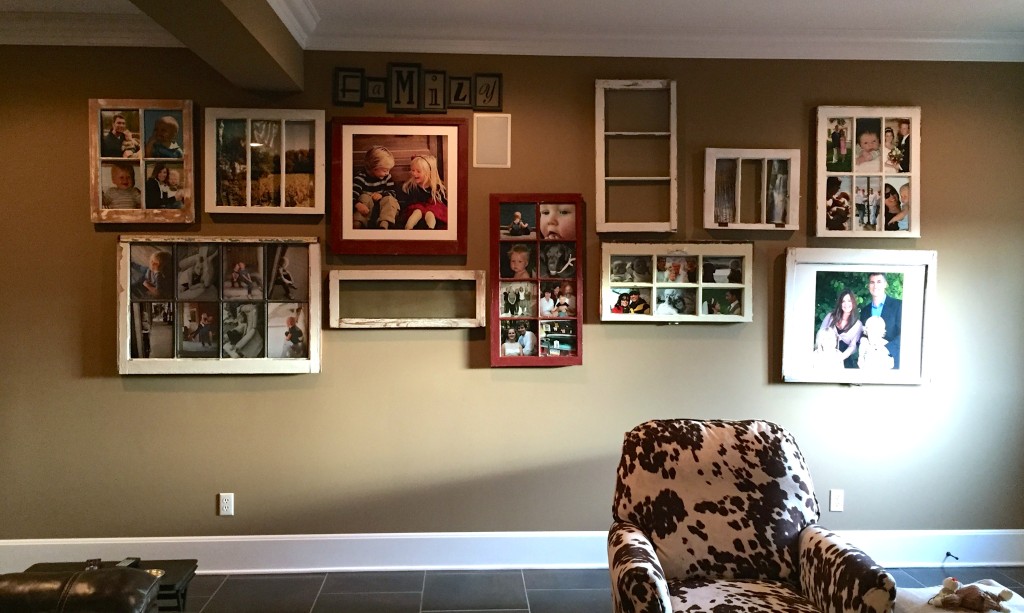 I began this project years ago on a small wall in our first house. I loved it. Here's my first wall of windows….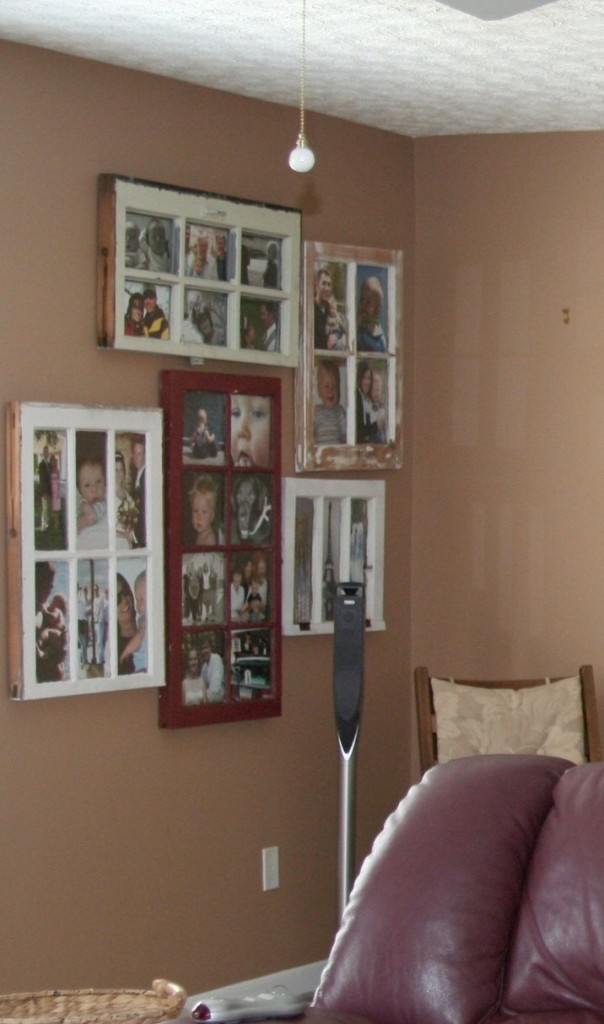 It was my mission to find the perfect old window. I would scour antique stores and flea markets for hours.
When we decided to build a new house my vision for my Wall of Windows grew. I began collecting gobs of windows (my husband was thrilled!). I bought all sizes and shapes and added them to my ever-growing pile in the garage.
Once we were moved in and got somewhat settled, I began my project.
I cannot tell you how many compliments I get on my window wall. Mine is large, but adding just one vintage window to your house would be cool too. As you can see I am in need of one more small window to go to the right of the speaker.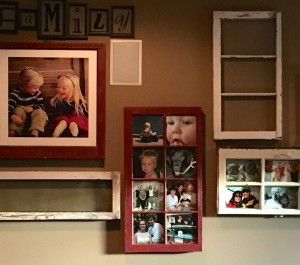 It is #1 on my list for the summer flea markets! And there are a few blank windows too….always a work in progress!
Wall of Windows Steps:
1-Gently wash the window. Be careful not to chip off too much of the old paint…that's what gives the window it's character.
2-Seal it with polyurethane. I like Minwax Polycrylic in the satin finish.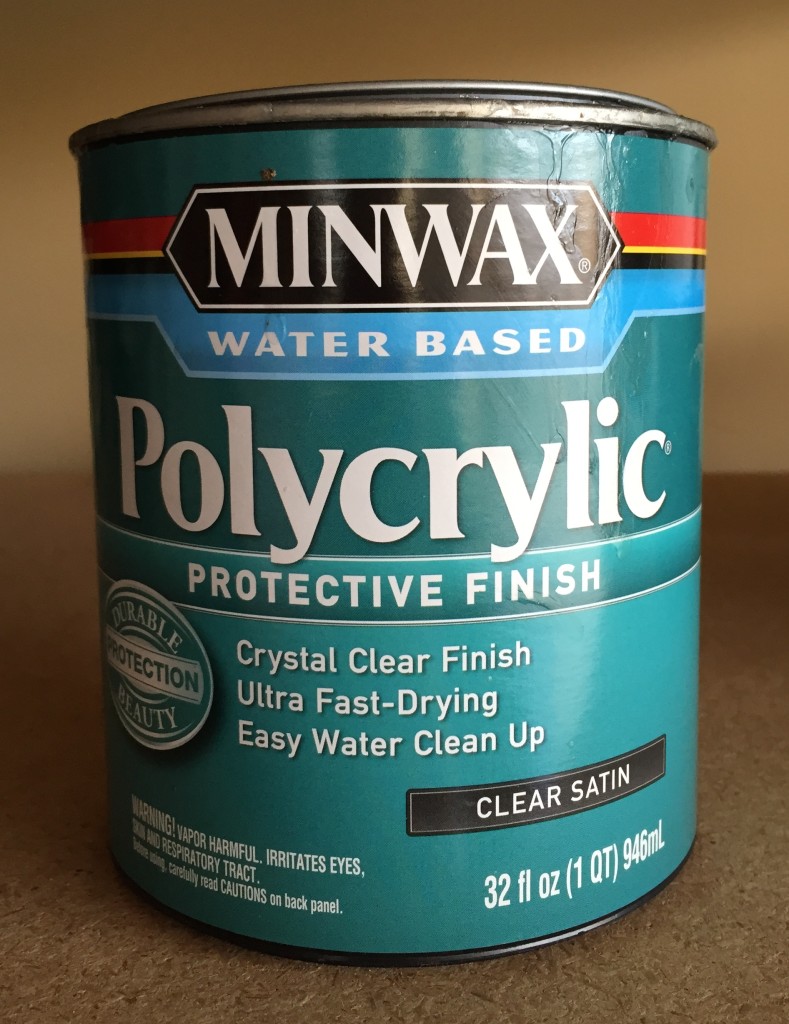 3-Add a hanger to the back. Larger windows will require two. These suckers are heavy!
4-Map out your wall.
5-Hang windows.
6-Add pictures. I do this after I hang them for a couple of reasons. First, I want to make sure I like the arrangement. Second, I want to see the overall arrangement before choosing my pictures. Some will be black and white, some vintage, some color. I want it to flow.
Mapping out your wall: this is crucial. Don't just start hanging your windows. You will have lots of holes in your wall and a pissed off husband. Get some graph paper. Measure your wall. Measure each window. Draw each window on the graph paper….yes, you will be using your high school math! (Ex: each box on the graph paper = an inch.) Thanks Mr. Tussing! Be sure to label your windows with a sticky note and match it to the window you draw on the graph paper!
Cut out the graph paper windows. Arrange and rearrange until you are happy. Starting with the middle window, begin hanging. Work your way out and up and down. Now, step back and admire your creation. You did it!
Adding Pictures: measure the openings. These windows were not intended to be used as frames, so the sizes will not be perfect. Order pictures larger that the openings and trim them to fit. Clean the glass really well. Then place a clear scrapbook adhesive tab on the front corners of each picture and secure to the back of the opening. Done!
I always avoid choosing windows that need repairs. Especially to the caulking. You will never match the old, weathered caulk and it's a pain. Be picky people. Search for the windows in good shape! And expect to pay between $20-50 per window. Before you gasp and choke, think about what you would spend for a large wooden frame with character….much more!
My greatest source for unique windows is my Dad. He lives in Idaho and often rehabs old houses or businesses. Many of my windows have come to me via him. He gathers them, I sort through them and ship my favorites home. He has lots of windows left in his collection. He has recently decided to sell a few. Visit his website to contact him. So exciting, right?! Your Wall of Windows is just around the corner, literally!
I found this next beauty in an antique store and paid a hefty price for it, but I had to have it. It spoke to me. Seriously. My home was under construction. Walls were up and painted. I brought my new purchase to the house and chatted with my builder about my plans. Lucky for me my builder was my Dad. And he cannot say no to me! I wanted the window on the wall going from our media room to the basement. He agreed it would look neat there, but told me I should wait to hang it until we moved in so it didn't get broken. Apparently I had not been clear…..I did not want in ON the wall, I wanted it IN the wall. Yep, IN. A few slices to the drywall, some trim and touch-up paint and look…..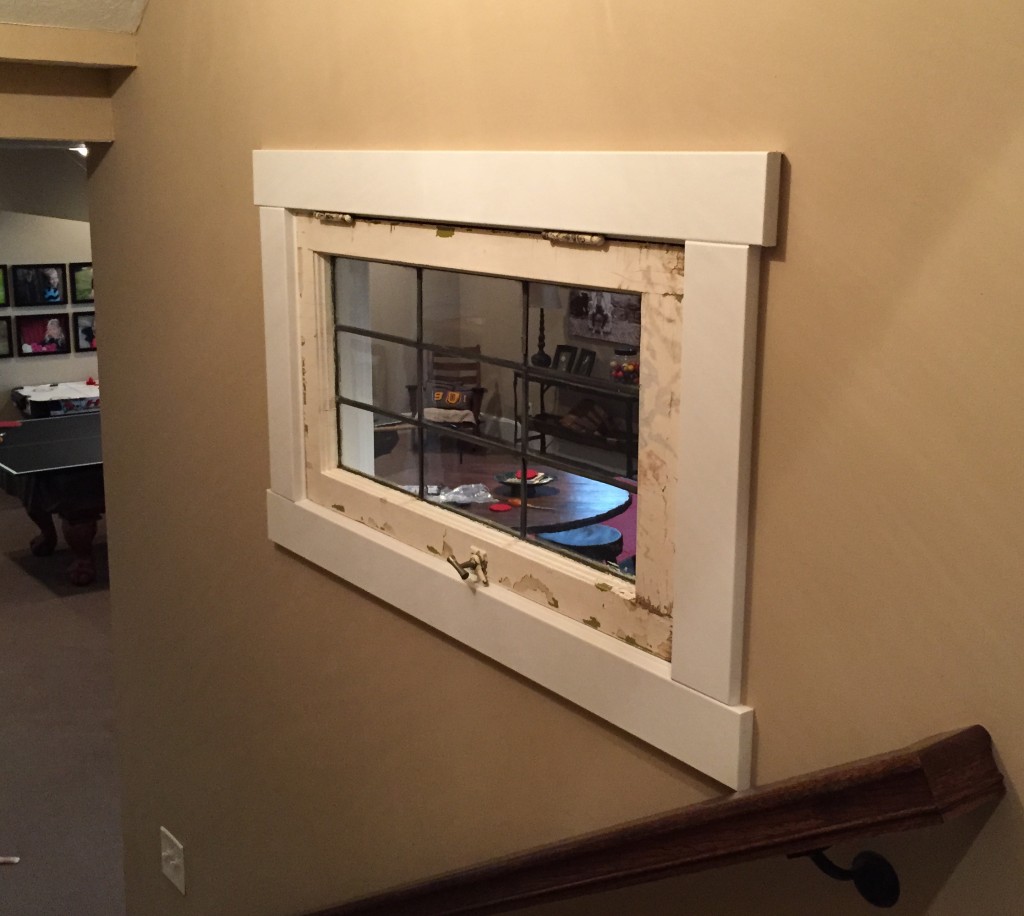 I love my Dad! And I love this window. Old windows, who knew?!
Live Creatively,