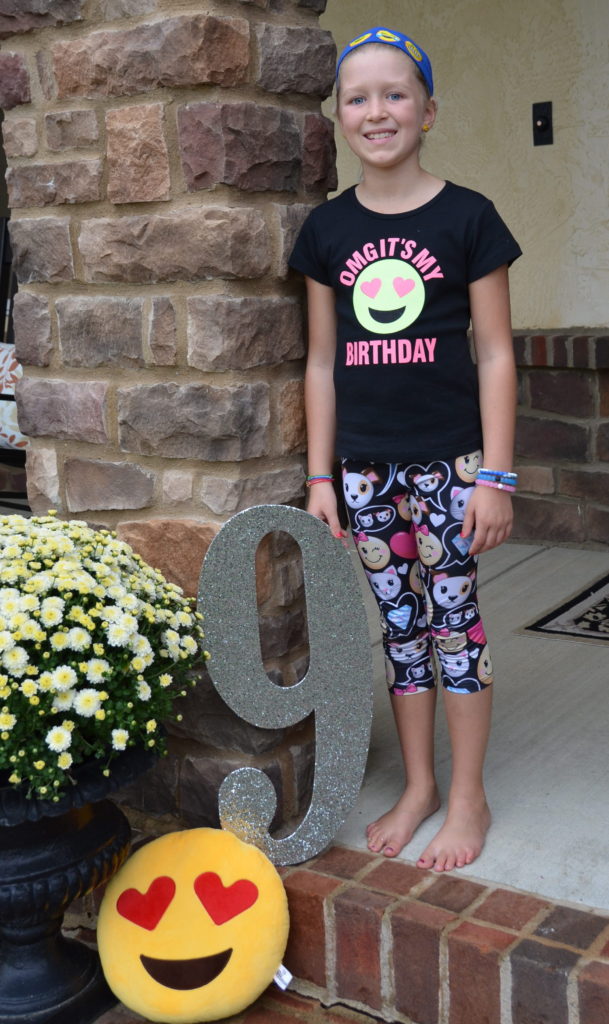 Emojis have invaded our everyday life and Sunshine is so emojinal that we HAD to celebrate her 9th year on earth with everything emoji!! I bought her shirt from madgrrl on Etsy. Leggings from Justice. Headband from local shop, Cute As A Button.
Sidebar: Sunshine's birthday is September 26th, so this post is indeed a bit tardy!
Myself, Mama Moji had a ball planning this shindig.
I started with the invitation. Sunshine's favorite colors are teal, pink & purple.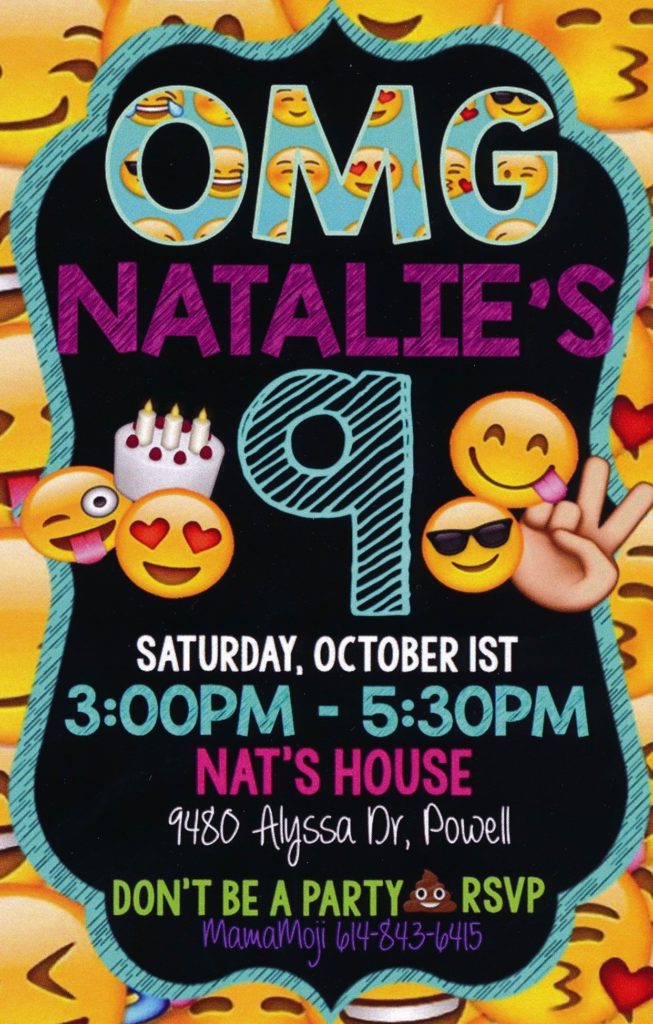 OMG, right? Buy it from invitationsbyKATRINA on Etsy. The shop owner even made me these matching Thank You cards: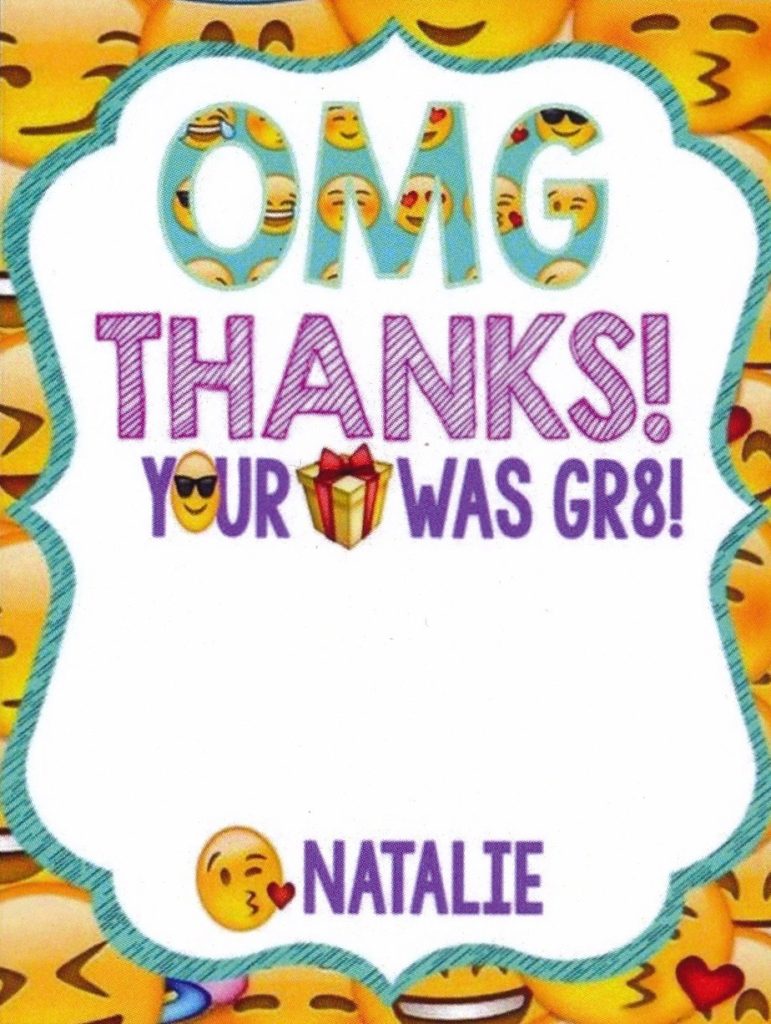 And these bag tags:
Thankfully my mom was in town and was my DEO (Decorating Executive Officer). Nothing was left undecorated….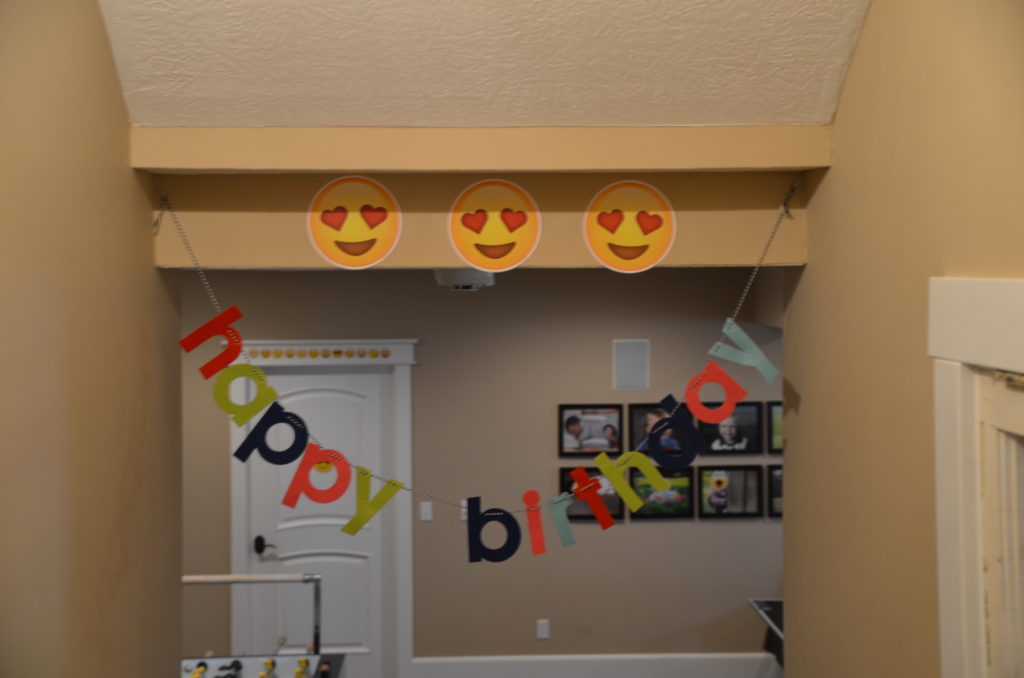 I found the Emoji faces, etc. at our local teacher store. Score!
Those pillows above inspired Doc to come up with the craft. I like crafts. Boy Wonder is too cool for party crafts now, but not my Sunshine. Doc said the girls should create their own Emoji pillows and that my mom could sew them together. GENIUS! One call to my mom and she was off and running. She made small round pillows from yellow fabric, left them unstuffed and with enough room to fit a piece of cardboard between the fabric layers. She's pretty awesome like that. The girls used fabric markers to decorate their pillows and then stuff them. My mom later stitched them closed and Sunshine delivered them a few days after the party. TA-DA!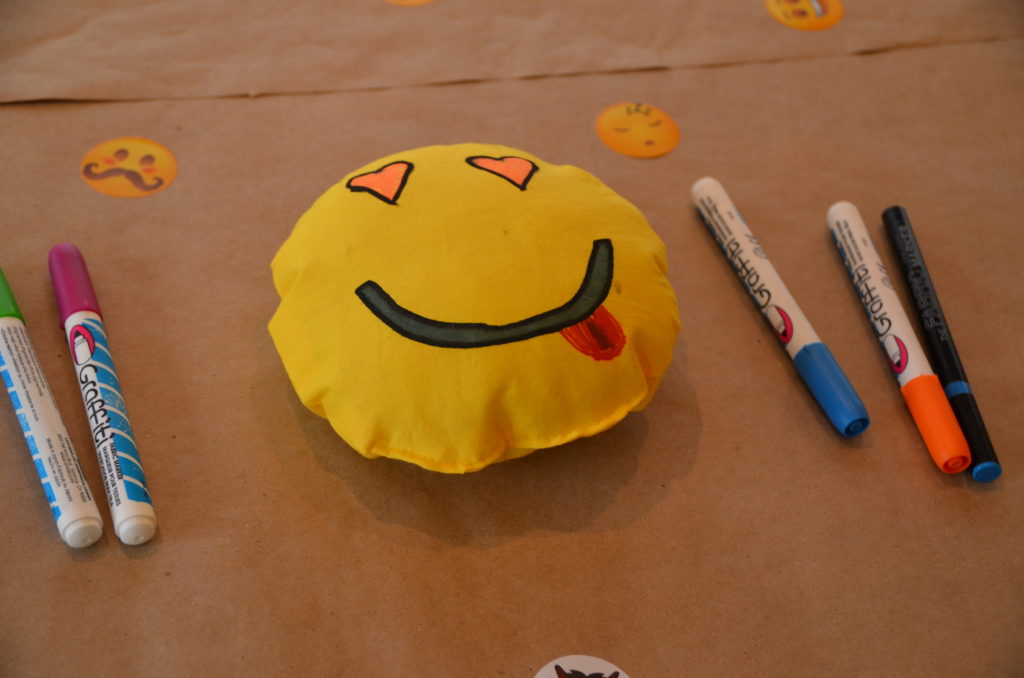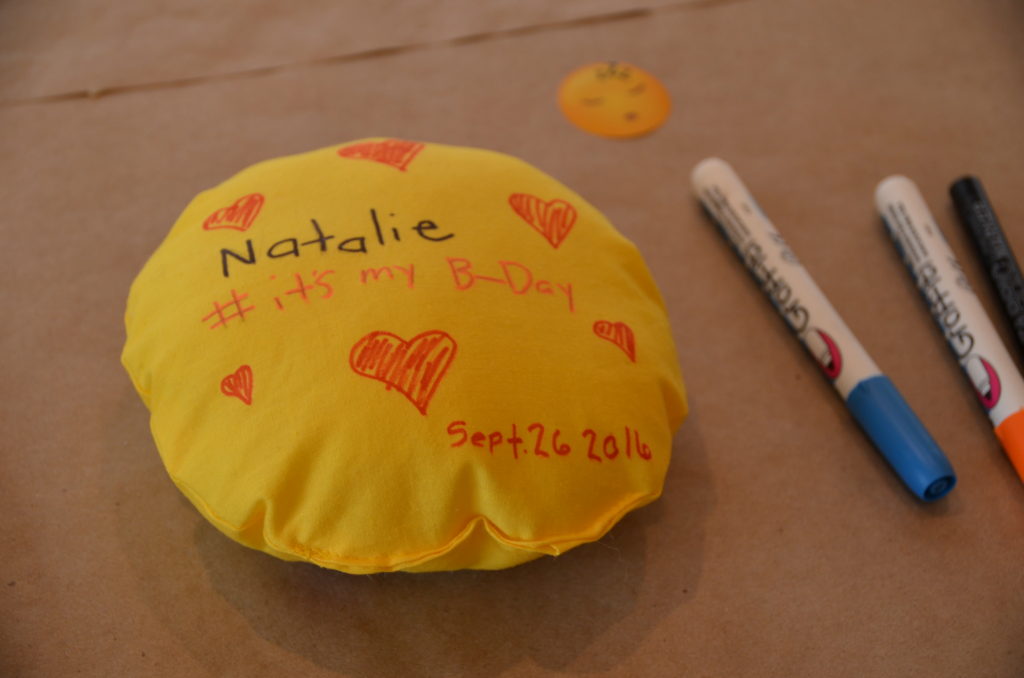 As the girls finished they moved to the living room and worked on an Emoji puzzle that we had set up.
Next on the agenda: GAMES!
I like stations. They provide order and ensure everyone gets to play each game. I assigned an adult (or older brother) to facilitate each game and keep track of when to switch. This allowed me to clean up the pillow-crafting table and turn it into a dessert table!
Games:
Mystic Ball & War: Emoji themed Magic Ball & Emoji playing cards.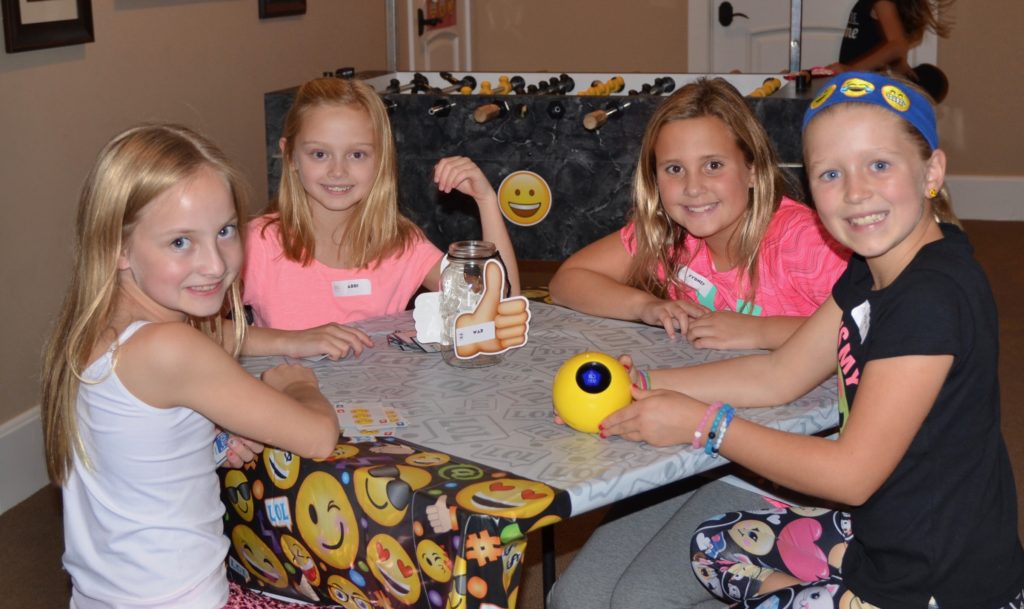 Twister: I lovey-faced a few of the yellow twister dots! Buy a Twister Ultimate game for your next party!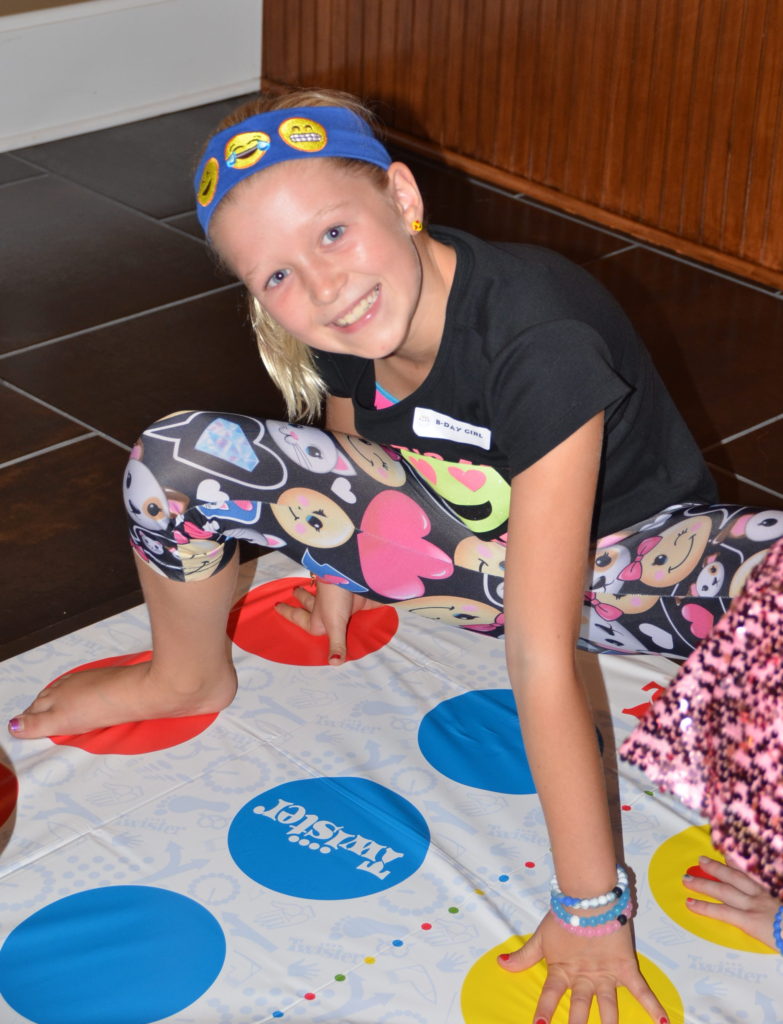 Memory: I used an old Memory game, painted the picture side black, attached an emoji sticker (2 of each) and decoupaged it to the card.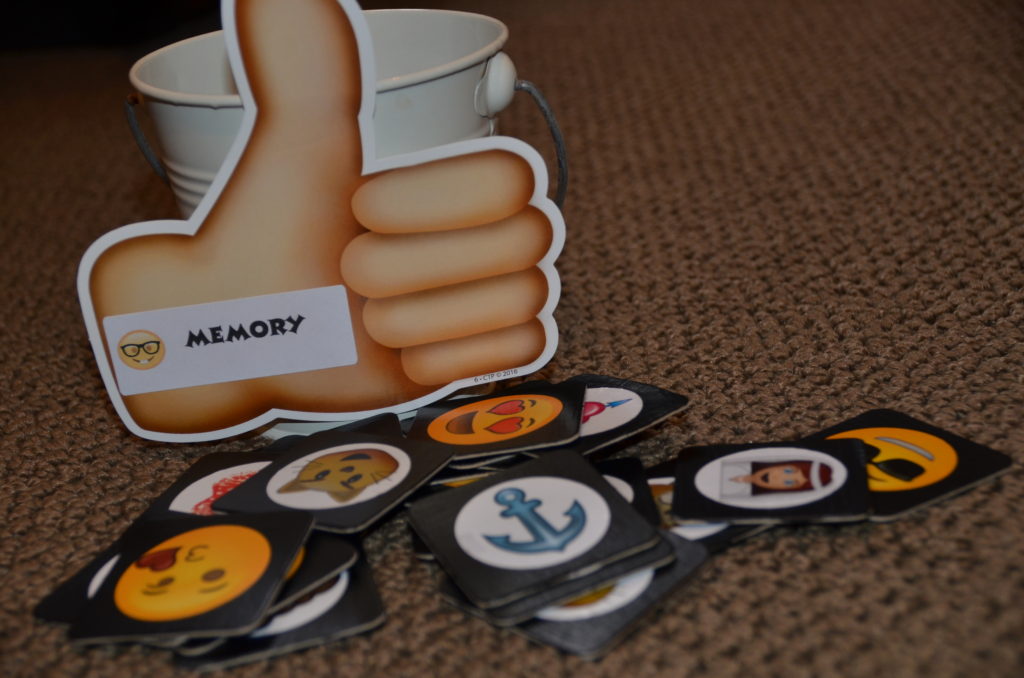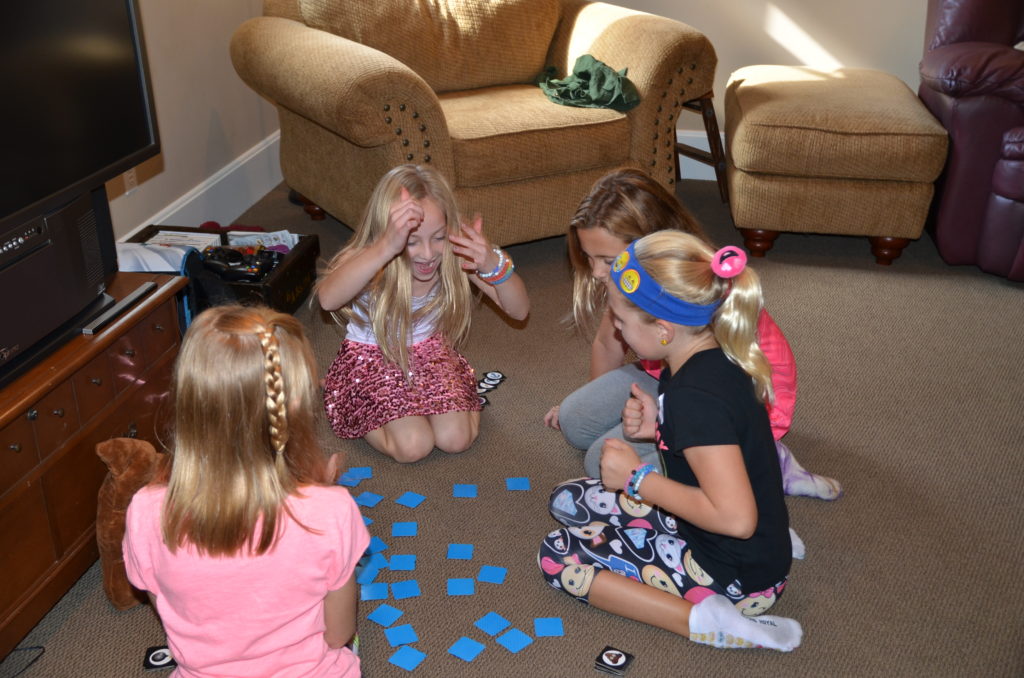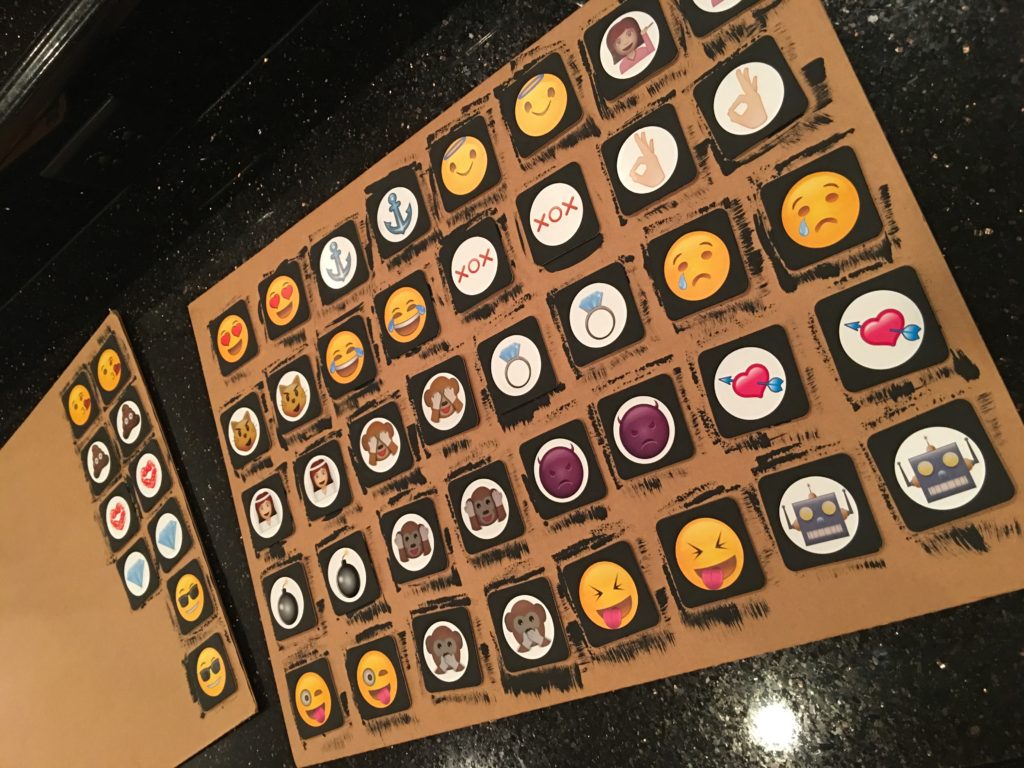 Ping Pong: Regular rules, using an Emoji ping pong ball of course!
Pin the Sunglasses on the Emoji: Bought this cute poster at the Scholastic Book Fair.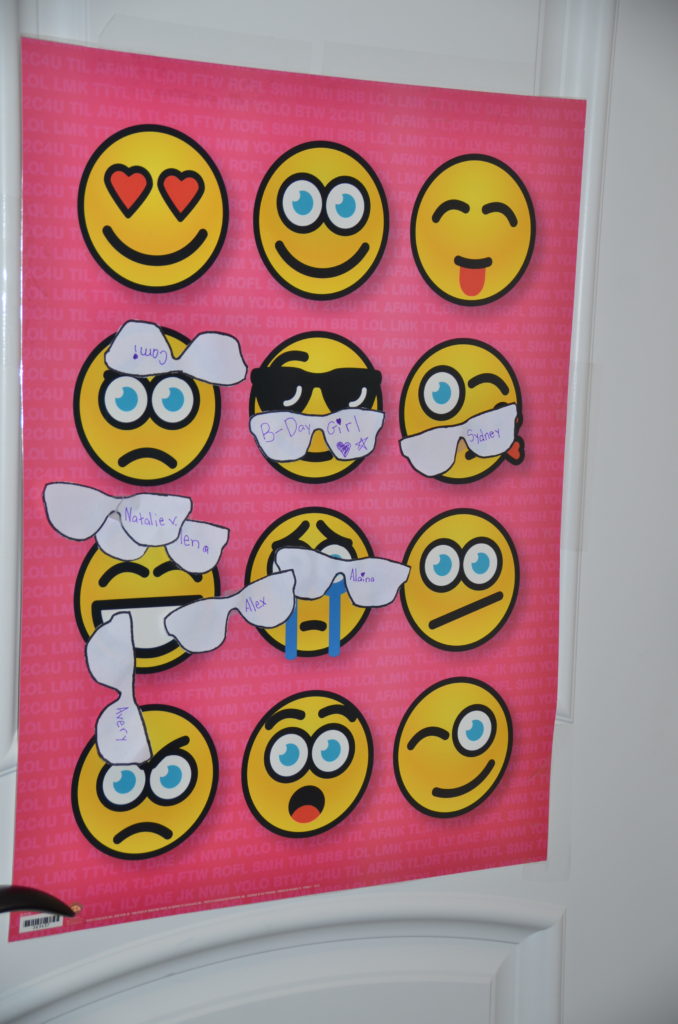 Pass the Poop: Using an Emoji poop pillow and some music!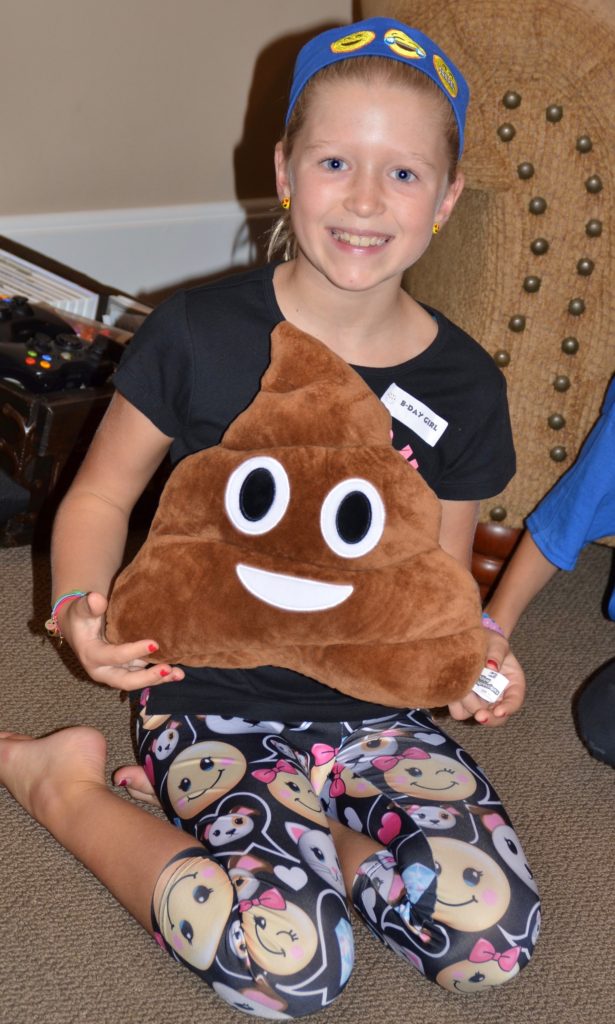 Boy Wonder represented with the Poop Emoji shirt. The girls "hated" having him and his friend Z at the party! 😉
Where to Buy:
Time to EAT!
Emoji food was easy. I just scrolled through the food emoji's on my phone and picked a few items that would work. I printed the emoji's on a label, slapped it on a table tent and was done. Easy Peasy.
Emoji Napkins courtesy of Party City: I always buy themed/fun napkins, but plain colored plates, cups and cutlery. Saves a ton of money and you can reuse the plates & cutlery later.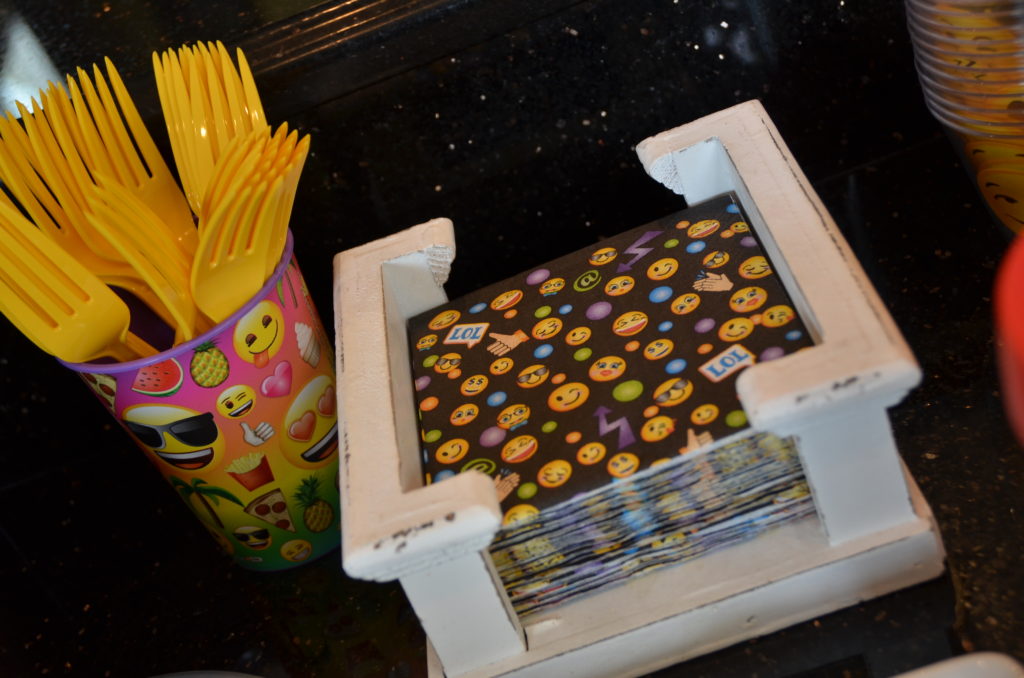 Emoji Plates courtesy of Me (a sticker attached to the underside of the plate with packing tape!):
And what Emoji party would be complete with out some Emoji gum balls?
Buy: Emoji Gumball Machine and Gumballs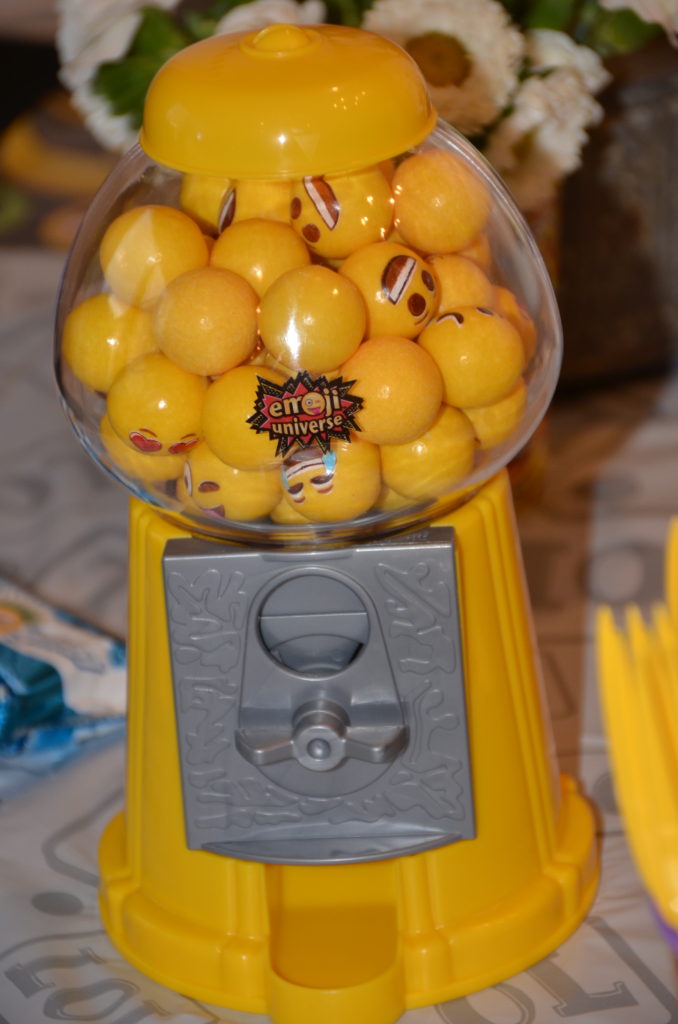 Emoji Cookies courtesy of Cookie Crumbs: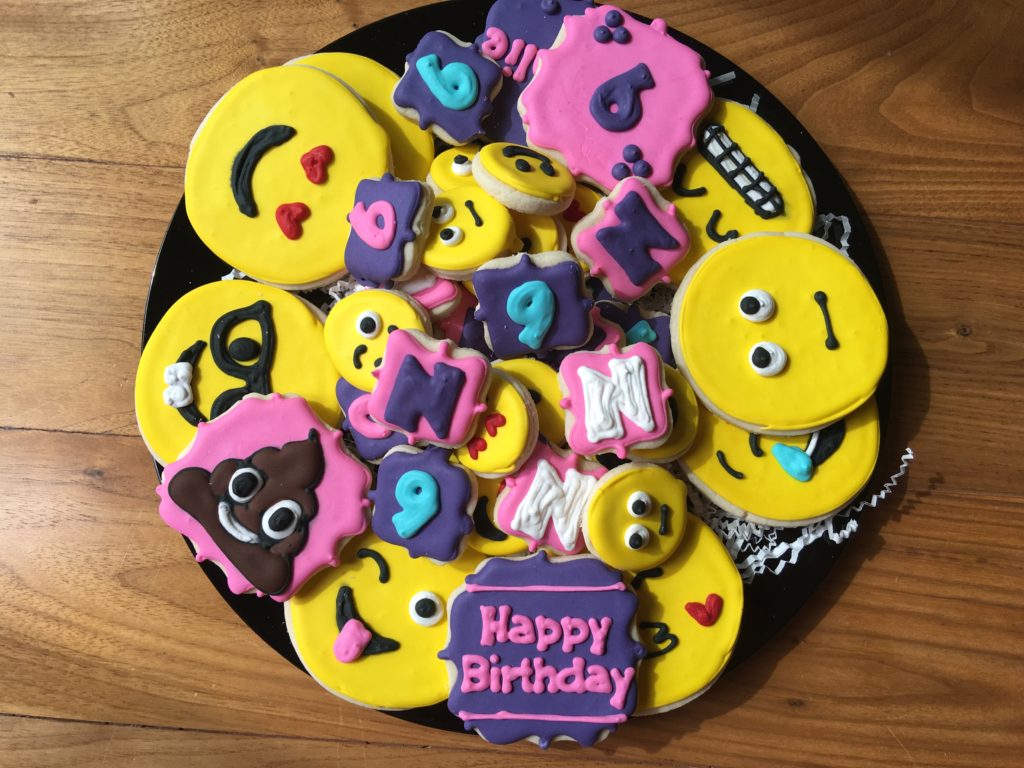 Emoji Cake courtesy of Oh My Gosh Cake!
And for Sunshine's friends with allergies, Emoji Rice Krispie Treats: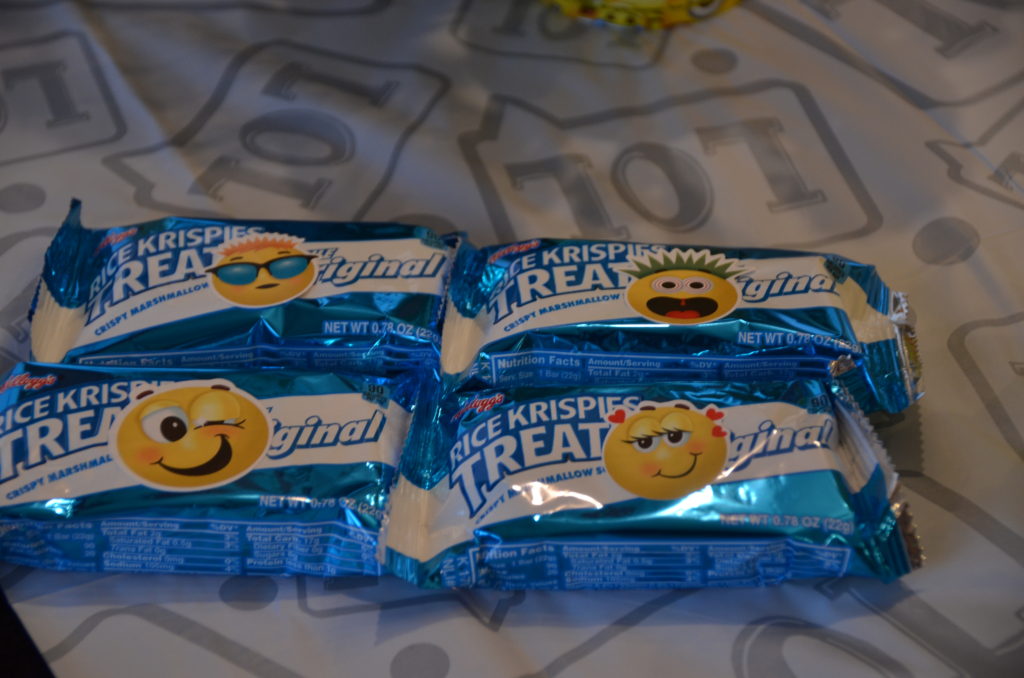 Sunshine doesn't really like being the center of attention, but she puts on a brave face while her sweet friends serenade her.
The birthday girl with her Gramma: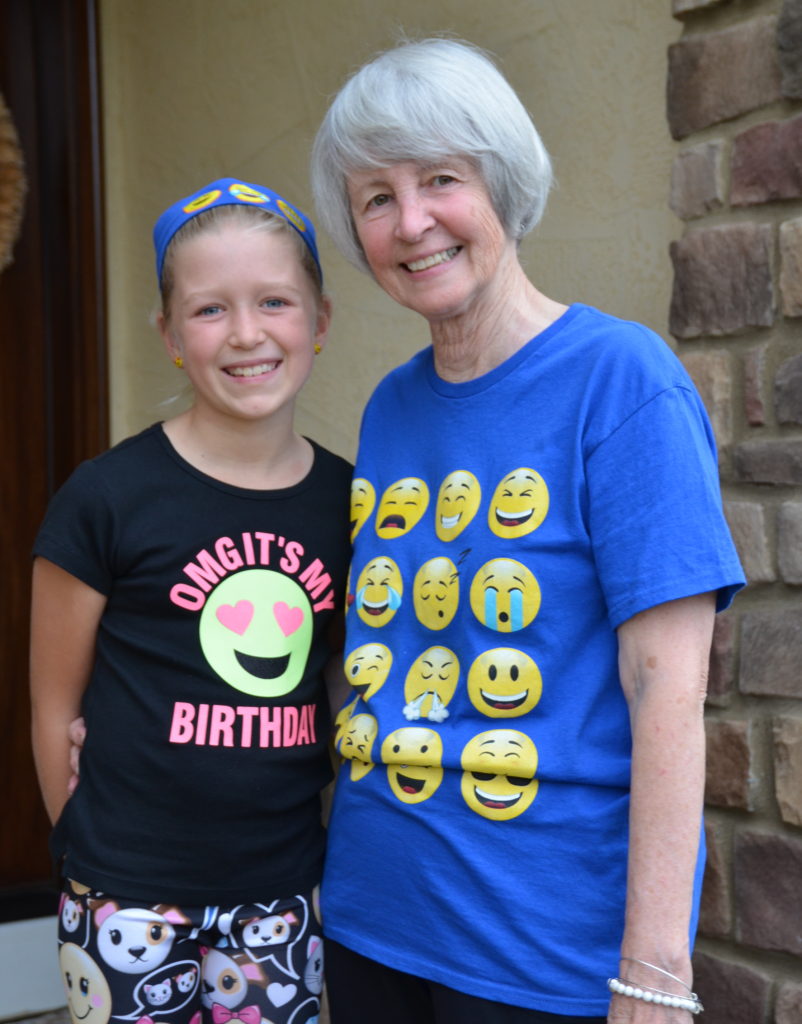 And with my in-laws: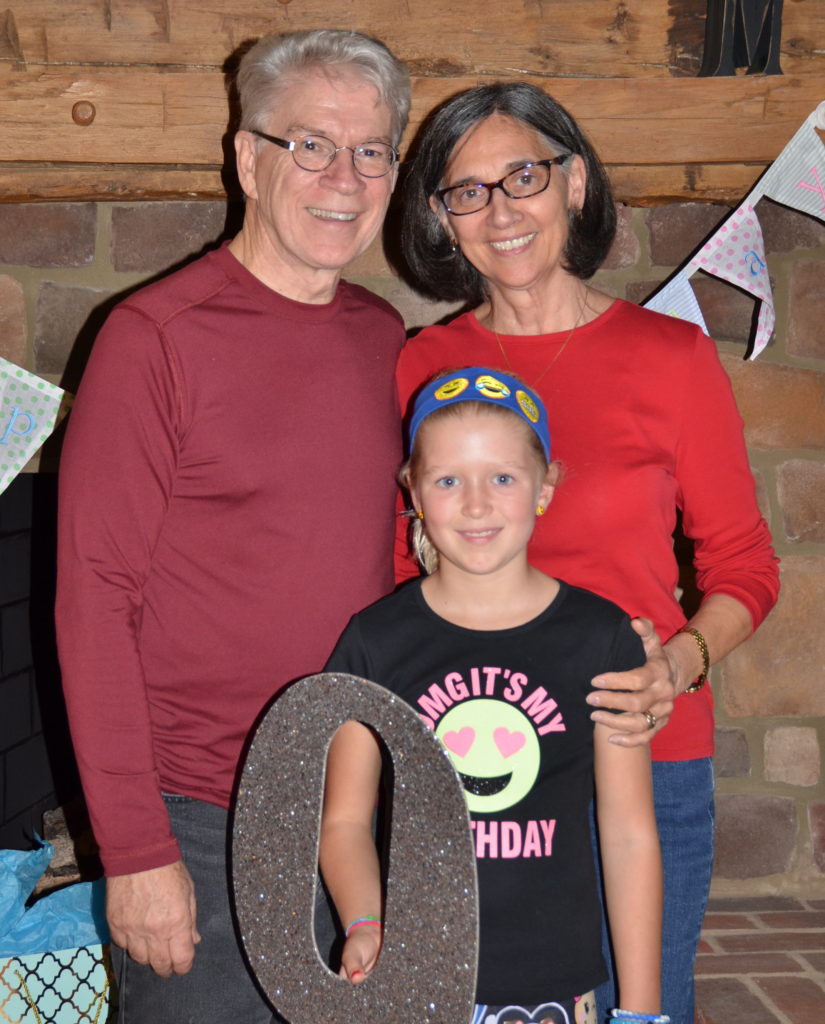 Even Jagger had an Emoji shirt: I made it at Uber Prints. Super easy. Super fun.
And of course Team Mathis represented the theme…
Doc, Gramma & Boy Wonder's shirts came from Target.
Here's a close-up of the shirt I designed for myself, again at Uber Prints:
I really, really cannot believe she is NINE. OMG! #bestpartyever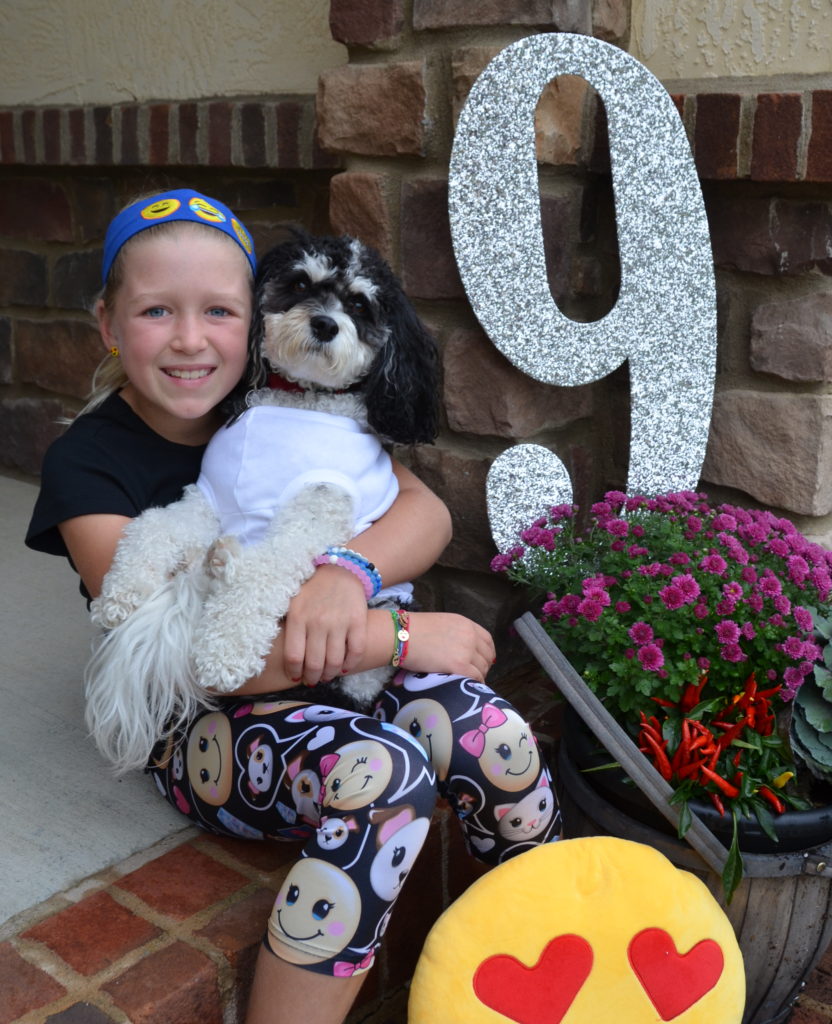 Live Creatlively,

My video game junkie turned nine on August 6th!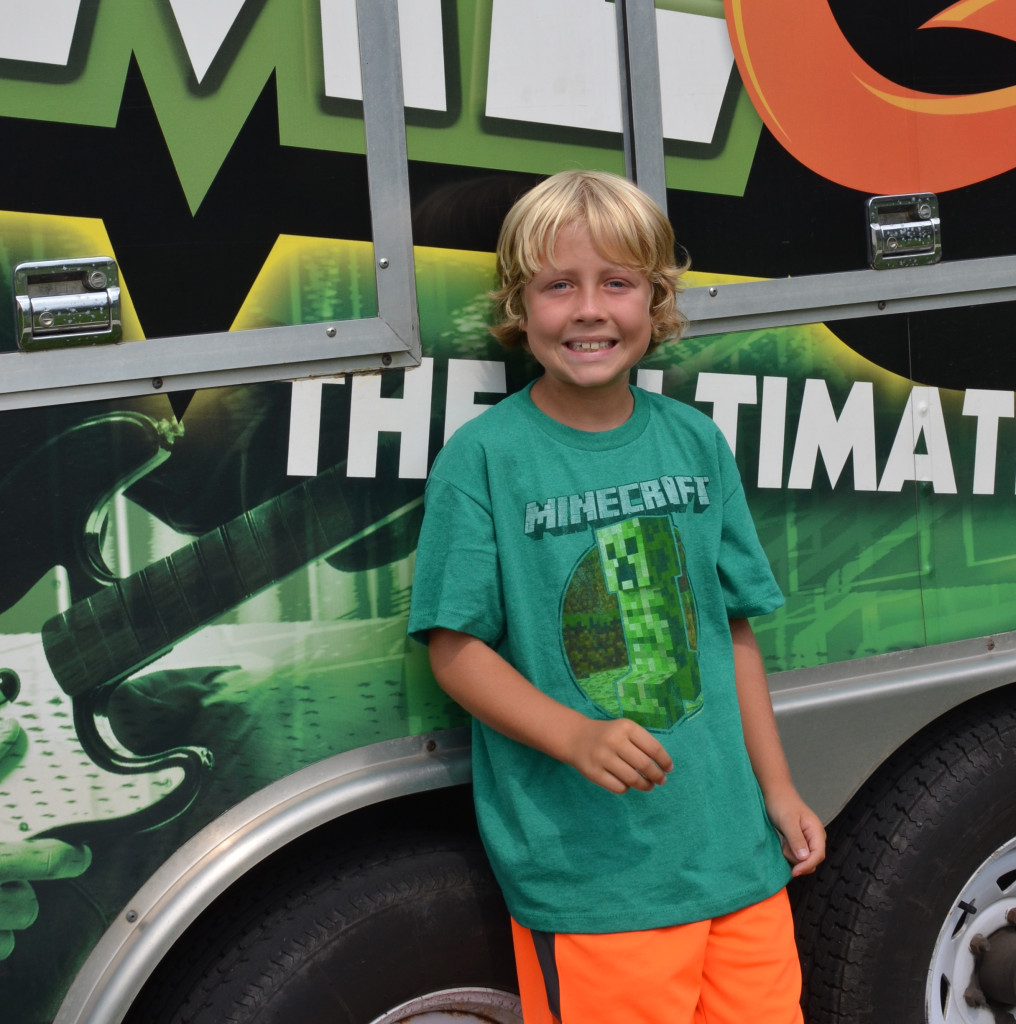 Noah is a gamer + He's obsessed with Minecraft + His friends are gamers too = GAME TRUCK PARTY!
Noah had attended a couple Game Truck parties in the past year, so he was 100% certain of the theme for his 9th birthday. His mama was a little nervous at first (how could I maximize my creative energy into a party that centered around a giant arcade?), but once I embraced the theme there was no turning back!
I found the cutest invitation on Etsy…check it out HERE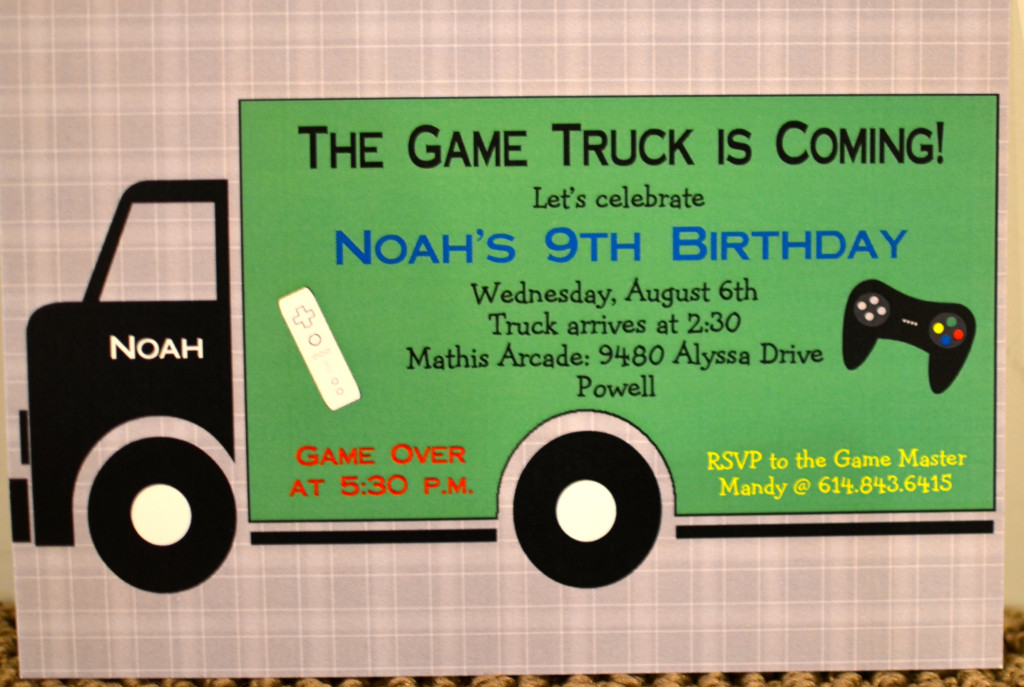 The shop owner was amazing to work with and even created a matching Thank You card and Cupcake Toppers. Look, I am not teasing when I say these were perfect.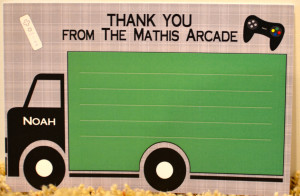 I wanted to use more than just GREEN. Green truck, green Minecraft game…this party planner needed more than green. Hence the blue and red added to the invites and toppers! So, I had my theme and colors, which meant I was ready to plan!
The favors! I know you don't need them and guests don't expect them, but I love them! Realistically the giant arcade sitting at the end of my driveway would have been 'favor' enough, but I could not squelch the need to present each Gamer a goodie bag as they left.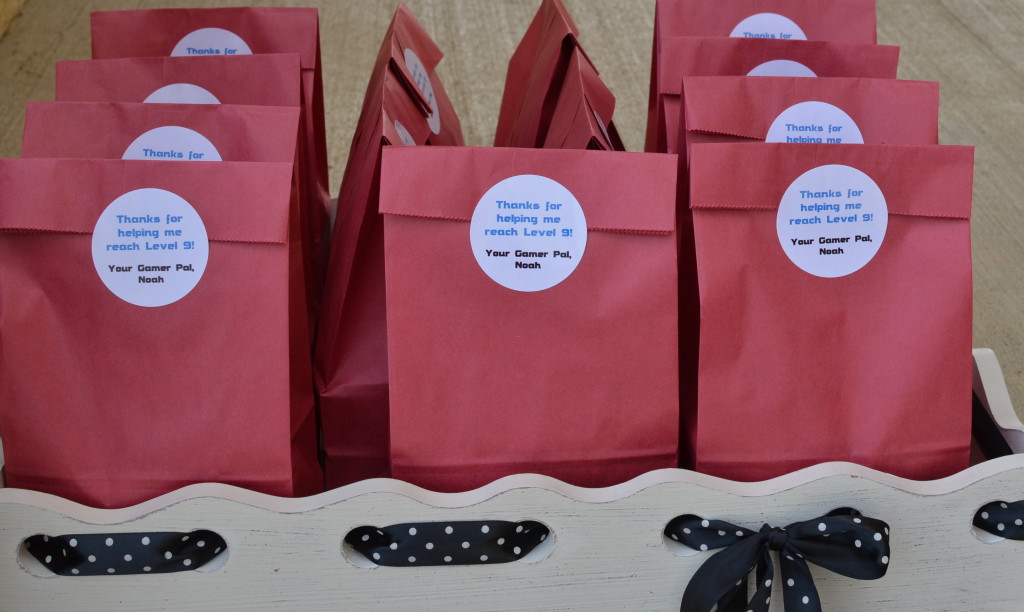 These were pretty simple, thanks to Etsy! They included:
Elixcir Bubbles (Clash of Clans), buy HERE
Diamond Boxes (Minecraft), customized, buy HERE. Fill with blue candy!
Mining Sanitizer (Minecraft), buy HERE
Bird Toy (Angry Birds), clearance section of Hobby Lobby
Arcade Candy (Space Invaders), Old Navy
Gummies (Angry Birds), Party City
Cookie (Pac-Man), buy HERE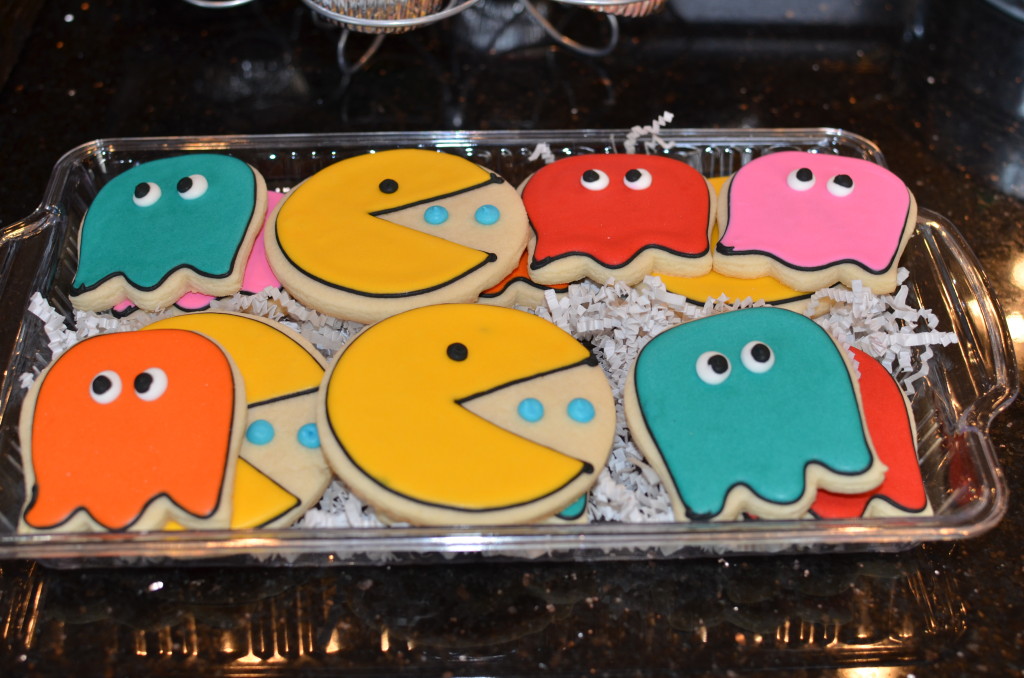 We started the day singing HBD to our always-smiling boy. He loves candles (well, fire) so we put candles in pretty much every meal during Birthday Week. See:
Next up was party prep. The Game Truck was scheduled for 2:30, which meant mama was in over-drive.
I spent several hours learning as much as I could stomach about Minecraft and all of the items you can mine because Noah wanted a Minecraft Buffet. With the enormous help from Etsy I found these creative food tents which made me very happy. You can buy them HERE.
This buffet was so much fun! Many of the items were purchased from the grocery store. I made the 'lava', red jello shots (non-alcoholic, of course) a few days before. The 'dirt grass' was a double batch of Rice Krispie treats with green icing. The TNT was Twizzlers cut and half and wrapped with TNT paper (included with my food tents). I ordered the golden gum balls (golden apples) and colored rock candy from HERE. Please do not make the same mistake I did and order clear rock candy for diamonds….Minecraft diamonds are BLUE. Let's just say I heard about it from Noah and one, or two, or three of his gamer friends! Who knew?!
We did not see much of the boys for the two hours the truck was parked in my street. Every once in a while a gamer would emerge from the darkness, eyes shielded and wobble up to the buffet for an energy boost. I must admit the truck was pretty cool. I had a small vision of an adult only retro gaming party (with real jello-shots!).
After two hours the game truck pulled away and there may have been a few tears shed…but I will not name any names! Ok, it was Jeremy…because now we had to entertain 16 zoned-out boys! EEK! Good thing I had a plan. I knew the boys would need to burn off some energy after staring at pixelated screens for two hours. I also know that these boys love Minute-to-Win-It games. I decided they needed to earn their dessert. In Minecraft there are 9 ingredients you need to make cake. Perfect, huh? Nine ingredients, Noah is nine, we were serving cake! Sometimes the party gods deliver a gift on a platter!
Find the Ingredients for Cake Scavenger Hunt/MTWI Challenge:
1-transferring 9 tic-tacs from one cup to another with tweezers
2-stacking cans and paper plates
3-wrapping the birthday boy as a mummy
4-cereal box puzzles
5-tipping over bottles with a baseball in pantyhose
6-moving cookie from forehead to mouth without hands
7-bouncing ping pong balls into plastic cups
8-unrolling toilet paper rolls 2 at a time
9-blow a Solo cup across the table to their partner and back again
A clue was given for a certain location. At the location the ingredient was found with instructions for their MTWI game. While they were finding the clues, we were setting up the  next MTWI game. I had all of the game supplies in different baskets so it was a quick set-up each time!
I made this 'Ingredient Board' where the boys taped the cake ingredients when they found them.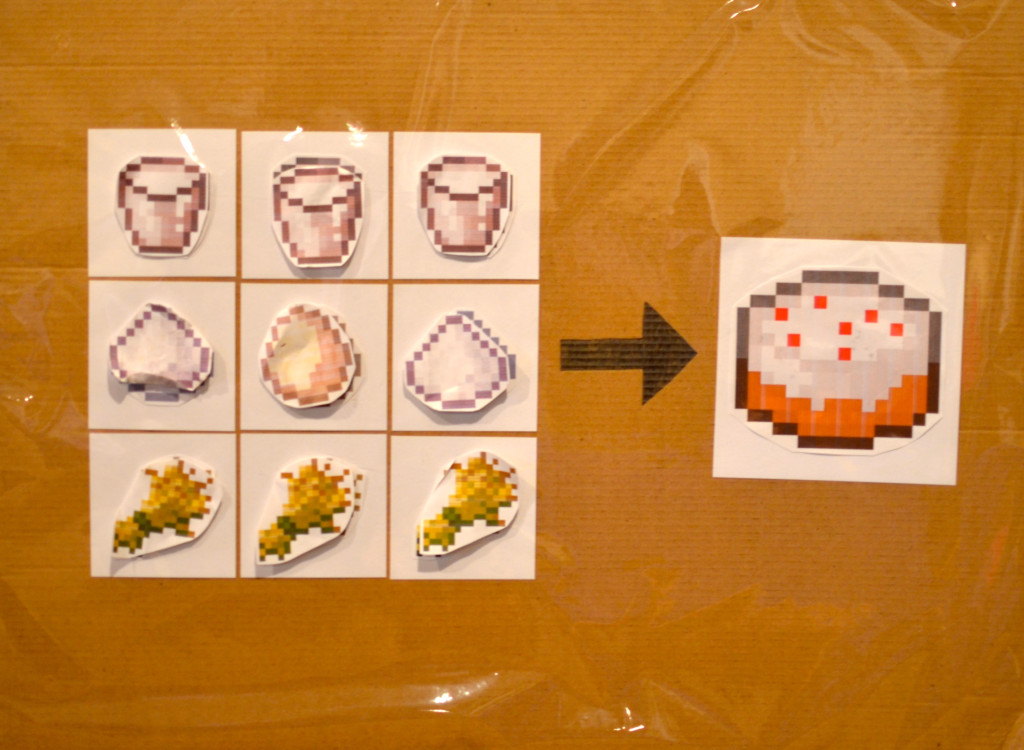 When the board was complete, the cake (cupcakes) were served!
Here's the whole Gamer Gang:
And it is crazy how popular these little guys were. I found them at Brother's (boy side of Justice) and almost didn't buy them, because I thought they would be considered 'babyish'! Boy, was I wrong! I even had a few boys ask if they could take them home! Look how cute….
And as you have probably figured out…I am a stickler for themed shirts for our parties. I love how my whole family plays along!
Live Creatively!

My American Girl has turned seven!
September, 2014
Official birthday is September 26th, but we opened 'Natalie's Doll House' on Sunday to celebrate her inner star with 16 of her closest doll-obsessed friends.
This party was born almost a year ago. Haters, be kind. I am a planner and details are what make me happy, so a year is a must! Thankfully I have children who can stick with a theme once it is chosen!
If you are the parent of a little girl, no doubt you have been to the American Girl store, scrolled through their website and rushed to the mailbox when the new catalog arrives. It is hard not to love these dolls and all of the insane little do-dads (that's a funny word, huh?) that accompany them. I hear a lot of grumbling about AG, but I have chosen to embrace this time in Nat's life.  She plays with her dolls a lot and well, they make her happy. I know it is just a phase and I know they are crazy expensive, but I plan to re-sell a bunch of the 'goods' when she moves on! We gave Natalie her first AG doll (a Bitty Baby) when she was three. Thanks to her older friends, Molly & Sydney she was immersed in all things American Girl at a young age. The Bitty Twins came a year later and then her first official AG doll a year after that….in case I lost you:
Bitty Baby at age 3. Noah named this doll Alice, because Natalie's birthday theme was Alice in Wonderland that year. My boy is CRE-A-TIVE!
Bitty Twins at age 4. Twins were named Jack & Jill….yep, the birthday theme was Mother Goose.
McKenna at age 5.
Saige and Kit joined our family at age 6 and Sunday we surprised Natalie with ice skater Mia who was retired years ago.
Hint: buy your dolls from your neighbors who are cleaning out their daughter's bedrooms! I scored a used box from a different friend and voila, Natalie was in shock as to how we found Mia because "she is not even in the stores anymore"! I love it when a surprise pans out! One point for Mama.
Sorry for the sidebar….back to the PARTY!
I began saving boxes, bags and tissue paper and stock piling the free star stickers they give out at the store over a year ago. I had a vision of using 7 doll boxes with a picture of Natalie in each one.  My original plan was for a picture for each year of her life. I changed my mind at the last minute and used all current pictures. So glad I did. I LOVE how it turned out and even Noah told me that it was very cool. Another point for Mama.
I used a hot glue gun to create my box art. The party guests were hoping the boxes were filled with gifts for them! And the gum ball tubes made the perfect favors. Natalie chews gum ALL.THE.TIME…and the stickers from the store made them 'official' American Girl gum balls! Get the gum ball tubes HERE.
A close up of the favor tag…I was pretty impressed with myself for coming up with that saying! Although I had to explain it to Natalie so I am sure it was as equally lost on her guests. Minus one point for Mama. Hopefully a mom to two appreciated it.
As the little dolls arrived they began decorating t-shirts for the doll they brought to the party. I had two tables set up with the t-shirts (cardboard already inside and ready to go) and the pens. Order your doll t shirts HERE. (Her shop link is broken, so type in RoaringKids in the search box from Etsy.)
When the t-shirt was complete we dressed their doll in their new shirt and a tutu and party hat. My super creative mom made the doll tutus and party hats! She rocks….really! Check them out…she is taking orders, email me for her contact info! You know you want to!
In case you are wondering what we did with the clothes the dolls came in, well… I had the tutus and hats (and some AG stickers) in a bag labeled with each girl's name. Their doll clothes went into their bag and I am happy to report that nothing was left behind. Whew!
It's not a party without games! We played Doll Bingo and Pass Kit! Jeremy was an excellent Bingo caller and was very patient as the girls found the right doll on their card! I was racking my brain as to what to use as markers for the Bingo cards. At first I thought of something edible, but I didn't want to ruin the cards (I will use them again, I'm sure of it!). Buttons? Pennies? Beads? They would have all been just fine, but the DETAIL OBSESSED part of me was not content. The Bingo gods spoke to me and I remembered the bucket of doll house miniatures that belonged to my Grandma Dortmund that Natalie loves to play with….perfect! The girls were so into the little items and it made the game much cuter! Buy your custom Bingo cards HERE.
Party snacks! Since kids are always hungry, except for a proper meal, and everyone enjoys some good party eats the snack table is always a priority to me! And I am glad I was prepared because about 15 minutes into the party (starting time of 3:30) one little guest announced that she was ready for a snack! Here's what we served:
Teddy Grahams (two flavors of course), Pretzel Rods (love how they can be displayed), Bagged Apples (with caramel dip…bonus!), String Cheese and Grapes. Easy peasy! The girls were happy once their plates were full.
Natalie requested Dippin' Dots, but man those are not cheap! Kroger came through for me with their generic version thank goodness. And, it's not a party without cake, right?! My friend Angie is a Cake Goddess.  Really she is. I send her a picture and she always exceeds my expectations. Order your own awesome cake from her Facebook page, ohmygoshCake.  Seriously, look:
And here we are singing to the Birthday Girl…
 she actually hates to be the center of attention (or have her picture taken, but that is a blog post for another day), so the yearly, "Gather around Natalie, stare AT her and sing TO her" announcement most likely makes her cringe. She is a good sport though and even managed a smile during her special song. It might be the adrenaline rush of the party or the teeny, tiny reminder that she cannot open her gifts unless she smiles for my pictures!
I am a sucker for iced cookies, anyone else? Once upon a time I made them myself and spent endless hours perfecting my decorating skills. Let's just say  that decorating cookies is HARD! I have decided to leave it to the professionals. My Cookie Diva can be found HERE.
A few other buffet table decorations:
Let's talk drinks! Natalie loves lemonade and its cheap and easy so I said yes! A couple of years ago it was mini cans of Fanta, so I was super excited about lemonade! I'm a big fan of lids when little ones are involved and actually started using the Mason jars before they were blowing up Pinterest 🙂 I am pretty sure I got the idea from my Grandma Dortmund…she was a thrifty lady! I strongly suggest you buy a case of jars for your future parties. You will save tons of money in the long run! Add some fancy lids and colored straws and sit back and pat yourself on the back! I added stick-on chalkboard labels for this party. A few girls begged me to take their glass home. Sorry sisters!
A few years back my very creative friend, Sarah from Pennsylvania celebrated her American Girl with a star-studded affair. Sarah likes to throw over the top themed parties too (one of the many reasons we are friends!). This particular party included a life-size doll box for the girls. I stole her idea and Jeremy and I set out to create a box for Natalie. It is adorable if I do say so myself….
Wanna make one for the doll in your life? Head to U-haul and buy a Sport Utility Box. Next, stop by the hardware store and buy a couple cans of red spray paint, a small jar of white paint, a few rolls of white electrical tape and you have the fix-ins for a one-of-a-kind doll box! We measured Natalie for the face hole and Jeremy's circle cutting skills did not disappoint. Thank goodness he listened in math class and was able to MacGyver some sort of contraption with string, a thumbtack and an Exacto knife and I was presented with a perfect circle. I love a man who is not afraid to craft! I used a cross stitch hoop (I grew up with a sewing mama, so these were on my radar) to make the perfect circle around the face hole. I had nightmares about stenciling the stars on the sides of the box, but JoAnn Fabrics saved me the day before the party. Moment of poor planning…I finished the box about 20 minutes before the party started! YIKES!! Anyway, I bought adhesive paper in pink and white, traced some stars and slapped them on the box! Since I am a tech idiot and could not figure out how to download the American Girl font to my computer I did the next logical thing and cut the logo from one of their bags and taped it to the box! We took a picture of each party guest in the box and will include a copy in their thank you note. The girls loved the box! One friend asked if she could borrow all my 'stuff' for her party. This same guest told me that I had really "upped my game" this year! Little girls crack.me.up!
I always take a group party picture. My kids LOVE looking at them years later. It's fun to remember who celebrated with them. This year we had to include the dolls…and silly faces!
We ended the evening with dinner from Donato's, a few cold beverages for mama and daddy and lots of fun presents to open! My American Girl went to bed happy and loved. She fell asleep with her arms around my neck after thanking me for her 'best birthday ever'!
 WE LOVE YOU NATALIE!
Live Creatively,