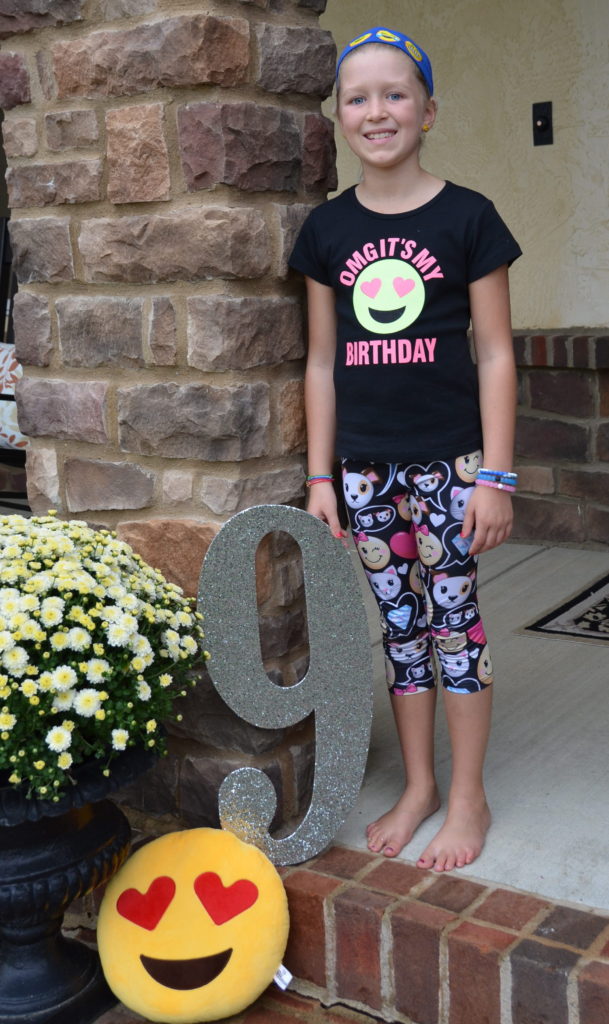 Emojis have invaded our everyday life and Sunshine is so emojinal that we HAD to celebrate her 9th year on earth with everything emoji!! I bought her shirt from madgrrl on Etsy. Leggings from Justice. Headband from local shop, Cute As A Button.
Sidebar: Sunshine's birthday is September 26th, so this post is indeed a bit tardy!
Myself, Mama Moji had a ball planning this shindig.
I started with the invitation. Sunshine's favorite colors are teal, pink & purple.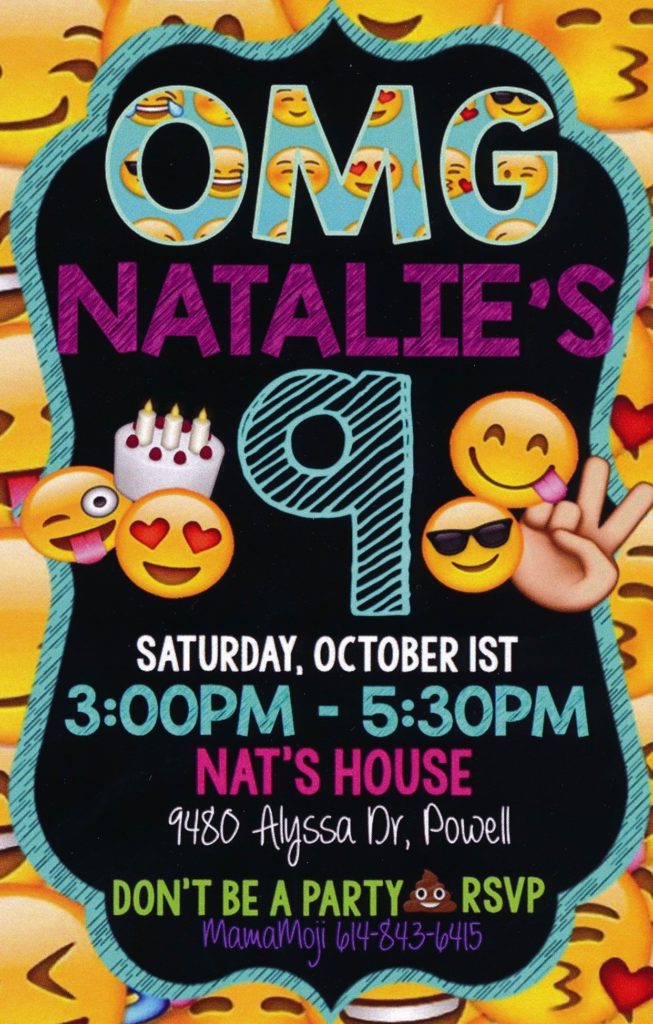 OMG, right? Buy it from invitationsbyKATRINA on Etsy. The shop owner even made me these matching Thank You cards: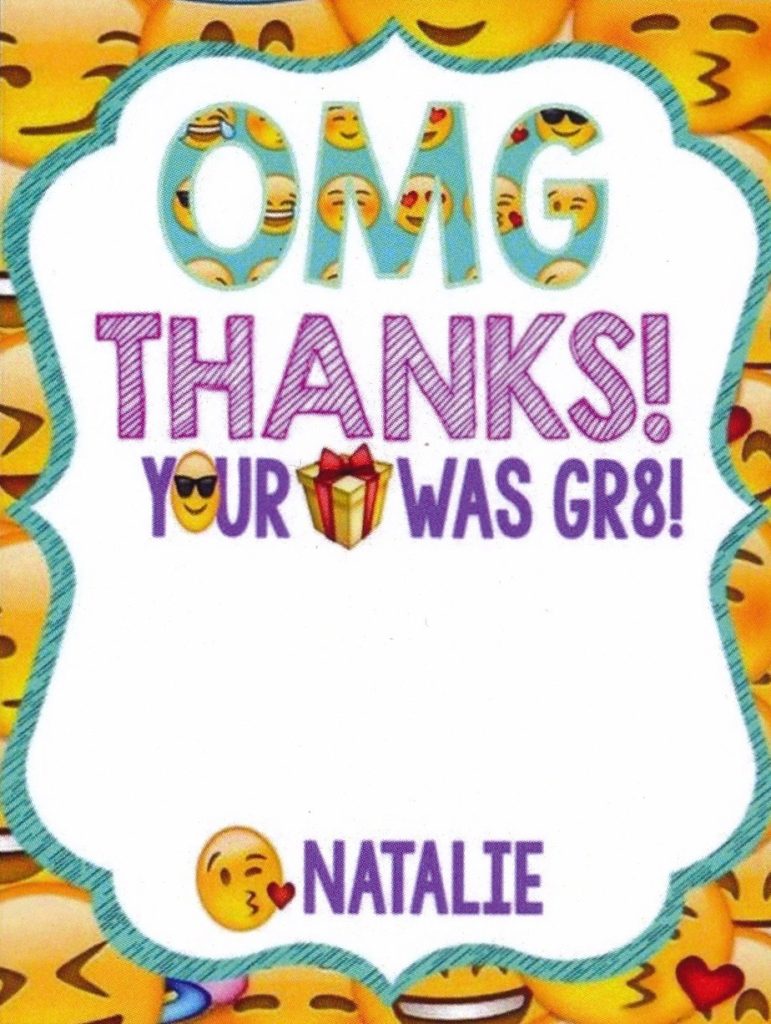 And these bag tags:
Thankfully my mom was in town and was my DEO (Decorating Executive Officer). Nothing was left undecorated….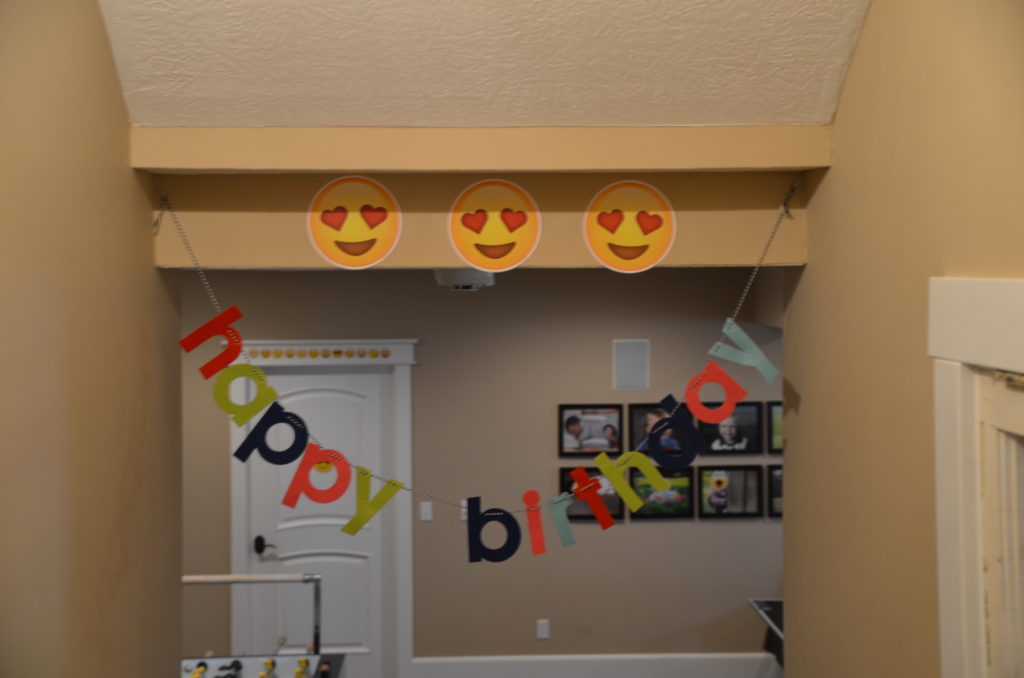 I found the Emoji faces, etc. at our local teacher store. Score!
Those pillows above inspired Doc to come up with the craft. I like crafts. Boy Wonder is too cool for party crafts now, but not my Sunshine. Doc said the girls should create their own Emoji pillows and that my mom could sew them together. GENIUS! One call to my mom and she was off and running. She made small round pillows from yellow fabric, left them unstuffed and with enough room to fit a piece of cardboard between the fabric layers. She's pretty awesome like that. The girls used fabric markers to decorate their pillows and then stuff them. My mom later stitched them closed and Sunshine delivered them a few days after the party. TA-DA!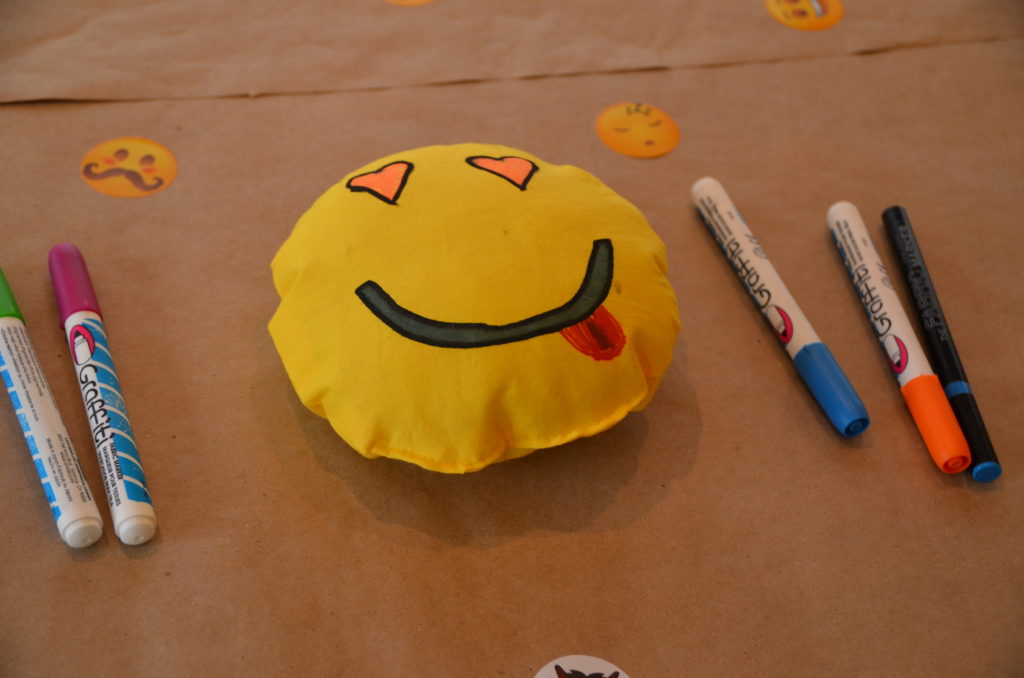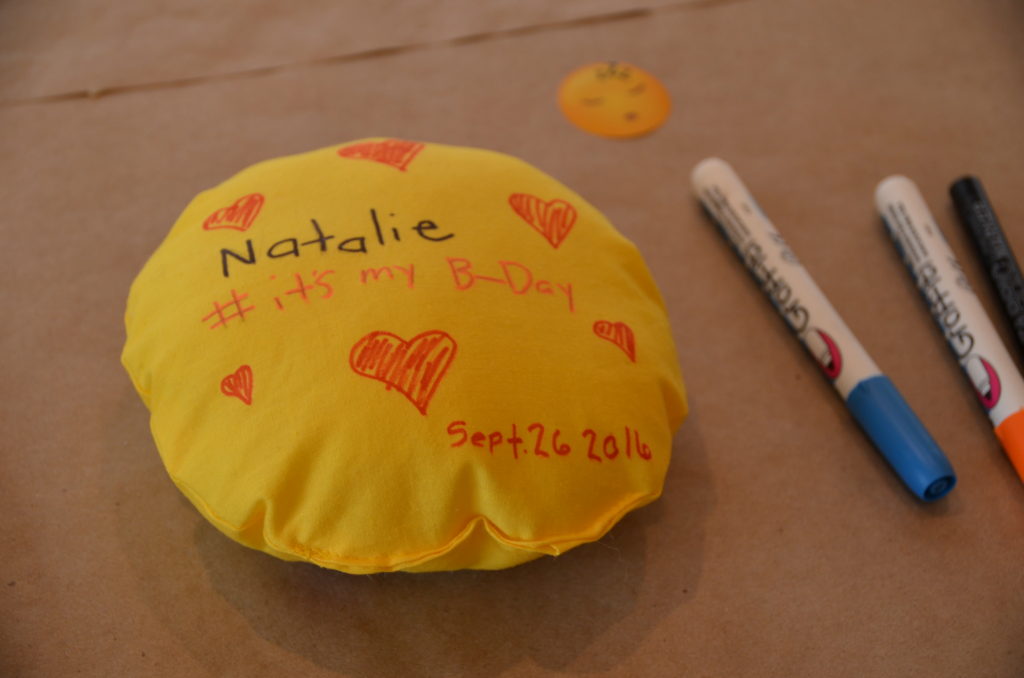 As the girls finished they moved to the living room and worked on an Emoji puzzle that we had set up.
Next on the agenda: GAMES!
I like stations. They provide order and ensure everyone gets to play each game. I assigned an adult (or older brother) to facilitate each game and keep track of when to switch. This allowed me to clean up the pillow-crafting table and turn it into a dessert table!
Games:
Mystic Ball & War: Emoji themed Magic Ball & Emoji playing cards.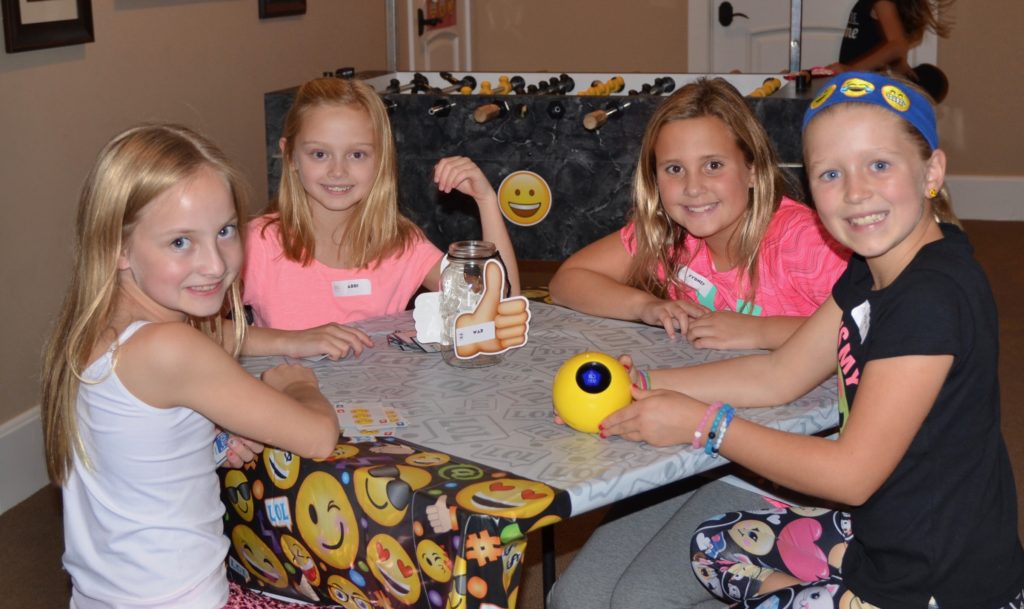 Twister: I lovey-faced a few of the yellow twister dots! Buy a Twister Ultimate game for your next party!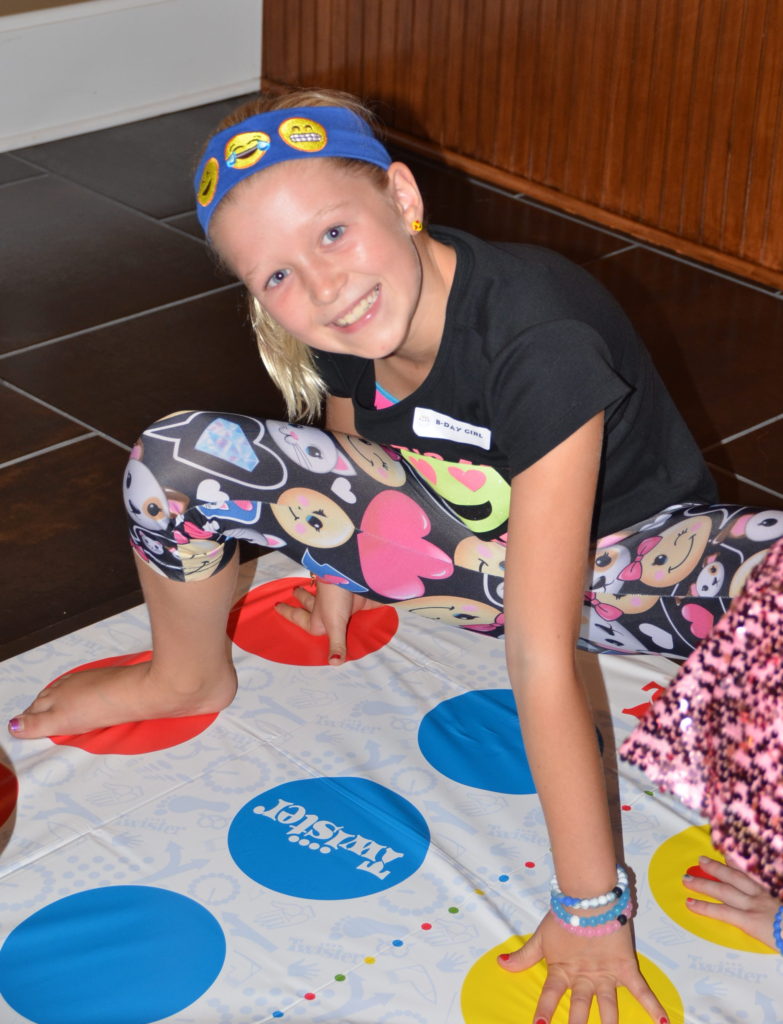 Memory: I used an old Memory game, painted the picture side black, attached an emoji sticker (2 of each) and decoupaged it to the card.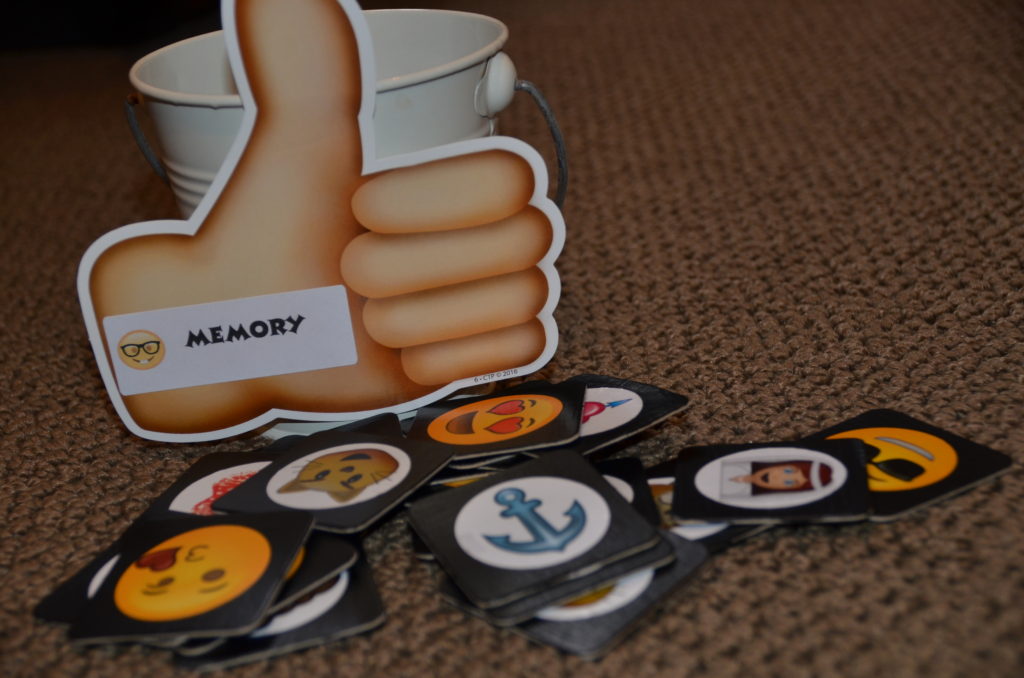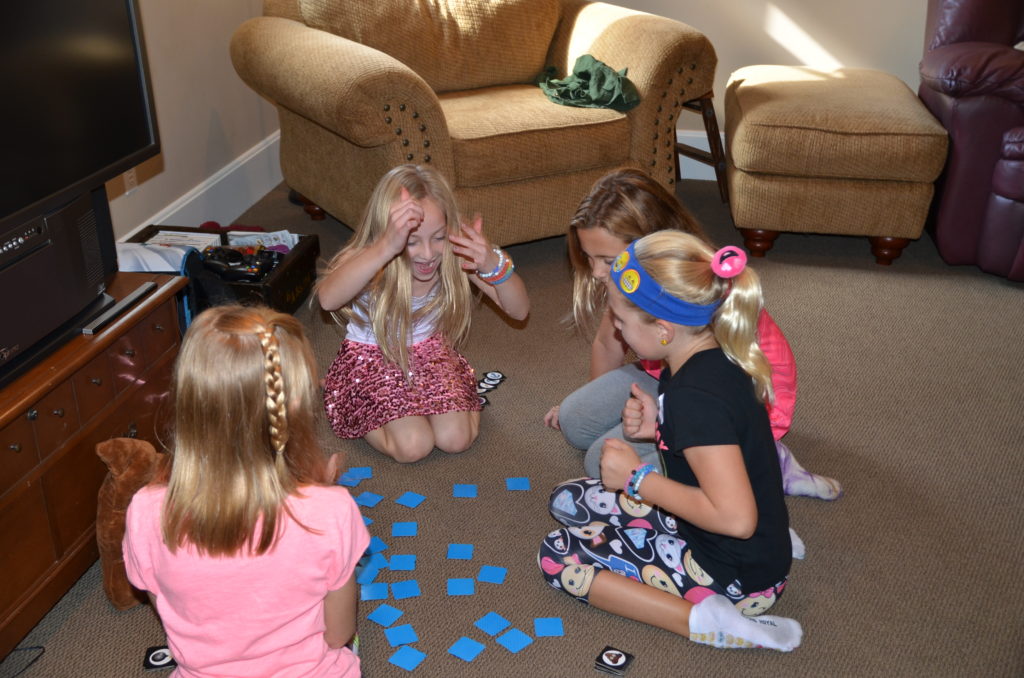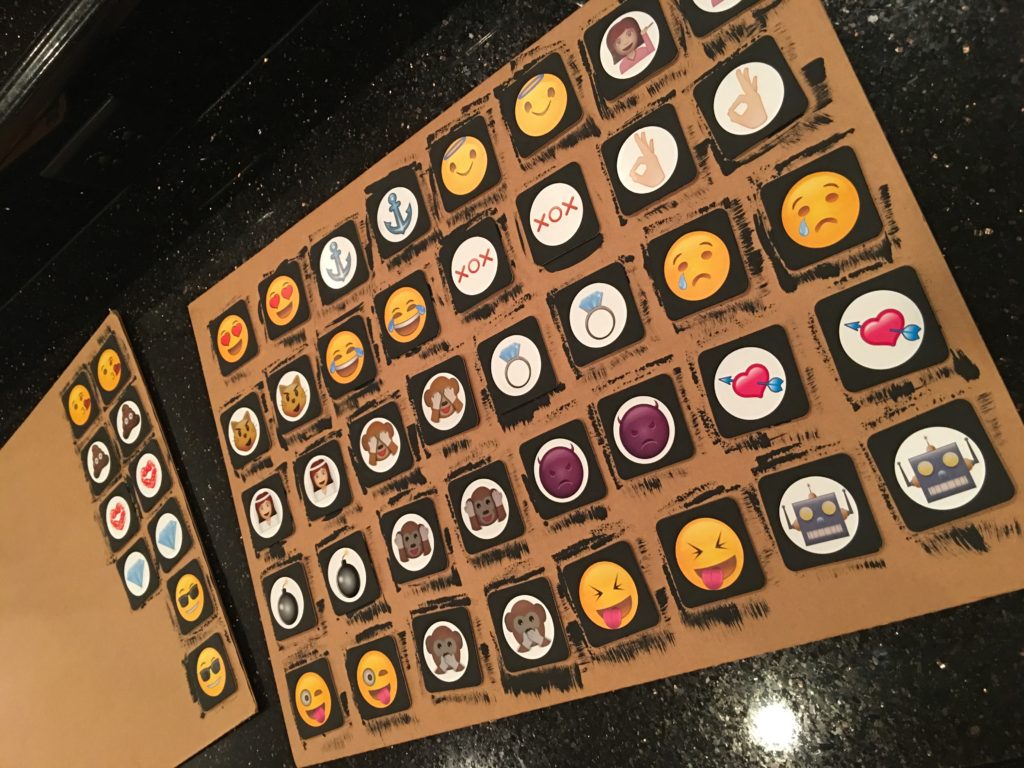 Ping Pong: Regular rules, using an Emoji ping pong ball of course!
Pin the Sunglasses on the Emoji: Bought this cute poster at the Scholastic Book Fair.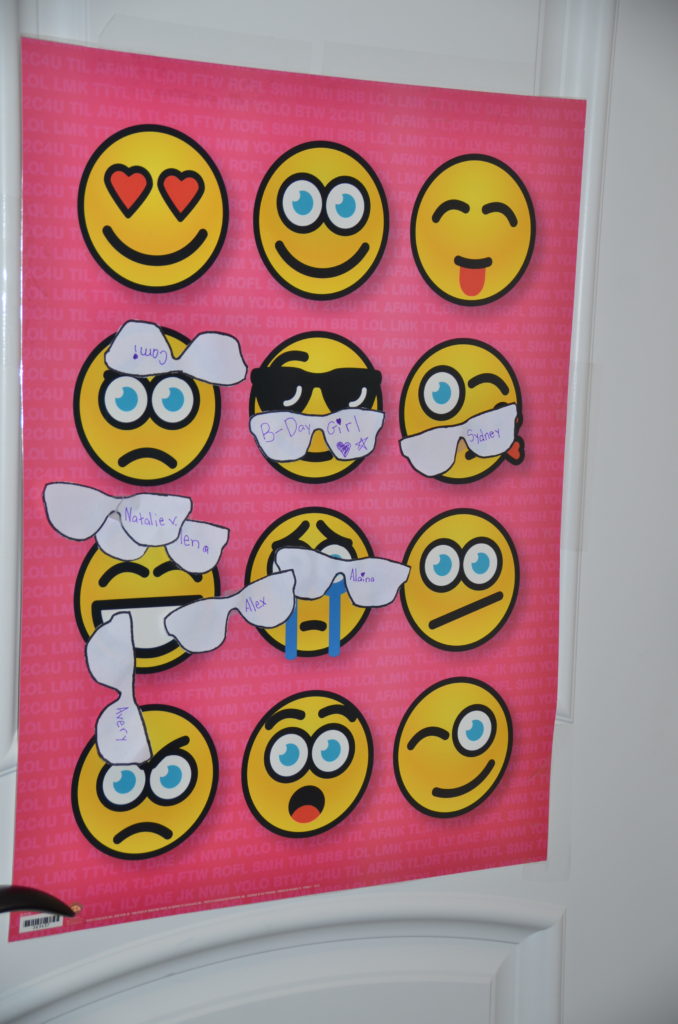 Pass the Poop: Using an Emoji poop pillow and some music!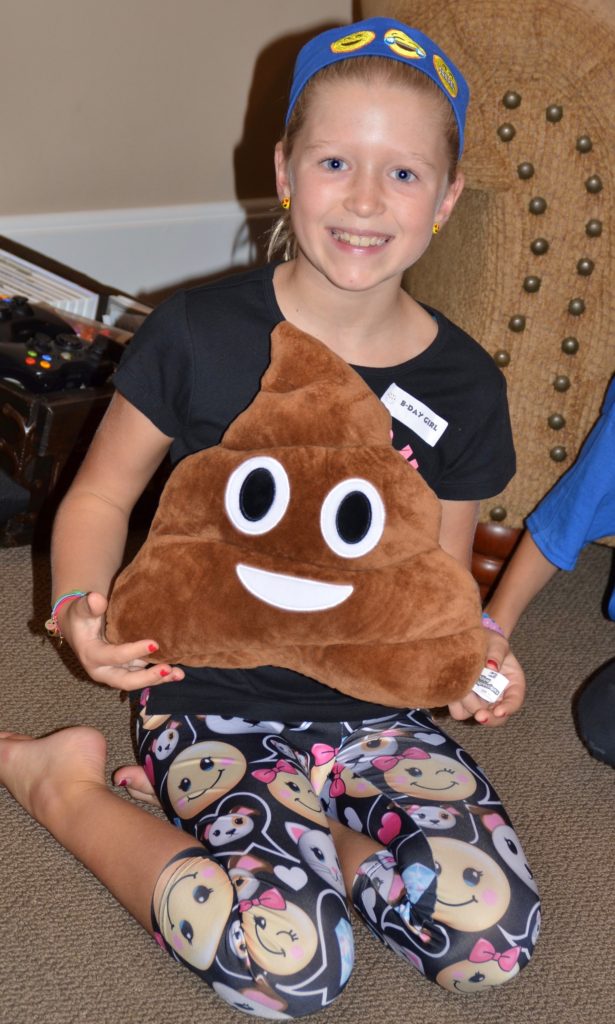 Boy Wonder represented with the Poop Emoji shirt. The girls "hated" having him and his friend Z at the party! 😉
Where to Buy:
Time to EAT!
Emoji food was easy. I just scrolled through the food emoji's on my phone and picked a few items that would work. I printed the emoji's on a label, slapped it on a table tent and was done. Easy Peasy.
Emoji Napkins courtesy of Party City: I always buy themed/fun napkins, but plain colored plates, cups and cutlery. Saves a ton of money and you can reuse the plates & cutlery later.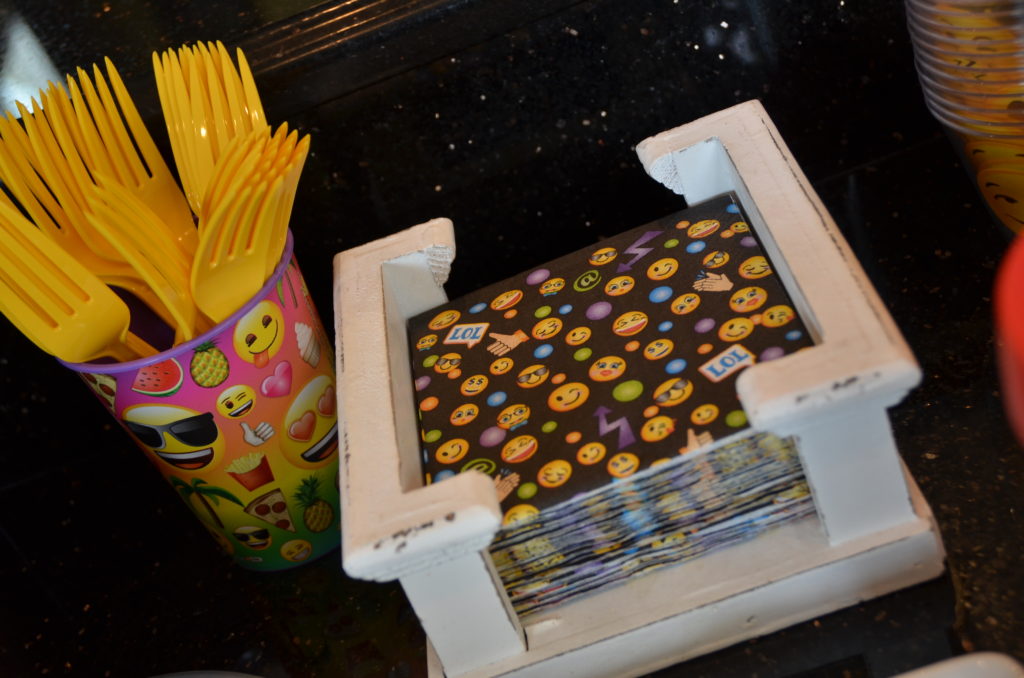 Emoji Plates courtesy of Me (a sticker attached to the underside of the plate with packing tape!):
And what Emoji party would be complete with out some Emoji gum balls?
Buy: Emoji Gumball Machine and Gumballs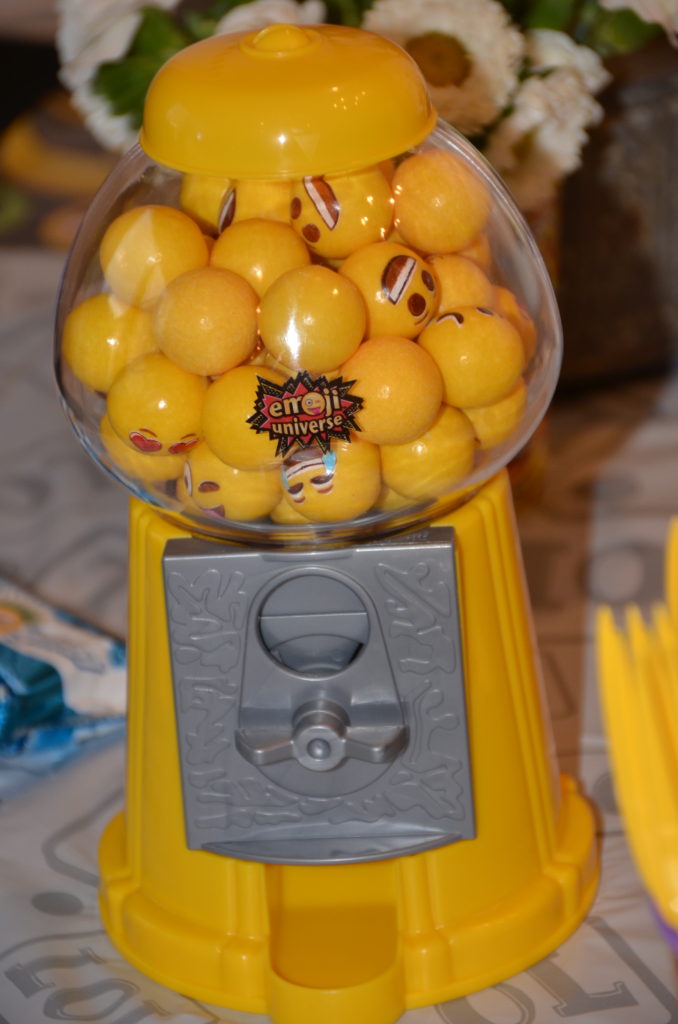 Emoji Cookies courtesy of Cookie Crumbs: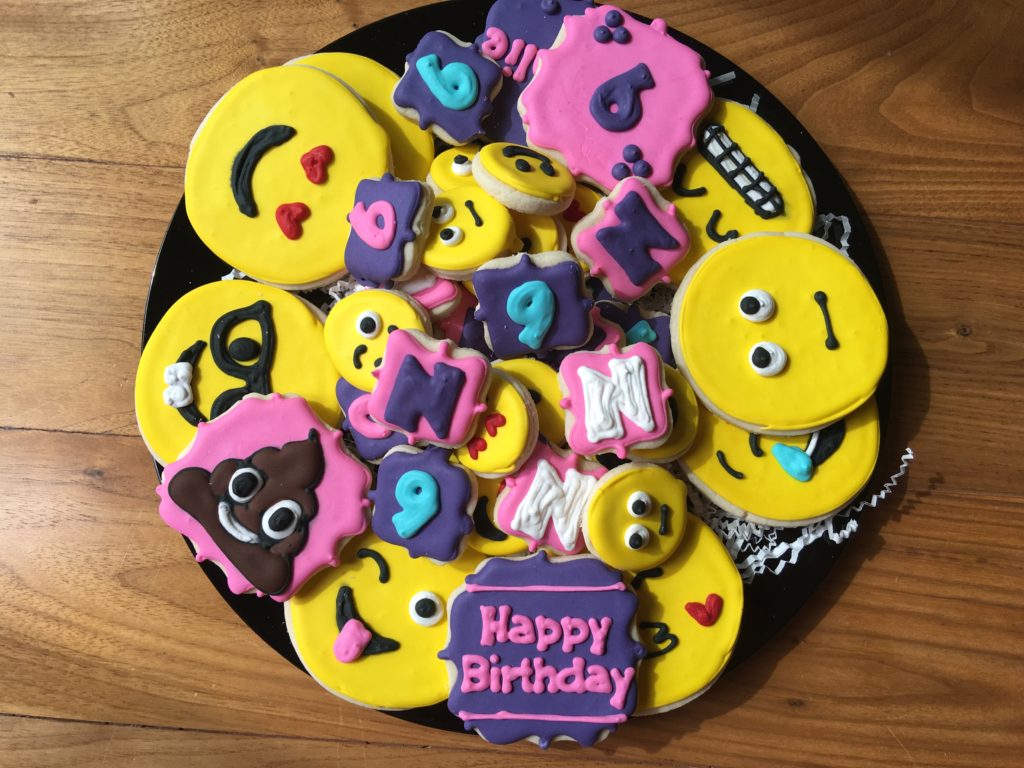 Emoji Cake courtesy of Oh My Gosh Cake!
And for Sunshine's friends with allergies, Emoji Rice Krispie Treats: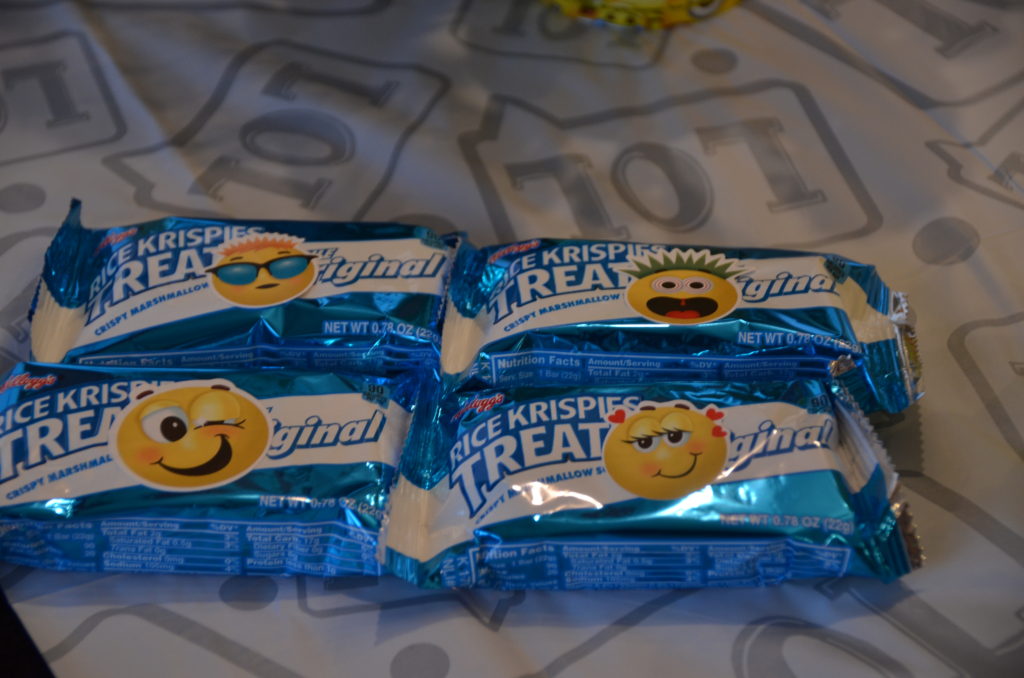 Sunshine doesn't really like being the center of attention, but she puts on a brave face while her sweet friends serenade her.
The birthday girl with her Gramma: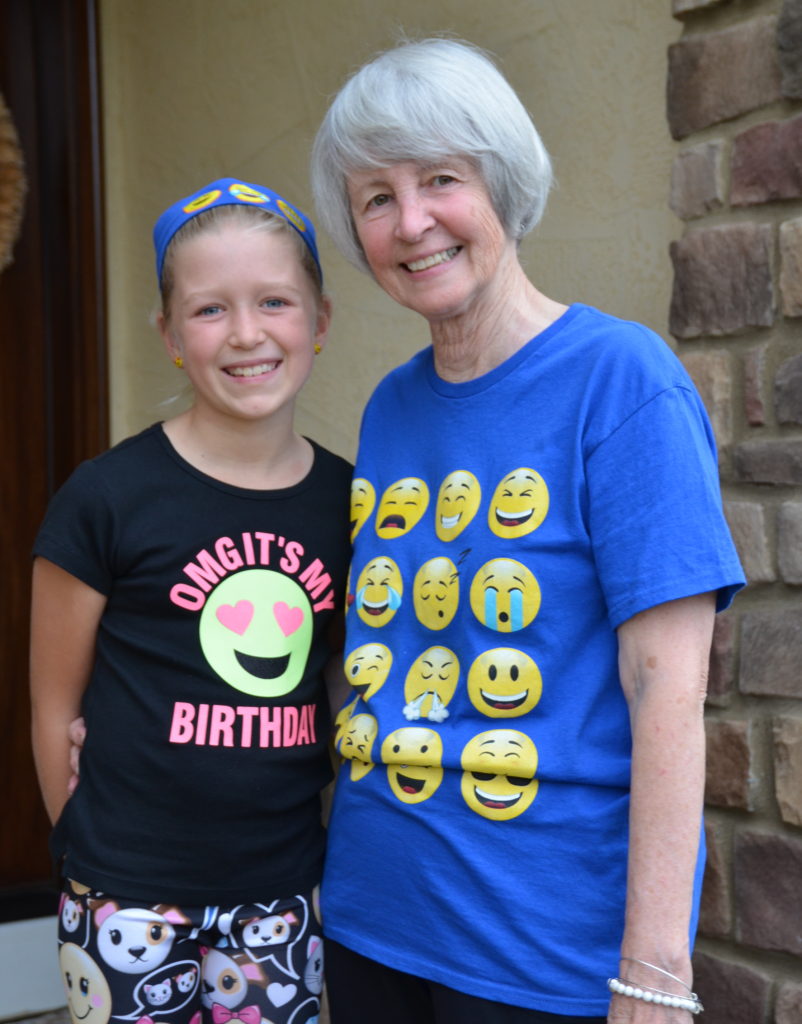 And with my in-laws: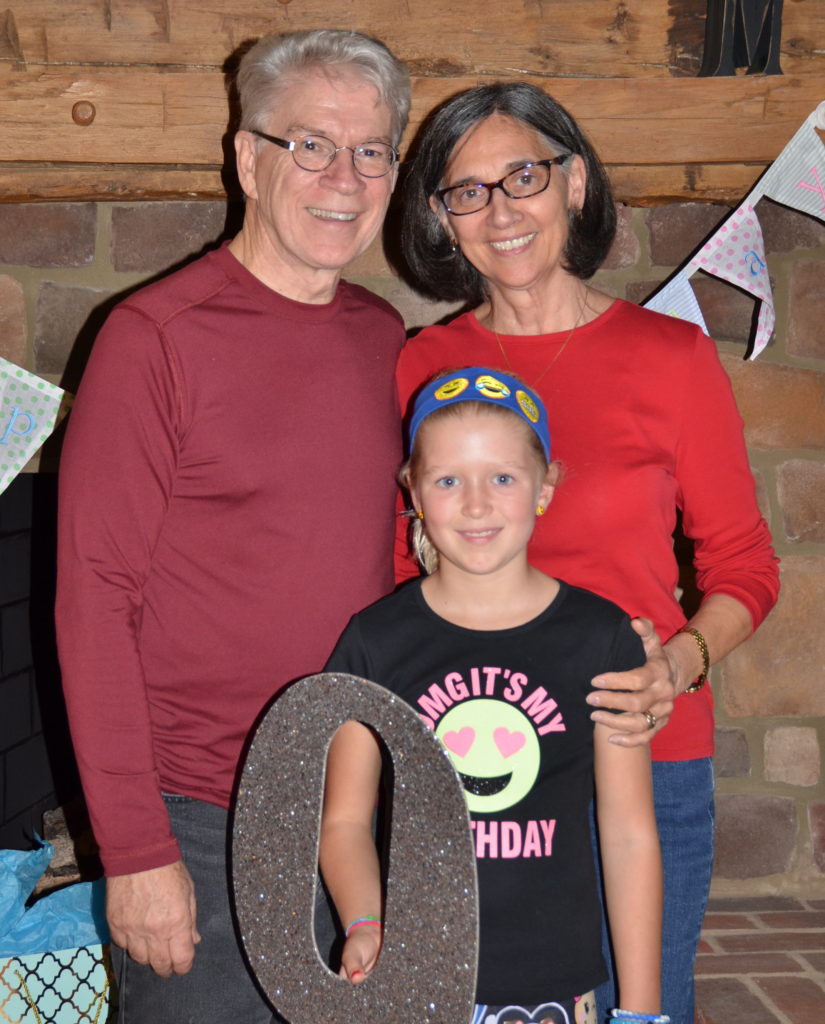 Even Jagger had an Emoji shirt: I made it at Uber Prints. Super easy. Super fun.
And of course Team Mathis represented the theme…
Doc, Gramma & Boy Wonder's shirts came from Target.
Here's a close-up of the shirt I designed for myself, again at Uber Prints:
I really, really cannot believe she is NINE. OMG! #bestpartyever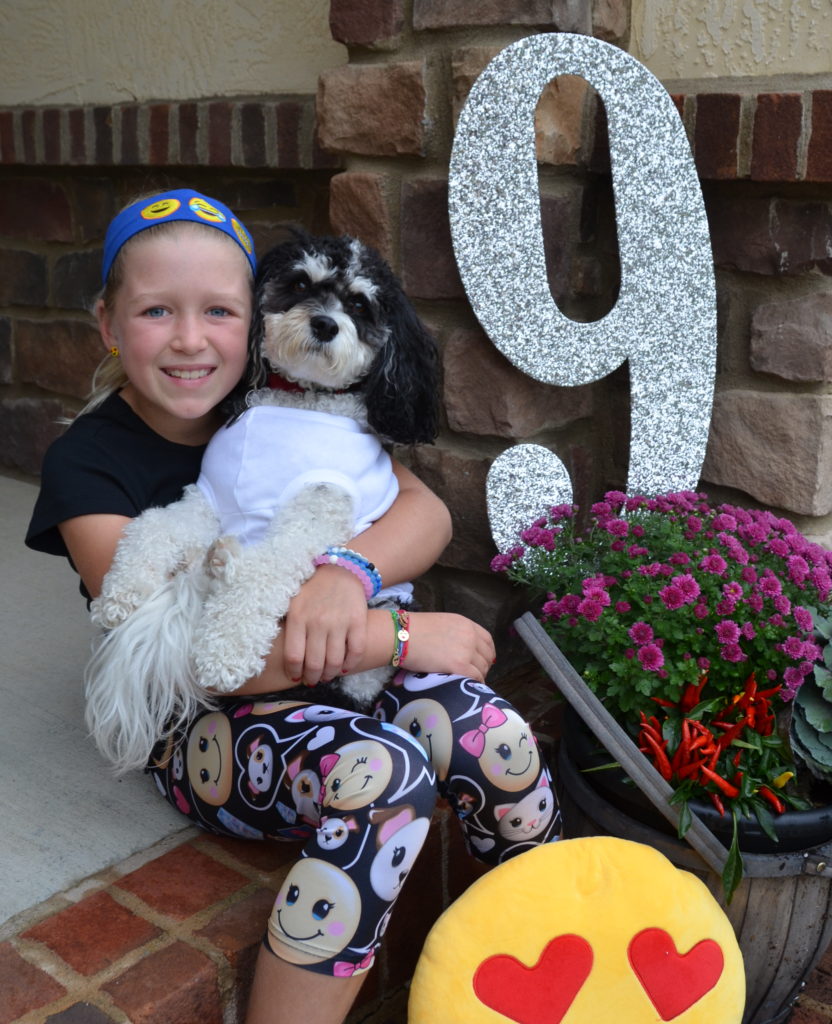 Live Creatlively,

Tags: