To know me is to know that I like love New York City. My babies do too. You can read all about their first trip to the Big Apple here.
Doc and I were fed up with the present portion of Christmas. He was tired of paying for them. I was tired of searching for, ordering, hiding and wrapping them. On a whim we asked the kids if they would rather take a trip or have presents under the tree on Christmas morning. They both quickly answered 'trip' and so the planning began.
NYC was an easy decision. The kids have been asking to go back, Doc had never been at Christmastime and for me it was a no-brainer! I booked it for the first weekend in December. Friday to Sunday.
This weekend ensured 4 important things:
THE tree would be up.  Santa would be at Macy's. The Thanksgiving crowds would be gone. And hopefully it wouldn't be face-freezing cold.
I will never grow tired of seeing Lady Liberty from the sky.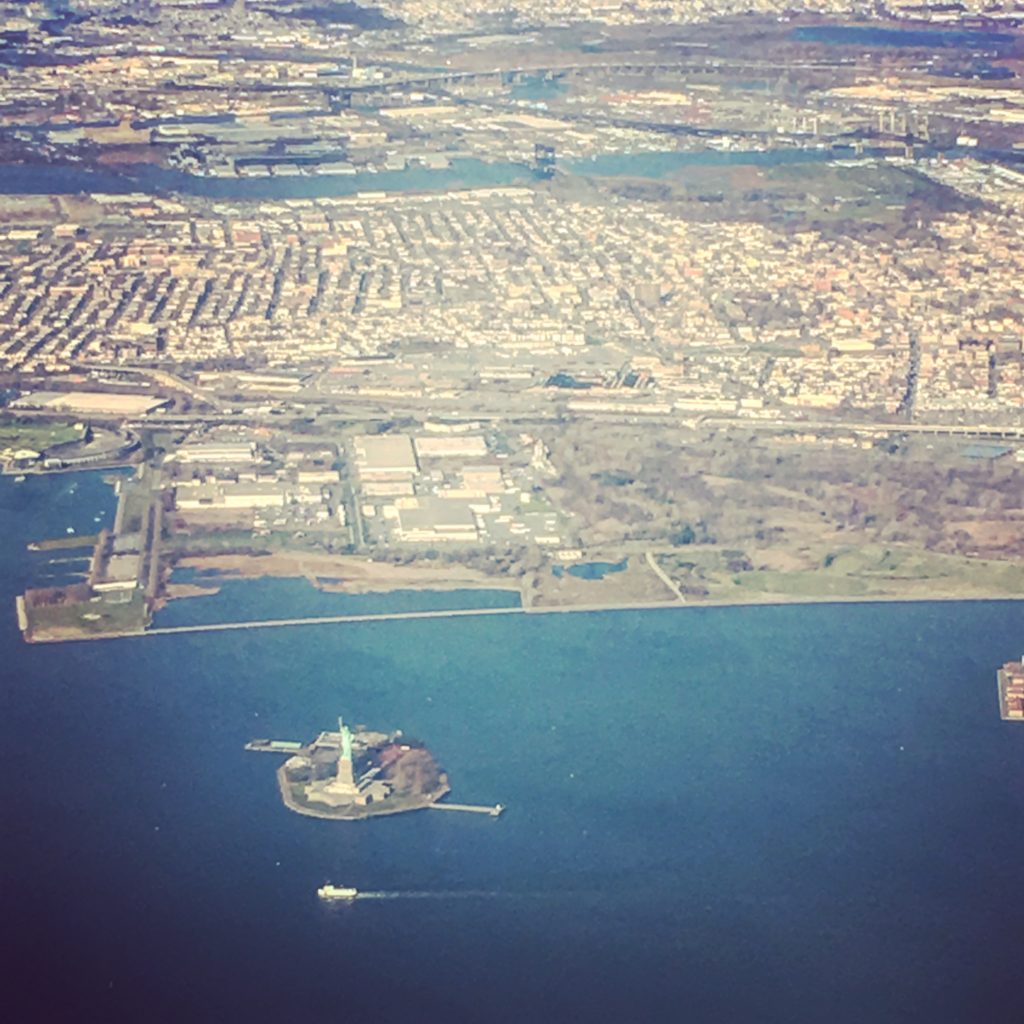 Hint: If you are flying into LaGuardia, sit on the left side of the plane (left as in when you are seated and looking towards the cockpit) to get incredible views of the city.
I chose the Dumont NYC for our hotel. The location was perfect and I am a big fan of the Affinia Hotels in Manhattan. Located at 150 E. 34th Street, it was just a few blocks from Macy's Herald Square. The most famous Macy's in all the land.
Funny story….see those coats my blessings are wearing? They were purchased a few hours after we landed in NYC in DECEMBER at the famous Macy's I mentioned. Why? Because both, not one, but both of them forgot their coats. Yep. Left the house to go to the airport in DECEMBER without a coat. Needless to say it was the running joke of the weekend. Here's a look at them freezing on our walk to Macy's….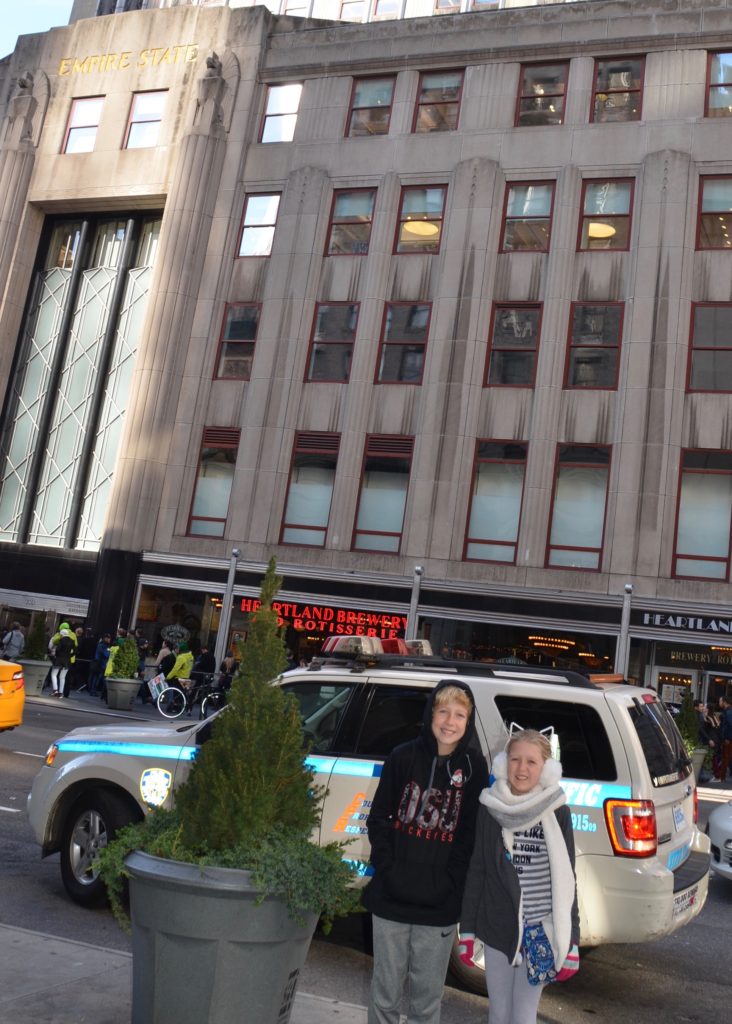 We may have taken the long way.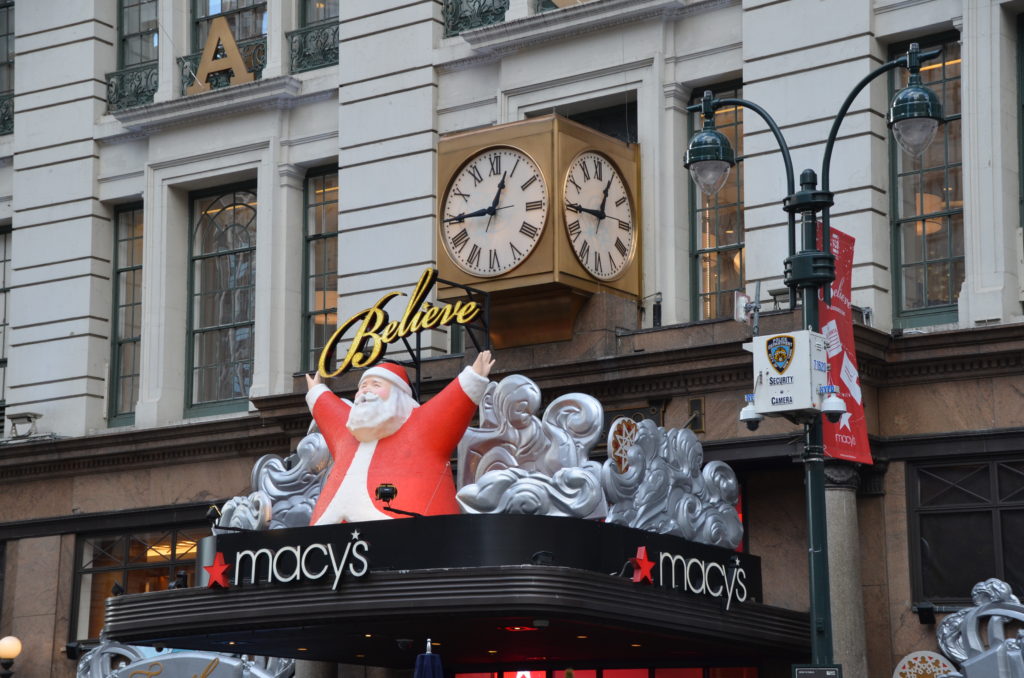 Once they were properly clothed for the weather, our first stop was SANTA. Here's a little tip: Book your time with Mr. C before you arrive.  Starting in November, visit this website. You will get a confirmation like this: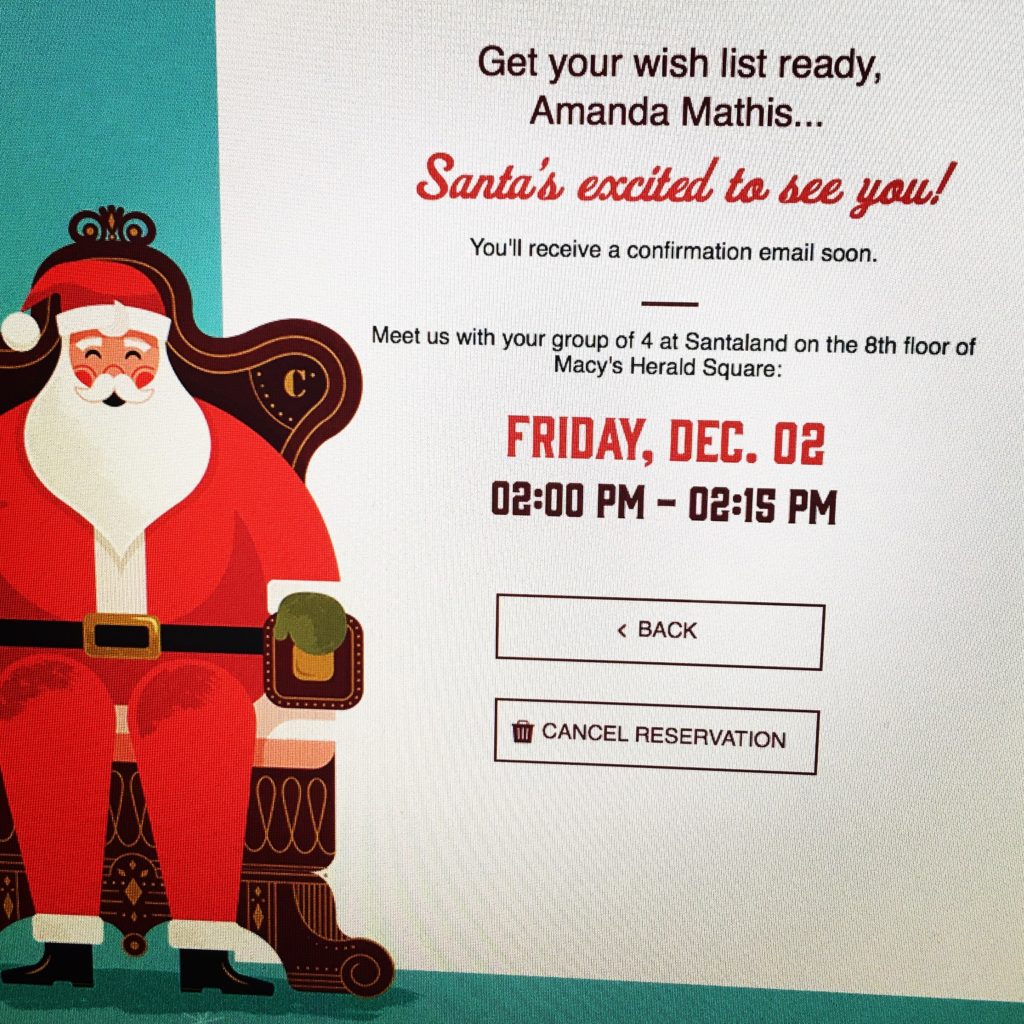 And when you arrive you get to skip the mile long line, go straight to the Express Check-In, find an elf and enter Santaland.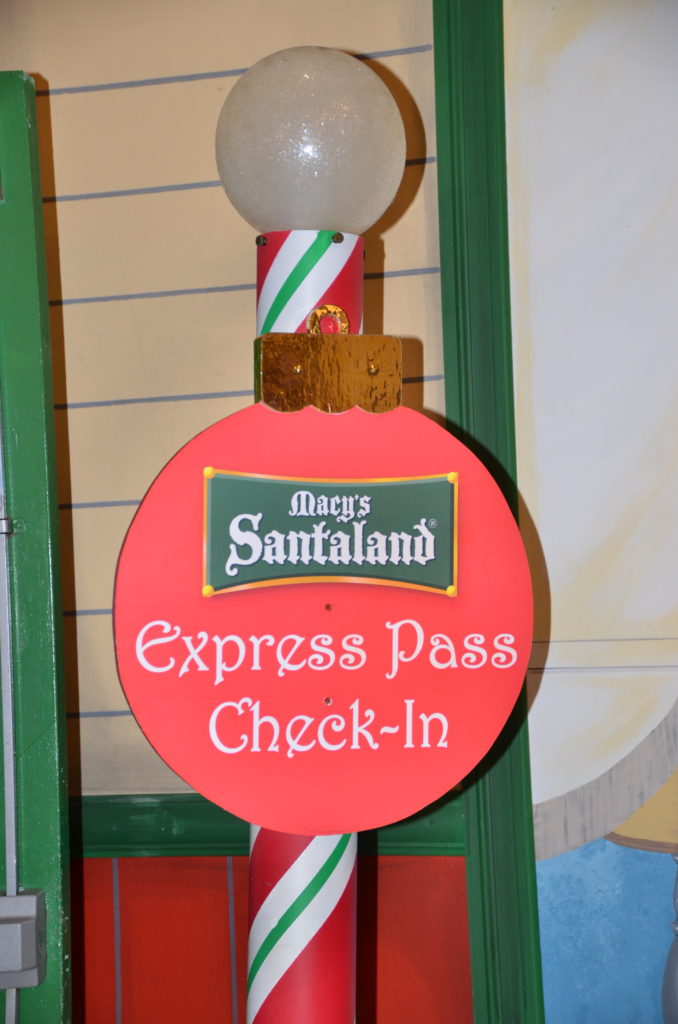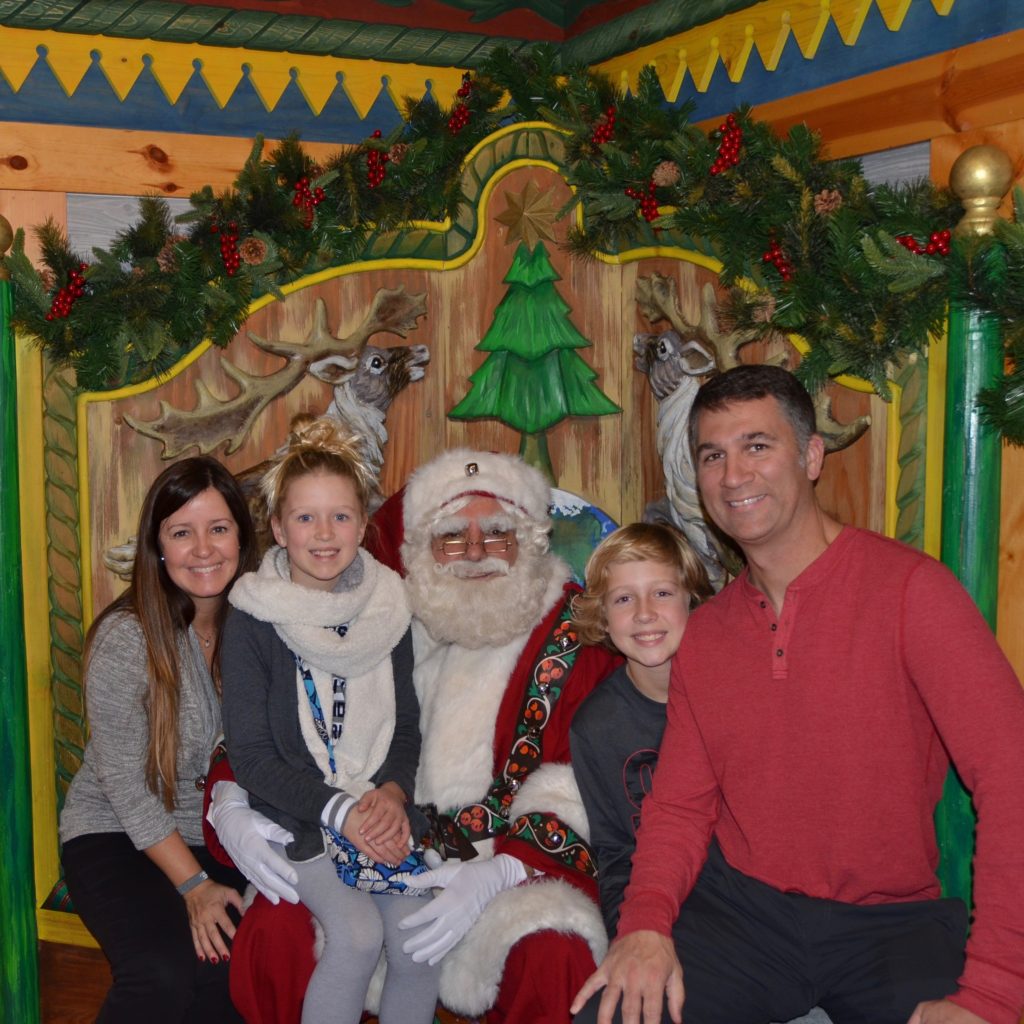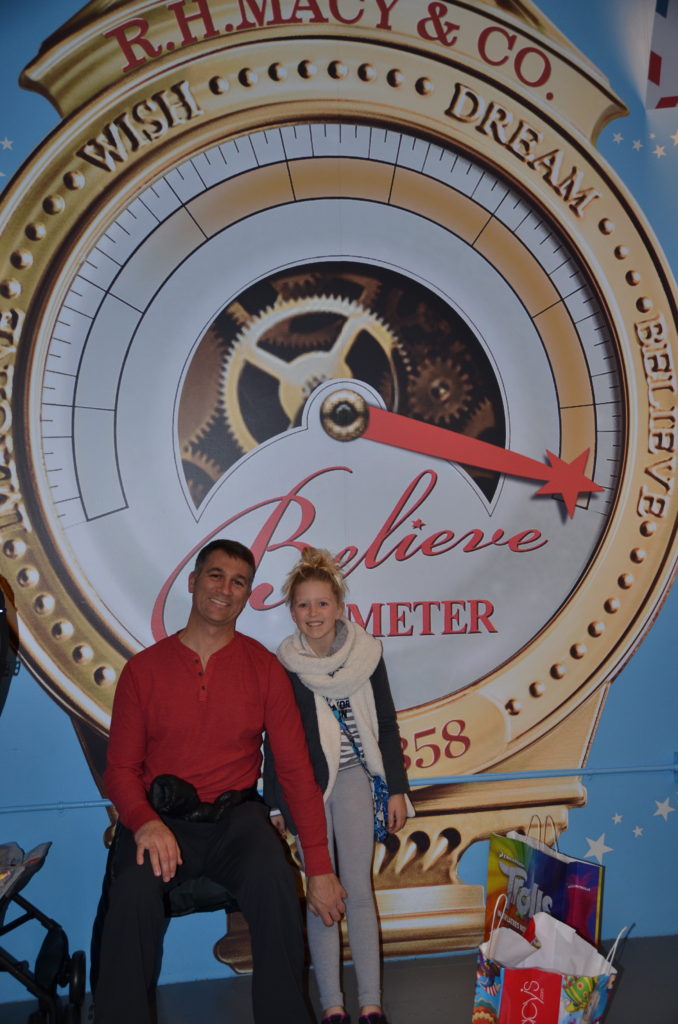 We BELIEVE!
If you like a good deli. Head across the street from Macy's to Herald Square Market. You can order the sandwich of your dreams.
We spent the rest of Day One milling around the city and checking out the holiday window displays. Gorgeous. Check out this one at Sak's: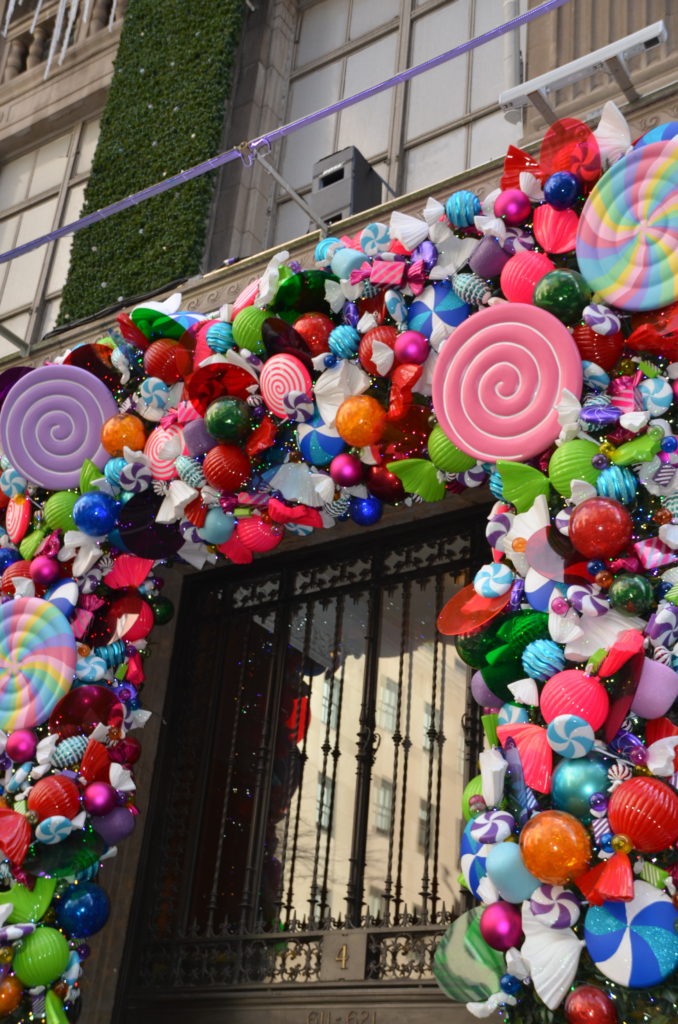 We ate a yummy dinner at Parker & Quinn. It's on West 39th at 6th.   Make sure you ask for one of the cool booths and order the Fried Chicken Sliders!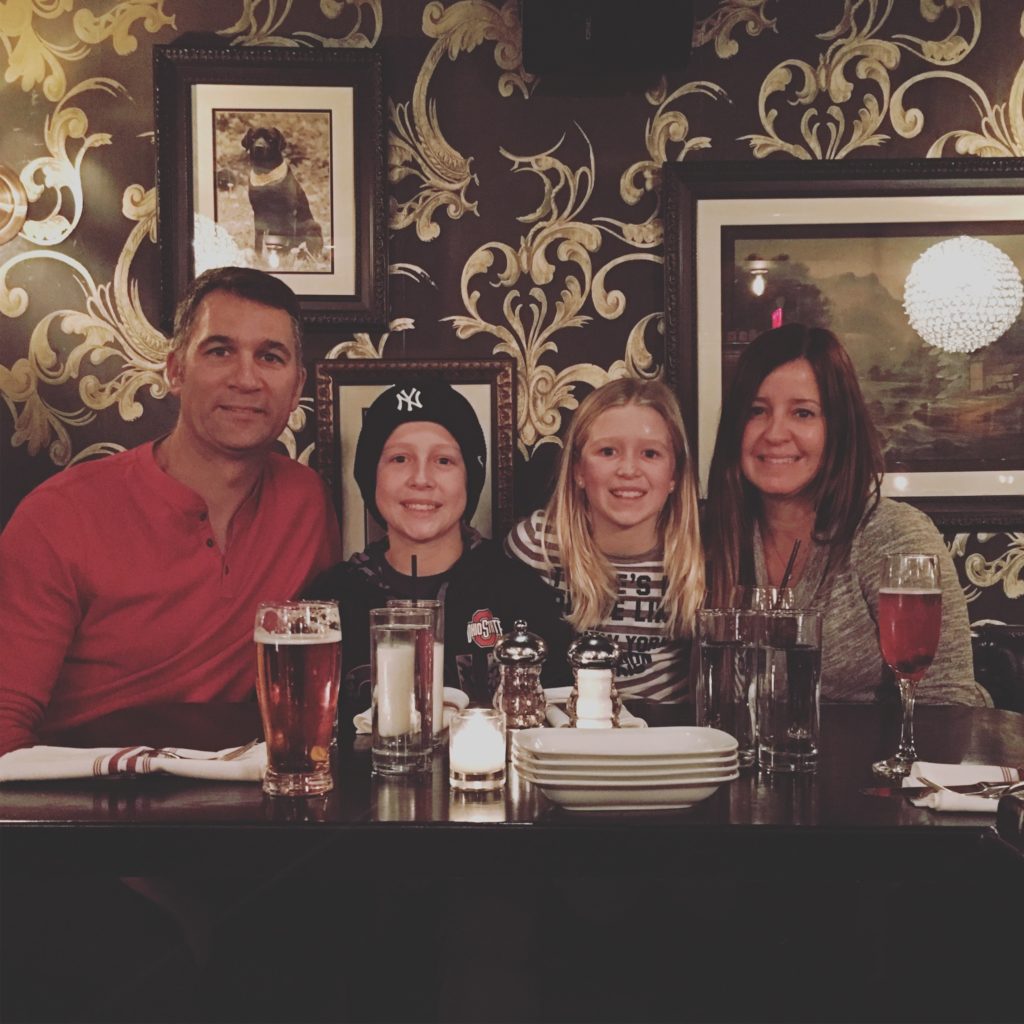 No day in NYC is complete with out a cupcake from Magnolia Bakery.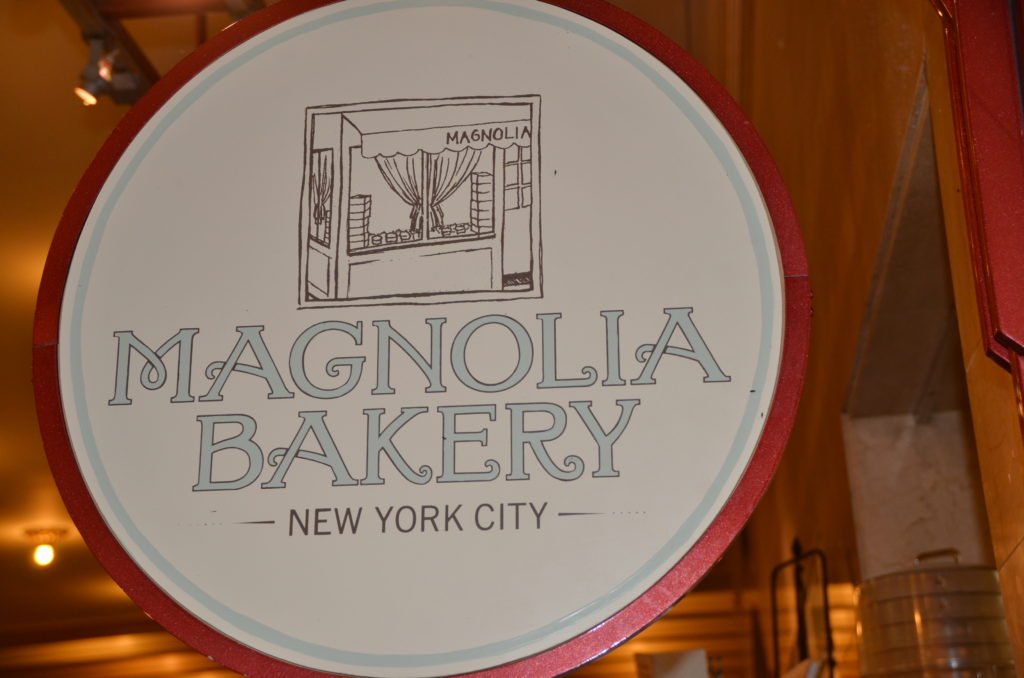 We visited the Grand Central Terminal location so we could eat our dessert in one of our favorite spots!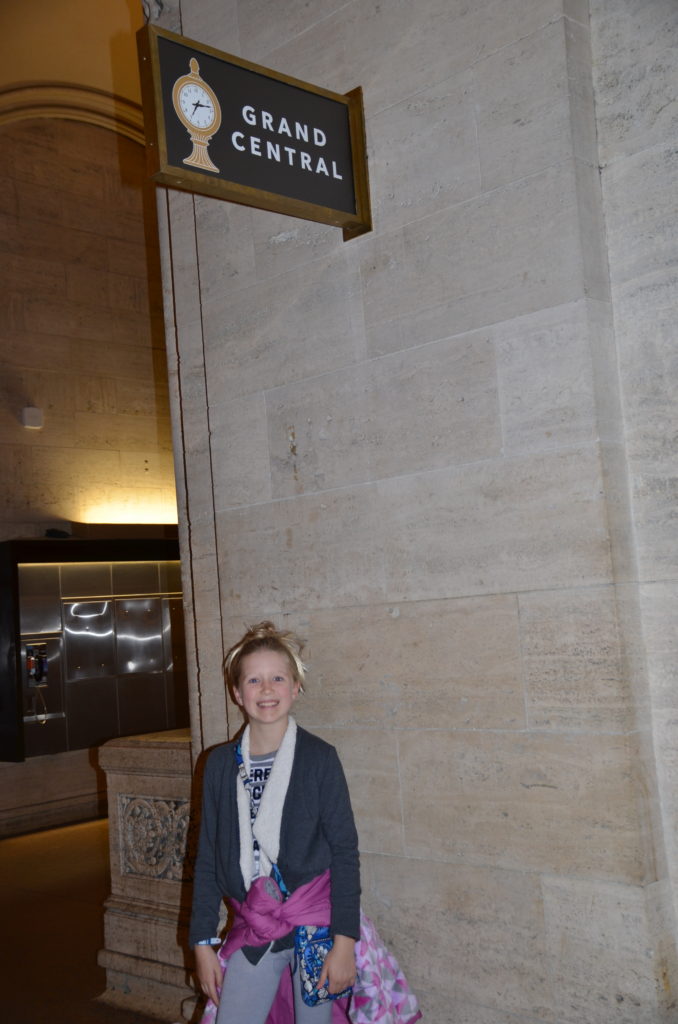 The kids loved the "little baby trees" for sale on the corner by our hotel.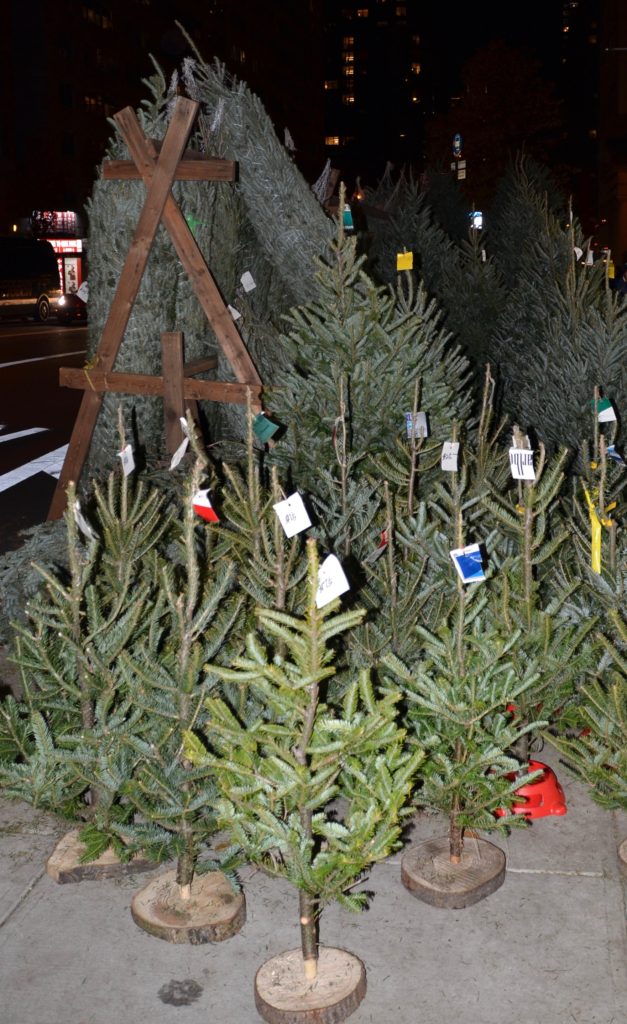 I loved how they stopped to admire the flowers every time we walked by….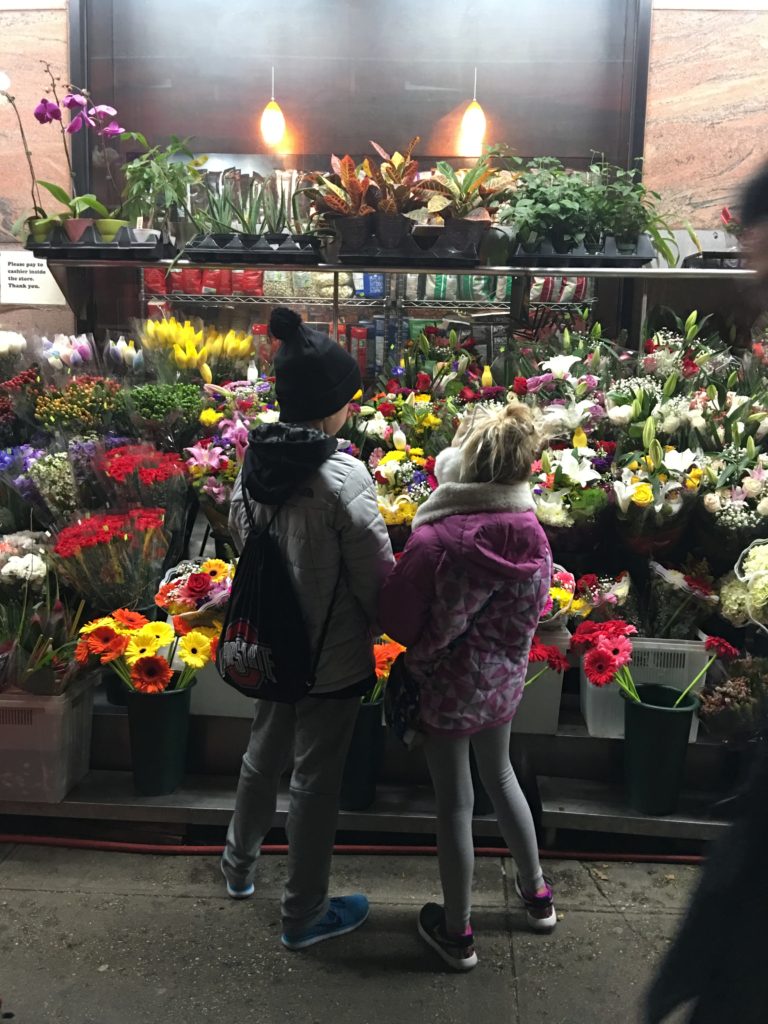 Day Two had an early morning wake up call! We had tickets to the 9am show of the  Rockettes Christmas Spectacular at Radio City Music Hall! We headed to Rockefeller Plaza early and ate breakfast at the Panera by the Today Show. Noah saw himself on TV and got barked at by a security guard!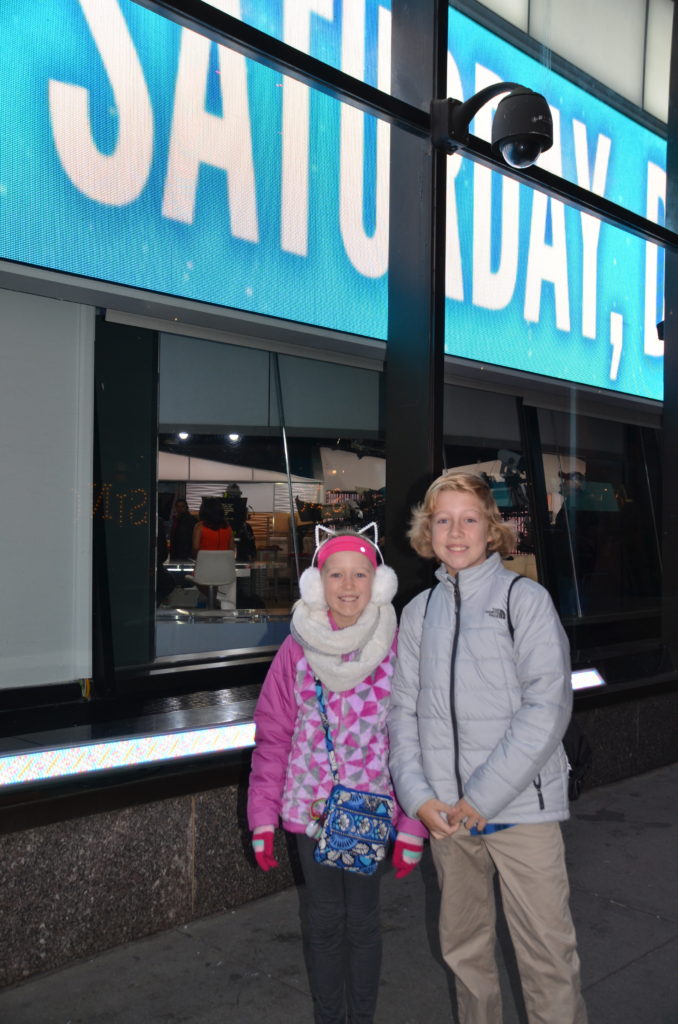 The real bonus of being up so early??
Getting THE tree all to yourself: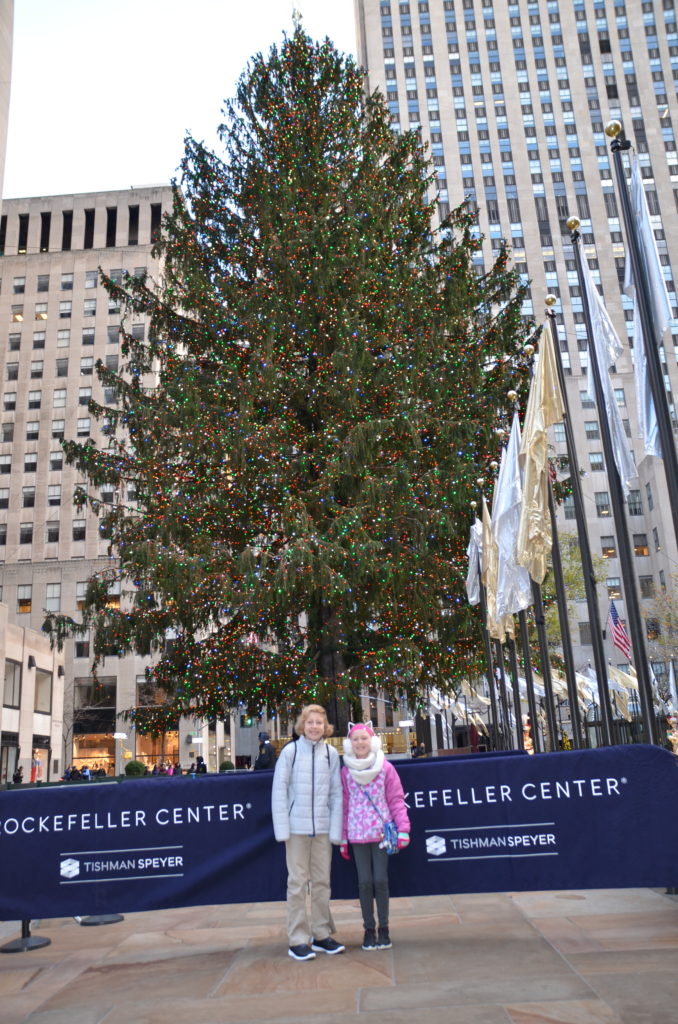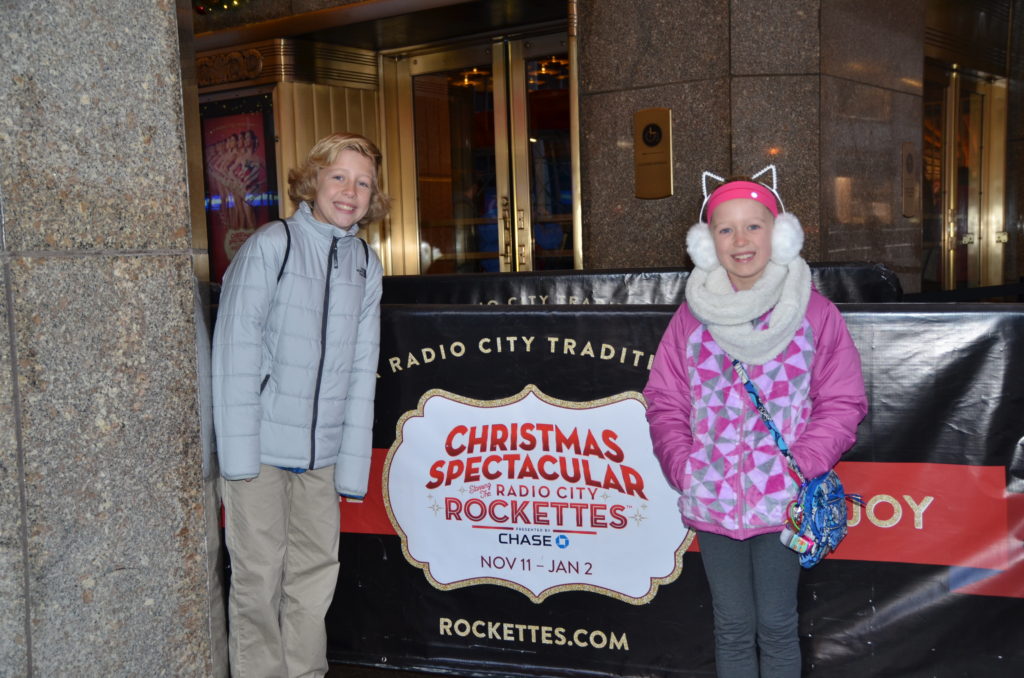 The Rockettes were crazy good. We sat in Orchestra 3 about 30 rows back. I wanted to SEE the dancers and boy did we. Before the show we wandered around Radio City. It's very cool. Classy, clean and so pretty! And the ladies lounge is one of the biggest I've ever seen!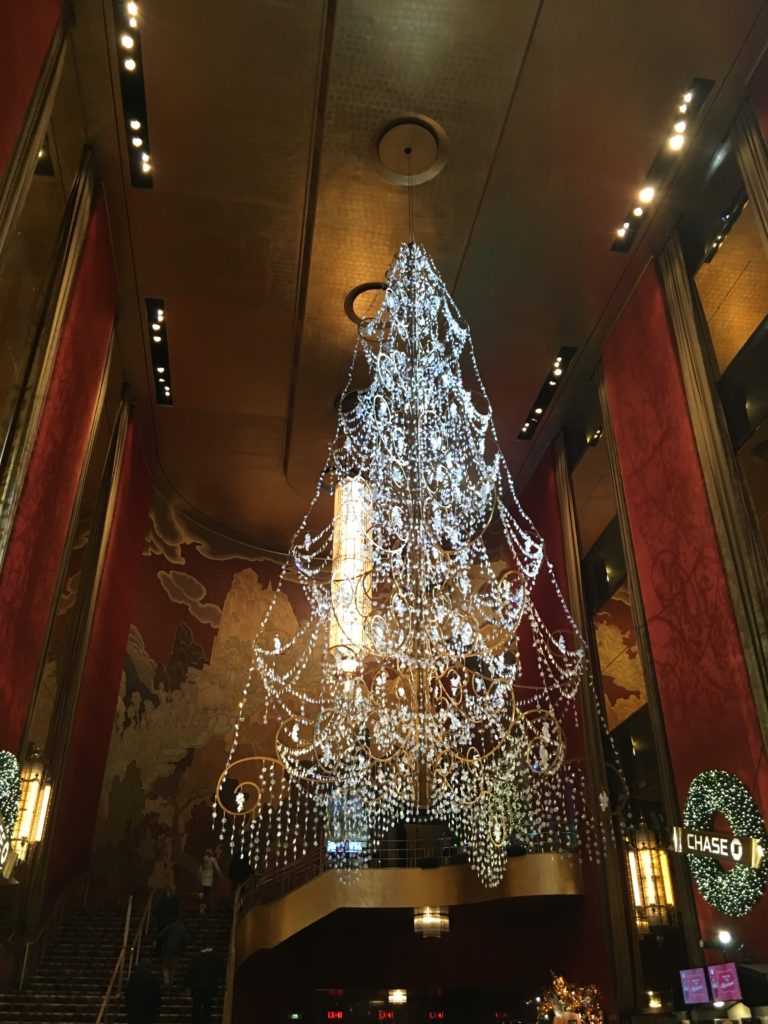 Did I mention that we met an actual Rockette too??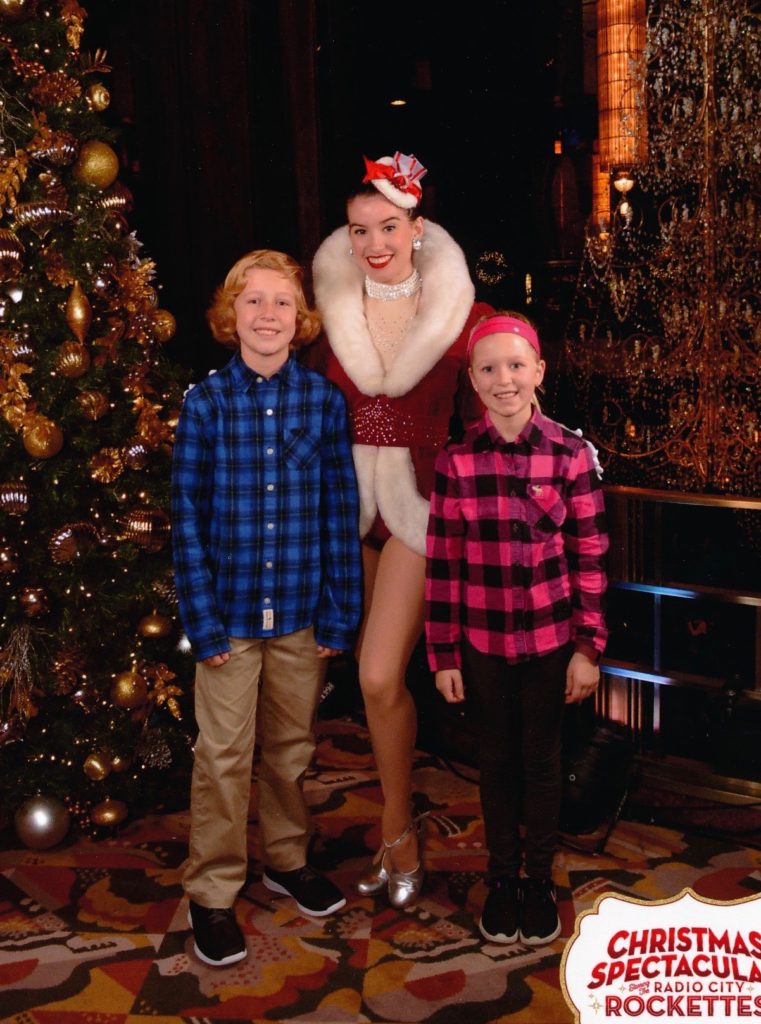 The show started with Santa. He told us to put on our very chic 3D glasses and 'enjoy the ride'. We boarded his sleigh and he flew through Manhattan decorating it for Christmas. It was wild. Don't we look cool?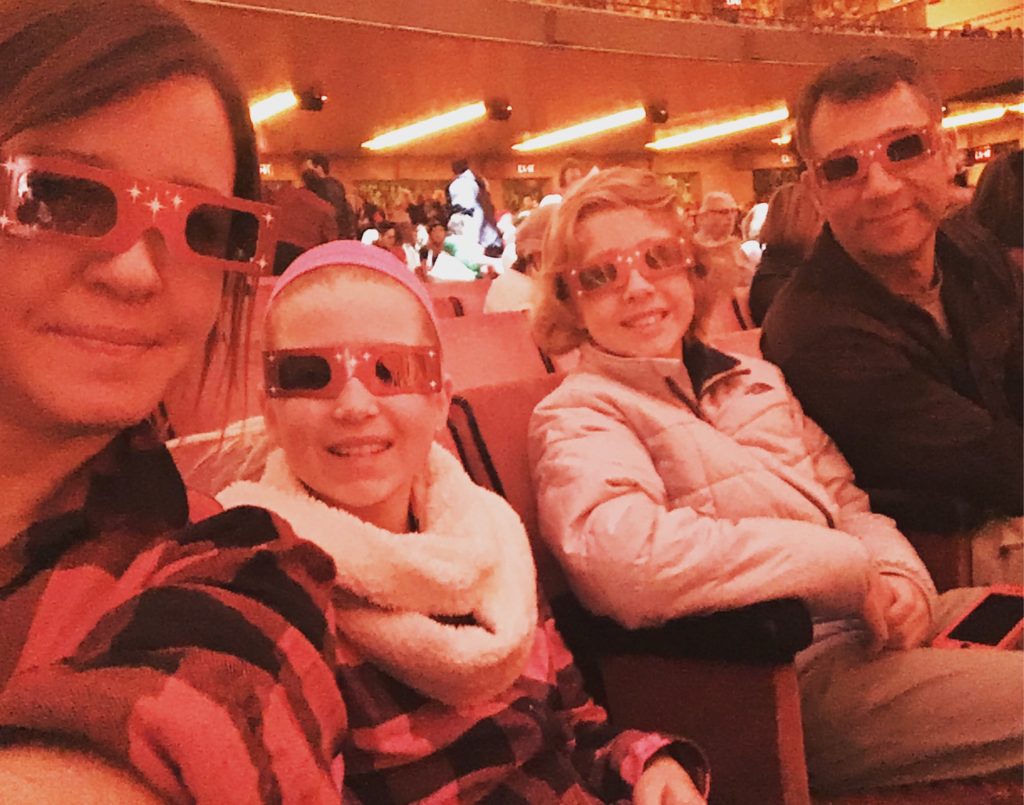 The show was flawless. My favorites were the reindeer dance and the nativity scene with live animals. We will definitely see this show again. Bravo!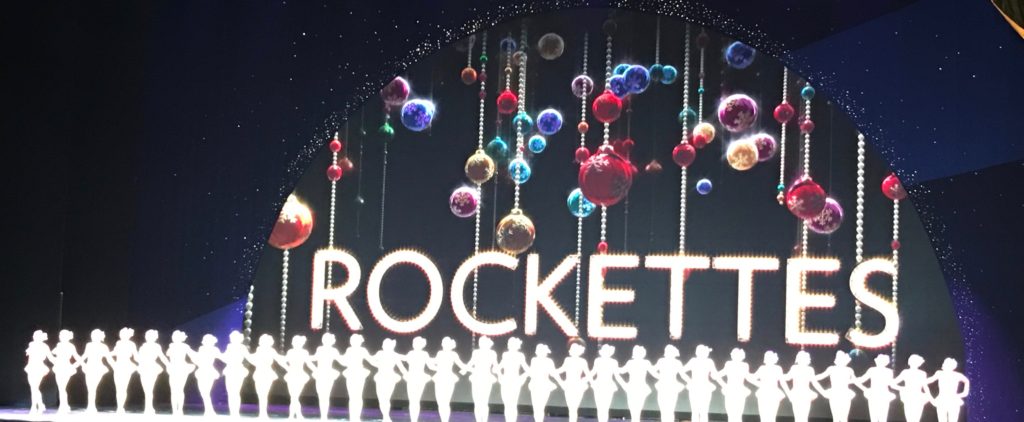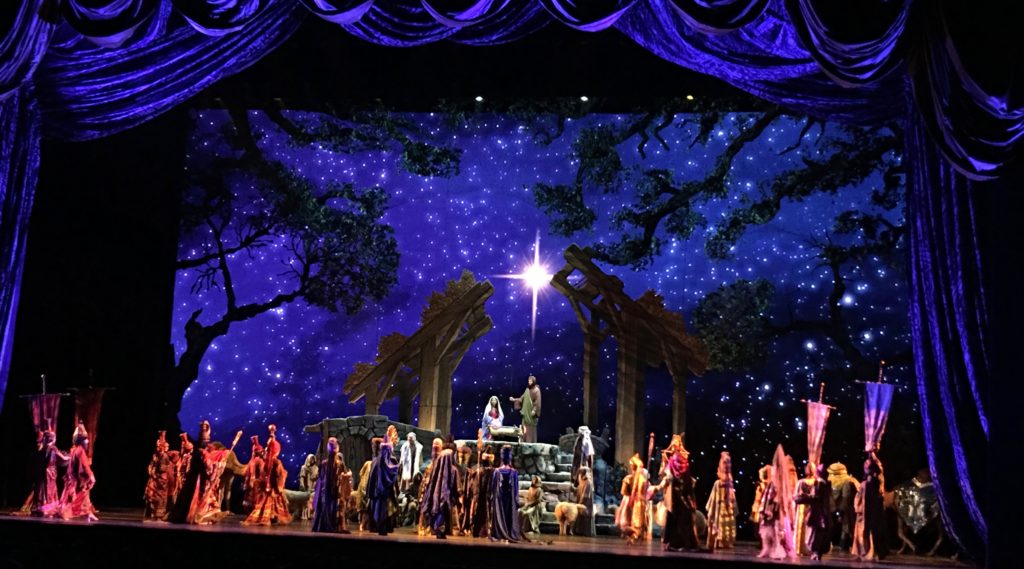 We left Radio City on a high and topped it off with another cupcake from Magnolia Bakery. Then we walked. Boy Wonder was insistent on checking out Niketown. Which meant a trip to Trump Tower. Which meant walking a few blocks out of our way because everything is BLOCKED OFF. I led my troops around the back and in we went. Security was tight. But the Secret Service were too kind.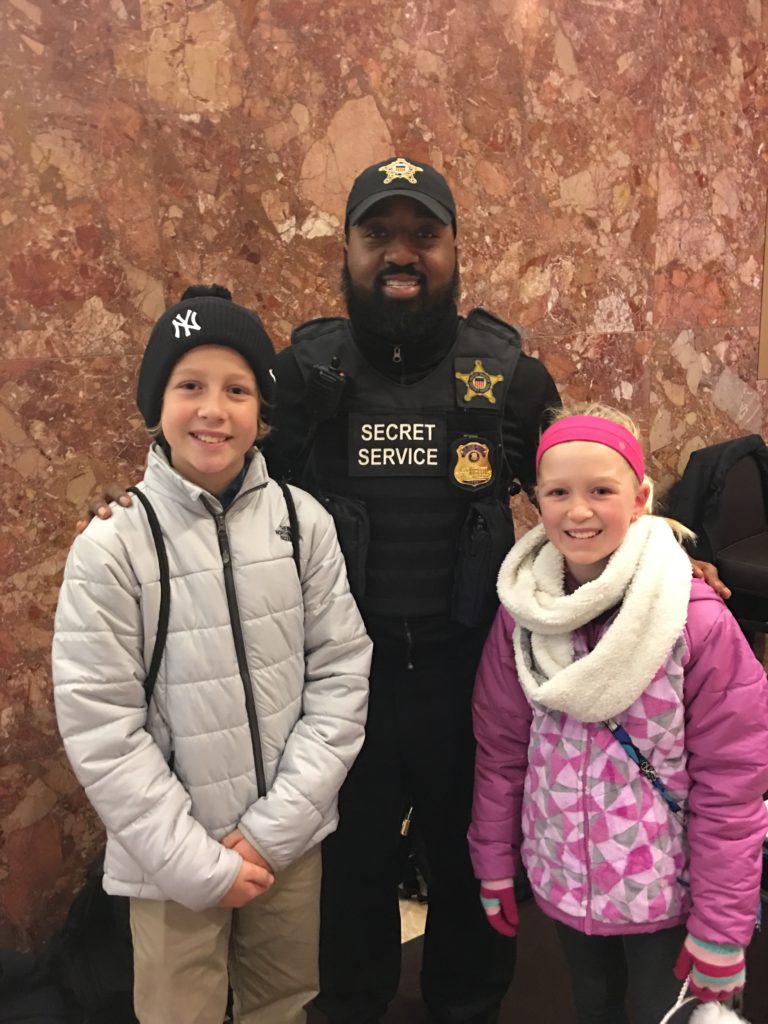 My people are not afraid of heights…therefore we went up and up and up. As far as we could until we were stopped by Secret Service. Taking a peek up even higher, it was cool to be visiting the home of the next POTUS.
We toured all 5, yes 5 levels of Niketown. Boy Wonder tried on several sweet sneaks, but ultimately decided to spend his money on these: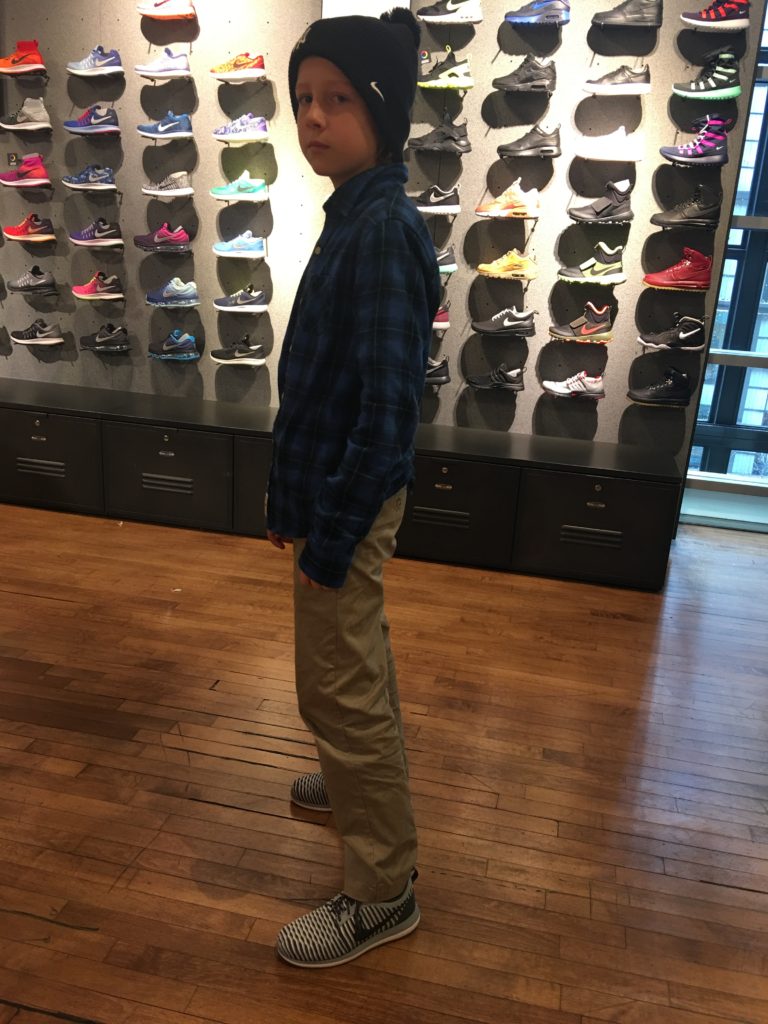 Next stop: Central Park. By far our favorite spot in the city. Pretzels, treats, giant rocks, street performers, famous landmarks. Central Park has it all. We play. We stroll. We enjoy. And this trip….a ride in a horse-drawn carriage. A bucket-list item for Sunshine and myself.
Friendly Travel Tip: do NOT wait in the extraordinarily long queue for a carriage ride. Instead, enter the Park at Columbus Circle and hail a carriage driver down before he turns the corner back up Central Park West. You can thank me later.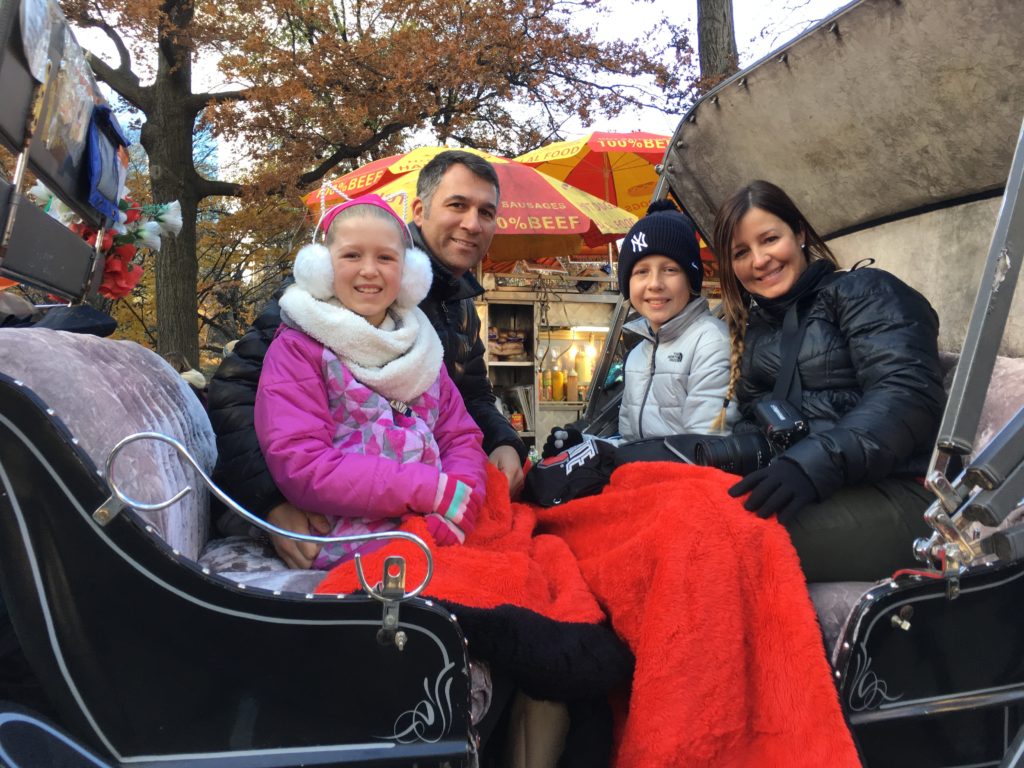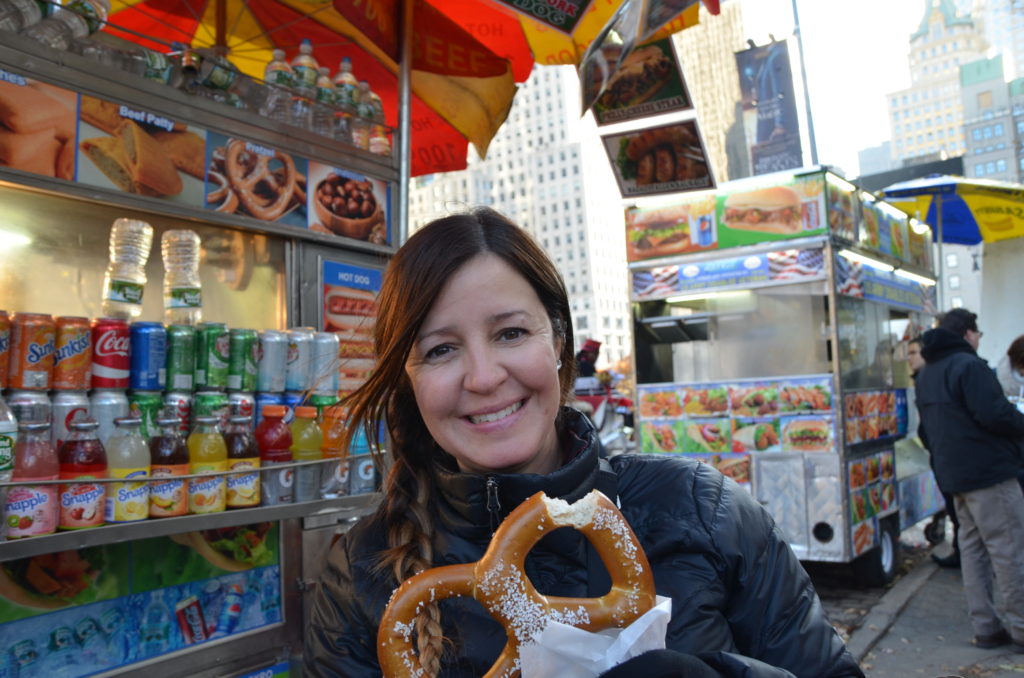 Praise the Central Park gods, we even found Alice in Wonderland this time. It's not as easy as you think. The Park is kinda like a corn maze. You can walk in circles without even noticing. And you'll swear you are headed in the right direction only to end up back in the same spot. But I was hell bent on finding Alice. And I did.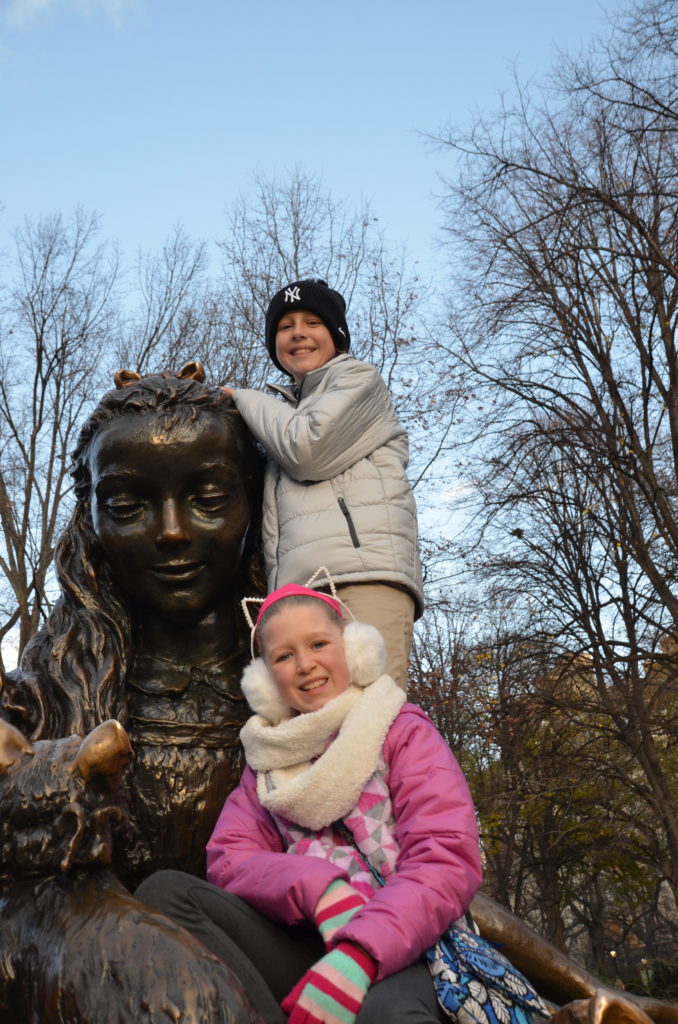 So pretty, even from the back: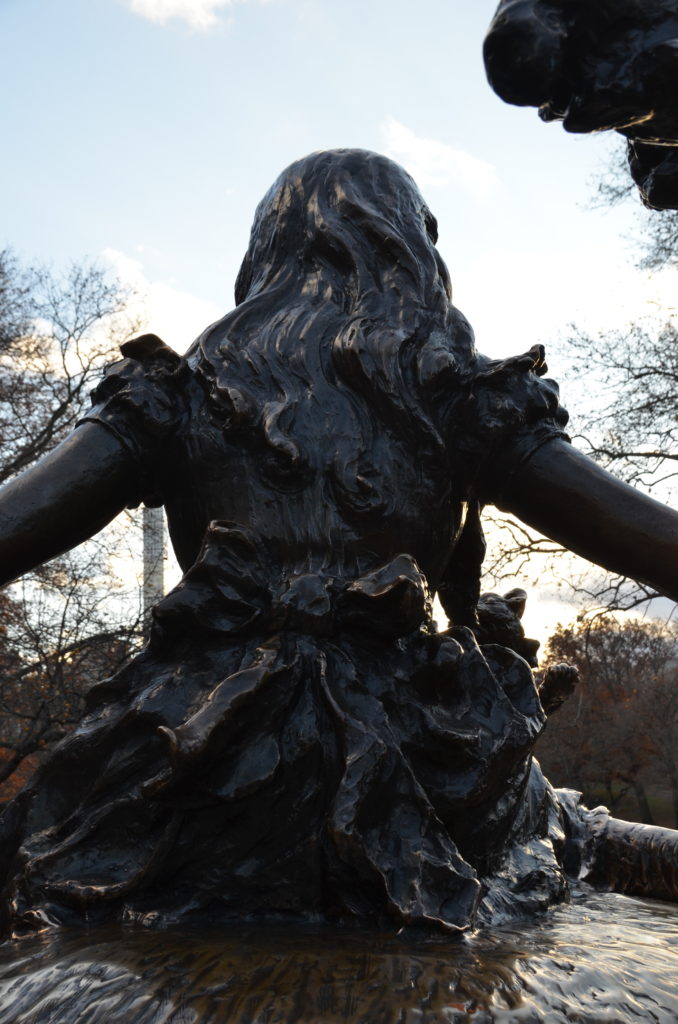 Reaching Alice took us from 59th Street to 75th Street. 16 blocks. We headed a bit deeper into the Upper East Side and ate dinner at  JG Melon a local place with yummy cheeseburgers and cold beer! After dinner we walked down 3rd Avenue to 68th to Vineyard Vines so the kids could get VV NYC shirts. After shopping we needed a bit of sugar. No place better to fill that need than Dylan's Candy Bar! Luckily it was only a few more blocks past Vineyard Vines. With Lemonheads and Sour Patch Kids in our bellies we trekked back to our hotel for a little down time.
Around 8pm we bundled up and took a cab to Rockefeller Center. We skated at The Rink at Rockefeller for two hours. Long or short hours depends on which family member you ask! We had reservations for the VIP Skate which is pretty swanky.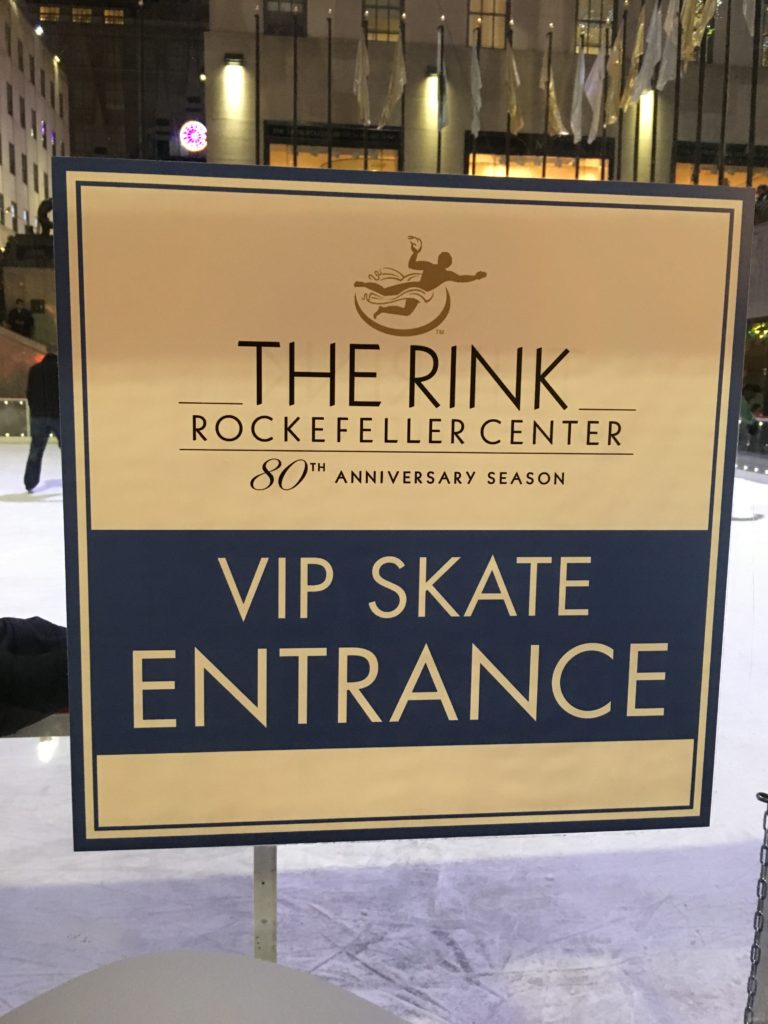 You skip the line. The line is very, very, very long and it is outside. Brrrr. As VIP Skaters we had a heated hut on the rink with comfy benches, a place to store our shoes and bags and all the hot cocoa and cookies we could devour. Life as a VIPer was good.
While skating an adorable couple got engaged. Guy was down on one knee. Girl had no idea. Some stranger taped it. OMG, I just said 'taped', I meant videoed! It was sweet. Sunshine was appalled. She informed me that was embarrassing. Lord help her future fiance-to-be! The children could have kept on skating, but Ma and Pa were whipped. We handed in our skates, grabbed one last cookie and bid Rockefeller Center a good night.
Day Three, our last day. Always a sad day. No-one wants to leave. Boy Wonder and Sunshine planned this day. They wanted to ride the Subway.
We took the Subway to Gramercy Park and were greeted with walls filled with Post-It Notes. Subway Therapy. We added our own note to the wall.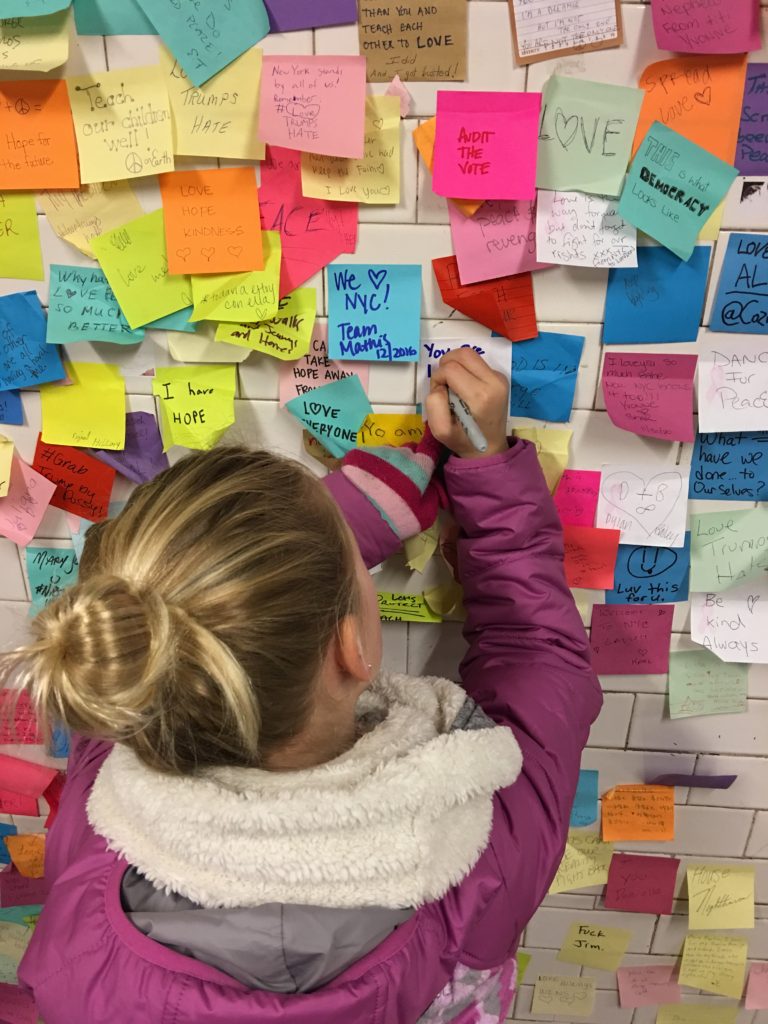 It was beautiful in spite of some very ugly comments.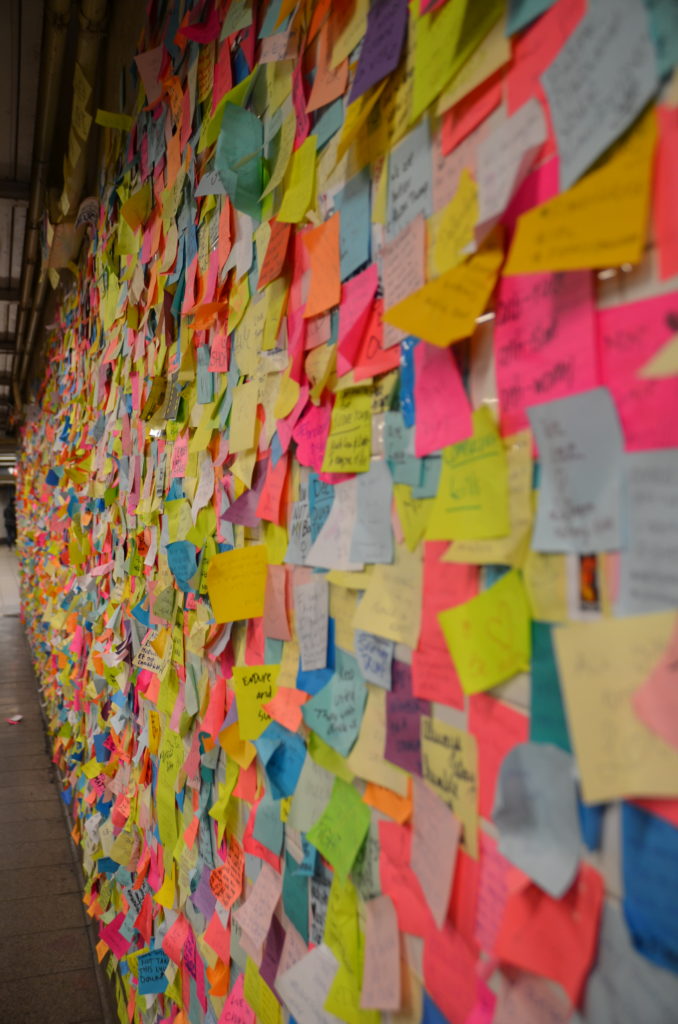 We brunched (I'm certain that is a real word!) at Friend of A Farmer. It was DELICIOUS x 10. So good. So filling. We waddled out of there and none of us complained about walking in the cold!
Of course they chose to visit Times Square. When in Times Square I must do a few things. 1) Purchase a Swatch watch. 2) Find the Naked Cowboy. And 3) Take a few minutes to observe the gobs of people enjoying NYC. Really, I must.
Sunshine, Boy Wonder and I picked out new watches while Doc waited patiently. He doesn't get the whole "Swatch Thing". I feel sorry for him. I chose a sparkly silver one. Boy Wonder picked out a red one. And Sunshine won the prize for coolest watch….one with a seal and fish! Priceless.
Next on my list:
And finally, resting my feet with Boy Wonder and enjoying the commotion around us.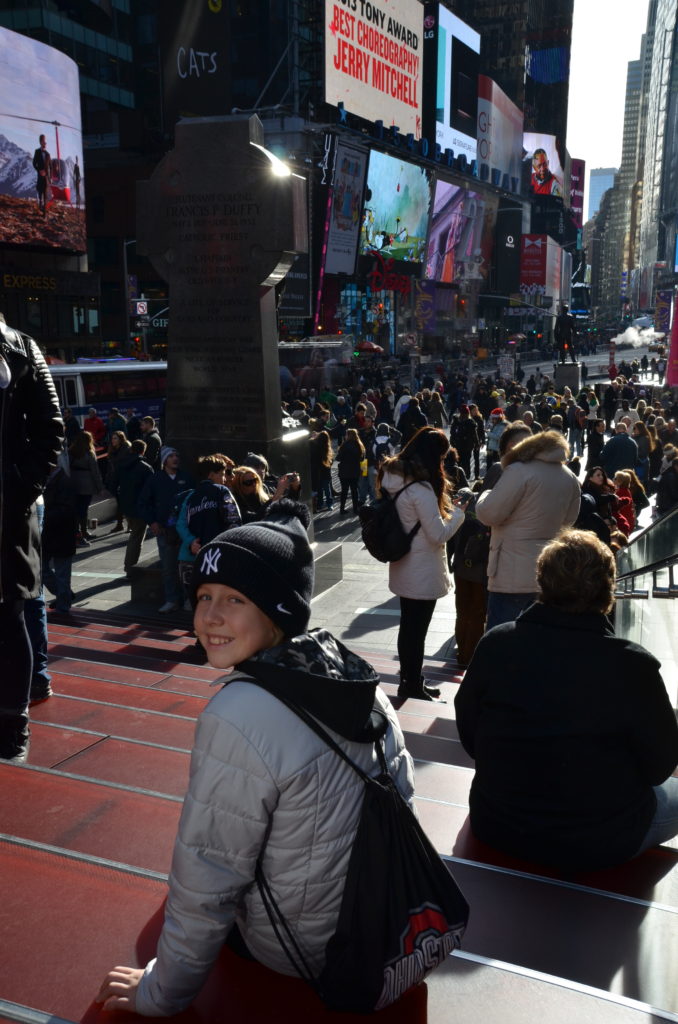 From there we stopped in the biggest and busiest Starbucks, purchased over-priced hot chocolates and headed back to Central Park.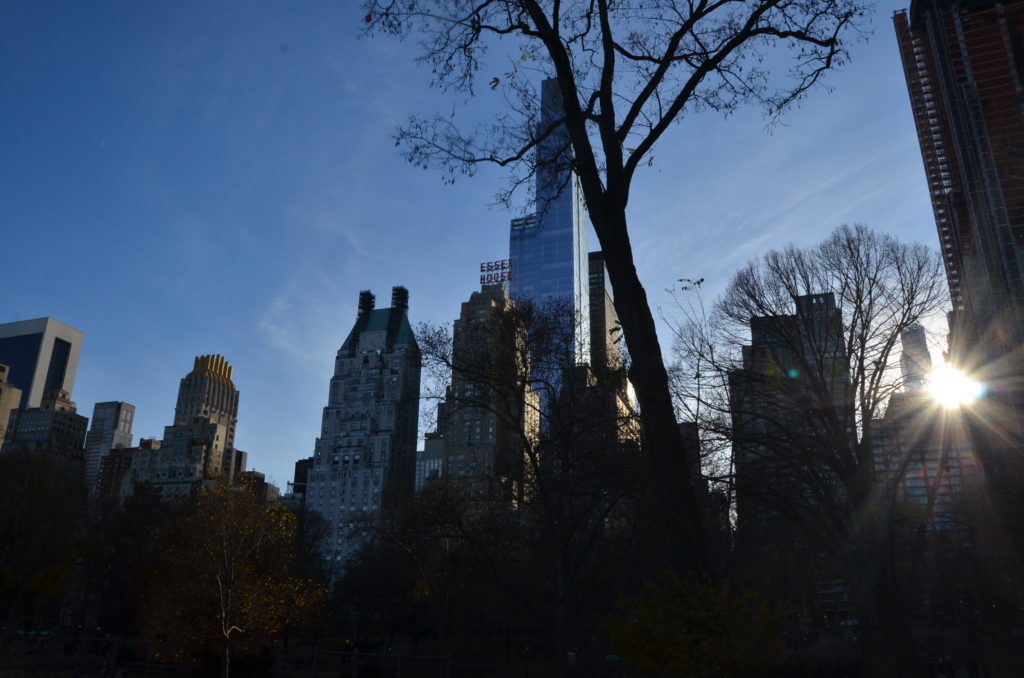 The kids climbed their favorite rocks and tossed a football while Doc and I whispered sweet nothings. We actually probably talked about how cold our bums were from sitting on the freezing rocks, but a girl can dream, right?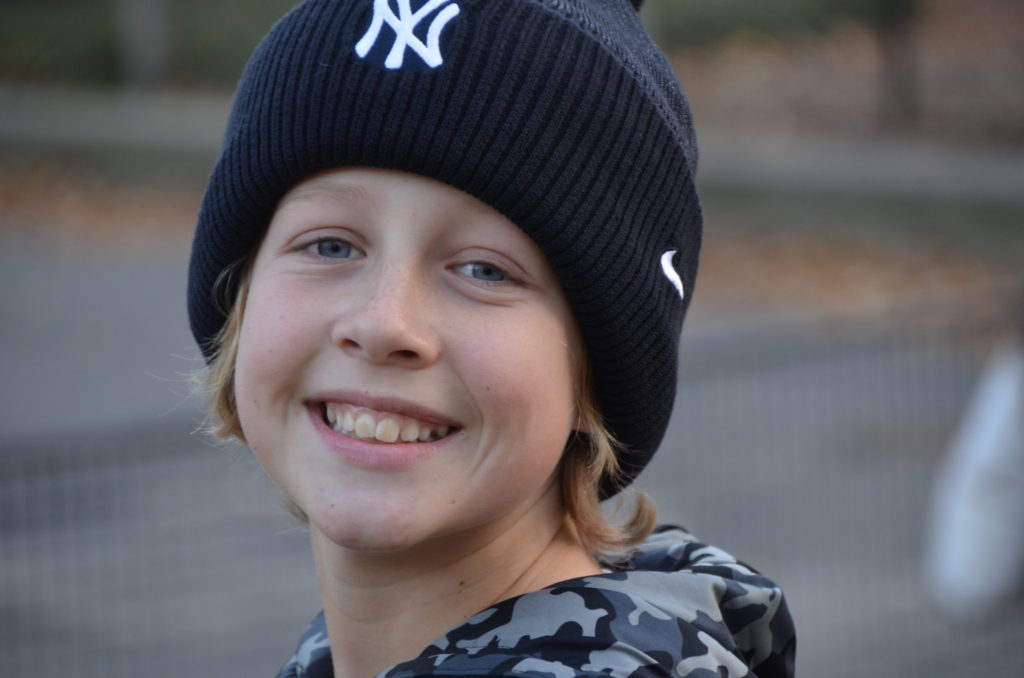 Yeah, I'm sending you a Merry New York Christmas,
And a prayer for peace on earth within our time.
Live Creatively,

Tags: