Welcome to the Magic Kingdom….
When you think of Disney, this is probably the park that comes to mind. It screams Disney! We have been to the MK many times. Jeremy and I went three times before we had kids! Our itineraries have changed as the kids have gotten older, but it is still our favorite park. I could not image a trip to Orlando without it. Depending on the ages of your little ones, you could easily spend three days here. This last trip for us included one evening visit for Mickey's Not So Scary Halloween Party (see separate post) and one full day. Well, I say 'full day', but in reality we were only there for 8 1/2 hours. (Last year we clocked a 14 hour MK day!)
Our prep for the MK started the evening before at Downtown Disney. We had dinner, shopped in the world's largest WDW Store, satisfied our sweet tooth at Ghiradelli and watched our Natalie be transformed into a Minnie Halloween Princess at the Bibbidi Bobbidi Boutique. Last year we made the mistake of visiting the BBB inside the Magic Kingdom and it stole 2 hours of our 'park time'. Mama Disney wised up this year and hit the boutique at Downtown Disney….spent about 40 minutes and rest assured that the elaborate princess hair lasts for DAYS with nightly shellacking. Here's a peek at Natalie's transformation:
Now, back to the Magic Kingdom…..
My family has this park memorized and we have figured out how to maximize our time. We arrived at the front gates at 7:30am, were admitted into the park at 7:45am and mind you, the park did not open until 9am…..like I said, we kind of have Disney down to a science!
Our day began with eggs and waffles in Cinderella's Castle. Noah was complaining about eating breakfast with the princesses, but he was quick to leave his seat for a pic with Aurora!
'Doc' Dad snuggled up with Snow White. I loved this shirt and thank goodness my husband is on-board with the Disney themed shirts!
Ariel swam by for a visit with Natalie. They chatted about whosits and whatsits galore!
We watched the parade from our favorite spot in Adventureland. Hint, get to your spot early and enjoy a snack (I recommend the chocolate covered rice krispie treats) while you wait. Don't plan on standing on a bench, you will be told to get down. The afternoon parade starts in Adventureland, so watching it there means you can get a jump start on more attractions while everyone else is waiting for the parade to end.
Of course, Space Mountain, Big Thunder Mountain Railroad and Splash Mountain were ridden a couple of times each. Now that I think about it, that's a lot of mountains! Princess Natalie and I missed out on Splash Mountain this year….she didn't want to mess up her up-do! Smart princess!
We climbed the Swiss Family Treehouse, dodged the alligators on the Jungle Cruise and waved to Captain Jack on the Pirates of the Caribbean ride. My crazy family spun themselves silly on the teacups at the Mad Tea Party while I waited in line for the Seven Dwarfs Mine Train (it's even better in the daylight!).
Later we soared through the air with Dumbo. What is it about this ride that I love so much? Disney added a play area while you wait….my 'big' kids played for a good 20 minutes!
And we never forget to ride Goofy's Barnstormer, just for fun! I remember Noah's first ride on The Barnstormer 6 years ago……and I love that he still finds it fun, even though he would prefer to be twisting upside down and plunging down steep hills! They waited for the front seat and somehow Jeremy and I squeezed into the seat behind them. I don't remember the seats being this small last year! Hmmmm……
Sadly, my little mousekateers did not want to race on the Speedway in Tomorrowland….this was the first trip we didn't race boys vs. girls, (insert mama tears here). They also chose to skip the Magic Carpets of Aladdin. Noah is still bitter with Jasmine for sneaking a smooch years ago! One day he will beg for kisses from princesses!
We dined in the castle of Belle and the Beast for lunch. Walt's Imagineers outdid themselves on this one. No detail left out. We were very impressed. Worth the wait. The food was deeeelish! And seeing the rose was pretty cool.
The kids had seen and done everything they wanted to by 4:30pm and a thunderstorm was on the radar, so we hopped back on the monorail (the wrong monorail…but we got a longer ride and an escort to the correct one by a very nice cast member!), grabbed dinner at Chef Mickey and watched the fireworks from our balcony!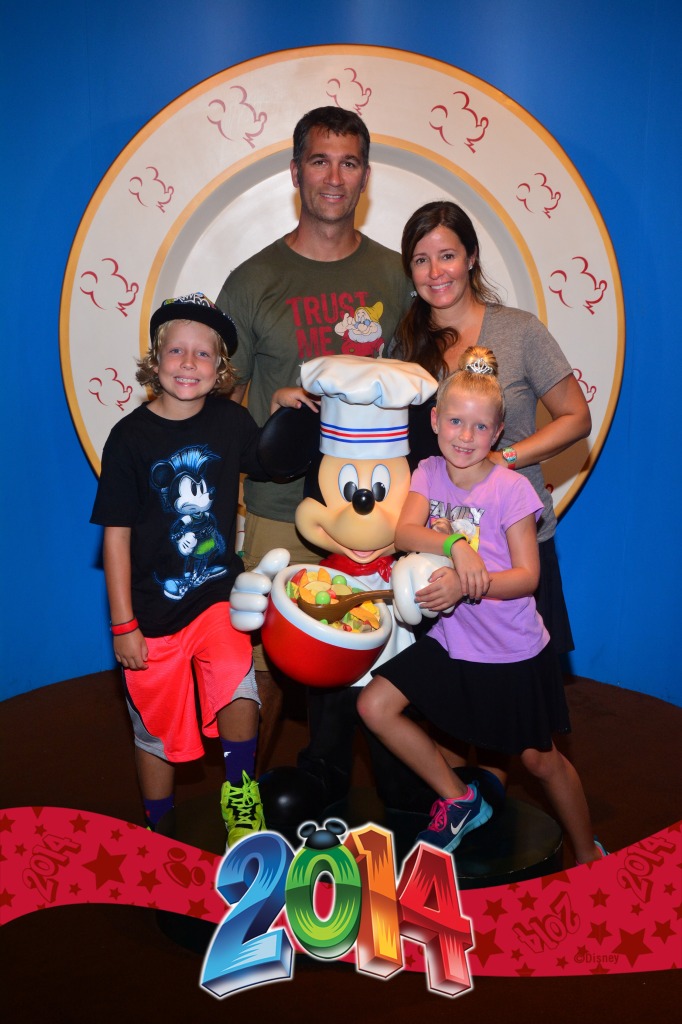 This is one of our very favorite places to dine with the characters. All of our favorites stop by to visit and we get to dance!
Our trip ended the next  morning. We packed up the autograph books, bags of souvenirs and watched the castle fade away behind us. No doubt in our minds that "We'll see ya real soon", Mickey and friends!
Live Creatively,

Tags: