the time of year when parents realize just how grossly underpaid teachers actually are!
Keeping it all together for 12 weeks is enough to break even the toughest of tough. Morning chats with the Big Guy upstairs help. I start my summer days praying for patience and the ability to keep my evil thoughts IN my head. My sweet babies do not need to hear that I would rather bale hay than stand in line for the Tahitian Twister water slide for the 20th time. So I smile my happy mama smile and say "yes" to the damn water slide. I pack lunches because I cannot stomach spending $9 on a burnt cheeseburger and yes, I pack bananas and yes, you will eat them! I will not, but you will. Hi, my name is Mandy and I have a fear of bananas (and carrots).
Check out this made-just-for-me notepad that I found in Idaho…..
I seriously cannot wait to use it! I love sending notes to school on notepads like this one! You can buy your own here. I am so in love with her stuff. The cards crack me up!
Ok, so this week marks the 9th week of summer for my team. We have about 3 weeks left. Which makes me kinda sick to my stomach. The bucket list is slowly (very slowly) getting completed. We are going to have to put things in high gear to get through the list! And to be perfectly honest, while I am sad about summer ending, I am a little giddy about getting my life back come August 12th! My Julie The Cruise Director uniform is wearing thin and I have run out of reasons why I am making them READ and complete a bridging workbook. My latest reason is simply because I don't want them to be the dumbest kid in their new class. That usually silences the little cherubs for a few minutes. Here's a look at the workbook I MAKE them complete: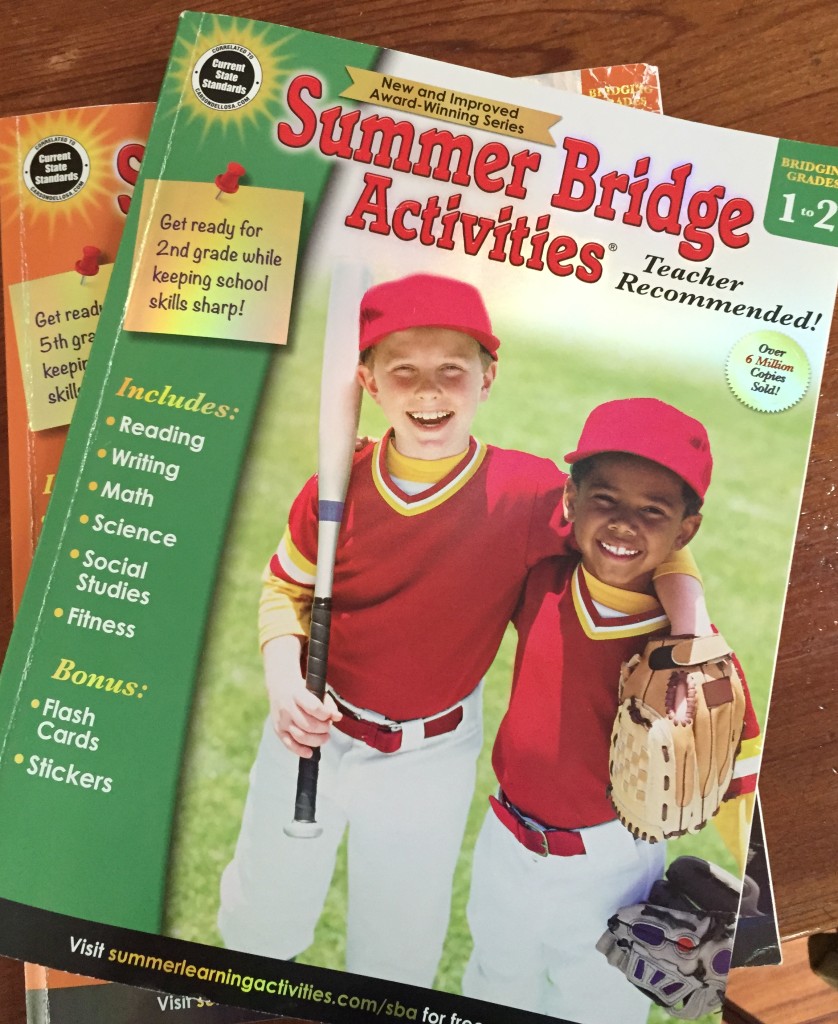 It's awesome. The pages are colorful and it cycles trough Reading, Writing, Math, Science, Social Studies and Fitness. There are also flashcards and stickers! The stickers don't do much for Boy Wonder, but Sunshine is highly motivated by them. You would think that 'Workbook Time' would be a time for me to have some alone time. It's not. I sit between my two budding scholars and respond "You know this" every time they proclaim in their whiniest voice, "I can't do this one!" Ah, summertime! Bonus: they are on sale now! Buy here. Your kids will thank you 😉
I also make them read. I know, worst mom ever. Boy Wonder informed me that there were no books that interested him. Being the mother of superhero can be daunting. I graciously took the burden off of him and chose all of his required books for the summer. He is now enjoying Superfudge by Judy Blume. Sunshine on the other hand had to be reeled-in at the library! I think she wanted to test the 50 book limit rule! She's a reading machine. I love this about her, but I am beginning to nod off as Mr. Putter's adventures with his cat, Tabby have lost their pizazz! Another reason teachers are grossly underpaid!
My summer cocktails, tennis with the girls and commiserating with Doc have helped. The constant rain here in Central Ohio has made me lose my cool on more than one occasion, but the sun was out today, YAY! We trekked to the pool, even though, GASP, there might not be any friends there. Since when is your sibling not your friend? Try growing up on 10 acres, no neighbors, no cell phone, three TV channels and two brothers!
After I was subjected to the 'Sunscreen Dance' once again….I am sure you have seen me following my kids as they squirm and dance while I am spraying them. Yes, I use  the spray. I know it doesn't work as well as the lotions, but I pick my battles people! After 2 minutes of telling them to stand still, the sunscreen application was complete. I got settled in my lounge chair and within mere minutes both kids were at my feet staring at me. The water was cold. Wah!
What else have I endured in these past 9 weeks of summertime????
Two lice scares. When my kids hear me say, "grab the comb and come here" they answer with, "do I have the bugs?" Thankfully they have just been scares. God bless the mamas who have dealt with the actual bugs! The silver lining is that all of our bedding, blankets, etc. have been washed and sanitized a couple of times! My washing machine is sure to crap out on me at any moment now.
Speaking of the washing machine. It had to be a man that deemed it appropriate for baseball pants to be WHITE! WTH? I have spent a small fortune on OxiClean but must admit I bask in the "Oohs" and "Ahhs" I hear from Boy Wonder when he notices I got ALL of the stains out! I cannot tell you how many times I have washed that uniform this summer. Add in Sunshine's softball uniform, her leo's for gymnastics and the swim team suits….did I mention that my washing machine must hate me?
Let's talk swim caps. Good Gawd! I will only put them on my children at the pool. In front of others. This way they can not scream out in pain as if I am intentionally pulling all of their hair out. If they continue this swimming gig, I see buzz-cuts in our future.
My vocabulary has diminished as well. It seems I can only utter certain phrases each day:
Put your bike away.
Close the door.
Did you feed the dog?
Don't forget to pack your snack.
What do you mean you left  your snack at home?
Close the door.
Ask your dad.
Get your face out of your phone.
Wet suits and towels belong in the laundry room.
Yes, you have to shower.
Close the door.
But let's be honest. I will miss it all when they are back in school. My house is loud and crazy from the moment their little eyes open. We laugh. We argue. We dance. We play. The frozen treats are dwindling and we have started shopping for 'school clothes'. These last three weeks will go too quickly. We have one last trip to enjoy, a 10th birthday to celebrate and a few more nights of staying up too late.
It's 6pm. Boy Wonder is at baseball tryouts, Sunshine is giggling with some friends, Jagger is snoozing at my feet. I should probably start dinner. Perhaps I will close the door and pick up the wet towels on my way to the kitchen.
Live Creatively,

Tags: